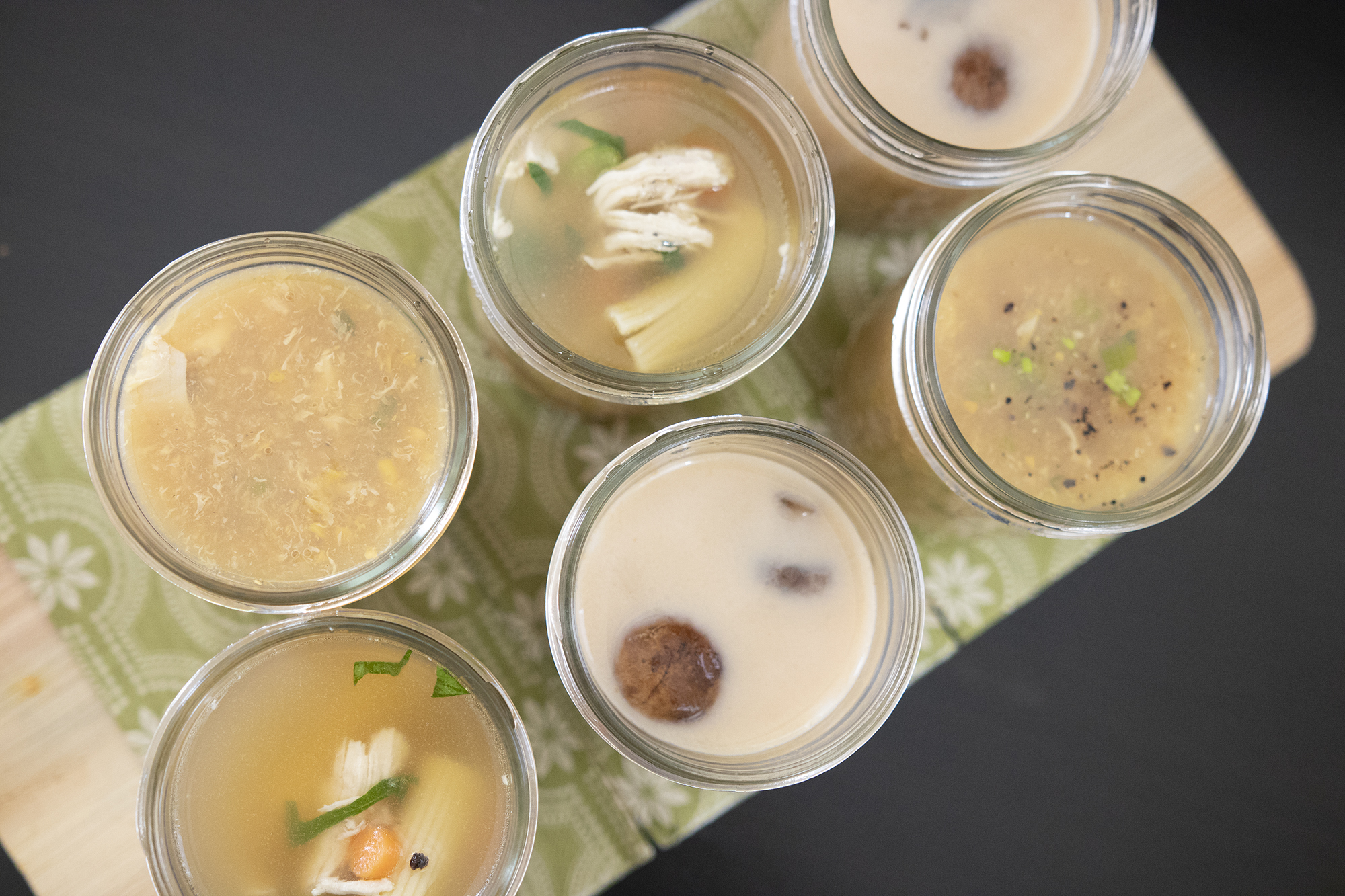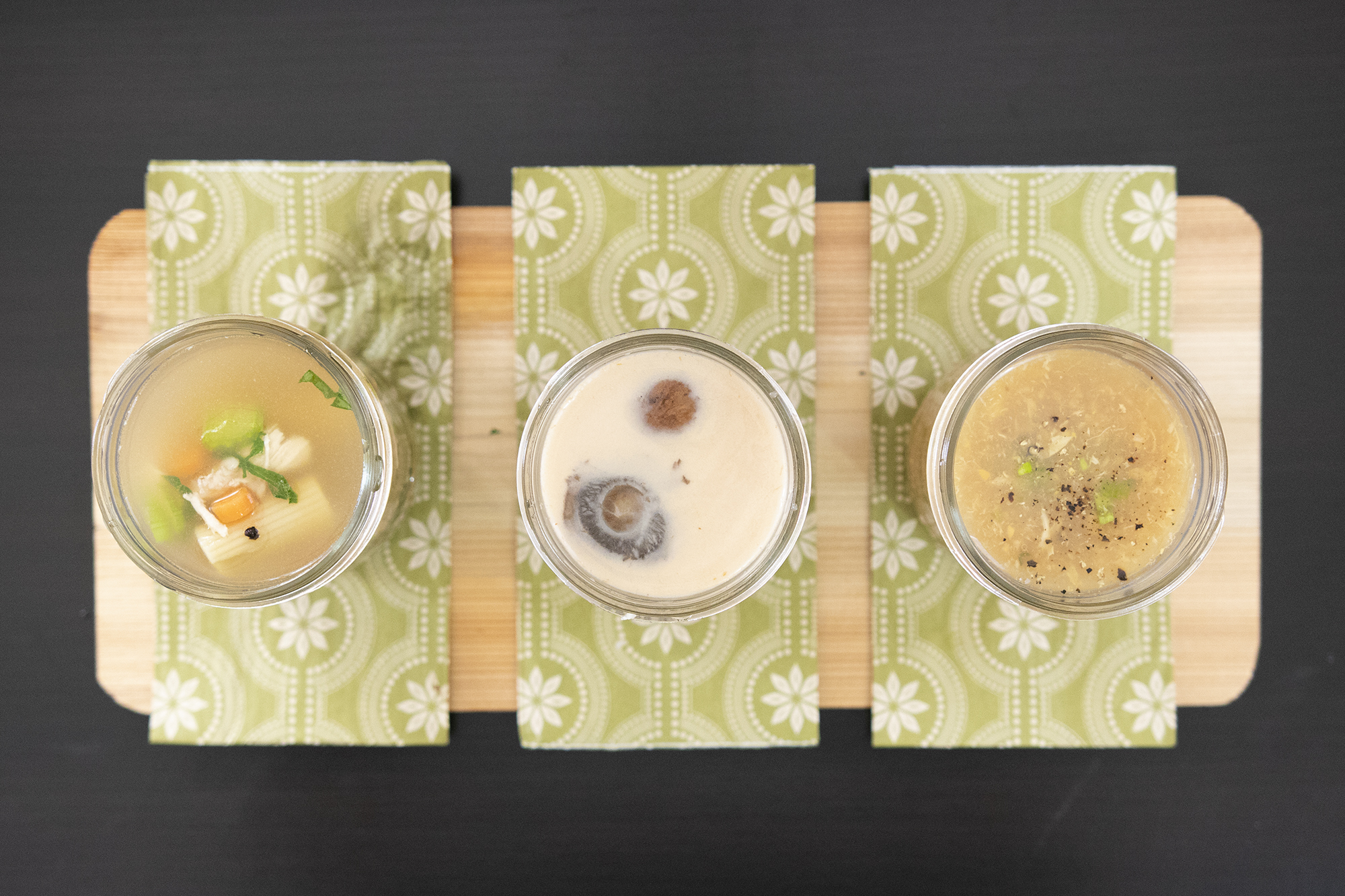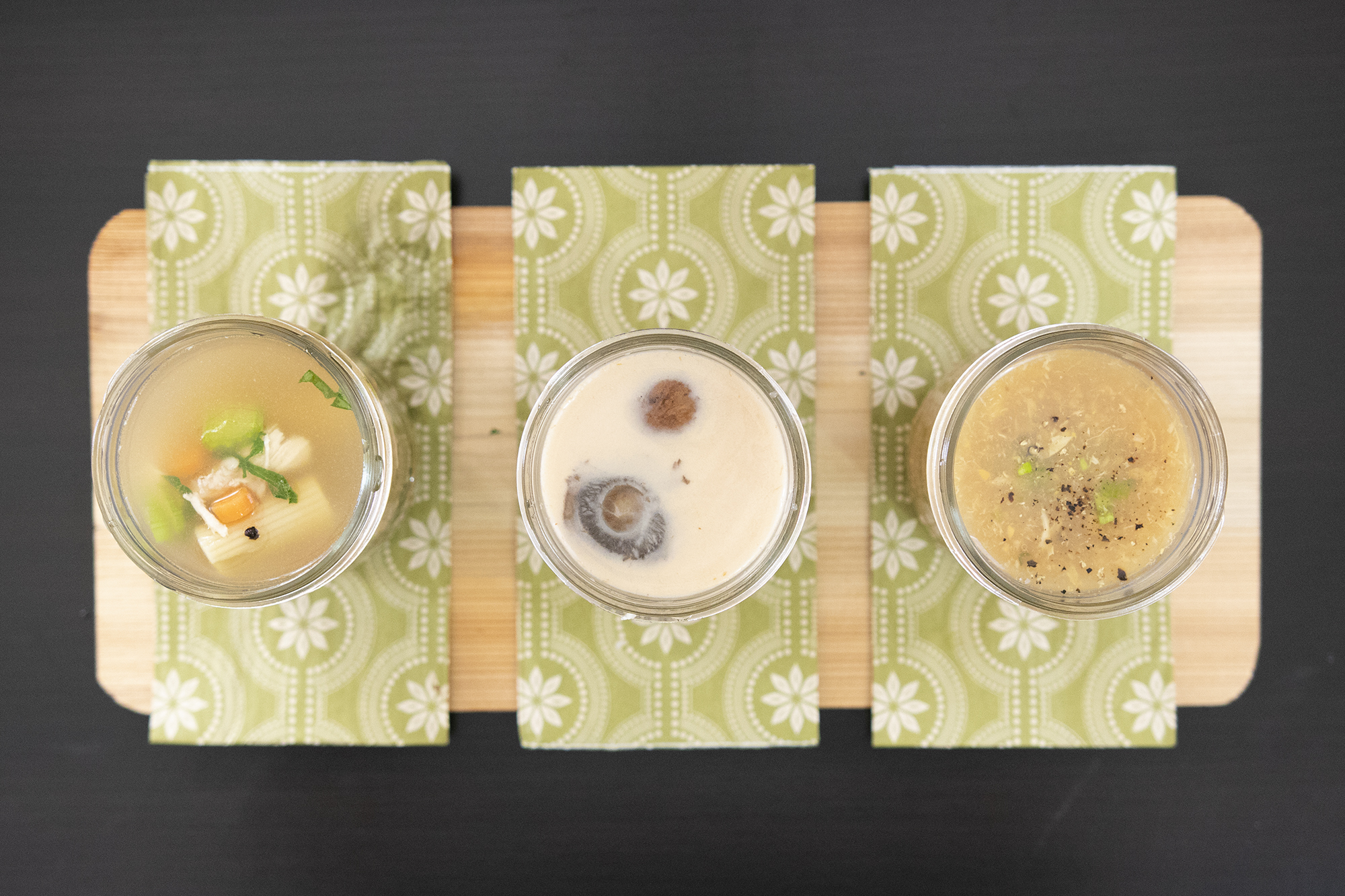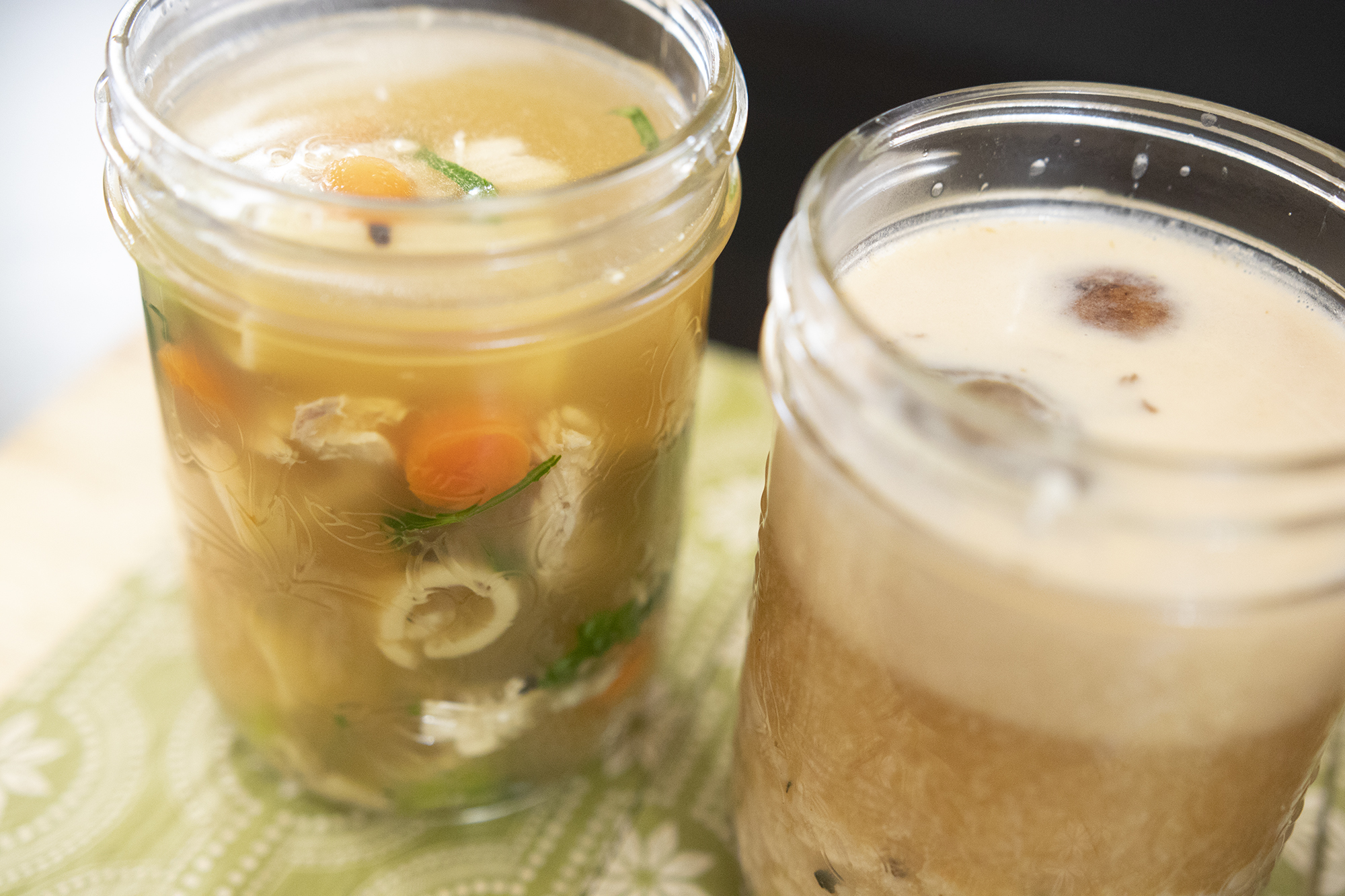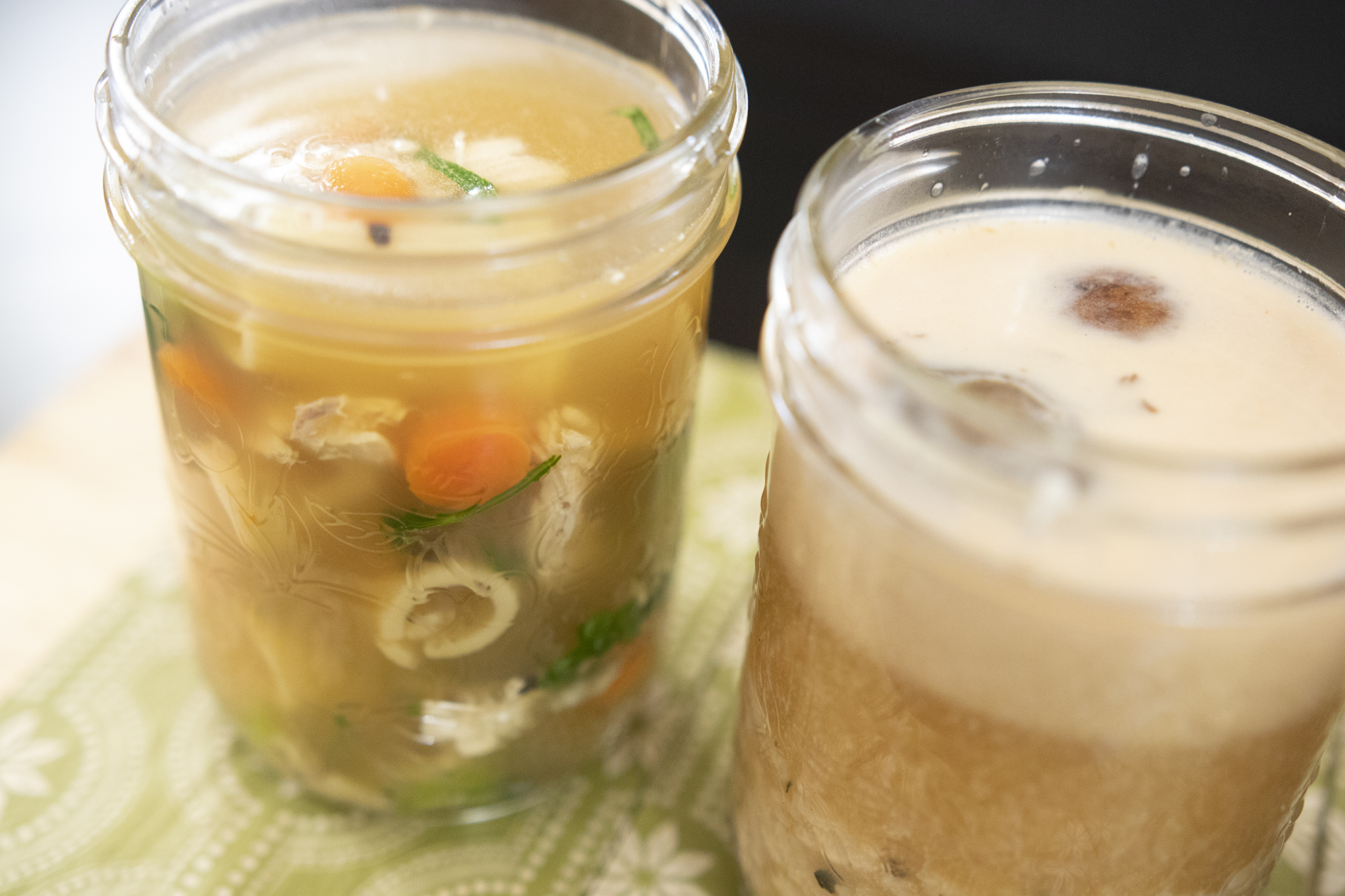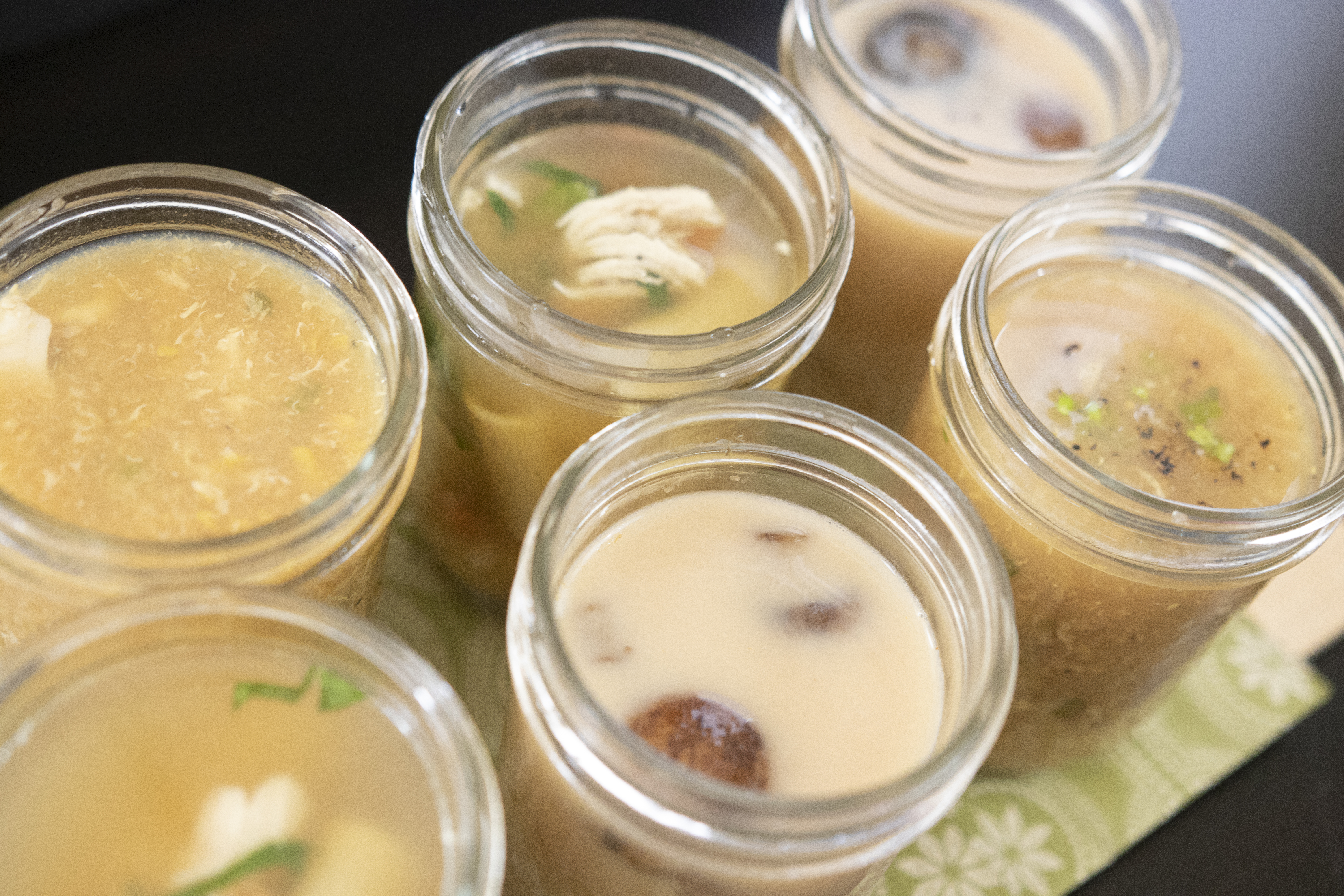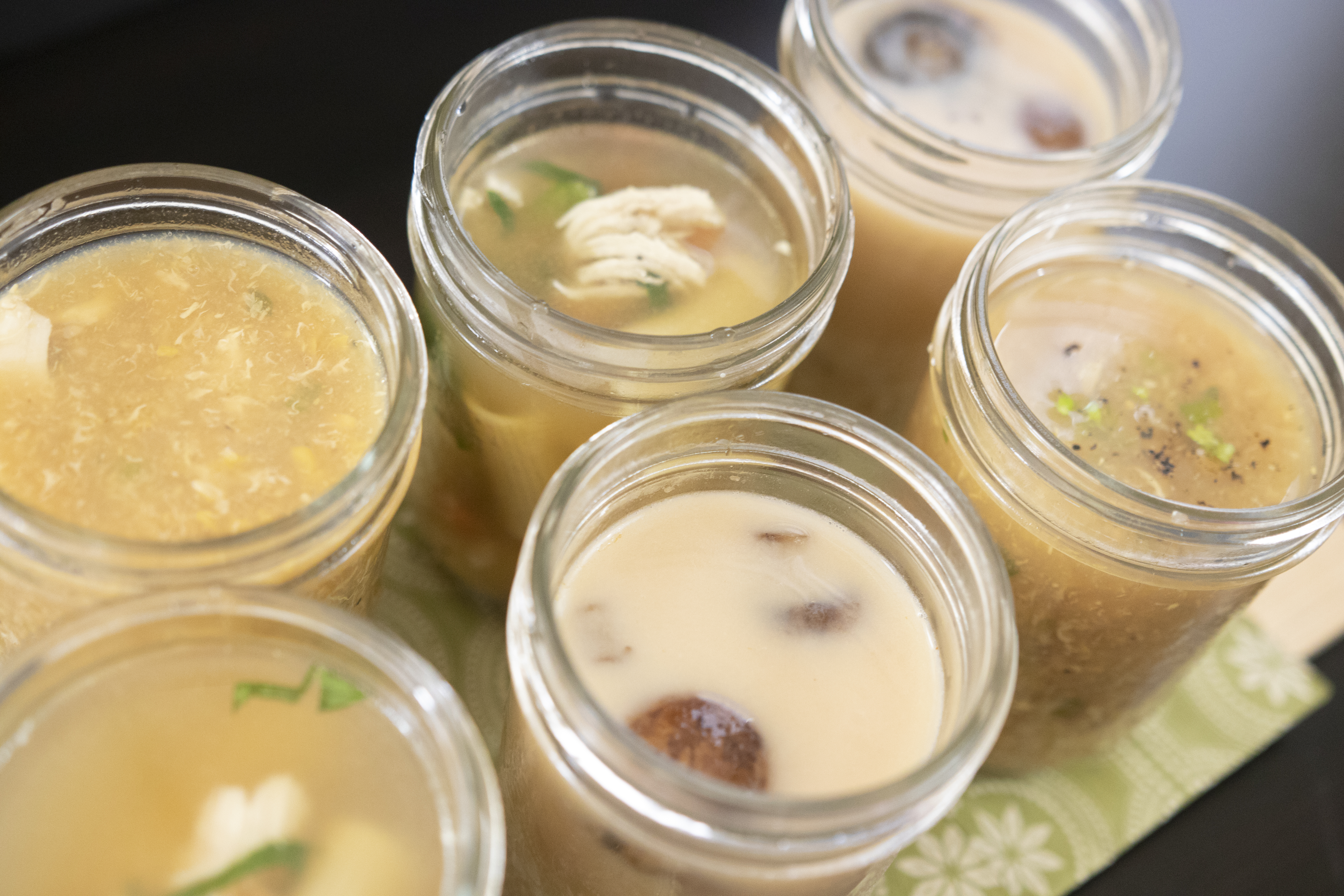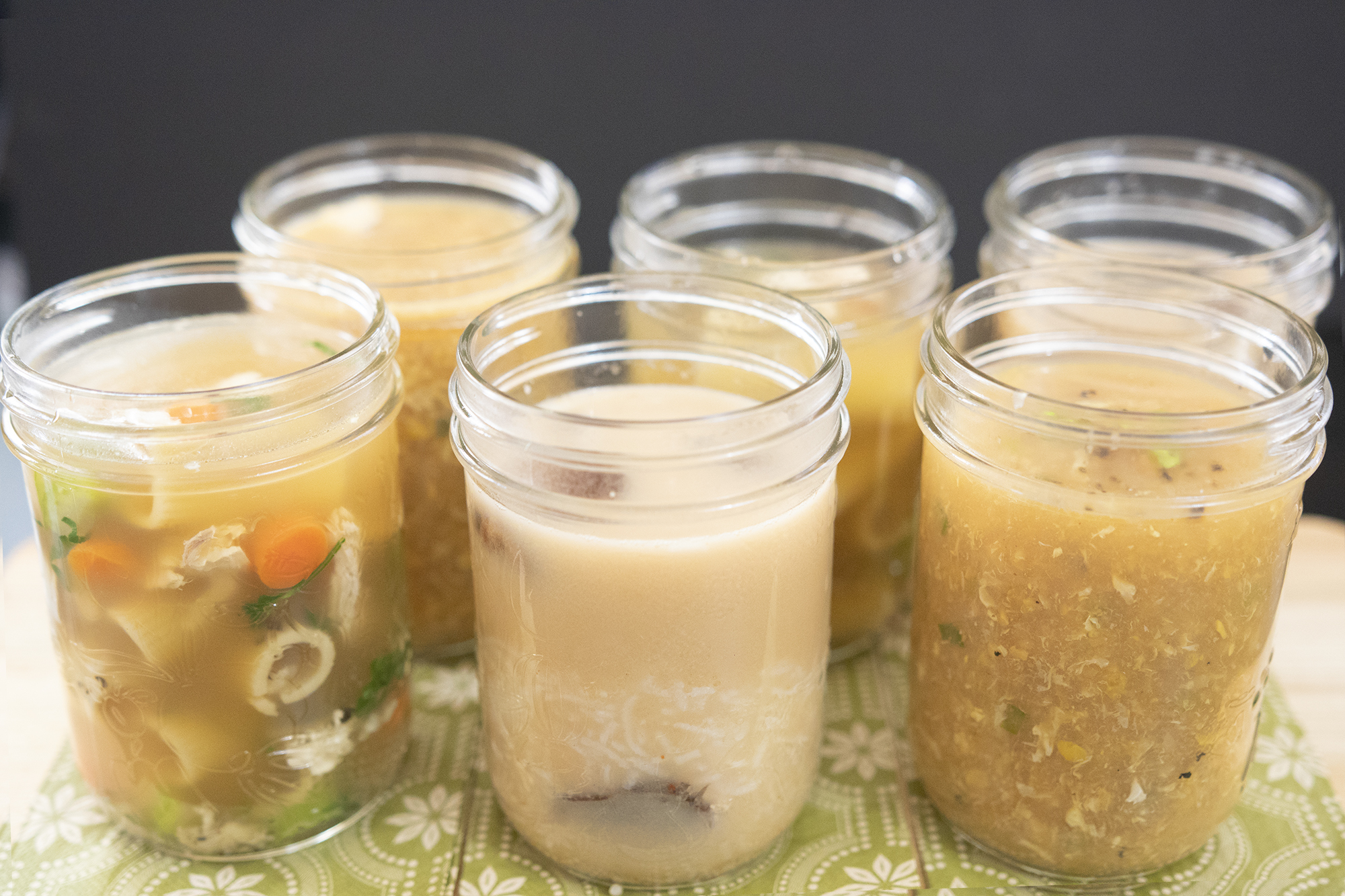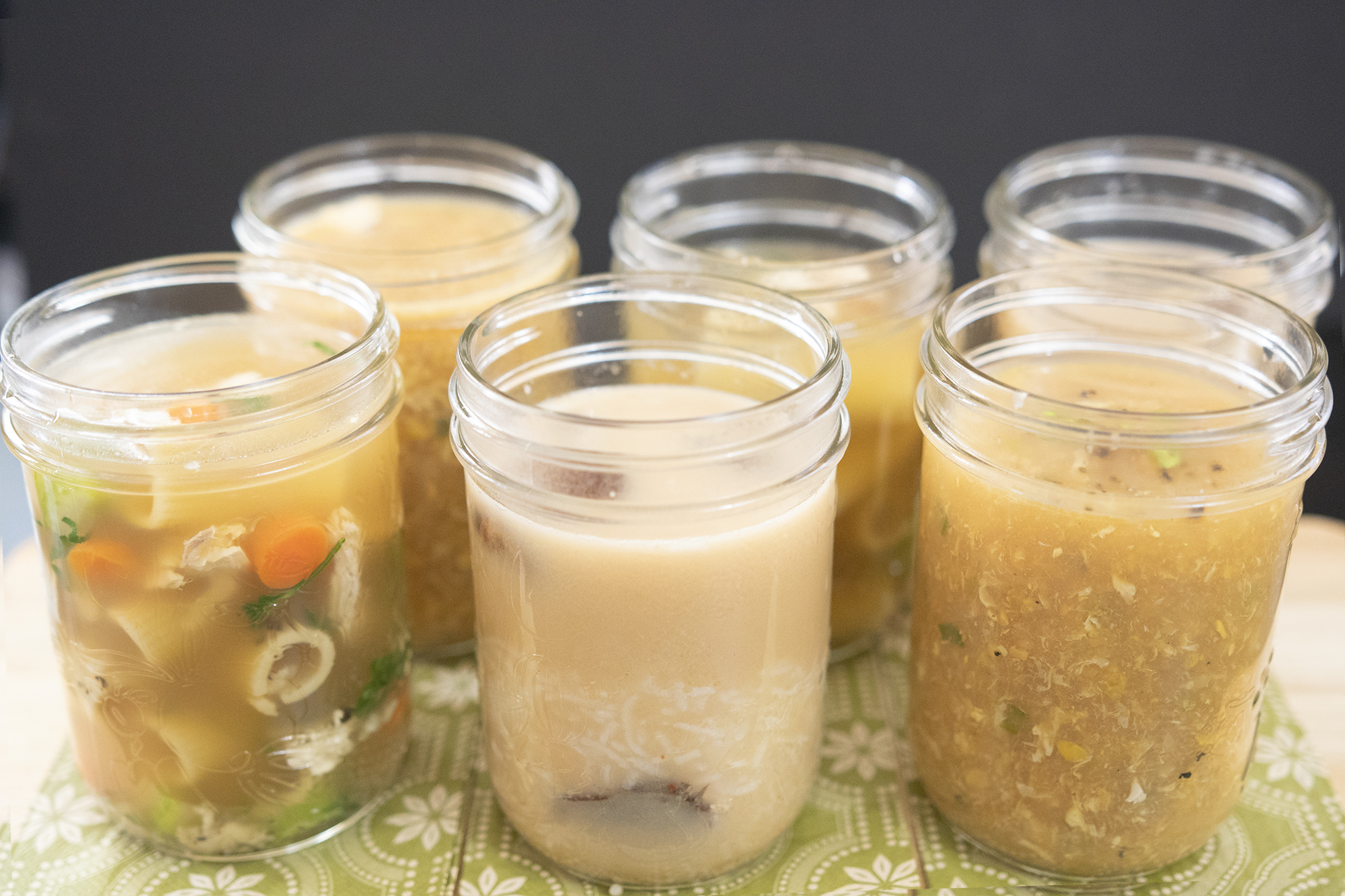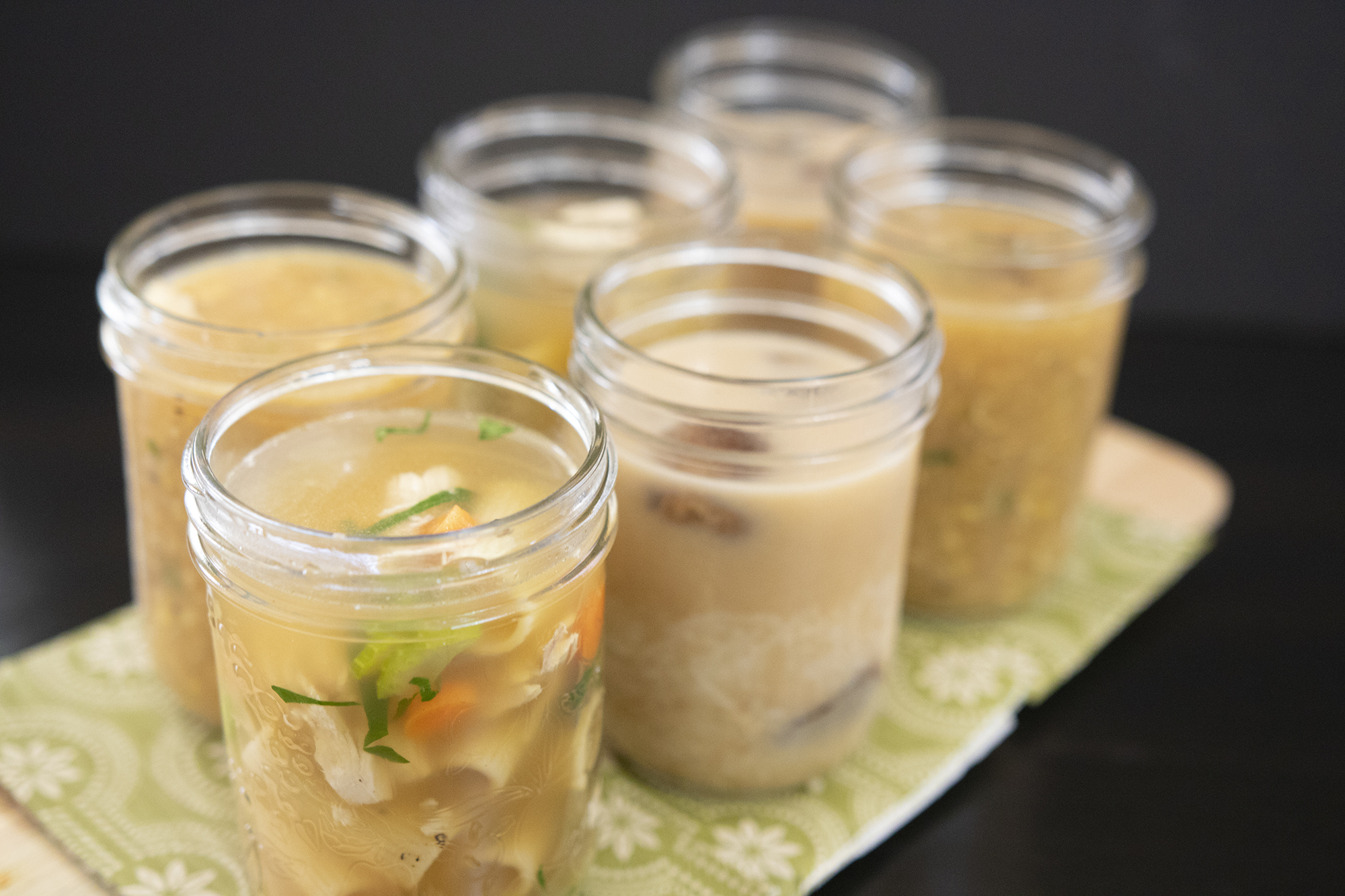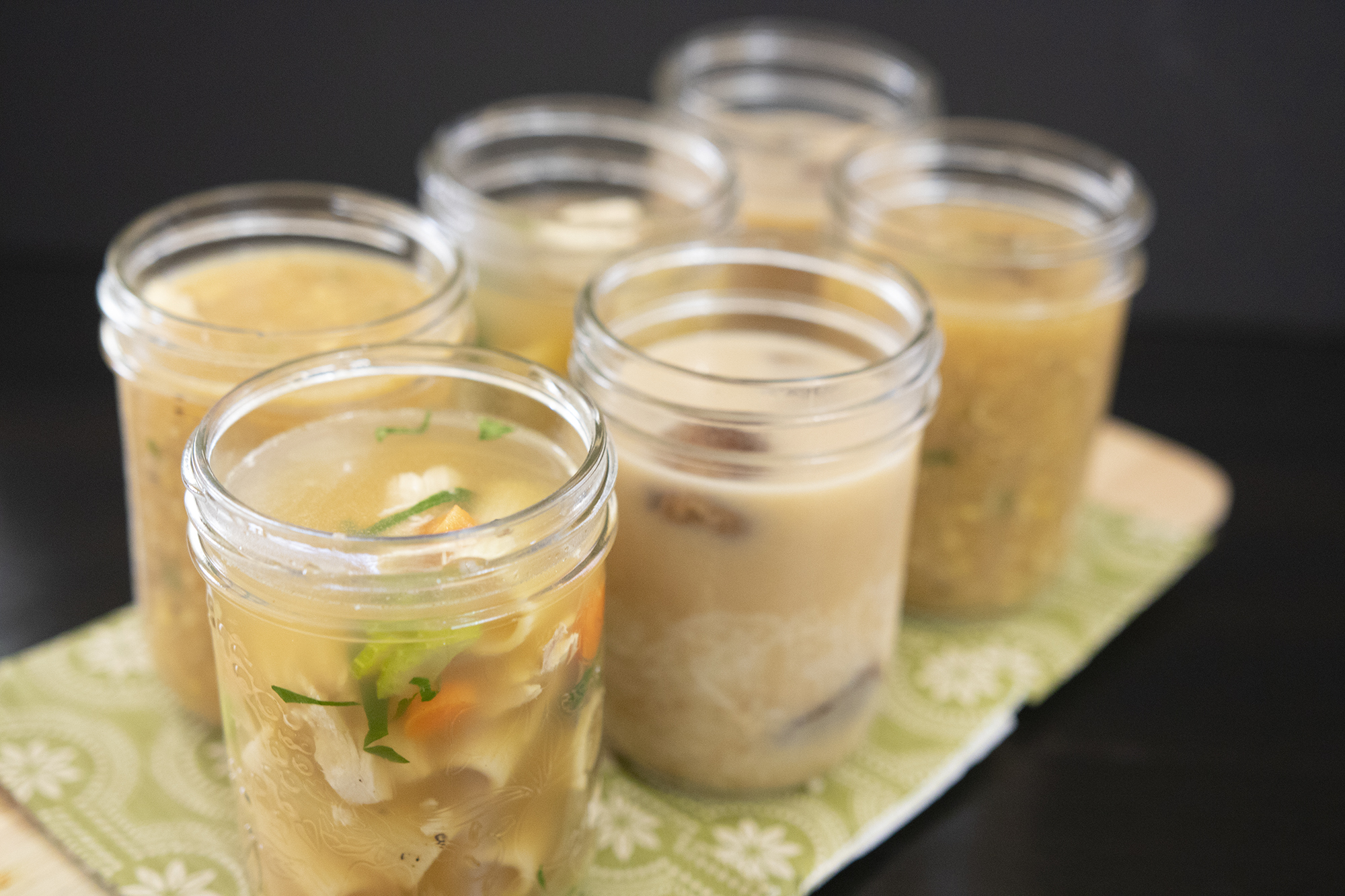 Whoever said that Chicken soup is good for the soul is spot on. These three Chicken soup recipes with vegetarian options are like a warm hug on a cold day. These 3 recipes are made very easily and can be stored in mason jars for a wonderful light meal all week long. I grab whatever soup I fancy and bring it to work and at lunchtime, all I have to do is reheat in the microwave and enjoy!
The first soup is a Sweet Corn soup also known as the Chicken sweet corn for a non vegetarian version. This soup is a favourite in every Chinese restaurant and it's so easy to make, my mom would make this for us all the time. If you like seafood, this is also super delicious with crab meat.
The next recipe is a Thai Coconut Rice & Mushroom soup, again, with or without Chicken. Lemongrass and Thai Red Curry paste is the star in the soup and is made hearty with Mushrooms and Rice.
And finally who doesn't love a good old fashioned Chicken Noodle soup. The stock is enhanced with Garlic and diced Carrots & Celery make this super colourful. Cooked Pasta is added to the broth together with some fresh Parsley. This soup is not cooked for long to prevent the veggies from losing their vibrancy and crunch. Again, Chicken is optional.
[youtube-subscriber nickname=kravingsblog]
3 Chicken Soups for the soul with Veggie options
Ingredients
Sweet Corn Soup
600 ml Chicken or Veggie Stock
400 ml Creamed Corn
1 tsp Chilli Vinegar
Salt & Pepper
1 tsp light Soya sauce
1 Egg beaten
2 tbsps Spring Onion leaves
1/4 cup cooked shredded Chicken optional
Thai Coconut soup with Rice & Mushrooms
600 ml Chicken or Veggie Stock
1 Lemongrass stick cut in 4, 2 inch pieces
1 tsp Thai Red Curry paste
1/2 cup Mushrooms
1 tsp Fish sauce (use Soya for Veggie option)
Fresh cracked Pepper to taste
100 ml Coconut Milk
Pinch Salt
1/2 cup cooked Rice
1/4 cup cooked shredded Chicken
Noodle Soup
600 ml Stock (Chicken or Veggie)
1 tsp minced Garlic
Salt & Pepper to taste
1/4 cup each diced Carrots & Celery
1/2 cup cooked Pasta
1 tbsp chopped Parsley
1/4 cup cooked shredded Chicken
Instructions
Sweet Corn Soup
Heat up the stock
Add the creamed corn
Add the Chilli Vinegar, Salt, Pepper, Soya and stir
Beat the egg and drop into the soup stirring with a fork
Add the sliced spring onion leaves
Add shredded Chicken optional
Thai Coconut soup with Rice & Mushrooms
Heat up the stock
Add the lemongrass and allow to infuse into the stock and remove
Add the red curry paste
Add the mushrooms, fish sauce and pepper
Add the coconut milk
Add a pinch of salt and the rice
Add shredded Chicken optional
Noodle Soup
Heat up the stock
Add the Garlic
Add the diced carrots and celery
Add the noodles
Add the Parsley
Add shredded Chicken optional
https://kravingsfoodadventures.com/3-chicken-soups-soul-veggie-options/