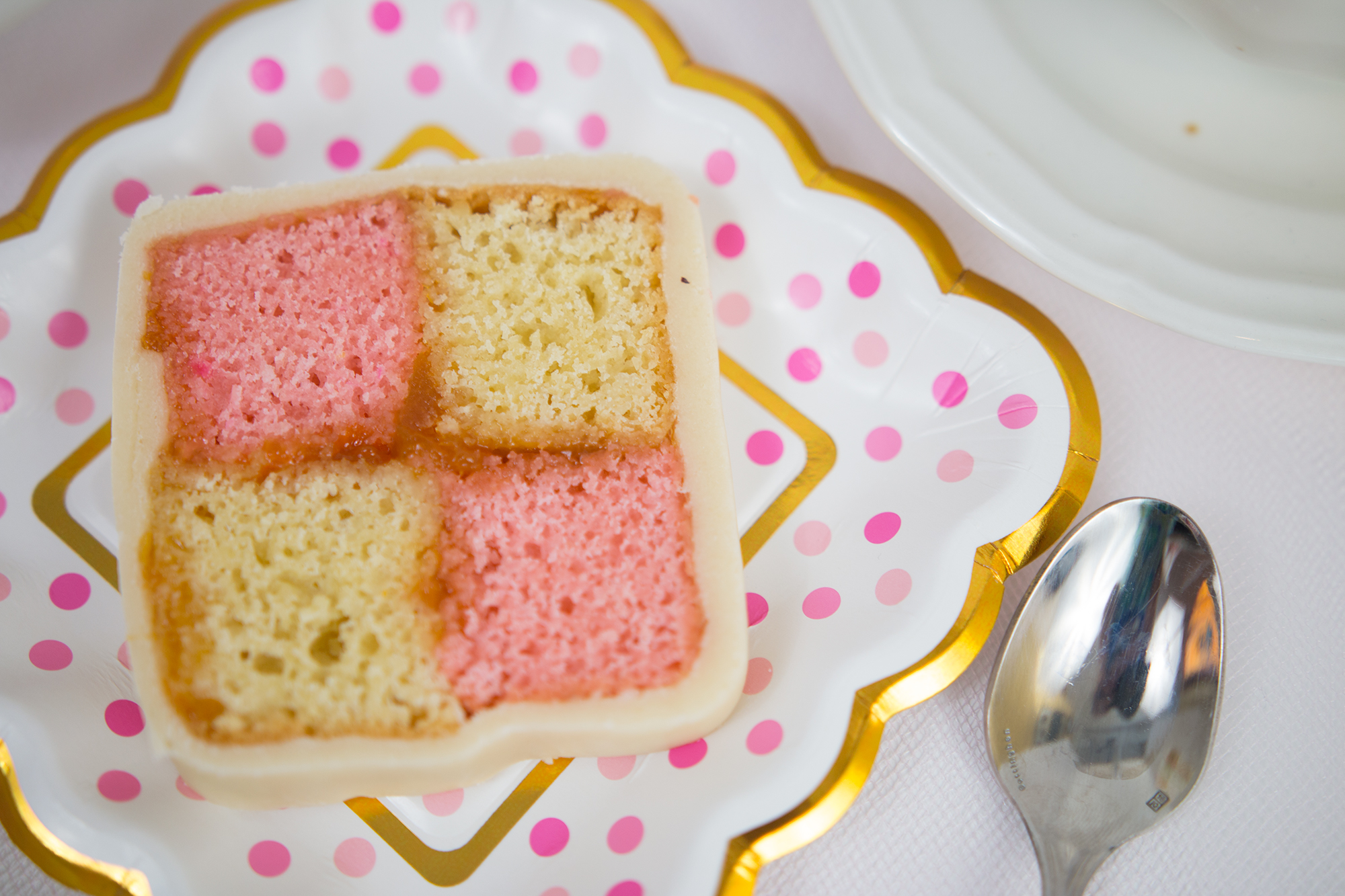 Click here to see my step-by-step video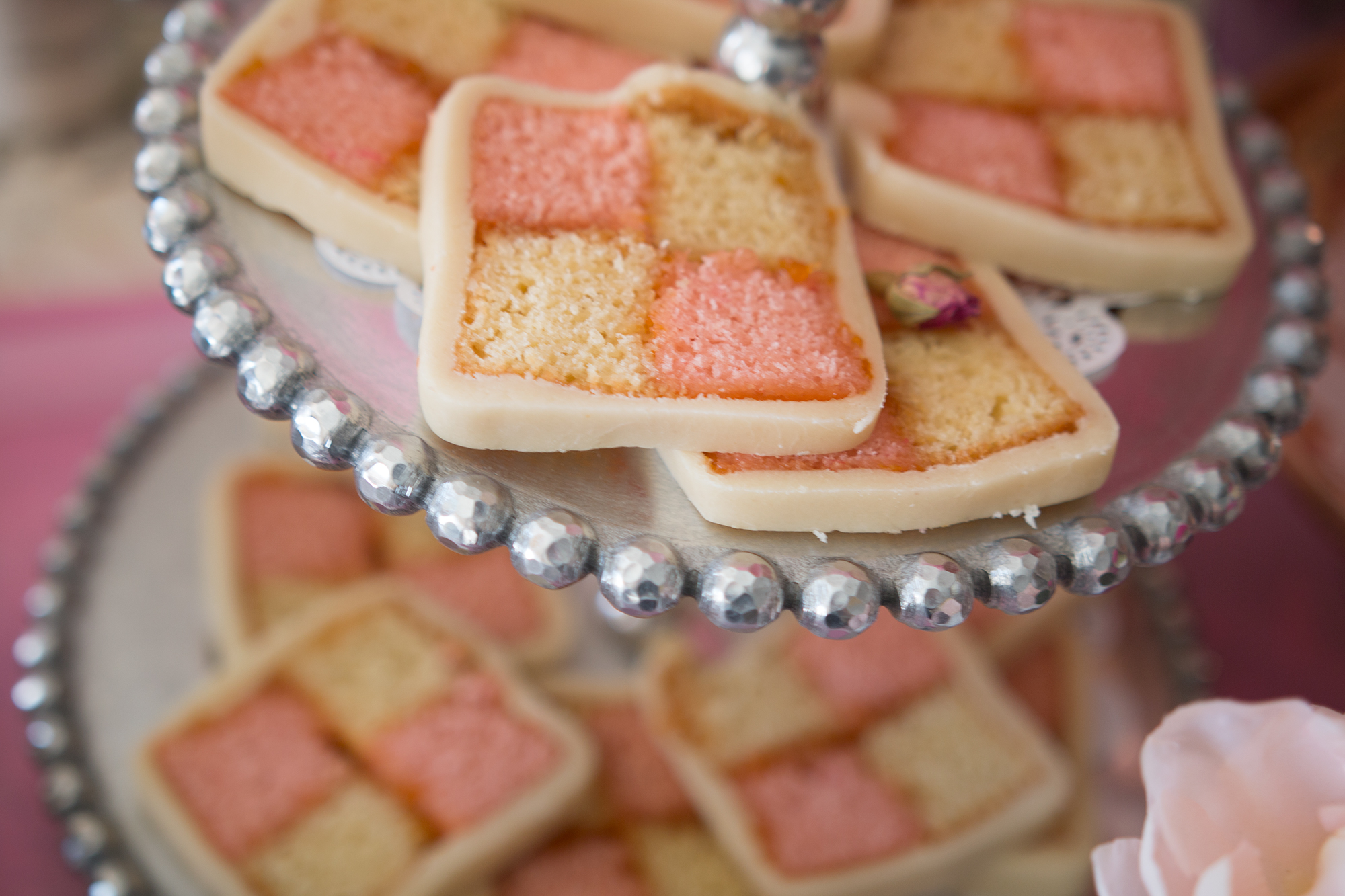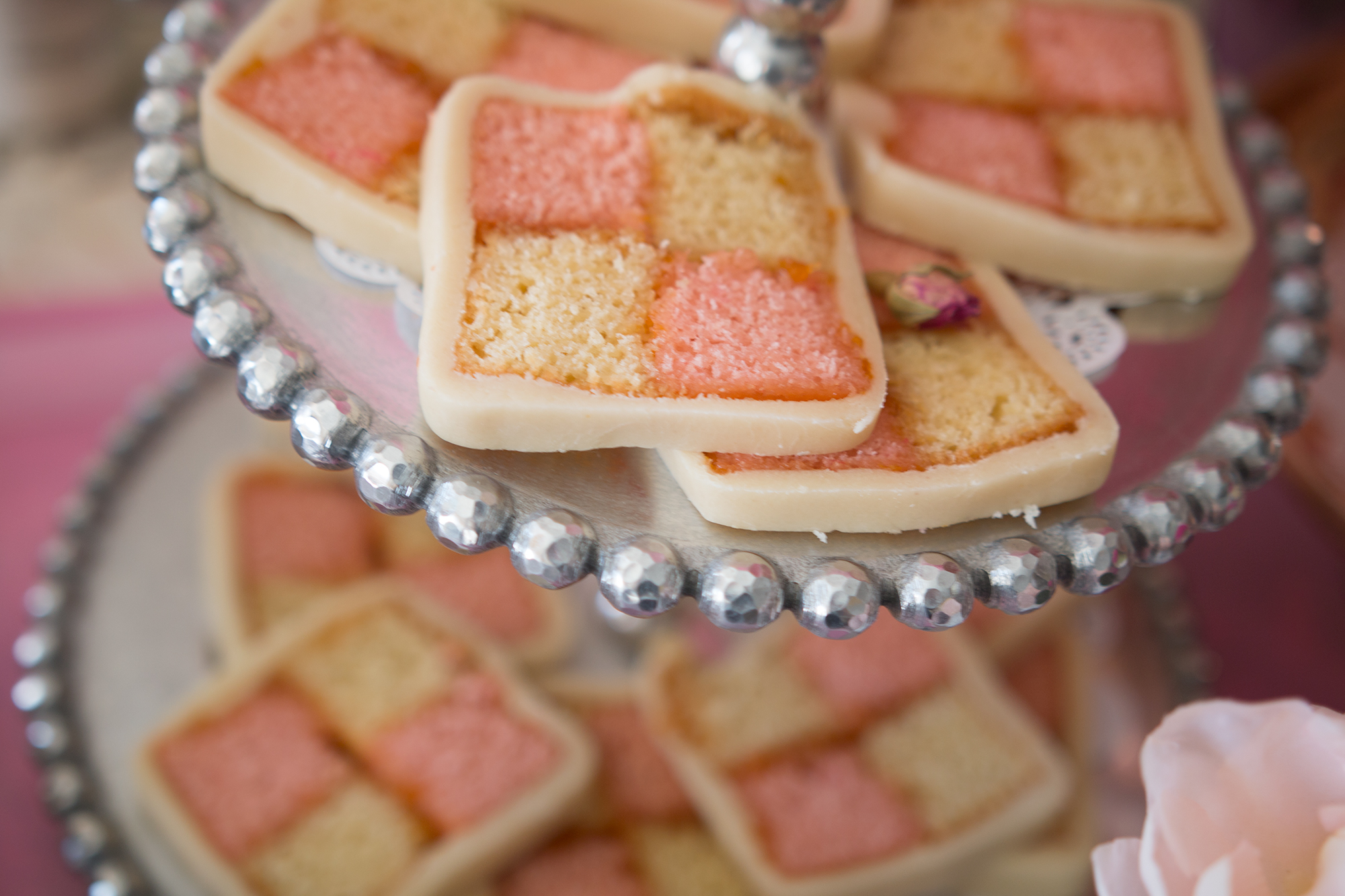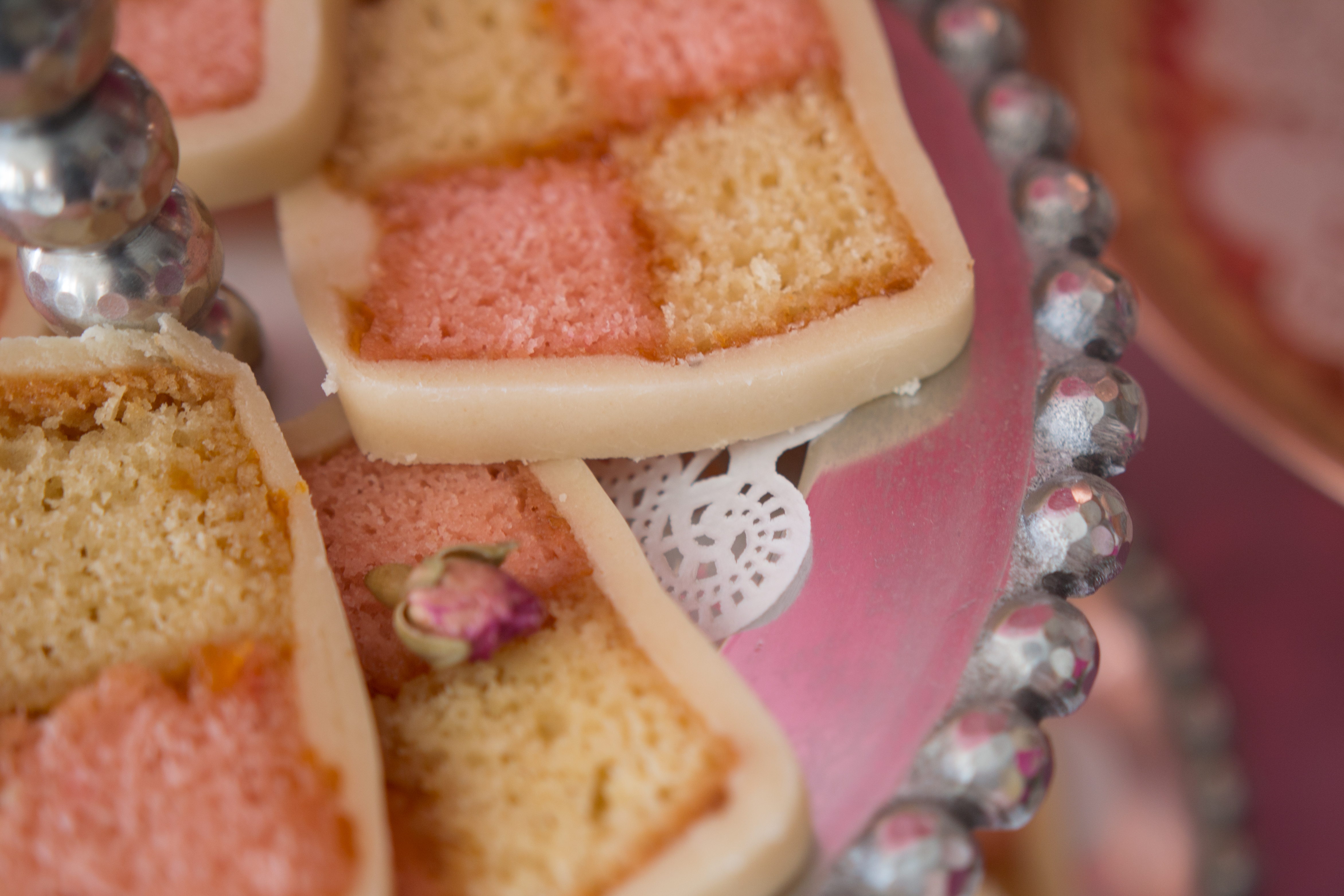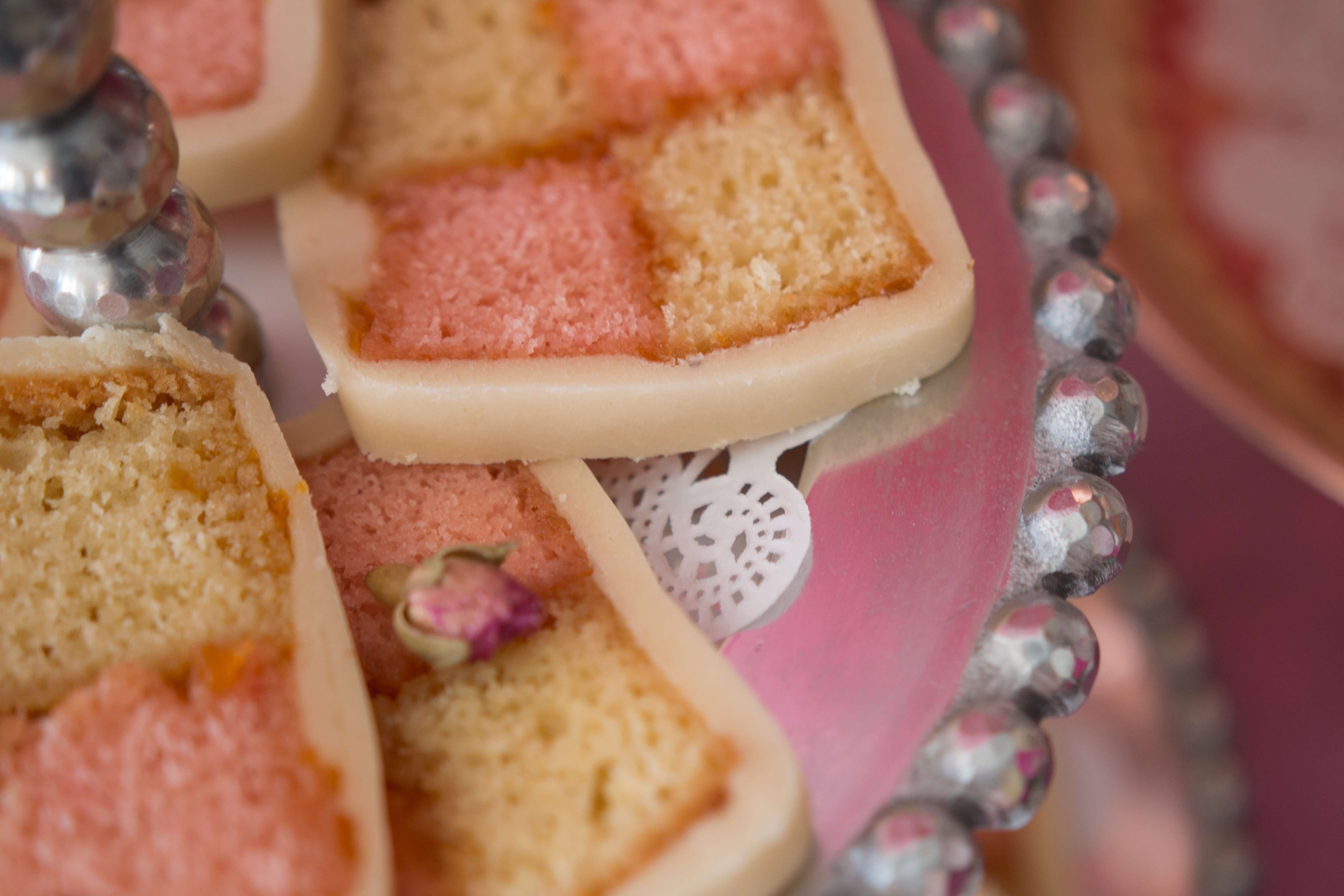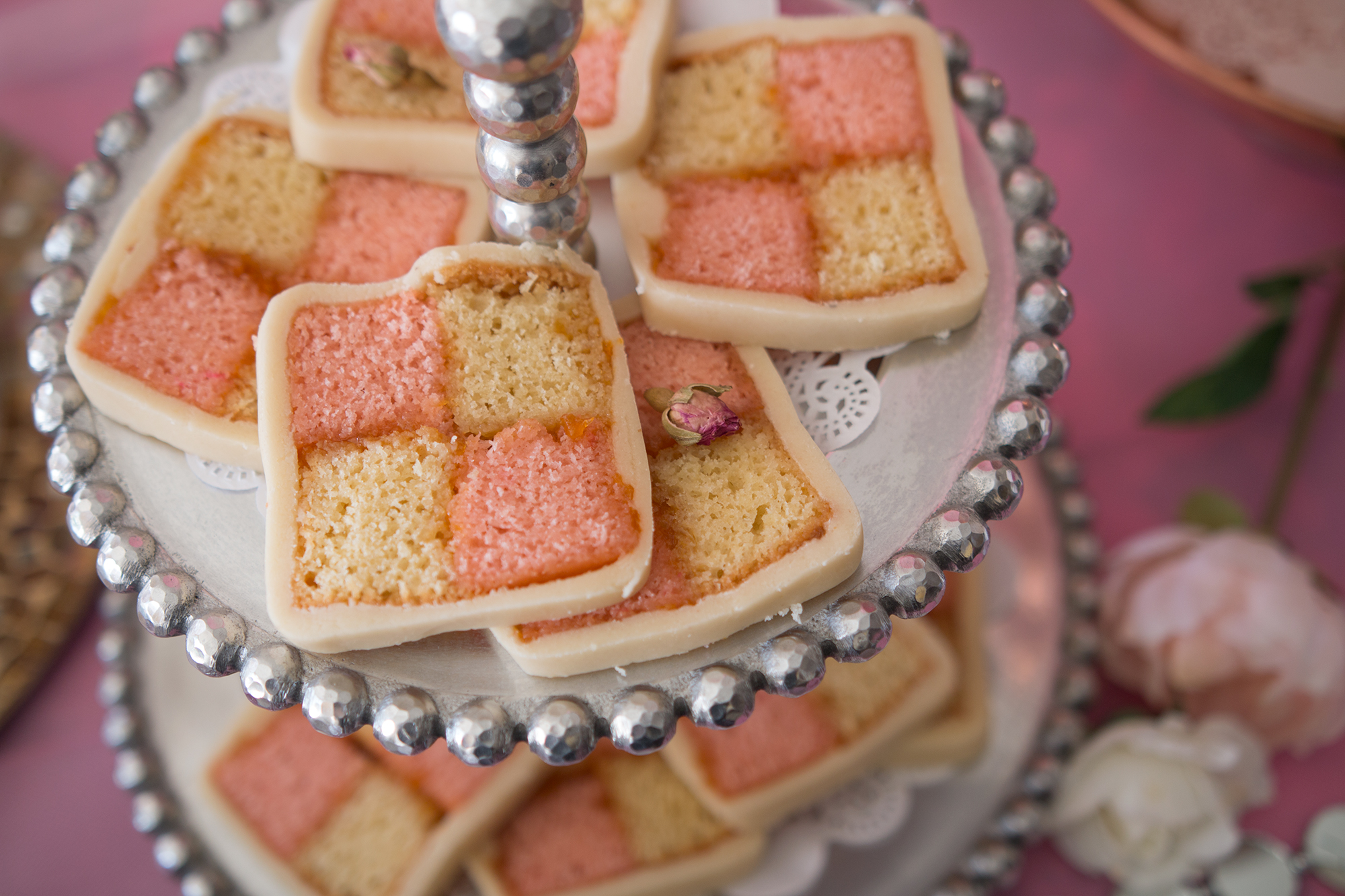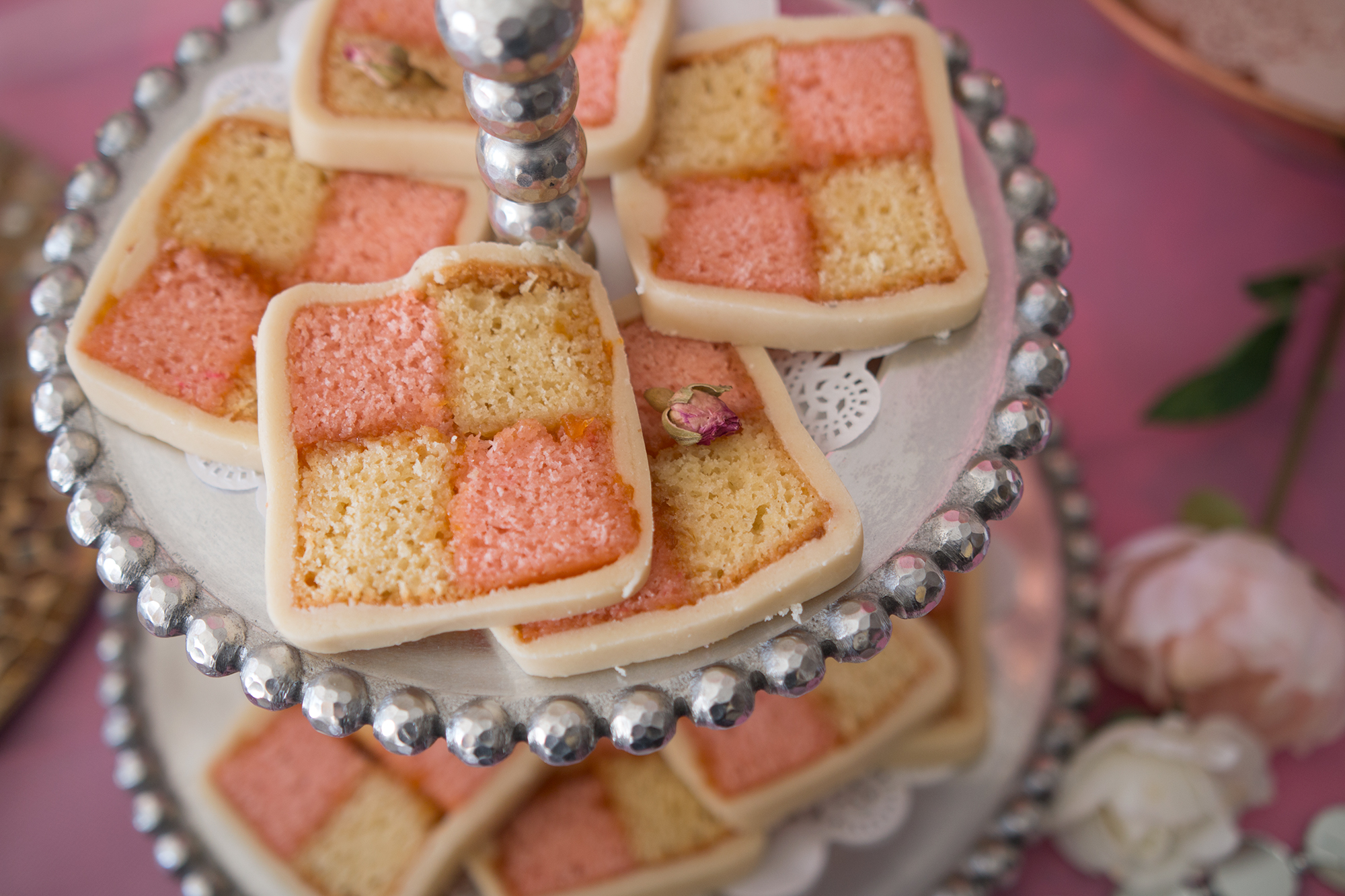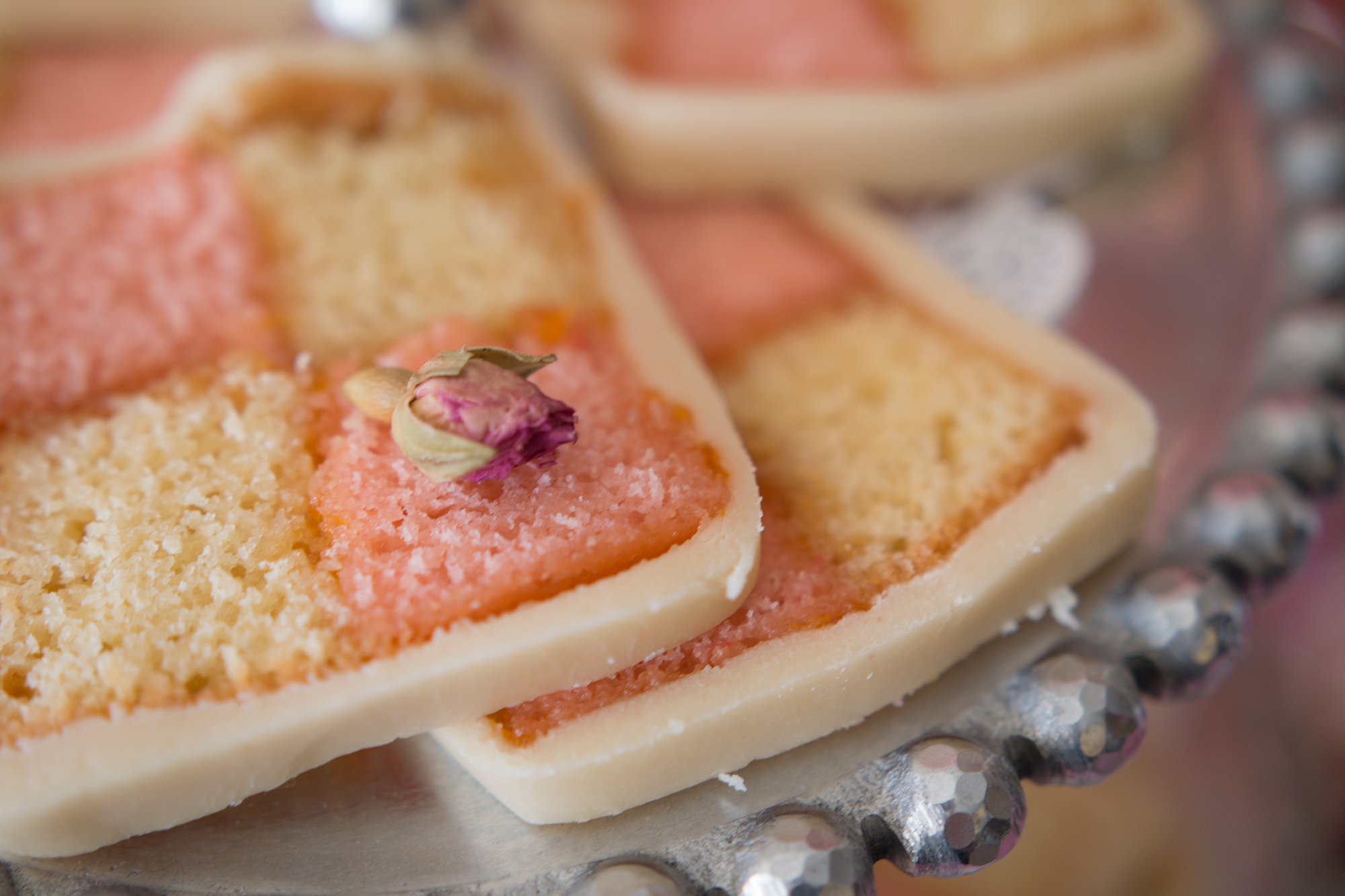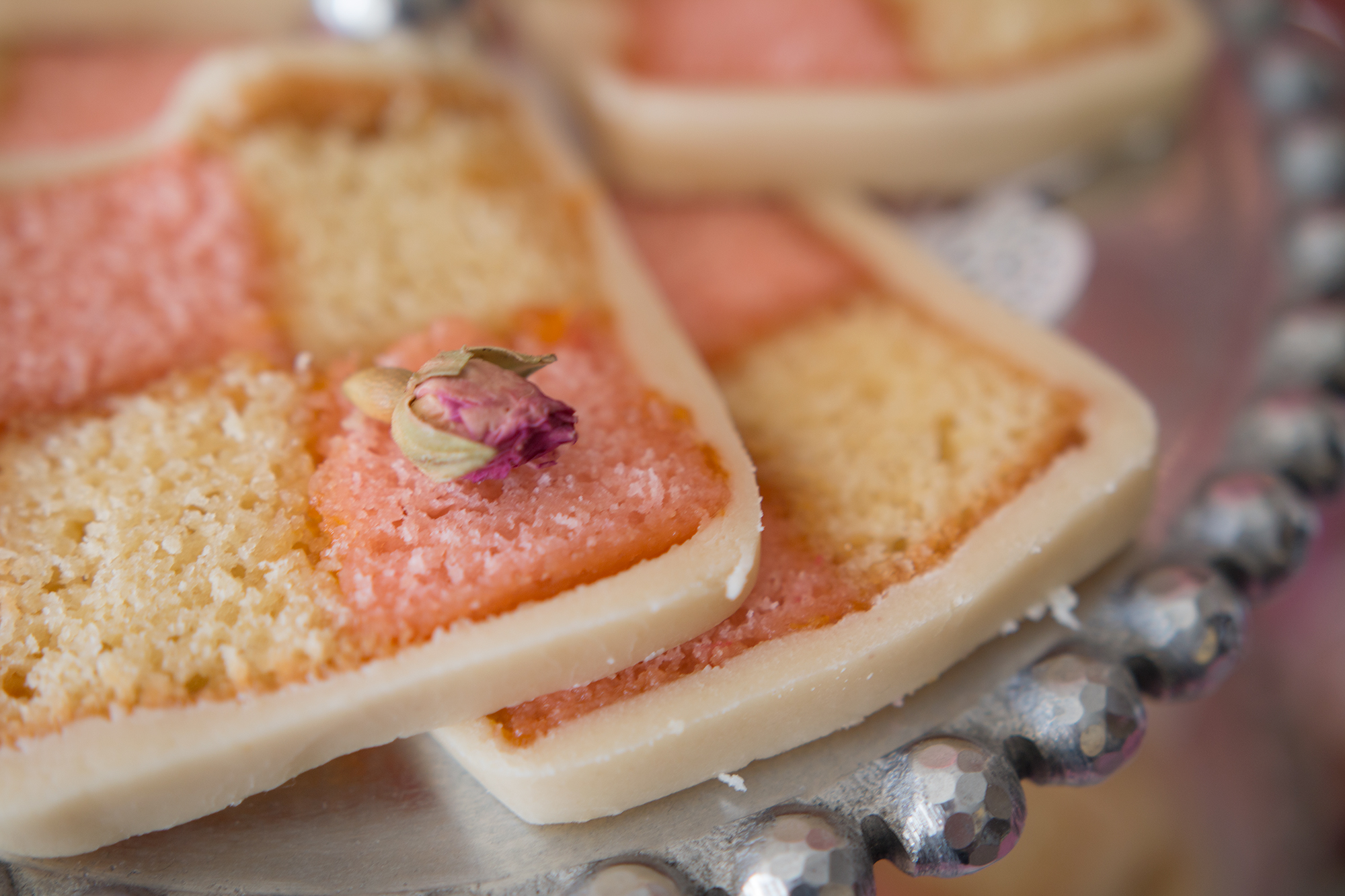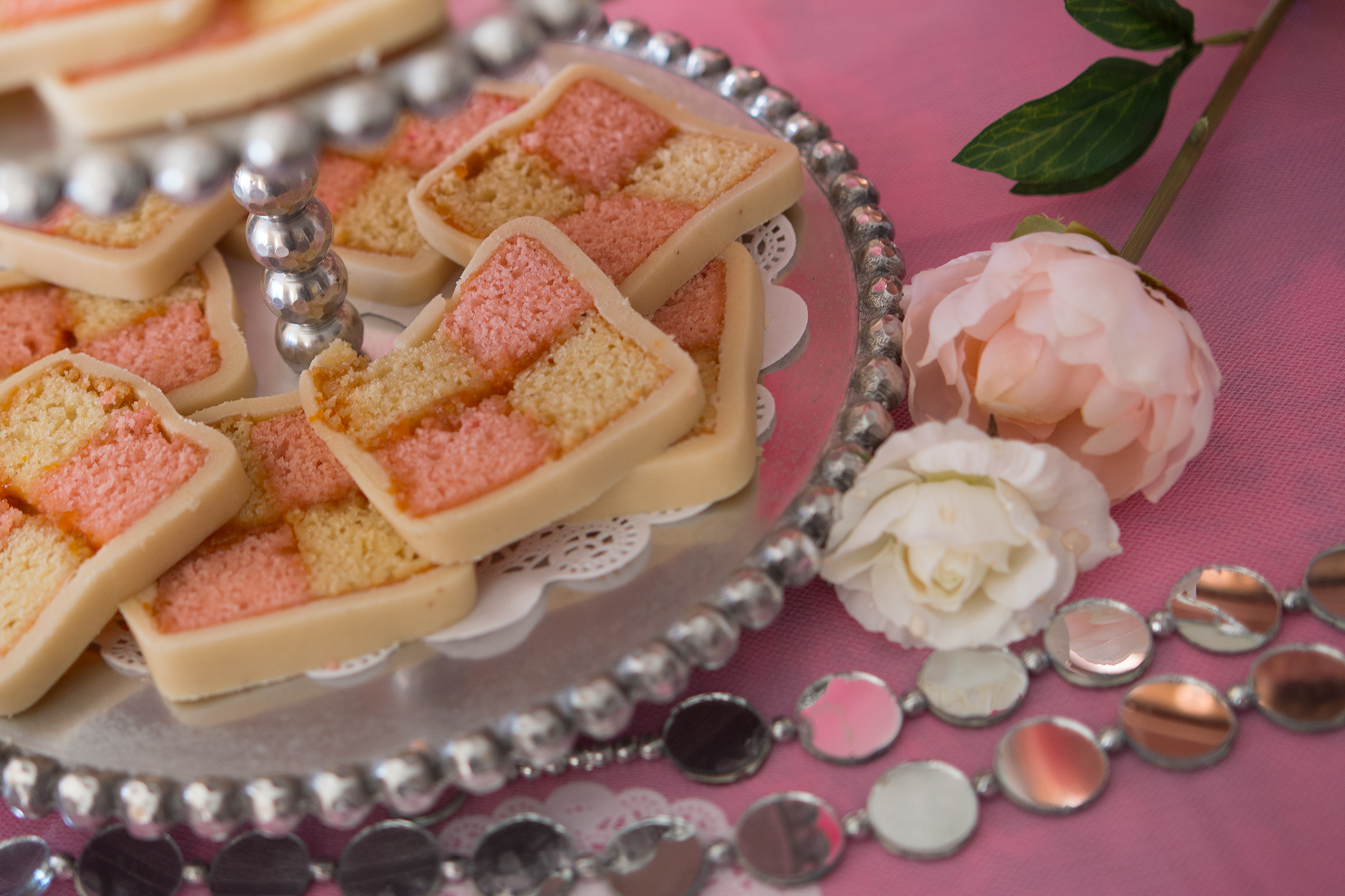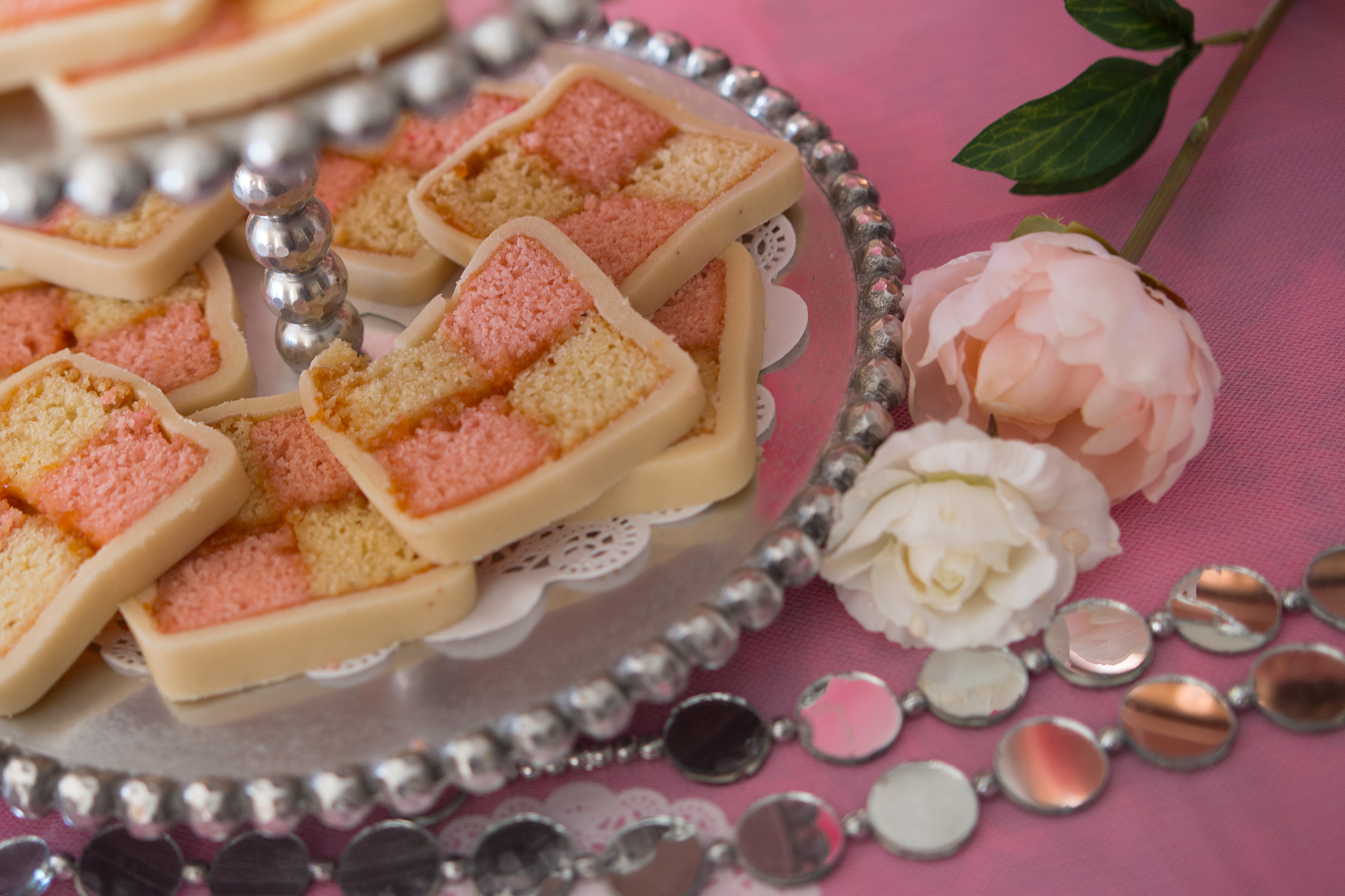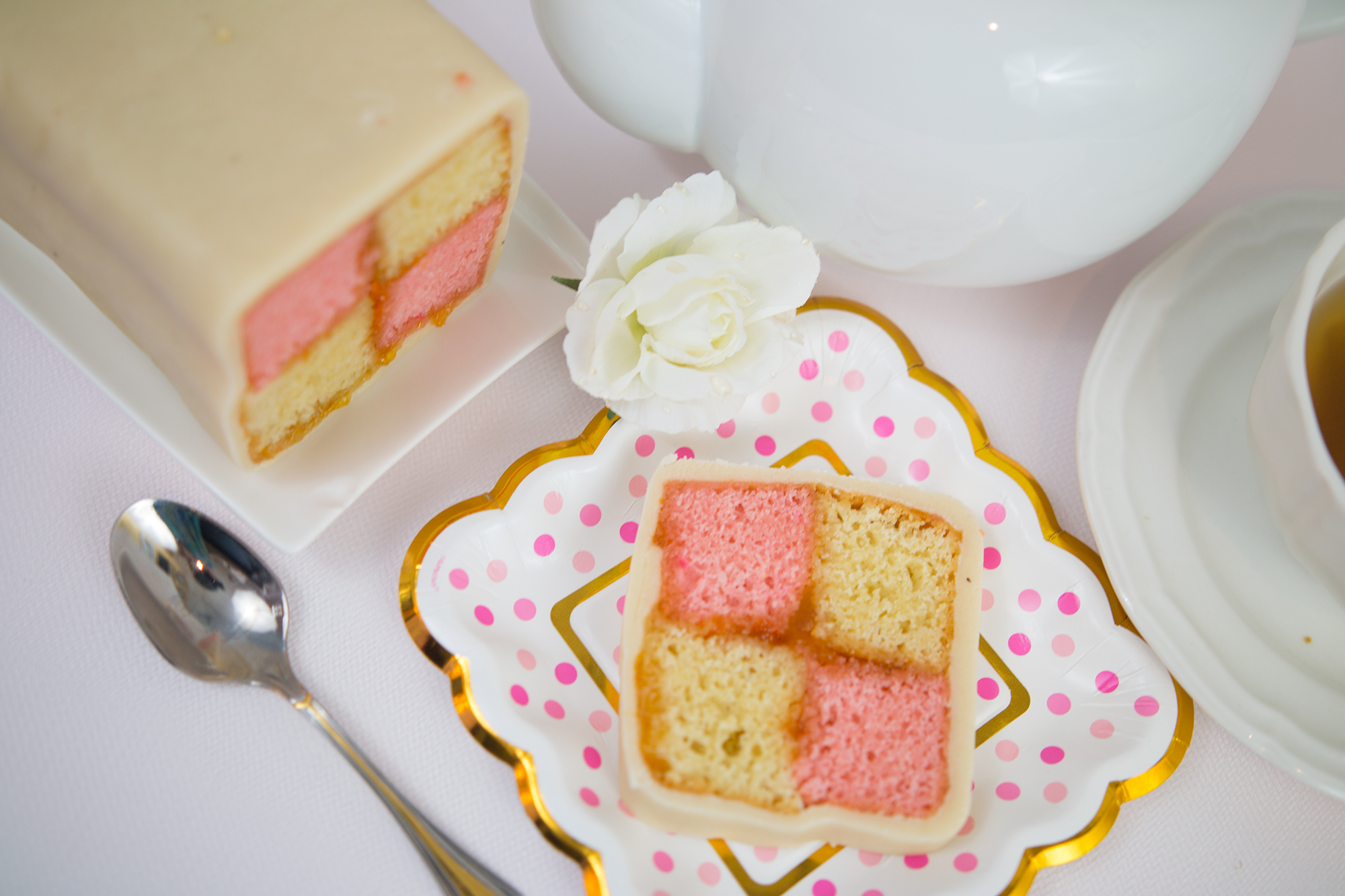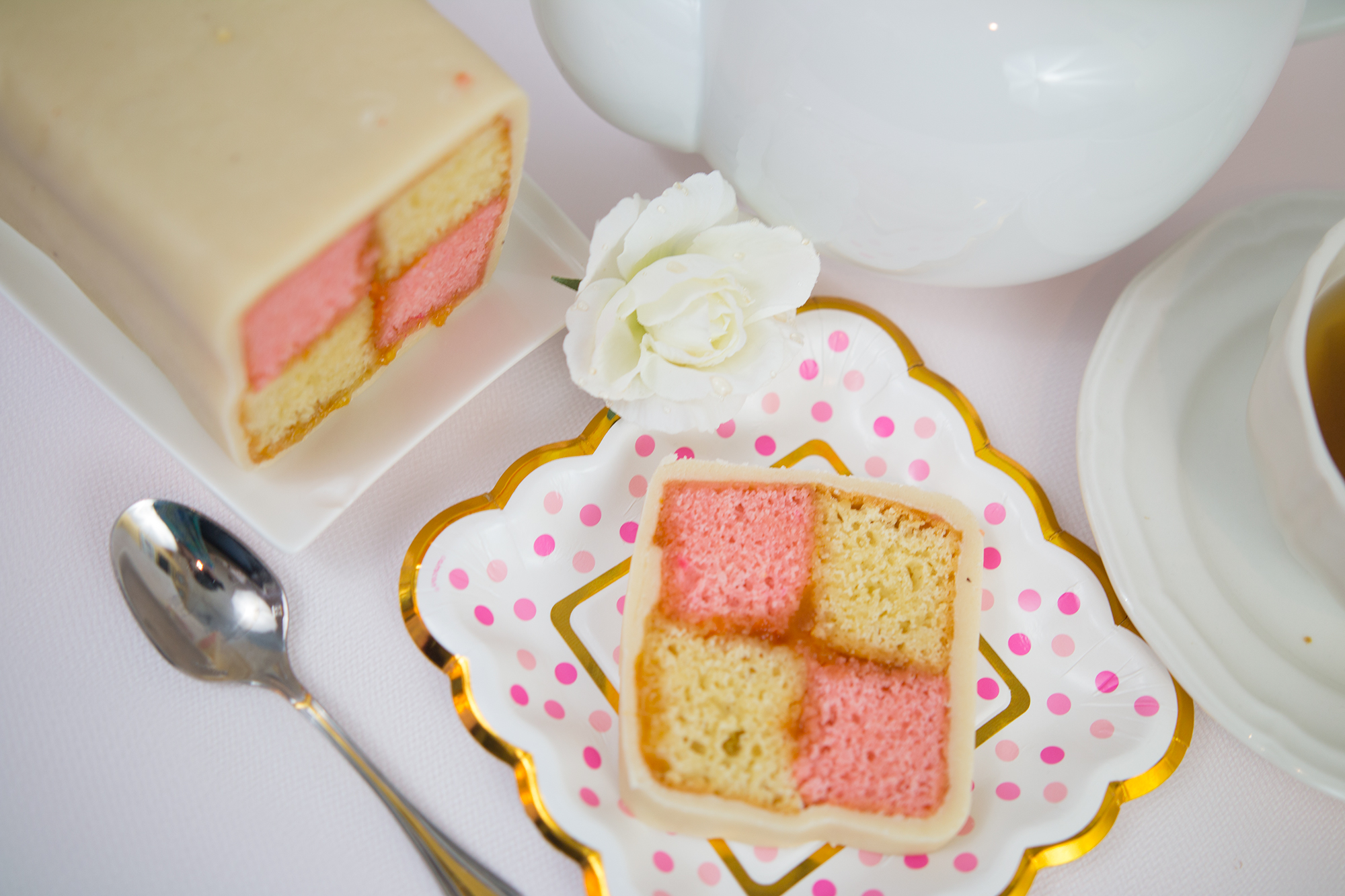 This recipe has been on my bucket list for a long long time. My love affair with the Battenberg started on a trip to London when I was 18 years old. Years later a friend of mine made the Battenburg on the popular TV show Recipe to Riches. I was obsessed with this cake. Now I'm not much of a baker, I can cook with my eyes closed, but baking requires a lot of precision but I was determined to learn this cake and make it easy for you to make yourself.
The cake was named in honour of the marriage of Princess Victoria, a granddaughter of Queen Victoria, to Prince Louis of Battenberg in 1884. Battenburg is the name of a town in Germany. This cake is very technical but remarkably easy when you get the hang of it and delicious. Two colors of Sponge cake are cut into equal rectangles, sandwiched together with apricot jam and wrapped into a neat parcel with almond marzipan! When you cut a slice, you see a Checkerboard pattern encased with a strip of marzipan, this is truly a slice of heaven.
I also looooove theme parties, so when my friend Ruby(also my husband's cousin) broke the news about her pregnancy, I was determined to throw her a posh high tea themed shower. And of course, what's more posh than the Battenberg? Be sure to check out the video as this is a technical cake and it's really helpful to see the process. There's also some footage from the party that you can check out.
Some things to remember before you go on to watch the video and download the recipe. Baking is a science so use the ingredients exactly as stated. Also make sure to adhere to temperatures suggested, the butter should be at room temp, as well as the eggs. Prepare your marzipan the same day for the best results. It's most pliable when freshly made. And do not be afraid to fail. Baking disasters happen to the best of us … if that happens, just try again. This recipe is very traditional using a plain almond sponge with apricot jam. I'm really itching to make a Black Forest inspired Battenberg – stay tuned for that one
The Brits love their Battenburg, this cake is also referred to as a church window. The combination of apricot jam, almond sponge and marzipan is delicious and the look is fit for a queen!. Won't you join us for a spot of tea & slice of Battenberg darling?
Check out my Black Forest Battenberg!
[youtube-subscriber nickname=kravingsblog]
Battenberg – British Royal Cake
Ingredients
175 gms/6 oz. room temperature unsalted Butter
175 gms of Super fine or Caster Sugar
3 large eggs
175 gms sifted self raising Flour
1 tsp Baking Powder
2 tbsps ground Almonds
2 tbsps Vanilla
Food coloring
200 gms/ 7 oz powdered almonds
400 gms/ 14 oz Icing Sugar
2 Egg whites
½ tsp Almond Extract
1 cup Apricot jam
Instructions
Add the room temperature butter to the processor bowl and process till nice and fluffy
Add 175 gms of super fine or caster sugar and cream together
Once the butter and sugar are well creamed together, add 3 eggs one at a time, scraping after each addition
Sift 175 gms of Self raising flour and add a tablespoon of thee flour in between beating the eggs to prevent the butter from looking like it's curdled
Add 1 tsp of Baking Powder and the rest of the self raising flour and 2 tbsps of ground almonds
Add 2 tbsps Vanilla extract
Equally divide the batter into two parts color one half pink
Divide the pan in half(see video for full instructions) and add the batter to the pan
Add this into your preheated oven for 35 mins
After 35 mins, check with a cake pin or skewer and allow it to cool completely
If your cakes have a bump, just level them off with a knife
Once the cakes are cool cut them into strips
Prepare the marzipan mix 200 gms of powdered almonds together with 400 gms of icing sugar and process it
Add 2 egg whites, one at a time and a ½ tsp of almond extract
Add the marzipan to a microwave safe platter and cover with cling film
Zap it in the microwave for 10 seconds and do this 3 times
The dough will be warm and the egg would have cooked. Leave this aside to cool
Lay out a piece of parchment paper and roll out the marzipan
Sandwich the cakes together using the classic ingredient apricot jam
Make sure you alternate the colors so it looks like a chequered pattern
Lay this over the marzipan and make sure you've rolled one side long enough to completely cover the cake
Trim off any excess marzipan and this can be stored in a Ziploc bag and reused
Remove the cake and brush the inside of the marzipan with jam
Lay the cake over the marzipan and using the help of the parchment paper, lift the marzipan and cover the cake
Uing cling film wrap the cake for an hour so everything holds together well
Trim the edges with a sharp knife and clean the knife in between to cut neat and clean slices
https://kravingsfoodadventures.com/battenberg/