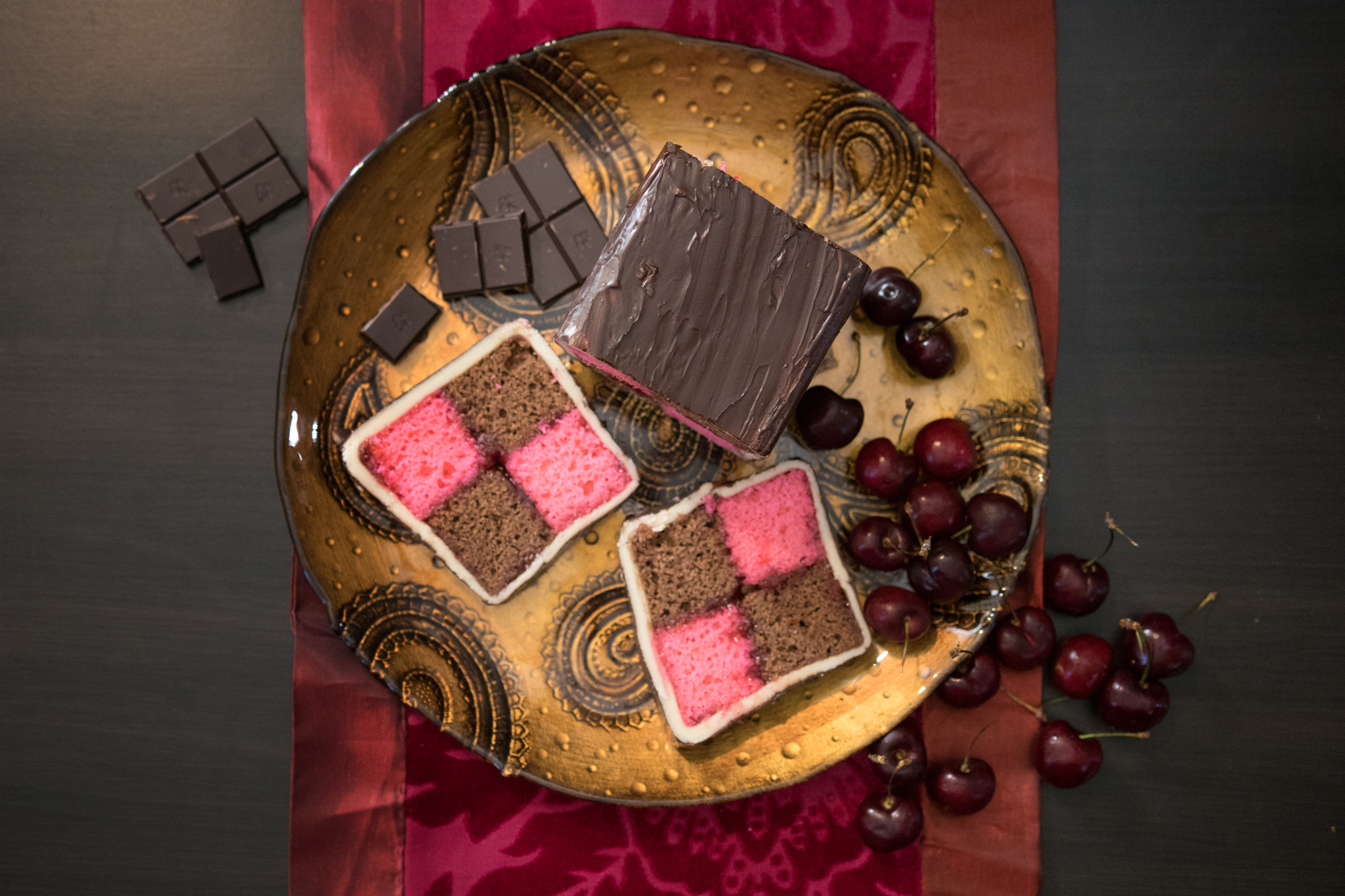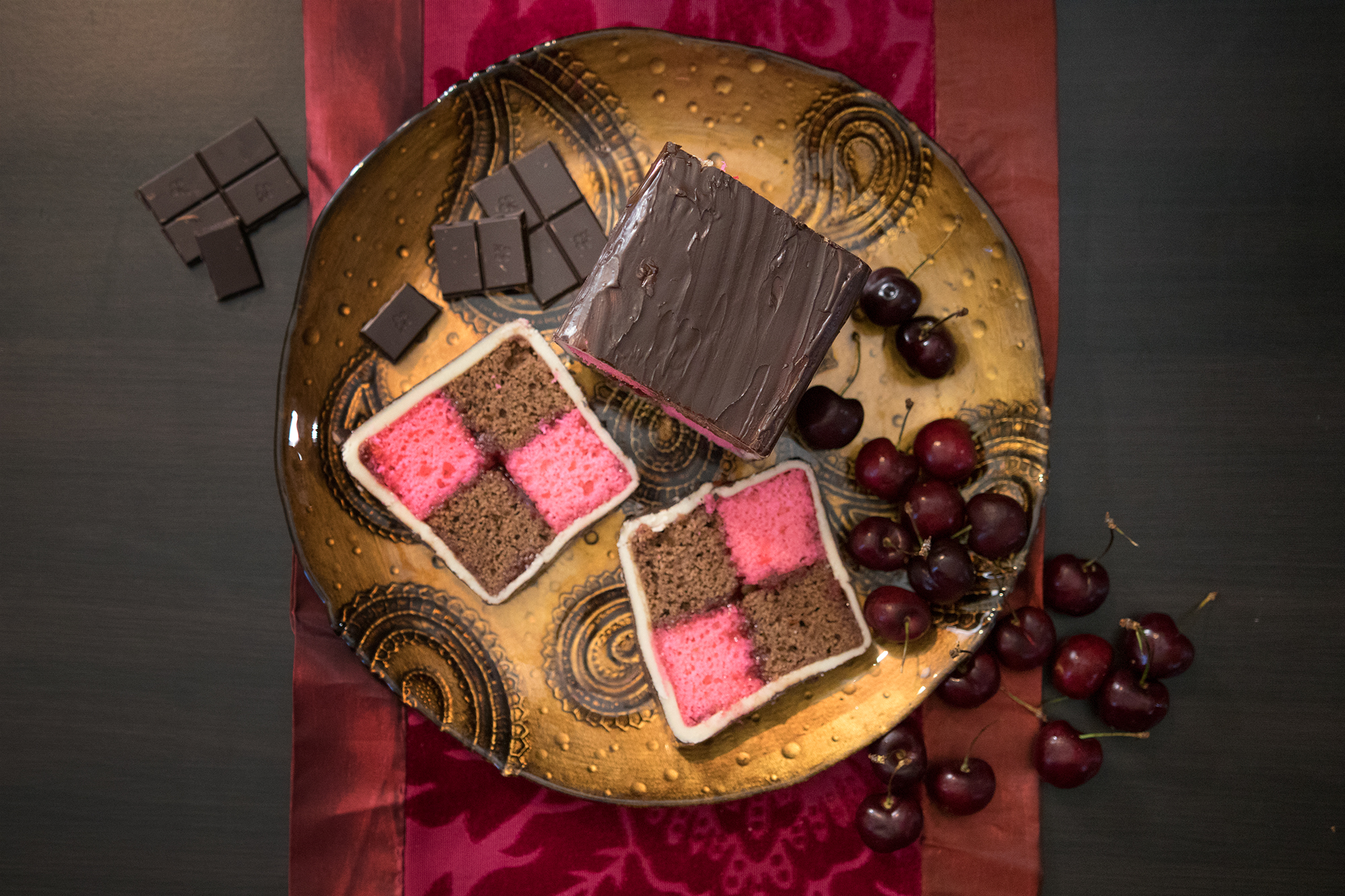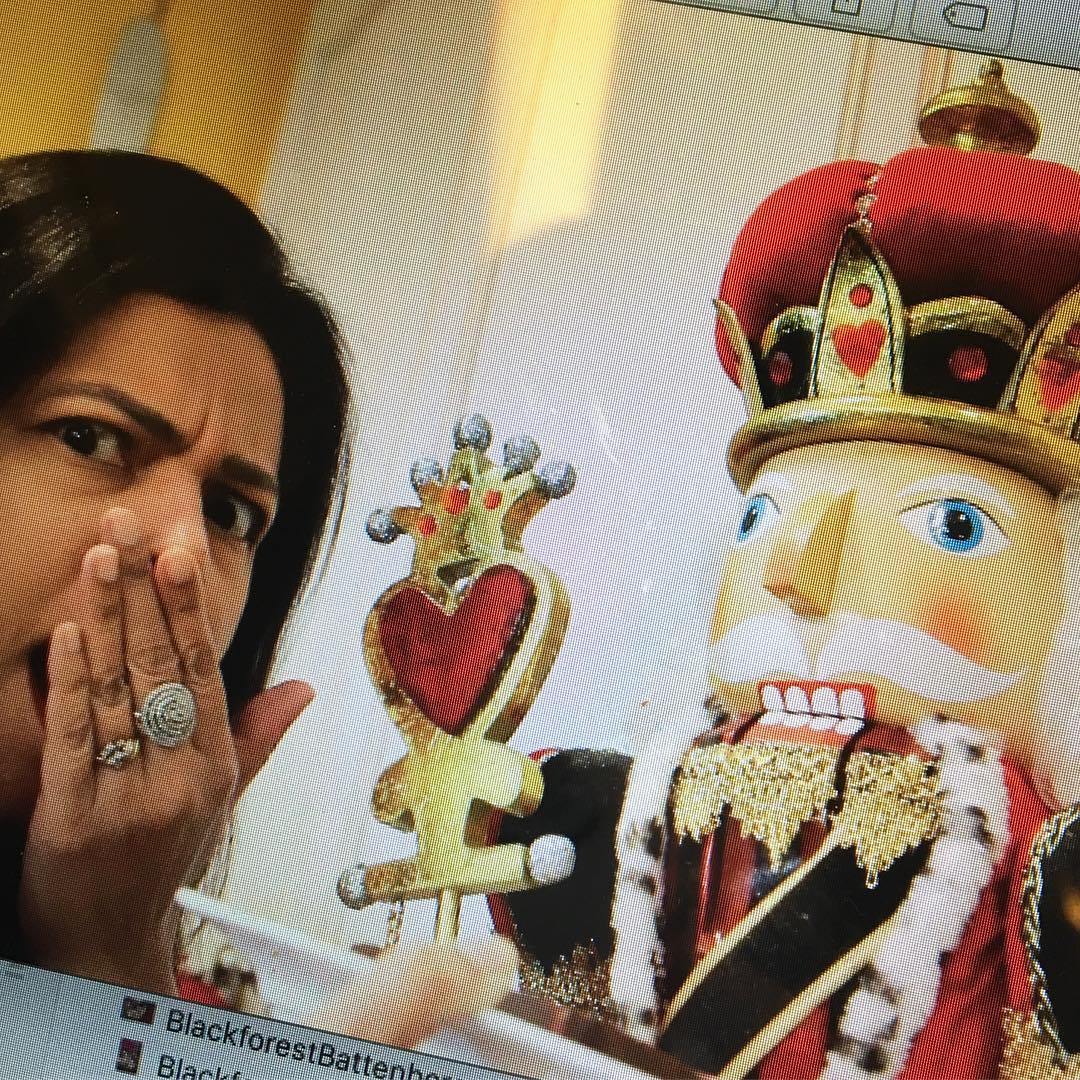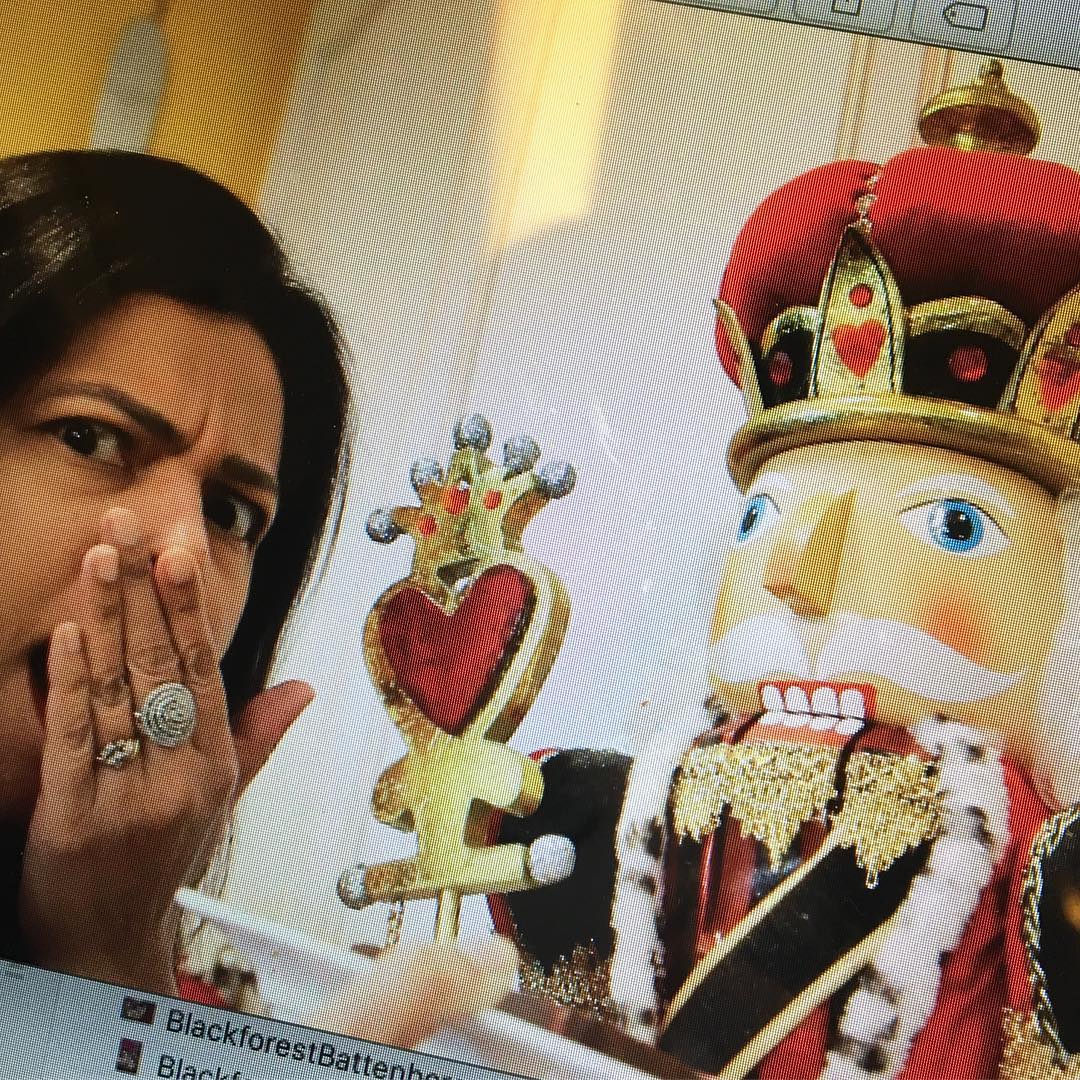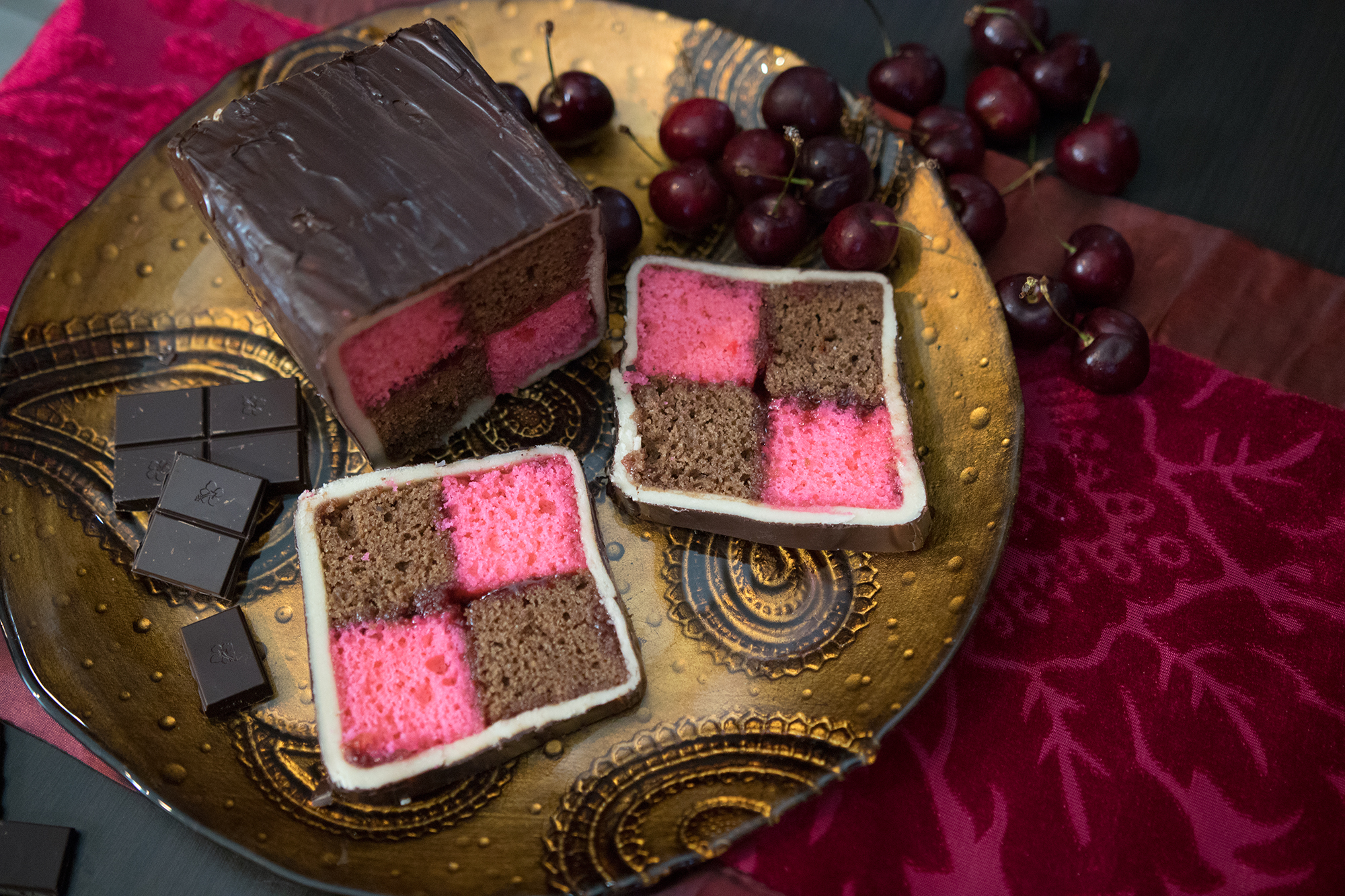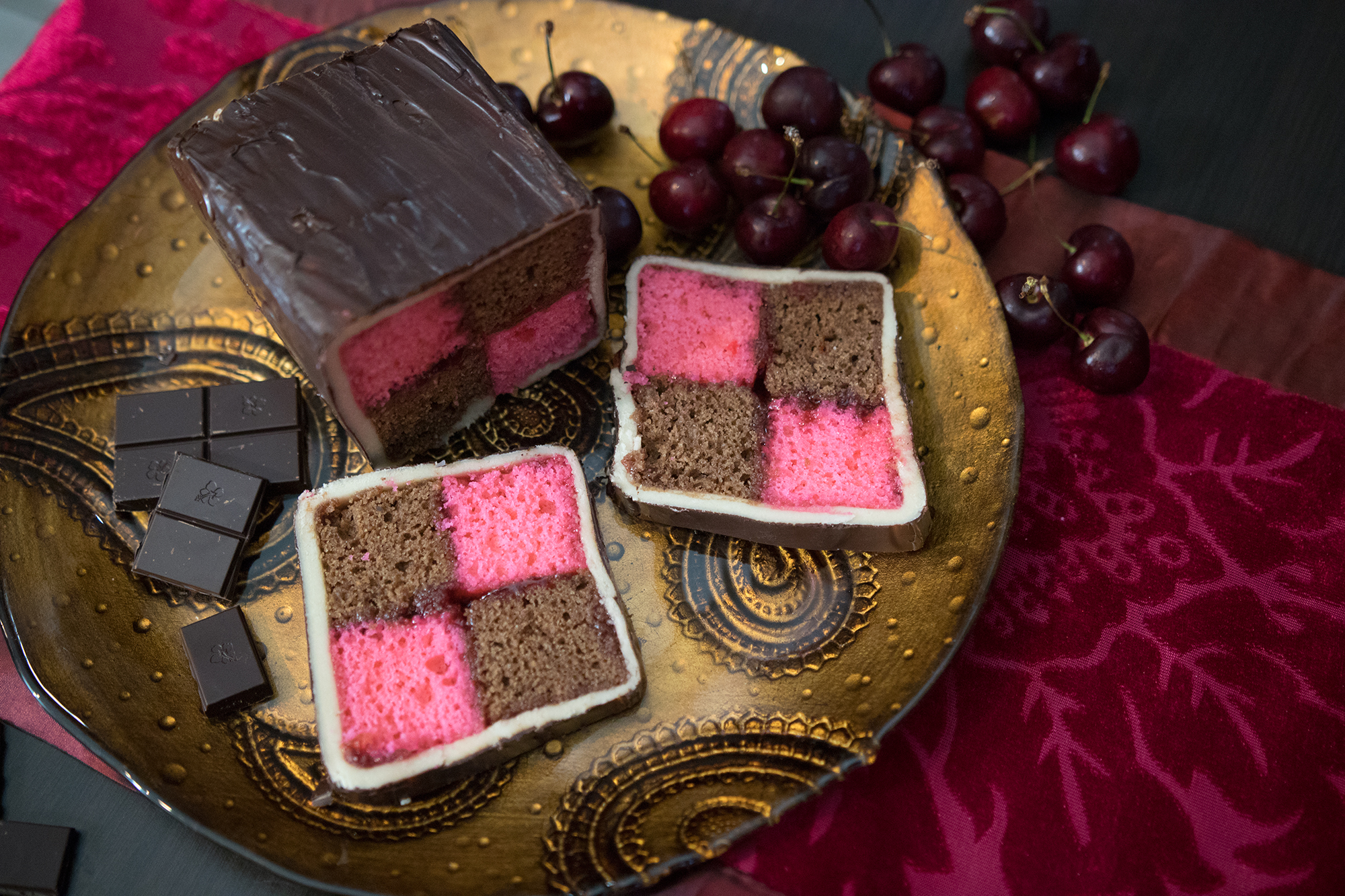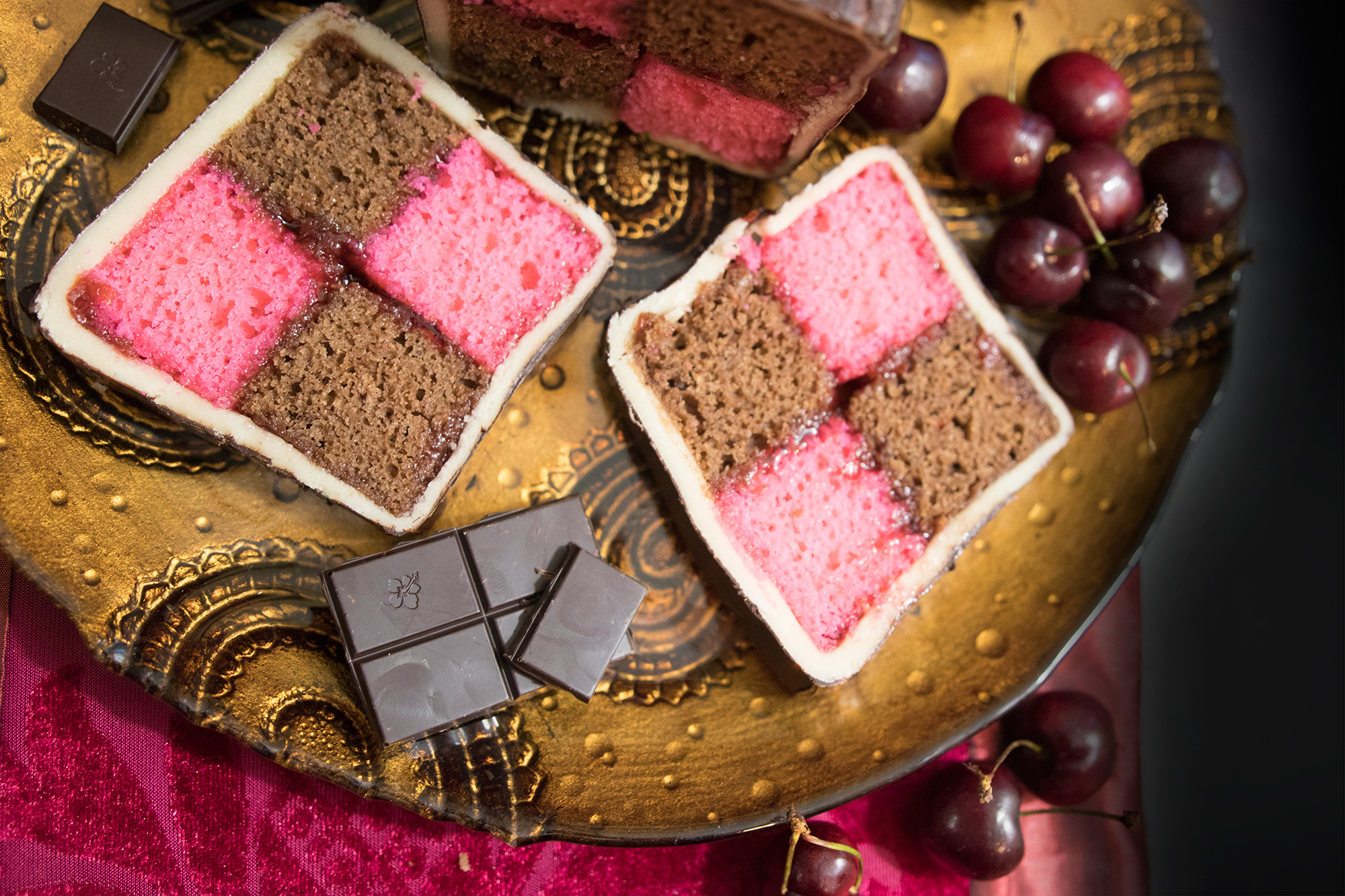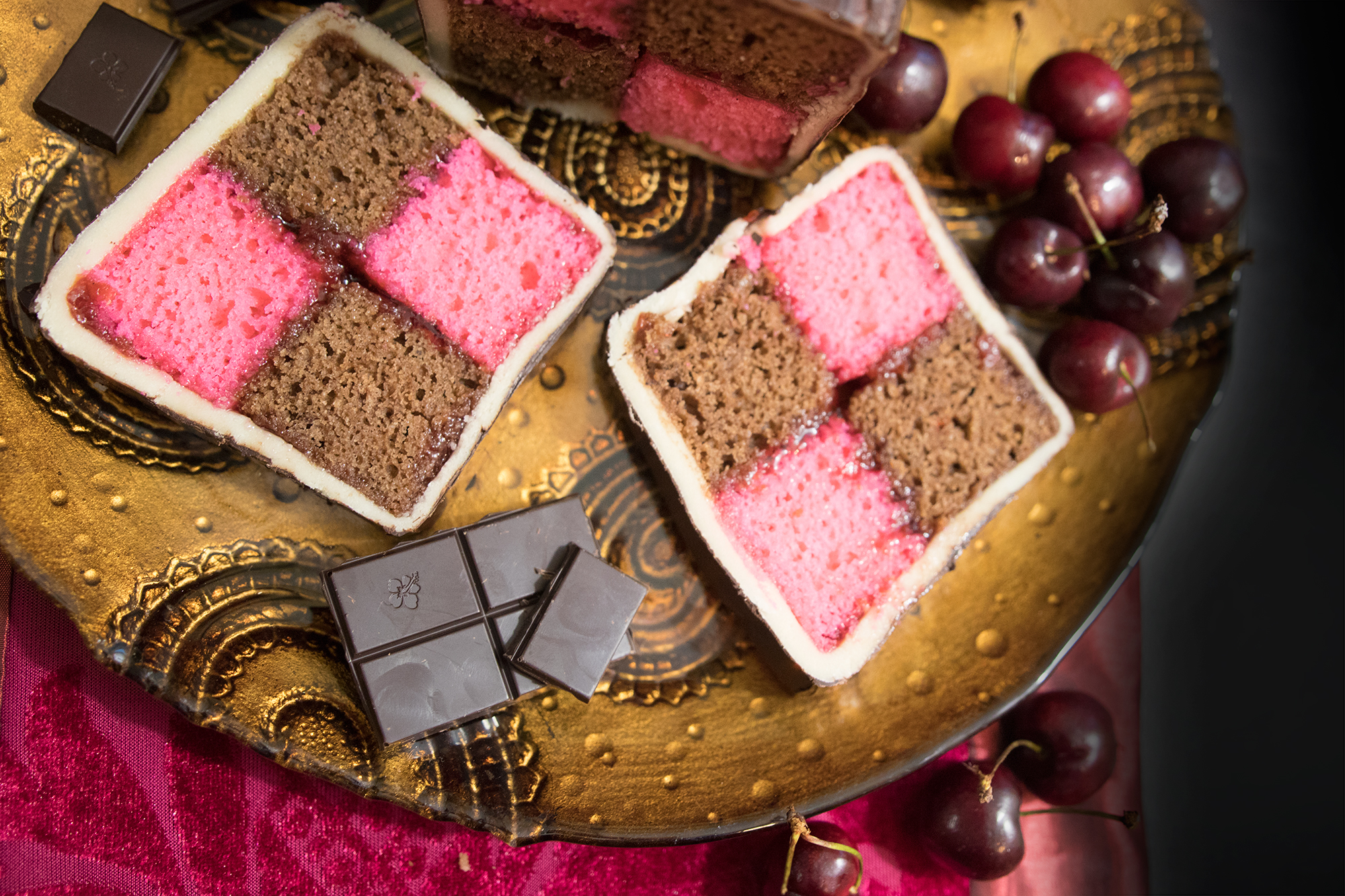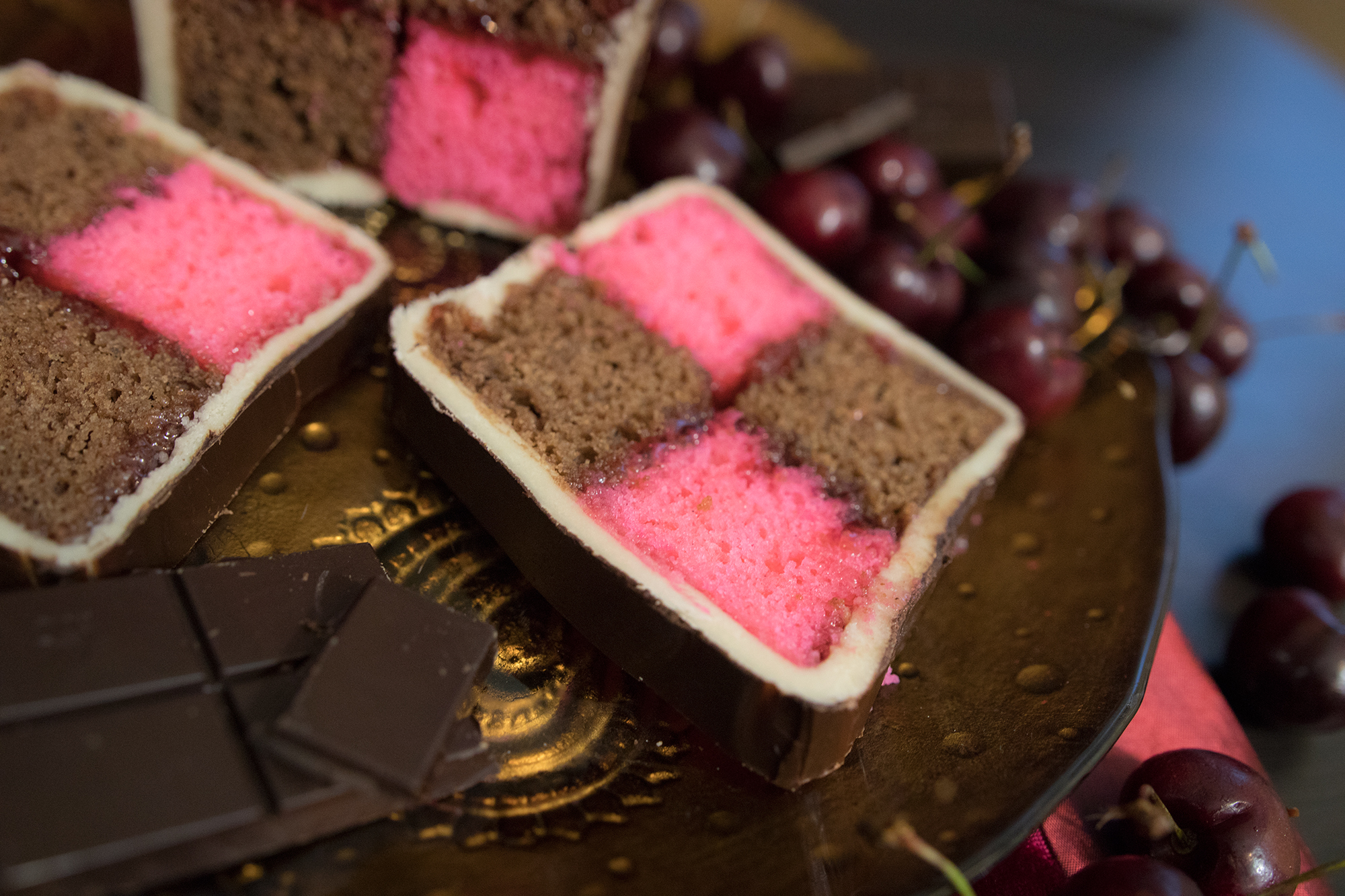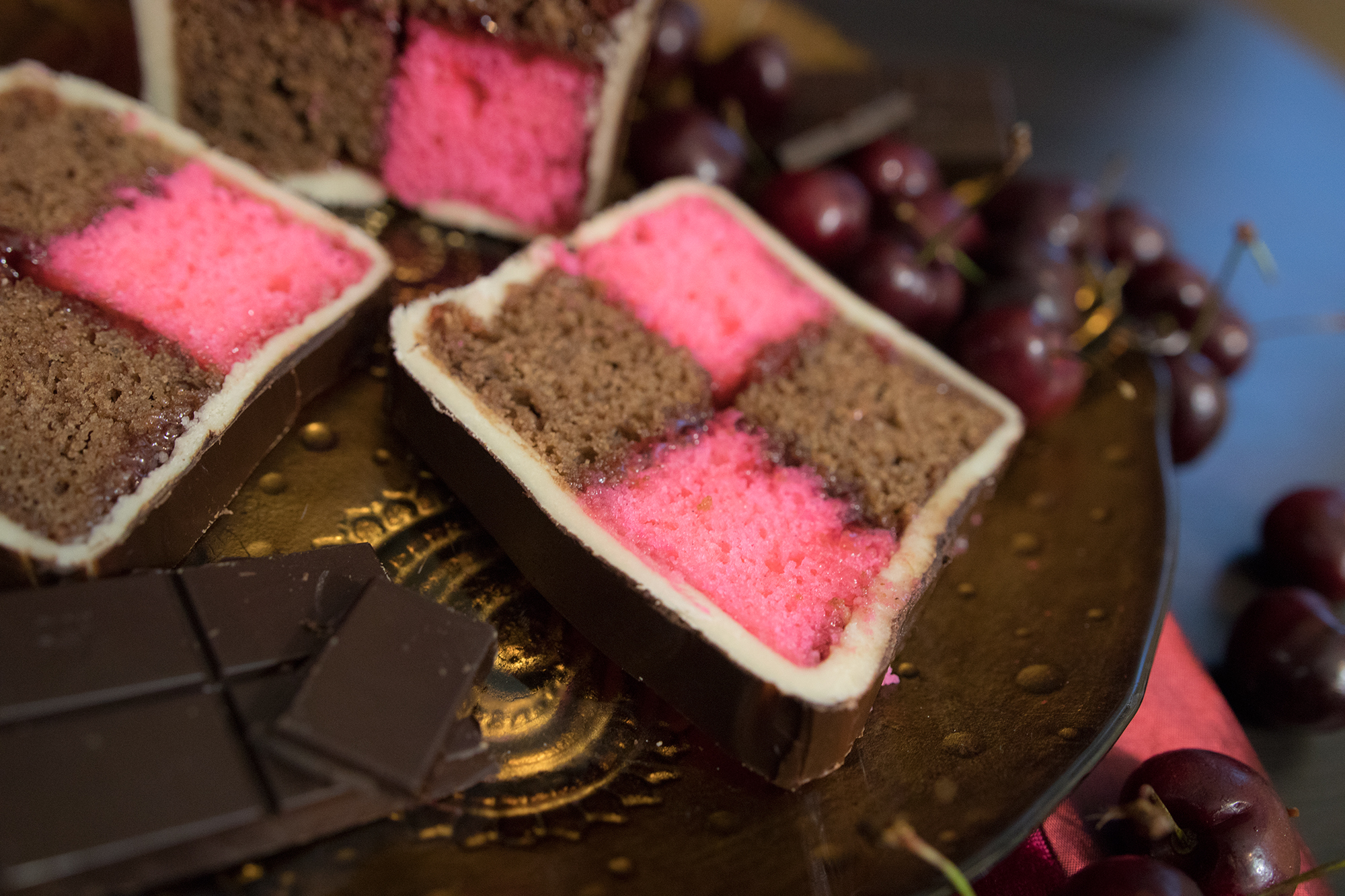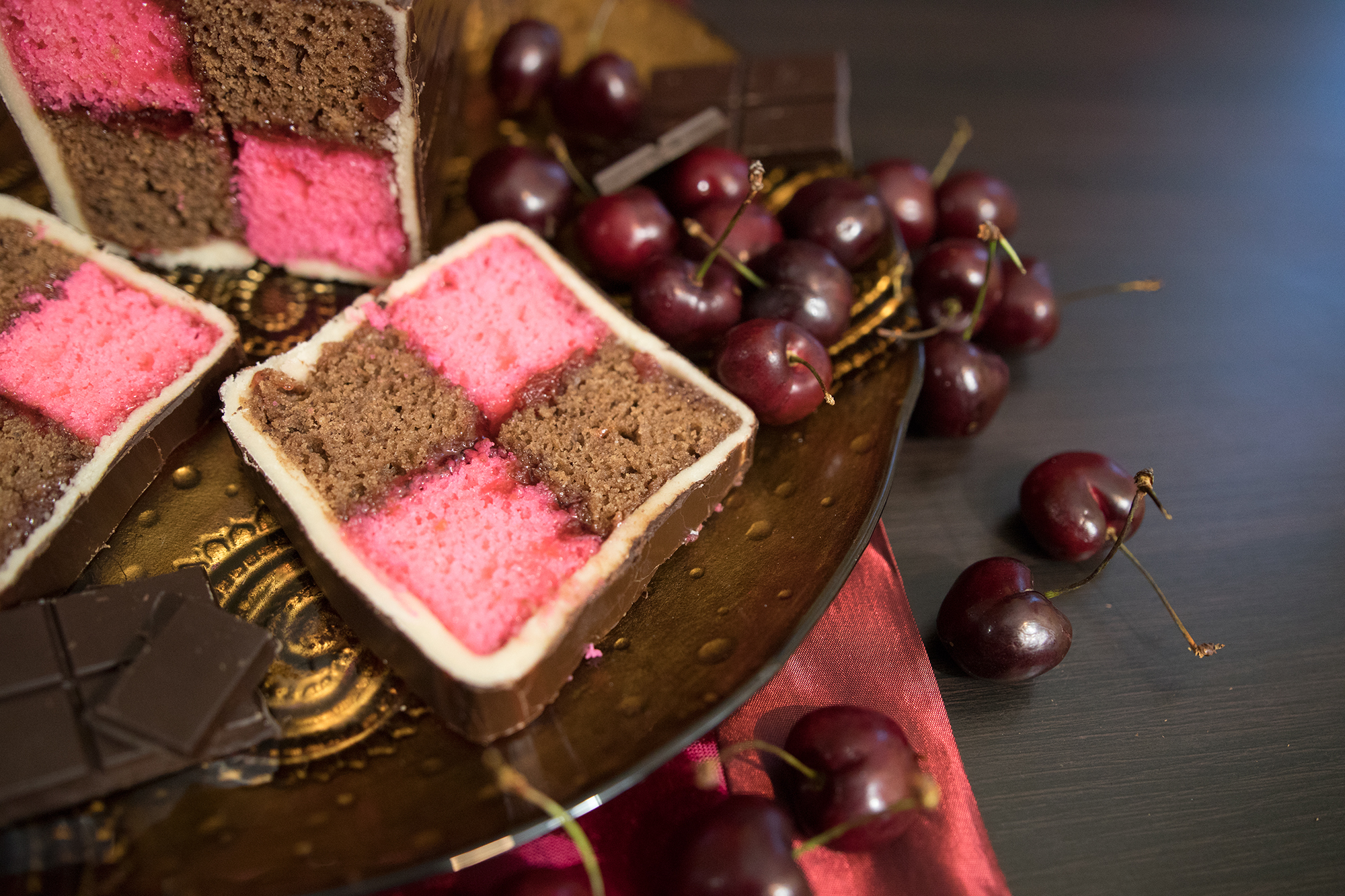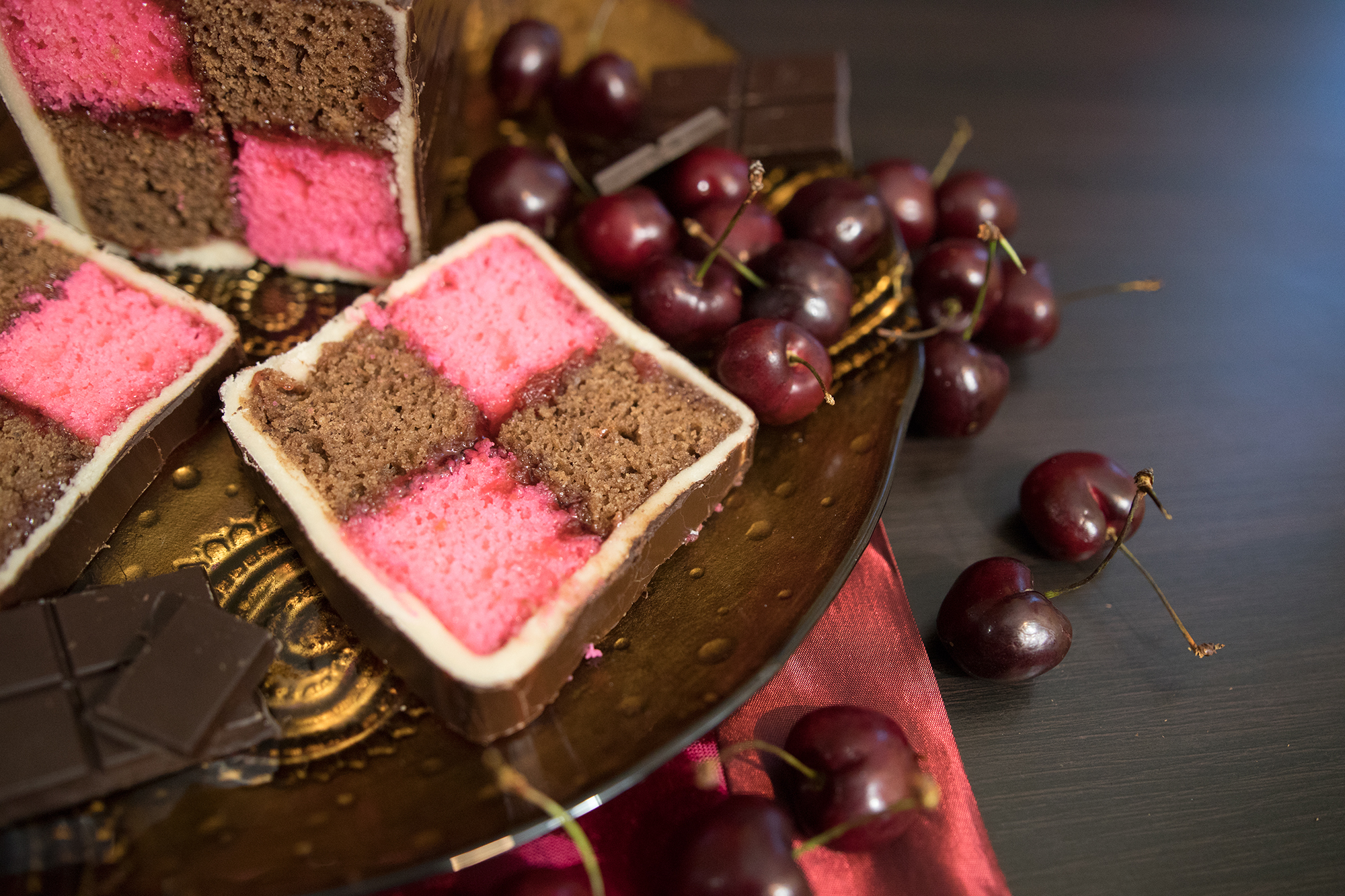 Thanks to Misty Ricardo for the King's voice over – https://www.youtube.com/user/MistyRicardo
Battenberg is a truly classic British cake. Earlier this Spring, I made a classic Battenberg for Ruby's baby shower.
I decided to switch things up this time by making a Battenberg cake influenced by the flavors and colors of  Blackforest Cake.
This cake can be adapted to to many themes and flavors. All you need is a little imagination. Try out the classic recipe or this one and be sure to watch the video to see all the steps, tips & tricks.
[youtube-subscriber nickname=kravingsblog]
Blackforest Battenberg – British Royal Cake
Ingredients
175 gms/6 oz. room temperature unsalted Butter
175 gms of Super fine or Caster Sugar
3 large room temp eggs
175 gms sifted self raising Flour
1 tsp Baking Powder
2 tbsps ground Almonds
1 tsp Vanilla
Food coloring
200 gms/ 7 oz powdered almonds
400 gms/ 14 oz Icing Sugar
2 Egg whites
½ tsp Almond Extract
1 cup Cherry jam
100 gms dark Chocolate melted
Instructions
Add the room temperature butter to the processor bowl and process till nice and fluffy
Add 175 gms of super fine or caster sugar and cream together
Once the butter and sugar are well creamed together, add 3 eggs one at a time, scraping after each addition
Sift 175 gms of Self raising flour and add a tablespoon of thee flour in between beating the eggs to prevent the butter from looking like it's curdled
Add 1 tsp of Baking Powder and the rest of the self raising flour and 2 tbsps of ground almonds
Add 2 tbsps Vanilla extract
Equally divide the batter into two parts color one half pink
Divide the pan in half(see video for full instructions) and add the batter to the pan
Add this into your preheated oven for 35 mins
After 35 mins, check with a cake pin or skewer and allow it to cool completely
If your cakes have a bump, just level them off with a knife
Once the cakes are cool cut them into strips
Prepare the marzipan mix 200 gms of powdered almonds together with 400 gms of icing sugar and process it
Add 2 egg whites, one at a time and a ½ tsp of almond extract
Add the marzipan to a microwave safe platter and cover with cling film
Zap it in the microwave for 10 seconds and do this 3 times
The dough will be warm and the egg would have cooked. Leave this aside to cool
Lay out a piece of parchment paper and roll out the marzipan
Sandwich the cakes together using the classic ingredient apricot jam
Make sure you alternate the colors so it looks like a chequered pattern
Lay this over the marzipan and make sure you've rolled one side long enough to completely cover the cake
Trim off any excess marzipan and this can be stored in a Ziploc bag and reused
Remove the cake and brush the inside of the marzipan with jam
Lay the cake over the marzipan and using the help of the parchment paper, lift the marzipan and cover the cake
Uing cling film wrap the cake for an hour so everything holds together well
Cover the cake with melted Chocolate and allow to set
Trim the edges with a sharp knife and clean the knife in between to cut neat and clean slices
https://kravingsfoodadventures.com/black-forest-battenberg-british-royal-cake/