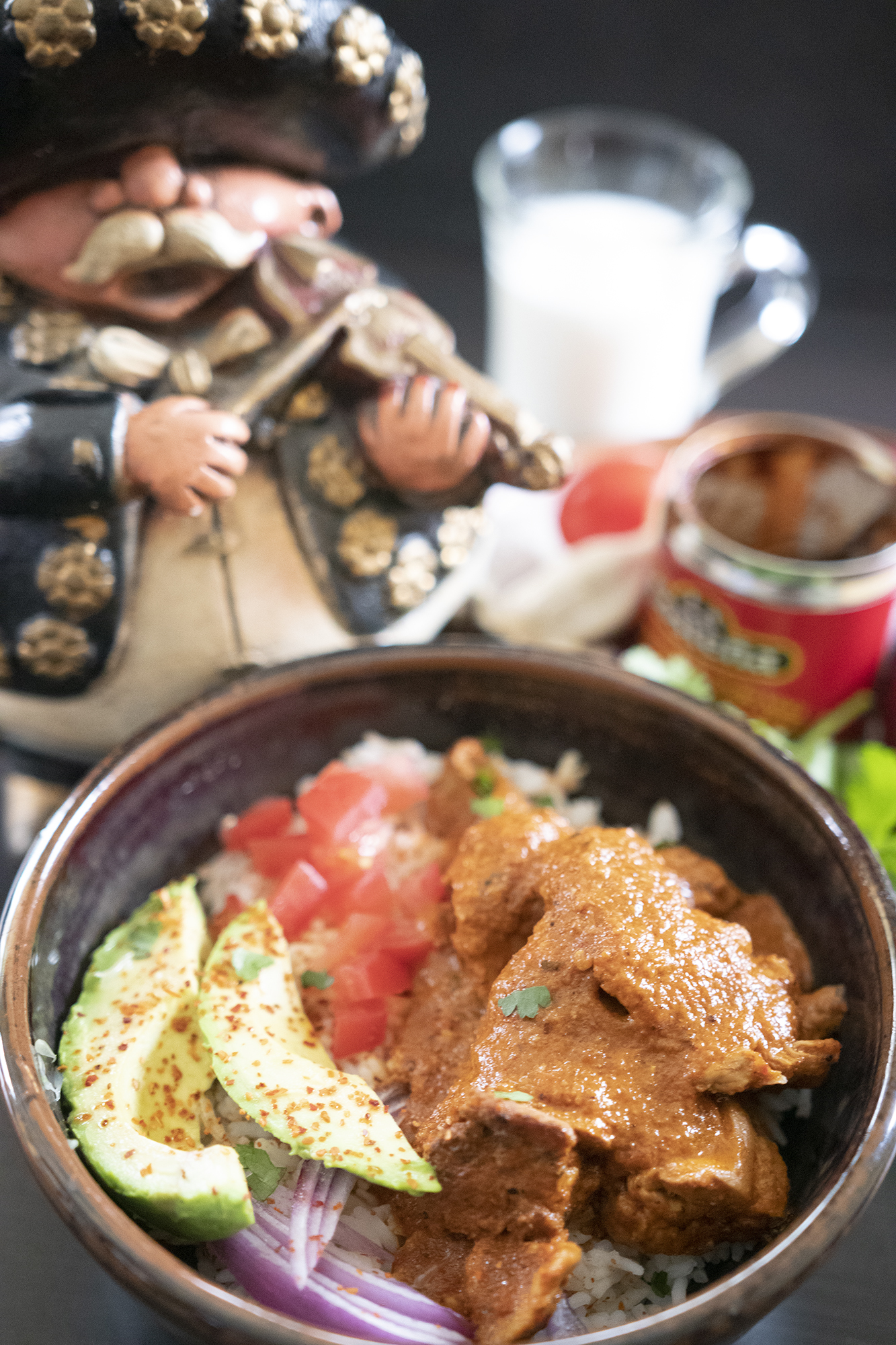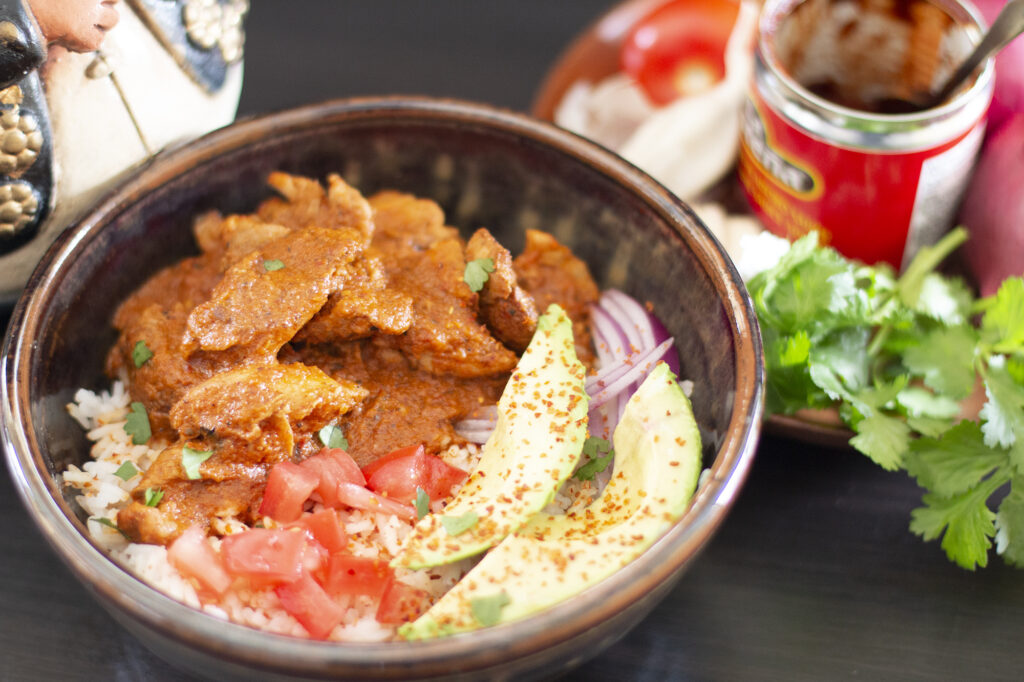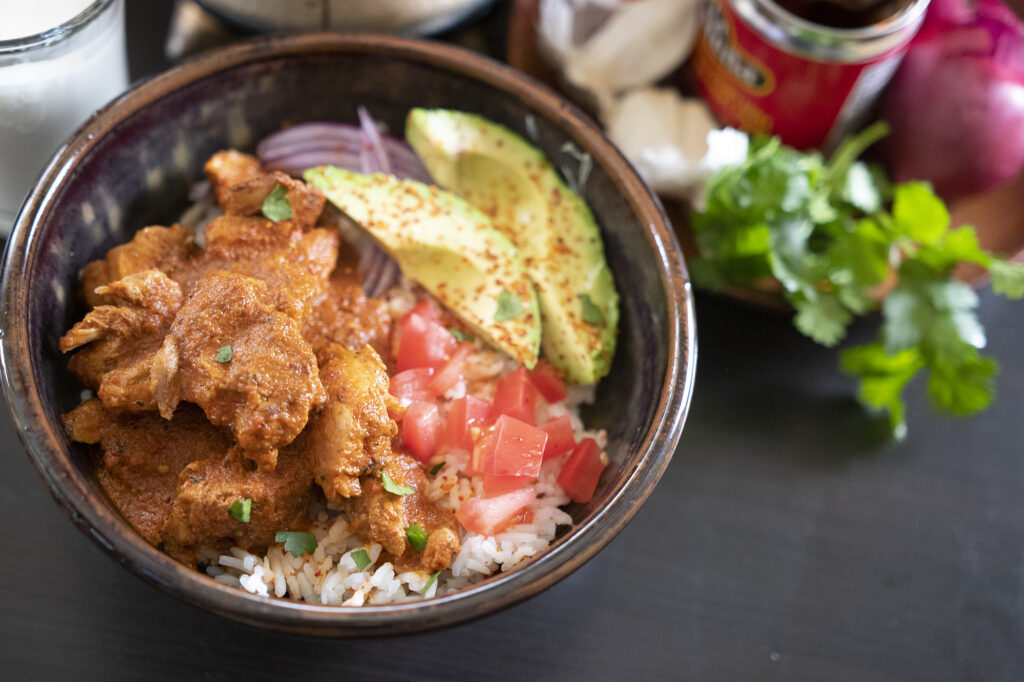 This amazing Mexican style curry is made with canned Chipotle chilies and other ingredients and blended into a sauce, before cooking together with chicken. I'll be honest with you, I am trying out new recipes for a Day of the Dead party I'm planning to host later this year for my birthday party. I know my guests will love the Mexican menu but wanted to add a few 'gravy' type dishes for the taco intolerant guests.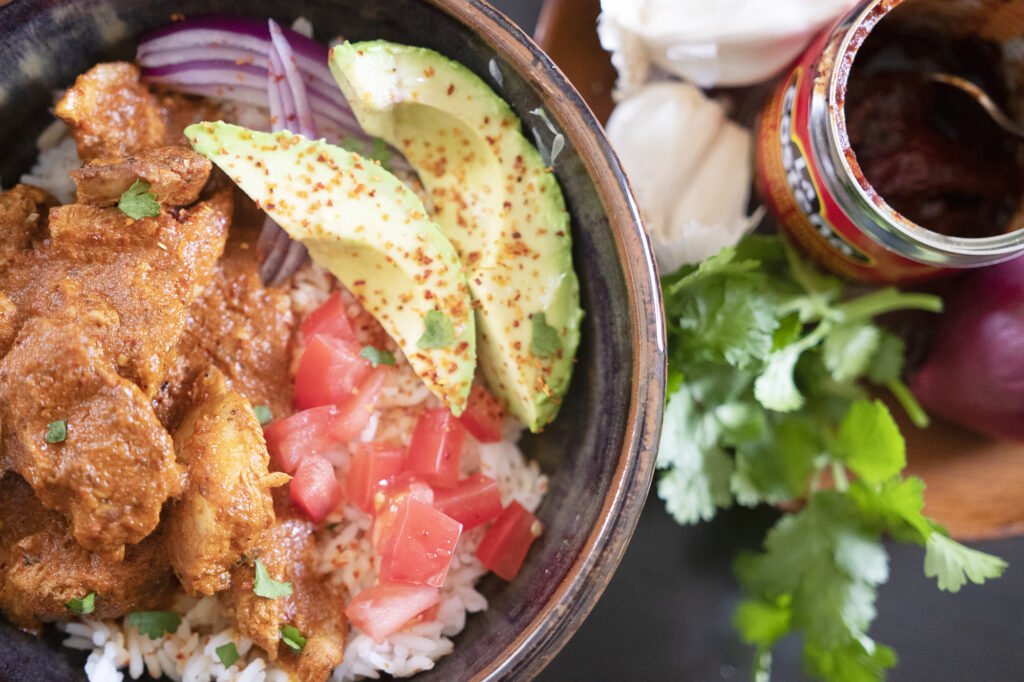 I researched a bunch of recipes online and found a few that used a combination of canned Chipotle Chiles in Adobo sauce and cream. Chipotles are basically ripened Jalapeno chillies. These are dried and smoked and take on a whole new flavour. You can find these dried in Mexican and Latin stores, in powder or sauce form or in a can floating in Adobo sauce. I highly recommend the latter option.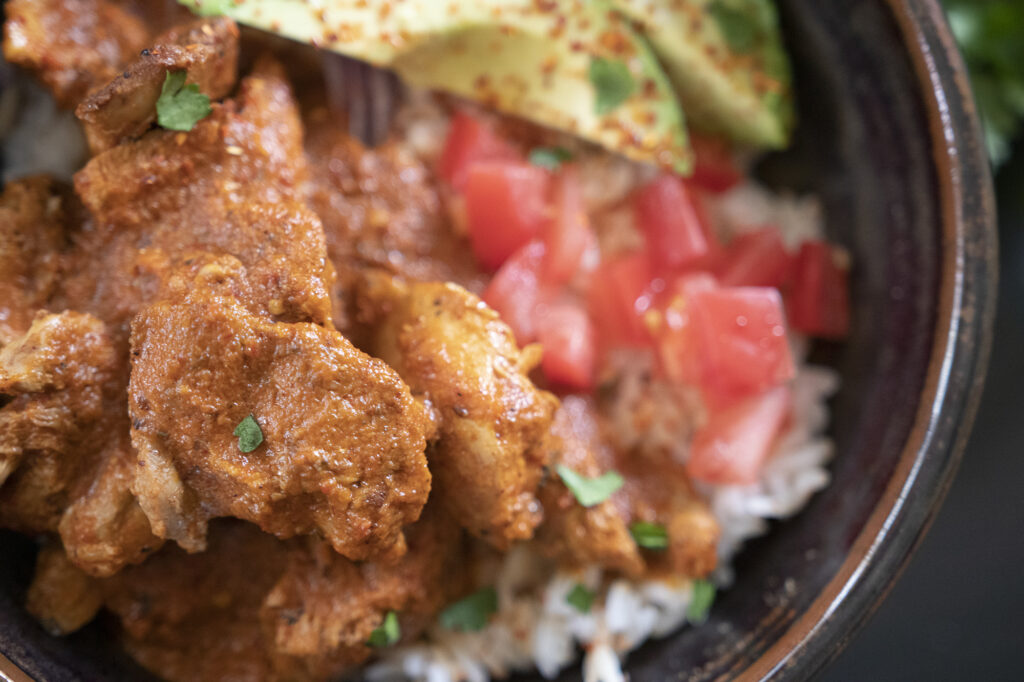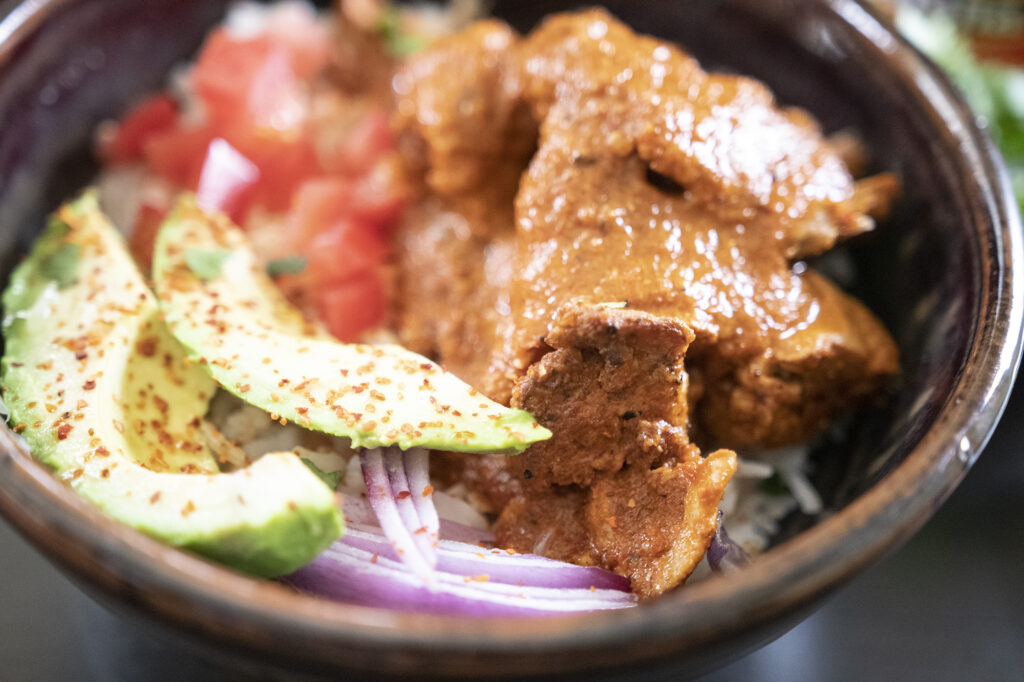 Mexican food uses similar ingredients to Indian food – dried chillies, garlic, onion, cumin & coriander to name a few. In fact when my subscribers cannot find the coveted dry Kashmiri chilli, I often ask them to substitute a Guajillo chilli instead. The addition of cream is also familiar, but frankly in this recipe, you do need it to balance the kick from the Chipotles.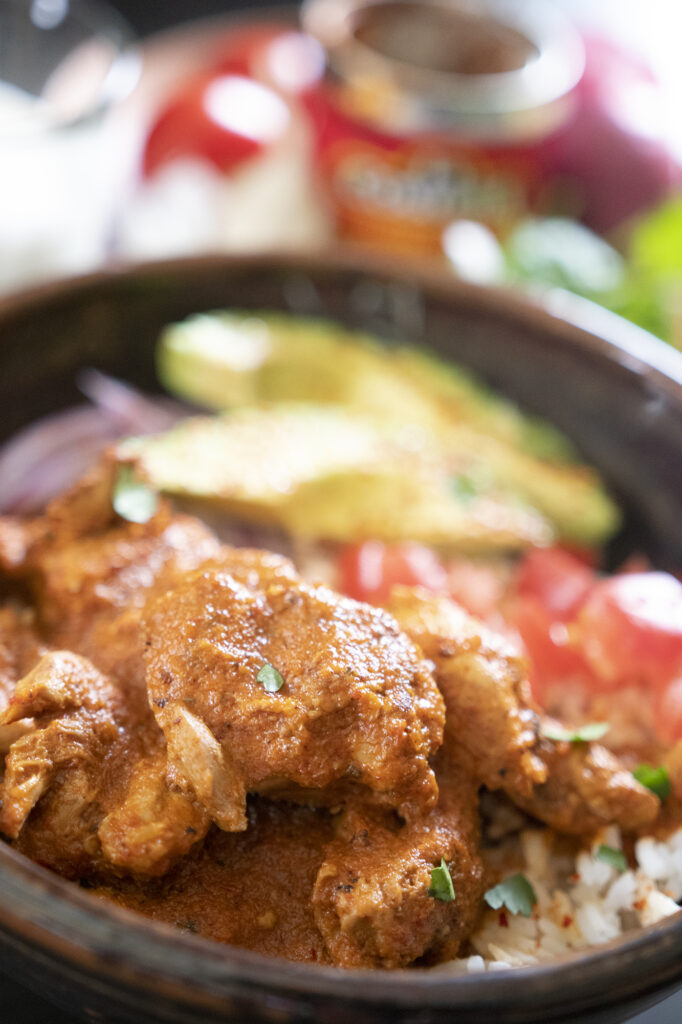 Sadly with the current state of affairs dominated by COVID-19, I don't know if I'll ever get to have that party and serve this dish to my guests, but I am hopeful.
Make ahead: You can prepare the sauce ahead and freeze it and just defrost and add to the pot as required.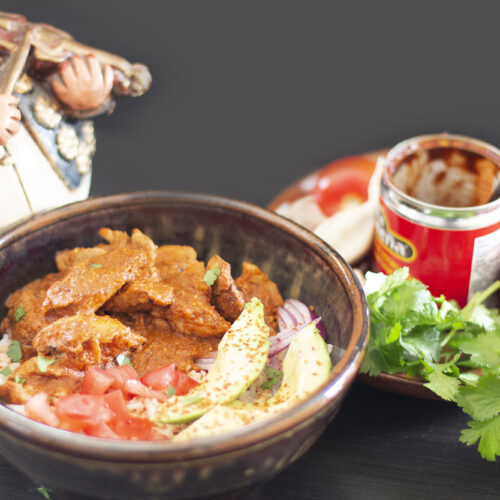 Creamy Chipotle Chicken
Ingredients
Marinate Chicken
1

lb

Chicken boneless thigh

Salt to taste

1

tsp

Cumin powder

1

tsp

Garlic powder

1/2

tsp

Oregano

1

tsp

Mexican Chilli powder

sub regular chilli powder or hot paprika

1

tbsp

Oil

Juice of 1 Lime
Sauce
2

cups

diced Tomatoes

1

cup

diced Onion

5

cloves

Garlic

186

ml

– 6.55 fl oz canned Chipotles
Add later
1/2

cup

Water

1/4

cup

or heavy cream
Instructions
Marinate the Chicken with salt, cumin, garlic, oregano, chilli powder, oil and lime juice and keep aside preferably overnight but 30 – 60 mins will do

Blend all the sauce ingredients together to a smooth paste

In a saute pan add the Chicken and sear on both sides for some great color, remove and keep aside to cool, it's ok if the chicken is not fully cooked

In the same pan add the sauce and bring to the boil

Cut the chicken pieces into smaller chunks and add back in

Add the water to the food processor so you don't waste any of that sauce and add it in

Finally finish off with the heavy cream and serve with rice