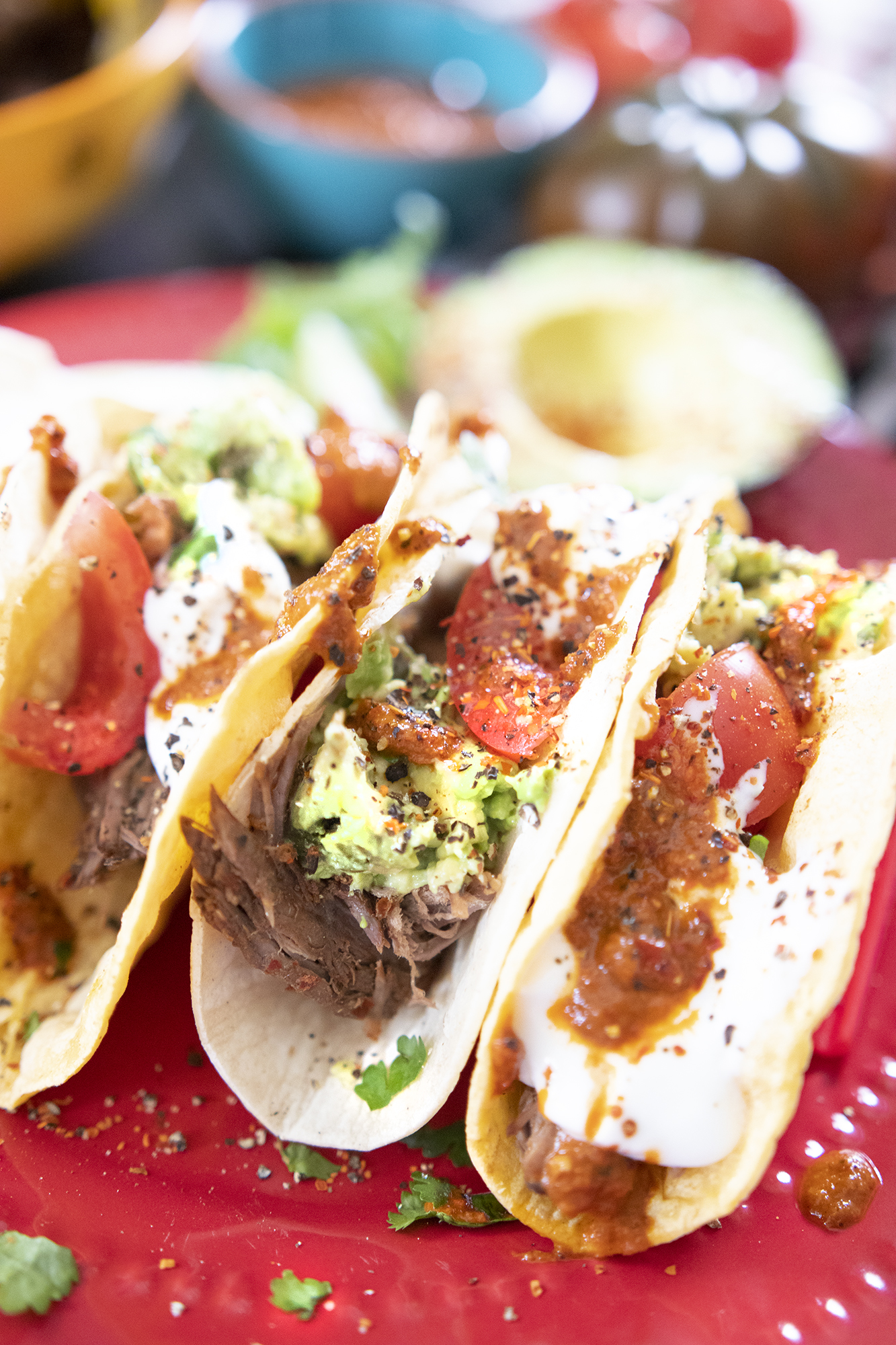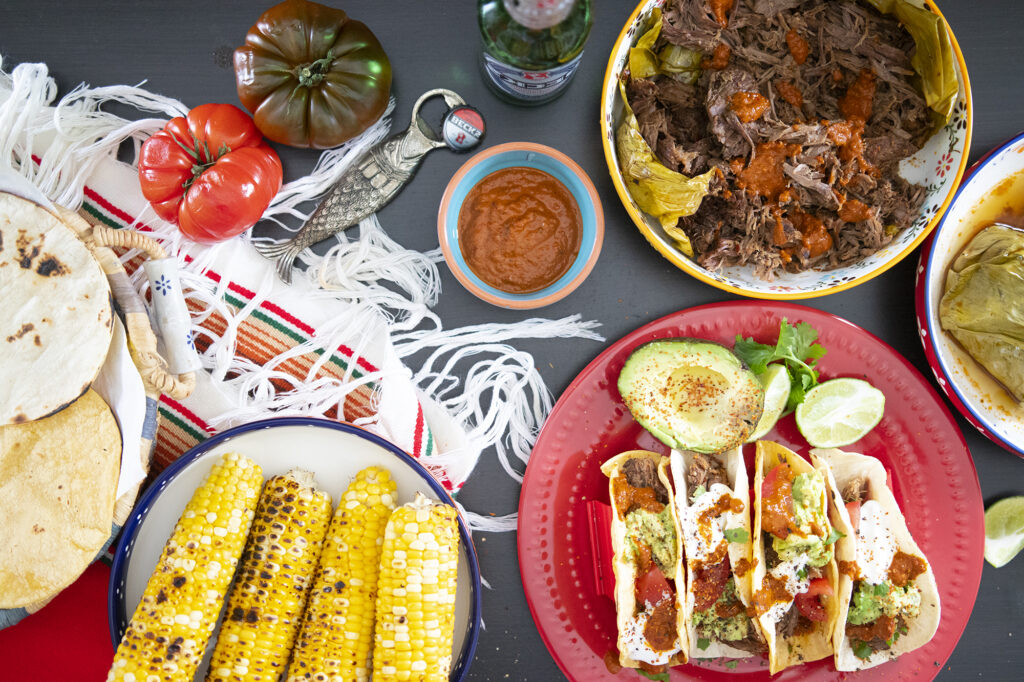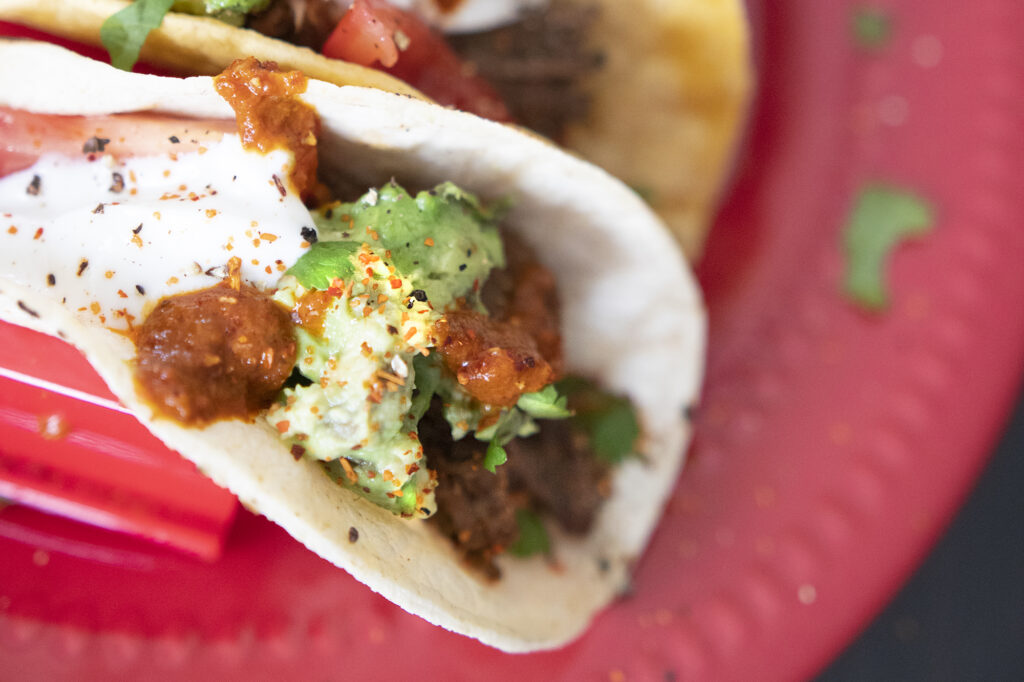 A special chilli sauce is prepared and beef chunks are marinated and wrapped in banana leaf before cooking it in a dutch oven. Barbacoa is an old traditional Mexican method of cooking either Beef or Lamb. Large pits in the ground layered with hot coal house bundles of this meat wrapped in Avocado leaves and this is cooked overnight.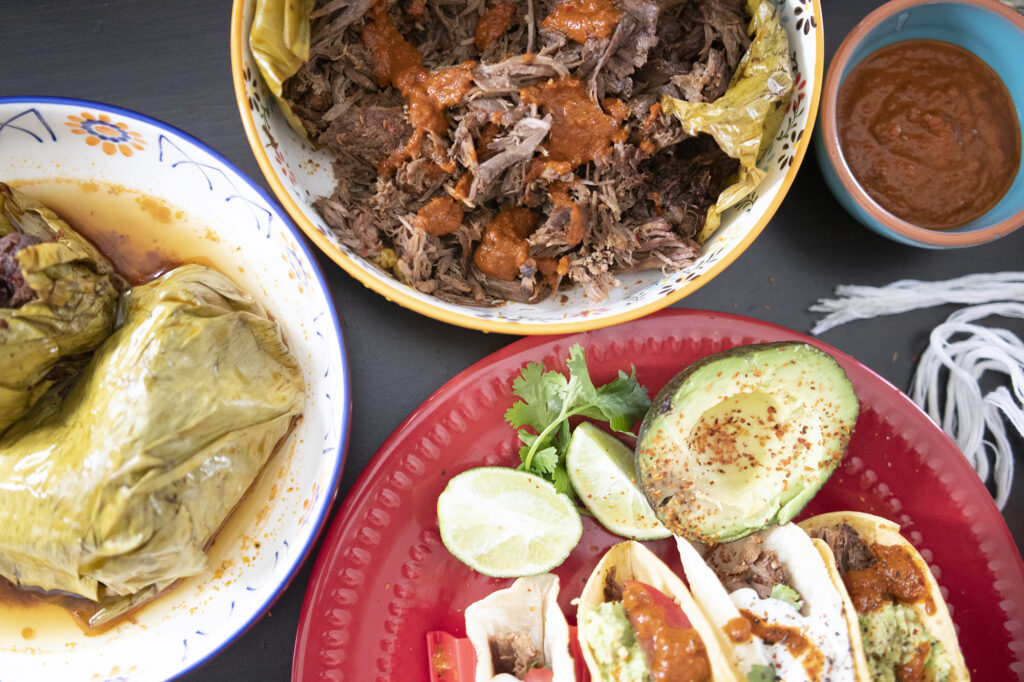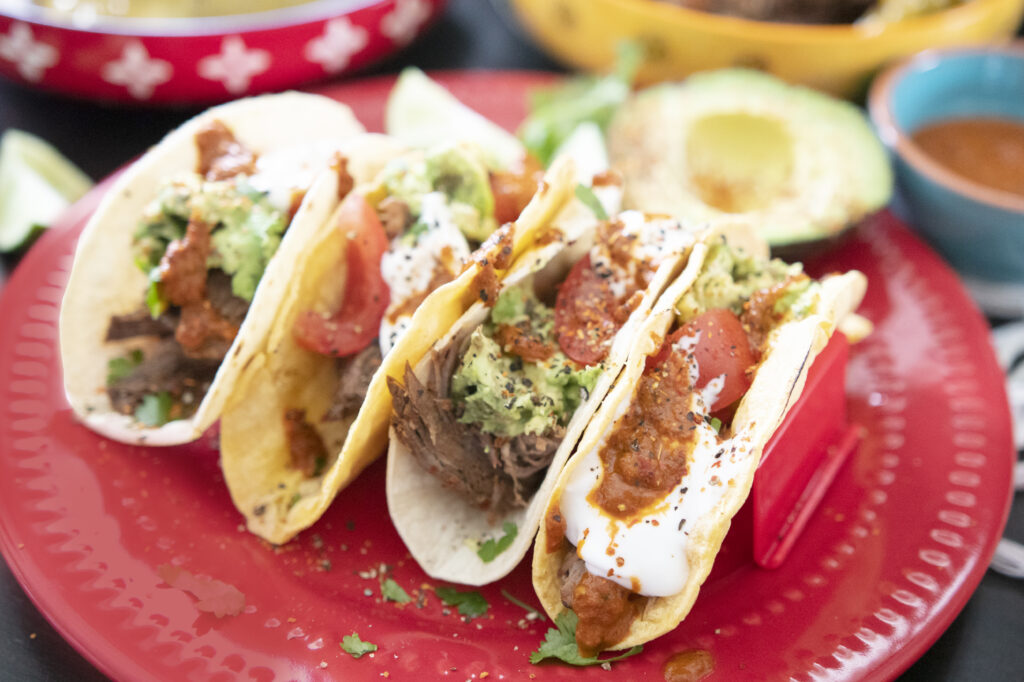 Even though it is on many a Mexican menu today, this is said to have originated in Barbados in the Caribbean and was brought to Mexico. Pimento berries is one of the ingredients I use in this sauce and that is a typical ingredient found in Jamaican cooking.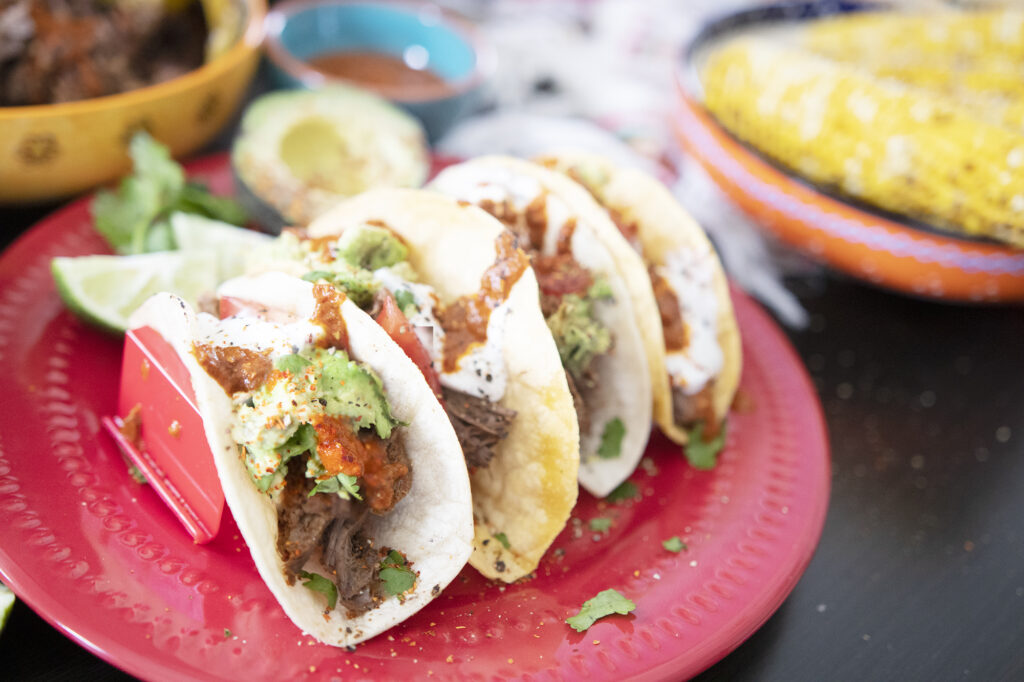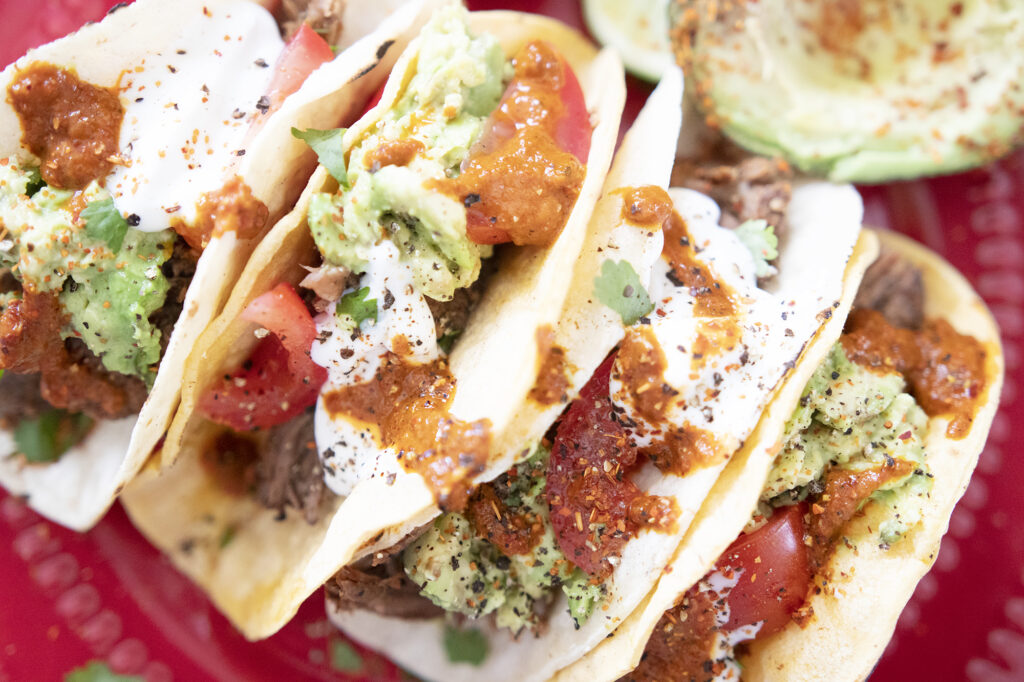 If you look up Barbacoa recipes, they vary greatly from the different regions they come from. Some are just cooked with very little seasoning and some opt for a chilli paste marinade.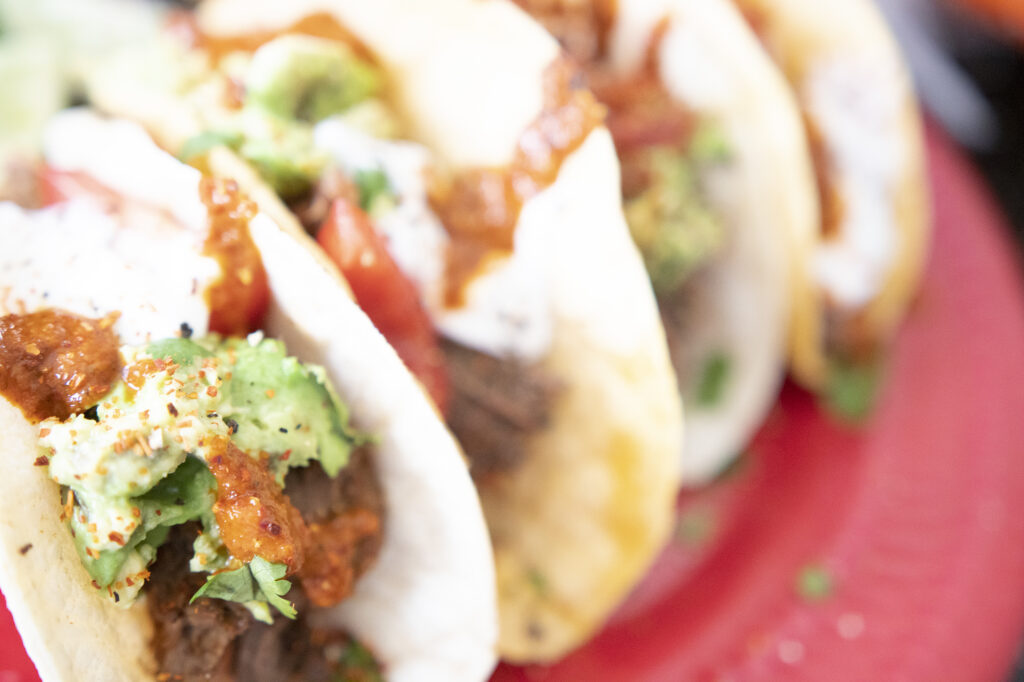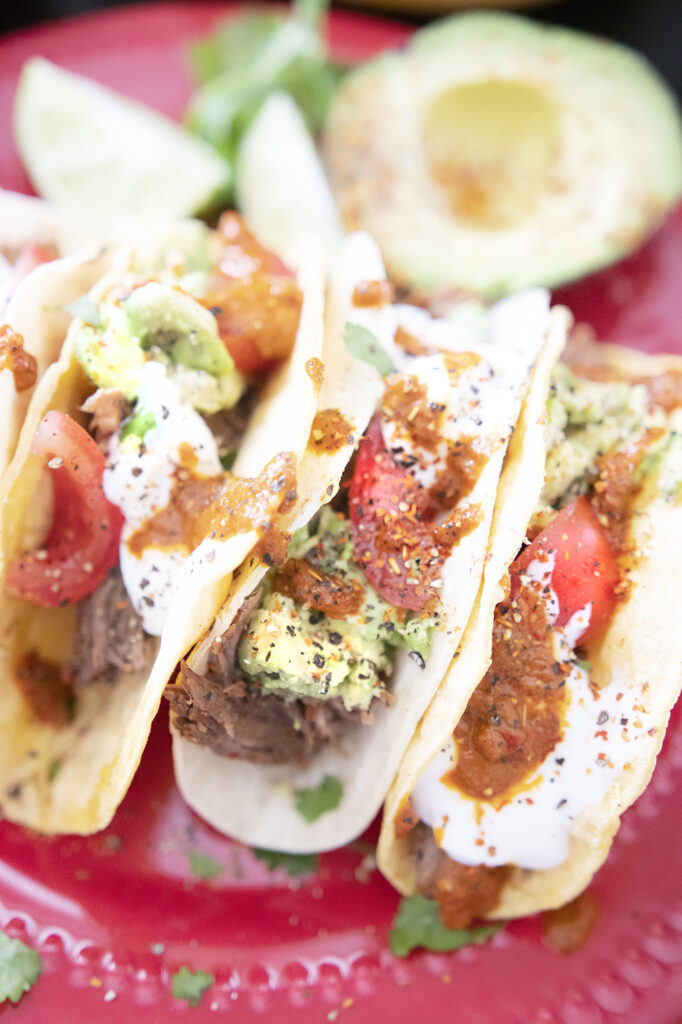 Because I love maximum flavour, I opted to recipe test and develop the latter. To make the sauce you will need fried Mexican chilies. I used a combination of Guajillo and Ancho which I sourced from a local latino market. If you can't find these chillies where you live, Amazon is a great source. You can find these chillies here.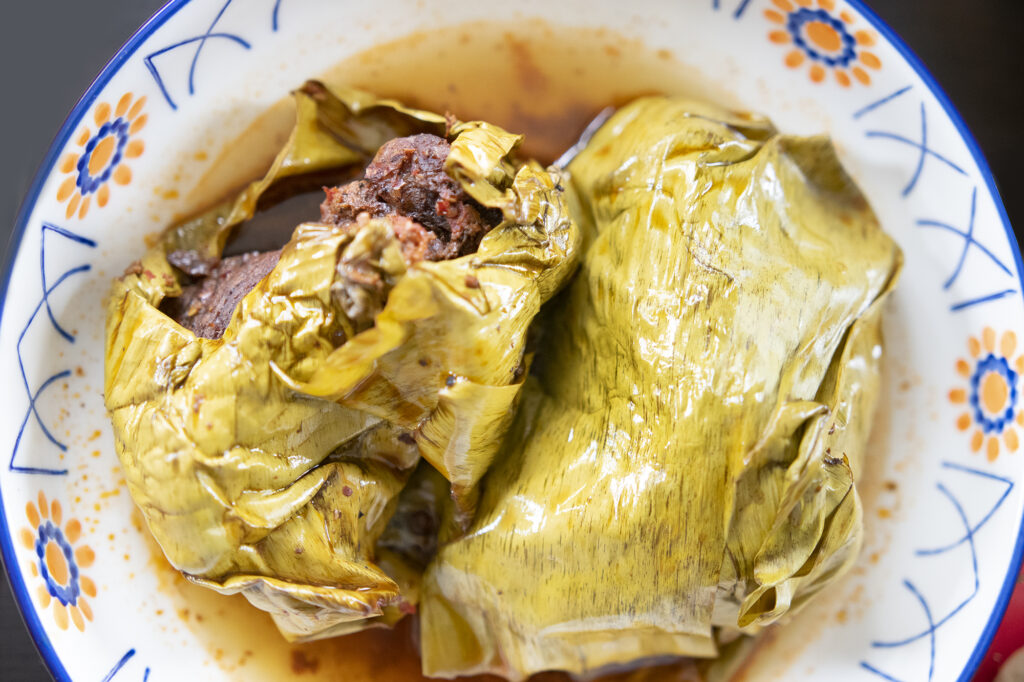 The traditional recipe wraps the meat in Avocado or Aloe leaves. Because they are not available here, Banana leaves is the next best option. I headed off to a Sri Lankan store and was able to find fresh Banana leaf, you can also find this in some stores in the frozen aisle, and if you cannot find banana leaf, don't sweat, just use parchment paper or foil.
How do you eat Barbacoa? You can use in in Tacos or Burritos and also just eat it with some Tortillas.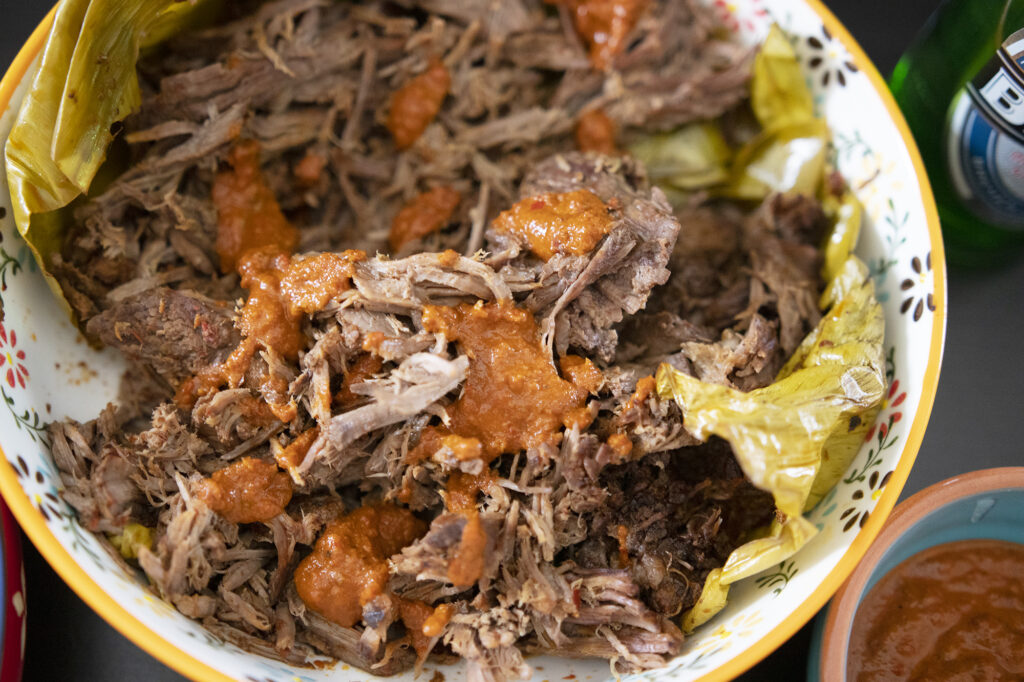 And BTW, don't skip the sauce. It's ridiculously good as a marinade, but you need extra as well to add on top of the meat or in the Tacos. I store whatever is left in a bottle in the fridge for a few weeks.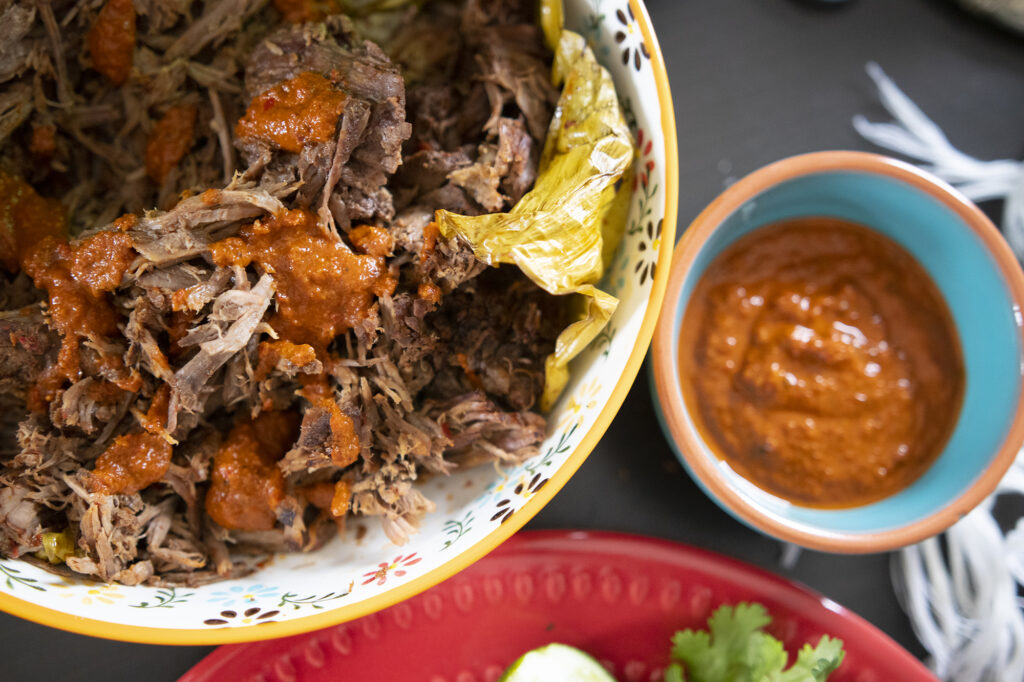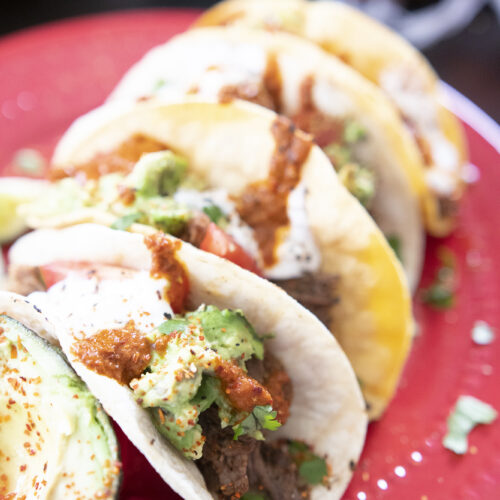 Beef Barbacoa
Ingredients
Chilli Marinade & sauce
3

Guajillo Chillies

0.0902oz or 26 gms

3

Ancho Chilles

1.4 oz or 38 gms

20

Peppercorns

20

All spice berries

2 1/2

tsps

kosher or coarse Sea salt

5

cloves

Garlic

1/3

cup

Oil

1/2

cup

Onion

1/2

cup

Tomato

1/2

tsp

Clove powder

1

tbsp

dried Oregano

1/3

cup

Apple Cider Vinegar

1/2

tsp

Cinnamon

2

cups

Water

use the chilli water after boiling
Beef
3

lbs

Beef cheek

Brisket or Sirloin

Salt to taste

Banana leaves

Foil

1

bottle Beer – 200 ml
Instructions
Lightly toast the chillies, then boil for 30 mins

Remove the chillies and allow to cool

Add all the sauce ingredients to a food processor except the last 1/3 cup of Oil and remove all the stems and seeds from the chillies before adding in

Blend to a smooth paste

In a saucepan, add the oil and all the sauce, cover and cook for 10 minutes, stirring at intervals

Allow the sauce to cool

Cut the Beef into smaller chunks so they have more surface area and they are easier to wrap

Marinate with some of the chilli paste and wrap each one in banana leaf

If your banana leaf is too small, rewrap in foil for a tight seal

Add these to a dutch oven or a heavy pot with a tight lid

Pour in the beer cover, and allow to cook for 4 hours in a 350 degree oven

After the cook time, the beef should just fall apart

Add dollops of the prepared chilli sauce and serve