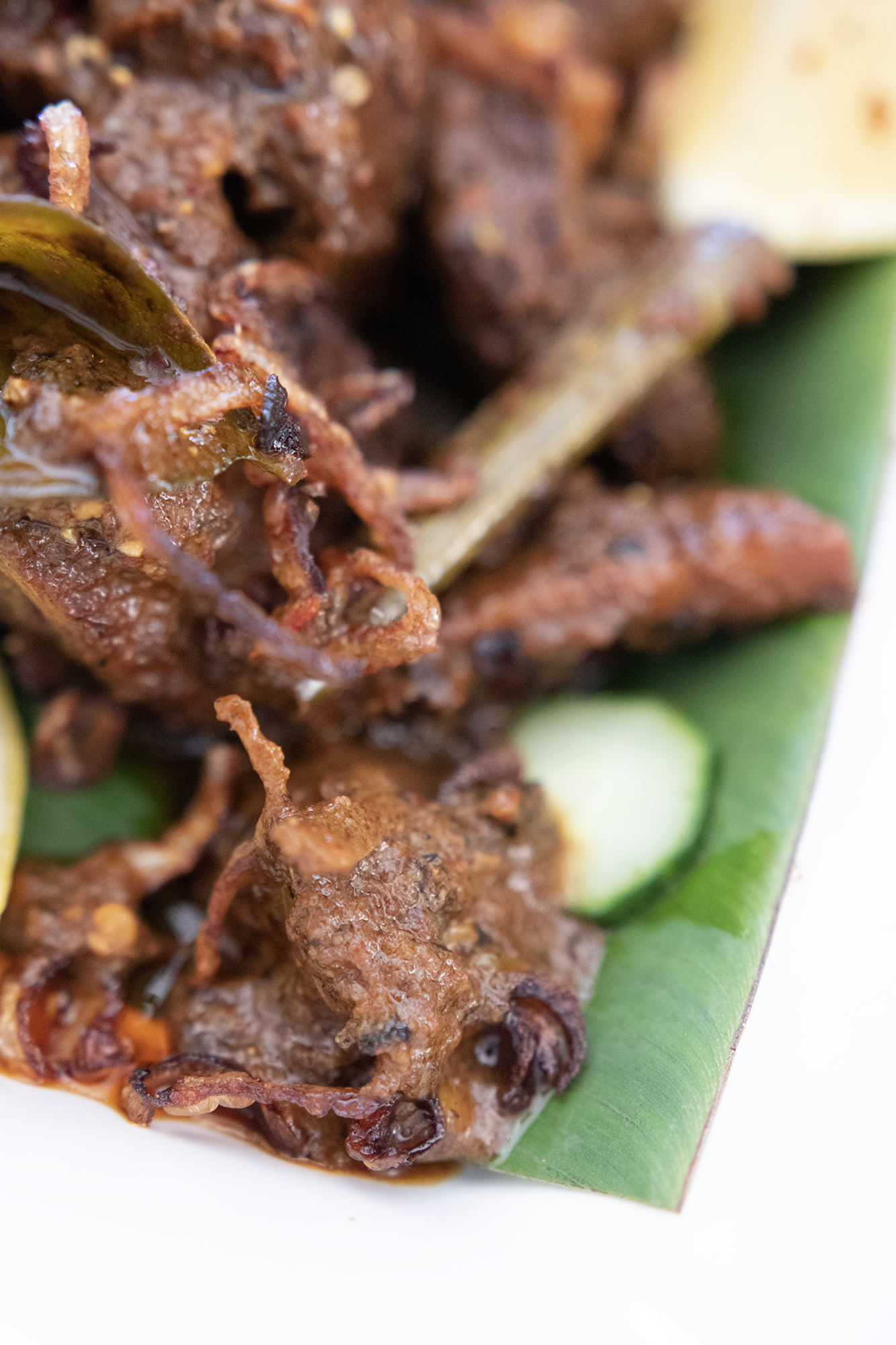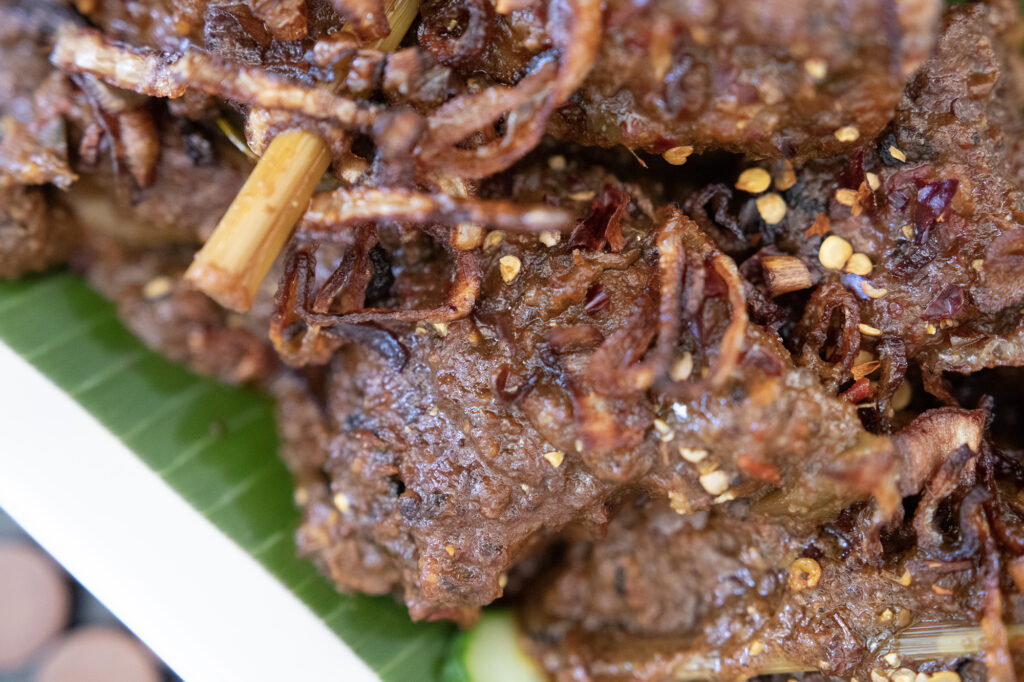 Beef chunks are seasoned with salt, pepper, chilli, cumin, coriander, clove & cinnamon powder & some nutmeg and this is sealed in some coconut oil with star anise and bay leaves on all sides.
Shallots, Garlic, dry Chillies, Macadamia or Candle nuts, Ginger, red Chillies and Lime leaves are processed together and this is added to the pan with the meat. Water is added together with Lemongrass, Galangal, Kaffir lime & Pandan leaves.
After about 30 mins or so, Coconut milk is added and this is slow cooked for 2 hours or more, till the meat is tender.
Towards the end Mushroom powder, Salt & Sugar are added.
This is done when the curry is dark in colour and the gravy is quite dry. I like to finish this off with shallots and a pinch of crushed Chilli flakes.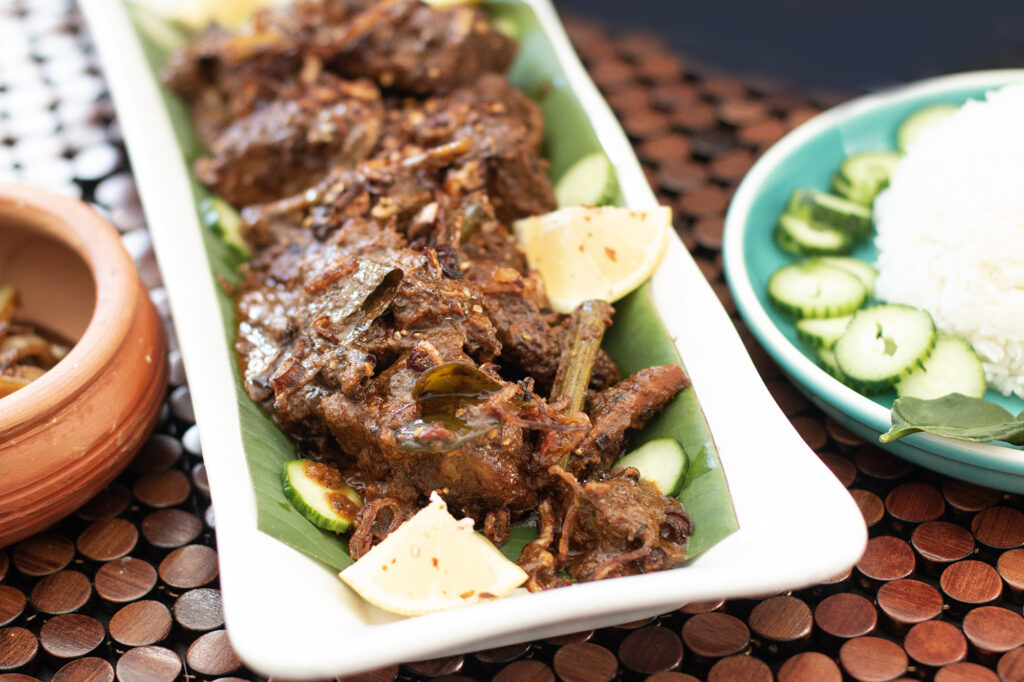 In this recipe we will be using
Red Hot Peppers (these are long red chillies and are not as spicy as the Thai Red Chillies)

Galangal – looks like Ginger but it's more similar to lemon grass in flavour. It's quite hard so I will just be slicing this to use in this recipe.
Shallots are a type of onion that are smaller and have a sweeter, milder flavor than regular onions. They are often used in cooking as a substitute for onions or garlic. They can be used whole or diced and are commonly used in soups, stews, and sauces. They can also be caramelized for use as a topping for dishes such as steak or roasted vegetables. Shallots are a good source of vitamin C and other antioxidants, and are also low in calories.
Candle nuts, also known as kemiri nuts or kukui nuts, are the nuts of the Aleurites moluccana tree, which is native to Southeast Asia. They are typically used as a cooking oil, as well as in traditional medicine and cosmetics. They are also used in cooking, particularly in Southeast Asian cuisine, as a thickening agent for sauces and as a flavoring for soups and curries. They are high in fat, and when roasted, they release an aromatic oil that has a nutty and slightly sweet taste. However, they are poisonous when consumed raw and must be roasted or boiled before consumption.
Lemongrass is a tropical grass with a strong lemon flavor and aroma. It is commonly used in cooking, particularly in Southeast Asian cuisine. The stalks of the lemongrass plant are used to add flavor to soups, stews, curries, and marinades. The tender inner part of the stalk can be thinly sliced and used as a garnish or added to salads. Lemongrass is also used in teas and other beverages, and its essential oil is used in perfumes and aromatherapy. Lemongrass is a good source of vitamins A and C, folate, and other antioxidants. It is also believed to have anti-inflammatory and anti-cancer properties.
Kaffir lime leaves are the leaves of the kaffir lime tree, which is native to tropical Southeast Asia. They have a distinct, strong aroma and are used as a flavoring ingredient in a variety of dishes, particularly in Thai, Lao, Cambodian, and Indonesian cuisine.
Pandan leaves look somewhat like palm leaves, but they are mildly fragrant and can be used in savoury and sweet dishes. They have a slightly prickly line at the back so be careful when handling them
They are , also known as pandanus leaves or "screwpine leaves," are long, narrow leaves that come from the pandanus plant. They are commonly used in Southeast Asian cuisine as a flavoring and coloring agent. The leaves have a distinct, sweet aroma and are often used to flavor desserts and drinks, as well as to wrap meat or fish before cooking. They can also be used to make a natural green food coloring. The leaves are usually purchased fresh, but can also be found frozen or dried.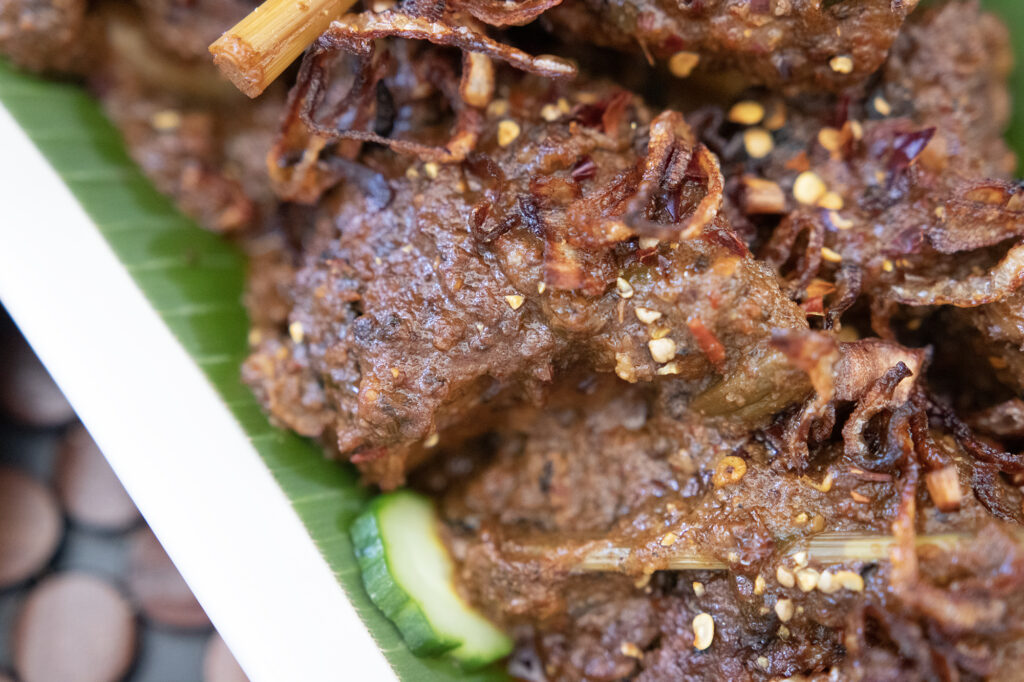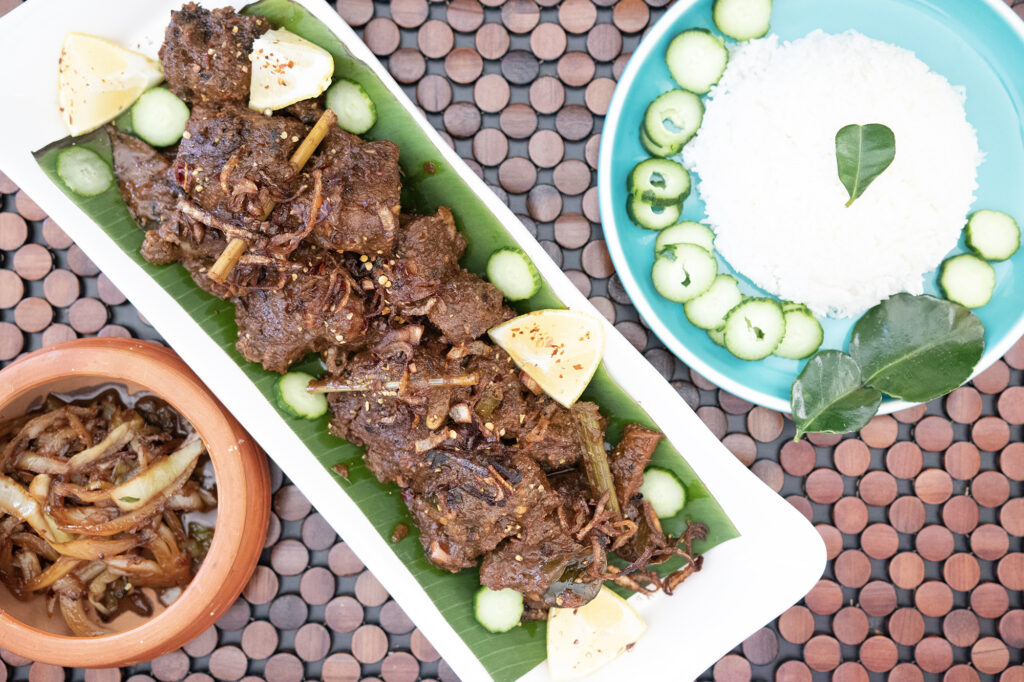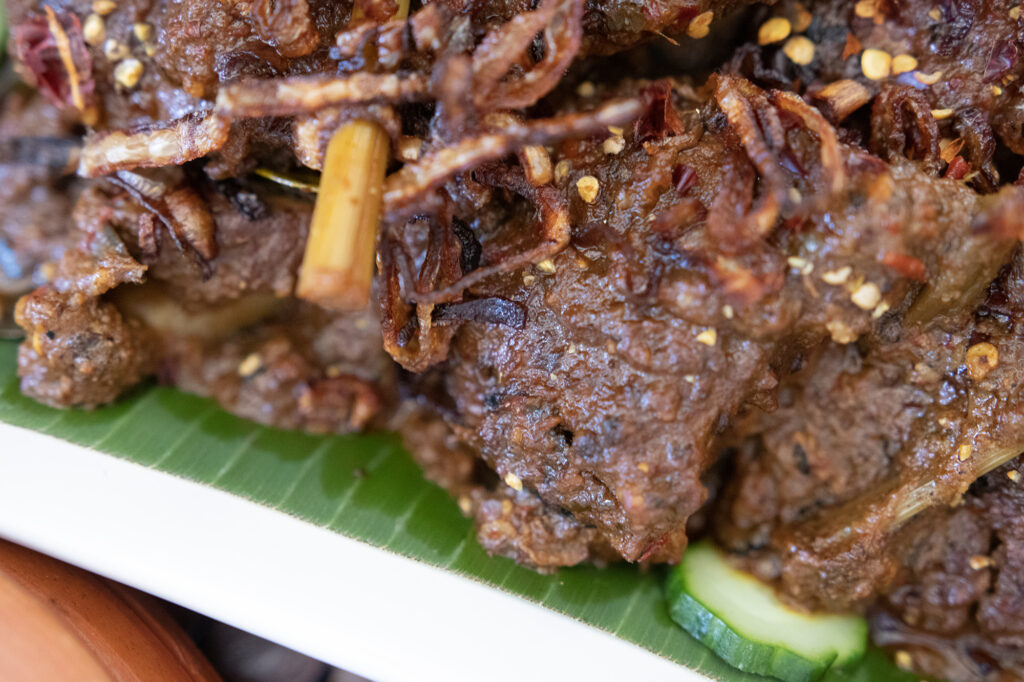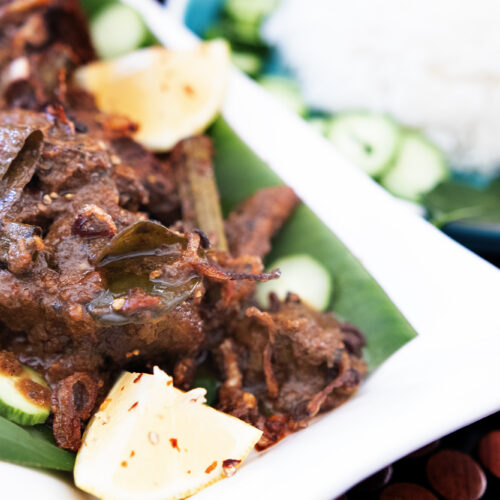 Beef Rendang
Ingredients
Meat & dry marinade
1

kg

– 2.lbs Beef chunks

Salt to taste

2

tsps

White Pepper

1

tsp

Chilli powder

2

tsps

Cumin powder

1

tbsp

Coriander powder

1/4

tsp

Clove powder

1/4

tsp

Cinnamon powder

1

tsp

of Nutmeg
Ground paste
3

Shallots – 2 cups – 150 gms

Garlic – 5 pcs – 20 gms

4

dry red Chillies – 5 gms

5

Macadamia nuts – 6 gms – typically candle nuts are used but Macadamia is a good sub – you could also use cashews

1/4

cup

Ginger – 30 gms

3

long finger Chillies – 1/2 cup

40 gms

4

Kaffir Lime leaves – 2 gms
Other
2-3

tbsps

of Coconut Oil

3

Bay leaves

2

Star Anise

3

Cardamoms

2

cups

Water + extra

2

Lemon grass stalks – 70 gms

Galangal slices – 6 gms

4

Kaffir Lime leaves – 2 gms

Pandan leaves – 4 gms

400

ml

Coconut Milk

1

tsp

Mushroom powder

Salt & Sugar to taste
Garnish
Fried shallots

Chilli flakes
Instructions
Cut your beef into medium size chunks and add salt and the rest of the dry marinade and coat the meat on all sides

Grind together the paste ingredients and keep aside

In a large saute pan, add the coconut oil, bay leaves, star anise and cardamoms

Add the beef and sear on all sides

Add the ground paste and coat the meat in it

Add water to the pan where the beef sat in to remove the residual dry spices, the processing jar (1.5 cups) and add to the meat

Cover and cook for 30 mins

After 30 mins, add the coconut milk and add another 1/2 cup of water to the can and add that in

Cover and cook this for 2- 3 hours, stirring frequently to prevent burning

When the gravy has reduced, add the mushroom stock powder, salt & sugar to test

Keep cooking and if the gravy gets too dry add some water

Garnish with fried shallots and sprinkle with chilli flakes