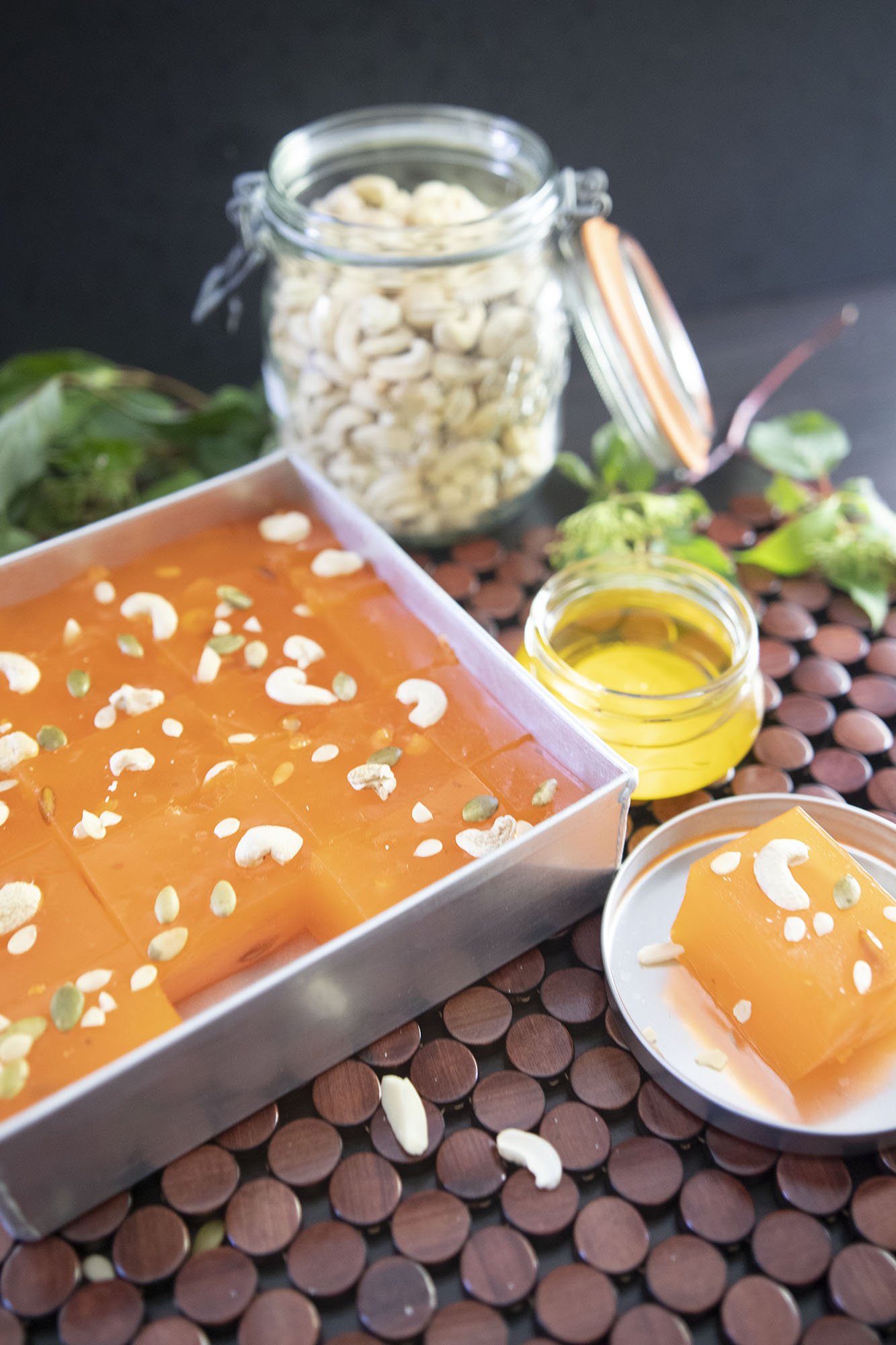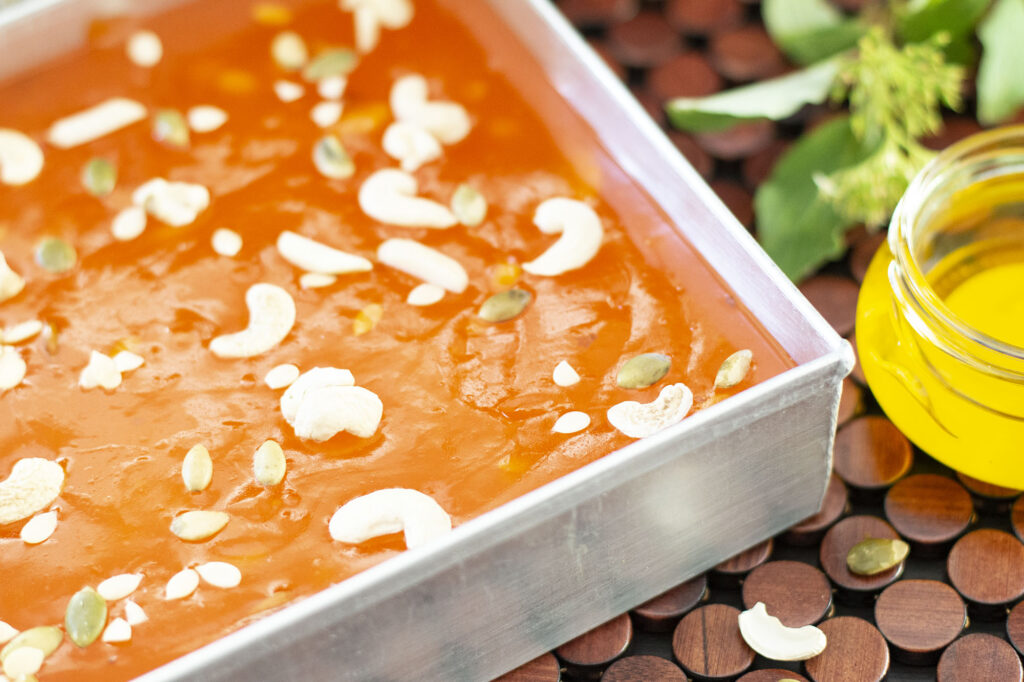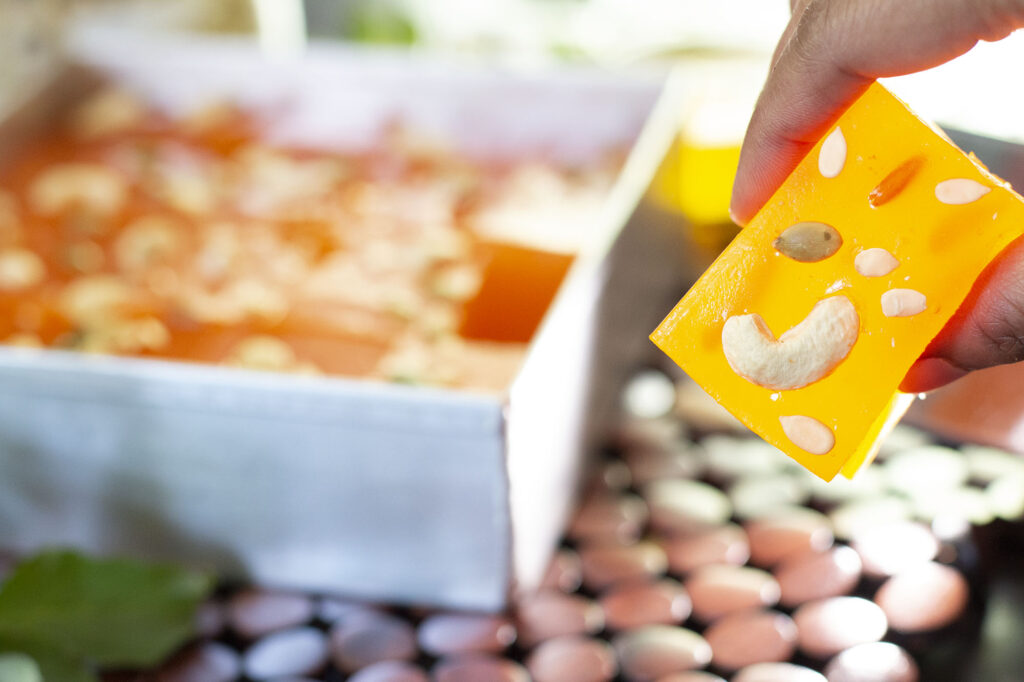 This Halwa is known by several names – Bombay, Karachi, Rubber or Corn flour Halwa. I'm not a huge fan of sweets, but could never resist the taste of this rubbery treat. When I was in boarding school in Panchgani, I have a distinct memory of biting into a piece out in the yard and the liquid from the sweet squirted into my eye. From then, I was in love.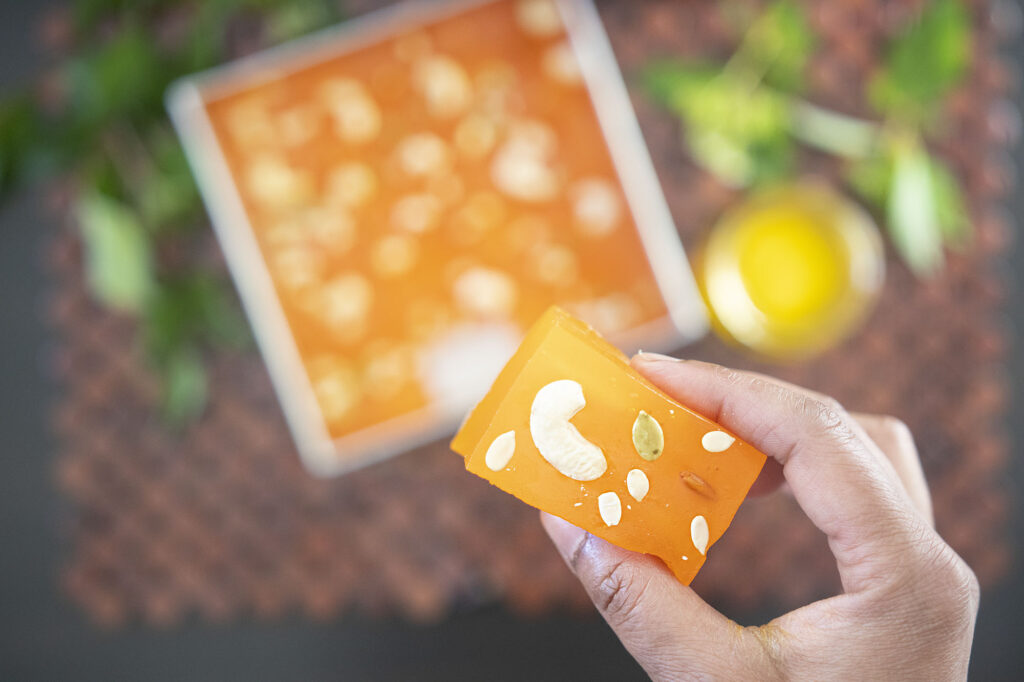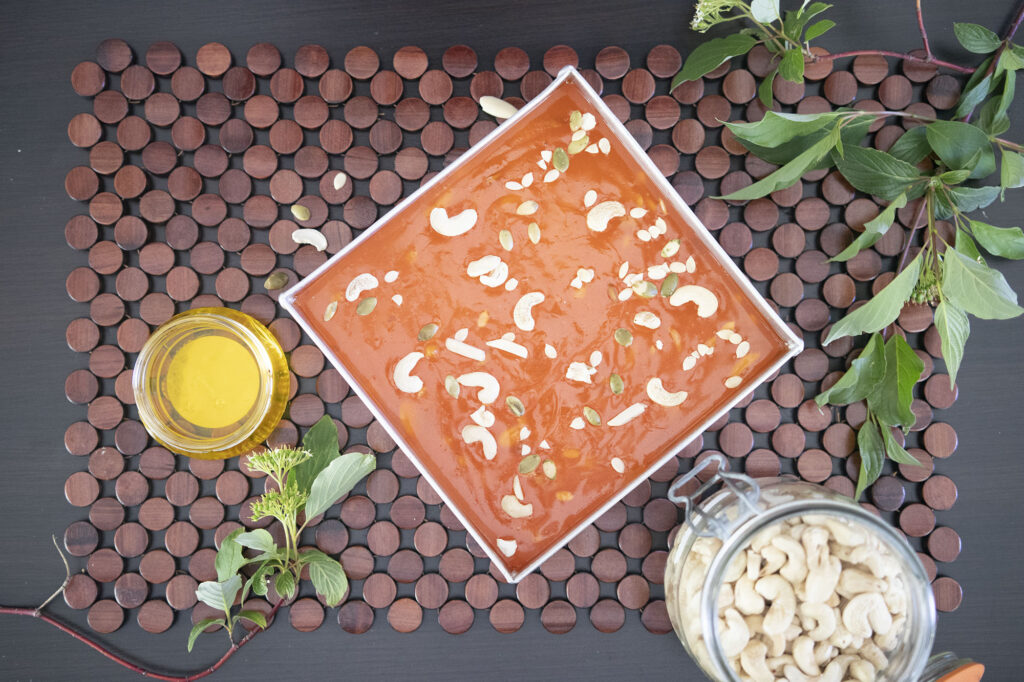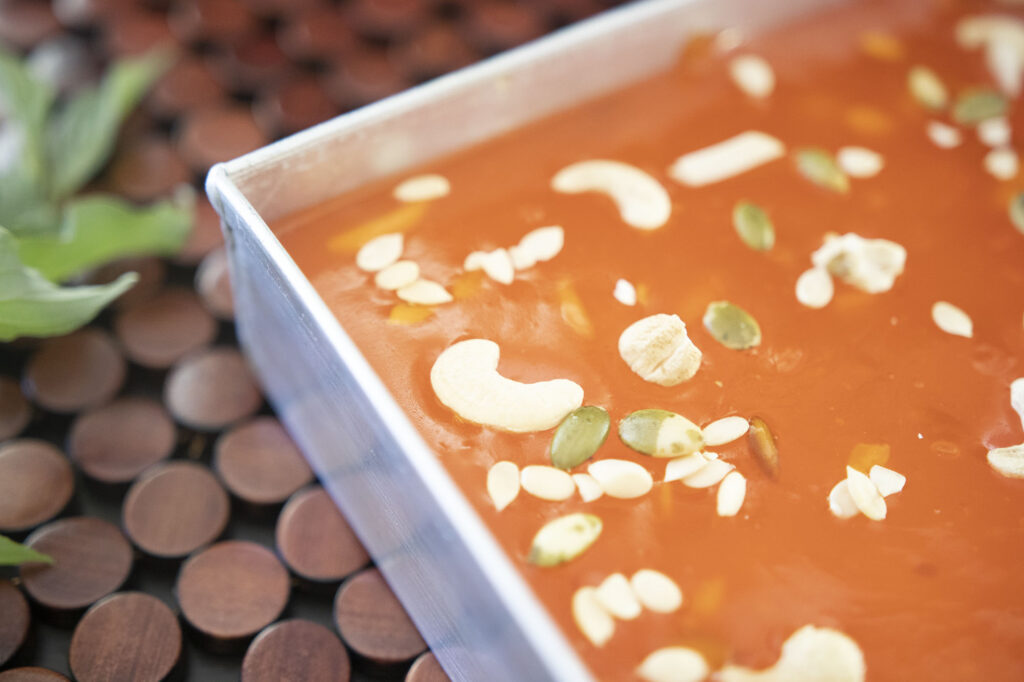 In Mumbai, Royal Sweets used to sell the best Bombay Halwa. Each box would contain about 9 brightly colored pieces of this delight, each individually wrapped like a gift. Each bite was a sweet sensation with the tiniest hint of saffron and ghee. Sadly Royal Halwa shut down and it's been a while since we were able to buy this Halwa.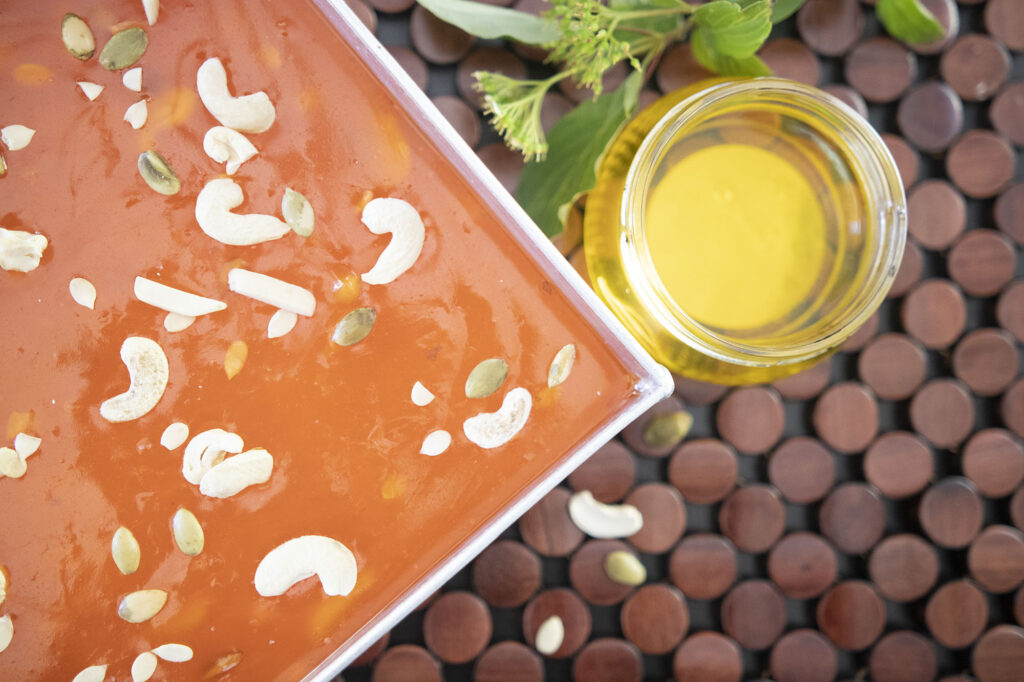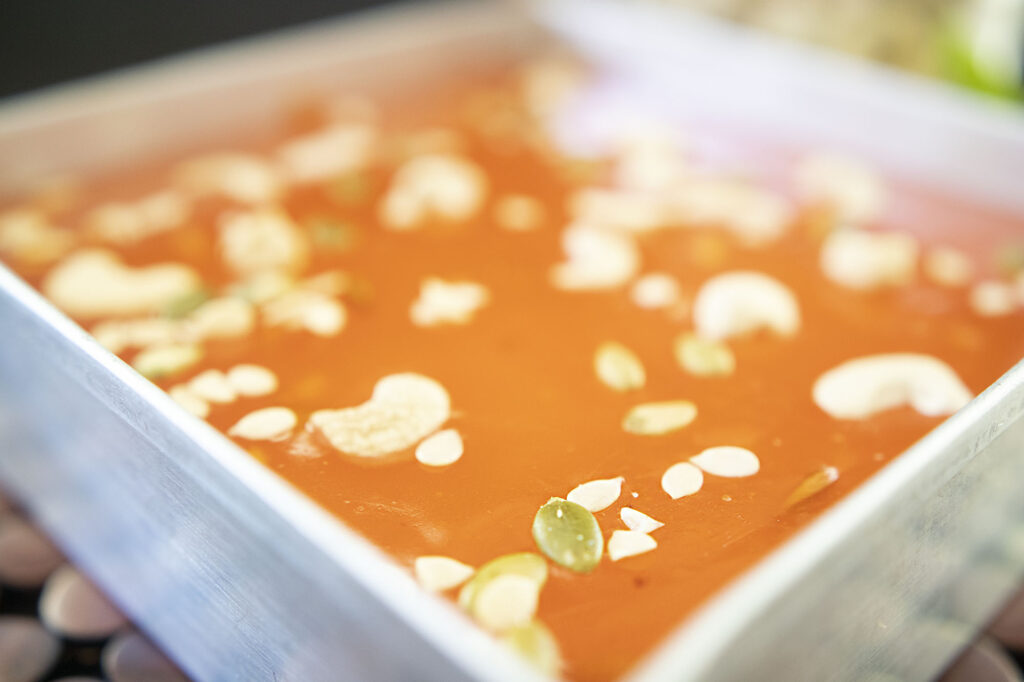 When COVID boredom set in, I decided to try my luck with this Halwa and after multiple tries to get it just right, I'm ready to share.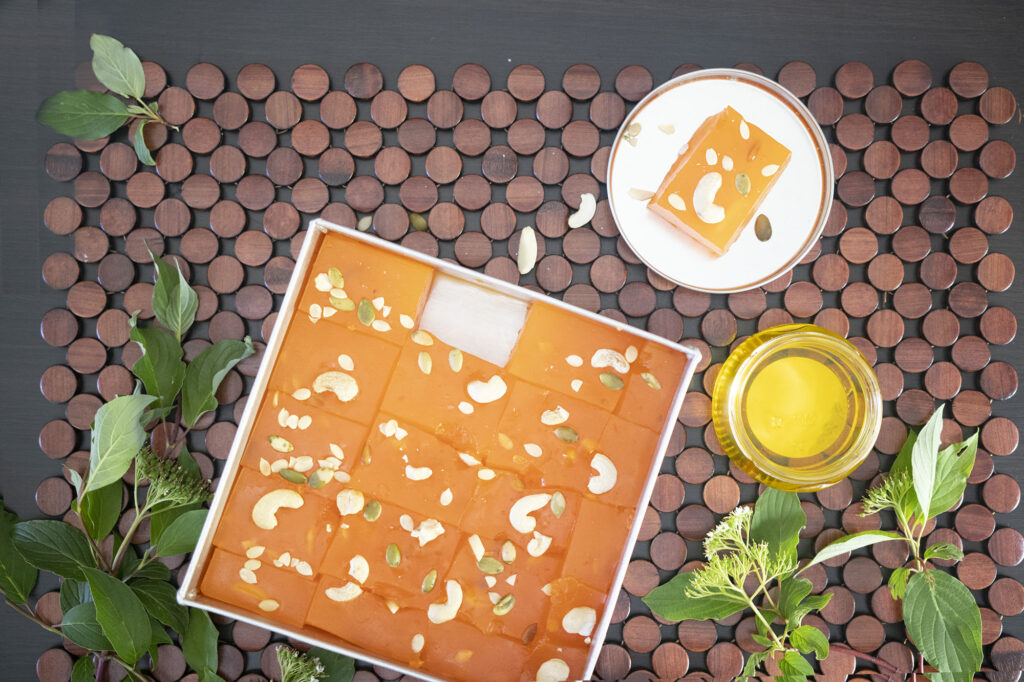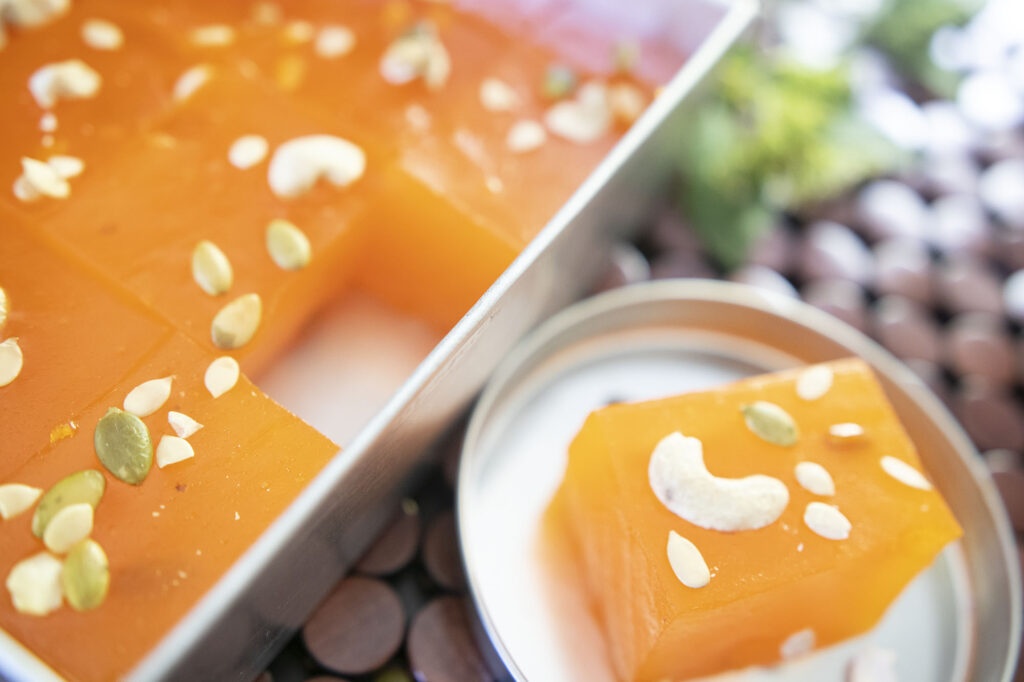 The ingredients are simple – Sugar syrup, lemon juice, ghee, saffron, nuts and Cornstarch dissolved in water. There are two basic methods to prepare this. One requires you to first cook the cornstarch and then add the prepared sugar syrup a little at a time till absorbed. And the second and easier method is to start with cooking the sugar syrup and then slowing adding in the dissolved cornstarch and all the other ingredients in one pot. I've tested both as I wanted to get the best results and I way prefer the latter method. Either way, the only virtue you need to have is patience as this will need to be cooked low and slow and stirred constantly for 45 – 60 mins.
Watch the video for the whole process!
Note that the Halwa texture changes as it dries out so if you like a chewy, rubbery texture, just let it air dry for a few days before you eat it.
Also even though this is known as Cornflour Halwa, it is made with Cornstarch and not Corn flour.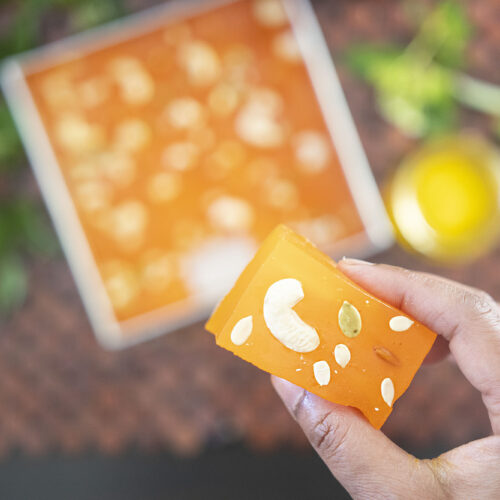 Bombay Karachi Halwa
Ingredients
10

Cashew halves

1

tbsp

broken Cashews

1

tbsp

Charmagaaz or Melon seeds

1

tbsp

Pumpkin seed

1

tbsp

sliced Almonds

Pinch

of Saffron

4

tbsps

Ghee

Pinch

of Food colouring of your choice
Sugar syrup
2

cups

Sugar

2

cups

Water

Juice of 1/2 Lime
Cornstarch slurry
1

cup

of Corn starch

3

cups

of water
Instructions
Reserve the cashew halves for later and mix together the rest of the nuts and seeds

Prepare the cornstarch slurry by just mixing the cornstarch with water

Heat the sugar with the water to make a syrup

Add the lime juice to prevent sugar crystals from forming later

Stir the cornstarch slurry again and add it to the sugar syrup

Drop the heat and add a pinch of saffron

Keep stirring constantly for 45 – 60 mins

Once the mixture starts to get translucent, add the ghee one tablespoon at a time, allowing it to get fully absorbed

At about the halfway mark, add the food colouring and mix it well

Add half of the nuts and seeds, reserving the rest to decorate the top of the Halwa with the cashew halves

When sticky and ready pour into a greased cake pan or mold and quickly top with the rest of the nuts ad seeds and press in the cashew halves

Allow this to cool and when warm, run a knife on all four edges and flip over to release

Cut into desired pieces and serve or leave to air dry for a few days to get more rubbery