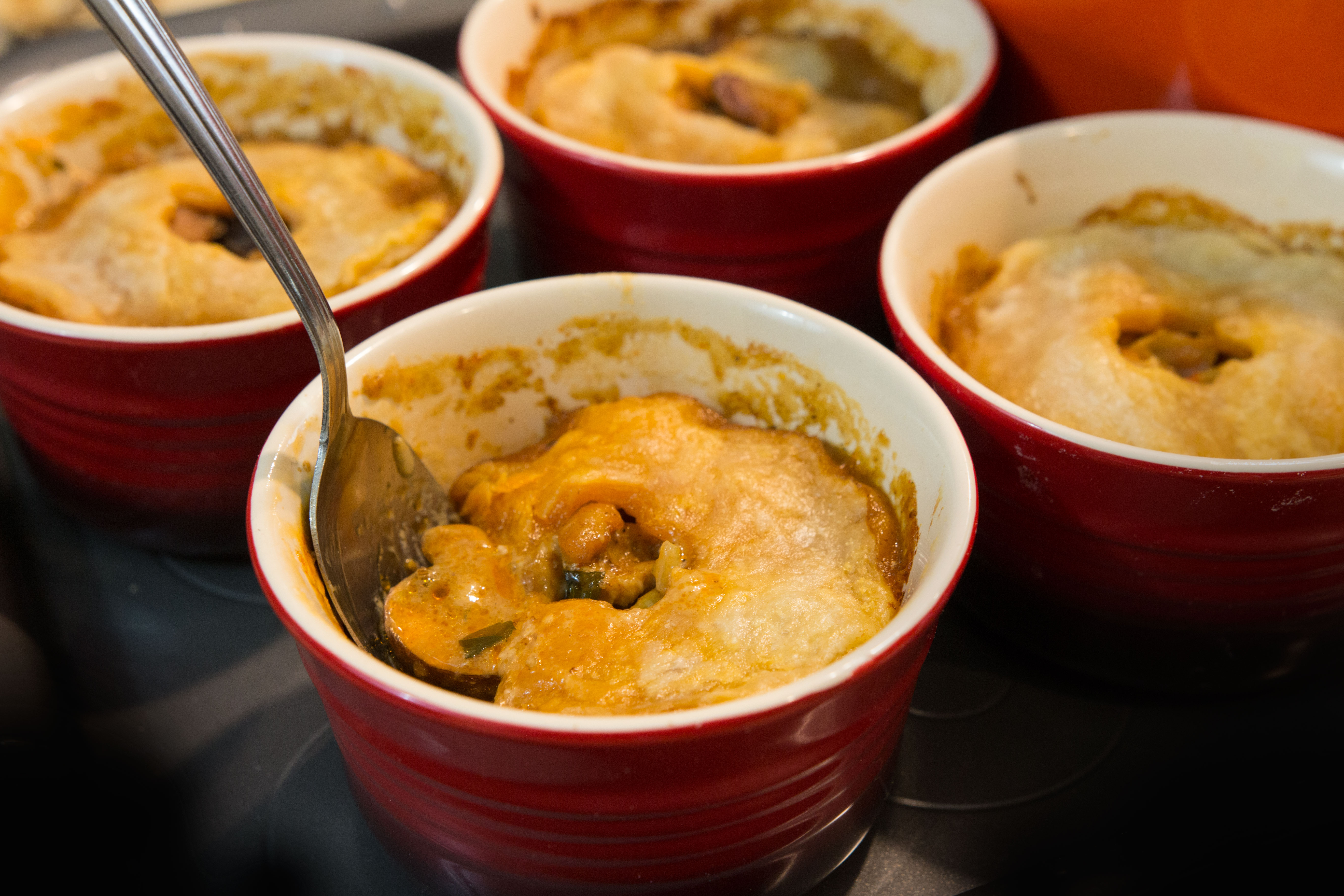 View my step-by-step video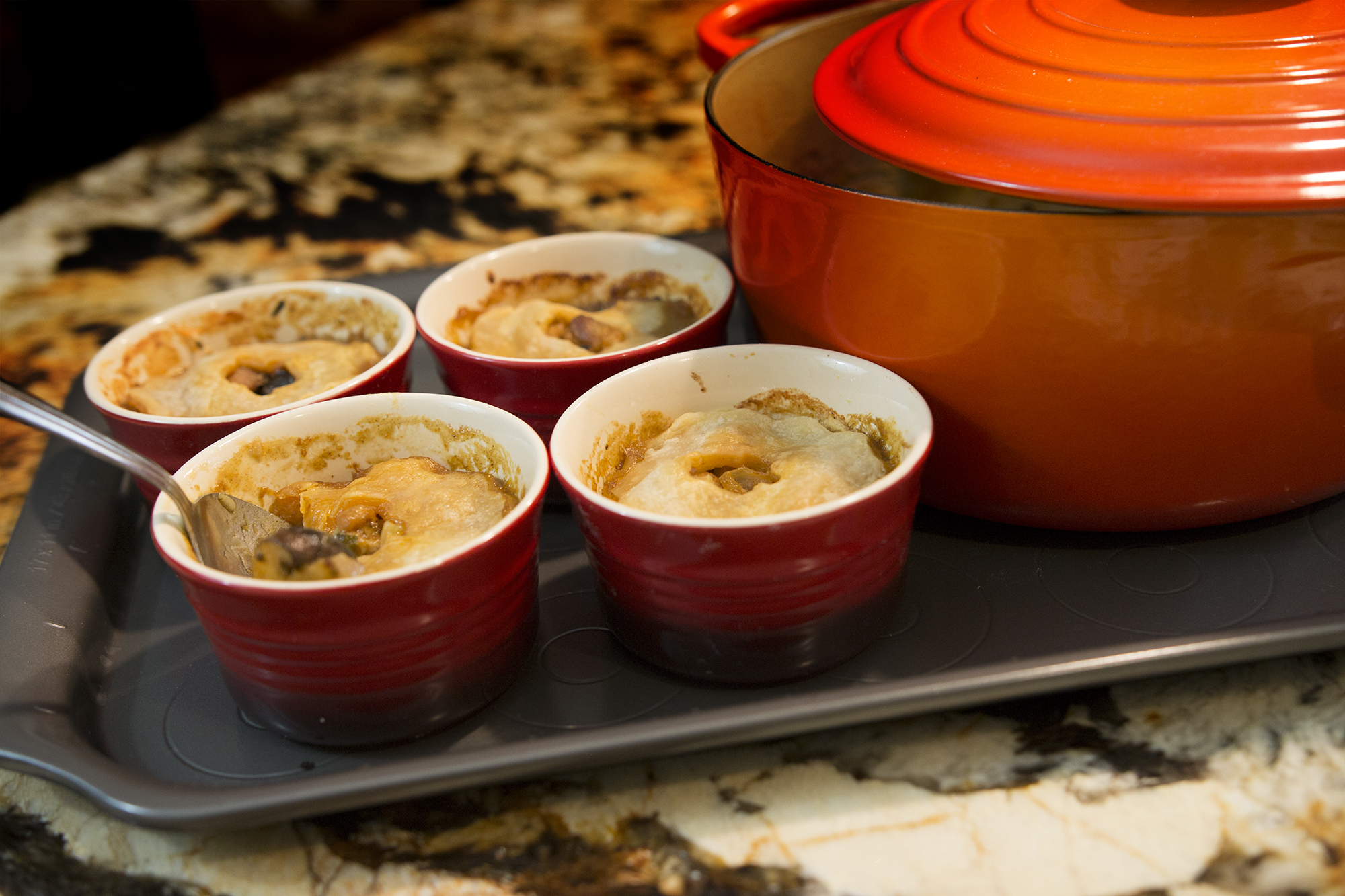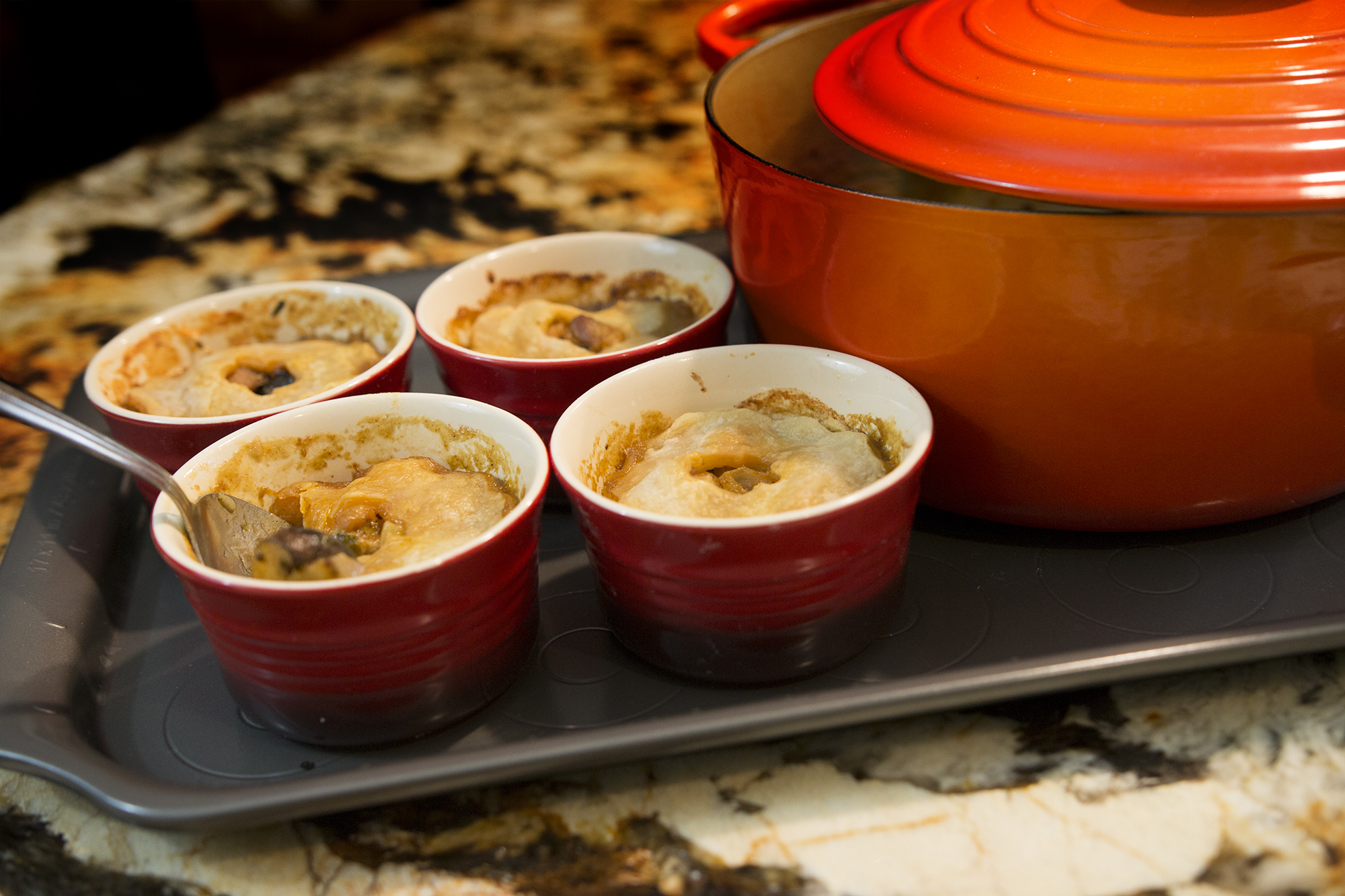 There's nothing more comforting than crispy a hot pie crust covering a creamy Chicken and Mushroom filling. I prefer to make individual servings of this is small ramekins instead of doing a big family style pot, it's a lot less messy and you don't have to worry about portioning it out.You can either make your own pie pastry or buy frozen puff pastry that you will need to defrost before using.
[youtube-subscriber channelname=kravingsblog]
Ingredients
Pie pastry of puff pastry
Olive oil
1/2 onion finely chopped
1/2 lb boneless chicken
1 cup mushrooms
1 tsp cumin powder
1 tsp smoked paprika
1 tsp chopped sundried tomatoes
1/2 cup each chopped celery and carrots
1 cup chicken stock
Salt to taste
1/2 cup heavy cream
2 tbsps Beurre manie – parts butter and flour
1/4 cup parsley
Extra butter for ramekins
Instructions
If using puff pastry, defrost according to the package instructions
If using my pie dough recipe, knead together and let rest for half an hour
In a dutch oven, heat some oil and then sweat the onions, add the chicken and when slightly brown add the mushrooms
Add the cumin, paprika and sundried tomatoes
Add the celery and carrots
Add the chicken stock and bring to a boil. Cover and cook for a few minutes
Add the cream
Using a strainer and a whisk, add the 2 tbsps of the beurre manie and whisk to incorporate
Add the parsley and leave to cool
Grease the ramekins with butter
Roll out and cut one large circle to fill the inside of the ramekin and blind bake in the pre heated oven for about 5 - 7 minutes. I added some beans at the bottom to keep the dough from rising.
In the meantime roll out a smaller dough circle for the top of the ramekin and using a smaller cookie cutter cut out a bit for the steam to escape.
Remove the ramekins from the oven, fill with the Chicken filling and return to the oven for another 15 – 20 mins till the tops are golden brown.
https://kravingsfoodadventures.com/chicken-pot-pie/