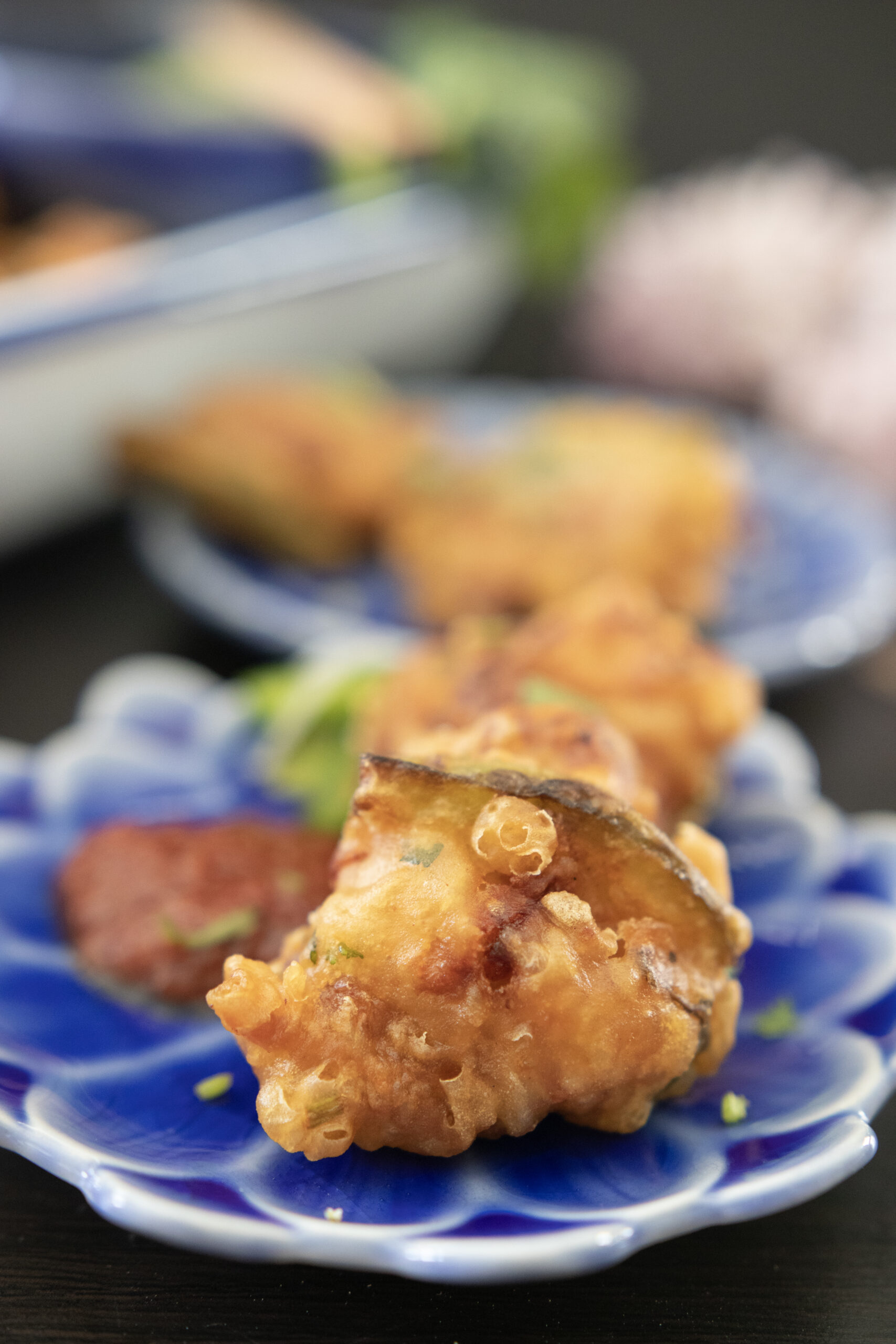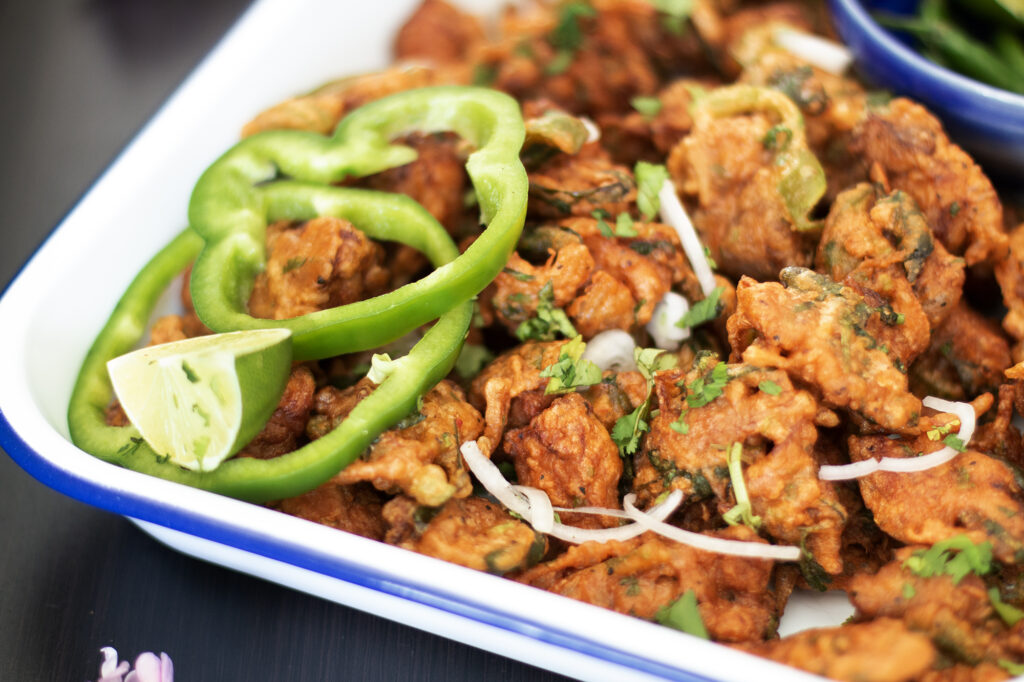 Boneless Chicken is marinated in salt and pepper, chilli paste, light and dark soya sauce, vinegar, julienne of garlic and ginger and sliced chillies. This is left to marinate overnight if possible to get the best flavour
The next day green peppers, shallots and coriander is added to the chicken.
A batter is prepared by mixing corn starch & all purpose flour, baking powder & salt with water.
The marinated chicken, green peppers, onion and coriander is dropped into the batter and then into the hot oil and allow the chicken to cook before removing and draining on kitchen towels.
So what is Hakka Chinese and how did it come to India?
Hakka Chinese has a significant presence in India, particularly in the eastern states of West Bengal and Jharkhand. The Hakka community in India is predominantly concentrated in the cities of Kolkata and Jamshedpur, among other smaller towns and settlements.
The Hakka Chinese community in India has a unique history. Many Hakka people migrated to India during the British colonial period, mainly from the Guangdong and Fujian provinces of southern China. They arrived in India as part of the Chinese diaspora, seeking opportunities in trade, construction, and other professions.
In Kolkata (formerly Calcutta), the Hakka Chinese community has a long-established presence, with a history dating back over a century. The area of Tangra in Kolkata is particularly known as "China Town" and is home to a significant number of Hakka Chinese families. China Town in Kolkata is renowned for its Chinese restaurants, where one can find delicious Hakka cuisine like Hakka noodles, dumplings, and other Chinese delicacies with an Indian twist.
The Hakka Chinese community in Jamshedpur, located in the state of Jharkhand, also has a vibrant presence. They were primarily brought to Jamshedpur by the Tata Group, a prominent industrial conglomerate, to work in the steel industry. The community has made valuable contributions to the cultural fabric of Jamshedpur, including their cuisine, festivals, and traditions.
Over the years, Hakka Chinese in India have maintained their cultural identity and language, preserving their distinct dialect and customs. However, due to assimilation and intermarriage with local Indian communities, there has been some dilution of the Hakka Chinese language and culture.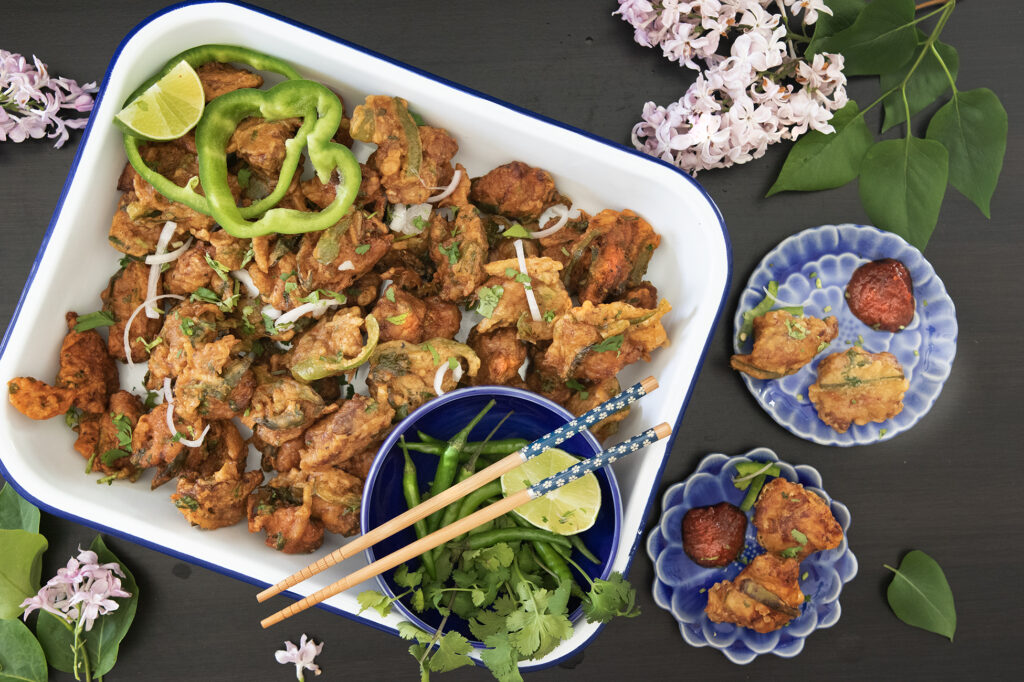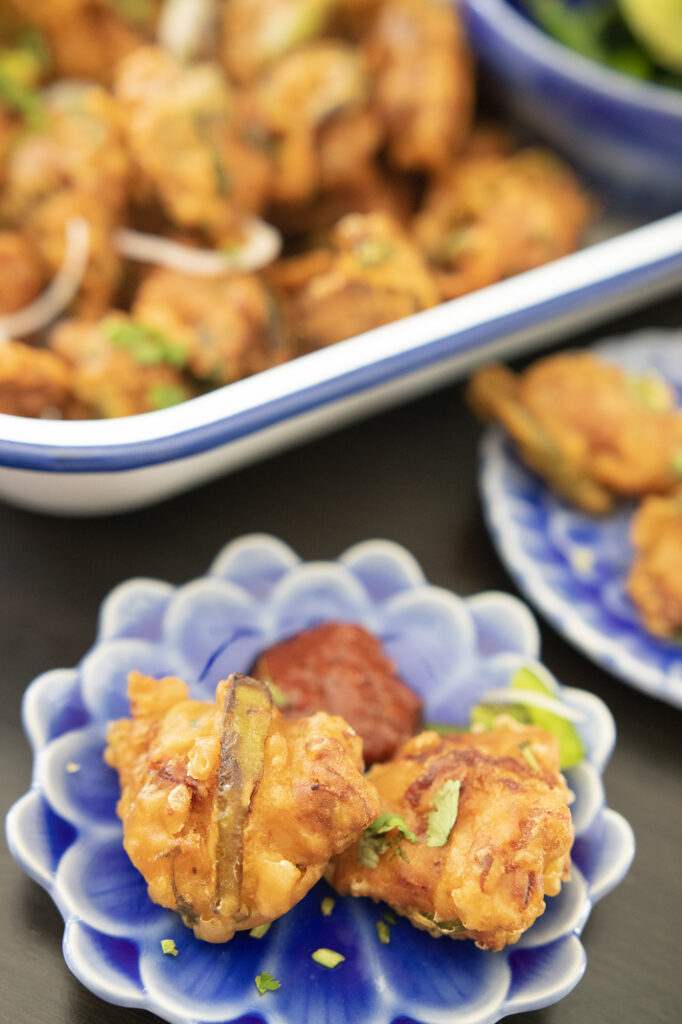 Today, the Hakka Chinese community in India continues to celebrate their unique heritage through festivals, cultural events, and community gatherings. They have made notable contributions to Indian society, particularly in the fields of cuisine, entrepreneurship, and trade.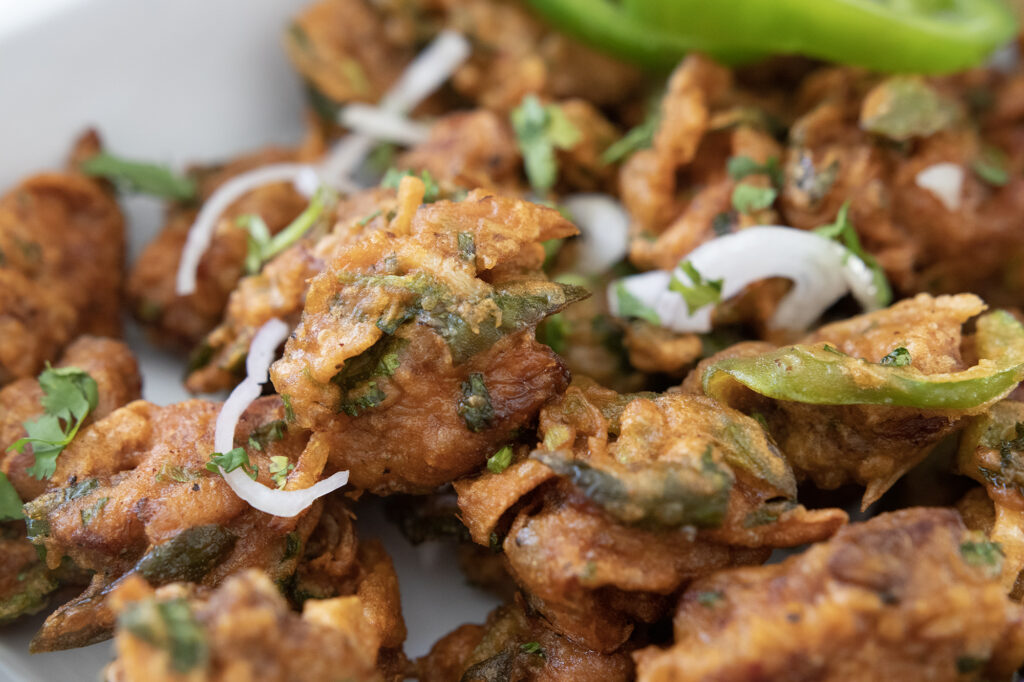 It's important to note that the Hakka Chinese community in India is just one part of the diverse Chinese diaspora in the country. There are also other Chinese communities, such as Cantonese-speaking and Shanghainese-speaking communities, scattered across different regions of India.
Chilli Chicken itself is a beloved and popular recipe. I will never forget my Mom's Chilli Chicken and make it till this day. I also have an incredible Kolkotta style recipe from my friends at Bong Eats. Pakoras traditionally are vegetarian – typically Onion & Potato and made in a Chickpea batter. In Hakka restaurants, it's not unusual to find pakoras made with other proteins like Chicken & Shrimp and made with a batter of Cornstarch and Flour.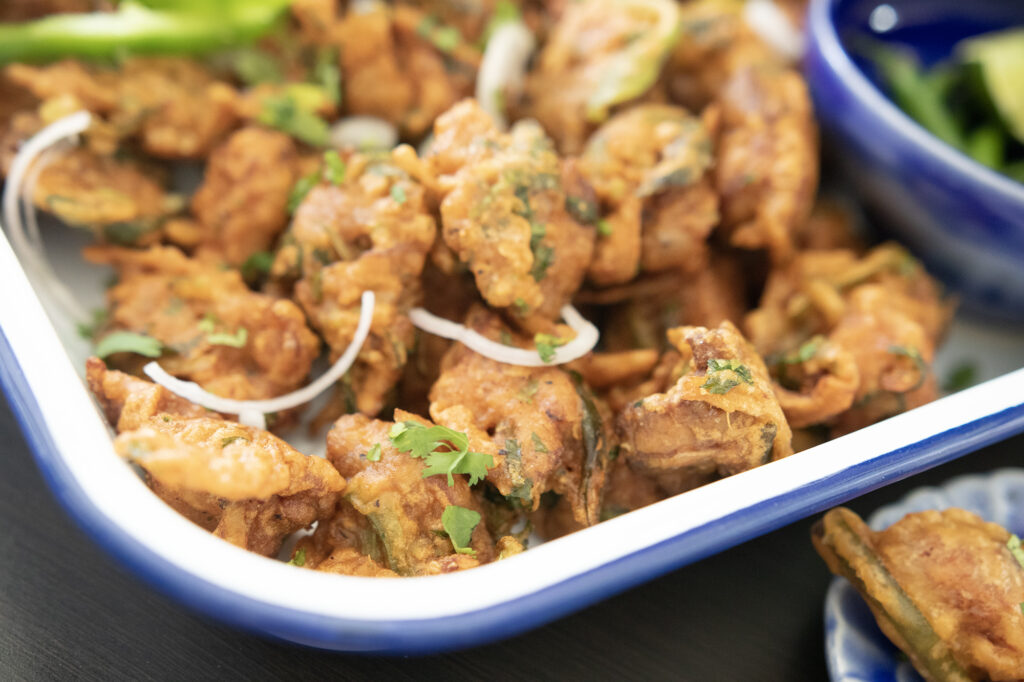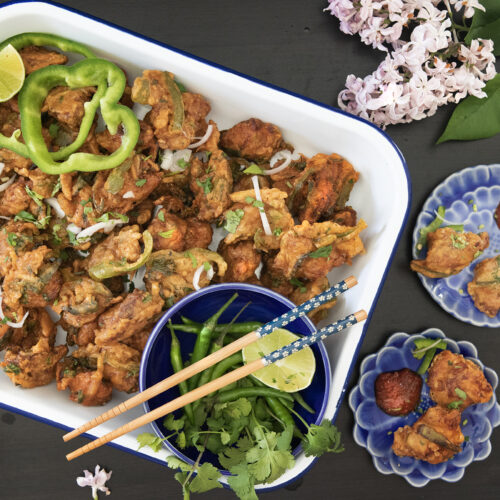 Chilli Chicken Pakora
Ingredients
Chicken & Marinade
1

lb

boneless Chicken thigh

Salt & Pepper to taste

2

tbsps

Chilli paste

2

tbsps

light Soya Sauce

2

tbsps

dark Soya Sauce

1

tbsp

Vinegar

1/4

cup

julienne of Garlic

1/4

cup

julienne of Ginger

1/4

cup

thinly sliced Thai green Chillies
Additional marinade and ingredients
1

tsp

Vinegar

1

tsp

light Soya Sauce

1/2

cup

thinly sliced green Peppers

1/2

cup

sliced Shallots

1/2

cup

finely chopped Coriander
Batter
3/4

cup

Cornstarch

3/4

cup

all purpose Flour

1

tbsp

Baking Powder

1

tsp

Salt

Water
Garnish
Coriander

Shallots

Green Pepper

optional

Lime wedges
Instructions
Marinate the chicken with the salt & pepper, chilli paste, light & dark soya, vinegar, julienne of garlic & ginger and green chillies and marinate this overnight.

The next day add a bit more vinegar and soya sauce and add the green peppers, shallots and coriander

Prepare the batter by mixing the cornstarch, all purpose flour, baking powder and salt and whisk in water a little at a time till you get a smooth batter with a medium consistency.

Add some of the chicken mixture into the batter

Using a spoon, scoop up a piece of chicken and try to get some of the pepper, shallots, green chilli, julienne of ginger and garlic and coriander and drop it into the hot oil – of course are not going to get all of them, but the idea is to make sure the pakora has chicken but also all the other ingredients

Cook each batch for 8 – 10 mins till golden brown and once it's cooked, remove and place on kitchen towel.

Garnish and enjoy!