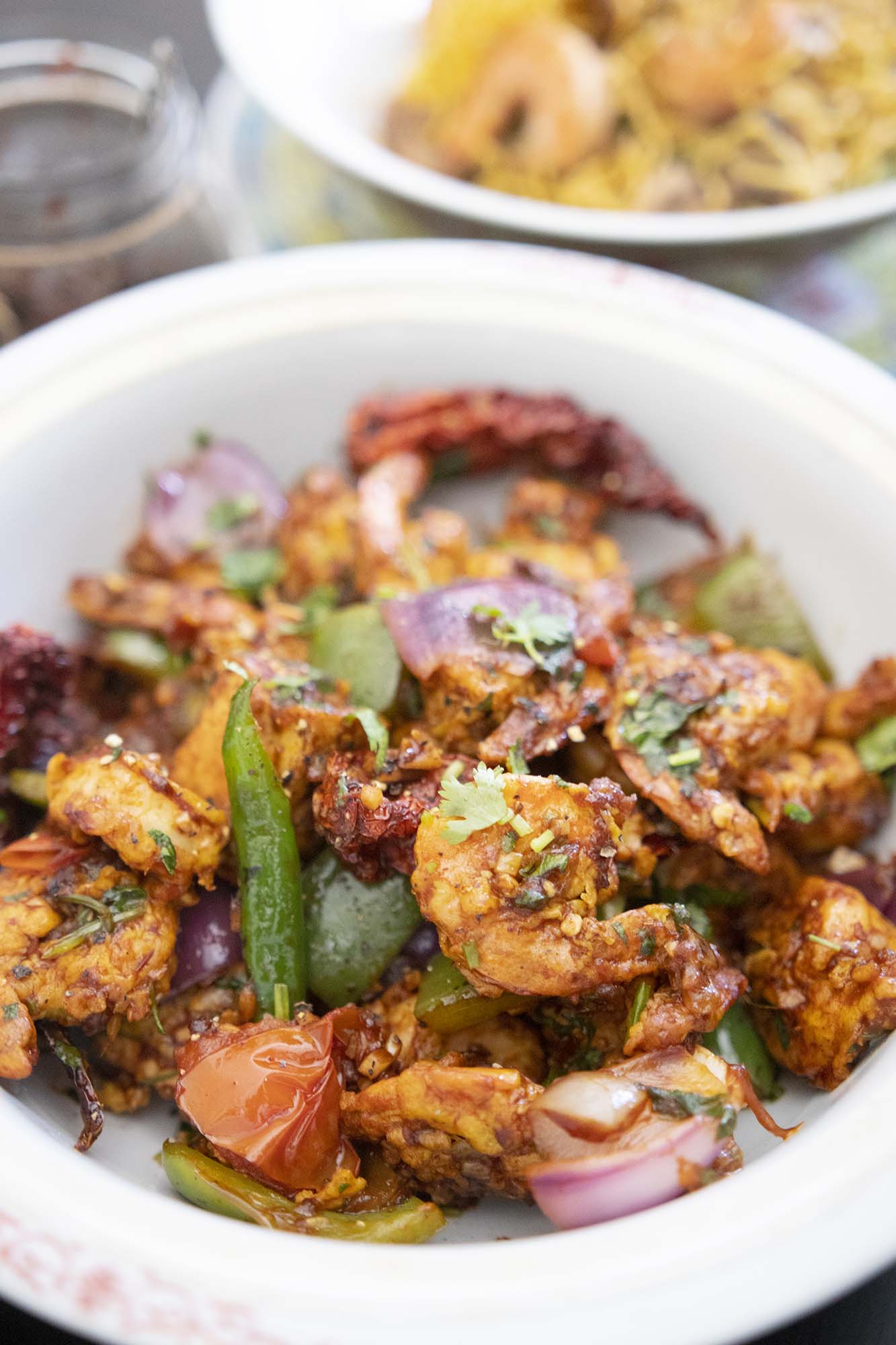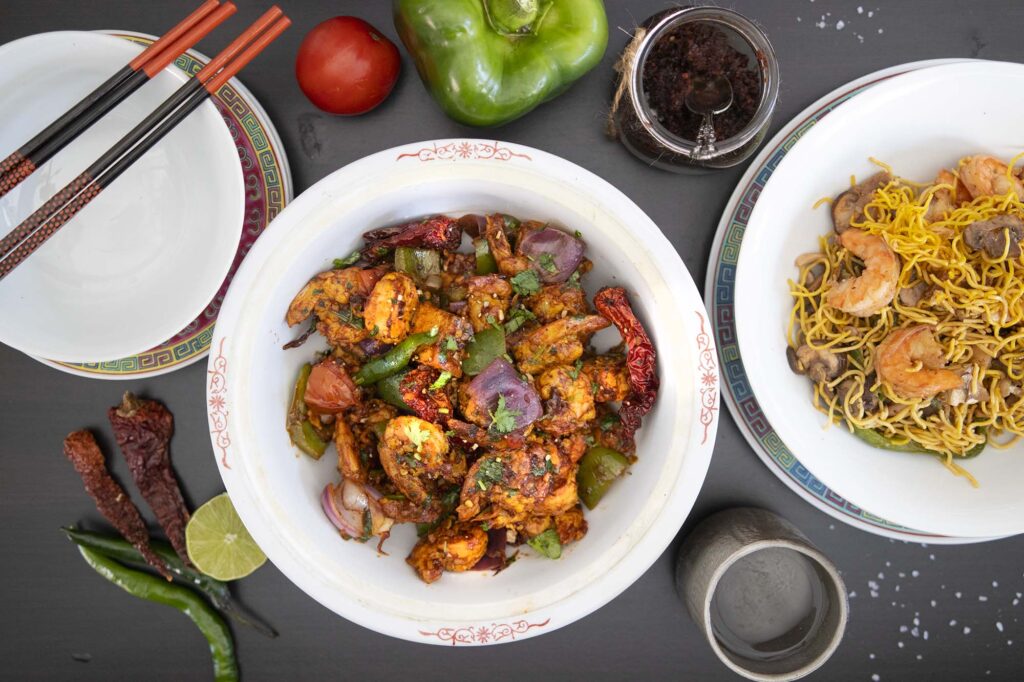 Prawns or Shrimp are marinated in a batter. Then deep-fried and kept aside. Garlic, Ginger, Chillies, Onion and green pepper are sauted with some tomato, tofu, soya, chilli sauce and vinegar and a corn starch slurry holds it all together. The prawns or shrimp and then tossed in and then finished off with some chopped coriander.
Hakka Chinese food is very popular in India and all over the world. Chinese immigrants brought their delicious recipes from their homeland to their adopted country, India. From there it took on spices and flavors popular with the Indian people and morphed into a new delicious version.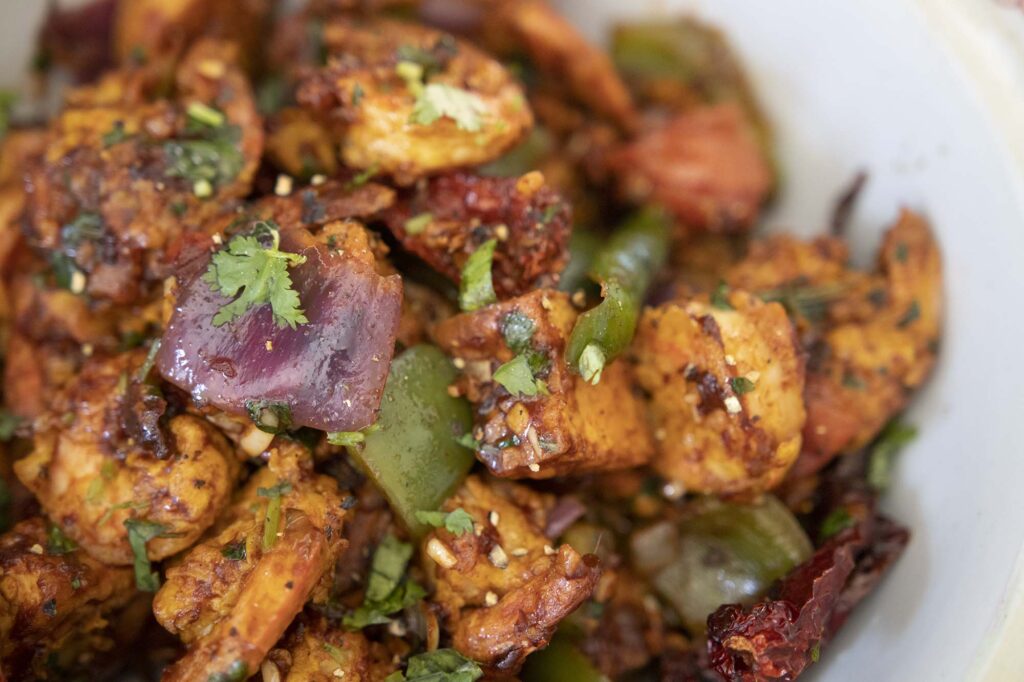 Seafood and Chicken is most popular as Beef is seldom available. Prawn or Shrimp in this recipe is coated in a batter and deep fried before tossing together with ingredients like Onion, Ginger & Garlic, Green Pepper & Tofu and a spicy gravy made with red chilli paste, dark soya sauce and vinegar. This is finished off with chopped Coriander that is very typically used in Hakka Chinese cuisine.
Some other Hakka Chinese recipes – click here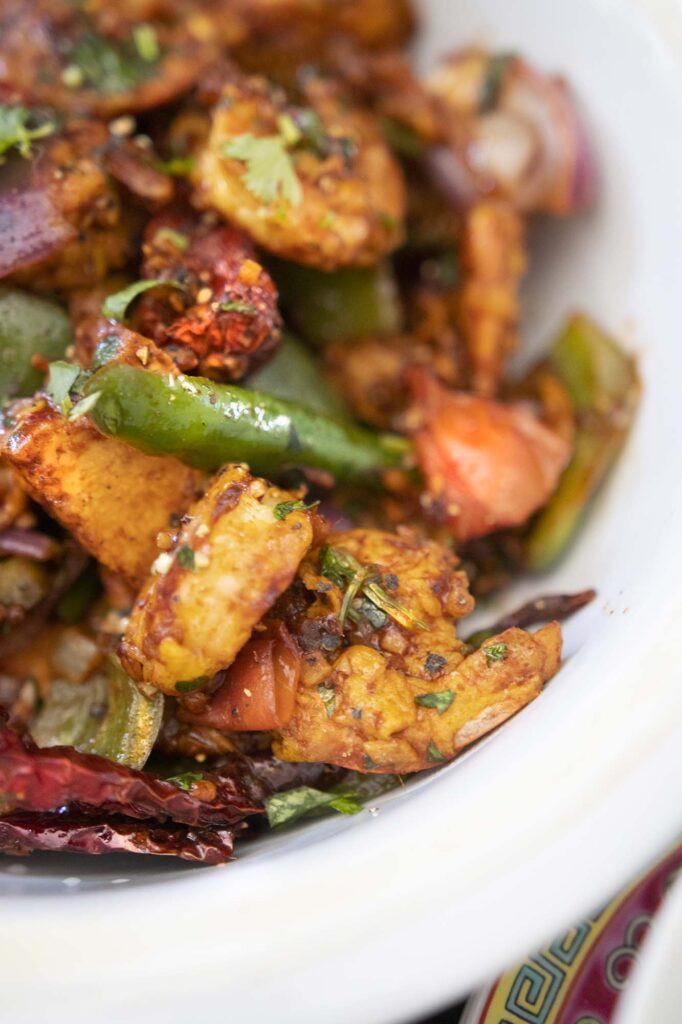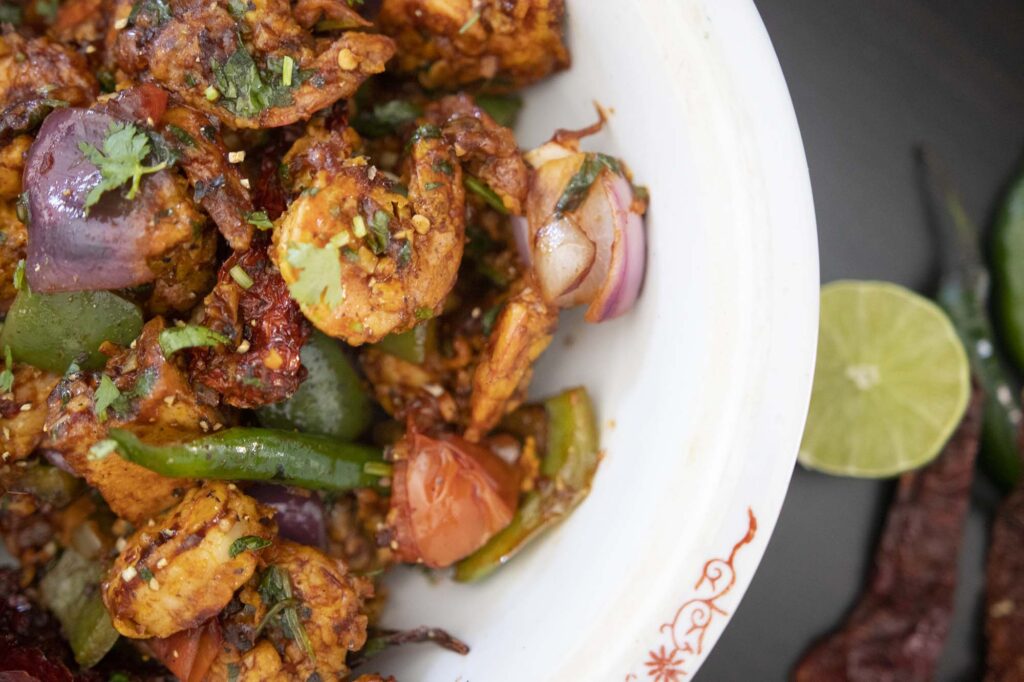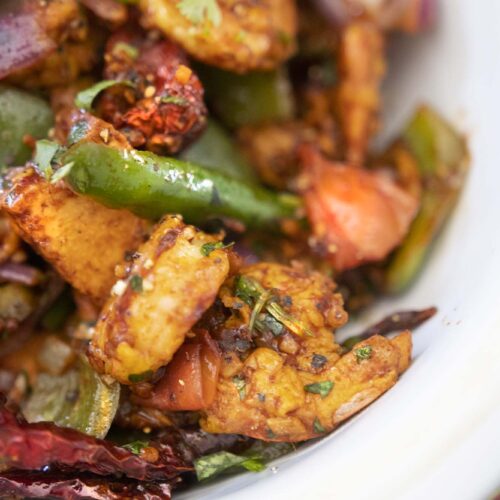 Chilli Prawns
Ingredients
500

gms shelled and deveined Prawn or Shrimp

Juice of 1/2 Lime

1

tsp

Salt

1/2

tsp

Turmeric

1

tsp

fresh cracked Pepper

1

tsp

Ginger & Garlic paste

3

tbsps

all purpose Flour

you can sub Cornstarch

1

Egg

1

tbsp

light Soya sauce

1/4

cup

finely diced Onion

1/4

cup

finely diced Garlic

1/4

cup

finely diced Ginger

2

green Chillies slit in half

4

dried red Chillies

1/2

cup

Onion Petals

1/2

cup

Green Pepper cubes

1

tsp

Ginger & Garlic paste

1/2

cup

Tomato cut in cubes

1/2

cup

fried Tofu

2

tbsps

red Chilli sauce

2

tbsps

dark Soya sauce

2

tbsps

Vinegar

1/2

cup

Water

2

tbsps

Cornstarch slurry

1/2

cup

chopped Coriander
Instructions
Marinate the Prawn with the lime juice, salt and turmeric and set aside for about 10 mins

Then add the pepper, ginger and garlic paste, flour, egg, soya sauce and mix well

Deep fry this in batches and keep aside

In a wok, heat up some oil and sauce the diced onion, garlic and ginger

Add the green and red chillies

Add the onion petals and green pepper

Add the ginger and garlic paste and saute

Add the tomato and tofu

Add the red chilli sauce, soya and vinegar

Add the water and mix

Add the cornstarch

Now toss in the prawn and allow to coat

Add the chopped coriander and serve