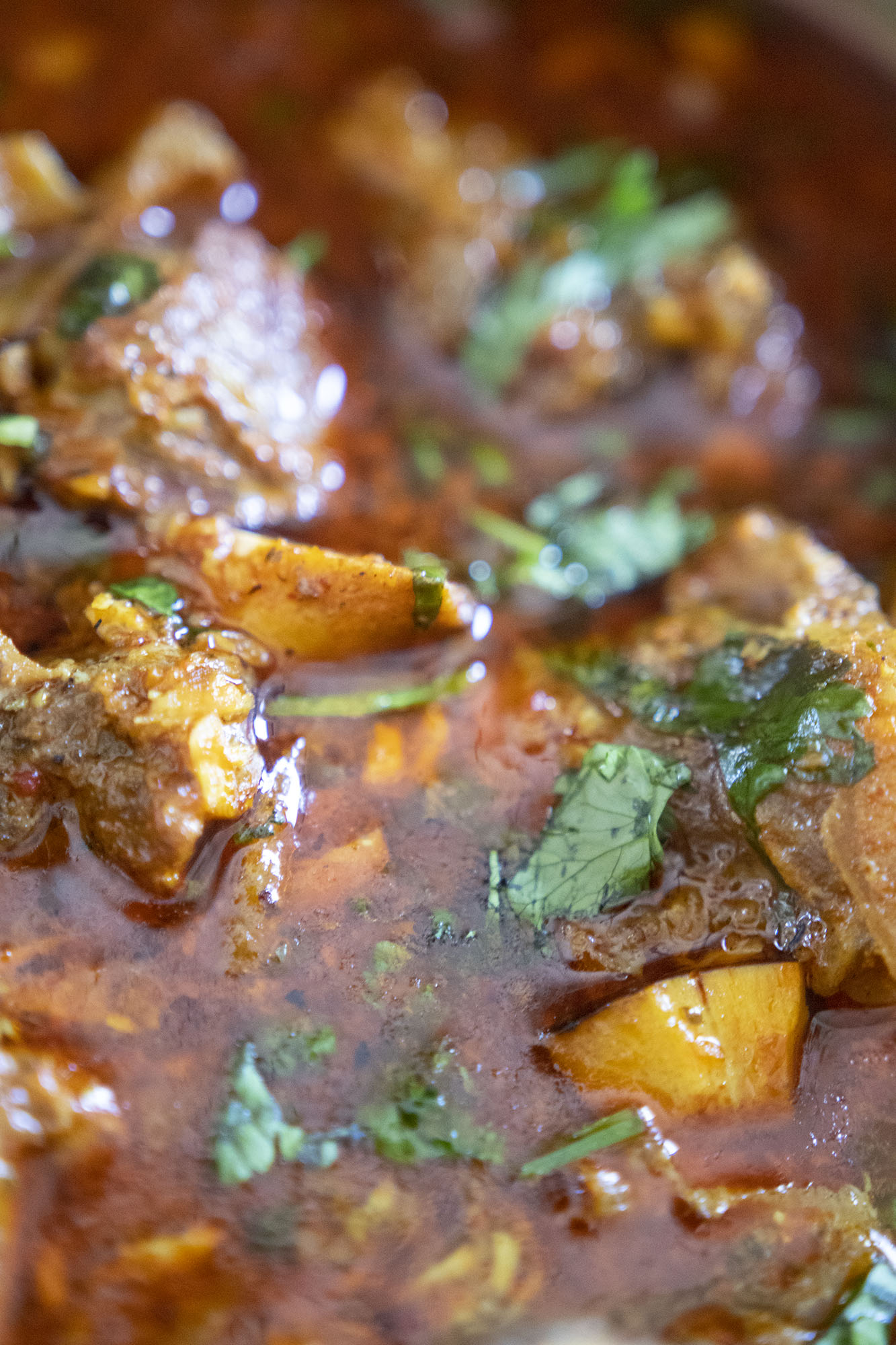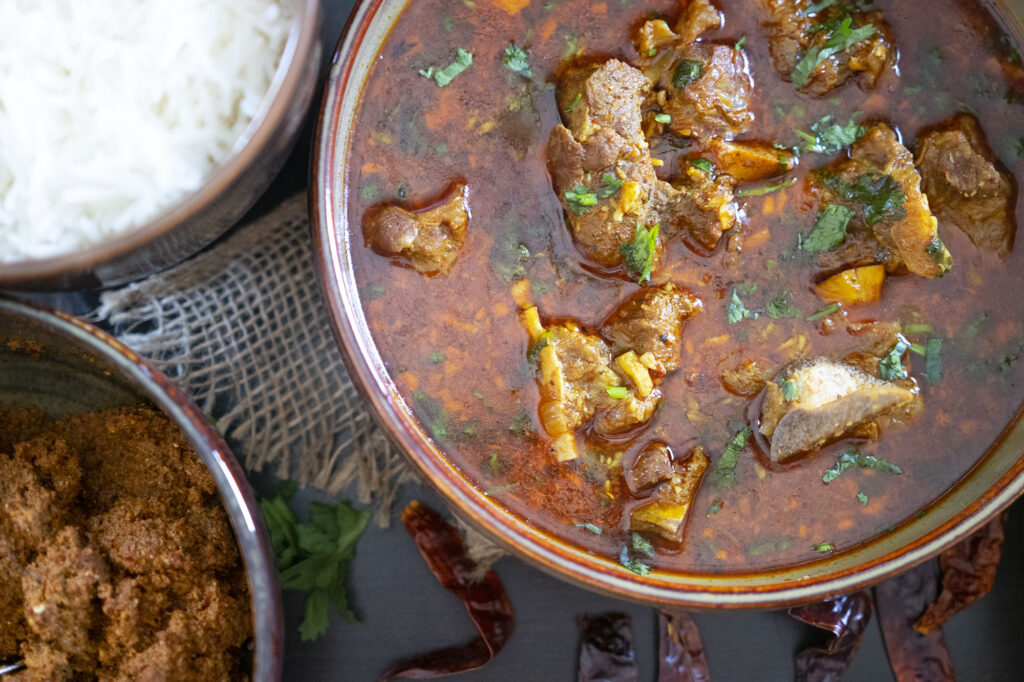 There are so many kinds of Mutton curry. This recipe hails from Maharastra and is a typical spicy curry from the region of Kolhapur.
Kolhapuri cusine is largely influenced by its landscape & crops. It consists of a mixed population – Marathis, Gujratis, Brahmins, Marwadis and Muslims.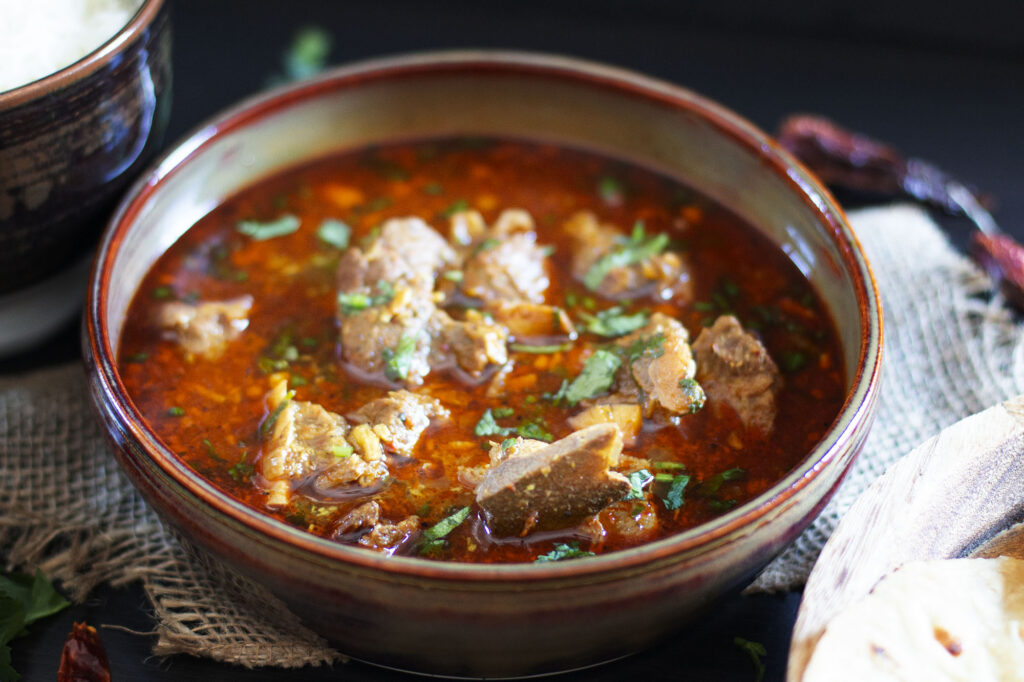 Although a vast majority are vegetarian, some in the Maratha community also eat meat and chicken. Red meat is typically Goat or Sheep as Beef is not consumed by Hindus.
Kolhapuri food is considered generally spicy and this preparation is definitely one of them. The spice blend that makes this unique is a combination of coconut and onion, a whole slew of spices and fiery dried red chillies.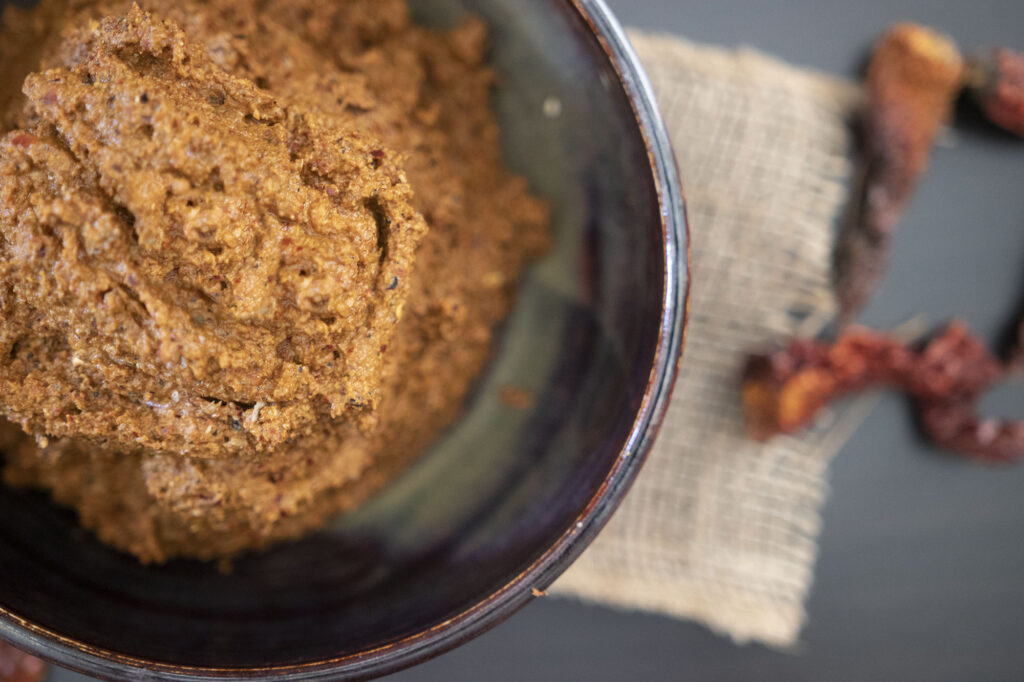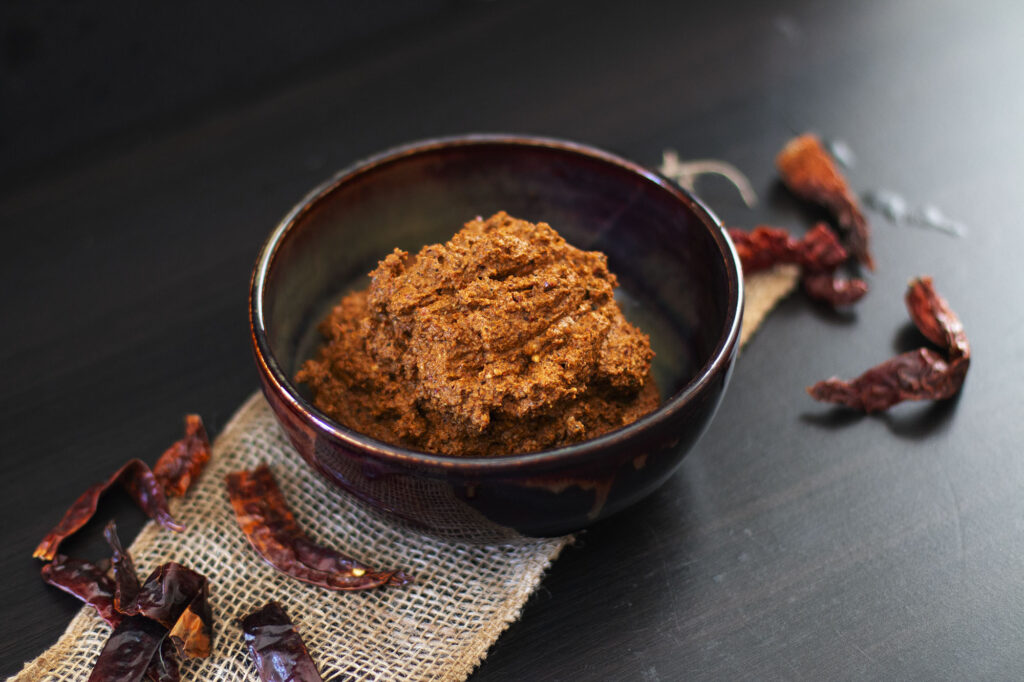 Traditionally this recipe is made by drying all the ingredients in the sun and then pounding them together. However living in Toronto this is harder to do, so I will be roasting everything ad then will use my food processor to grind it together.
You can also use the spice blend to make Chicken, Veggies or Seafood.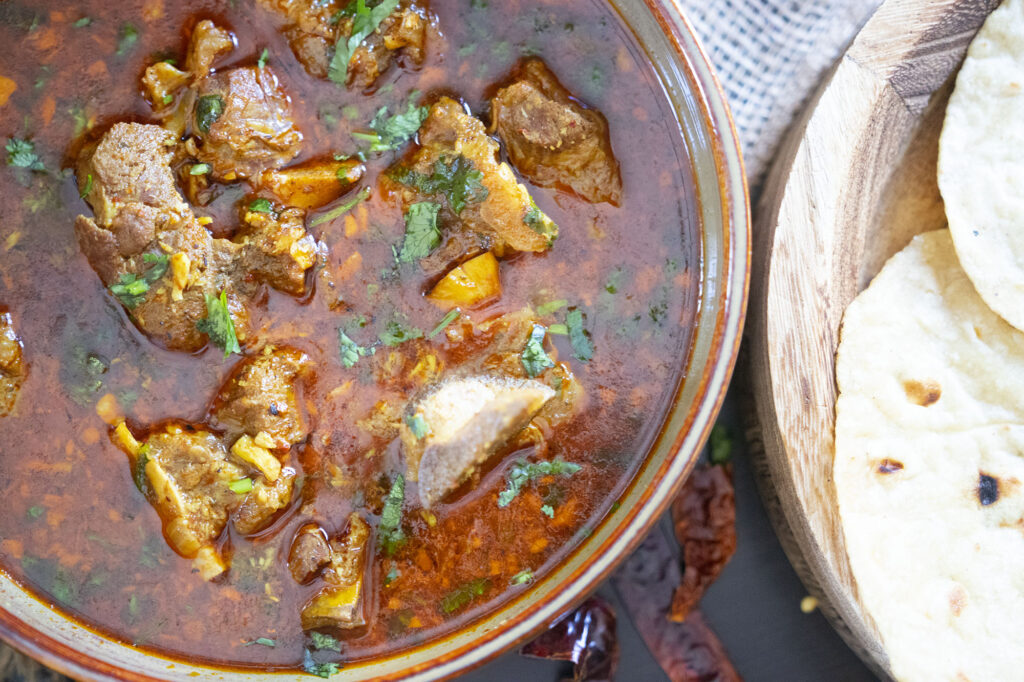 To make this special dish, the curry paste is used with other ingredients like coconut, onion, red chilli powder and the mutton is submerged in a lot of water before pressure cooking. This results in a watery like gravy as rassa means watery or curry.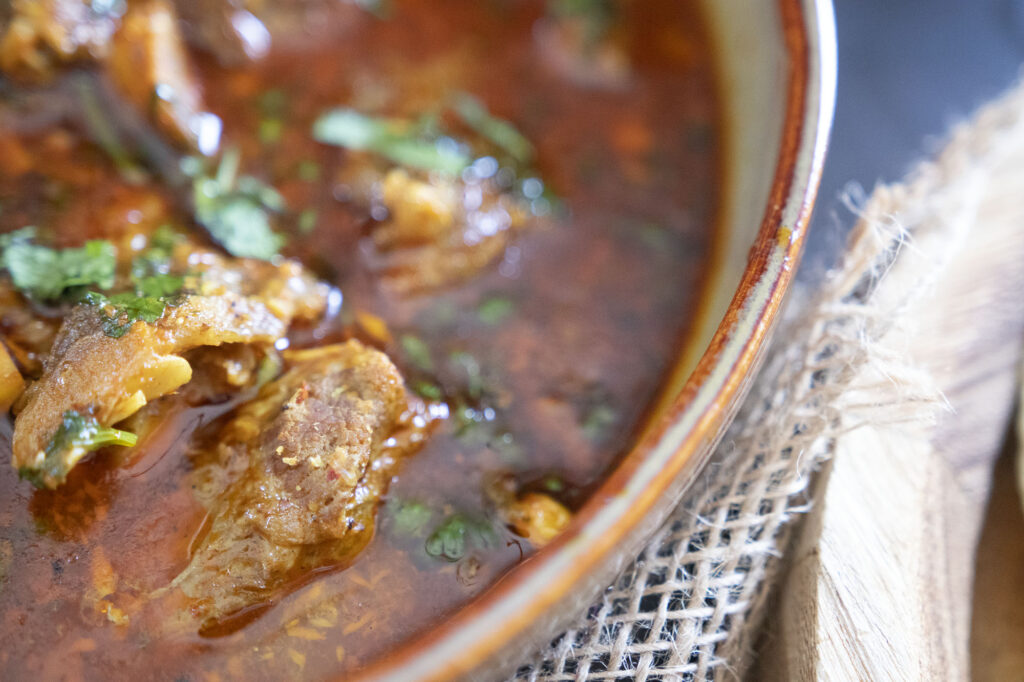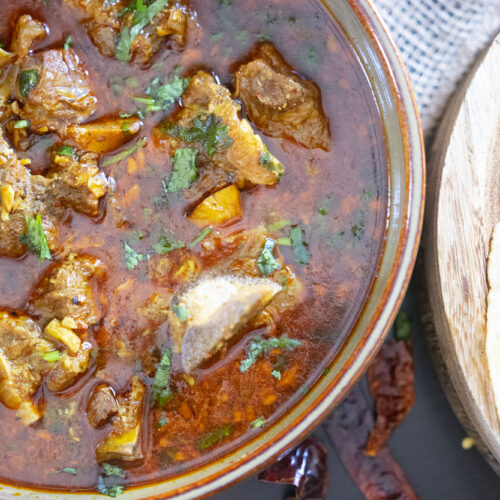 Mutton Kolhapuri – Tambda Rassa
Ingredients
Kohlapuri masala
1/2

cup

fresh Coconut

1

cup

Onion

2

cloves

Garlic

1/2

tbsp

Khus Khus or white Poppy seeds

2

Star Anise

2

Black Cardamom

5

Green Cardamoms

2

inches

Cinnamon

1/2

tbsp

black Mustard seeds

1

tbsp

Triphal or Teppal 1 tbsp Cumin seeds

2

tbsps

Sesame seeds

1

tbsp

Fennel seeds

2

tbsps

Coriander seeds

1

tsp

Fenugreek seeds

2

Bay leaves

1

tsp

Peppercorns

1

Javitri

outer covering of Mace

1

tsp

Dagad phool

Black Stone flower

10

Cloves

25

gms regular Begde Chillies

25

gms Kashmiri or Shankeshwari Chillies

1

tsp

Turmeric

1

tbsp

Salt

1

tsp

asafoetida or Hing
Mutton Kohlapuri
1

cup

Coconut

1

cup

Onion

1

tbsp

Garlic

1

tbsp

Ginger

1

tbsp

Coriander

Juice of 1/2 lemon and grind

4

tbsps

Oil

1

cup

diced Onion

4

tbsps

of the prepared Kolhapuri Masala

2

tbsps

red Kashmiri Chilli powder

1

tsp

Turmeric

Add in all the Mutton

1

tbsp

Salt

3

cups

Water

1/4

cup

chopped Coriander
Instructions
To prepare the Kolhapuri masala, roast the coconut, followed by the onion and remove

Add in all the spices, roast and remove

Add in the chillies, roast and remove

Grind together using water as required

Store this masala in the fridge or freezer if making ahead

Roast the coconut, followed by the onion and grind to a paste adding as much water as needed

Grind the ginger, garlic and coriander together with the lemon juice

In a pressure cooker, heat the oil and saute the diced onion

Add the ginger, garlic and coriander paste

Followed by 4 tbsps of the Kolhapuri masala

Add the chilli powder and turmeric

Add in all the mutton or lamb, add the salt and mix

Pour the water over the meat, close the lid and set the timer for 20 mins (or 4 whistles)

After the cook time is ready, open the lid and continue to boil the liquid till some of it evaporates

Add the coriander and serve