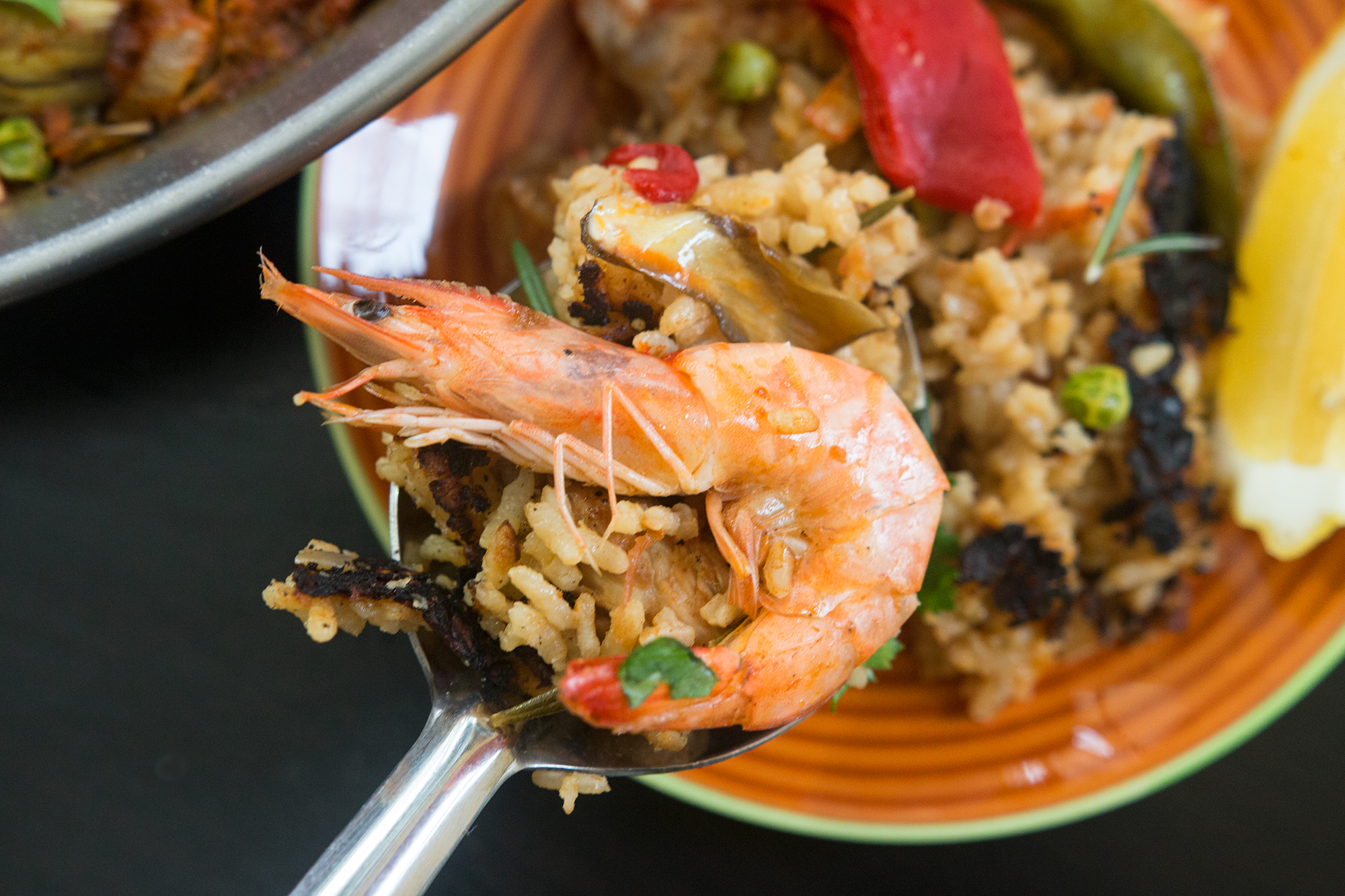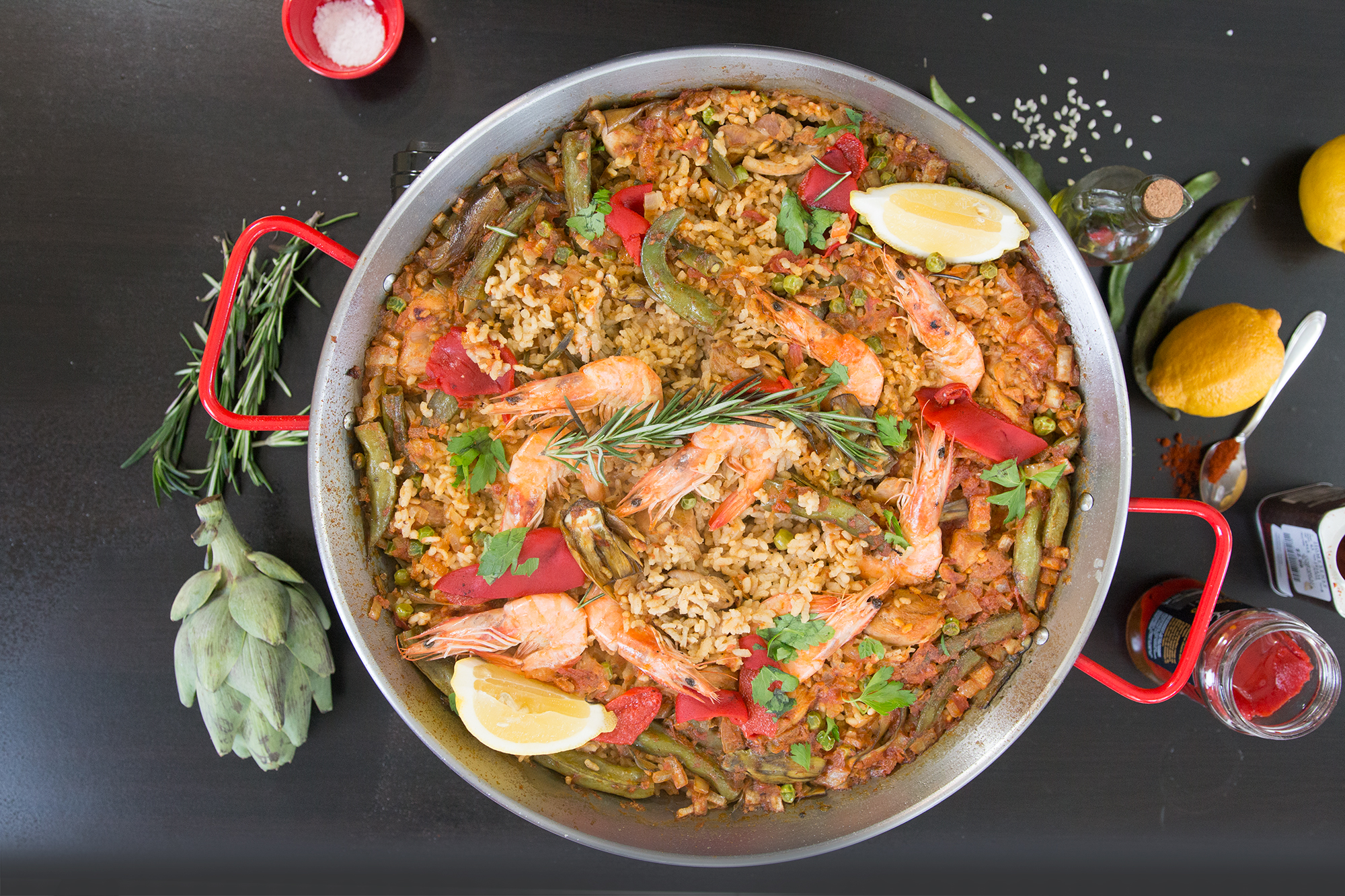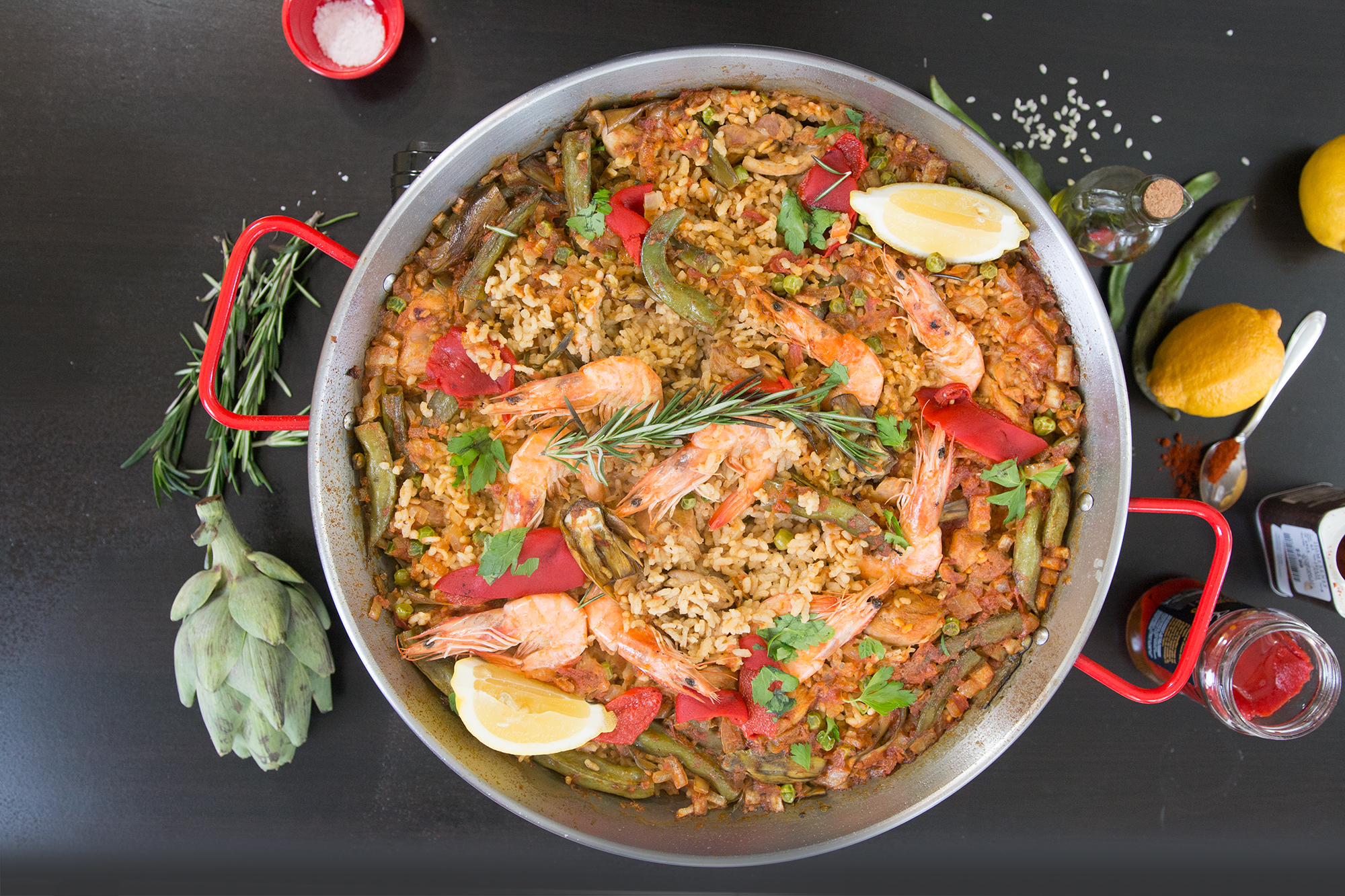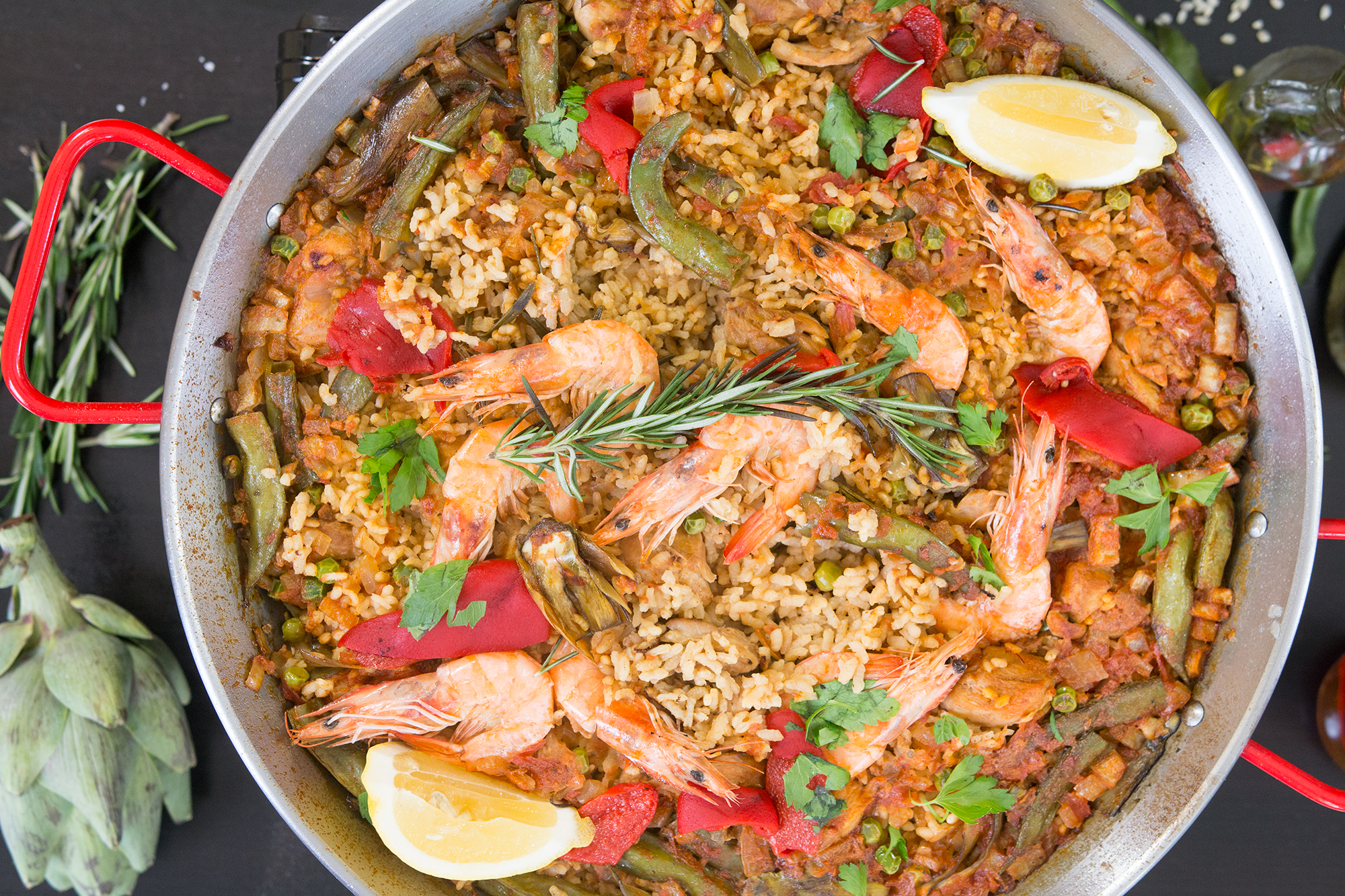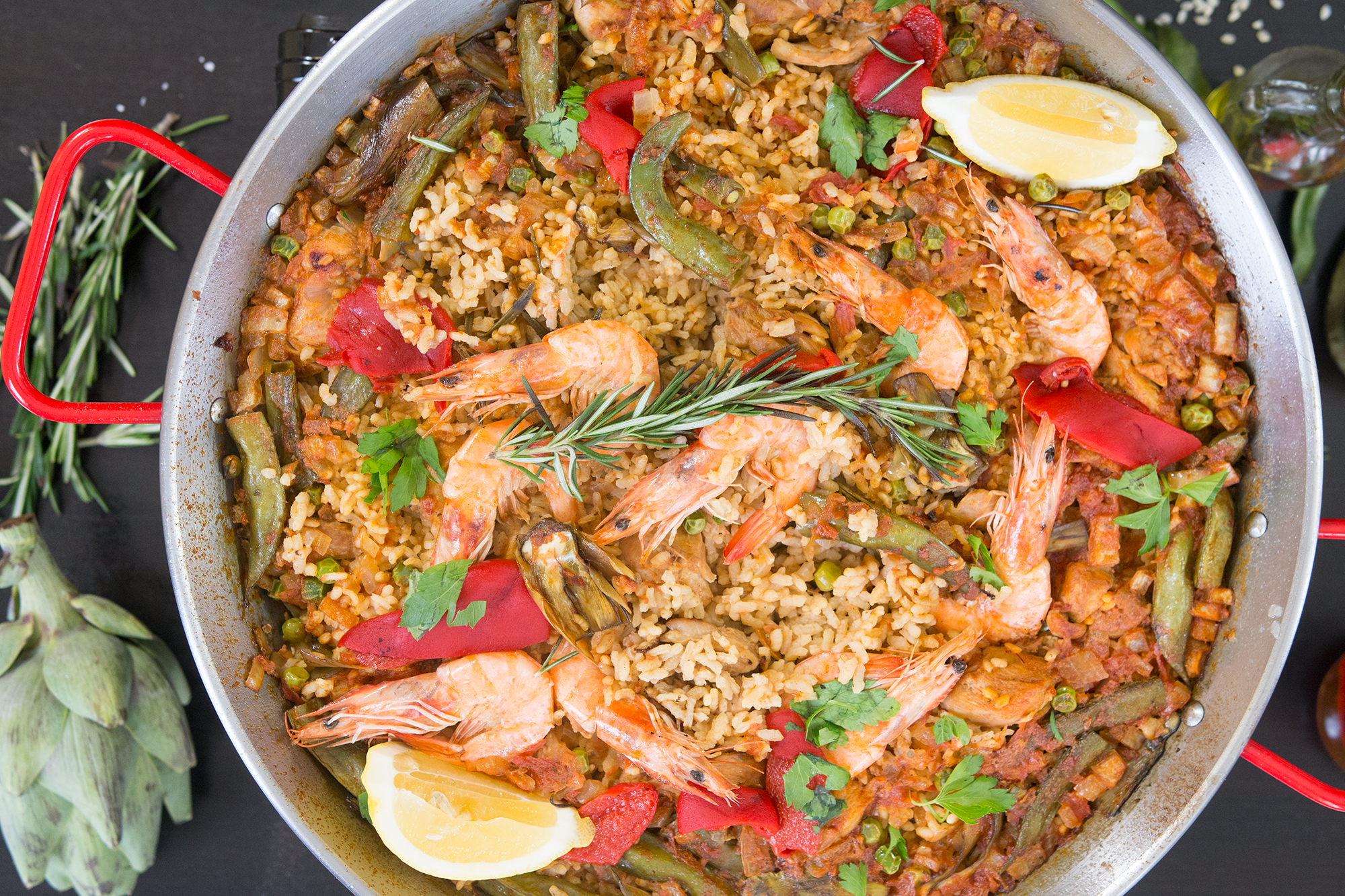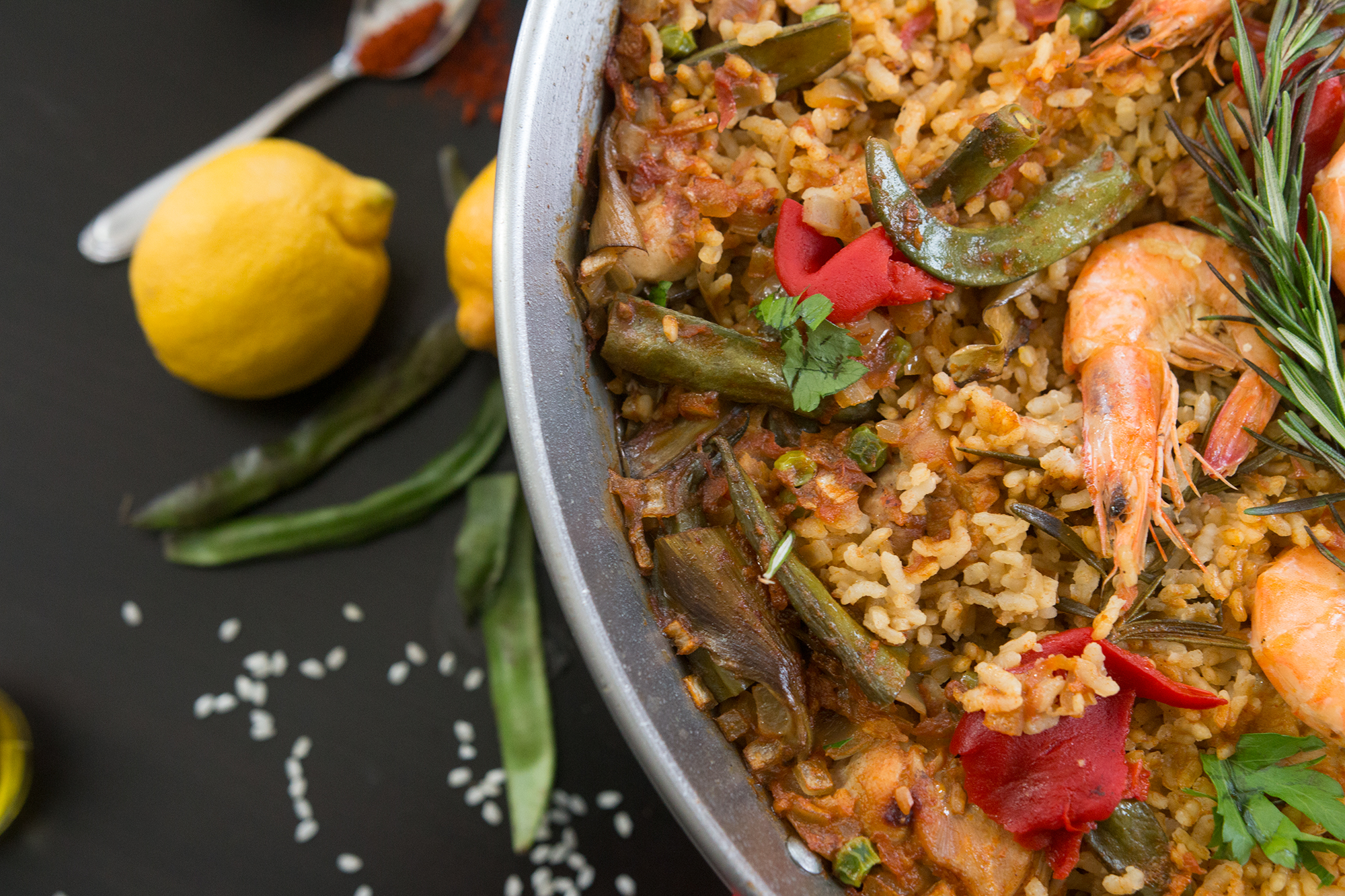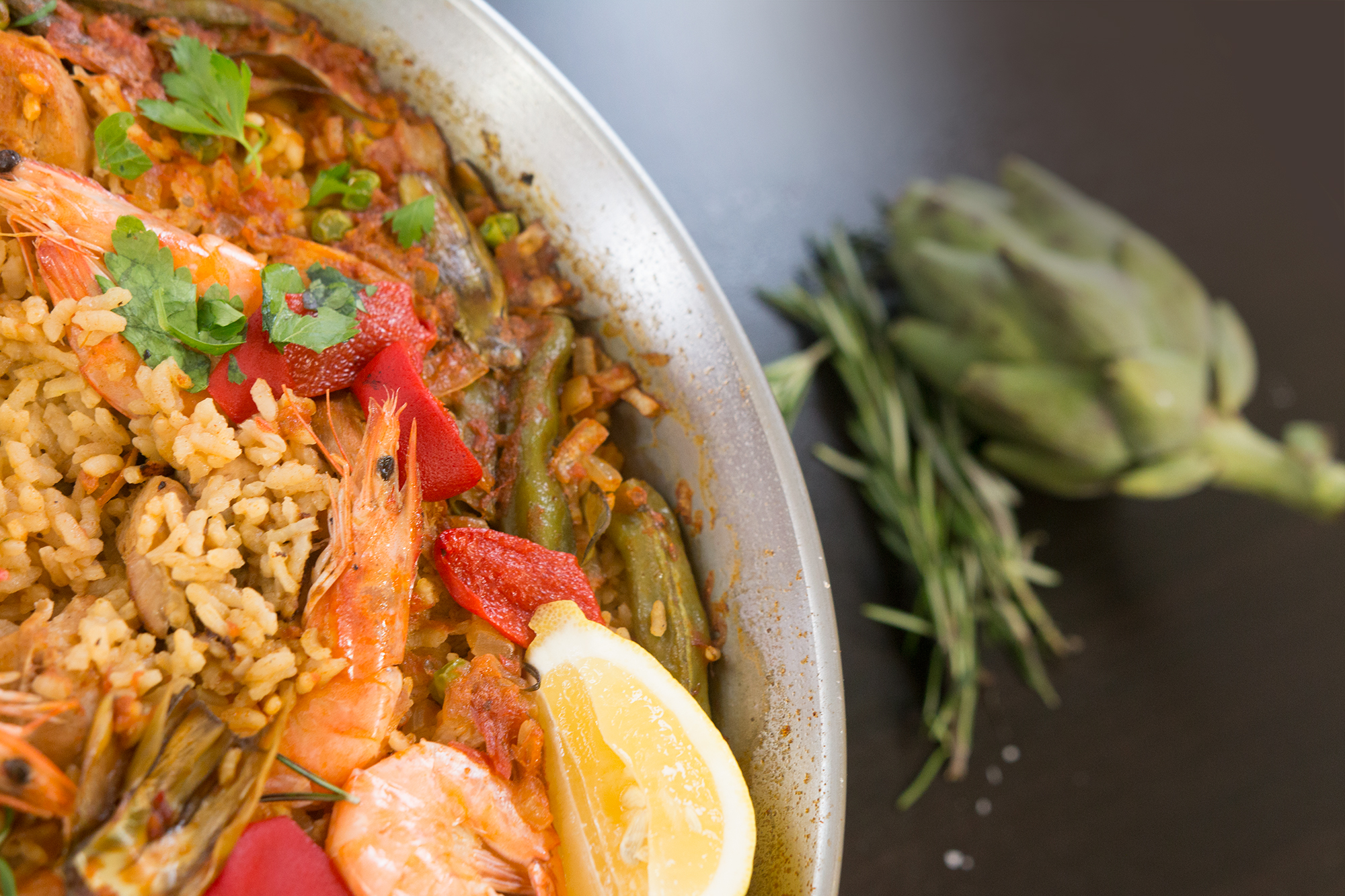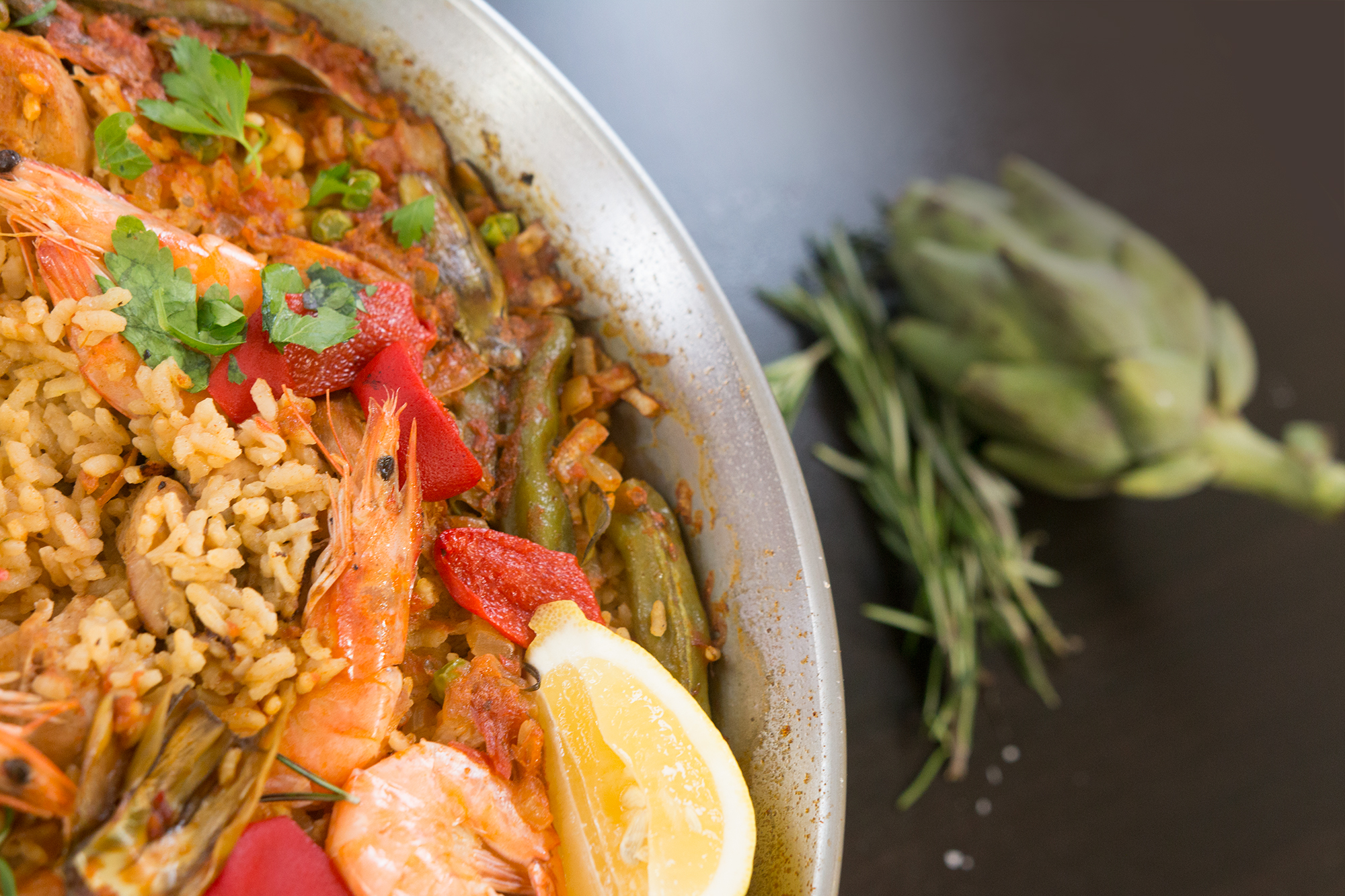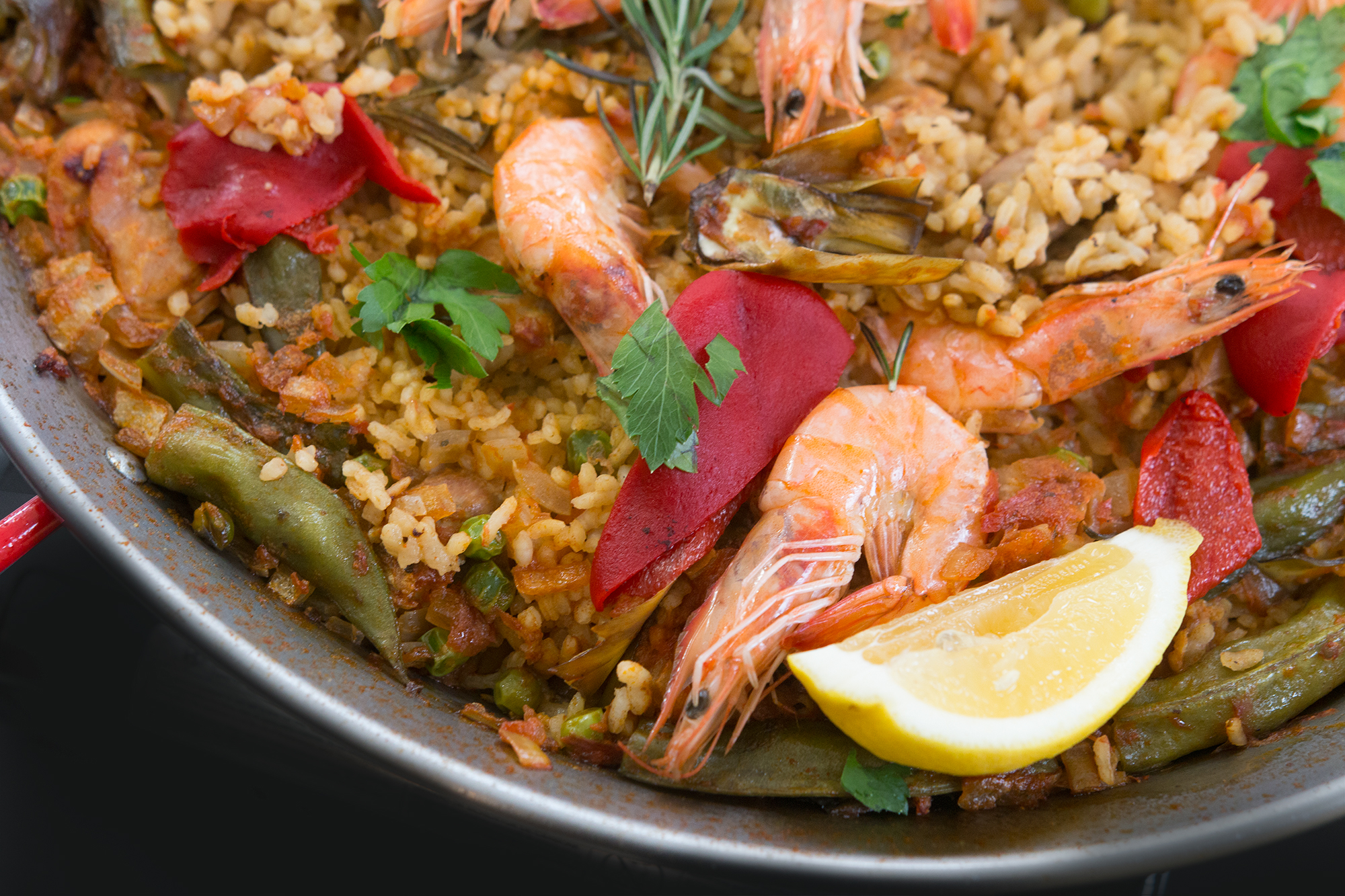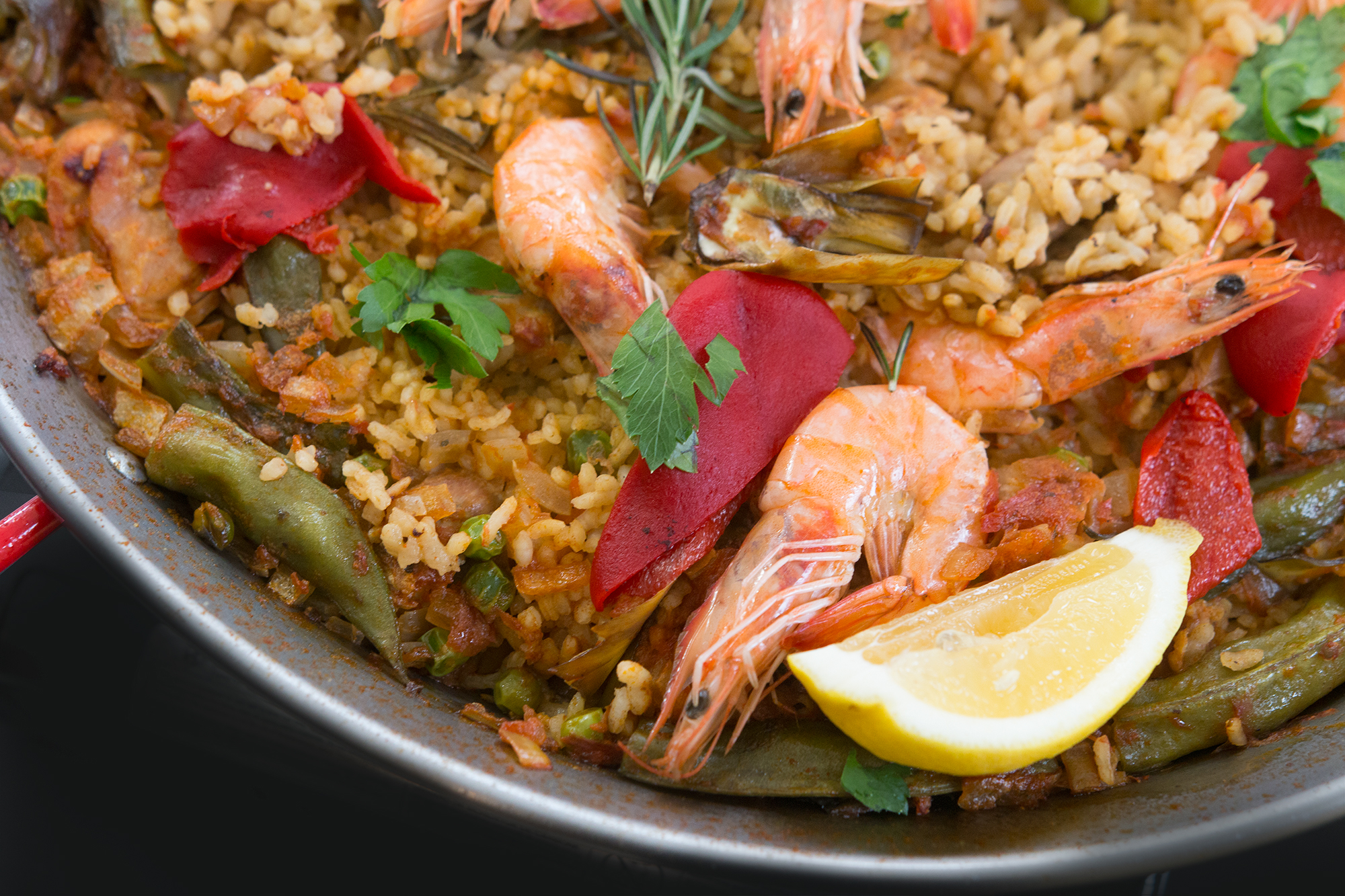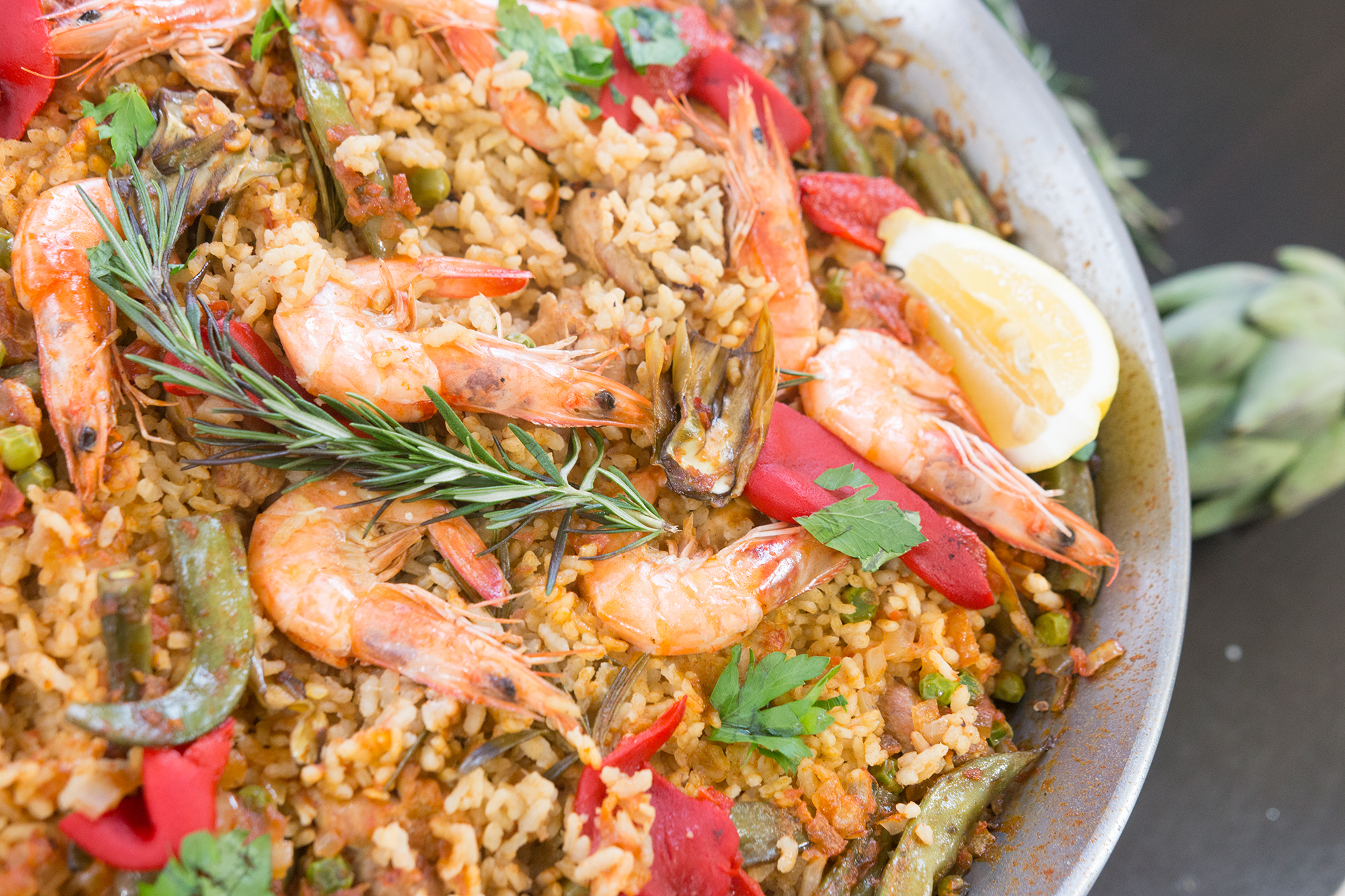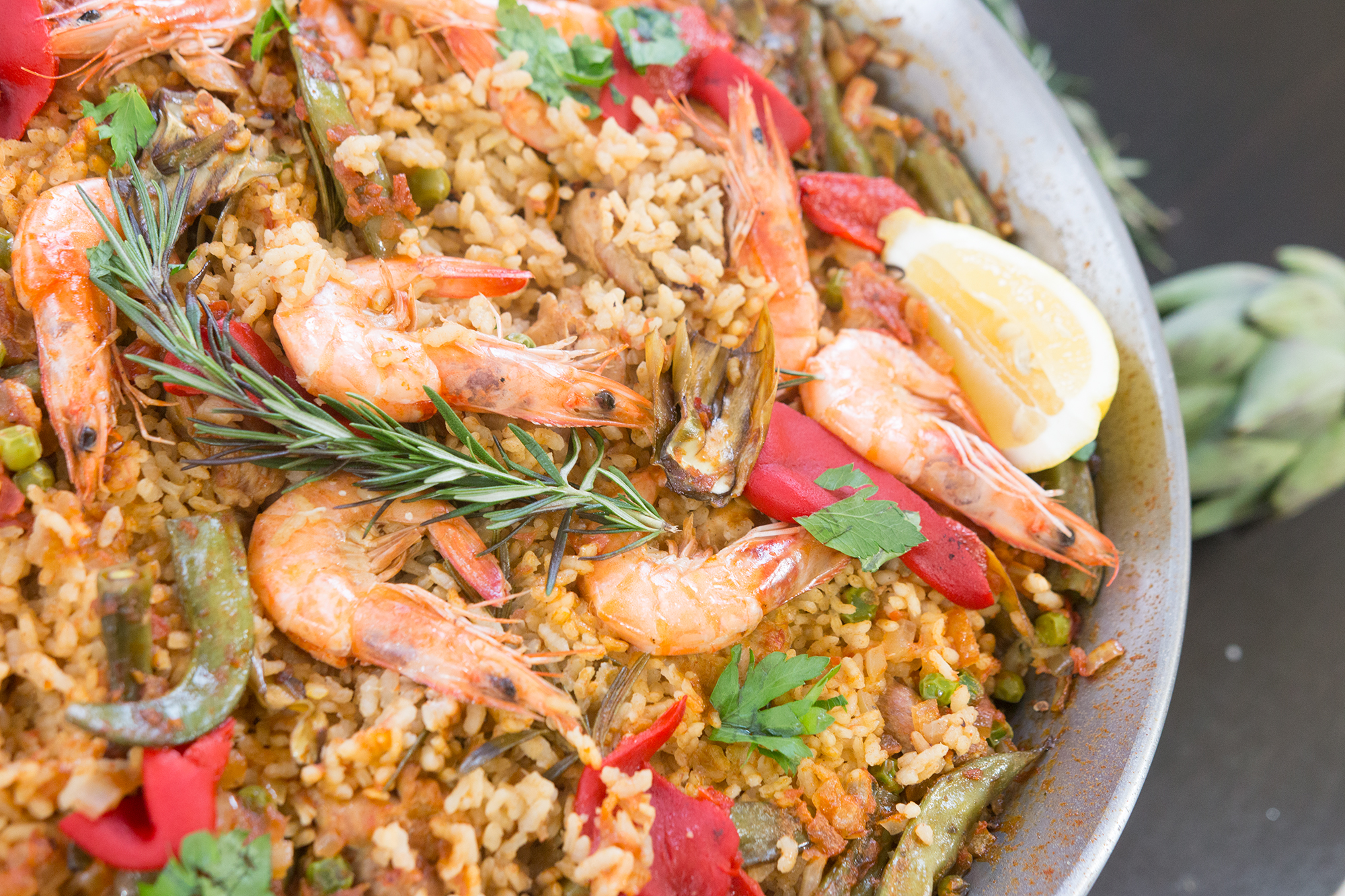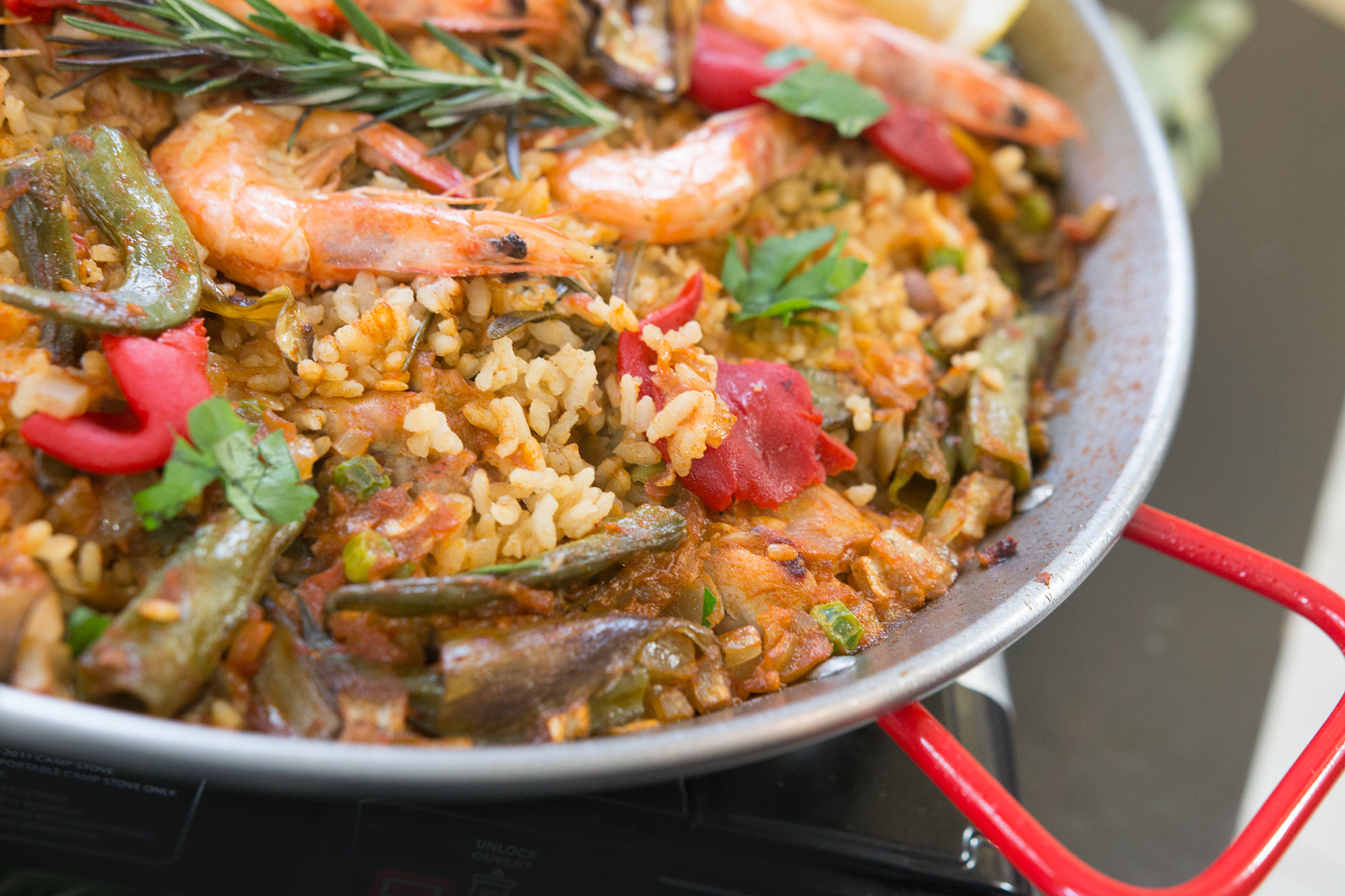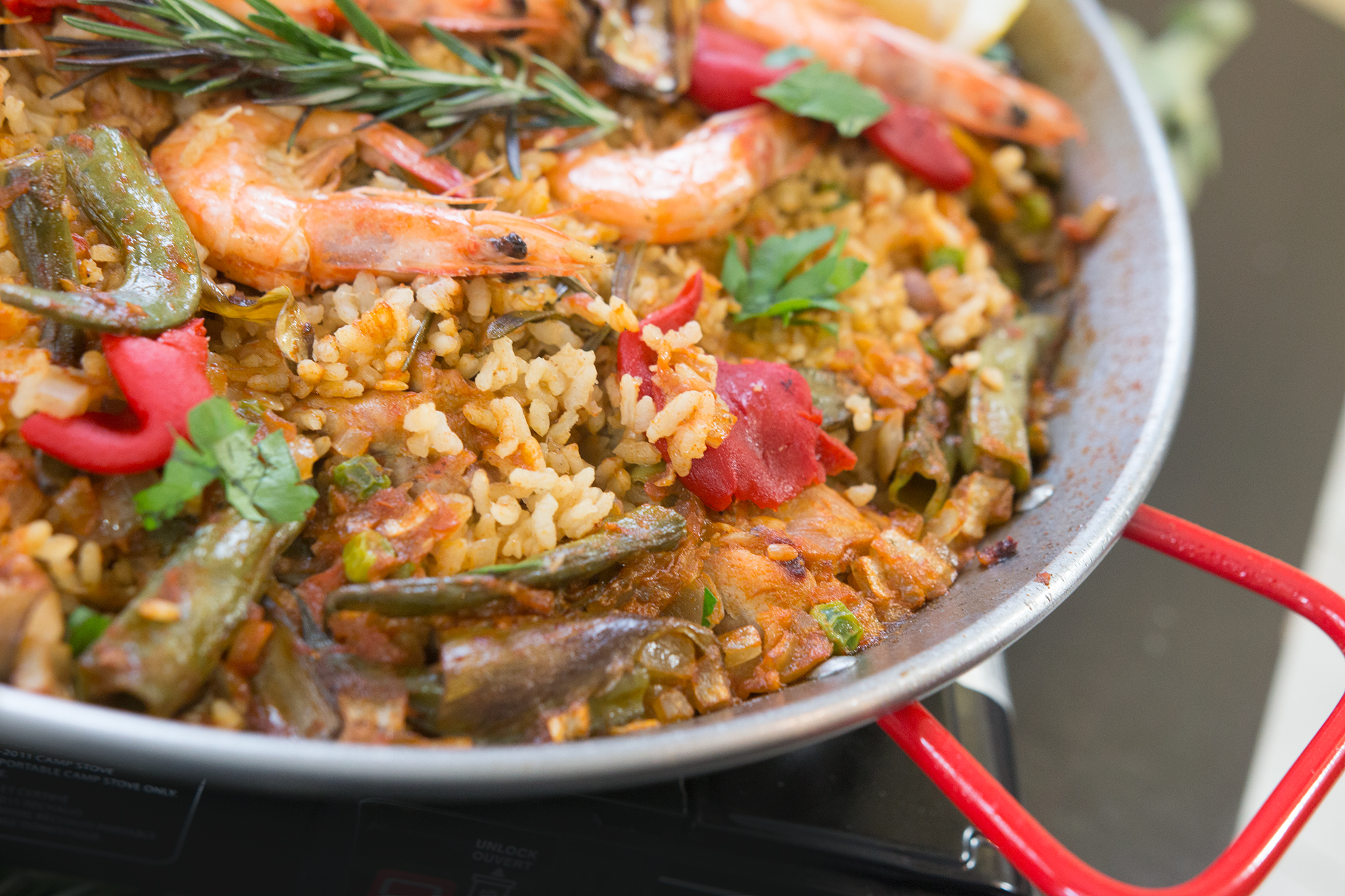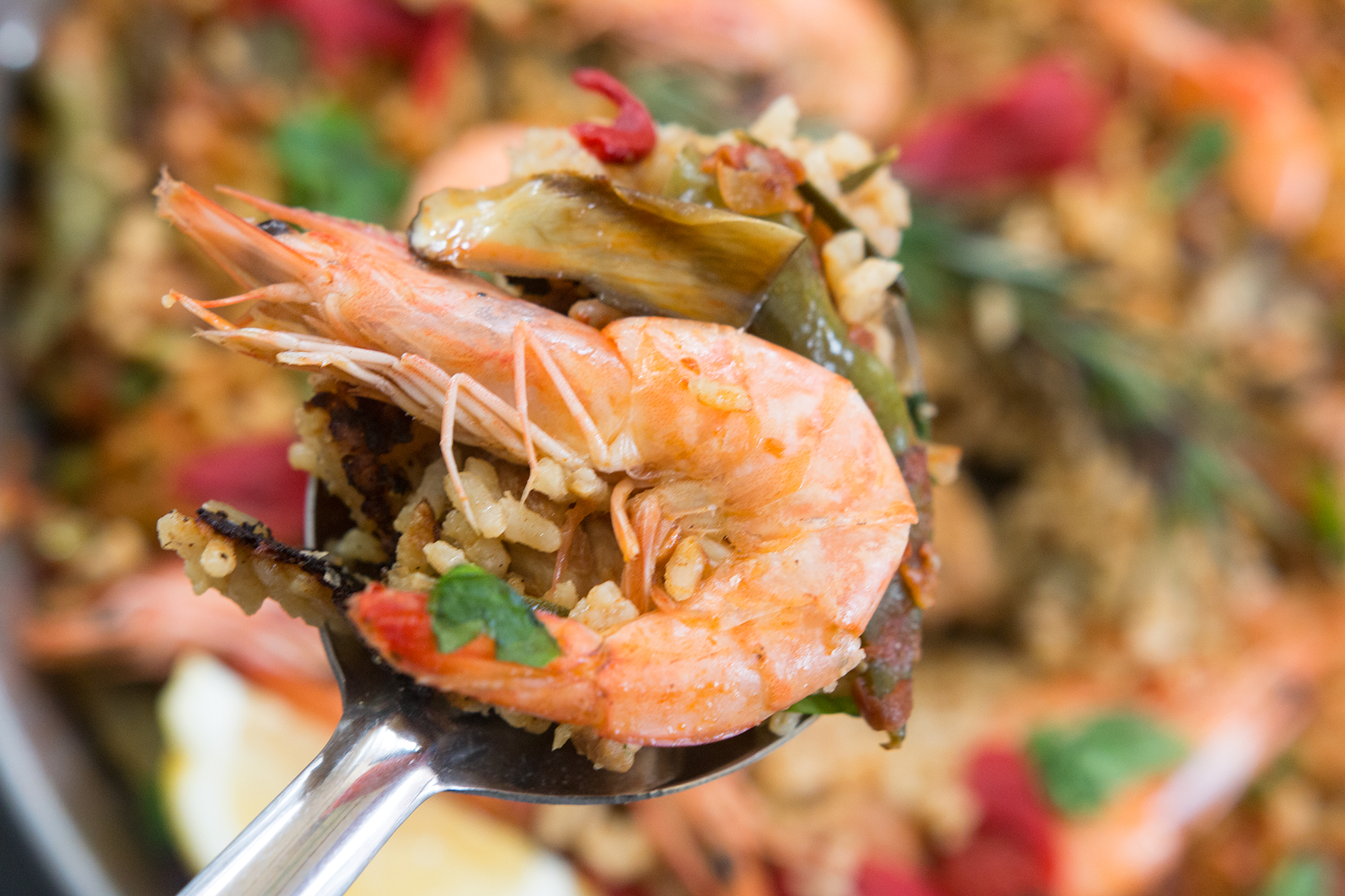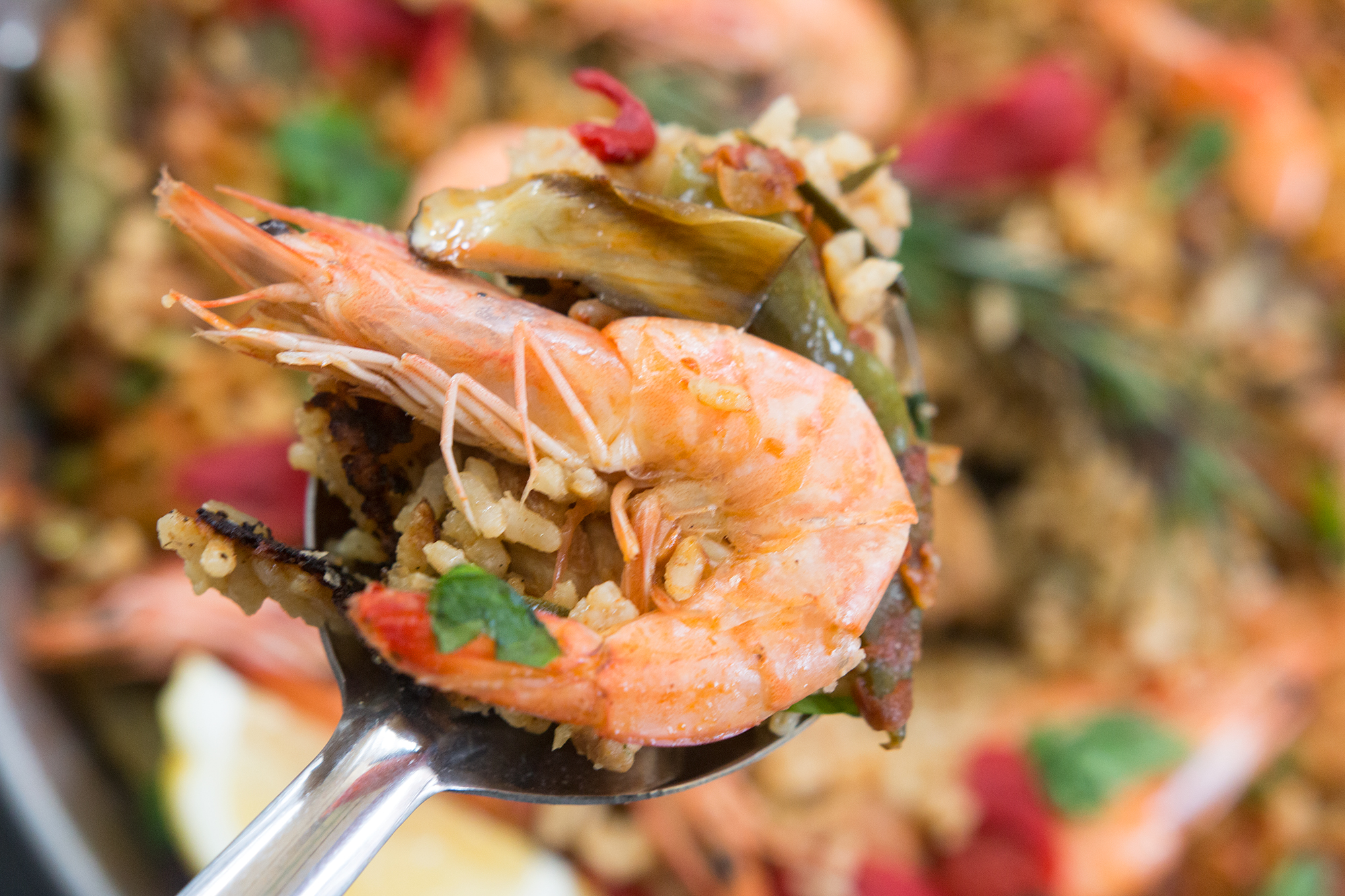 I've been wanting to learn how to make Paella for a long long time. I love the honest goodness of this dish and would try to order it wherever available. When we went to Europe, I scoured the kitchen stores, but all the pans were too expensive or heavy for me to carry back, so imagine my joy when I found inexpensive Paella pans at my local Homesense. If you can't find them, Amazon has these as well.
https://www.amazon.ca/Paella-15-Inch-Carbon-Steel-Pan/dp/B000QYKK3W/ref=sr_1_1?ie=UTF8&qid=1485804996&sr=8-1&keywords=paella+pan
According to my research Carbon steel are the best kind of pans to buy, unfortunately I only managed to get the Polished steel. These pans rust and discolor very quickly so they have to be used and handled with a lot of care. You need to make sure that the pan is wiped dry immediately after use. I also like to heat it up after wiping it and curing it with salt. I also wipe it with a film of oil before storing it. If you watch the video, there is a lot of details around caring for your pans.
Traditional Paella is made with Rabbit meat and here's my Segway into a disclaimer – this is not an authentic Paella dish. I know the Spaniards are very passionate about their Paella. I've taken great pains to respect the ingredients and process but at the end of the day it's Paella, my way and the way it makes me happy J
In my Paella I used a combination of Chicken thigh meat and Shrimp, veggies like Artichoke, Broad beans Peas, smoked Paprika & grated Tomato and it's simmered in a delicious Chicken and Saffron stock with a sprig of Rosemary. The best quality Saffron comes from Spain and is featured in many of their dishes. This is expensive as the crop harvested every year is small. The Saffron strands are actually the stamens from the Crocus flower that are hand picked and dried. I'm no stranger to Saffron, it made it's way down to India and is used in dishes like Biriyani and Kulfi. I have several boxes of this golden delight in my fridge and I guard them with my life. The traditional Paella rice is called Bomba rice. This is a short grain rice similar to Arborio and comes from Spain. I was able to google this and find it in a Spanish store in Toronto, but the brand I used is also available on Amazon.
https://www.amazon.ca/Arroz-Bomba-Rice-1k/dp/B003Y3VB4O/ref=sr_1_2?ie=UTF8&qid=1485285721&sr=8-2&keywords=bomba+rice
Did you know that an Artichoke is actually a flower? I would get too close to smell it though as the outer leaves or petals have thistles on it since it's a member of the thistle family. Most of the artichoke is really thrown away and the only thing that is used is the prized heart. Start by peeling away the outer petals till you reach the yellowish ones. Scrape the green part away from the base using a paring knife or a vegetable peeler. Cut away the stem and the top. This will reveal a fibrous center. This is not edible and will cause you to 'choke' and that's where the name comes from. Using a sharp spoon, remove this. You can either stuff this with filling and bake it, steam it upside down, or cut it and saute it.
Follow the the recipe below to get great tasting Paella but if you're making this at home on your small gas burner, rotate your pan to ensure that all the rice gets cooked evenly. In the restaurants, they cook the Paella over a larger surface and the heat is evenly distributed so the home cook needs to be creative to achieve the same results!
This recipe also calls for Piquillo peppers. These are grown in Spain and are either stuffed and cooked for Tapas or are bottled and exported. They do have a unique flavor but are expensive and hard to find, you can easily substitute regular bottled red Peppers instead!
[youtube-subscriber nickname=kravingsblog]
PAELLA – Chicken & Shrimp with SAFFRON & BOMBA rice
Ingredients
Olive Oil
Salt to taste
1 lb of boneless Chicken thigh cut in chunks
6 - 8 head and shell on Shrimp
1 cup finely diced white onion
6 cloves of minced garlic
1 artichoke heart cut in quarters (sub bottled artichokes)
1 cup broad beans
¼ cup peas
2 tsps of smoked Paprika
½ cup grated fresh tomato
6 cups Chicken stock
Pinch Saffron
2 cups Bomba rice
Rosemary Sprigs
Parsley
Piquillo peppers
Lemon wedges to garnish
Instructions
Heat the pan and throw it some coarse salt. Add Olive Oil
Add the Chicken and sear on both sides
Cook head and shell on deveined Shrimp for a few seconds on each side till pink and then remove
Add 1 cup finely diced white onion with 6 cloves of minced garlic and stir to release all that golden color from the chicken stuck to the pan
Add all the veggies, 1 artichoke, 1 cup broad beans and ¼ cup peas
Add 2 tsps of smoked Paprika
Add ½ cup grated fresh tomato and stir this for a minute.
Add 6 cups of stock and let this come to a boil
Add a rosemary sprig
Taste for salt
Evenly scatter 2 cups of rice in a thin layer and give it a gentle poke to ensure every grain is covered with the liquid
Cook the rice on high for 10 minutes while constantly rotating the pan
Reduce the heat to medium and cook for another 6 minutes
Tuck the Shrimp into the rice
Reduce to low and cook for another 5 – 10 minutes depending on the doneness of your rice. Spoon in some stock if the rice looks dry.
Add the Piquillo peppers
Cover with foil and leave for 5 minutes with the heat turned off
Garnish with Rosemary, Parsley and Lemon wedges
https://kravingsfoodadventures.com/paella-chicken-shrimp-saffron-bomba-rice/