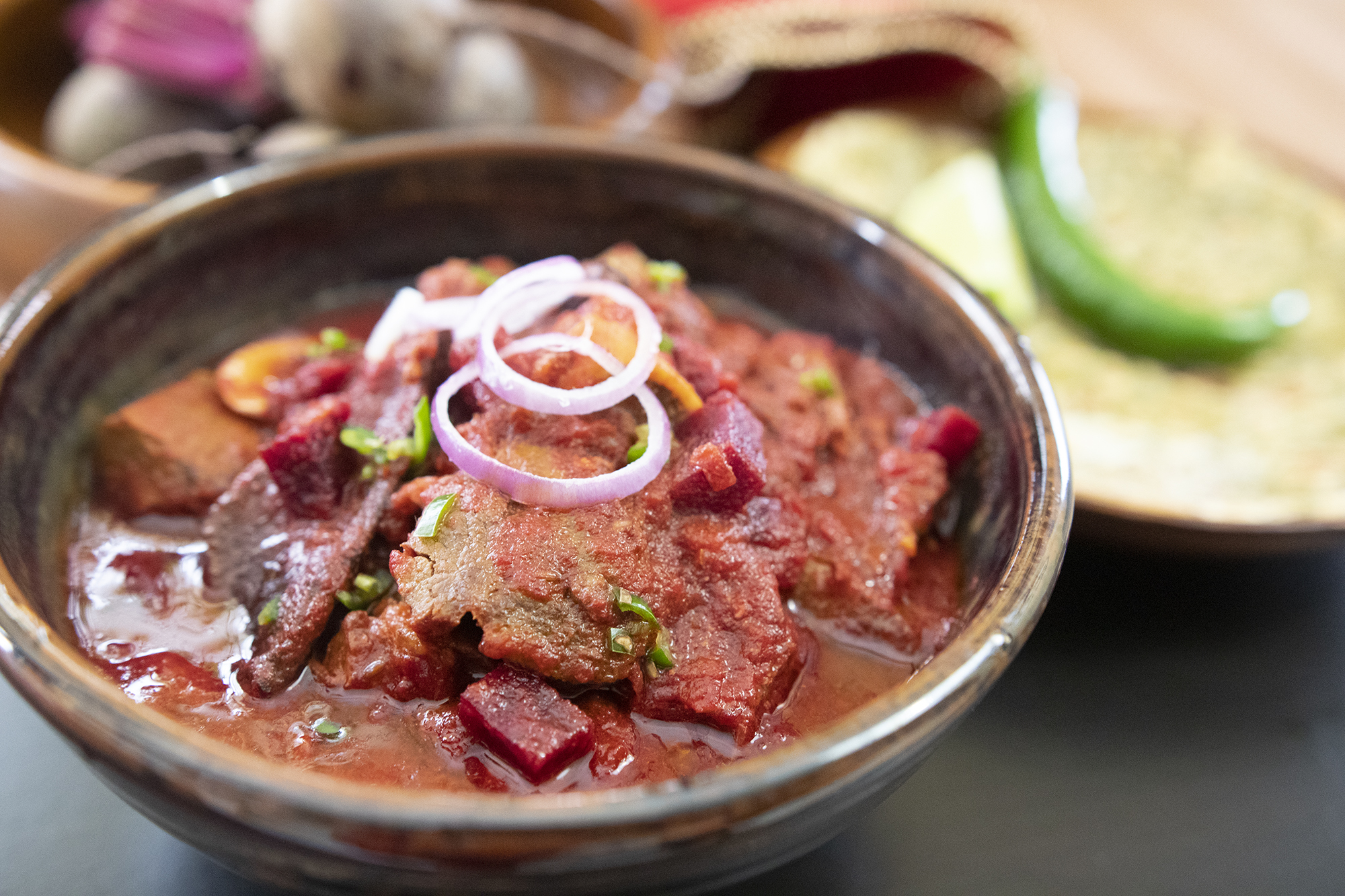 Chukander is the Hindi and Urdu name for Beets and Gosht is meat. I literally stumbled upon this recipe one day while looking for a way to combine my extra beets with a meat dish. I tried a few different recipes using both beef and mutton and finally settled on a bone in mutton/lamb recipe that I developed for my family that I love. What I love about this recipe is the contrast between the heat from the chilli powder, the gaminess of the meat and the sweet and tartness of the beetroot, and the colour of this dish is all natural and stunning!
Now after owning an Instant Pot and trying to push it's boundaries with recipes, that truly enhance and reduce cooking time, I decided that this recipe would be perfect to replicate.
Instead of roasting my beets for 40-45 mins, I can now just cook them for 20 mins. And the meat takes about 20 mins as well.
Ingredients
1 + 2 tbsps ghee
1 tbsp Oil
1 black Cardamom
2 inch stick Cinnamon
1/2 tsp Cumin seeds
1/2 tsp Coriander seeds
5 Cloves
1/2 cup finely diced Onions
1 tsp Ginger
1 tsp Garlic
1 cups diced tomatoes
2 tbsps Ginger Garlic paste
1 tsp Chilli powder
Salt to taste
2 lbs Lamb/Mutton/Goat
1 cup pureed Beets
1 cup diced Beets
1 cup Water
Instructions
Heat the oil and ghee or clarified butter and add the black cardamon, Cinnamon, cloves and cumin and coriander seeds.
This will make the oil nice and fragrant before you add in the finely diced onions.
Add salt, red chilli, cumin & turmeric powder
Add the tomatoes and cook
Add the ginger and garlic paste
Add a bit more ghee and sauté the meat. Make sure your meat is dry so it browns, flip over and then just fold everything together
Add 1 cup of pureed beets with the water, mix and cover to cook.
Set the IP for 20 mins on manual or pressure Cook mode
Taste for salt and throw in the beetroot cubes and allow these to absorb some flavour for a few minutes