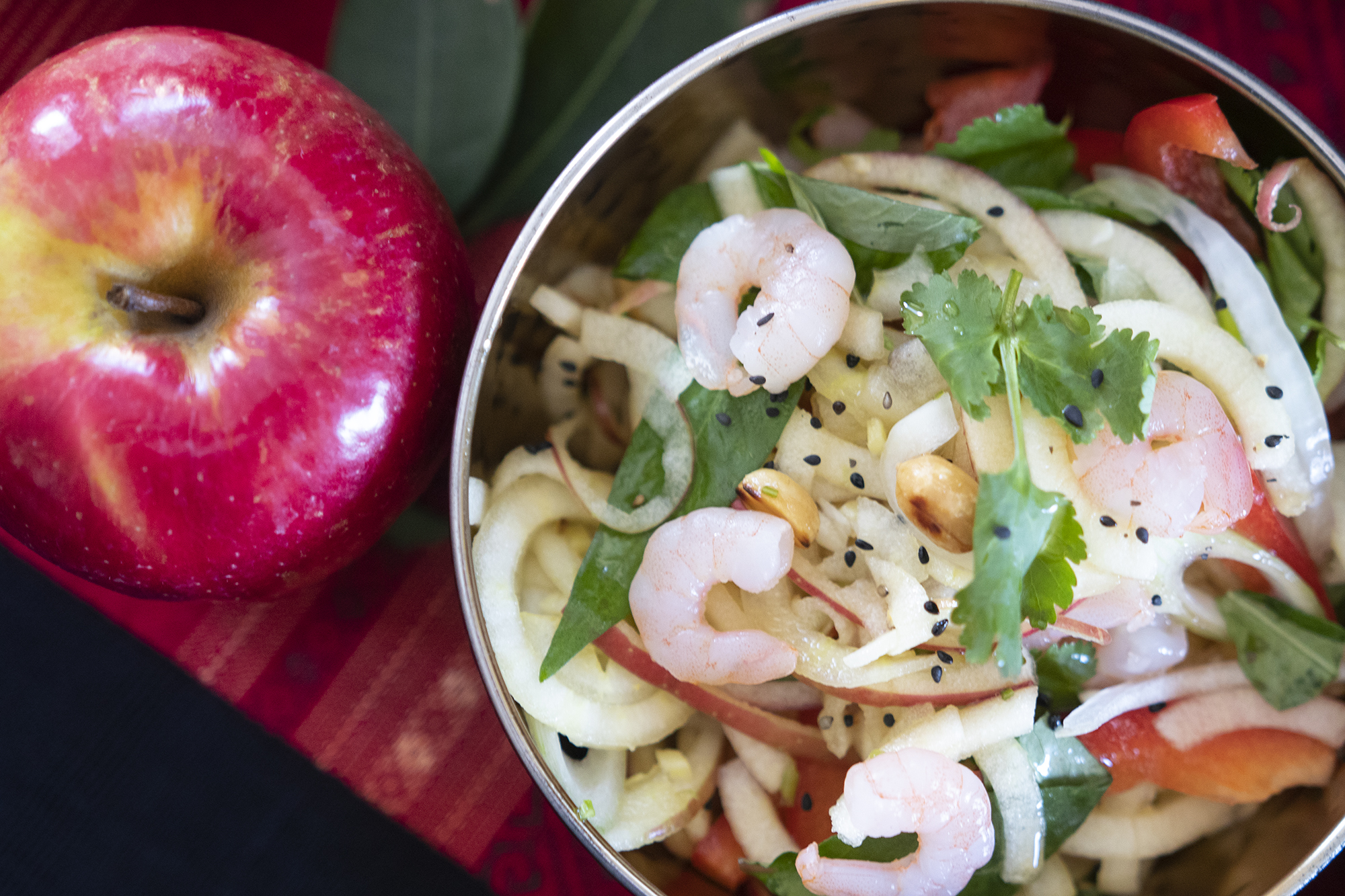 This post is sponsored by the Ontario Apple Growers – the opinions and recipe idea is entirely my own.
I know what you're thinking … Apples in a noodle salad??? Well let me clarify … this incredibly healthy and delicious salad is made with noodles made from Apples using my handy dandy spiralizer!
I was lucky to make a trip in the fall as a guest of the Ontario Apple Growers of Ontario to tour the apple orchards ad packing plant. This gave me many ideas to create 3 interesting Apple recipes. When I toured the farm, I know that this year because the cold came late, it destroyed the prized Honey Crisp crop so imagine my surprise to find the delicious Honey Crisp apples in February – this was the perfect candidate for this recipe but any firm sweet apple will work.
Check out my Stuffed Spiced Apples & Apple Baklava
Also check out the video of my trip below
In this recipe, I make a delicious but simple dressing – lime juice, fish sauce, sesame oil, diced ginger, garlic, spring onion, coriander, white pepper & chilli and pour that over Apple noodles made in my spiralizer.
This is tossed together with coriander and basil leaves, red pepper and shrimp and topped with roasted peanuts and black sesame seeds for a delicious salad!
Recipe
2 Honey Crisp Apples – or any apples of your choice
Dressing
Juice of 1 Lime
1 tbsp Sesame Oil
2 tbsp Fish sauce
1 tsp finely chopped Ginger
1 tsp finely chopped Garlic
1/2 tsp finely chopped Chilli
1/2 tsp finely chopped Coriander stems
1 cup julienne of red Pepper
1/2 cup Coriander leaves
1/2 cup Basil leaves
1/4 cup sliced Onion
1/4 cup sliced Spring Onion
1 cup cooked Salad Shrimp
2 tbsps roasted Peanuts
Sprinkle of black Sesame seeds
Prepare the dressing by whipping all the dressing ingredients together
Using a spiralizer, turn two apples into noodles and quickly add the dressing to coat the apple noodles to prevent browning
Toss in all the other ingredients and serve fresh