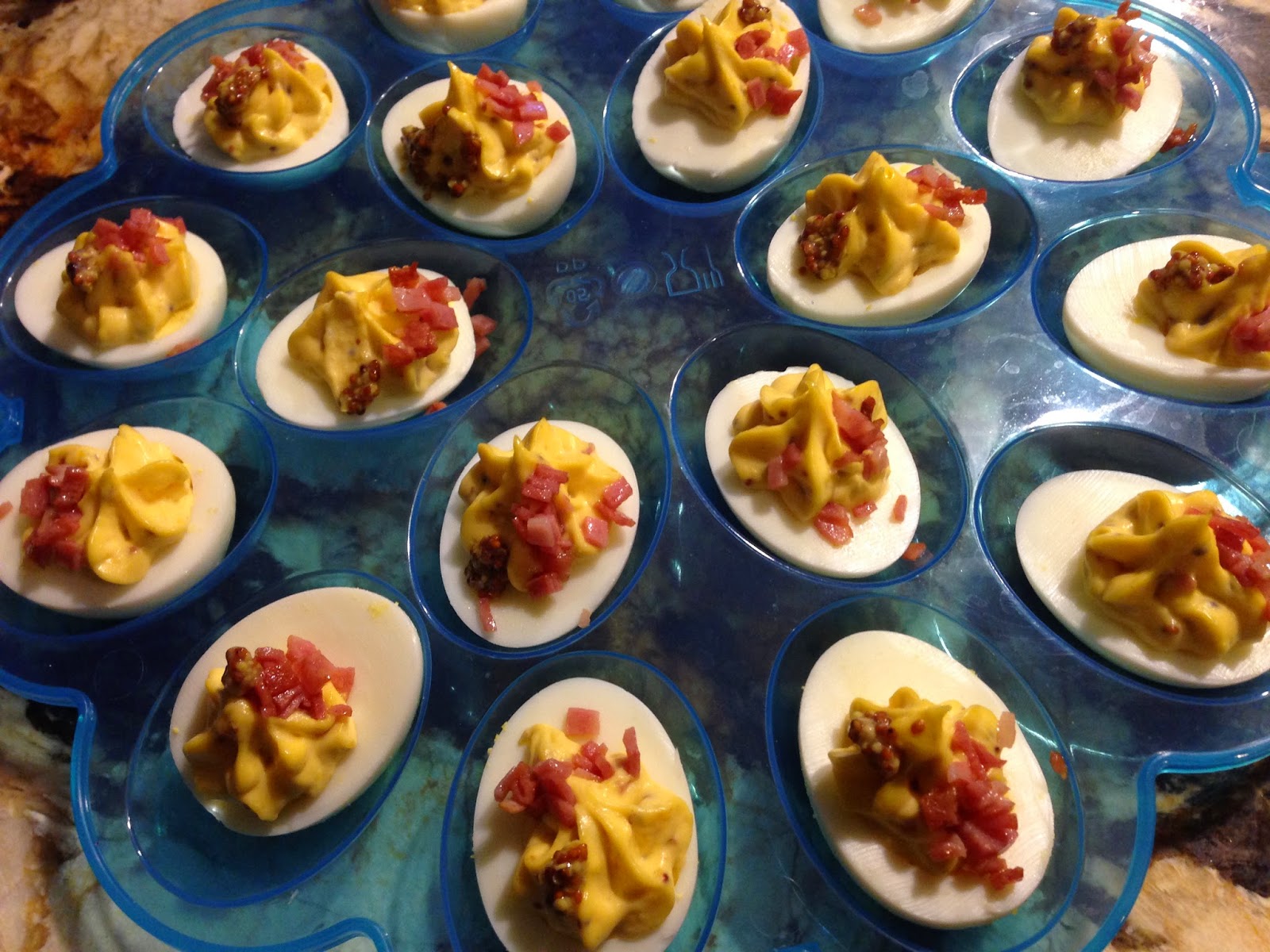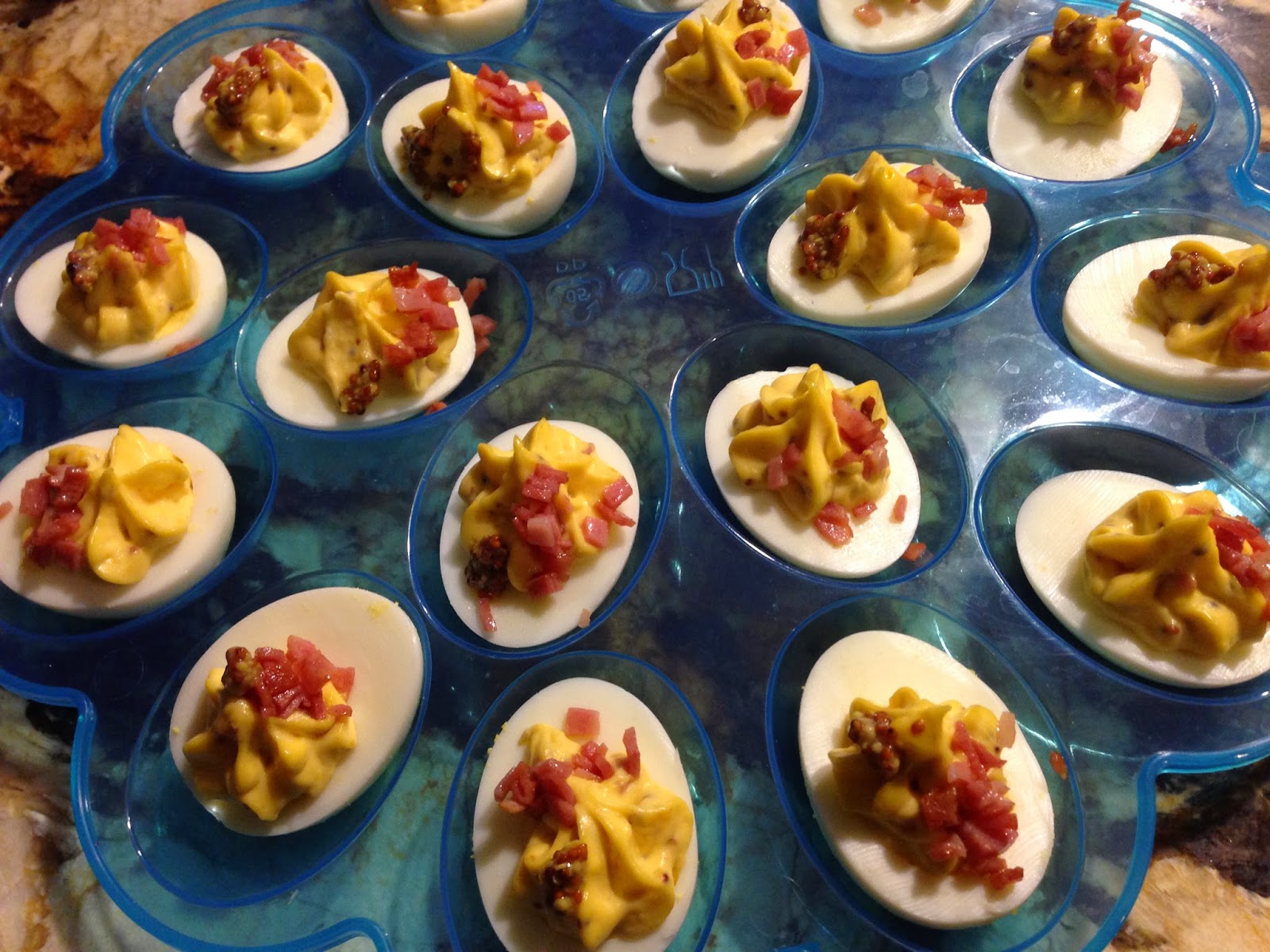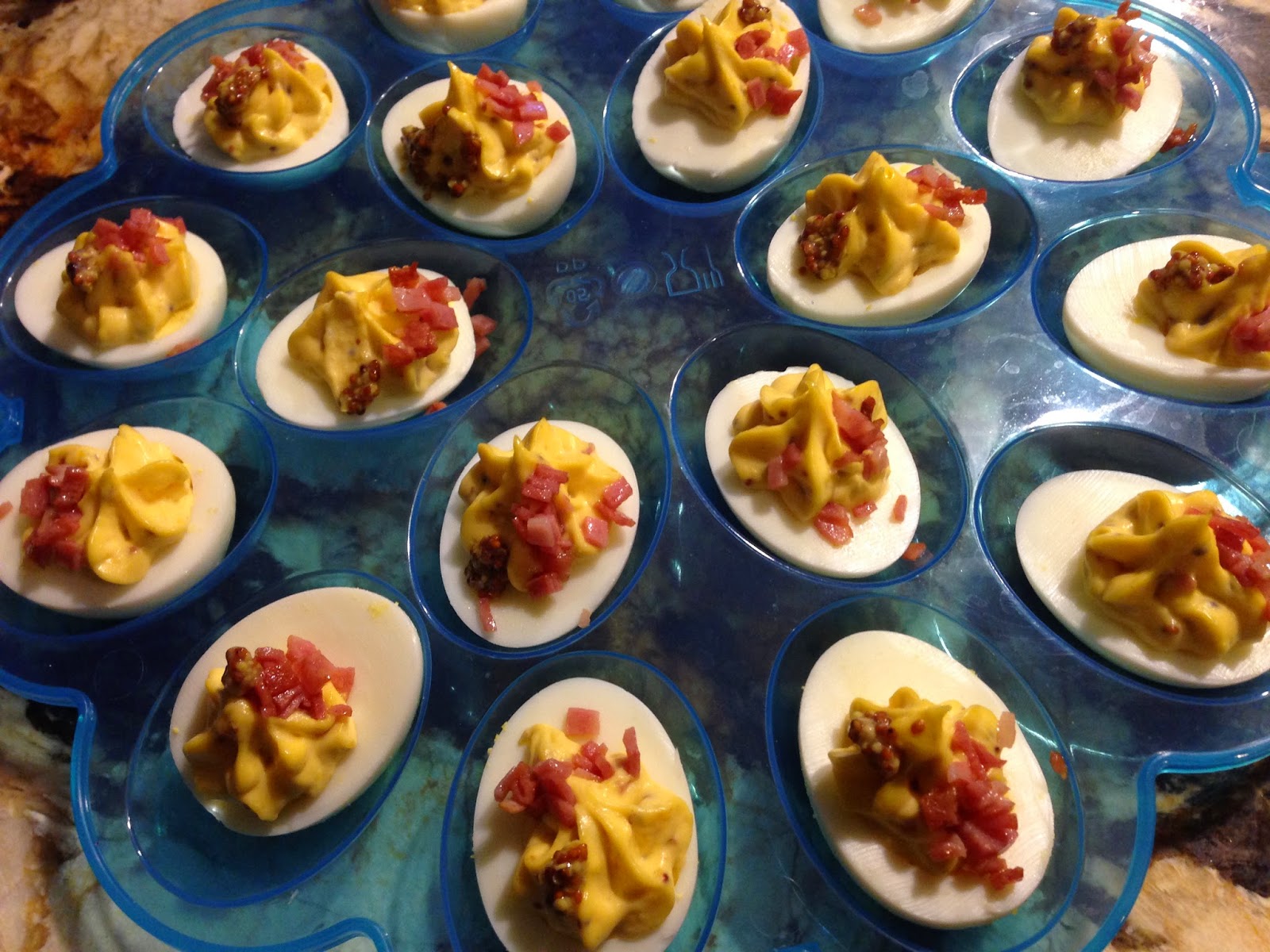 I have to admit, I'm not the biggest fan of eggs. But after making Deviled eggs more times than I'd like to admit, I find that I crave the delicious taste of cooked yolks creamed with mayonnaise and seasonings. Deviled eggs are also versatile, your options are endless and only limited by your creativity.
Popular all over the world, every country has their own version of this tasty treat. The term 'deviled' eggs came from a reference to the eggs being mixed with another ingredient to make it spicy. They were also known as 'angel eggs' when served at church functions to avoid any reference to a devil. Typically these eggs are sliced horizontally, the yolk is removed and mixed with other condiments and refilled into the egg cavity. Deviled eggs are served for every festival or celebration and can be customized, for example, add green food coloring for St. Pat's day, a carrot beak and eyes for a cute little chick at Easter, edible glitter at Christmas and something spooky at Halloween like my
Satan's Spawn
. Vertical eggs are also popular, but less common as it's a bit more work to get the yolk out and also more egg to eat. Take a look at my recipe for
Eggsplosions
. These popular little treates are perfect to take to a picnic or potluck and egg carrying cases are popping up everywhere!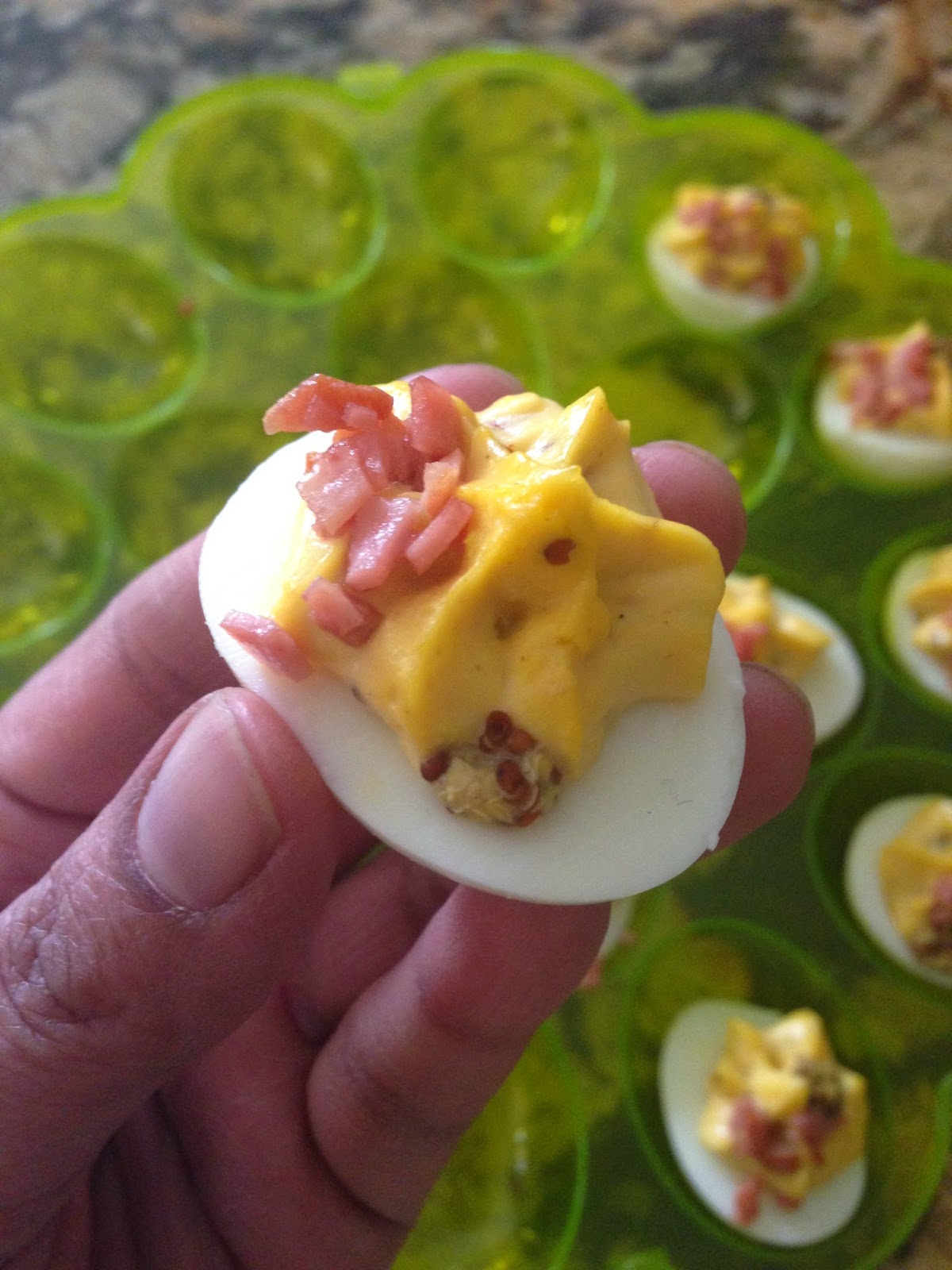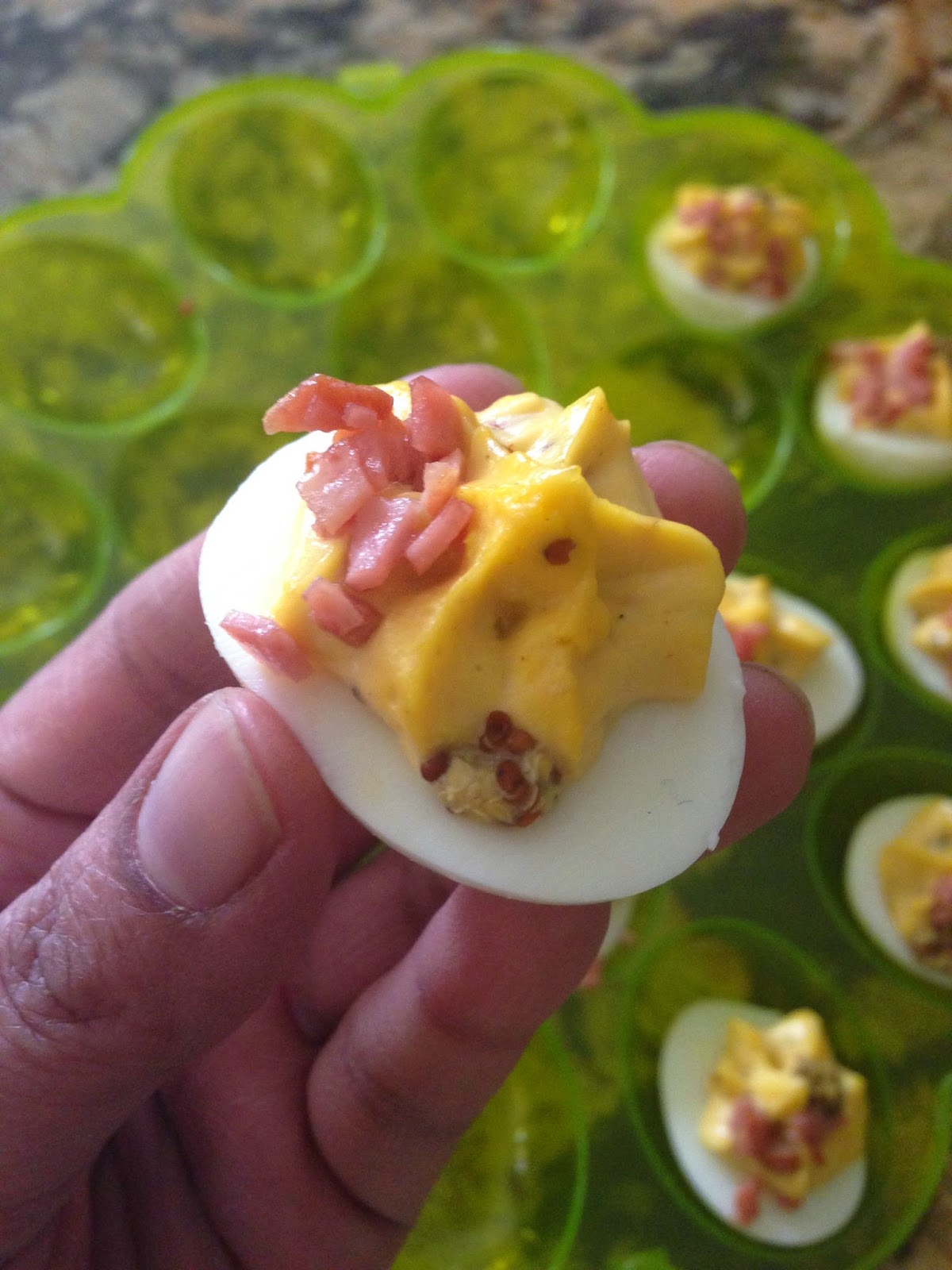 To make a picture perfect egg, use a piping bag to fill the center. Leftovers make a great egg salad sandwich!
Deviled Eggs – With Mustard and Bacon
Ingredients
Ingredients
24 boiled and peeled eggs (preferably small or pewee eggs)
1/2 cup mayonnaise
2 tbsps Dijon Mustard
1 tbsp Whole grain mustard
Splash of hot sauce
Chicken, turkey or regular bacon chopped very fine and sautéed
Additional whole grain mustard for garnish
Instructions
Process
Slice the eggs horizontally, cleaning your knife in between
Scoop out all of yolks and add to a bowl and mash
Add the mayo, mustard, hot sauce and chopped bacon, reserving some for garnish
Fill a piping bag with a star tip with the filling and pip into the egg cavities
Garnish with some chopped bacon and a small dollop of mustard
Note: You can prep your filling and your eggs ahead of time and fill an hour before service. The yolk mixture as it dries can get a little crusty. This can also be spayed with some light olive oil, before the garnish.
https://kravingsfoodadventures.com/deviled-eggs-with-mustard-and-bacon/