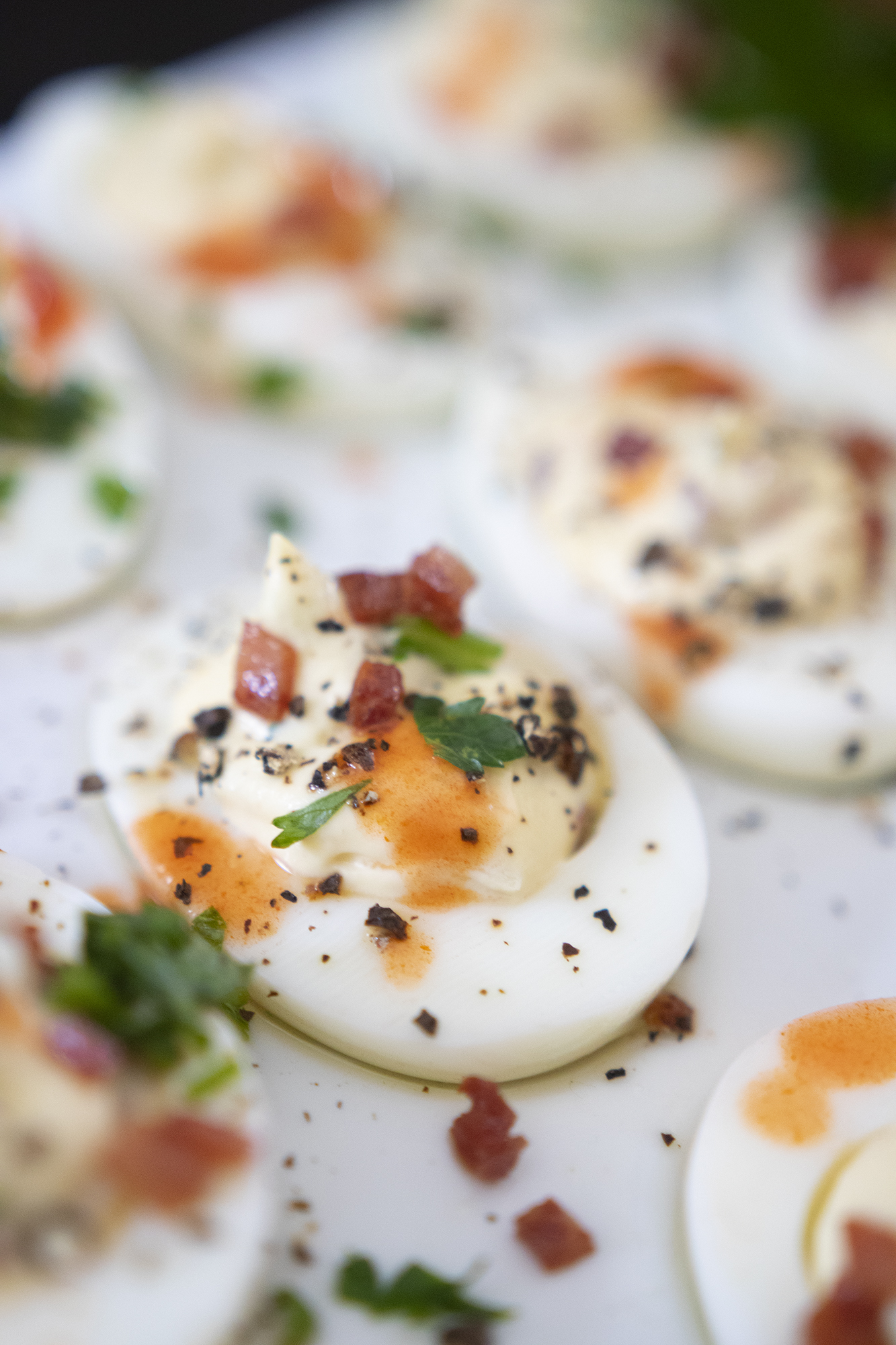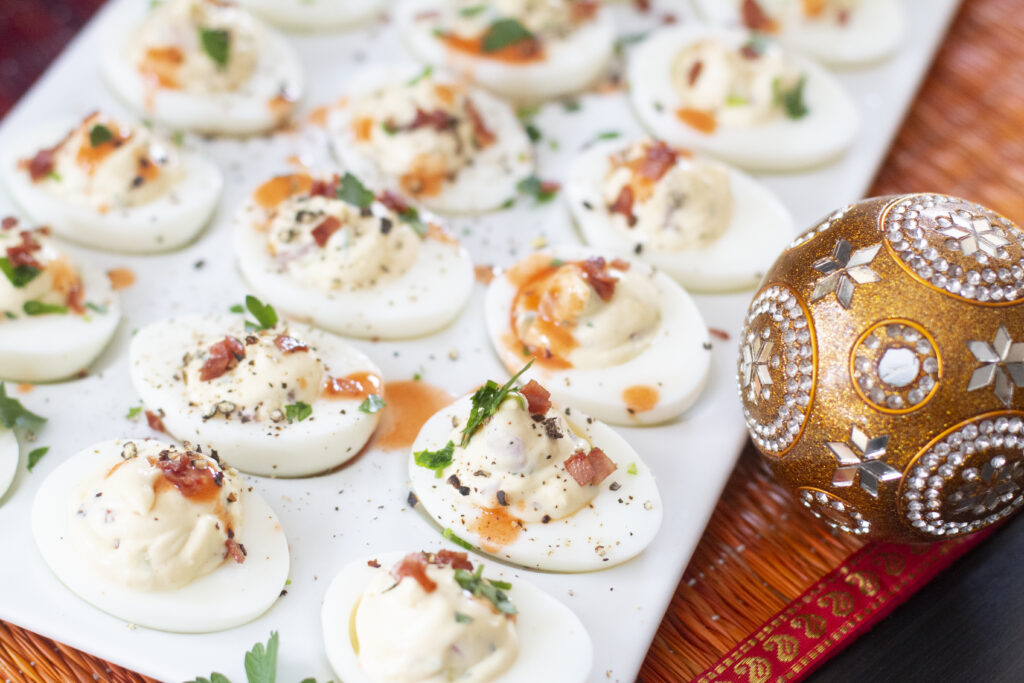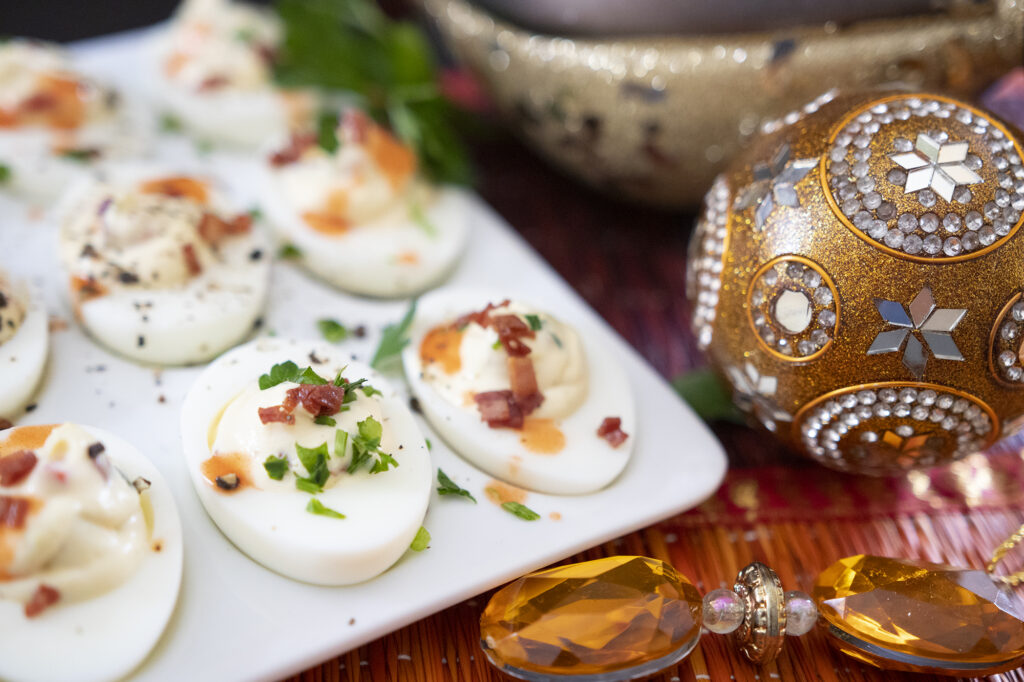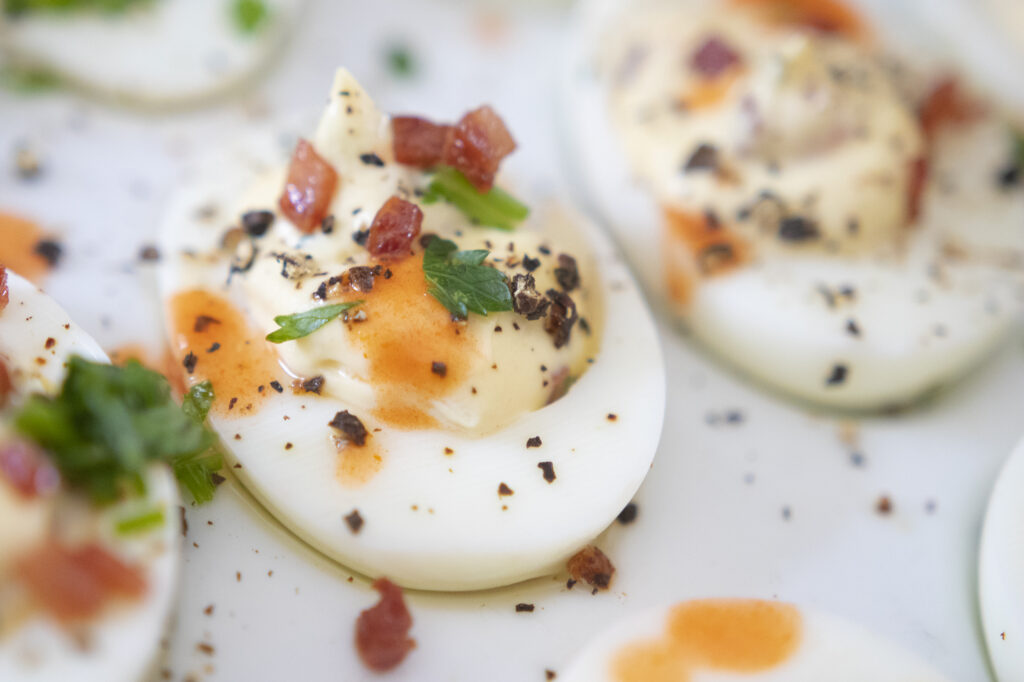 It's no secret that I love Deviled Eggs. No matter what you do to them, you can't help but make something delicious. But there are some tips and tricks to getting perfect looking eggs.
When slicing the eggs be sure to wipe the blade clean with a damp towel to get a clean cut
Mash the yolks first and then add the mayonnaise (or sour cream) in small additions so you get a lump free filling
Always, always use an icing bag with a large piping tip to pipe the filling into the cases. Using a spoon just doesn't cut it.
Get flavour into the filling but add additional toppings, sprinkles and dashes of spices, herbs and sauce to the top for more visual interest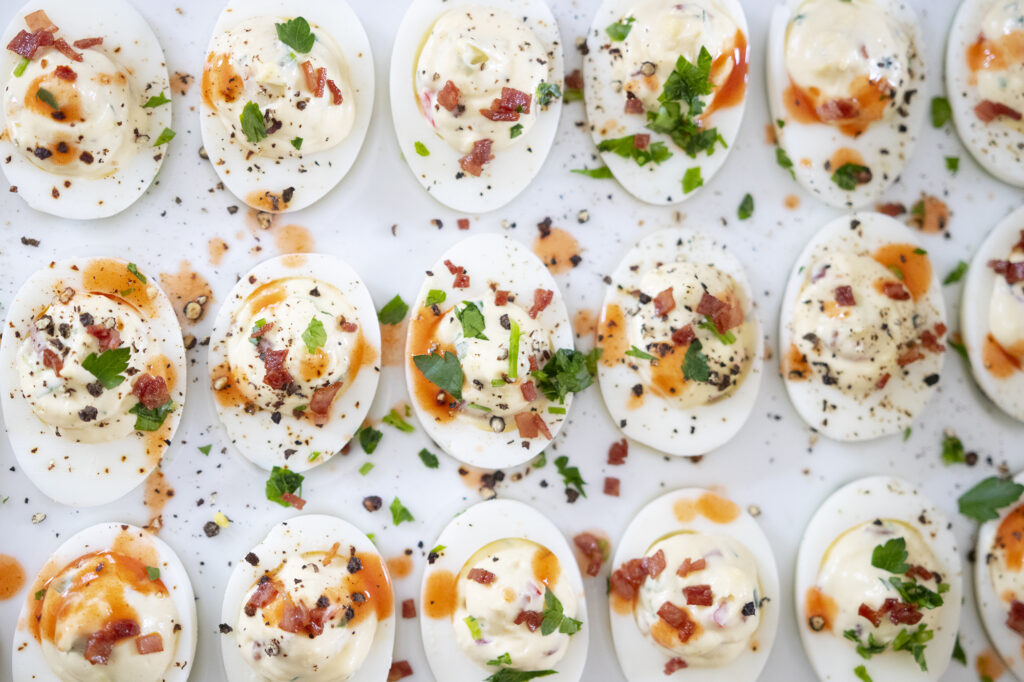 These festive eggs are flavoured with mayonnaise, mustard, hot sauce and pepper. I've added chopped parsley and finely diced cooked Turkey bacon and it's absolutely delicious. I made this for some friends and one of them said she 'hates deviled eggs' I encouraged her to just try one and she simply loved them!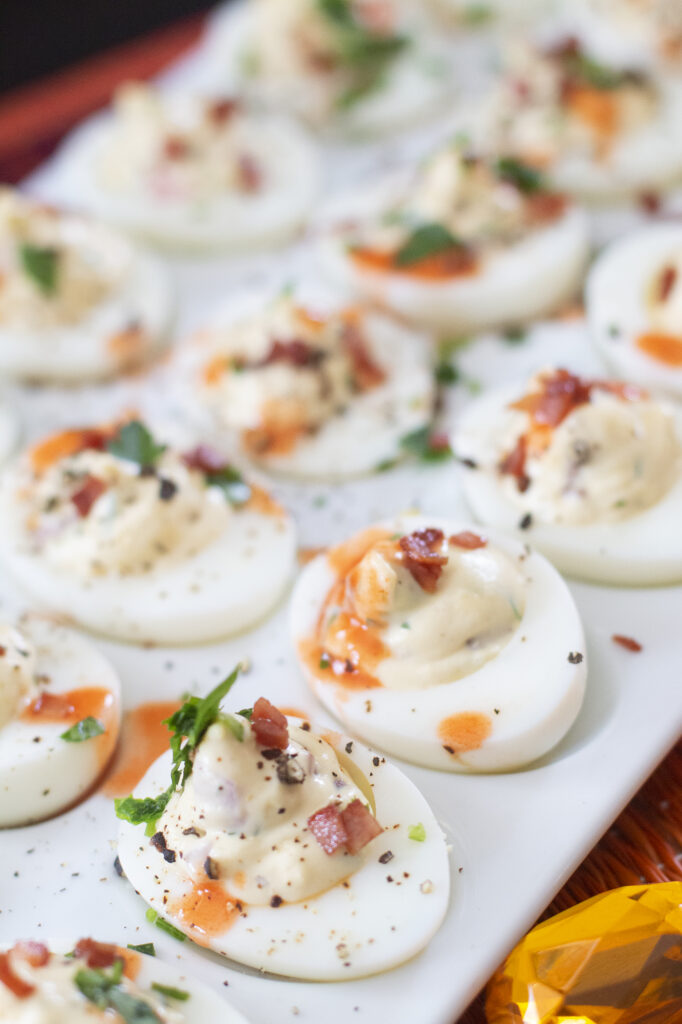 Deviled eggs are a great app to serve as they can be filling especially when your guests arrive hungry and are drinking. There's very rarely any left over but if there are I just sandwich them together and eat them for breakfast, or chop up the egg and use it as a sandwich filling!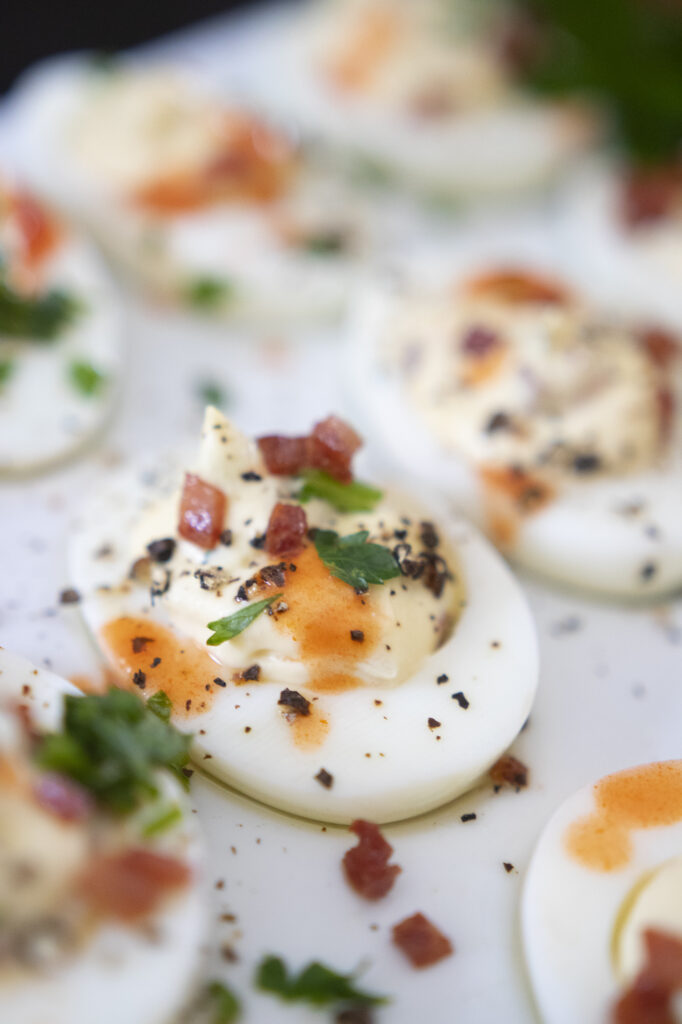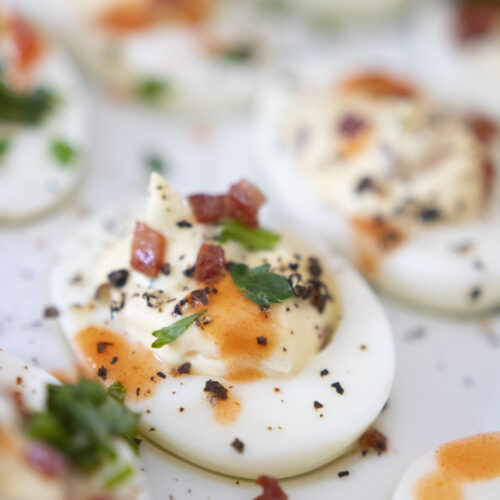 Festive Deviled Eggs
Ingredients
24

boiled Eggs

4 – 6

tbsps

Mayonnaise

2

tbsps

Dijon Mustard

1/4

cup

diced Onion

1/4

cup

diced Spring Onion

1/4

cup

diced Red Pepper

1/4

cup

diced finely diced cooked Turkey Bacon

1/4

cup

diced chopped Parsley

Garnish

Hot Sauce

Fresh cracked Pepper

1 -2

tbsps

diced finely diced cooked Turkey Bacon

1 -2

tbsps

diced chopped Parsley
Instructions
Slice each egg in half and reserve the yolks in a bowl

Add the mayonnaise a little at a time mixing well to remove lumps

Add the mustard, onion, spring onion, red pepper, turkey bacon and parsley and mix well

Add the filling to a disposable icing bag fitted with a large tip and just pipe into the empty egg cases

Garnish with a drizzle of hot sauce, fresh cracked pepper, diced turkey bacon and parsley