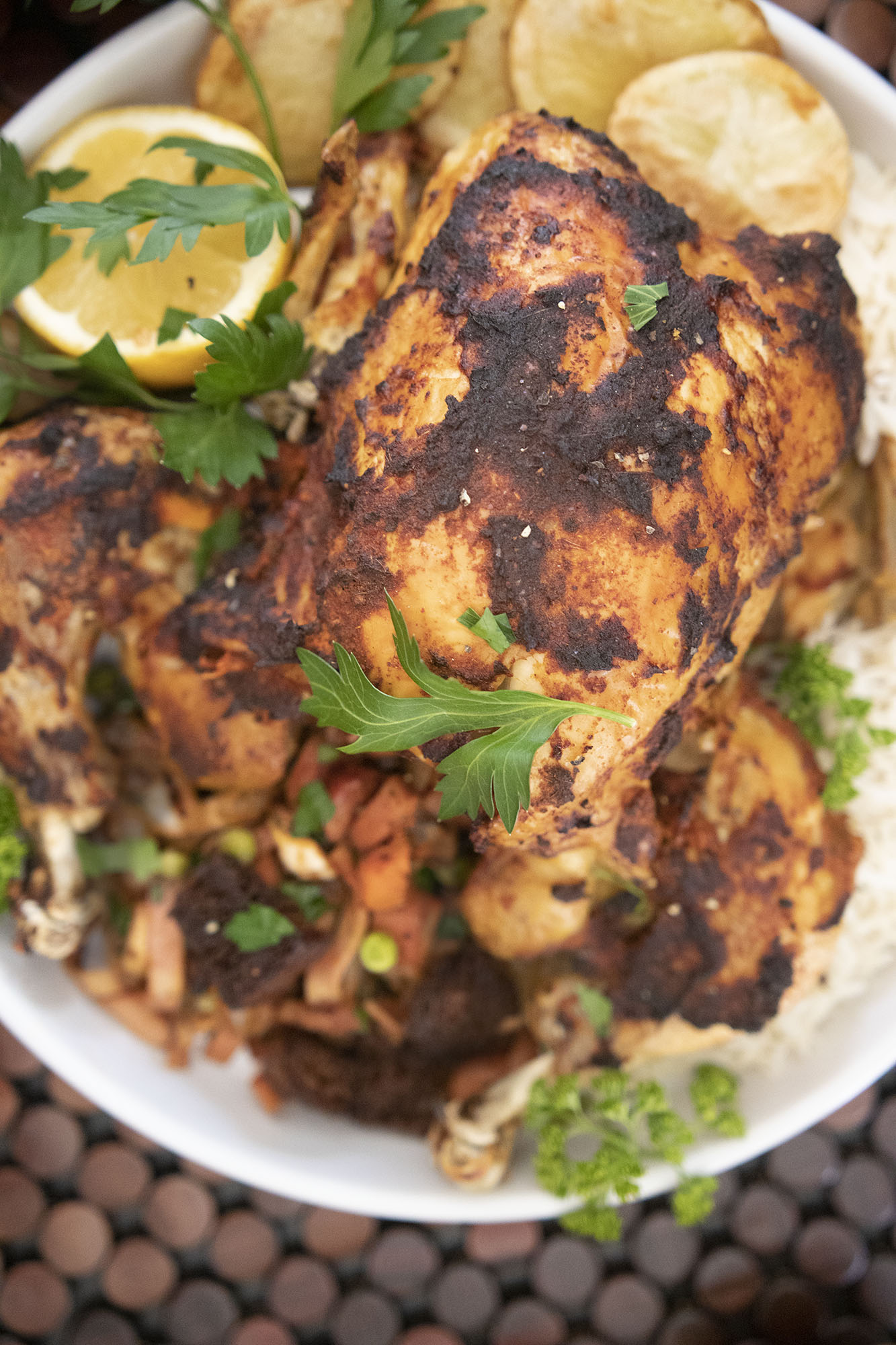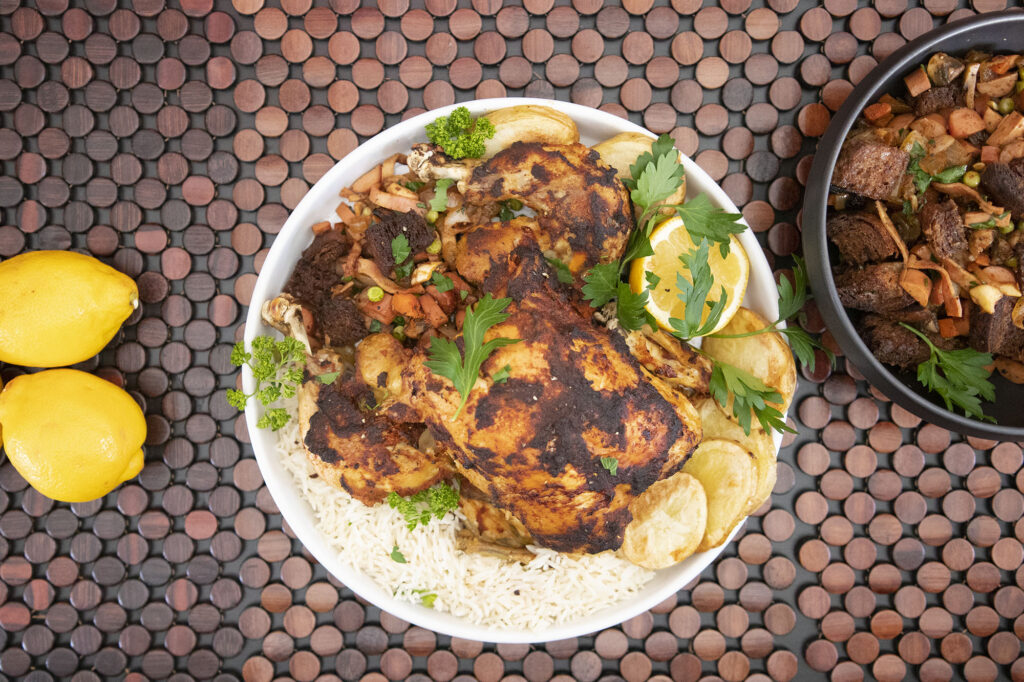 A simple stuffing starts with Onion and Garlic, Sausage and Bacon, Mushrooms, Peas, Carrots, Parsley & fried Bread. This is stuffed into the bird smeared with a mixture of Ginger & Garlic paste, Spices, Salt, Pepper & Vinegar.
I absolutely love my air fryer but had to give it to my son as it was too small for me. I once made a whole Chicken in it, but the top of it was touching the element. My hubby recently found this Ninja foodie that is a pressure cooker and an airfryer in one. While I love my Instant Pot, I'm happy to have a gadget that will do both for me.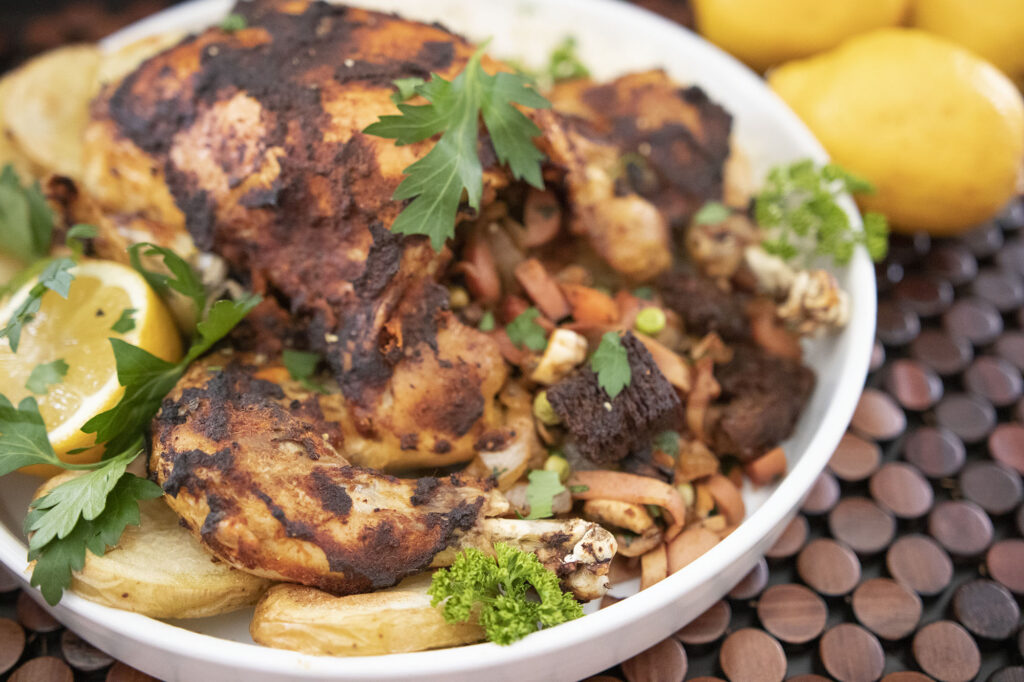 This recipe combines two methods of cooking – pressure cook and air fry. The combination of the two will give you a moist and juicy Chicken with great crispy skin.
While I've chosen to make a simple Goan style roast for this recipe, you can really use any kind of marinade of your choosing to get this bird on your table really quickly.
The great advantage to having this air fryer is that you can also just heat up leftovers really quickly instead of using an oven or a microwave.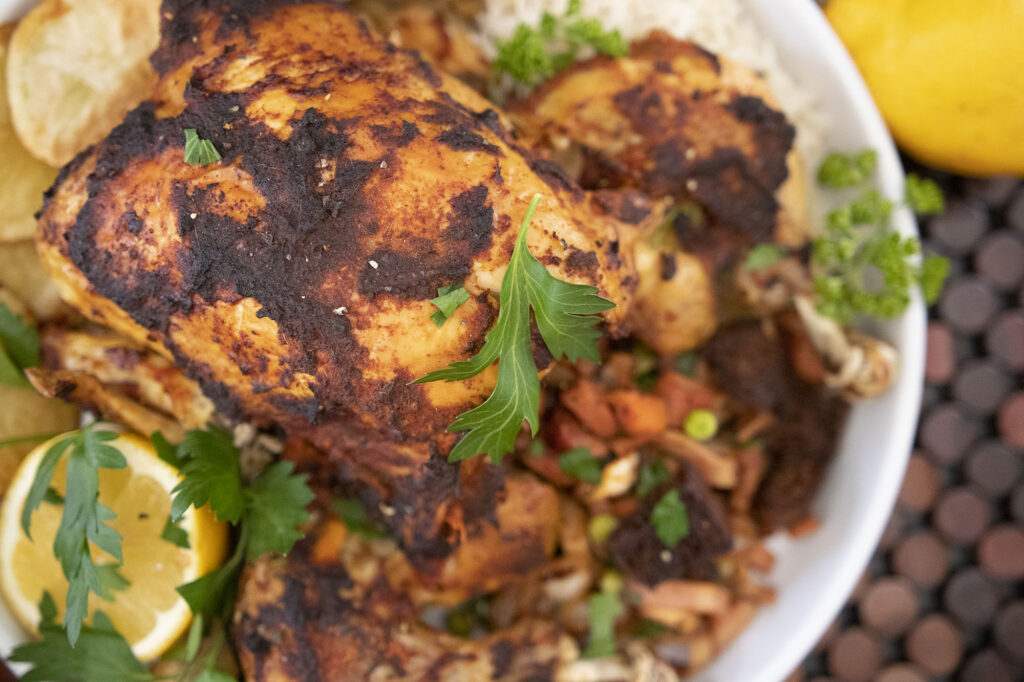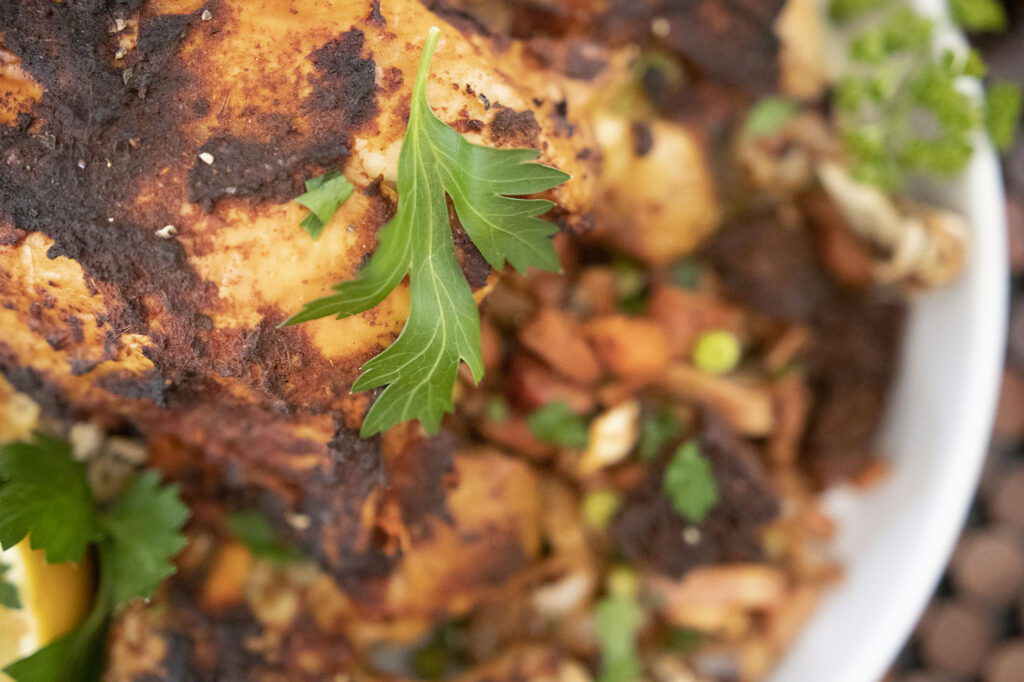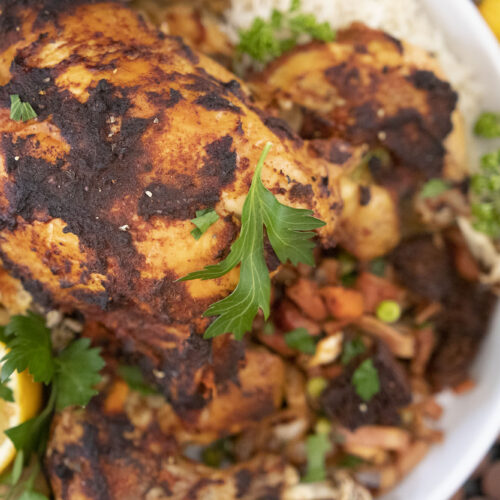 Goan Stuffed Chicken
Ingredients
Stuffing
2

slices

– 2 cups cubed Bread

2

cups

diced Onion

2

tbsps

minced Garlic

1

cup

chopped Sausage

1

cup

Chicken Bacon

2

cups

chopped Mushrooms

Salt & Pepper to taste

1

tsp

Chilli powder

1

tsp

Cumin powder

1

cup

Peas and Carrots

1/2

cup

chopped Parsley or Coriander
Chicken & Marinade
3- 4

lbs

whole Chicken

4

tbsps

of Ginger & Garlic paste

1

tsp

Salt

1

tsp

cracked Pepper

2

tbsps

Vinegar

1

tsp

Cumin powder

1

tsp

Chilli powder
Instructions
First fry the bread cubes and keep aside

Add more oil and saute the onion

Once translucent, add the garlic, followed by the sausage and the bacon

Allow the sausage and bacon to cook and then add the mushrooms

Add salt and pepper to taste

Add the chilli and cumin powder and mix it in

Add the peas and carrots, allow this to cook and add the parsley

Toss the bread back into the pan and mix well

For the chicken, prepare the marinade by mixing all the ingredients together

Pressure cook the chicken for 15 mins, once done allow to cool

Stuff the chicken and smear the marinade over the skin

Air fry for 20 mins

If only air frying the chicken, stuff and marinate and cook for 20 mins, checking in between to prevent burning and make sure the International temp reaches 170 in the thickest parts