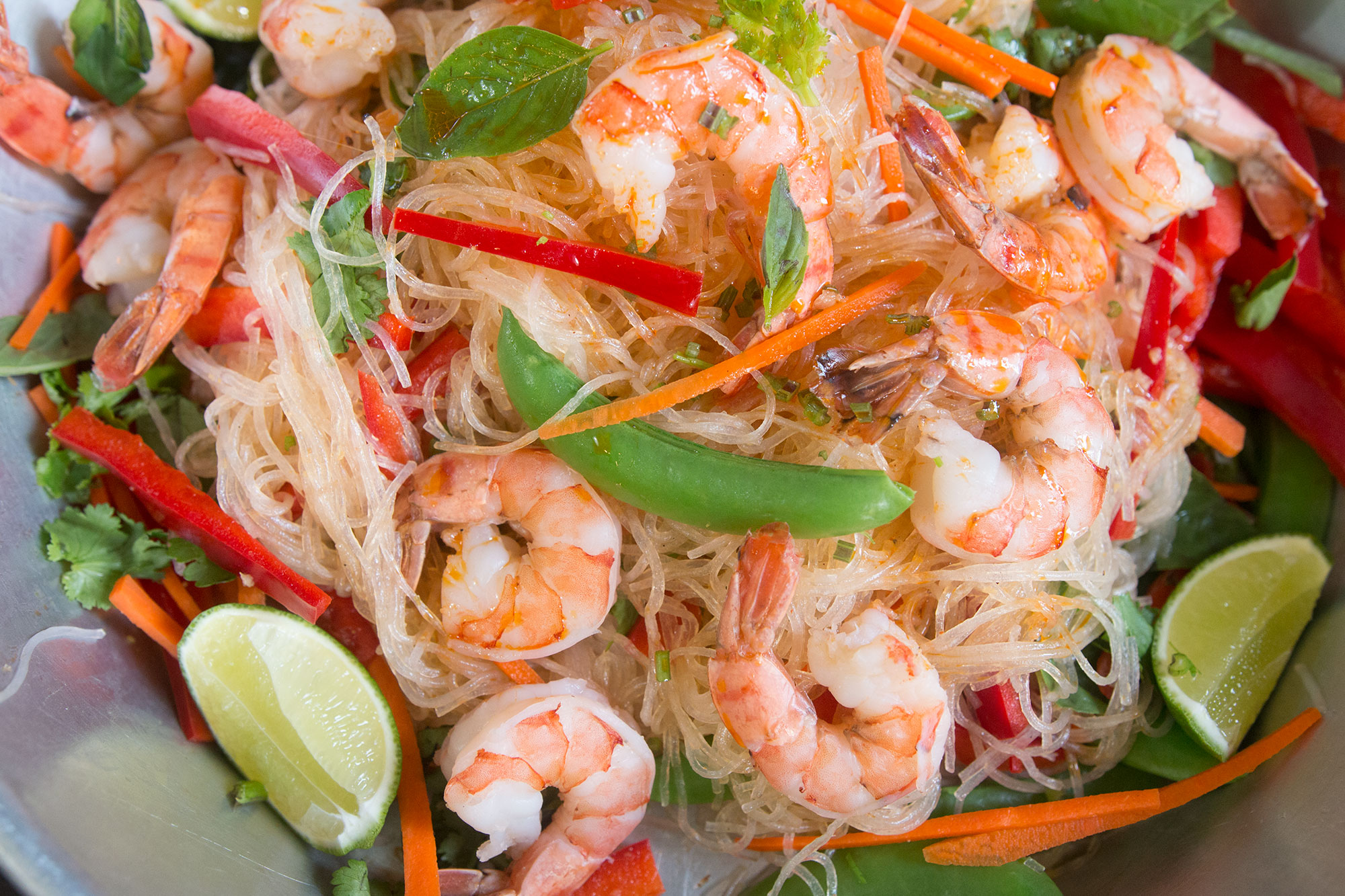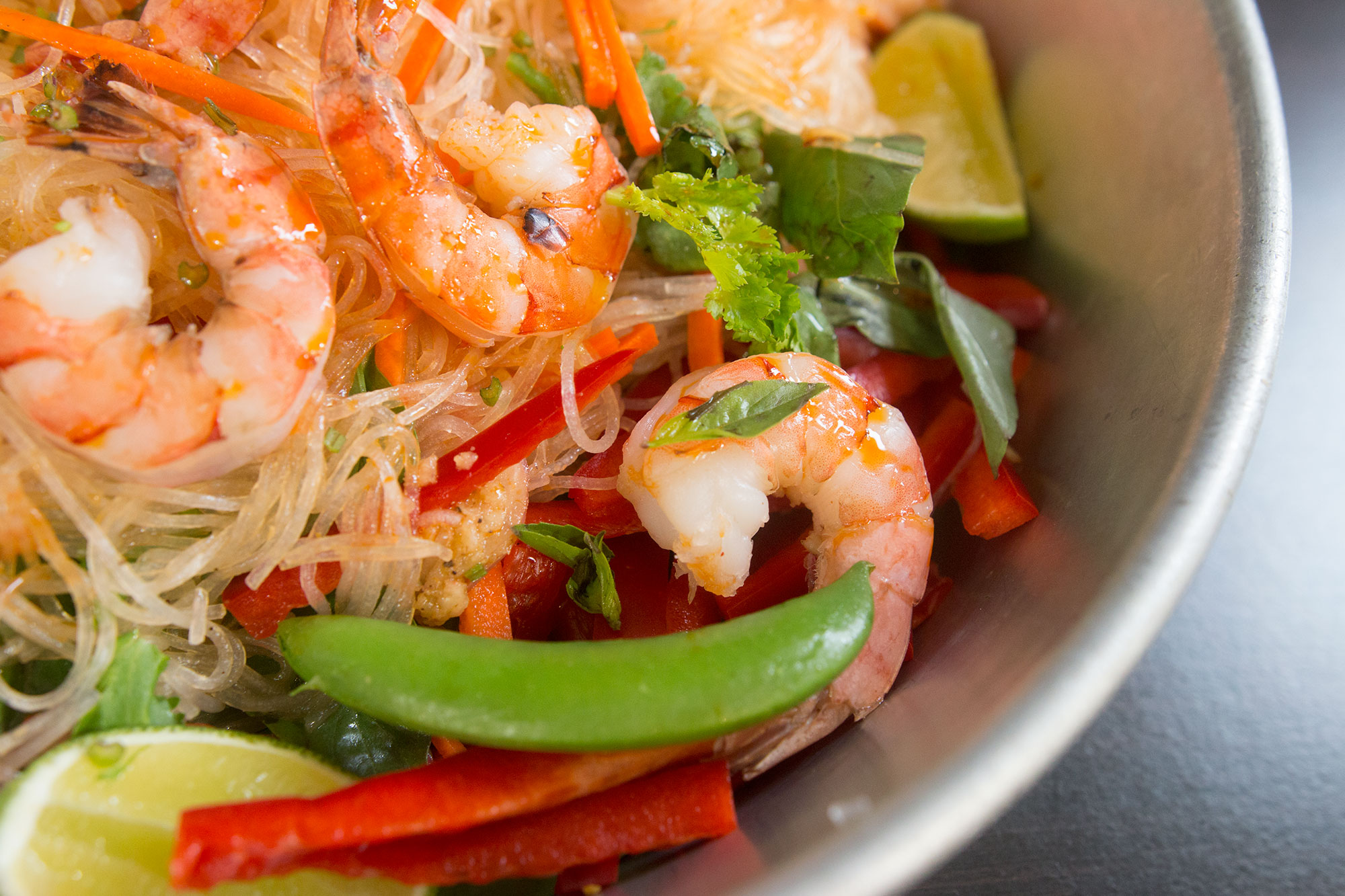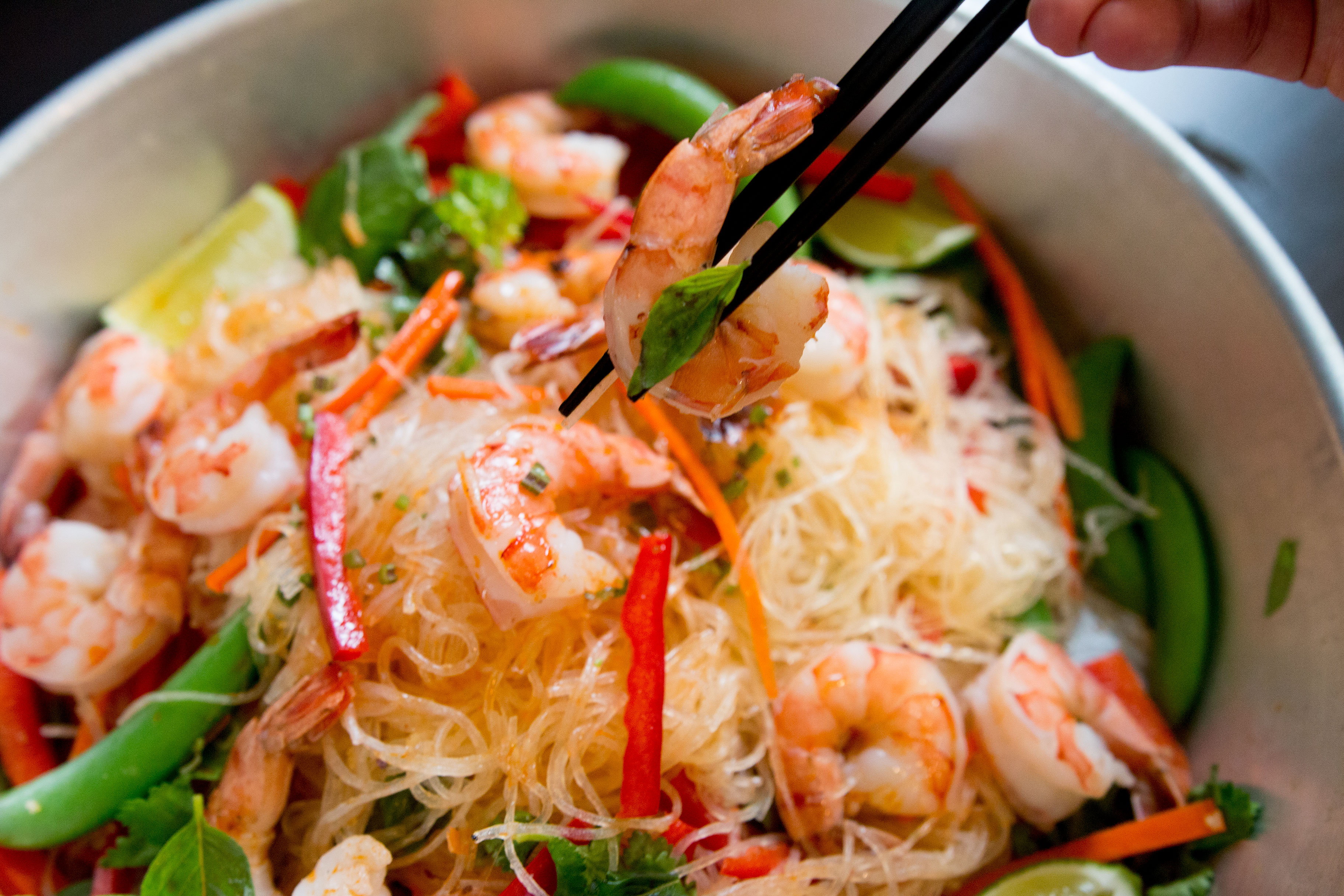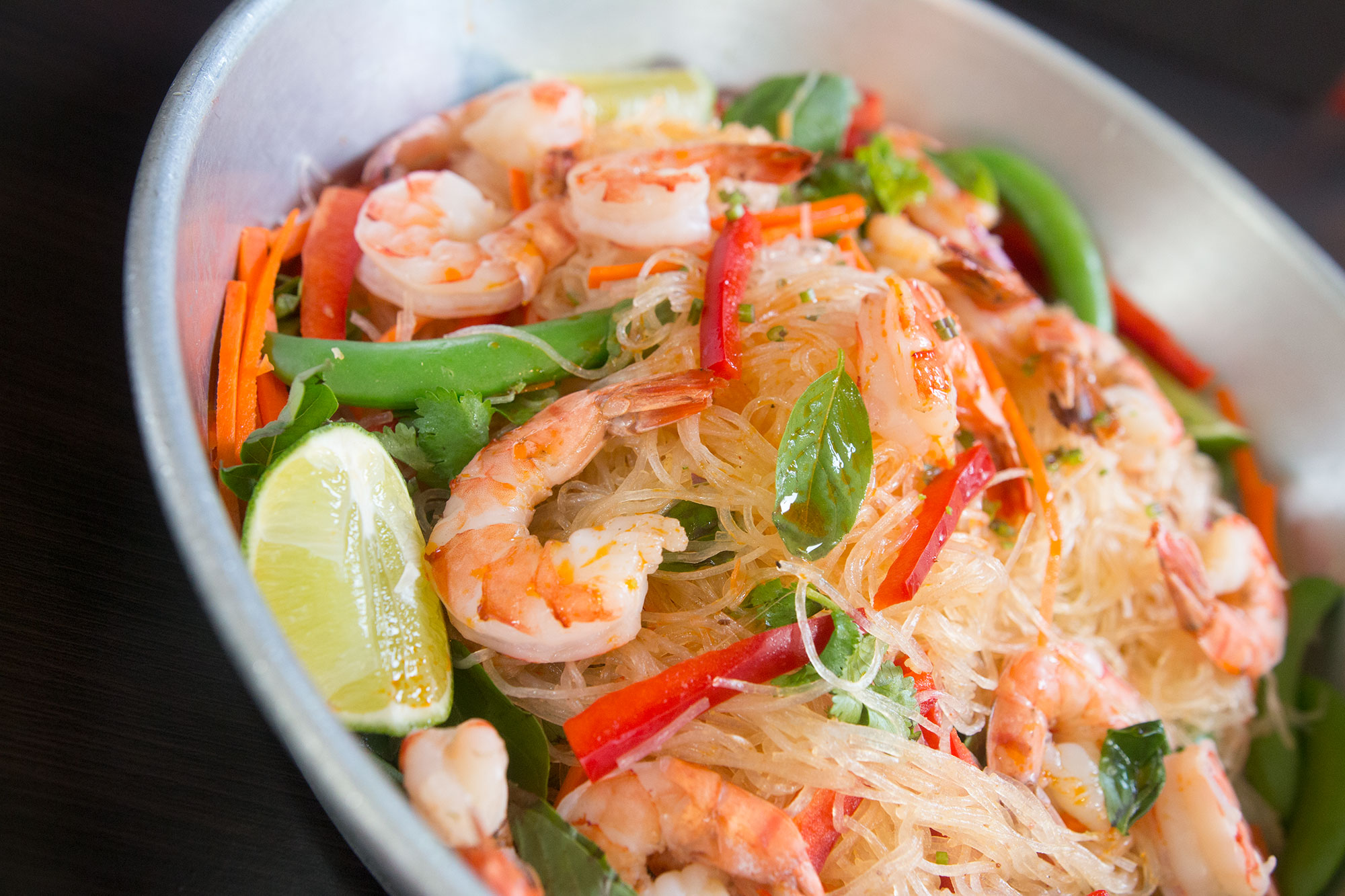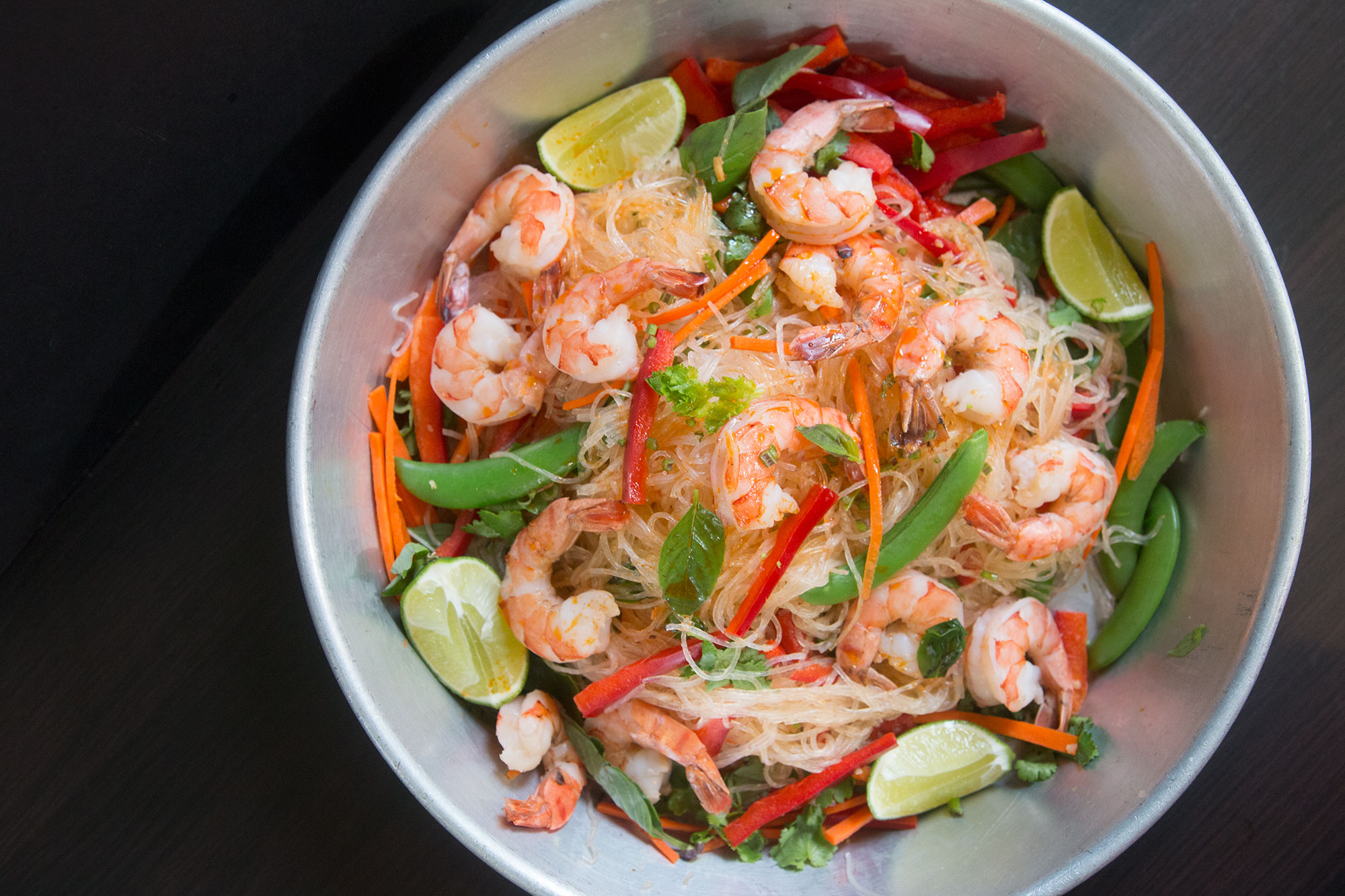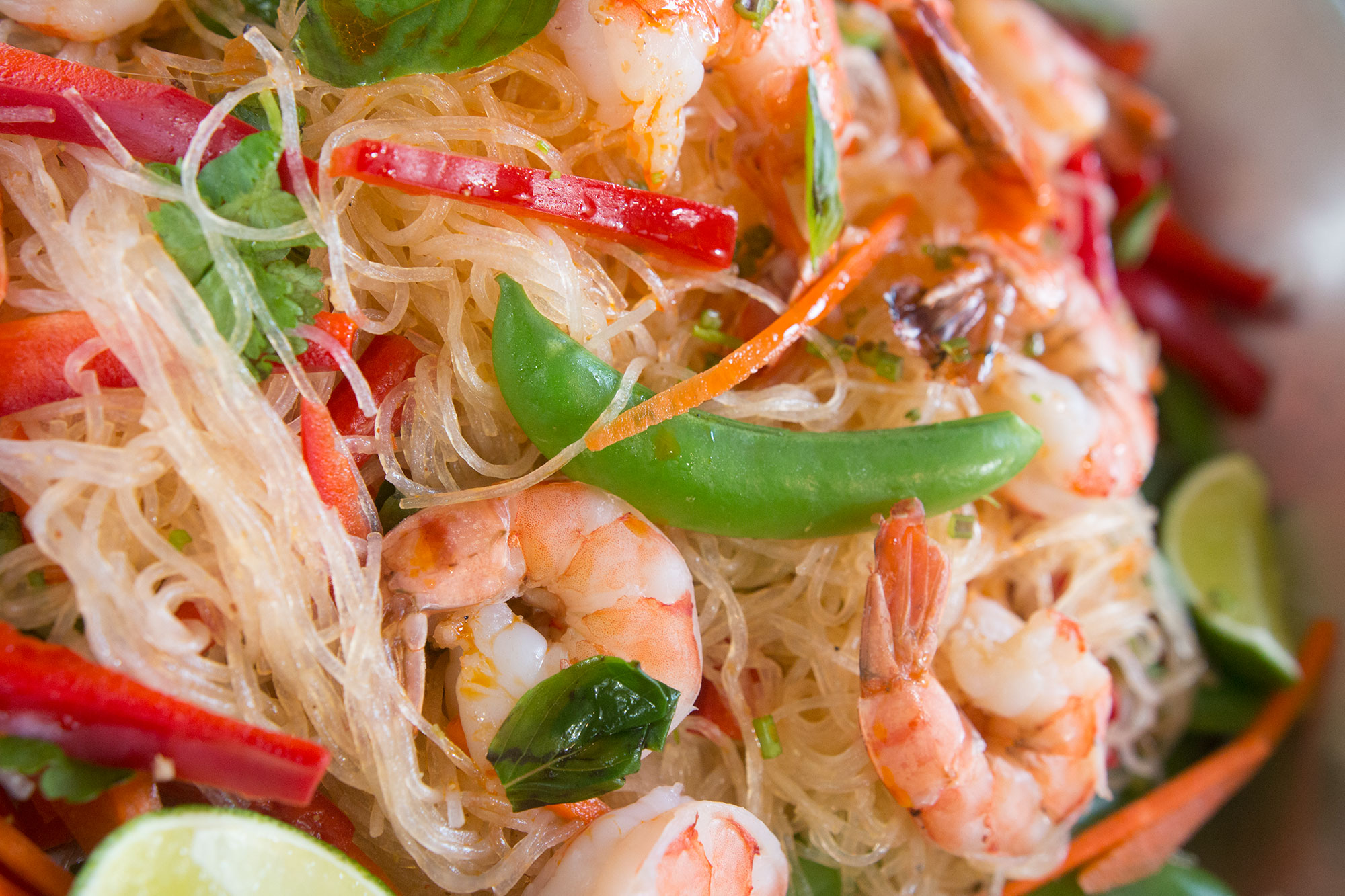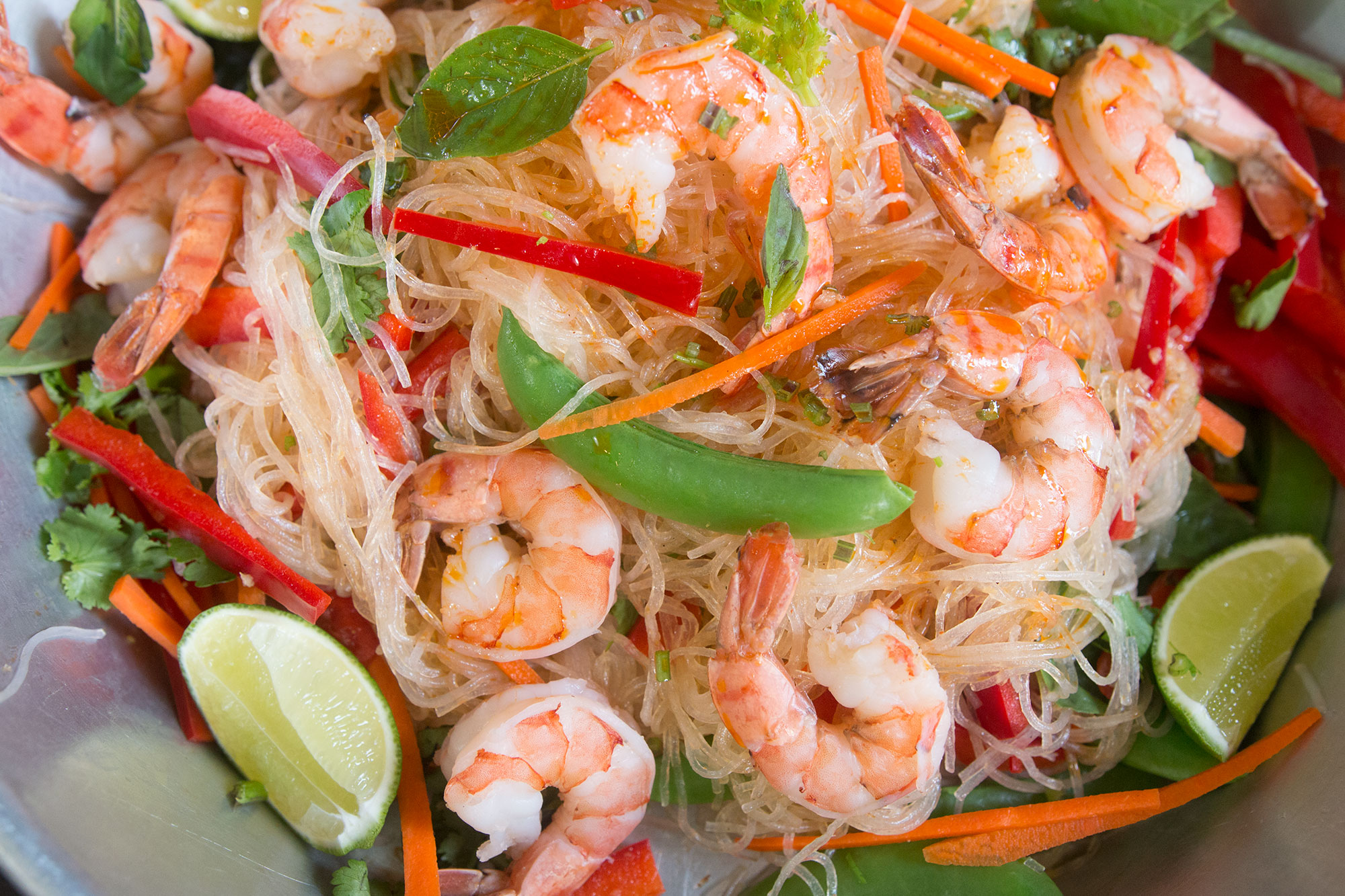 This Easy Weeknight Meal salad is made with delicious Thai ingredients that smother gluten free glass noodles made with bean thread. It's tossed together with Shrimp poached in Lemongrass and garlic water, and enhanced with fresh Basil and Coriander leaves. It's also served with sugar snap peas and red pepper. The star here is the Massaman Curry paste that just ties everything together with it's unique blend of spices, herbs and aromatics.
I've been making Thai food for a while now. It's amazing how authentic your dishes can taste when you follow the instructions of great YouTubers like Pailin from Hot Thai Kitchen and Jamie Oliver's Food Tube star Poo. We're also very lucky in Toronto to easily find great ingredients like fresh Lemongrass and Galangal.
In many ways, Thai food is very similar to Indian food and yet very very different. This salad is wonderful as you can eat it cold and save leftovers for lunch. It's also potluck perfect!
Thai Massaman Curry Noodle Salad
Ingredients
320 gms Bean noodles or thread
Oil
1 cup Sugar snap peas
1 stick Lemongrass
1 tsp + 2 tbsps Fish sauce
½ cup +2-3 leaves Thai Basil
1 Garlic clove
10 oz, 300 gms tail on, Shrimp
1 tsp Sugar
Juice of 1 lime
1 tbsp Chilli Oil
1 tsp Massaman Curry paste
1 tbsp slices Shallots
2 tsps minced Garlic
1 tsp Coriander stems
1 cup Sugar Snap Peas
¼ cup Julienne of Carrots
1 cup julienne of red Pepper
½ cup fresh Coriander leaves
Instructions
Soak the bean noodles in some hot water for a few minutes, then drain and add some oil so they don't stick
Using a scissor cut them into 2 – 3 inch lengths
Boil some water and blanch the peas for a few minutes
Remove the peas and in the same water, add the lemongrass, 2-3 Basil leaves and clove of garlic
Bring to the boil, then turn the heat down and reduce to a simmer
Add the shelled and deveined tail on shrimp and put the lid back on and leave for 10 minutes
Drain and leave aside to cool
To make the dressing mix together the sugar, fish sauce, chilli oil, massaman curry paste, shallots, minced garlic and coriander stems
Add this over the noodles and mix
Add the peas, carrots, red pepper, basil and coriander leaves and toss
Top with cooked shrimp and serve!
https://kravingsfoodadventures.com/thai-massaman-curry-noodle-salad/