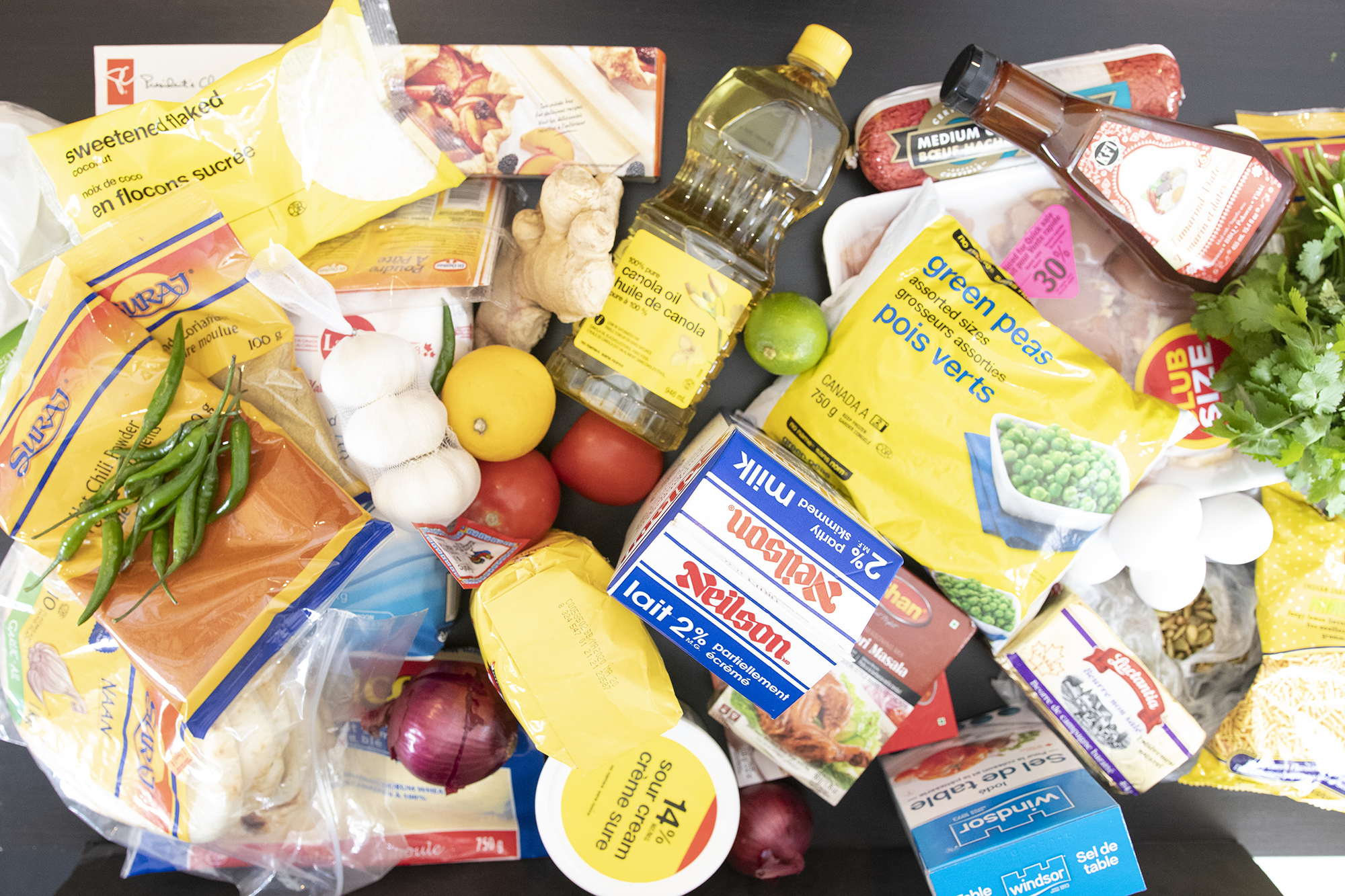 Sponsored I loved taking part in the INTERAC $100 challenge. I shopped the grocery aisles for items to prepare a delicious Indian feast for 10, all under 100 Canadian dollars.
Watch my video for tips and tricks to shop in the grocery store, recipe hacks and entertaining ideas right here!
Many people are a little intimidated to prepare Indian food, but I'm going to show you how easy it is to take simple ingredients from store to feast. I've always been a frugal shopper but never shopped on a budget before. By using my INTERAC debit card I was able to stay on budget and prepare a scrumptious feast.
I've purchased items like ground beef, chicken & eggs, potatoes, herbs, ginger & garlic, tomatoes, limes & lemons, pantry staples like flour, sugar, butter, & milk and more. To feed these hungry teenagers, my strategy is to create items that they are familiar with and give it an Indian twist. When my kids were younger, I followed the same strategy – I would prepare items they were already familiar with and sneak in those Indian spices and ingredients. Before you know it, they were eating Indian food with the rest of us with no problems.
Recipes
Butter Chicken Meatballs
Meatballs
3 lbs Chicken thigh
1 tbsp Semolina
1/2 cup Onion
4-5 small green Chillies
1 Egg
Salt & Pepper
2 tbsps Tandoori Masala
1/2 cup chopped Coriander
Gravy
1/4 cup Oil
1 cup sliced Onion
2 green chillies slit
1/4 cup finely diced Coriander
3 tbsps Ginger and Garlic taste
1/4 cup Butter
1 tbsp Chilli powder, Cumin and Coriander powder
1 tsp Salt and more per taste
5 Tomatoes blanched and pureed
Garnish
Dollops of sour cream
Sprinkle of Chilli & Cumin powder, chopped Coriander and a Chilli flower
Prepare the meatball mixture by grinding together all the meatball ingredients and chilling for a few hours to make them easier to handle
Prepare the gravy by frying the onion and chill first together with the coriander
Add the ginger and garlic paste and saute to cook off that raw ginger and garlic flavour
Add the butter and allow it to melt
Add the whole spices and salt followed by the pureed tomatoes
Cover and allow to cook for a few minutes
Form the meatballs and drop into the gravy to cook
When cooked, remove and keep aside and work on the next batch
Once cooked return to the gravy and serve garnished
Kheema Puffs
400 gm pkg Puff Pastry thawed
400 gms medium ground Beef
1 cup finely diced Onion
2 tbsps sliced green Chilli
2 tbsps Ginger & Garlic paste
1 tsp Salt = more to taste
1 tbsp Chilli powder, Cumin and Coriander powder
1 tbsp fresh cracked Pepper
1/2 cup diced tomatoes
1 cup green Peas
1/2 cup chopped Coriander
Egg wash
Heat some oil and saute the onion followed by the chilli
Add the ginger and garlic paste and saute to remove the raw taste
Add the meat followed by the spices and salt and cook breaking up the lumps
Add the pepper, tomatoes and peas, cover and cook
Allow to cool
Cut the pastry, spoon the filling into each piece and fold to seal
Brush with egg wash and bake in a 350 degree oven for 10 mins or longer till golden brown
Curried Deviled Eggs
12 Boiled Eggs
1 tsp Salt
1 tsp each Chilli powder, Cumin powder and Chaat masala
3 – 4 tbsps sour cream
2 – 3 tbsps Tamarind sauce
Pinches of Chilli powder, Chaat masala and fresh cracked black Pepper
1 – 2 tbsps finely diced Coriander
Halve the boiled eggs and place all the yolks in a bowl
Mash the yolks, add salt and the spices and add the sour cream and blend
Chill for a few hours to firm up
Fill a piping bag with a large tip and pipe the filling into the egg cases
Dot with the tamarind sauce
Sprinkle with the spices and pepper and coriander
Aloo Chaat fries
3 large potatoes cut in fries
2 tbsps Tamarind sauce
Pinches of Chilli powder, Chaat masala and fresh cracked black Pepper
1 – 2 tbsps finely diced Coriander
1/2 cup crispy Nimbu Masala – potato snack
Deep fry the potatoes
Drizzle with tamarind sauce
Sprinkle with the spices and pepper and coriander
Top with the crispy Nimbu Masala snack
Coconut Semolina Cake
1 cup softened unsalted butter
2 cups sugar
2 eggs
2 cups milk
1 1/2 cup all purpose flour
1 cup semolina
2 1/2 tsps baking powder
3/4 cup dried dessicated sweetened coconut
2 tbsps Pumpkin seeds
Topping
1/2 cup sour cream + 2 tbsps Sugar
2 tbsps Milk
Pumpkin seeds & Coconut for garnish
Cream the butter and sugar together
Add the eggs one by one till well incorporated
Alternate between adding flour, semolina and milk
Add the baking powder
Add the Pumpkin seeds
Bake in a greased baking pan for 1 hr
Once cool mix the sour cream, milk and sugar together and frost the cake
Garnish with pumpkin seeds and coconut
Nimbu Pani
4 Limes
2 Lemons
2 tbsps Ginger juice
1 tsp Salt
1 tbsp Sugar
1.5 litres Water
Ice
Lime slices for garnish
Squeeze all the juice of the limes and lemons into a bowl
Add the ginger juice
Add salt & sugar
Add the water
Taste and adjust the salt, sugar or water as required
Serve with ice and a slice of lime