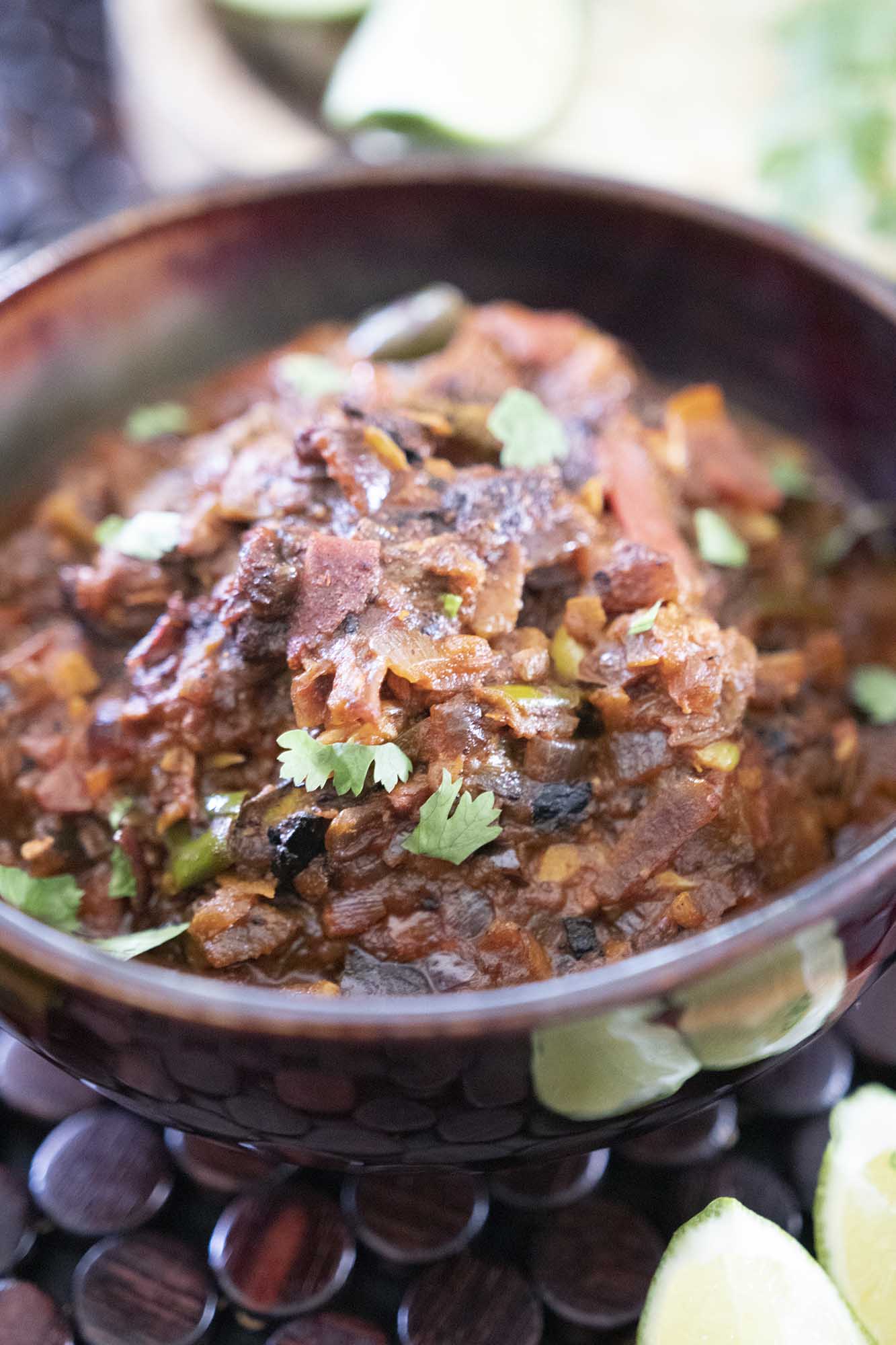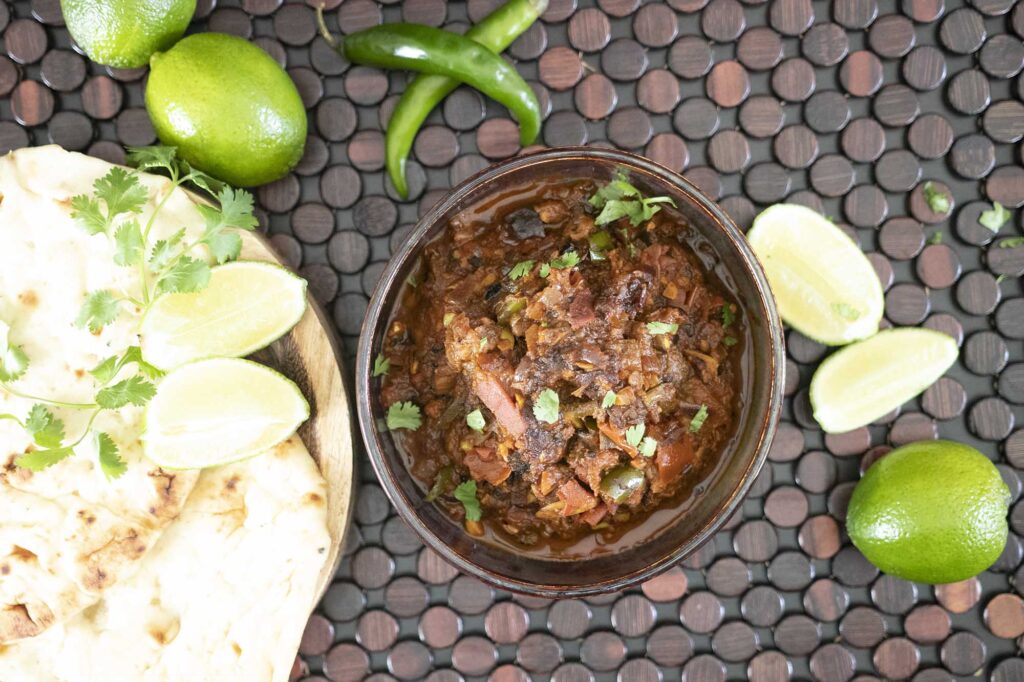 Eggplants, Aubergines or Brinjal are stuffed with Garlic & green Chilli , brushed with Mustard oil and cooked till soft smoked and tender. They are then chopped fine and then added to onion and ginger, powdered spices and tomatoes and cooked till soft mushy and delicious!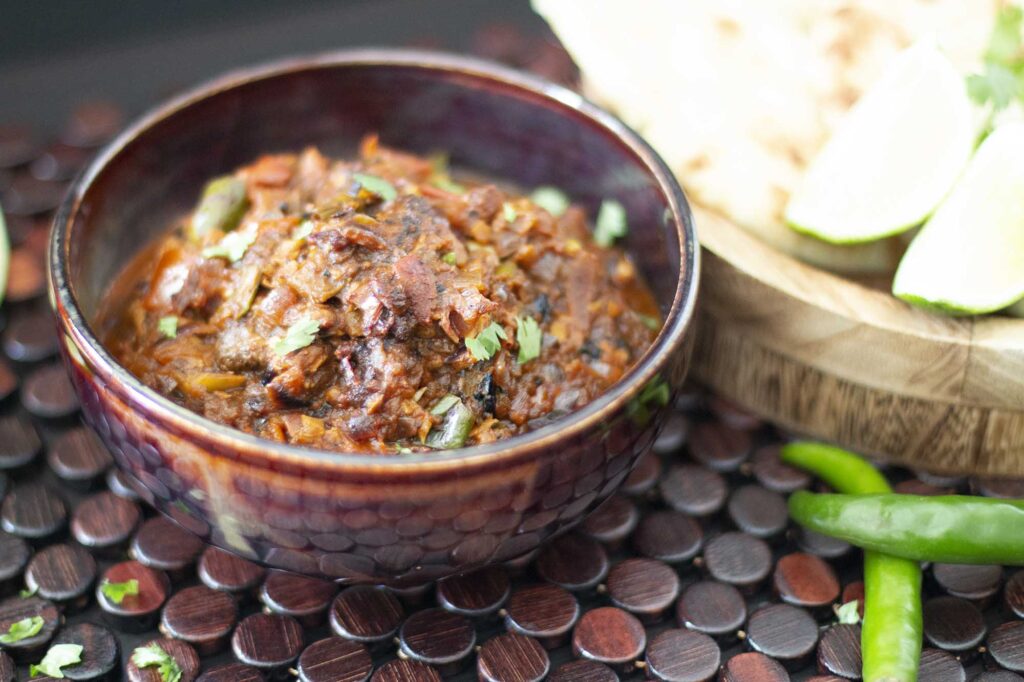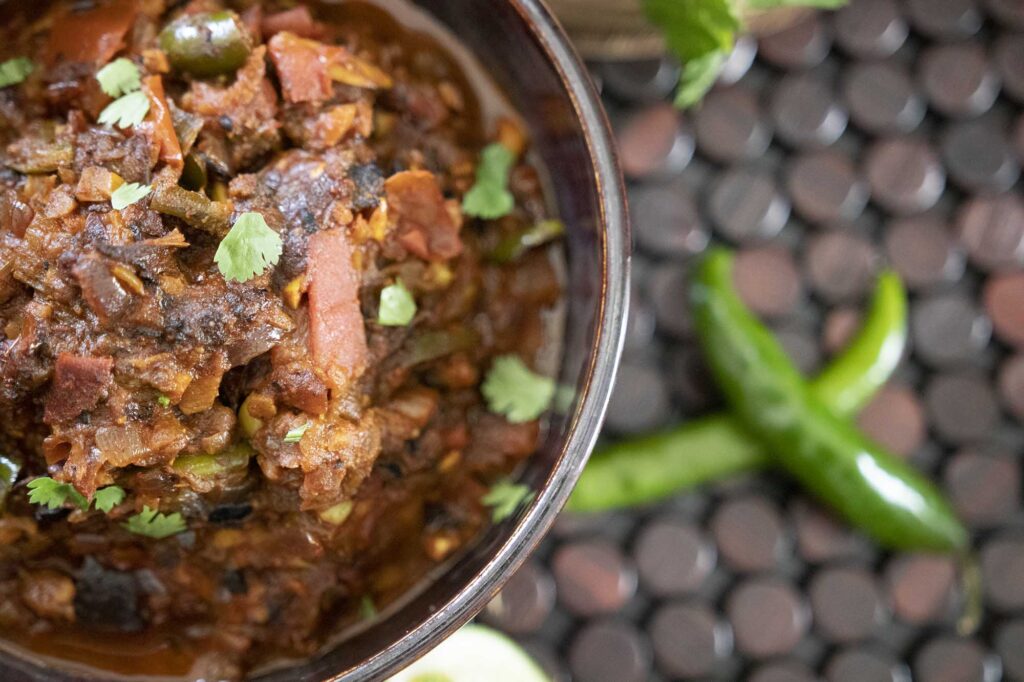 This is Vegan, Vegetarian and Gluten free. Growing up, I never like Eggplant, I have to admit, I have never been a fan. For one, I never used to trust a vegetable that goes by so many names Eggplant, Brinjal, Aubergine! In India it's called Bhaingan and in English it's referred to as Brinjal. My early memories of eating this vegetable unfortunately come from my boarding school days. It was prepared only one way and it was not very good and was often hurled from the dining room window into the vegetable patch below. It's only recently with recipes like this that I have started to appreciate the flavor of this vegetable.
In the original and traditional recipe, Eggplant was smoked over an open flame. You can either cook this on your gas stove, on your BBQ or in the oven. Smoking it on my BBQ gives you that additional smokiness that makes this dish amazing!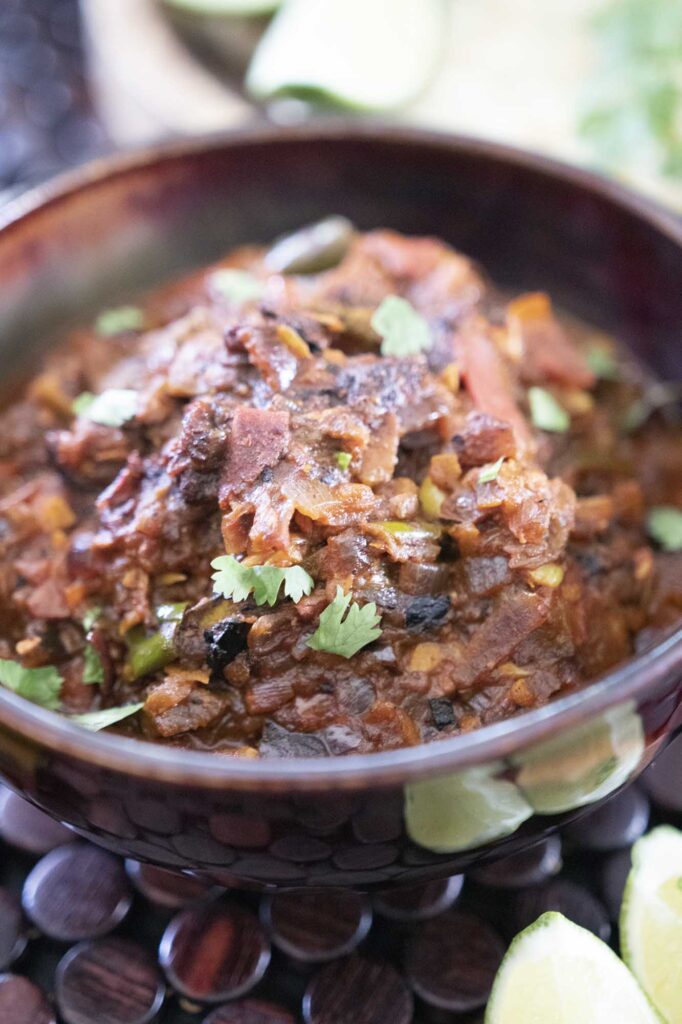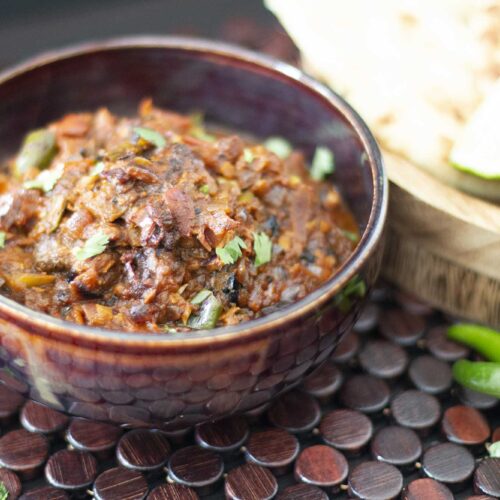 Baigan ka Bharta
Ingredients
2

large Eggplants – 2 cups

1/4

cup

Garlic

1/4

cup

green Chilli

Mustard Oil for brushing

1

tbsp

Mustard Oil

1

tbsp

Oil

1/4

finely chopped Ginger

1

cup

finely diced Onion

1

tsp

Cumin powder

1

tsp

red Chilli powder

1/2

tsp

Turmeric

Salt to taste

2

cups

diced Tomatoes

Garnish with Coriander
Instructions
Make slits in the eggplant and add the garlic and green chillies

Brush it with Mustard Oil and cook these on the BBQ, open flame or in the oven

Depending on the size of the eggplants you will need to cook it for 15 to 20 mins till it starts to smoke and soften on the inside

Once cooked, remove and cool

Once cool, chop the flesh

In the pot add the mustard and regular oil

Add the chopped ginger, onion and cook this till the onion is soft

Add the chopped eggplant

Add the cumin, chilli and turmeric powder

Add salt to taste – cover and cook for 15 mins

Add the diced Tomatoes

Cover and cook for another 10 mins or so till the tomatoes are nice and soft till they can be squished it with the back of the spoon

Garnish with coriander and serve