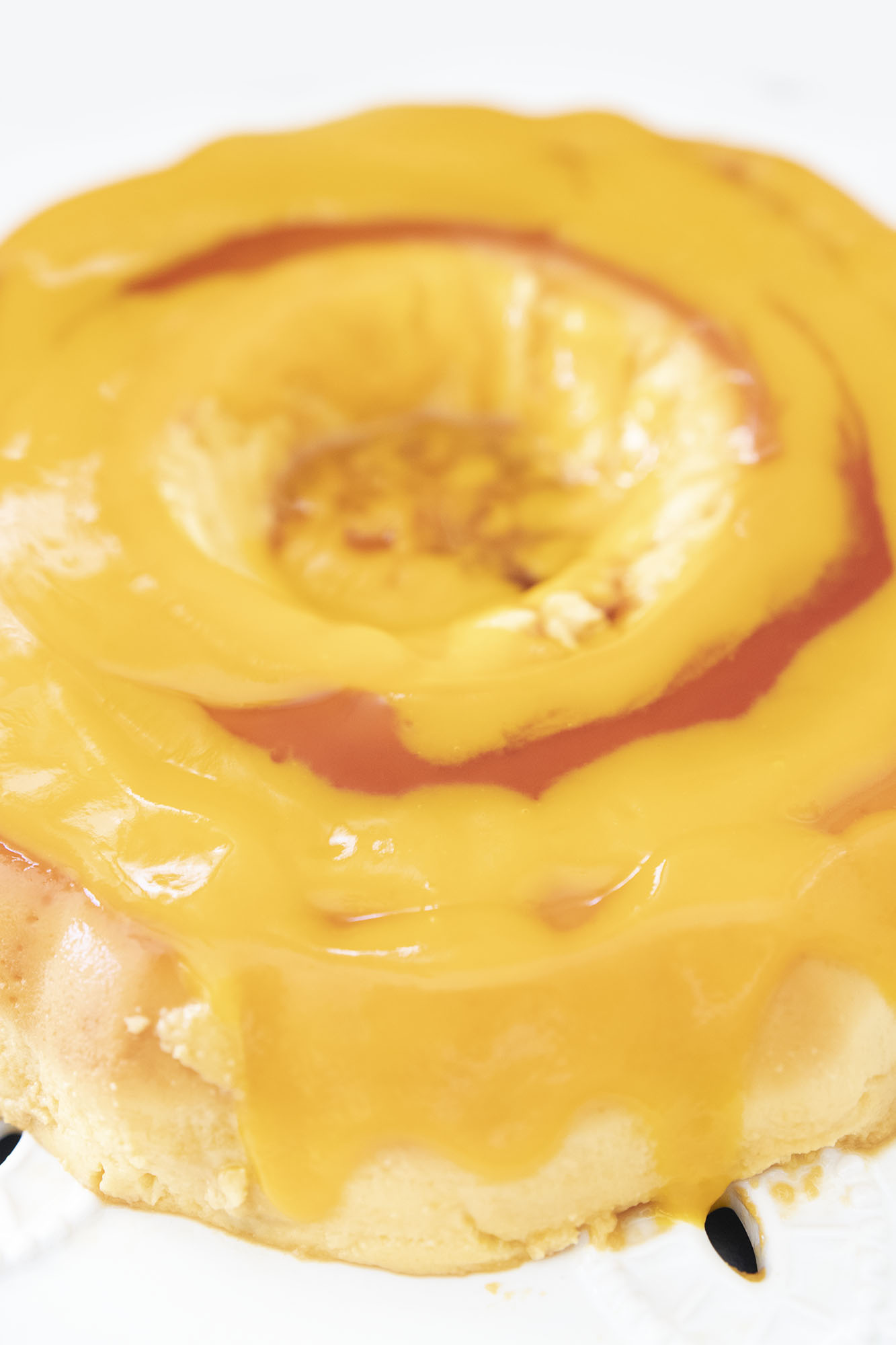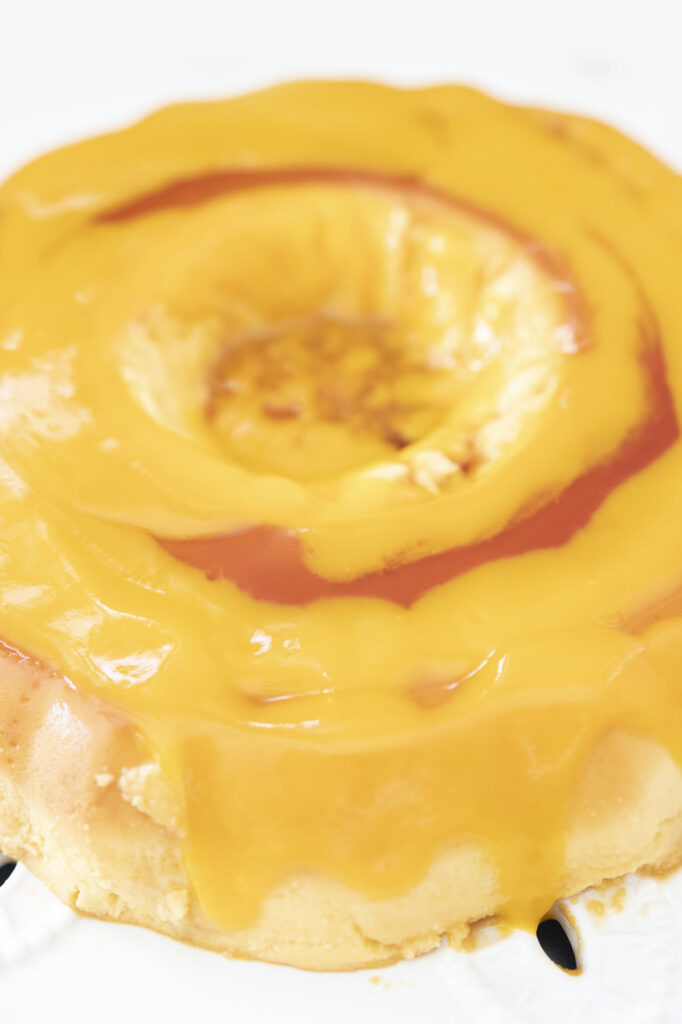 Caramel Custard or Flan needs no introduction. It's a simple baked custard cooked over melted sugar. A few years ago I made a version with the addition of rich creamy Coconut milk. The addition of Coconut milk gives such a rich nutty flavor! You can find that recipe here.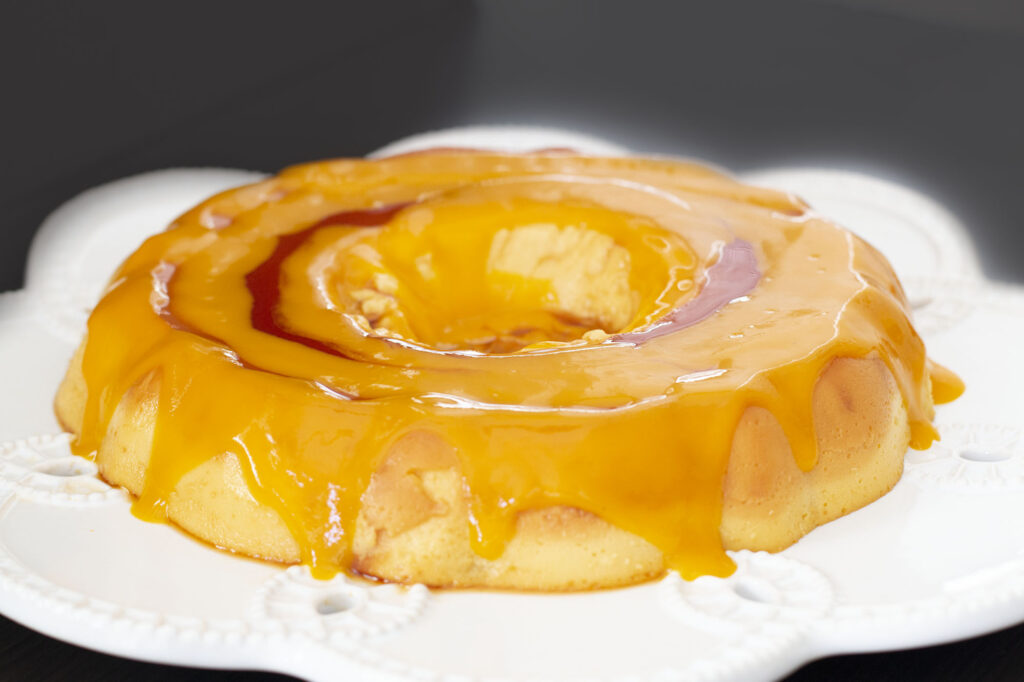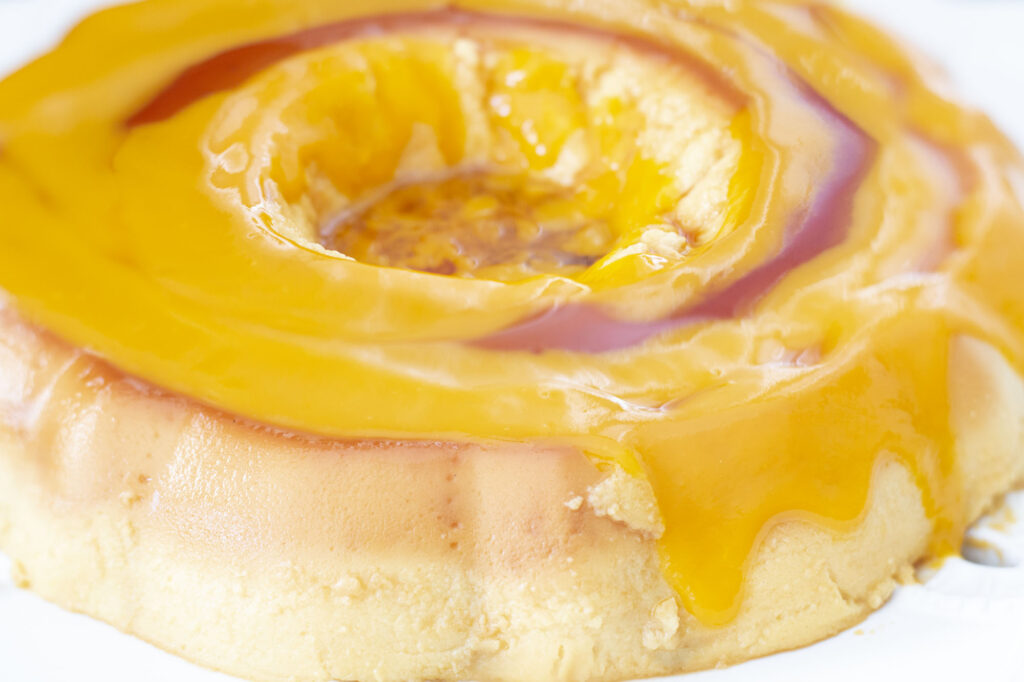 This year I made a multitude of recipes using Mango pulp and decided to incorporate it into the flan as well, and if that isn't enough, the sweet puree is poured over the finished product as well.
When buying a Mango puree, I always favor the Indian brands and look for Alphonoso or Kesari Mangoes, these have the best color and are sweet!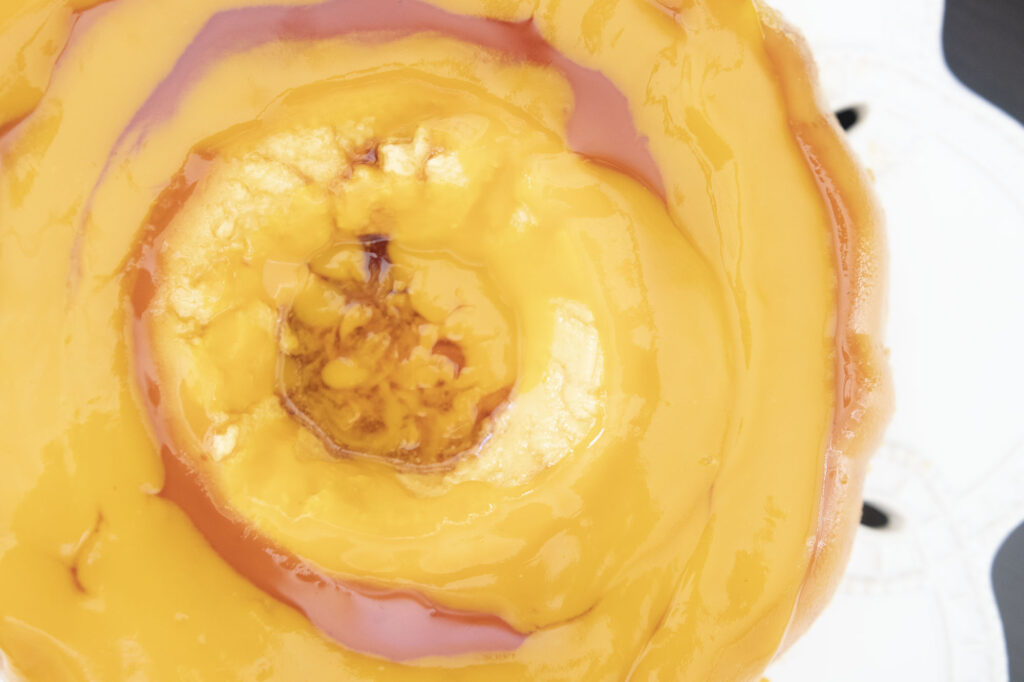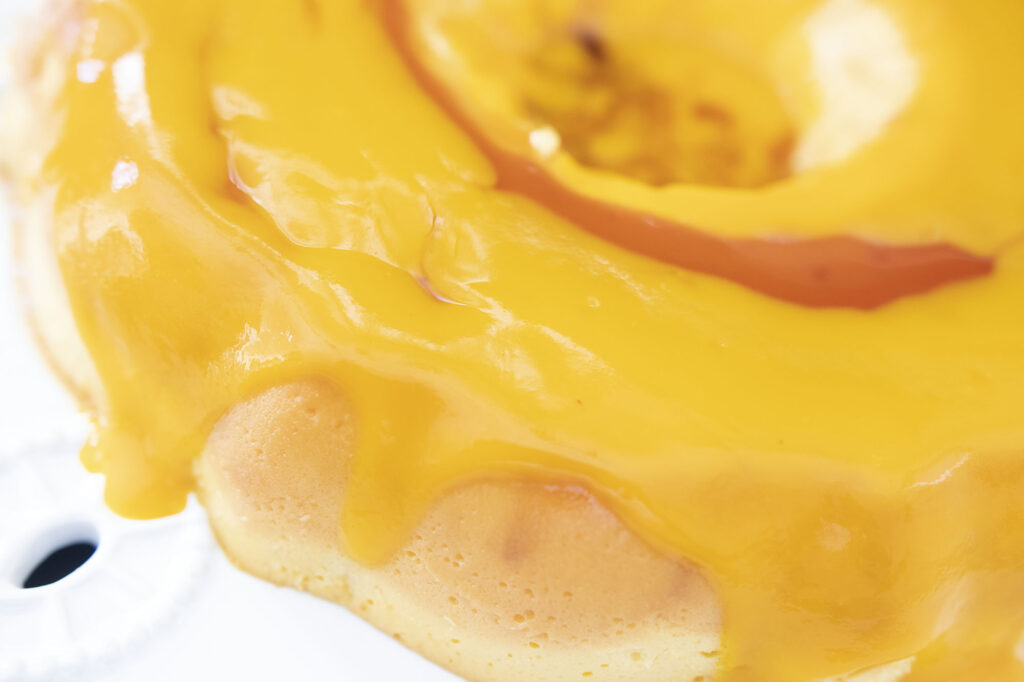 I used a bundt pan in this recipe, you can use any other kind of pan you have on hand. The advantage of using the bundt pan is that the custard cooks evenly all over and there are no jiggly centers. Even though the caramel is meant to have a slight jiggle, if you feel it's too runny after the mentioned cook time, cook it further for 15 mins as the heat can vary from oven to oven. I can tell you that I served this at a dinner party and there are NO leftovers!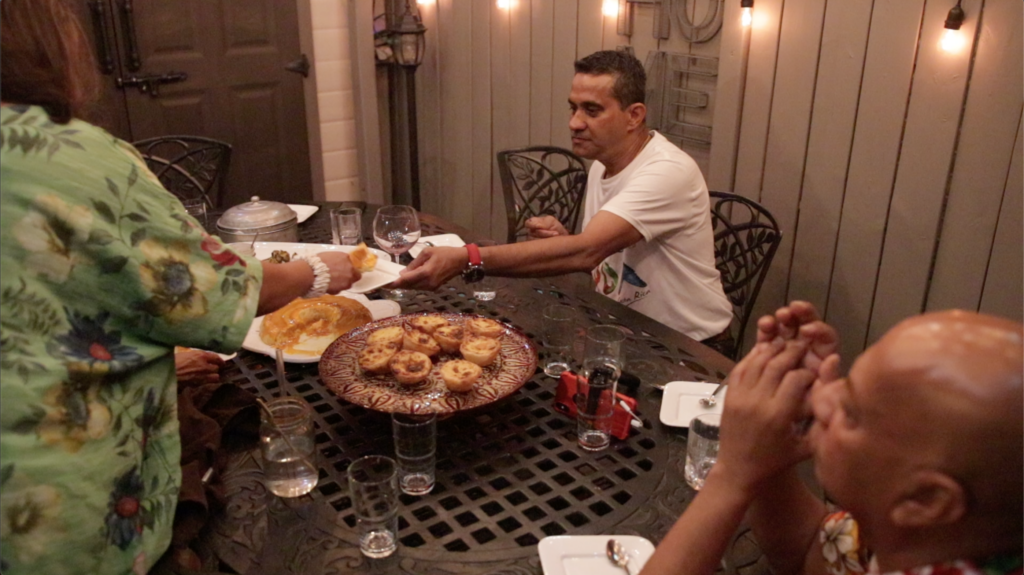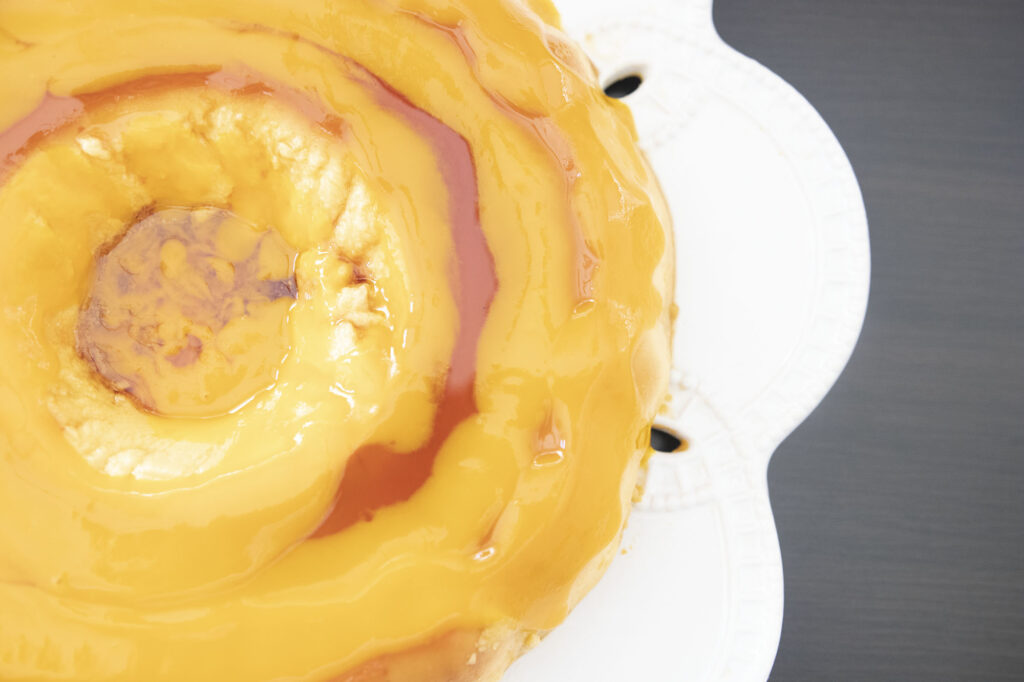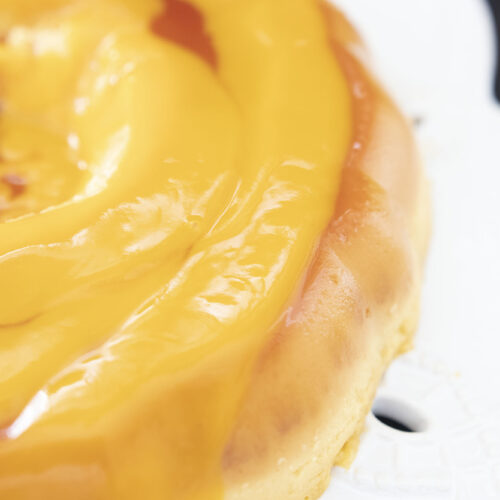 Mango Caramel Custard or Flan
Ingredients
Caramel

1

cup

Sugar

1/2

cup

Water

Custard

300

ml

evaporated Milk

400

ml

condensed Milk

150

ml

Mango puree

150

ml

Coconut Milk

5 – 6

extra large whole Eggs

Garnish

1/2

cup

Mango puree
Instructions
Heat the sugar in a sauce pan and add the water to make a dark sticky caramel

Pour the caramel into your pan or dish and swirl to coat

In a blender add the evaporated, coconut and condensed milk and the mango puree

Add the eggs and blend

Prepare a bain marie, this is a larger dish filled with boiling water and sit the caramel dish in it

Pour the on top of the caramel and move the dishes into the oven preheated at 350 degrees

Cook for 1 hr and an extra 15 mins if still a little jiggly

Cool down the caramel and then chill overnight in the fridge

To unfold, place the dish in hot water to loosen and run a knife over the sides of the custard to make sure they don't stick to the sides

Place a plate on top and flip