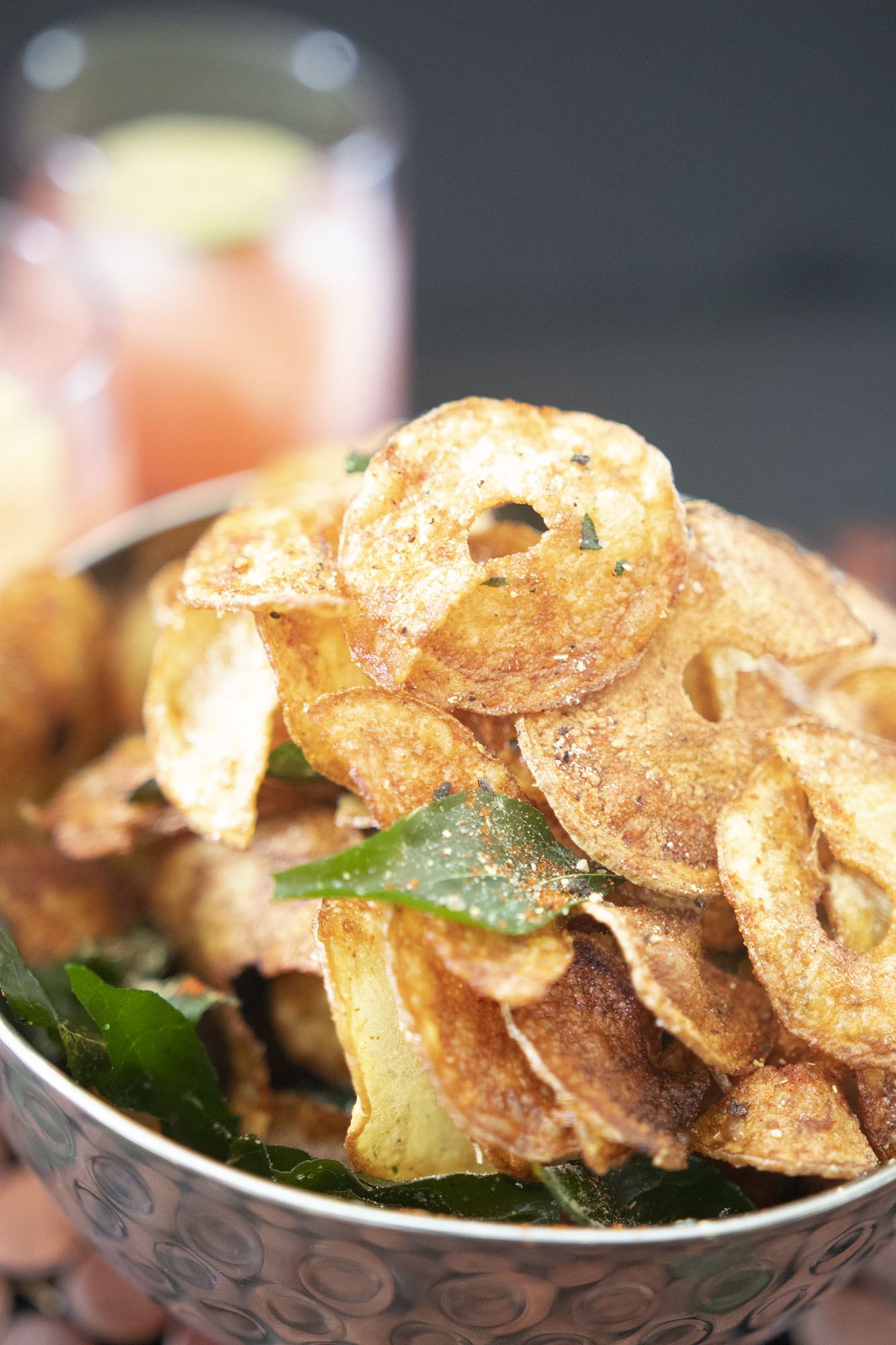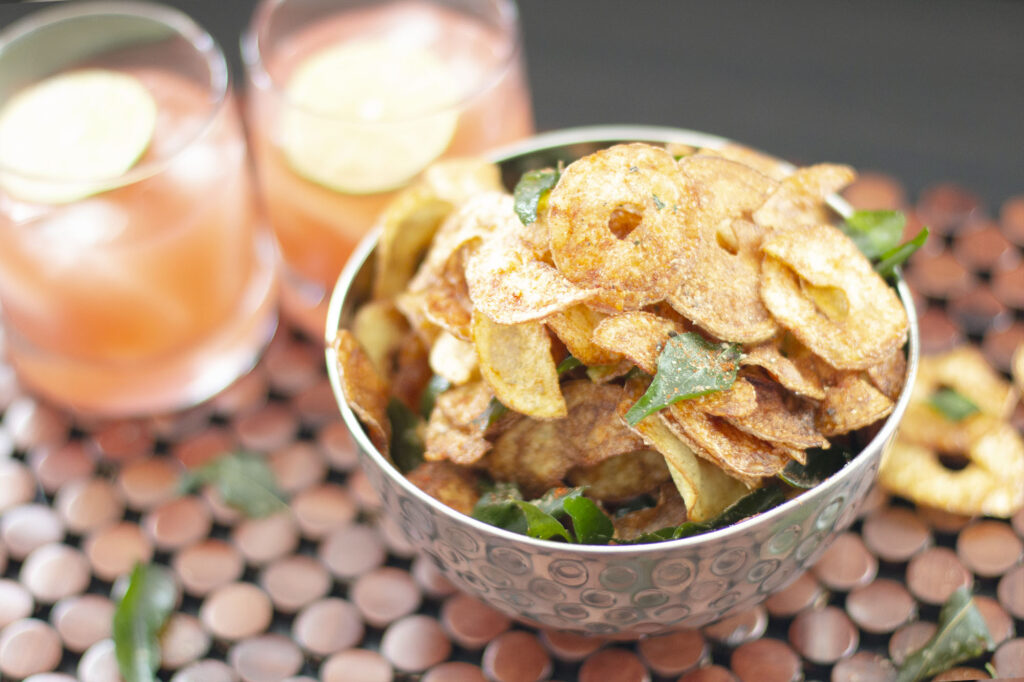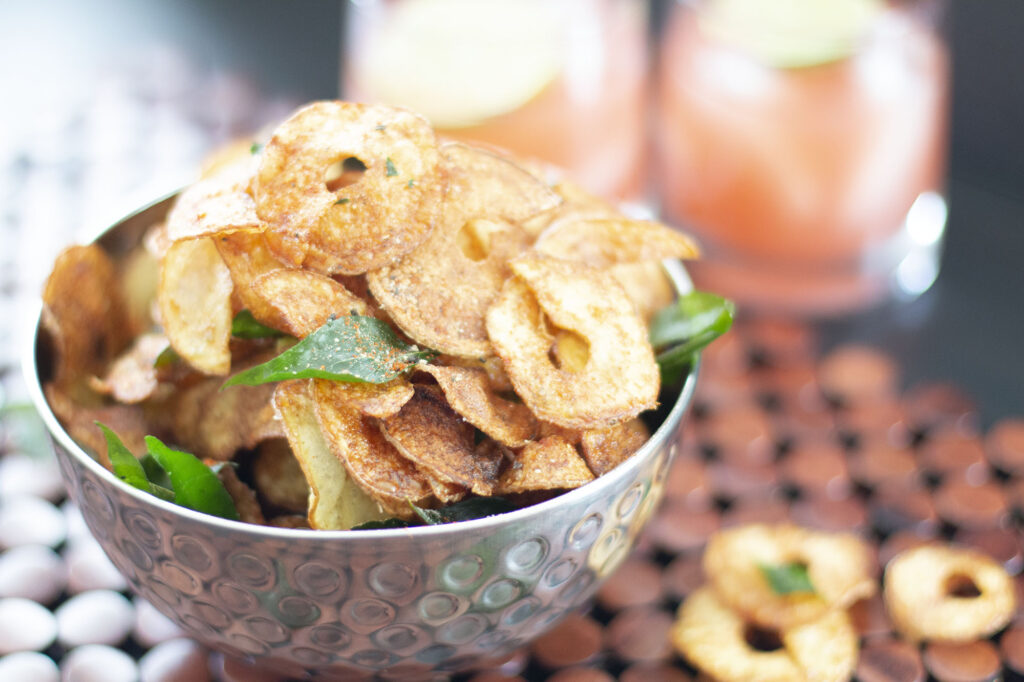 This recipe was born out of an accident. The intention was to make a potato tornado and I wanted to see if I could use my spiralizer to cut the potato. A tornado is a potato cut in a spiral shape and skewered, it's then dipped in a batter and deep fried. I had this at a fair in India and it was on my bucket list to recreate. When I tried to make it, I realized that my spiralizer blade was too thin for what I was trying to achieve and instead, I got a ribbon like spiral. While this was not the perfect thickness for what I was trying to achieve, it looked like the perfect and consistent texture of a potato chip so I thought why not customize the flavor to make something unique.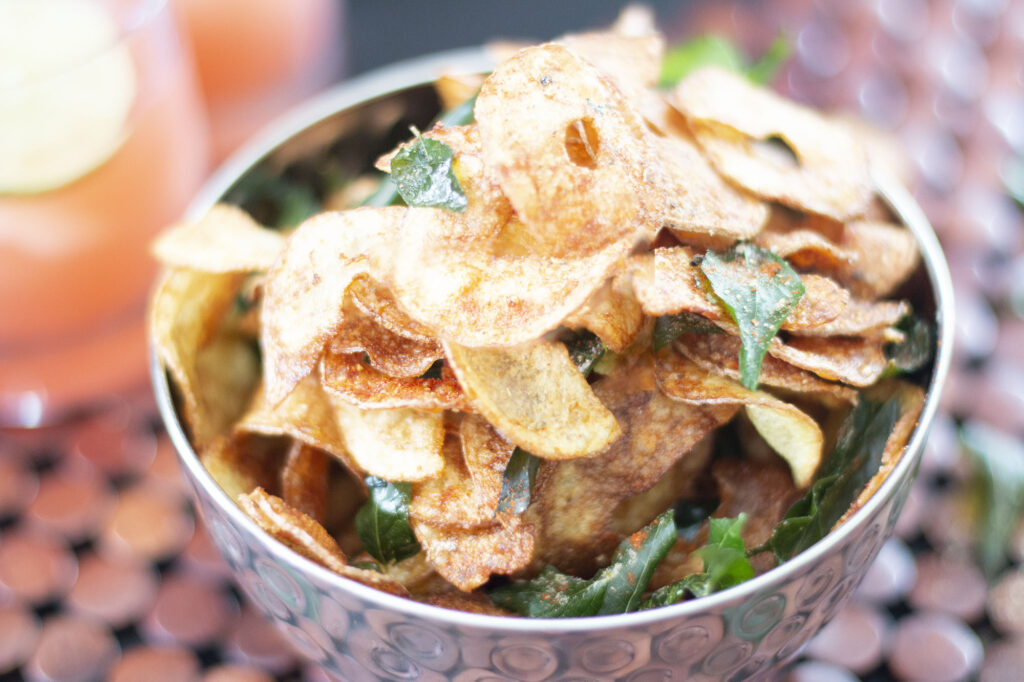 I flavored the chips with Chilli powder, Chaat and while they crisped up in the hot oil, I added Curry leaves for that unique flavor. This accident turned out to be such a hit at a party, that I was requested to make it over and over again.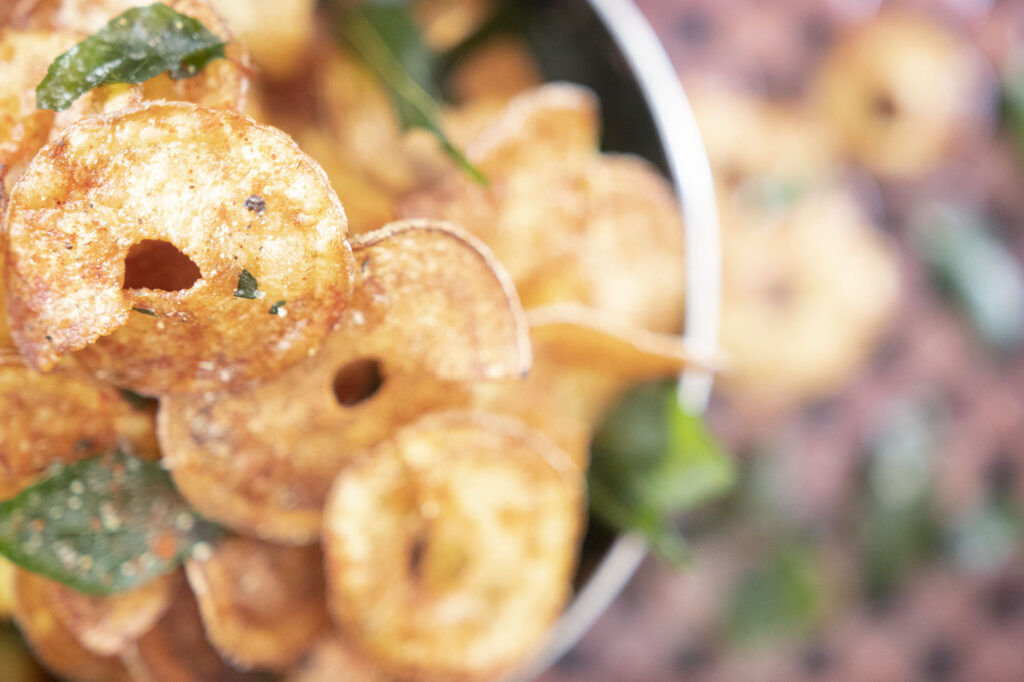 In this recipe I deep fry the chips in hot oil. This is the best way to do it as the chips cook the fastest, however, if you have the patience, you can cook these in a single layer in the oven. I also experimented cooking these in the air fryer and they can be done, you just have to play with the quantity and the amount and you must shake the basket often.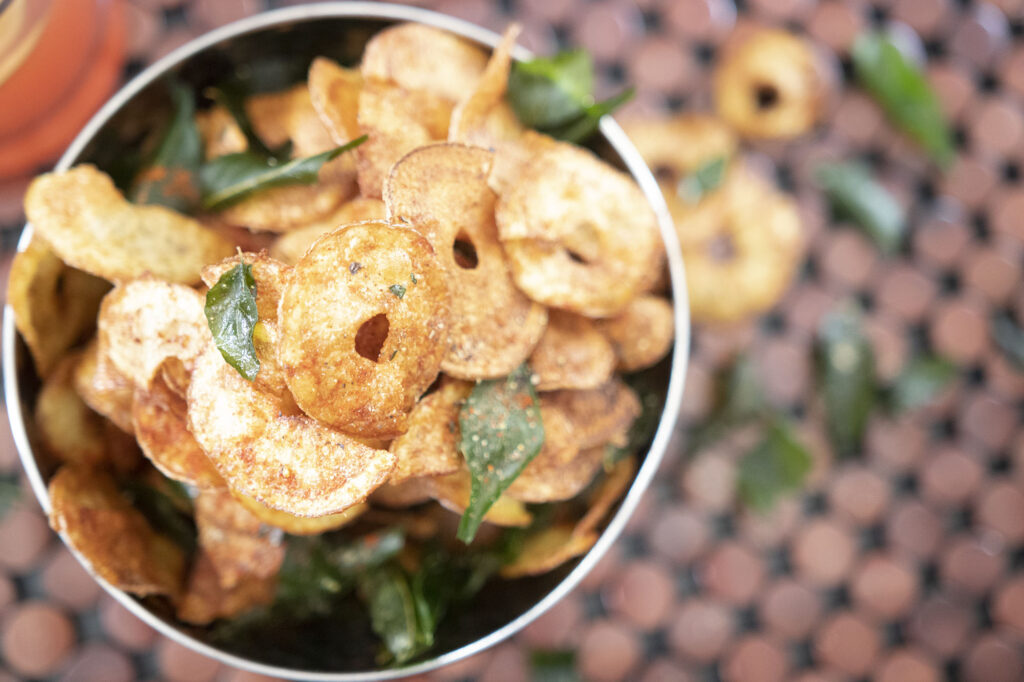 If you have a mandolin, this will work well too. I like using the spiralizer as it's much faster. To prevent the spirals, I cut halfway through the potato (see video) before slicing. This way I get single layer chips that fry up much faster and stay crisp.
Buy the spiralizer.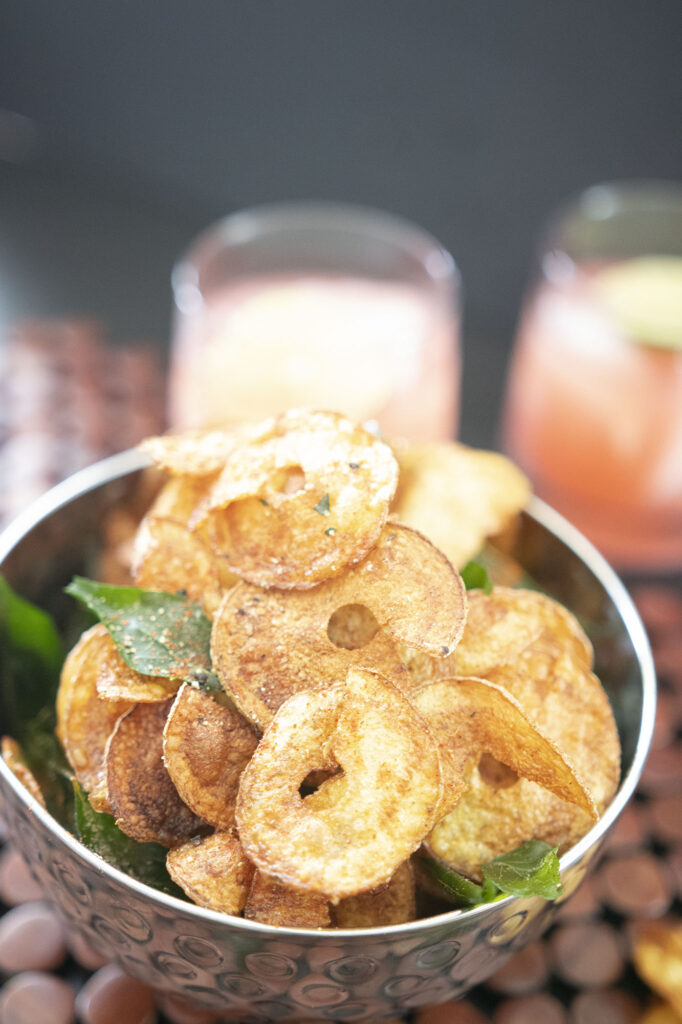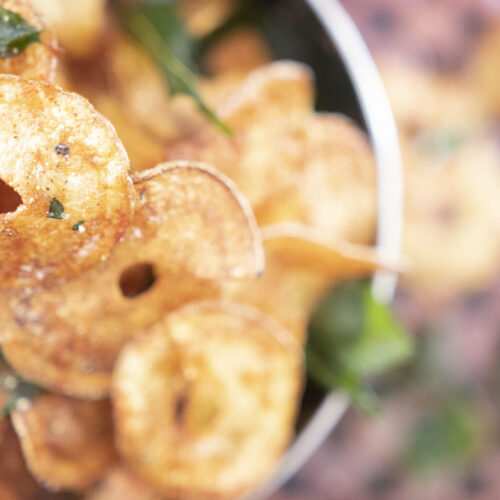 Chilli Chaat & Curry Leaf Chips
Ingredients
1

lb

approx 500 gms Potatoes

1

tsp

Chilli powder

1

tsp

Chaat masala

1

cup

Curry leaves

Salt to taste

Oil for frying
Instructions
Using a mandolin or spiralizer, cut the potatoes wafer thin

Remove any excess moisture with a kitchen towel

Add the chilli and chaat powder and rub well into the chips

Heat the oil and deep fry in batches, adding some curry leaves in between

When crisp, remove and drain on some kitchen towel

Inspect the chips when cool and if any are still soft, return to the hot oil

Once cool, store in an airtight tin to maintain freshness