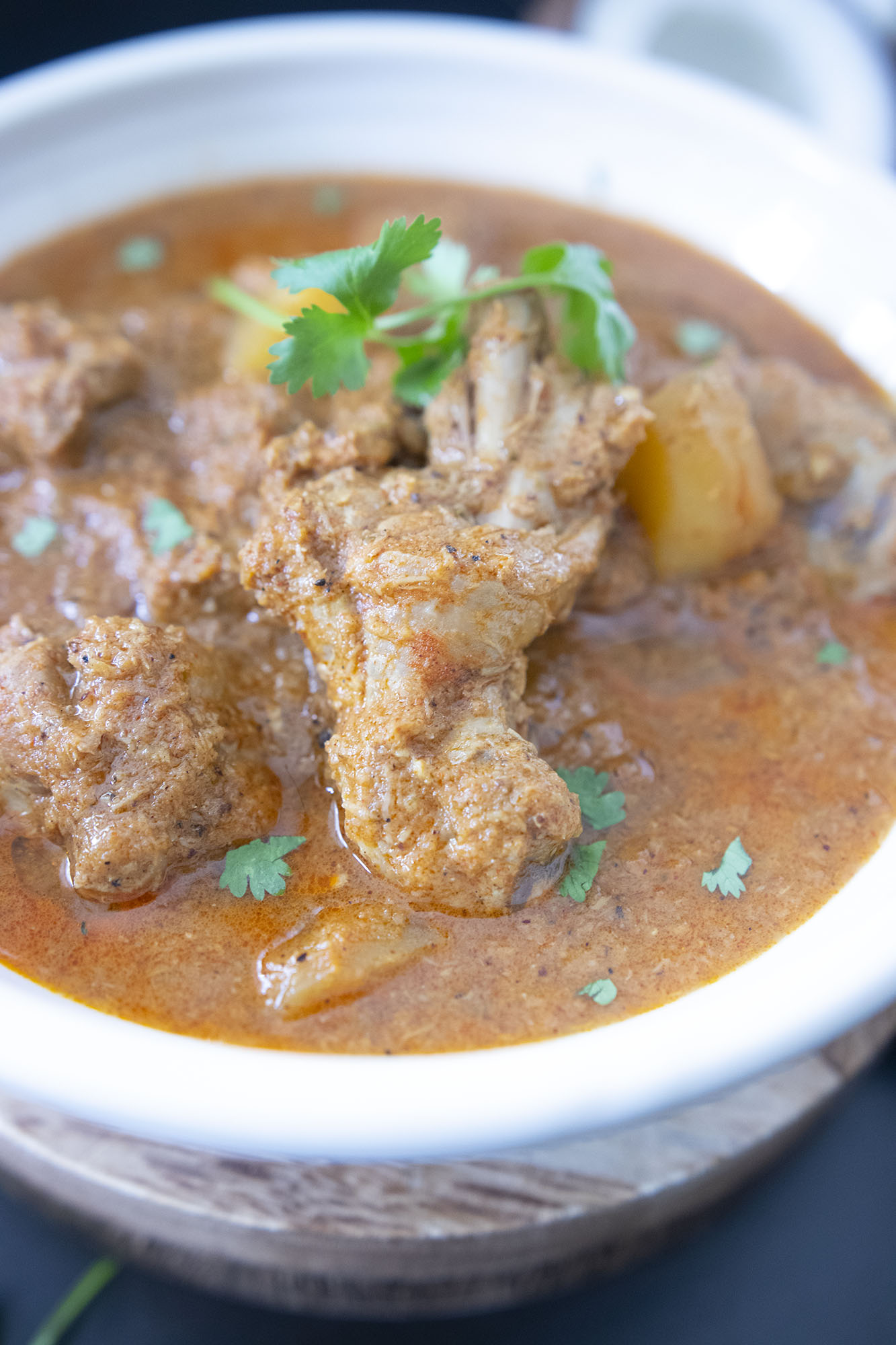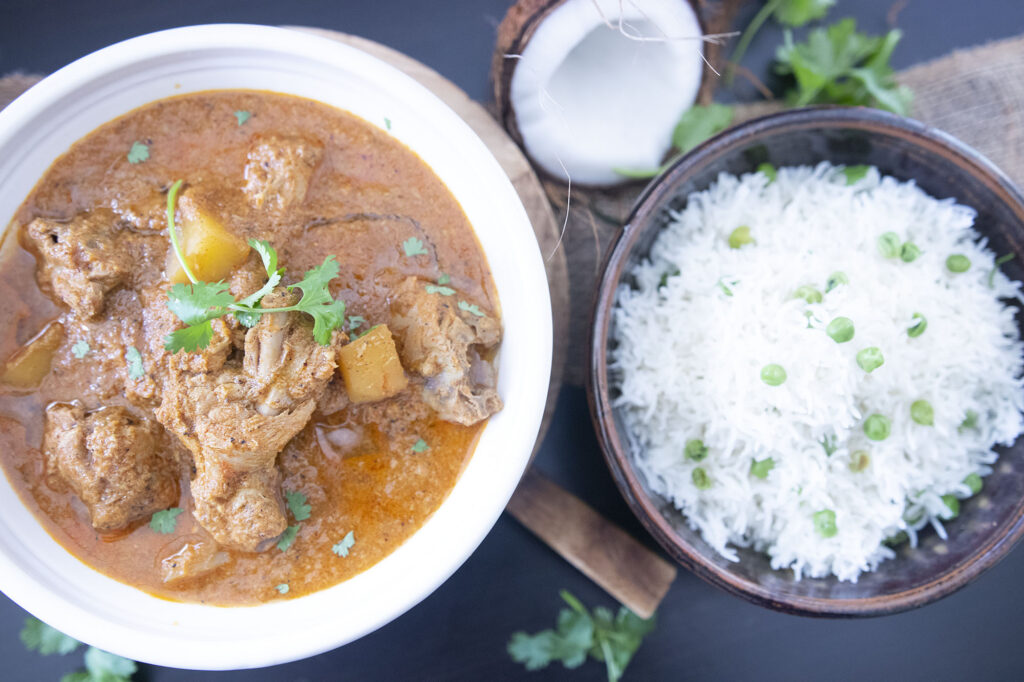 Chicken is sautéed with East Indian masala, and kept aside before returning to a perfect blend of onions, coconut and spices to make a flavorful curry.
Here's an ode to my East Indian roots! The East Indian community love their dance, and their food. There's an old saying that and East Indian never parts with their recipes, lucky for you my mom's side of the family are East Indians and all fabulous cooks and I am a blabber mouth who loves to relay those recipes to you. The East Indian community has roots that can be traced to the 16th century and were converts at the hands of St. Bartholomew. Originally Hindu, They embraced a new Catholic religion but held on tight to their culture and traditions and a new blend of culture was born.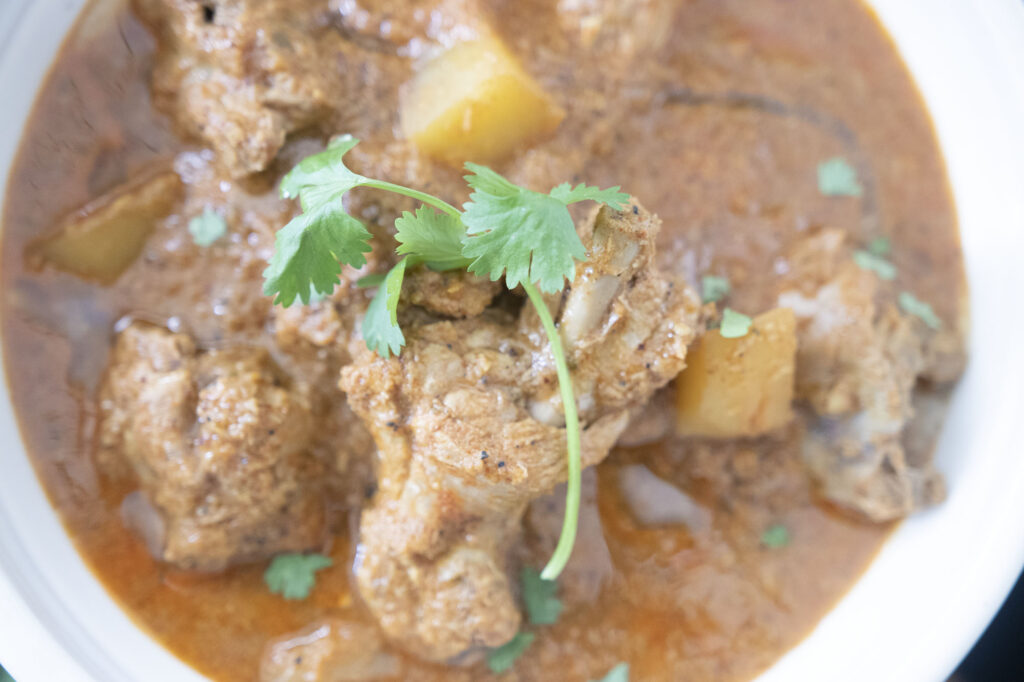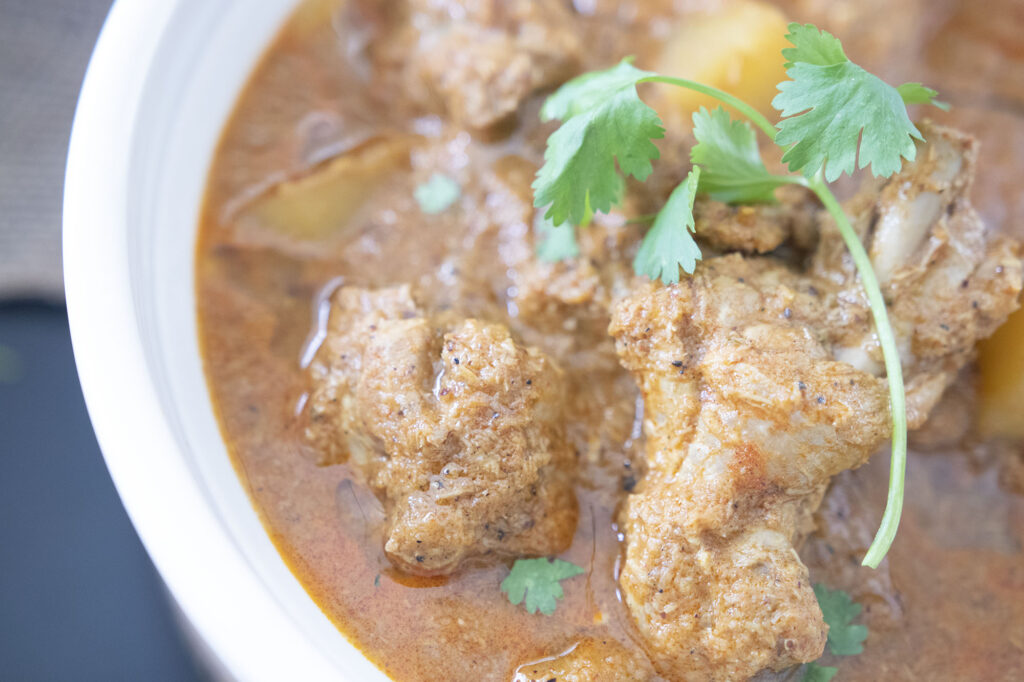 The East Indians live primarily in Bombay, now known as Mumbai and it's surrounding areas. Their dance, traditions and cuisine are very unique. Some of their cuisines are influenced by Goan & Mangalorean dishes and similarly, East Indian dishes have influenced these communities as well.
Chicken Khudi is a simple Chicken curry made with spices, coconut and tamarind. If you're familiar with a Goan Xacuti, it is similar. To make this recipe, I recipe tested this from the East Indian Cookery book and some recipes online and tweaked it till I was happy with it – Mom would have been proud.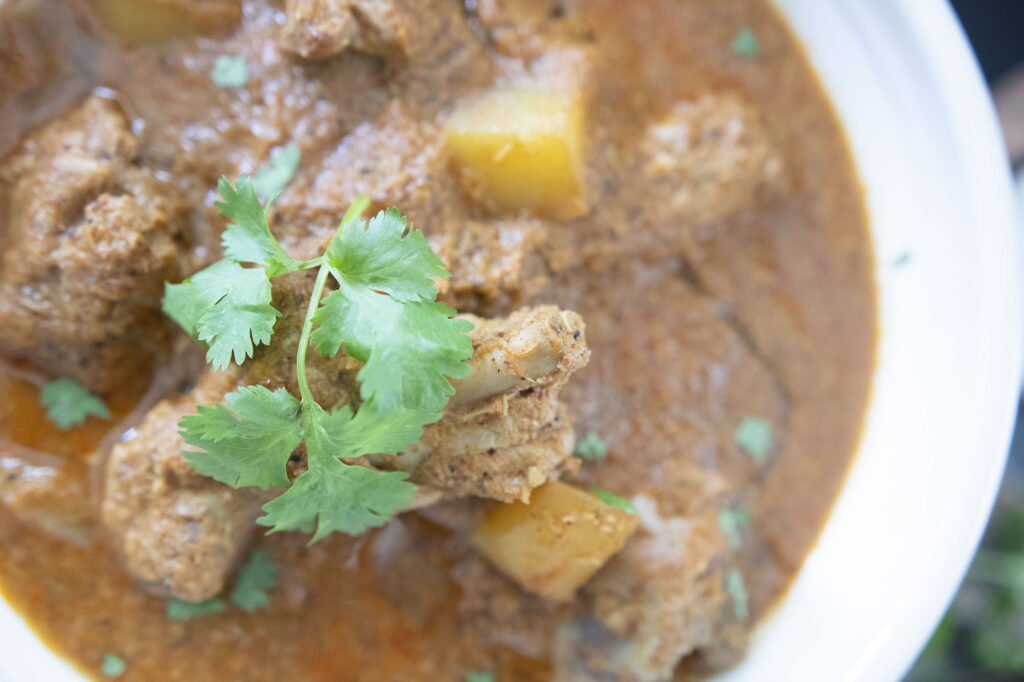 I've used bottle masala or East Indian masala in this recipe – I have been avoiding using recipes with this masala till date since I know that it is not easily available.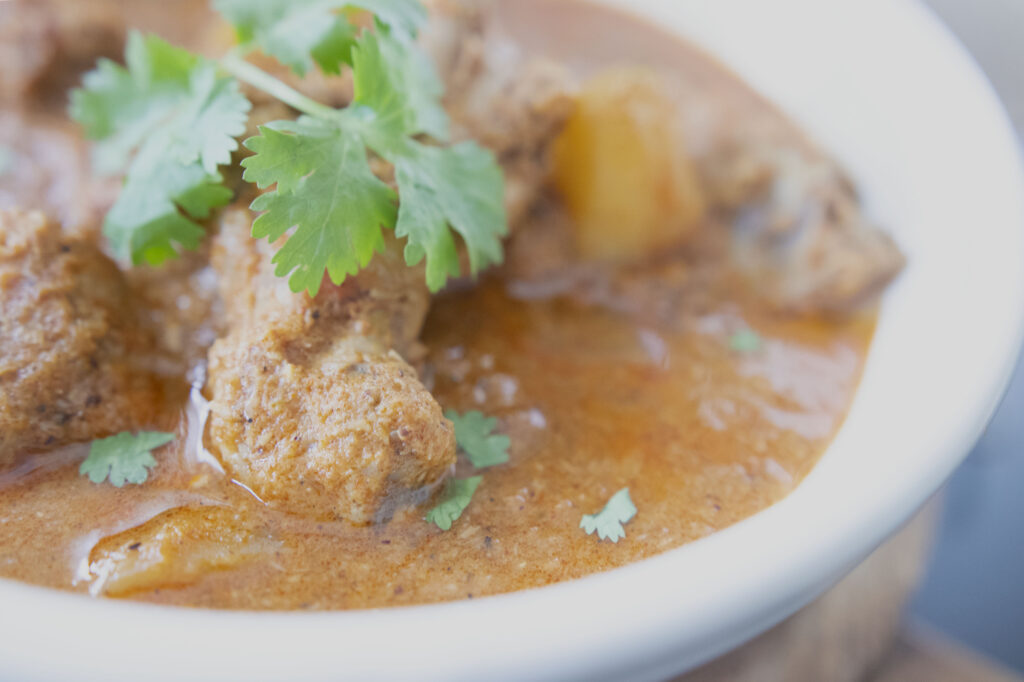 The blend is made with up to 30 spices, dried and then roasted in the mill. If you live in Mumbai, you should be able to source it, if not I have a hack for this in the video.
Some other Easy Indian recipes you can try are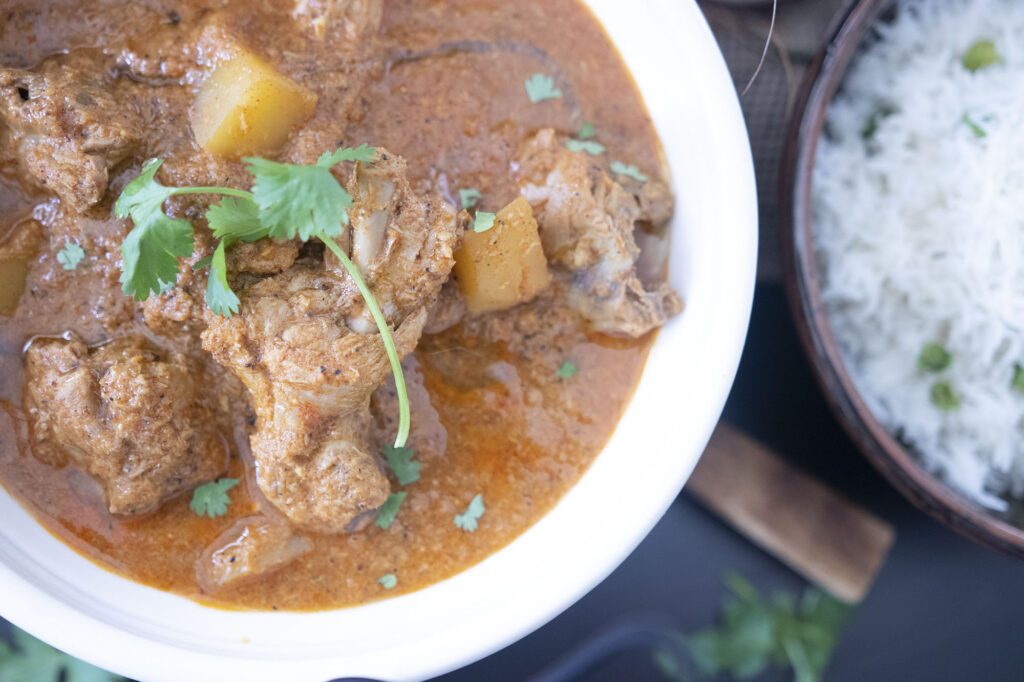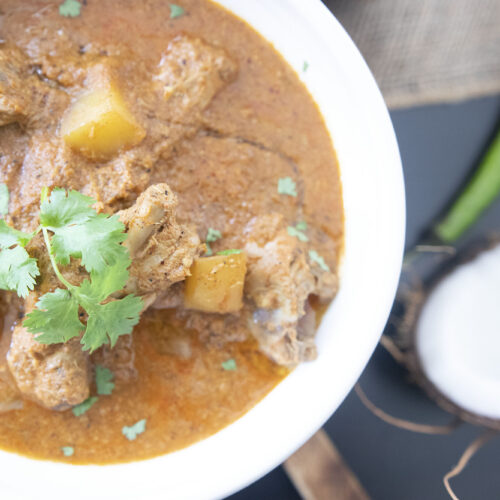 Chicken Khudi
Ingredients
Masala
4

cups

sliced Onions

1

cup

sliced or grated Coconut

2

tbsps

sliced green Chilli

1/4

cup

sliced Ginger

1/4

cup

Garlic

1

tsp

Peppercorns

1

inch

stick Cinnamon

1/2

cup

Water to get this started

2

cups

water for additional grinding
Chicken & Potatoes
1/2

cup

Oil

2.2

lbs

or 1 kg Chicken

3

tbsps

East Indian Masala

Hack 1 part chilli powder 1 part roasted Cumin and 1 part smoked hot Paprika

2

cups

Water

2

tbsps

Tamarind pulp

Salt to taste

1

cup

Potato cubes

Coriander for garnish
Instructions
Roast the onions till it has a bot of char and keep aside and repeat with the coconut and green chilli

In a food processor, add the onion and chilli, followed by the coconut, ginger and garlic, peppercorns and cinnamon

Add water and grind till smooth

Strain this through a sieve and use additional water to keep grinding and straining to reserve the smooth liquid

In a saute pot add the oil and allow it to heat

Add the chicken in a layer so it can get some color on both sides

Add 2 tbsps of the 3 tbsps of East Indian masala and cook for 10 mins

Remove and keep aside

In the same oil, saute the ground masala for 5 mins to cook off any raw taste

Add the chicken back in, add the tamarind paste and salt to taste

Add the water and cook covered for 10 – 15 mins

Add salt to taste, the last tbsp of East Indian masala, stir

Add the potatoes and cook for 5 – 7 mins

Garnish with coriander