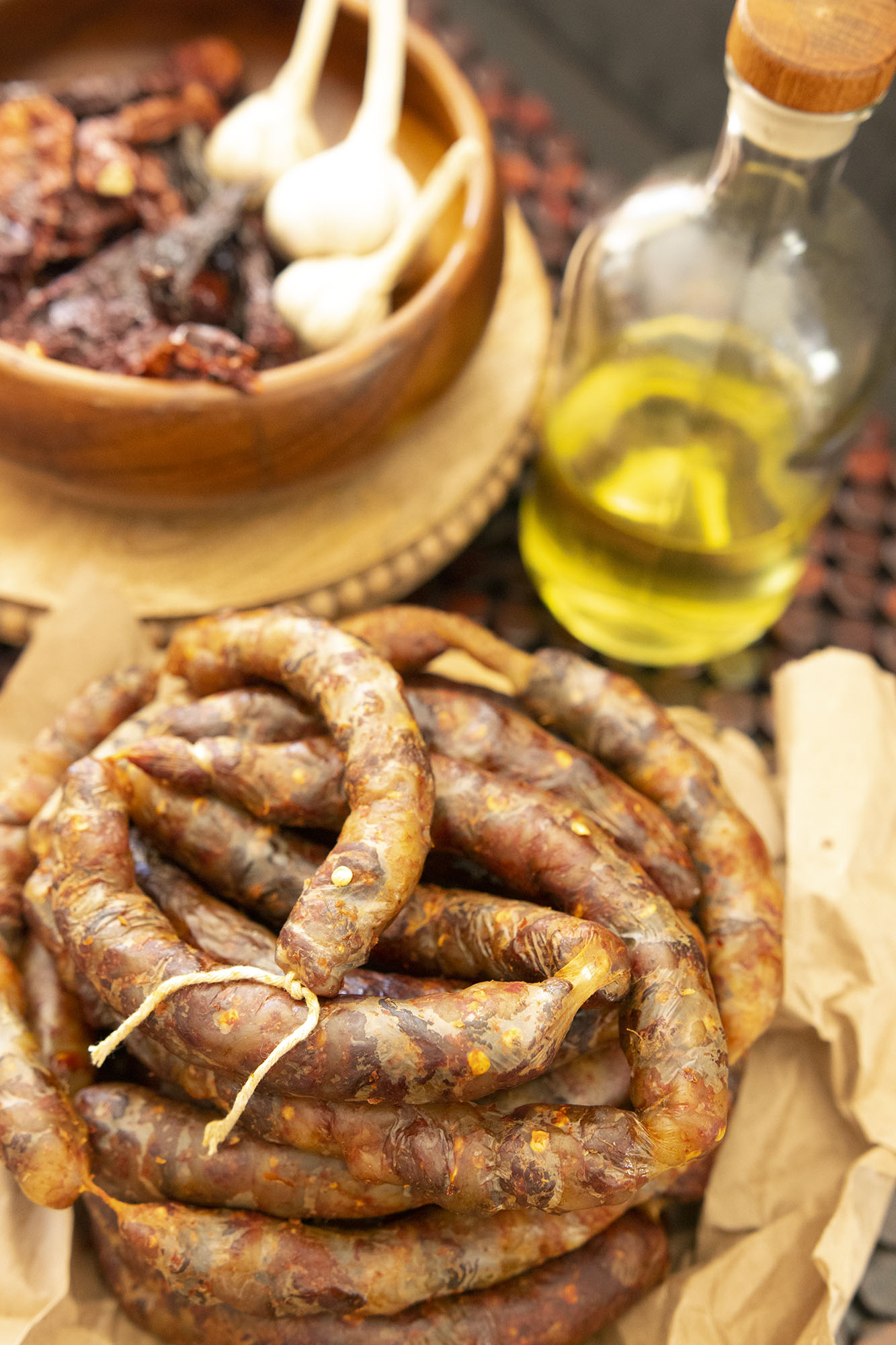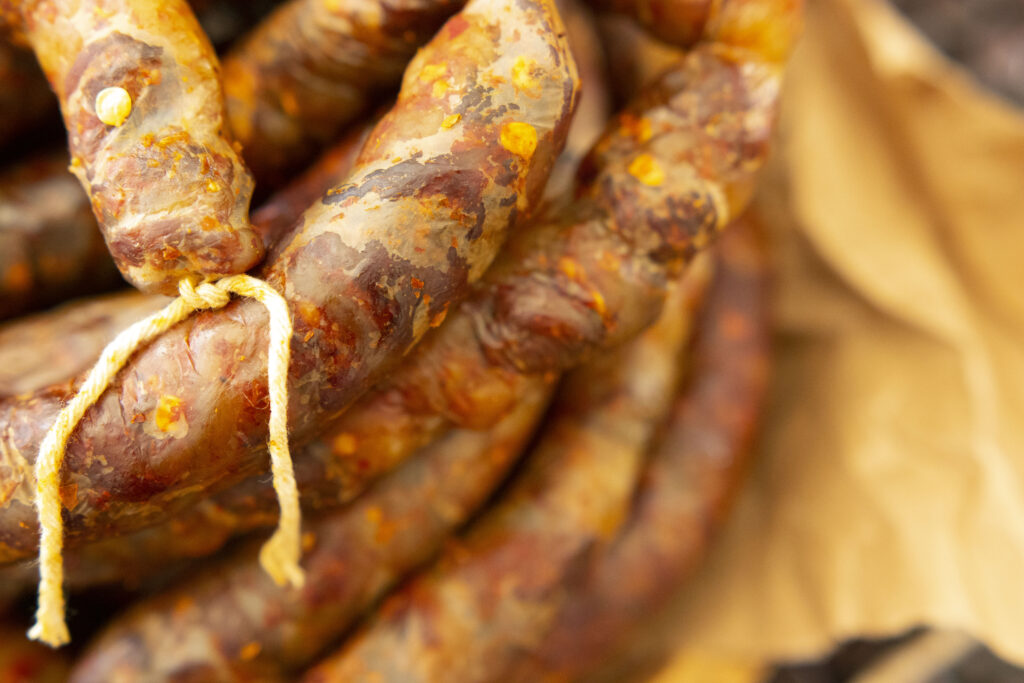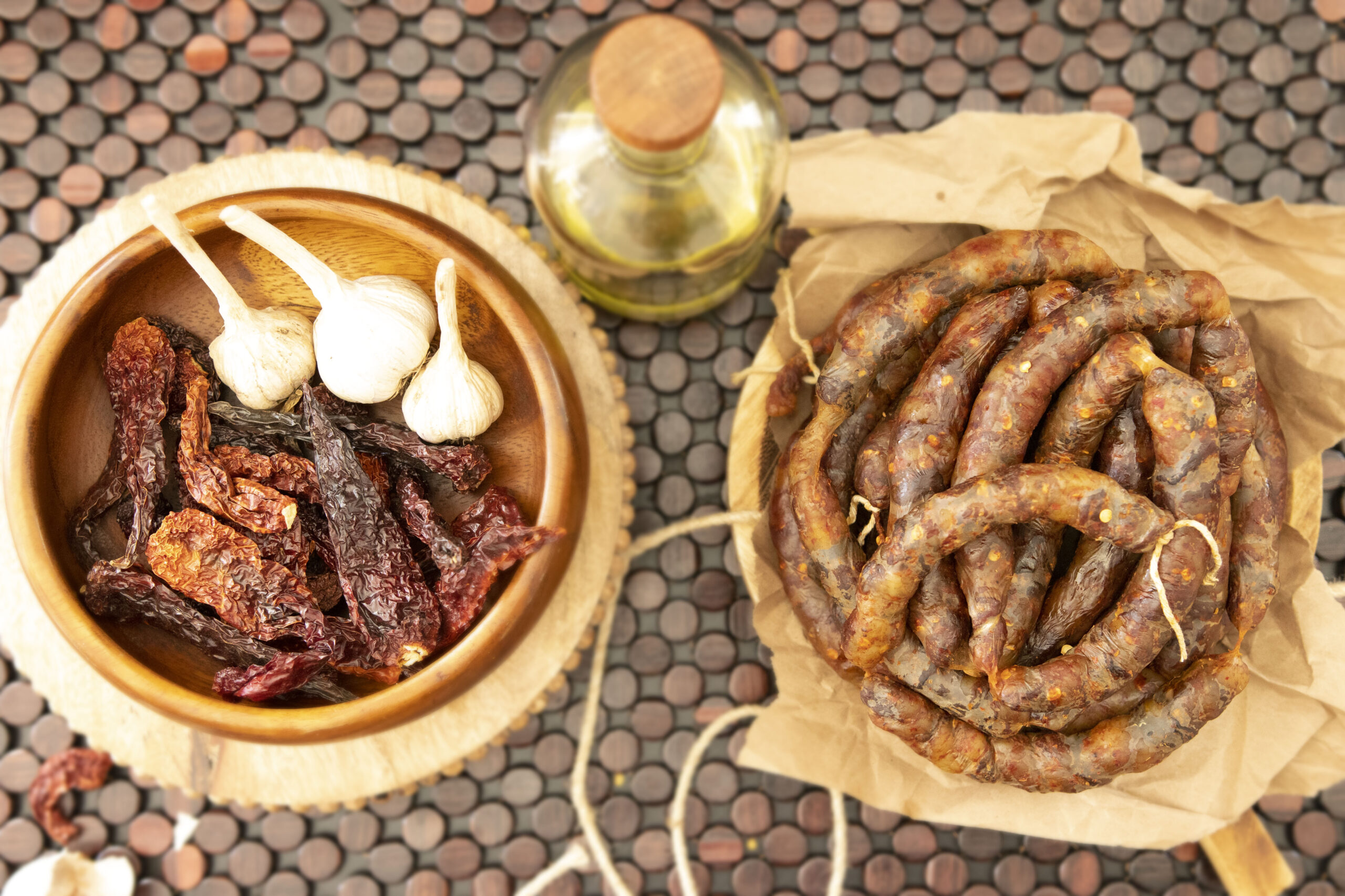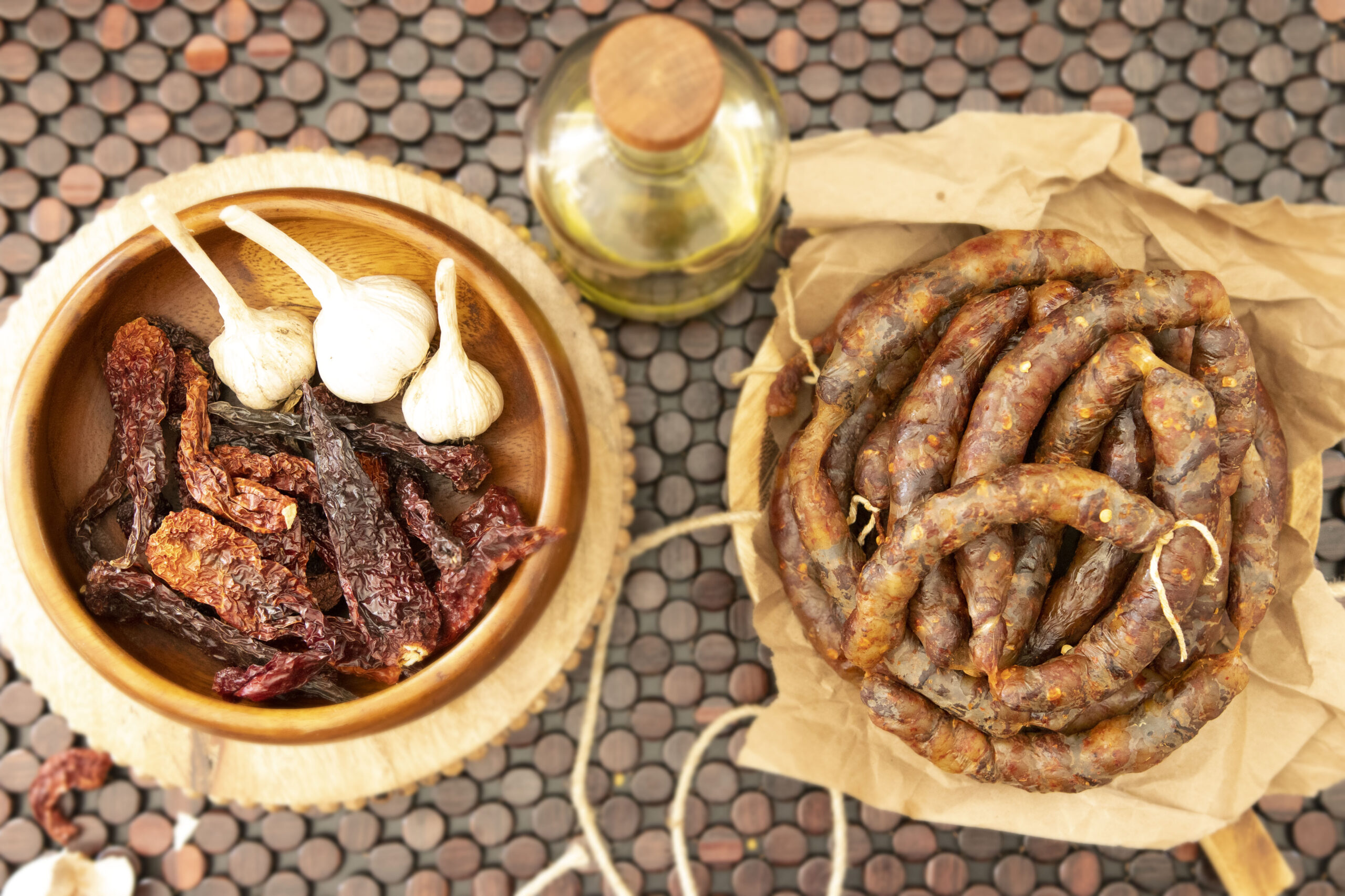 This is finally checked off my bucket list! I've been wanting to make my own beloved Goa sausages for a while, but the whole process felt intimidating. We also don't eat Pork which is the traditional protein, but I was determined to try it with Beef. When I made the Sorpotel, I substituted Pork for Chicken, but Chicken would not work in this recipe, so I used Beef to replicate. While the texture and color would never be exact, this recipe comes pretty damn close.
Goa sausage is made by cutting the meat into very small pieces and then dehydrating it and then applying a special spice paste to the meat. It's then stuffed into casings and smoked.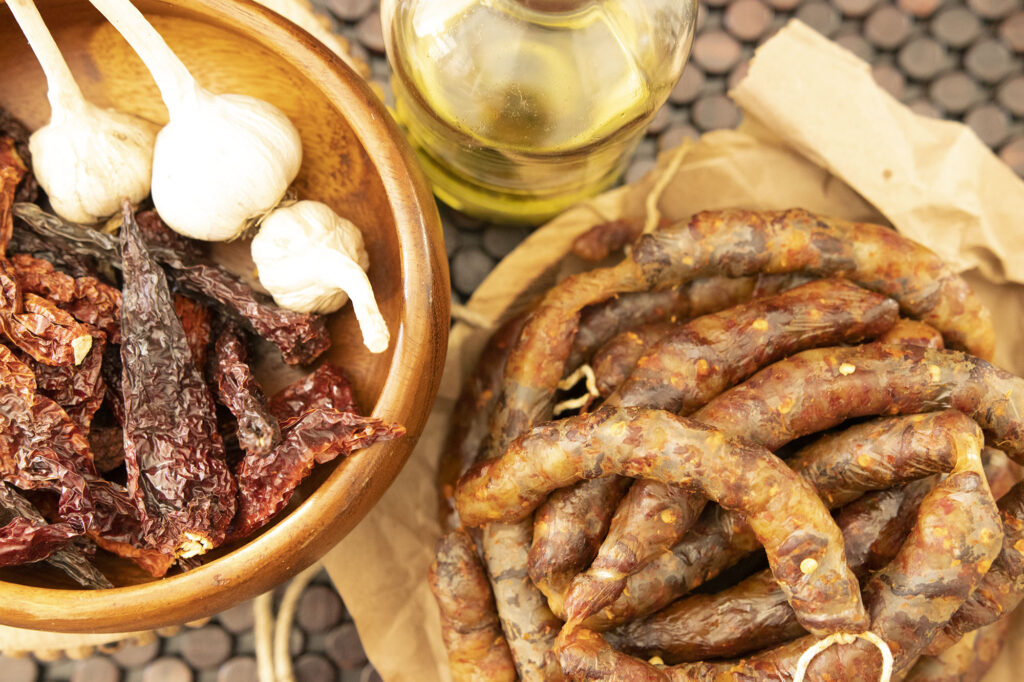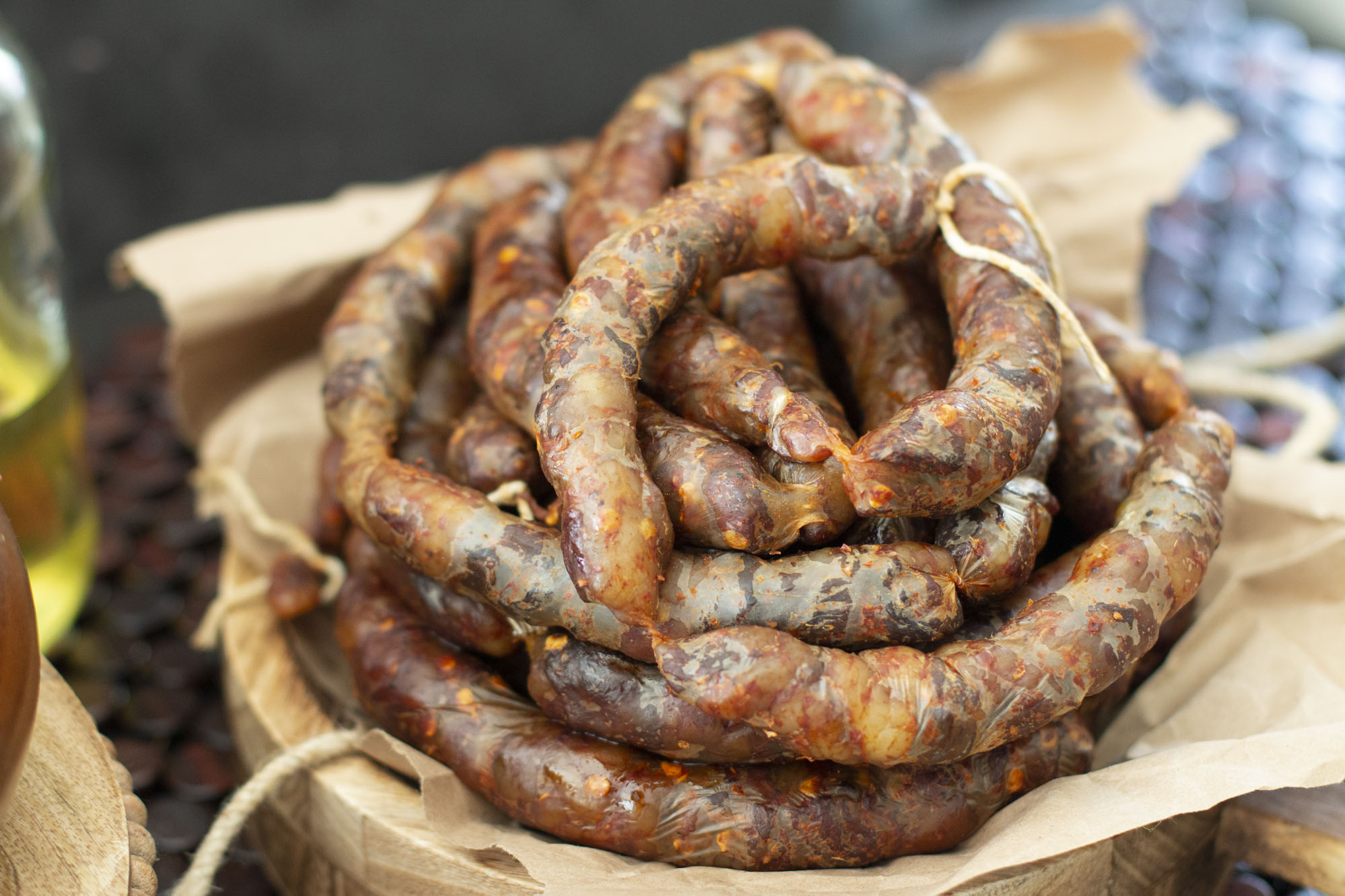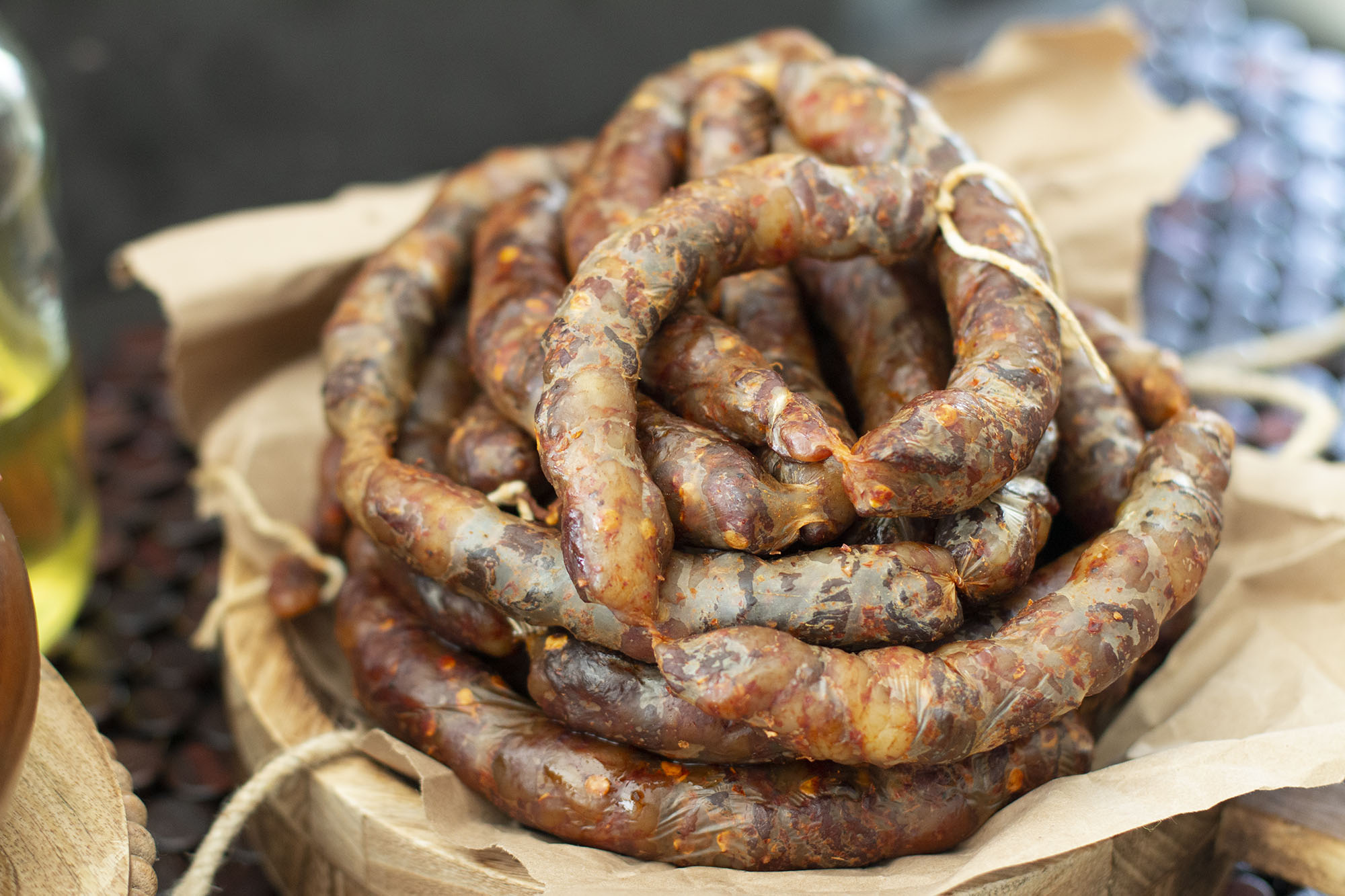 In Goa, strings of these sausages are sold everywhere, some are tied in small bundles and are called Rosary beads as they look like a rosary. They are almost a fiery red color and this color comes from the bright red paste that it is marinated in. Unfortunately Beef won't allow for the color to shine thorough like Pork will, but don't let that stop you. The final product is smoked to get that amazing aroma and flavour. In Goa, households will smoke this over an open flame, or there are even chambers set up just to smoke the sausages. I smoked mine in my Vision Grill and 40 mins was enough, but some allow the smoke process to go much longer.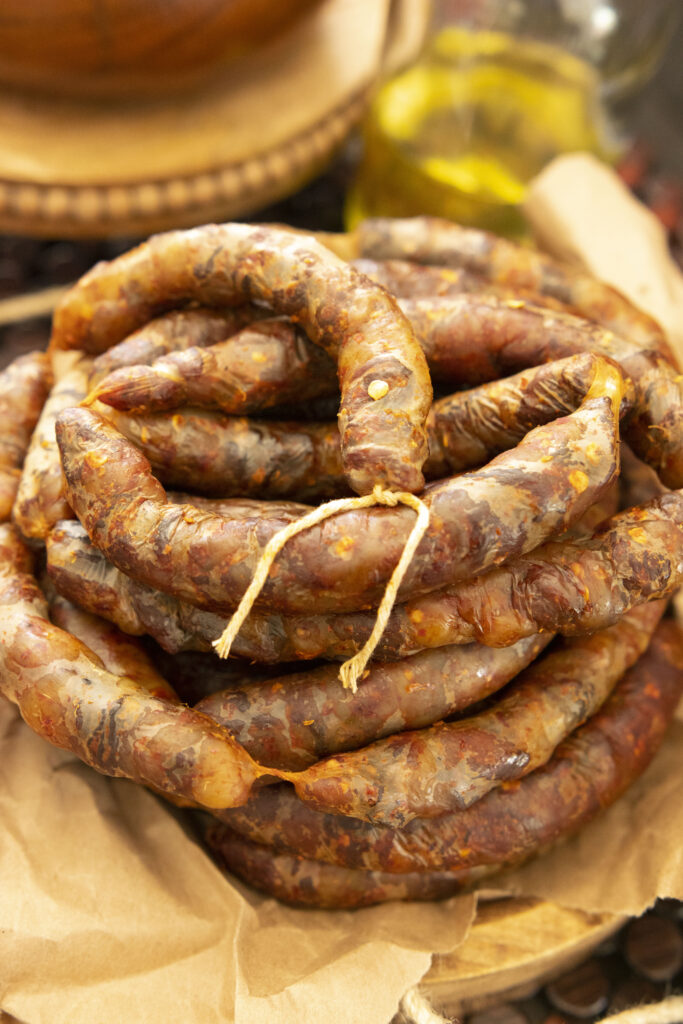 In this recipe video, I have called out the differences if you wanted to make this with Pork so it's easily adaptable. You can also skip the casing process and just smoke the chunks of meat and then bottle it.
Because the meat in this sausage is never ground, it's typically hand stuffed, unless of course you are using commercial equipment.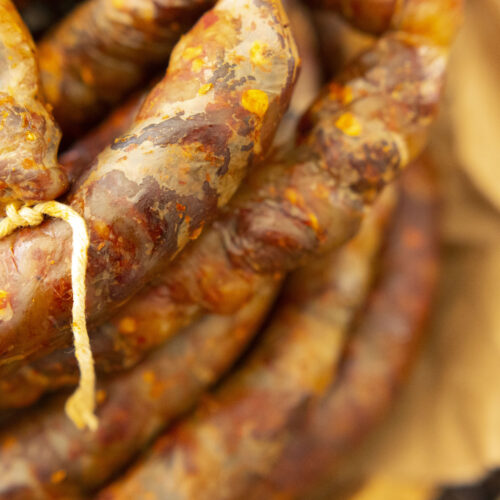 Goan Sausage – Choriz
Ingredients
Meat & Marinade
6

kgs

13.22 lbs Beef Brisket

1.5

tsps

Turmeric

1/2

cup

Vinegar

Salt to taste

12

tbsps

Marinade

see below

1

tbsp

reserved Chilli seeds
Marinade (Vindaloo masala)
40

Kashmiri Chillies

2

inches

stick Cinnamon

12

Cloves

2

tsps

Cumin seeds

1/2

tsp

black Mustard seeds

20

Peppercorns

1/2

cup

Garlic

1/2

cup

Vinegar

Turmeric optional
Instructions
Cut the meat and fat into small pieces but discard the silver skin

Add the Turmeric, Vinegar and Salt

Place the meat under a weight for 8-10 hours in the fridge (longer for Pork)

Remove and place on a tray lined with a kitchen towel and dry using a fan or the sun for 20 – 24 hrs, changing the kitchen towel as required

Make the marinade by soaking the chillies overnight in water reserving the seeds

Grind the marinade ingredients together using some of the chilli soaking liquid as required

After the meat has air dried, add 6 tbsps of the marinade and coat the meat

Let it dry for an hour and then add 4 more tbsps of the marinade

Let it dry again for an hour and then add to a bowl and add 2 more tbsps of the marinade, the chilli seeds and cover

Prepare the casings by soaking in water and then flush the insides with water as well

Oil the horn and put the casings through

Tie a knot at one end and push the meat through – when you have a link the size you want, twist the casing. You can also use kitchen thread or twine to secure this.

Place on a perforated tray and smoke on an elevated surface for 40 mins

Remove cool and bag or vacuum seal