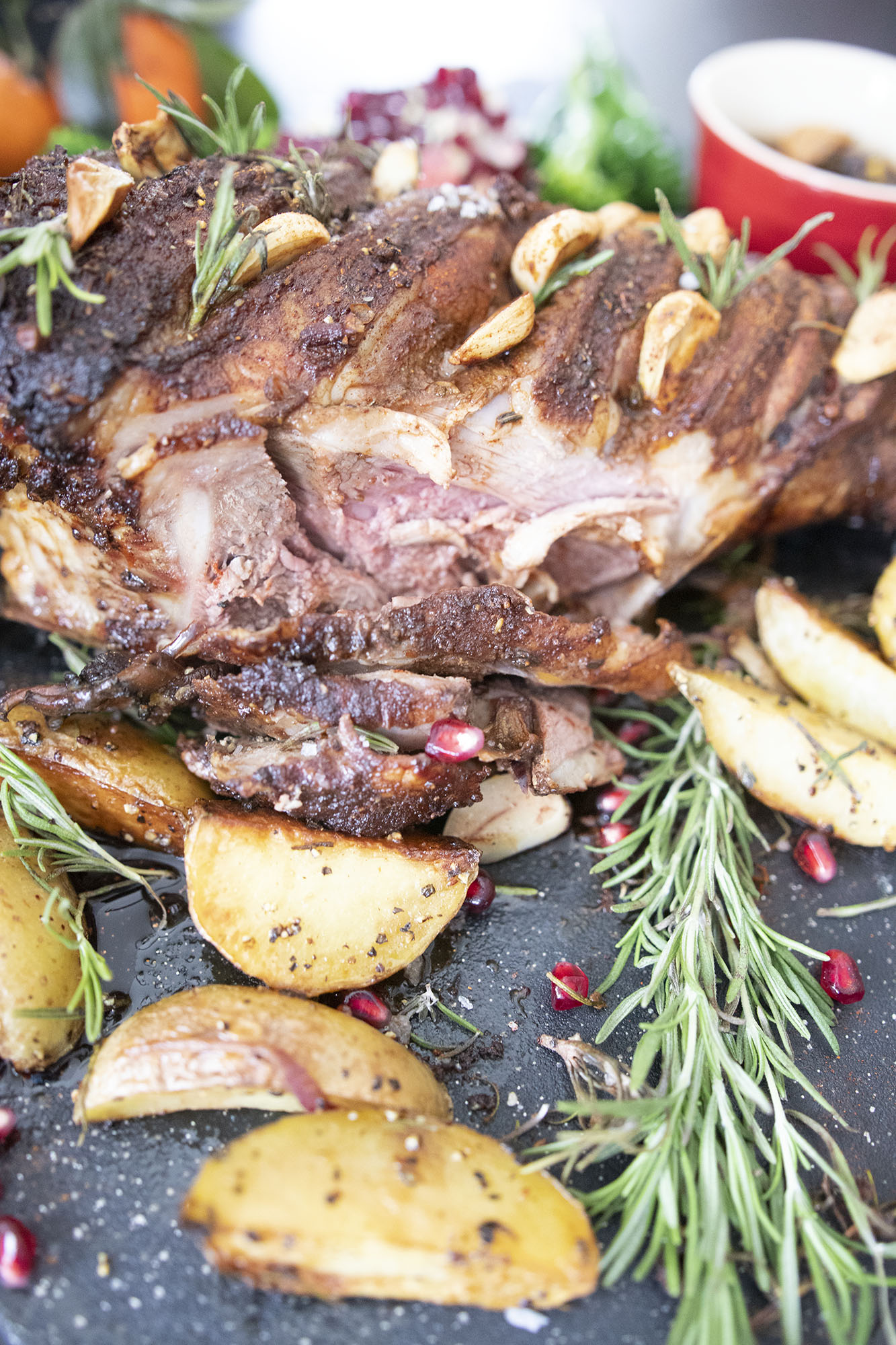 Christmas comes but once a year, but when it comes it brings great cheer!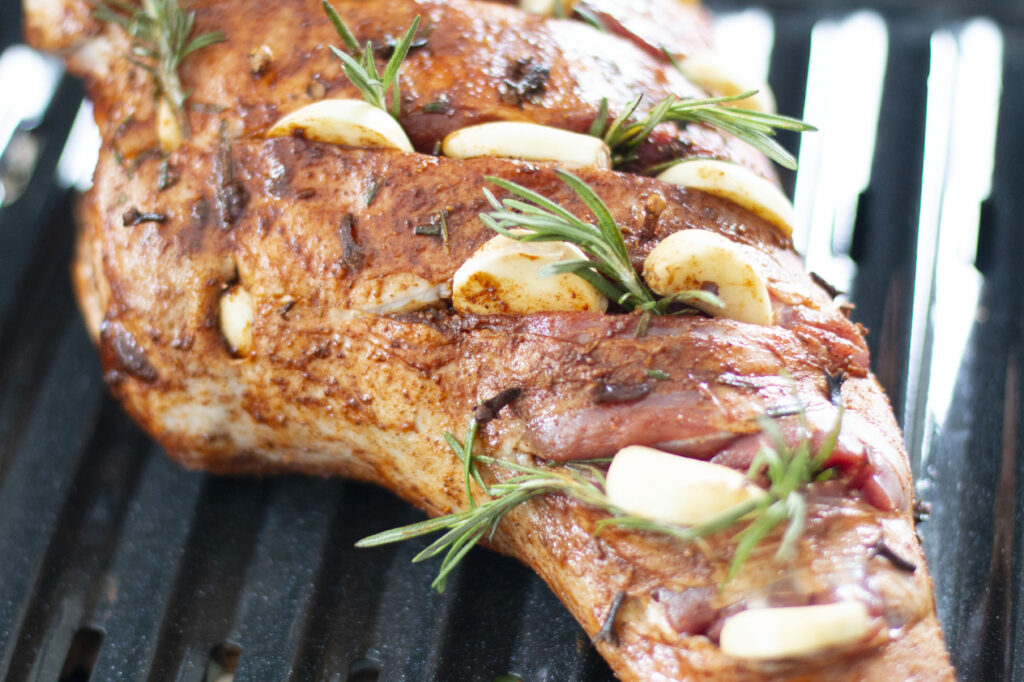 A gorgeous leg of Lamb is painted with holiday spices, stuffed with Garlic and Rosemary, studded with cloves, and roasted on top of veg for a fabulous holiday feast.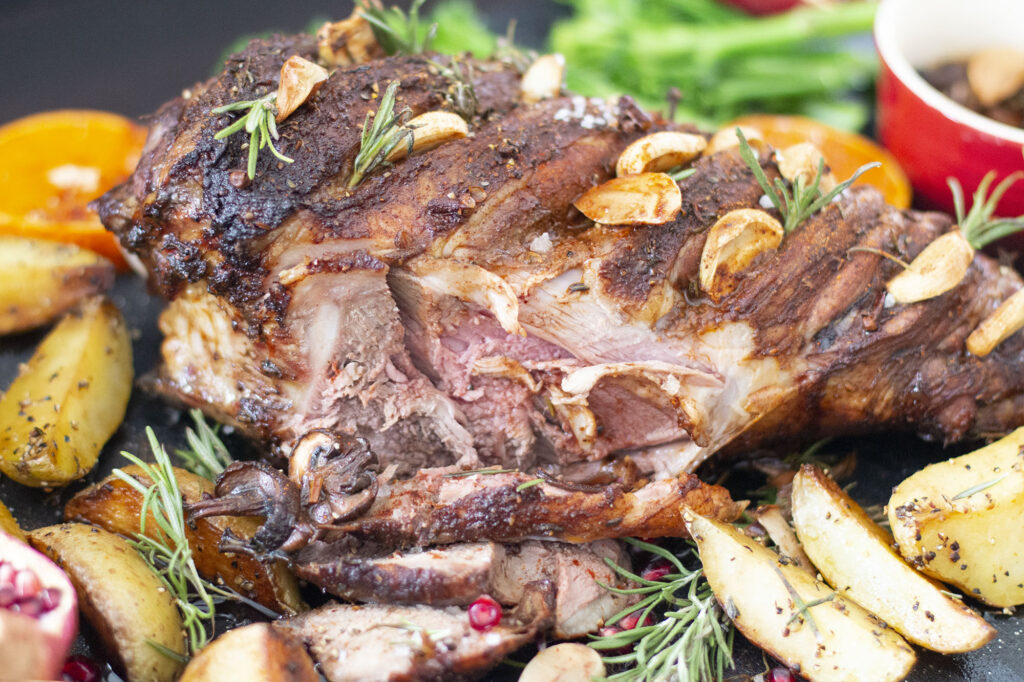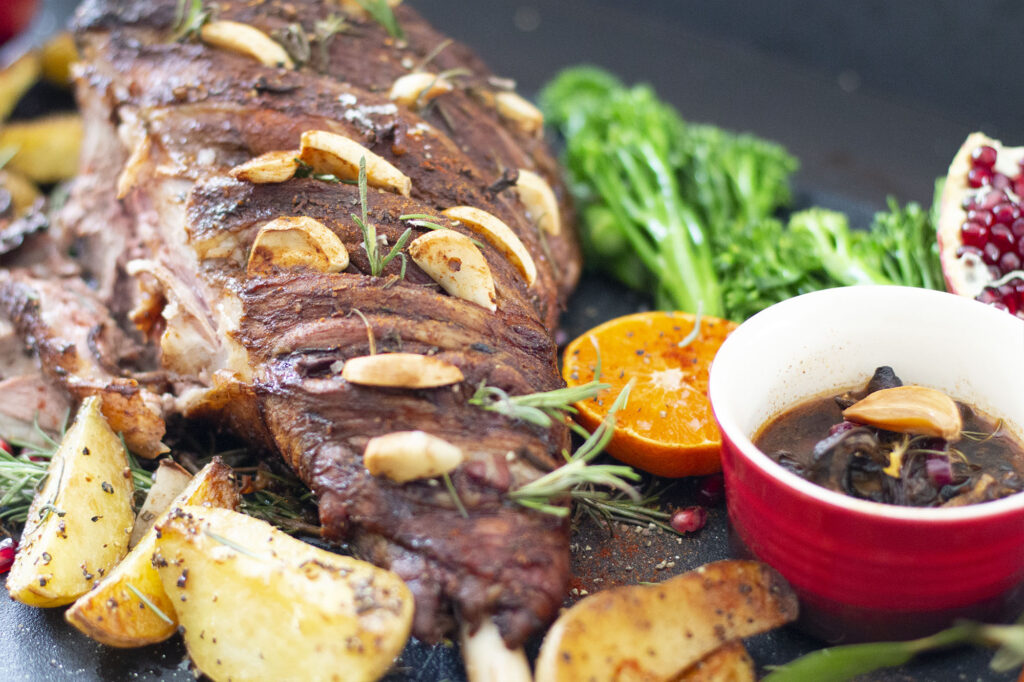 Over the holidays we love to savor the special flavours we associate with Christmas. This Lamb leg is bursting with all those flavors and served with a chunky jus and roasted potatoes.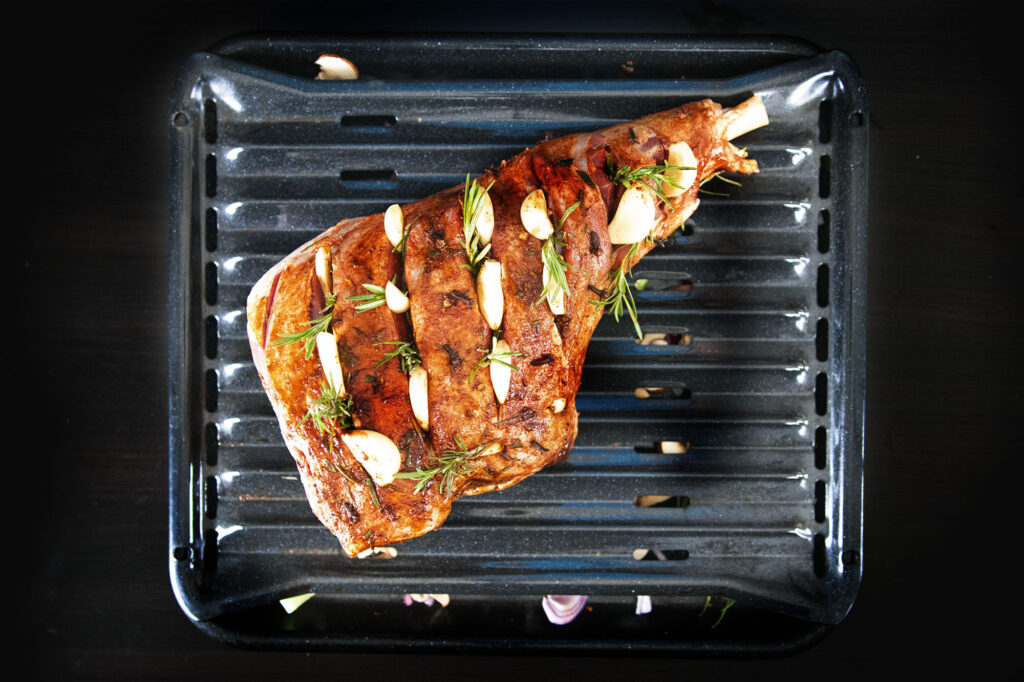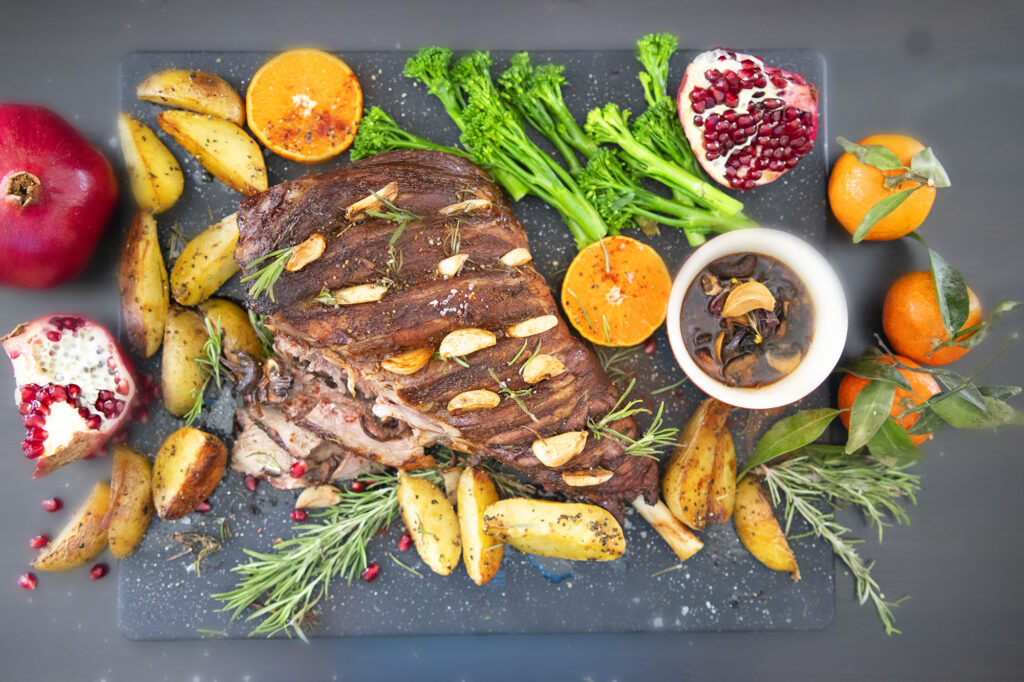 Find the perfect time and temperature to cook your Lamb –
Lamb meat is a good source of iron and vitamins and has protein that is rich and balance in essential amino acids. It is particularly rich in vitamin B-12 and in niacin, zinc and iron.
Just 3 oz of cooked lamb, with any excess fat removed, provides the average person with 48% of their daily protein requirements, 30% for zinc, 10% for iron, 37% for vitamin B-12 and 27% for niacin.
Compared to other meats, lamb contains very little marbling (fat in the meat). Only one third of fat in lamb is saturated, so the majority of the fat is on the edges of the meat. This means that the excess fat is easily trimmed off, which means fewer calories
For more info click here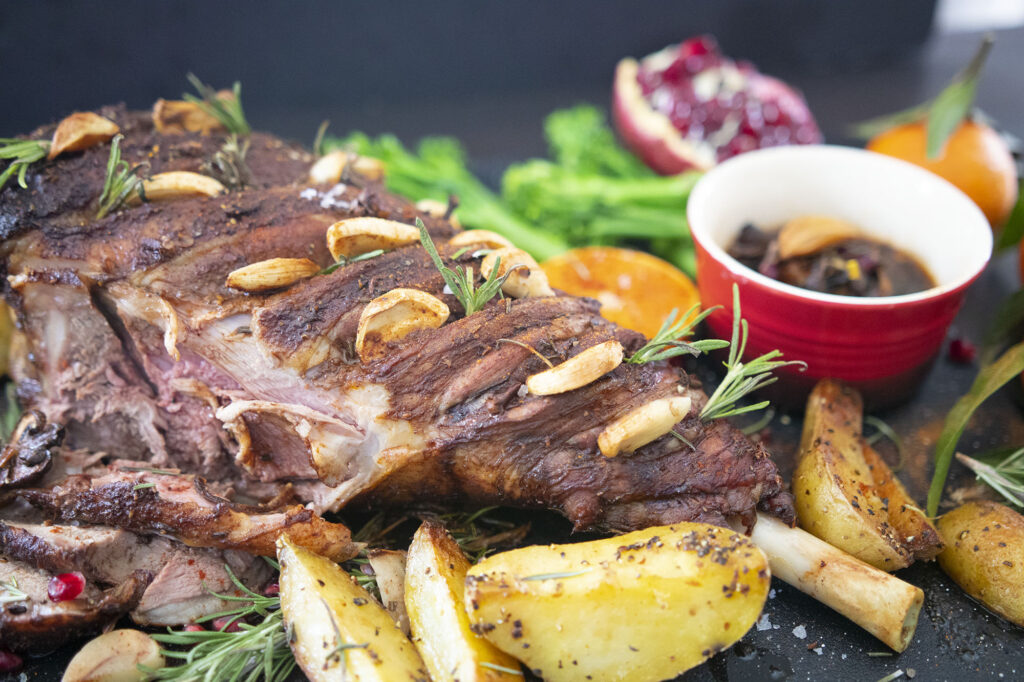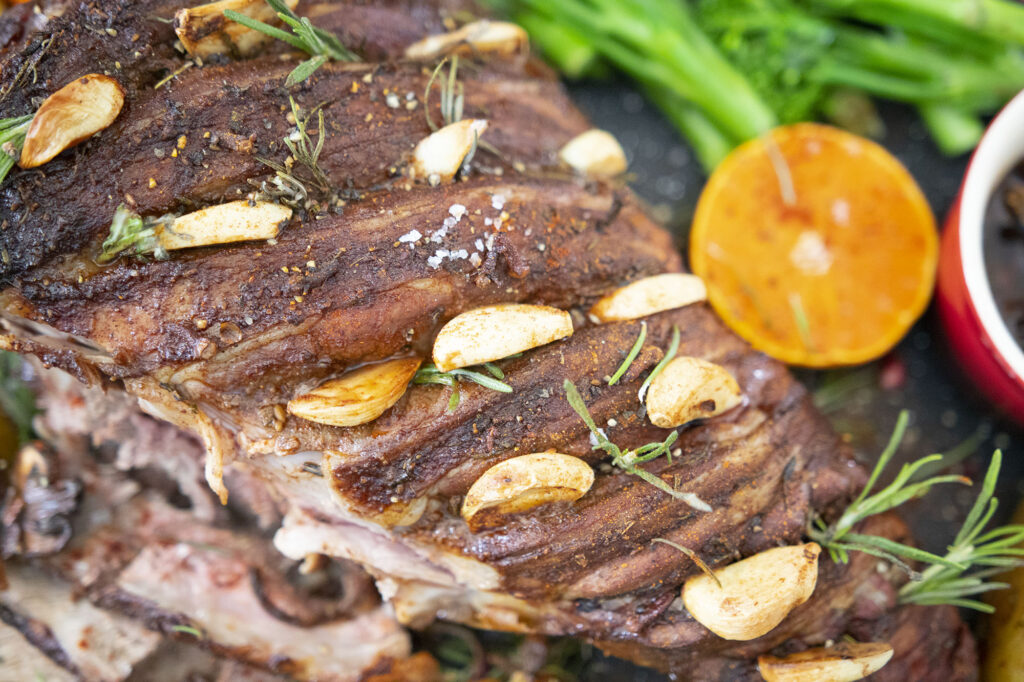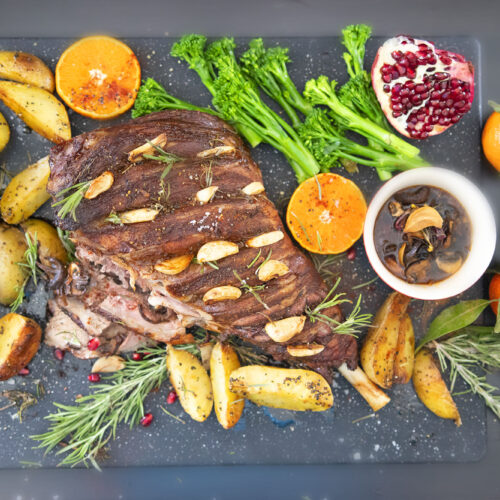 Holiday Leg of Lamb
Ingredients
1

tsp

Rosemary leaves

chopped

1

tsp

Cumin powder

1

tsp

Paprika

1/2

tsp

Cinnamon powder

1/2

tsp

Clove powder

1

tsp

Salt

2

tbsps

Olive Oil

1

tbsp

Pomegranate Molasses

Juice of 1/2 Clementine

2

kgs – 4.4 lbs Lamb leg

1/2

cup

Garlic

1/4

cup

springs of Rosemary

20

Cloves

1

cup

sliced Onion

1/2

cup

or 1 stick of Celery

1/2

cup

Mushrooms

1

cup

stock

2 – 3

tbsps

Cornstarch slurry
Instructions
Prepare a paste by mixing together the chopped rosemary leaves, cumin powder, paprika, cinnamon and clove powders, salt, olive oil, pomegranate molasses and clementine juice

Leave your lamb leg out of the fridge for an hour and then make slits in the flesh horizontally

Brush the marinade on both sides of the lamb

Slit each garlic clove in half and insert into the slits

Alternate with small sprigs of rosemary

Pierce the flesh with cloves

Place this on the roasting tray

At the bottom of the pan add the onion, whatever garlic and rosemary is left over, celery and mushrooms

Roast in a 350 degree oven for 30 – 45 mins or to your preferred time for doneness

Remove and allow the lamb to rest

Pour the stock over the veg and thicken with cornstarch and cook either in a pot or straight in the hot roasting pan and return to the oven for another 10 mins for the sauce to thicken up