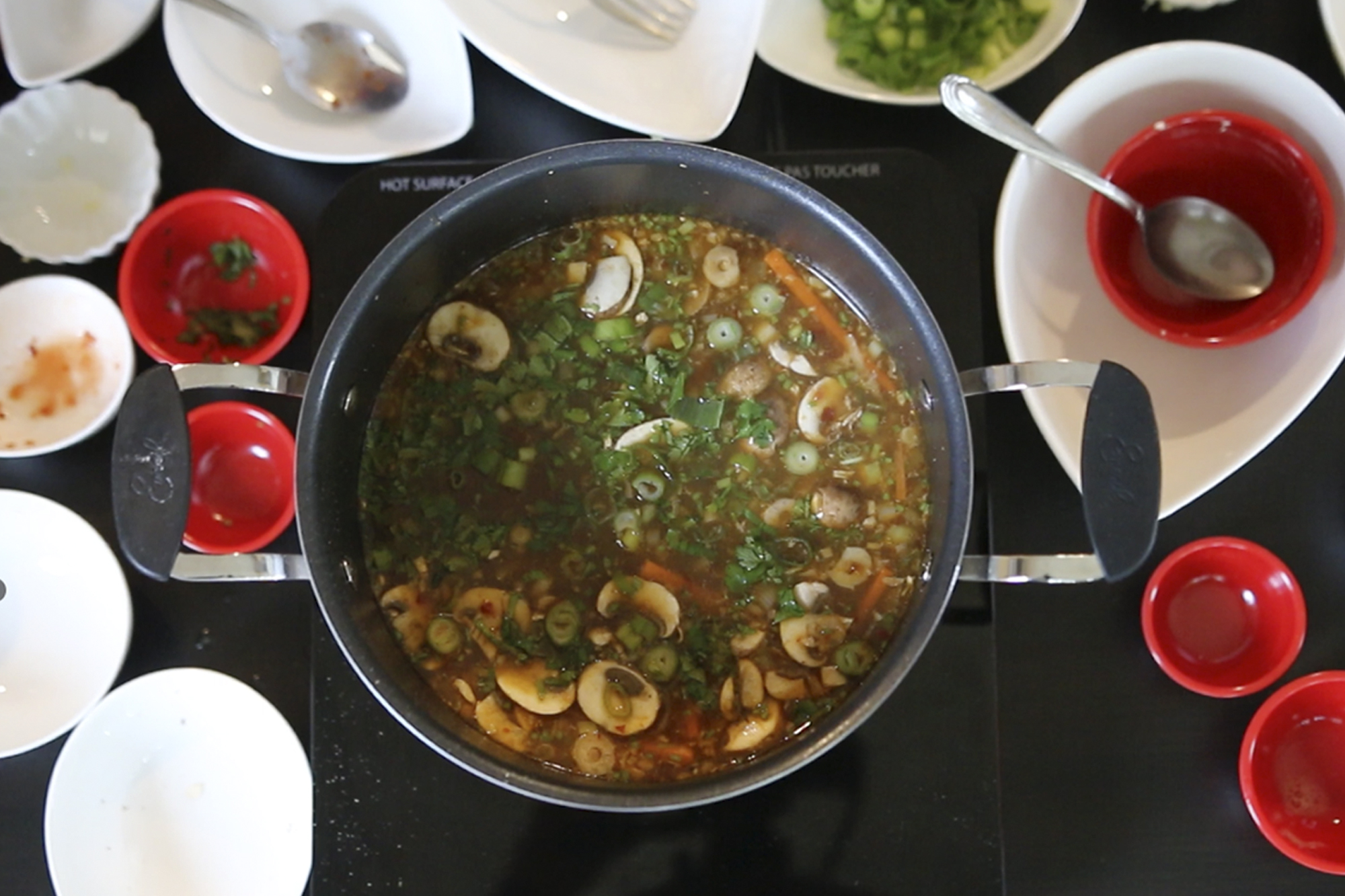 I love Chinese food and this Indo Chinese recipe for Hot & Sour soup is my favourite! Indo Chinese food is the cuisine made by Chinese immigrants that have lived in India for generations and have adapted their cuisine to the Indian palate.  A ledge population of India are Vegetarians, so the Veggie version of this soup is almost as popular as it's non veg counterpart.  You can so easily make this a Vegetarian version of this by just omitting the Chicken and using a veggie stock. The most important thing is to get all your ingredients organized. Chinese cooking is done quite quickly, so it's really important to have everything ready and prepared. I have all my ingredients prepped and ready from the sliced shallots, minced garlic & ginger to all the julienne cuts of carrots & bamboo shoots and Tofu to the sliced mushrooms and finely chopped coriander stem. Together with some condiments like chilli paste and soya and fresh Chicken stock, this is going to warm your soul.
If it's not homemade, my favourite restaurant to eat this at is Golden China in Markham on Markham Road & 14th Avenue. Their soup is delicious as are their Shrimp pakoras. This restaurant is run by a wonderful Indian Chinese family from Bombay, India. Over the years we have gotten to know them since our children attended the same school.
This soup because of all it's delicate ingredients does not freeze well, so it's good to enjoy it fresh.
[youtube-subscriber nickname=kravingsblog]
Hot & Sour Soup – An Indo Chinese Special
Ingredients
2 tbsps oil
12 spring onions - chopped bulbs only
4 tbsps finely minced fresh ginger
4 tbsps finely minced garlic
1/2 pound ground chicken
5 tbsps Sambal Oelek or chilli paste
1/2 tsp ground black pepper
1/2 cup chopped while or brown fresh mushrooms
Sliced Shitake mushrooms - 300 ml can OR handful of dried mushrooms soaked in a cup of hot water
2 tbsps finely chopped coriander stems only
3 tbsps rice wine vinegar
3 tbsps dark soya sauce
4 tbsps canned bamboo shoots cut in julienne strips
1 carrot cut in thin julienne strips
2 tbsps firm tofu cut in julienne slices
2 tbsps cornstarch dissolved in a 1/2 cup of water
1/2 a beaten egg
1/4 cup chopped coriander leaves
1/2 cup chopped spring onion leaves
Instructions
Heat a few tbsps of oil and saute the chopped spring onion bulbs
Add the chopped ginger and garlic and saute for a minute
Add the Chicken pieces and sauté
Add the chilli paste, black pepper and the fresh mushrooms
Add the hot stock and bring to the boil
Add the coriander stems, shitake mushrooms, vinegar, soya, bamboo shoots, carrots and tofu. You must add everything really quickly so the carrots maintain their crunch
Add the cornstarch, stir in the beaten egg and stir with a fork to get ribbons of egg and finally add the coriander and spring onion leaves
Taste for salt - if making fresh stock you will need to add more than if using a cube or commercial stock
https://kravingsfoodadventures.com/hot-sour-soup-indo-chinese-special/
Save
Save
Save
Save