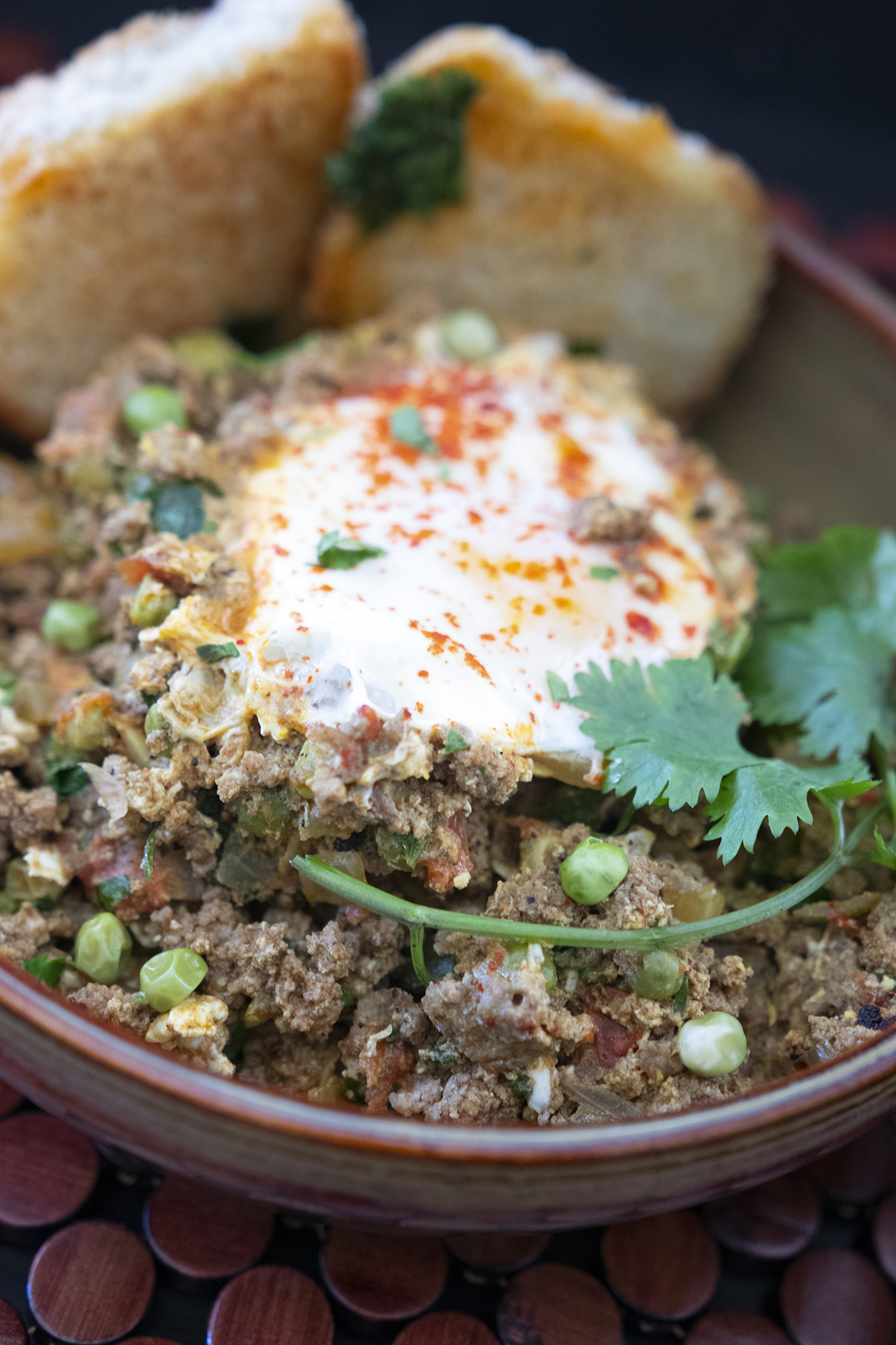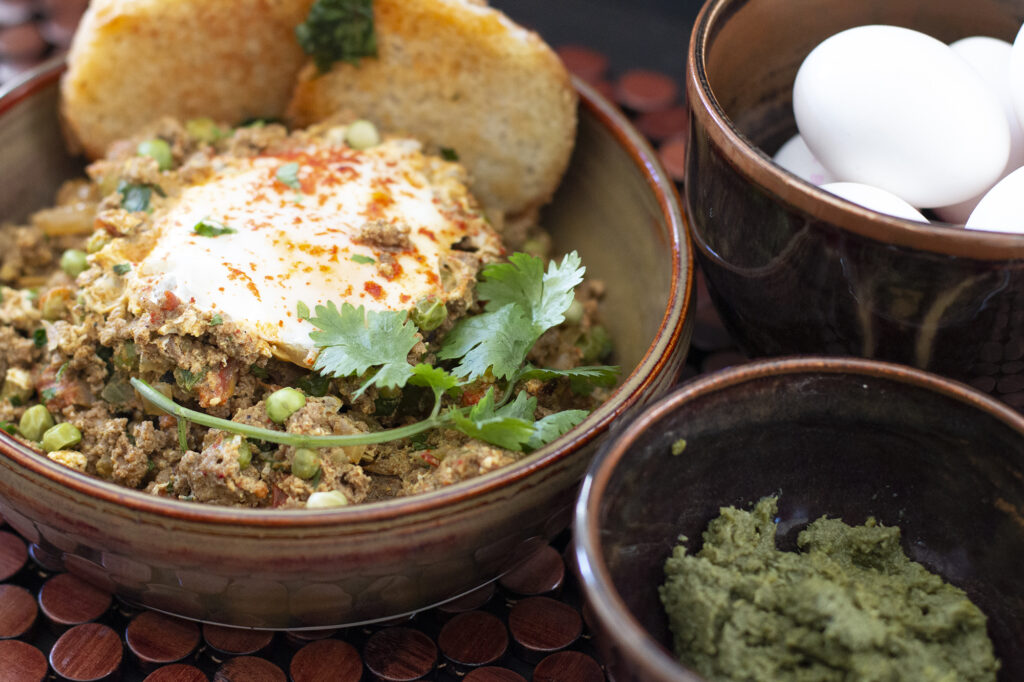 Recently, I decided to host my cousins for a Bombay se aaya mera dost theme party. I knew I had a lot of typical Mumbai recipes on my channel, but I was also looking for some others that I hadn't tried yet. This is when I came upon a recipe for Kheema Gotala. This dish has it's origins in the Parsi culture that hosted many a cafe in the 60s and 70s. This dish served with buttered fried pao was also served in many of the establishments that came later in the 80s and 90s.
To make this from scratch, kheema or ground meat is boiled, then added to a spicy base of onions, spices and tomatoes, it's then cooked with stock and salt.
Finally peas, coriander are added and eggs are broken into the hot gravy and scrambled – this is served with some buttered pav or bread.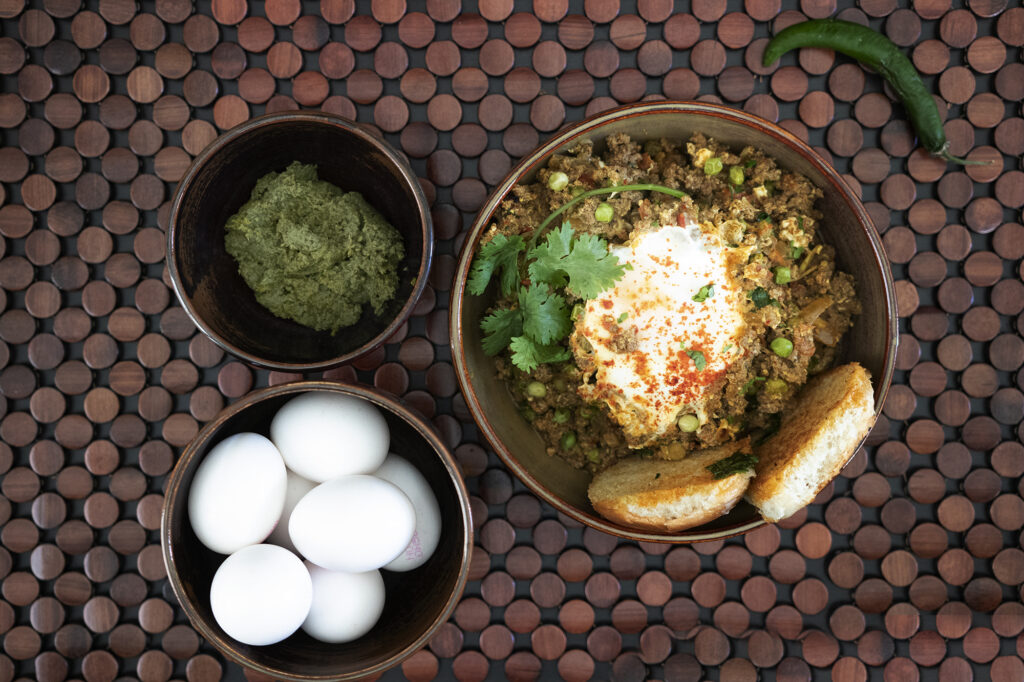 I love that this recipe is simple and also includes eggs that are scrambled into it – sorta like a non veg Burji. Although I made this recipe from scratch, it is usually made with leftover kheema and when eggs are added it is considered gotala or a mess.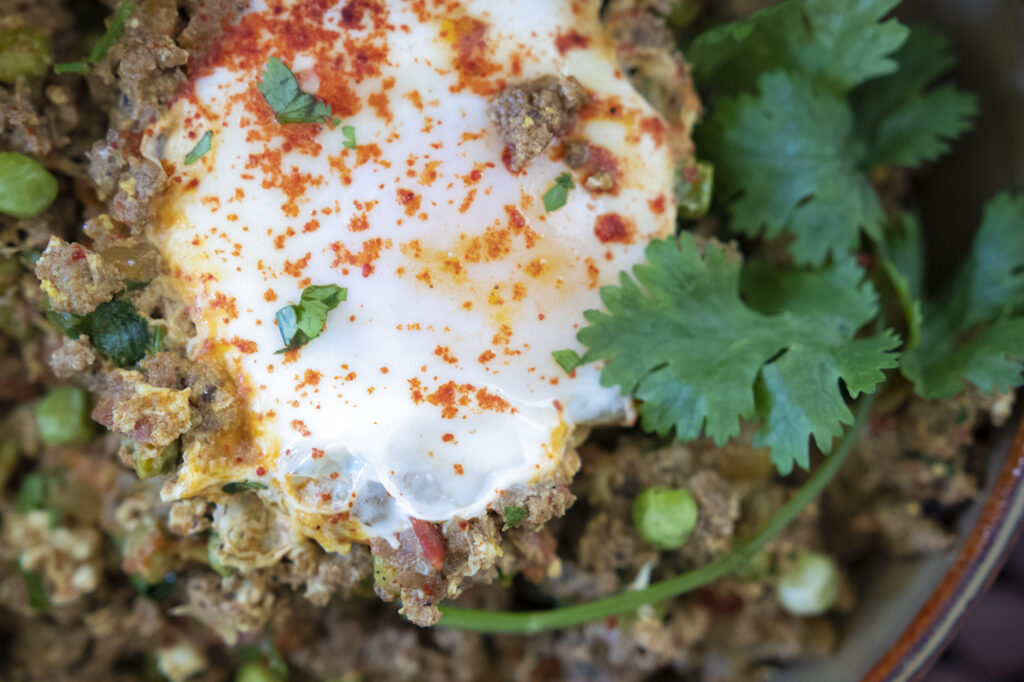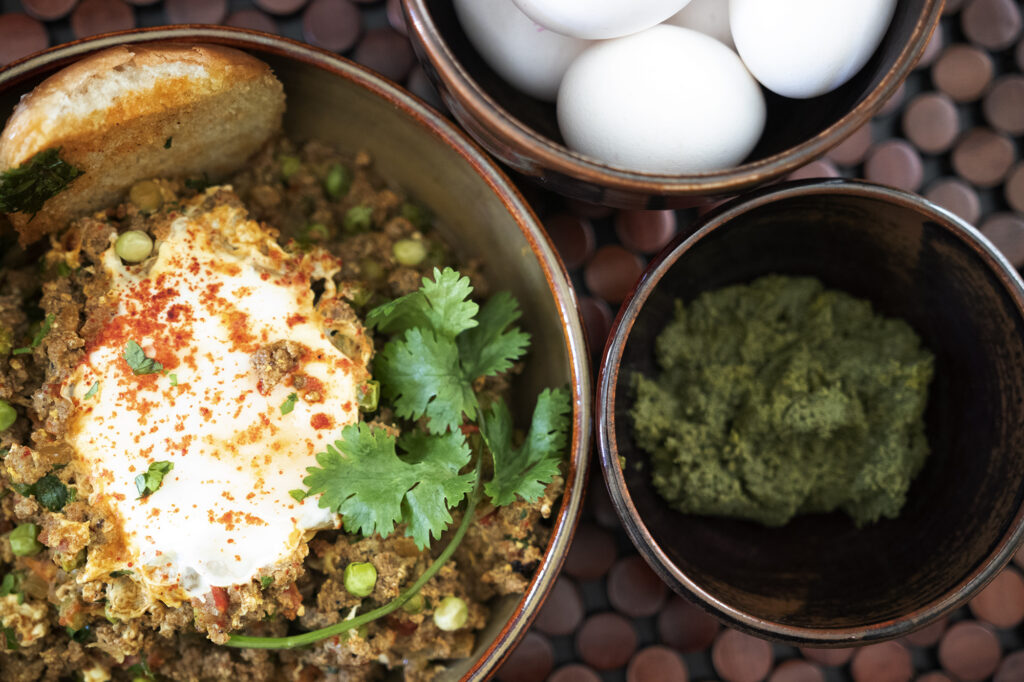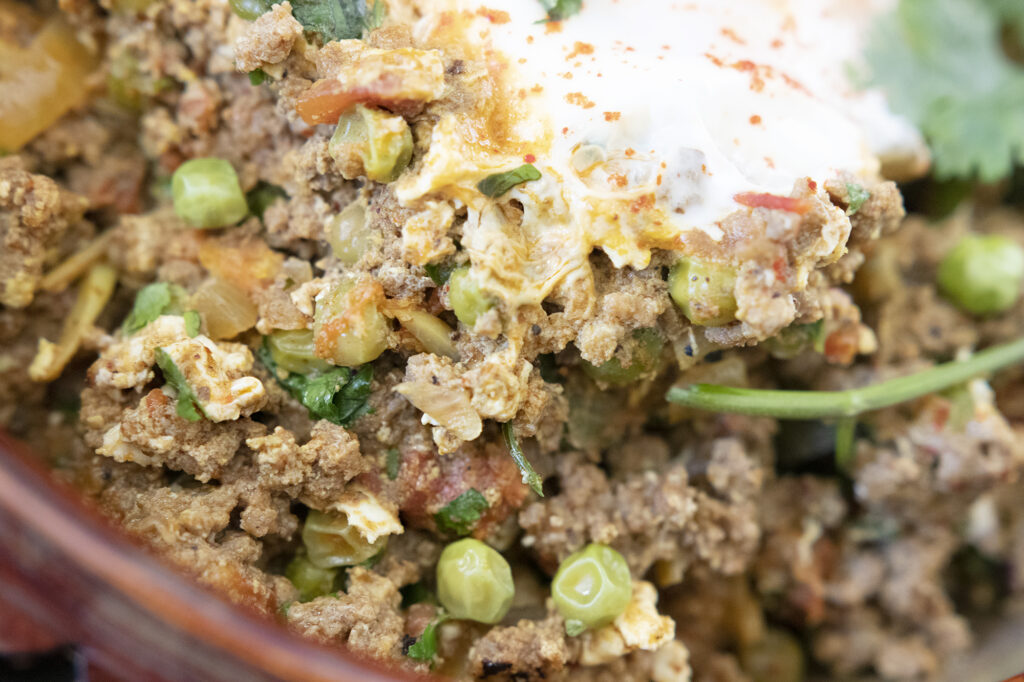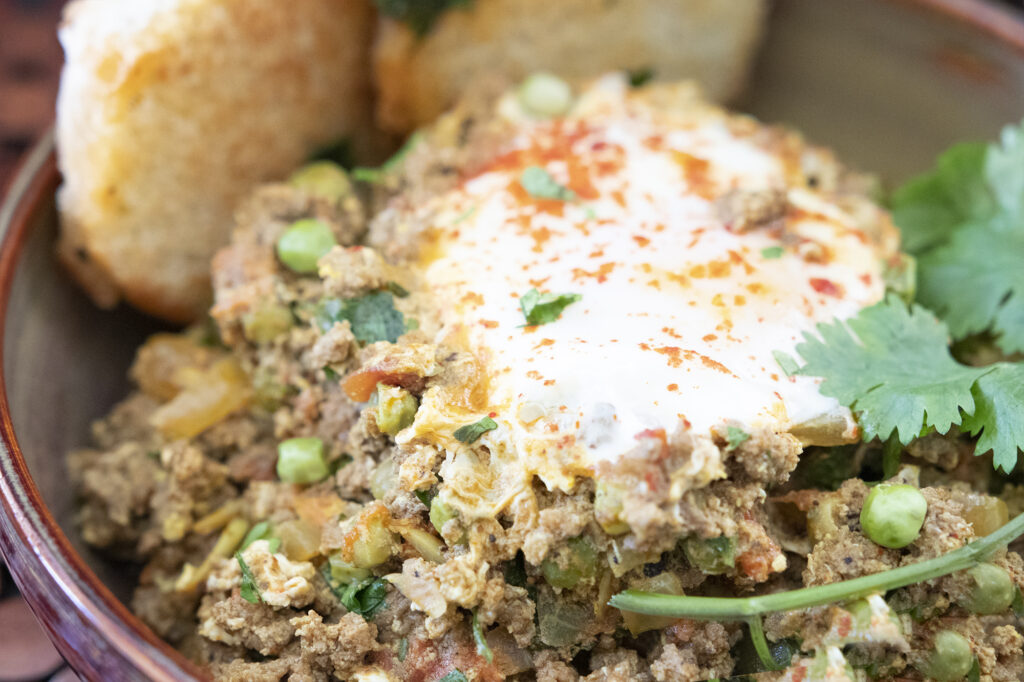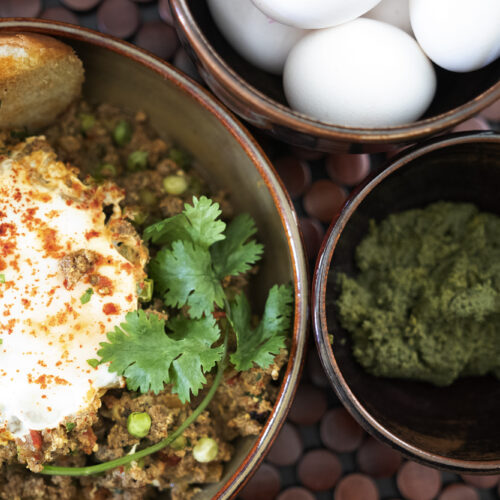 Kheema Gotala
Ingredients
2

inches

sticks Cinnamon

2

green Cardamoms

3 – 4

Star Anise

3

inch

piece Ginger

2

whole Chillies

2

lbs

ground Meat

Beef or Mutton or Chicken

2 – 3

cups

Water

1/2

cup

Oil

1

cup

diced Onion

2

tbsps

each julienne of Ginger & Garlic

2

tbsps

sliced green Chillies

1

tsp

Garam Masala

1

tsp

Cumin

1

tsp

Coriander powder

1

tsp

red Chilli powder

1/2

tsp

Turmeric powder

2

cups

diced Tomatoes

Salt to taste

2

cups

reserved stock

1

cup

frozen Peas

3

Eggs to scramble

1

cup

chopped Coriander

1

whole Egg for garnish optional

To serve with

Pao

Butter

Chilli powder

Chopped Coriander
Instructions
In a pot add the water and all of the whole spices, ginger & whole green chillies and bring to the boil

Add the meat and allow this to cook covered for 10 – 15 mins, breaking the meat up in between

Skim off any impurities but save the stock for late and remove the whole spices, ginger and chillies

Reserve the stock

Heat the oil in a large kadai or pot and add the onions, followed by the julienne of ginger and garlic and chillies

Add all the powdered spices and the tomatoes

Cook this till the tomatoes get mushy and it's easily squished with the back of a spoon

Add the drained meat

Add 2 cups of the reserved stock and mix it in one cup at a time

Taste for salt and add as needed

Cover and cook

Add the peas

Add 3 Eggs one in at a time and scramble it gently

Add the chopped Coriander

Optional, cook a whole egg for garnish, sprinkle this with chilli powder and salt

Put the lid on and allow the egg to cook

Heat up some butter in a tava, sprinkle with red chilli powder and coriander and add the bread to toast and serve with the kheema gotala