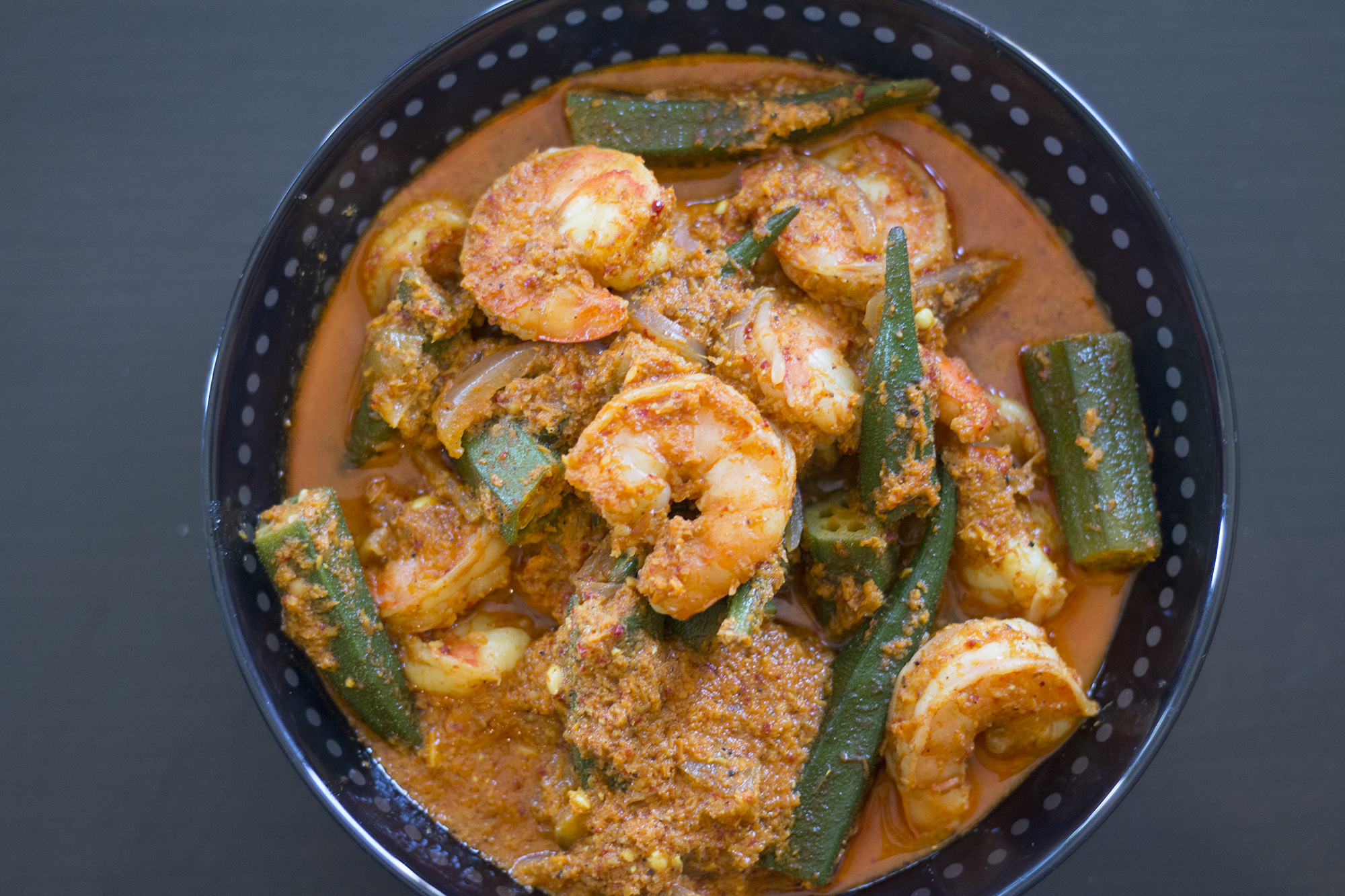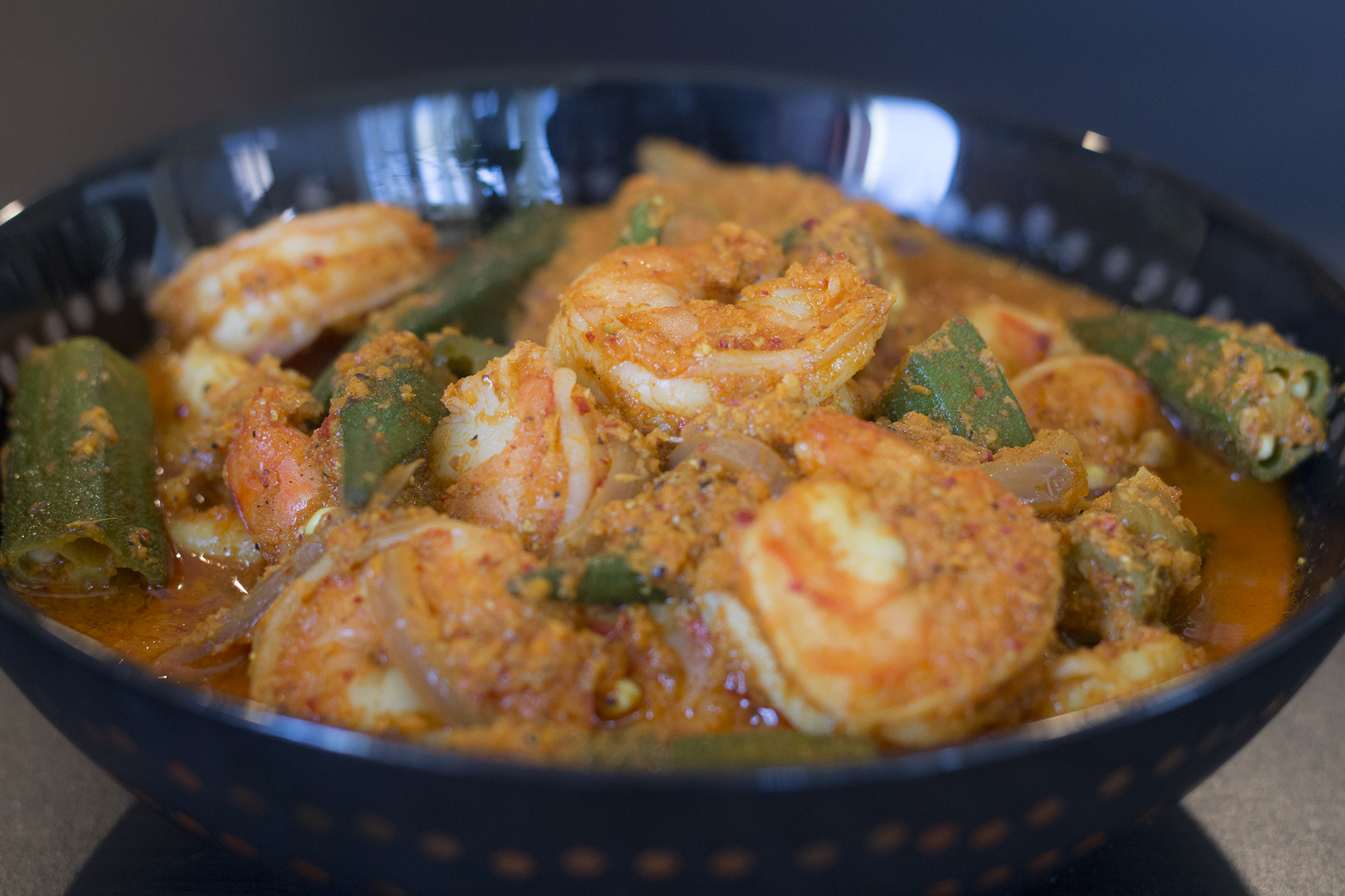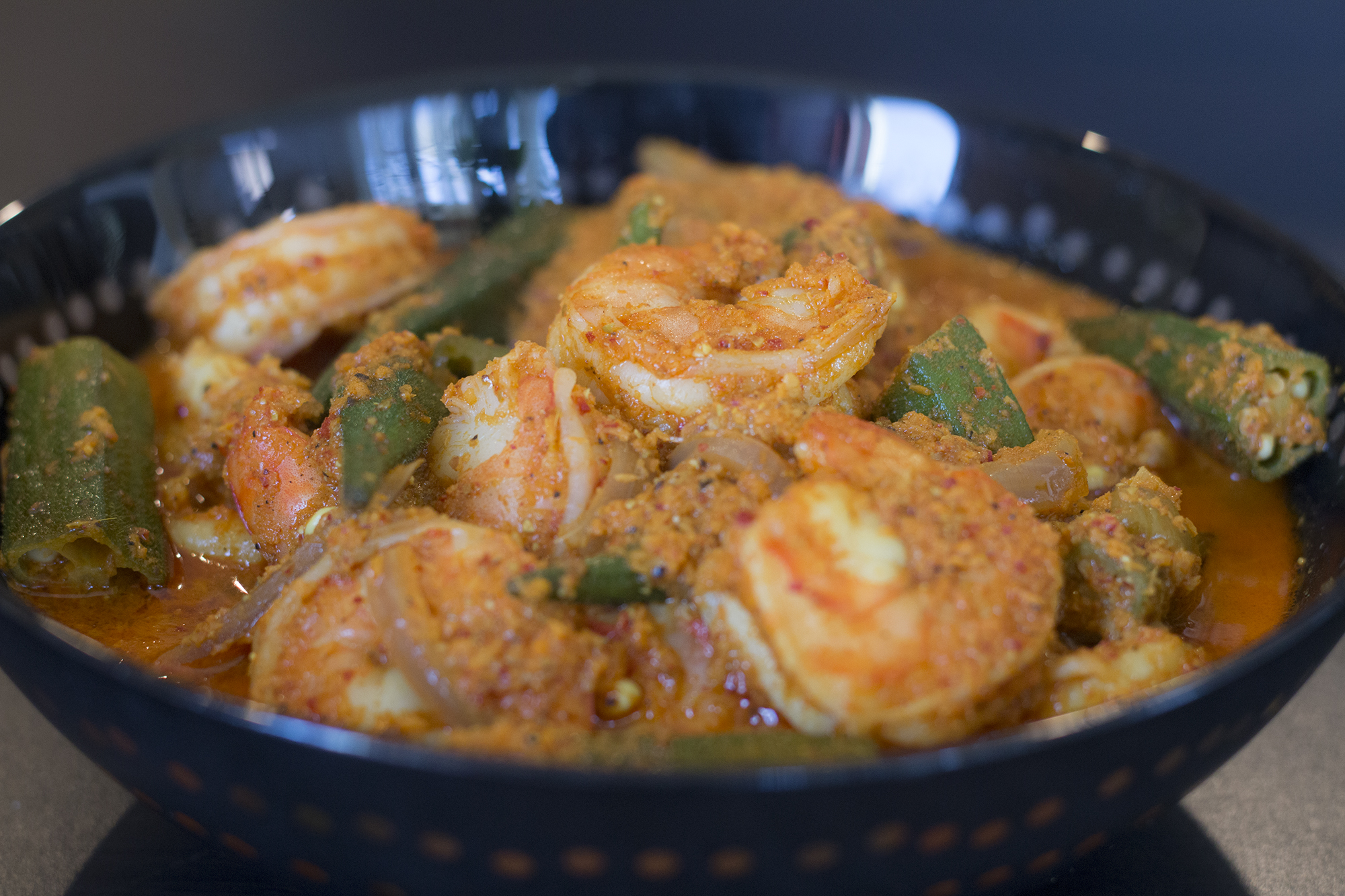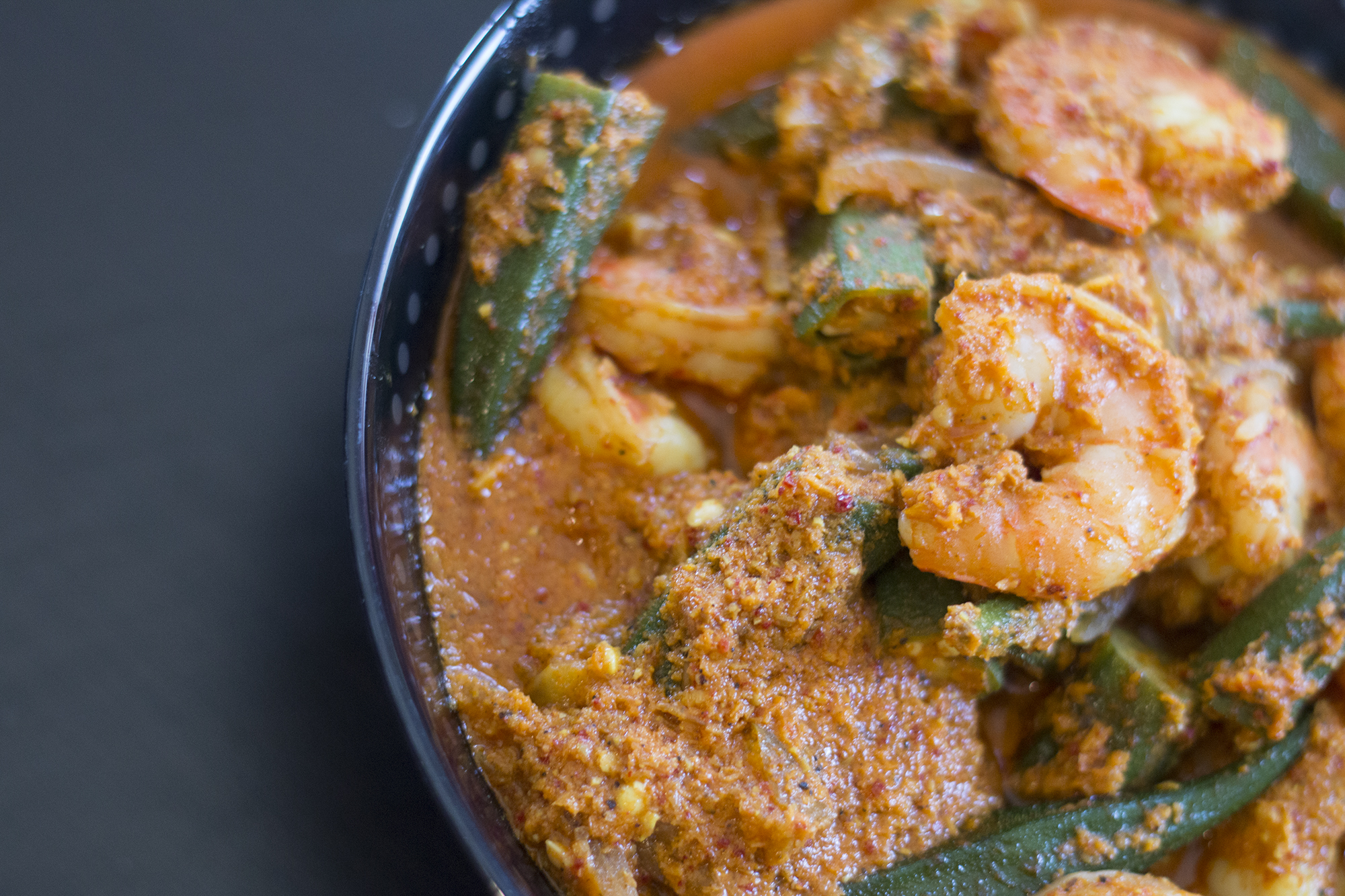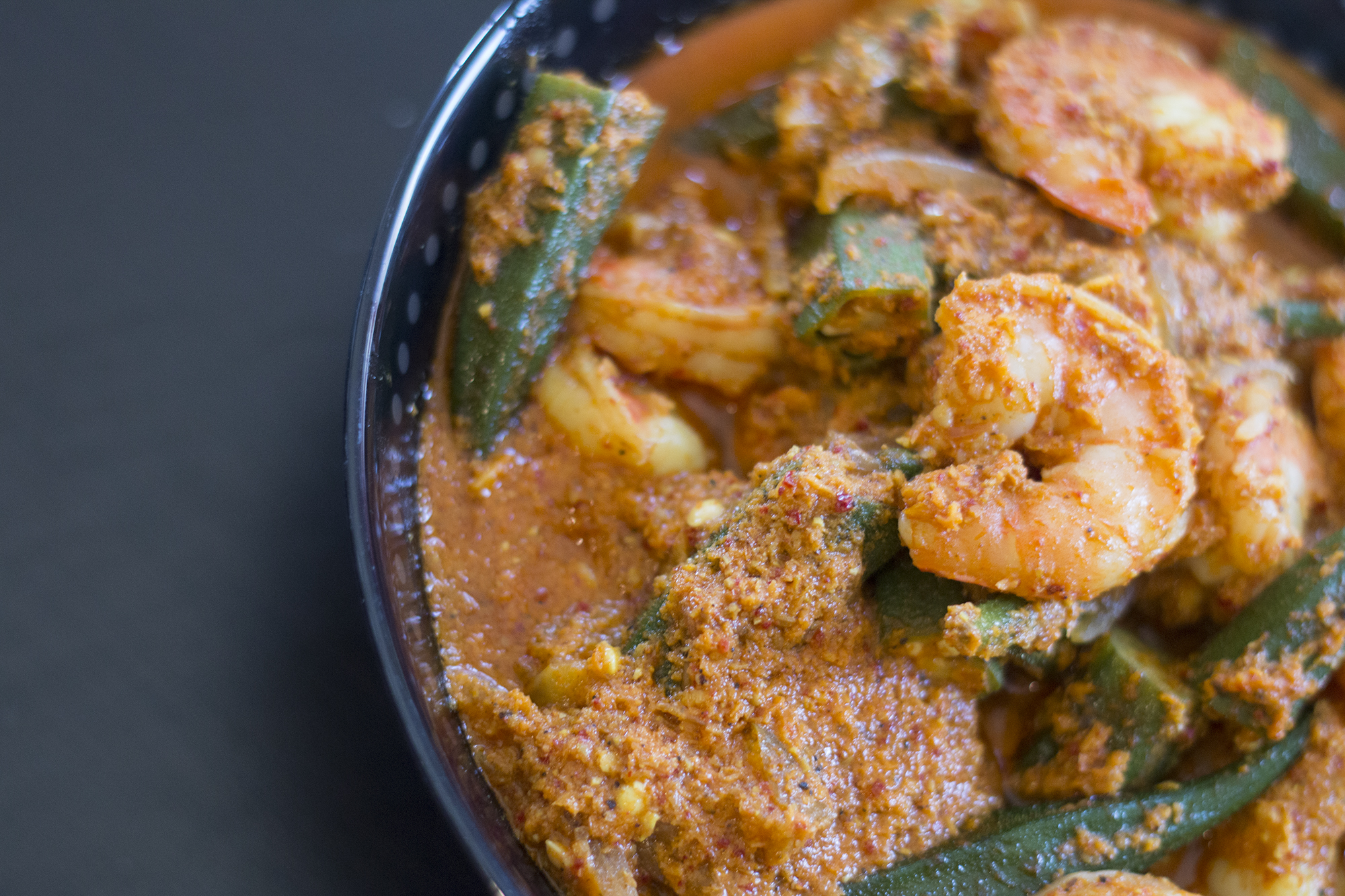 I've been making a lot of Goan cuisine lately, and why not, it's so delicious. Today I'm going to make a simple Prawn curry with Bhindi and Bimbli. This recipe was shared by the lovely Mafra D'souza Lobo on the Facebook group Traditional Goan foodies. Mafra is an avid cook of Goan food and a wealth of information about this great cuisine. There is a difference between a Prawn and a Shrimp but are used interchangeably in recipes. Many people think that a Shrimp is actually smaller that a prawn, but I have seen really large Shrimp and really small prawn. If you were to compare, their  breeding habits and reproduction patterns are different and if you examine them closely there are physical differences – on your plate though, it would be really hard to tell them apart. Back in India, we refer to them as Prawns and here in Canada, we call them Shrimp –but what's in a name.
Bhindi is the Hindi name for Okra aldo known as lady's finger – I don't know which lady has fingers that look like this, and Bimli or Billim in English are sour fruits that are used as a souring agent in food. I discussed this with the members on the Facebook group and most of them had these growing wild on their properties in Goa. These can also be made into a pickle. It's impossible to find them fresh in my grocery stores, but I was able to find these frozen. Please note that frozen does not have the same impact as fresh, if you can find fresh, please use this instead. If you can't find these at all one of the members in our group suggested substituting  sour star fruit instead and I think that's a brilliant idea.
Prawn with Bhindi & Bimli – Shrimp & Okra Curry with pickles
Ingredients
10 oz roughly 300 gms large or medium size Shrimp
10 oz roughly 300 gms Okra or Bhindi
10 bimblins (or 1 packet of frozen bimblims)
1 onion finely sliced and crushed with 1 tsp of salt
5 kashmiri chillies
3 tbsps coriander seeds
1 tsp cumin seeds
1 tsp peppercorns
1 tsp turmeric powder
1 cup fresh grated coconut
5 flakes of garlic
water to grind it to a thick paste
2 tbsps Coconut Oil
Instructions
Heat 2 tbsps coconut oil and sauté the masala paste on one side and the onions and salt on the other side. When the onions are nice and golden brown, Add the Okra and Bimlis , a little water, cover and cook.
Lastly I will add the prawn or shrimp. I'm adding these at the end so I don't over cook these. And they are ready to serve with some rice.
Usually when I clean shrimp, I save the shells, sauté them with a bit of oil, add a little water and boil the shells. The stock is concentrate and flavorful and I will add this to the curry instead of water.
https://kravingsfoodadventures.com/prawn-with-bhindi-bimli-shrimp-okra-curry-with-pickles/