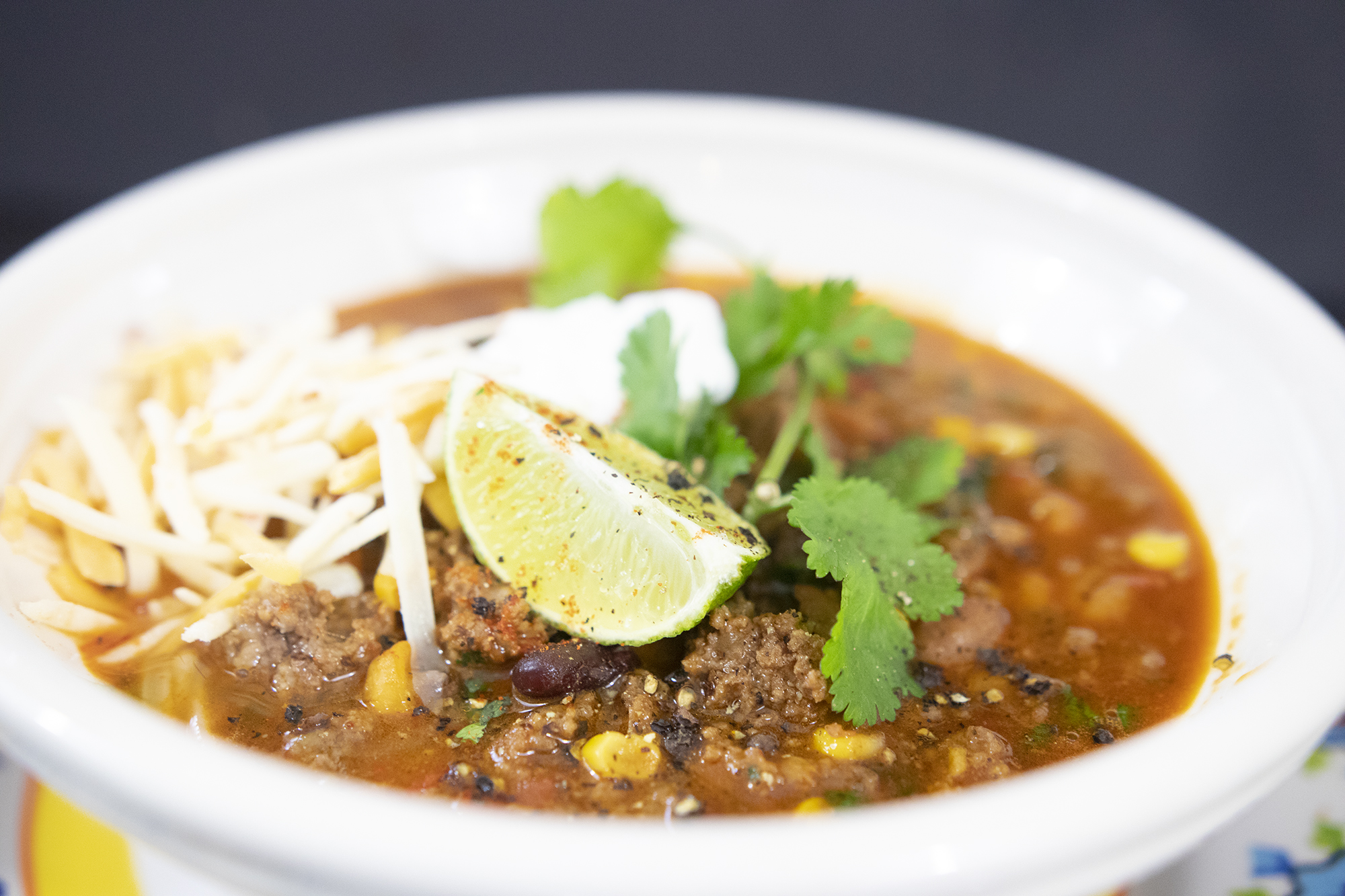 This is my very first Instant Pot post — yay! I'm an Instant Pot virgin. I've resisted buying the IP for a very long time, infact a few have made their way over from the stores via my hubby the shopaholic and I've politely sent them back? Why? I really didn't have the space for it, I still don't. Because I'm a huge foodie and I run a YouTube channel I have amassed a crazy amount of cookware. The other day someone asked me what I would do if I won the lottery and she was surprised to learn that I would buy the house next door to turn it into a kitchen.
Finally after all the Black Friday hype, I agreed to keep one of the 4 IP's by hubby ordered from various sources – for one it was the only 8 quart, bigger is always better right?
What drove me to try this recipe in the IP is that I could first defrost a hunk of ground beef from my freezer, before sauteeing it and then pressure cooking it to Instant Pot perfection.
As I write this post I've used this extensively so if you've never used one before but are used to using stove top pressure cookers, this will be a natural transition for you. If you've never used a pressure cooker, like ever, this will be earth shattering, eye opening and the best things since sliced bread – it's all about perspective.
While stove top pressure cookers do a great job, you really can't leave them unattended and most of the time I rely on my olfactory senses to gauge the doneness of the dish. No more, set the time and walk away … if you're in a rush, force the pressure out, if not leave it to deflate like a balloon slowly and just unlock it when you're ready to eat.
Recipe:
2 lbs ground Beef
1 cup diced Onion
3 tbsps minced Garlic
2 tbsps minced Jalapeno
1.5 cups diced red Pepper
1.5 cups diced green Pepper
2 cups mixed canned and drained beans of your choice
2 cups whole or diced canned tomatoes
2 cups stock
4 tsps Cumin powder
3 tsps Paprika
1 tsp Mexican Chilli powder
1 tsp black Pepper
Salt
½ cup canned Corn
¼ cup chopped fresh Cilantro
Set the IP to saute mode and heat some oil and saute the onion followed by the garlic and jalapeno
Add the Beef and cook till browned
Add the spices & salt
Add the red and green peppers
Add the beans and the tomatoes
Follow with the stock
Cancel the Saute setting, change to Pressure Cook or Manual and set for 10 mins
Once done allow the steam to quick release if in a rush
Cancel and set to Saute mode again
Add the corn and coriander
Serve with a dollop of sour cream and grated cheese
This Chilli is heart and delicious, top with some sour cream and grated cheese and you have an instant party! Speaking of parties, this is a great recipe for a potluck, double, triple or quadruple the recipe as required and take the IP with you so serve it hot and fresh.