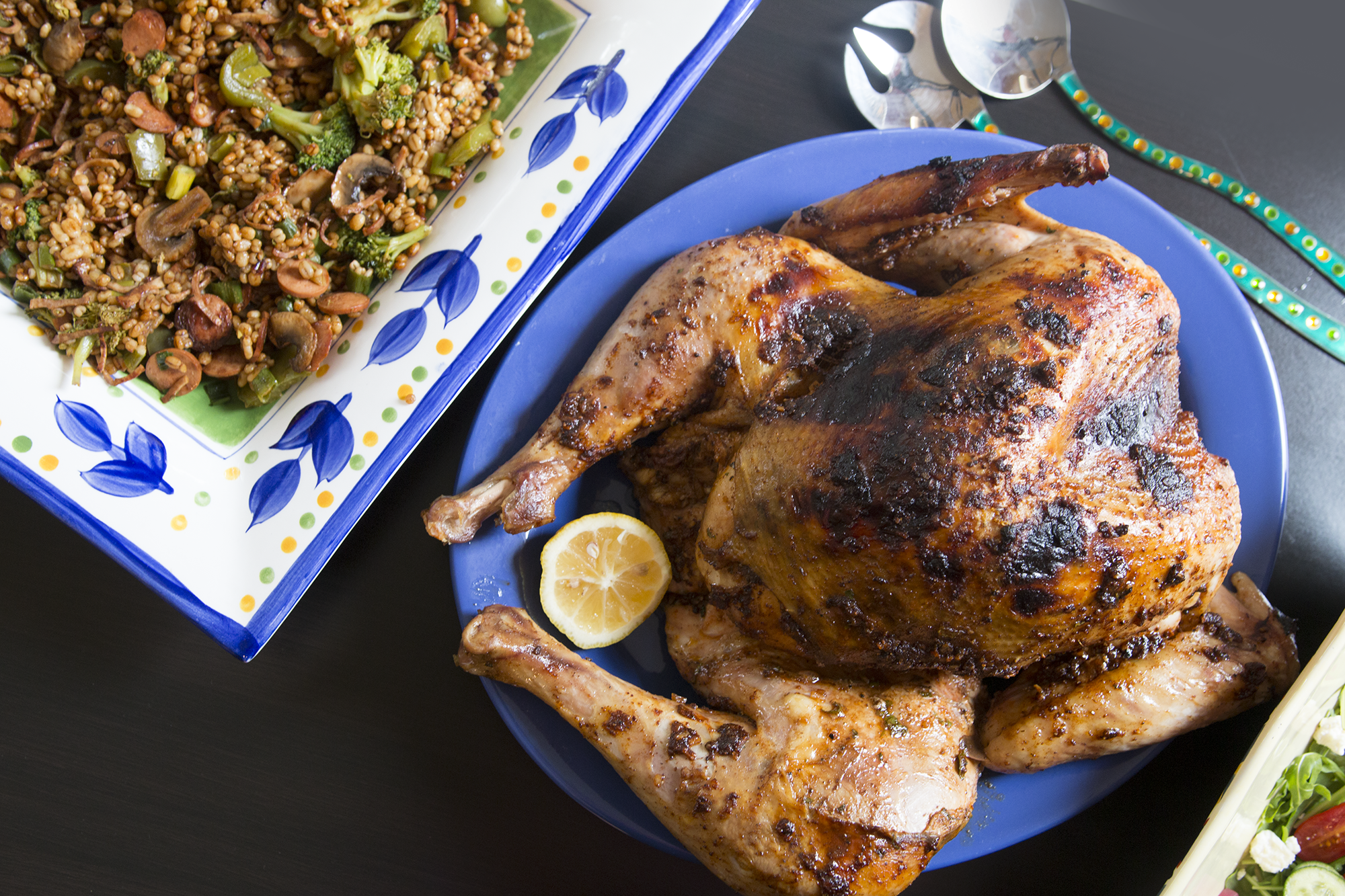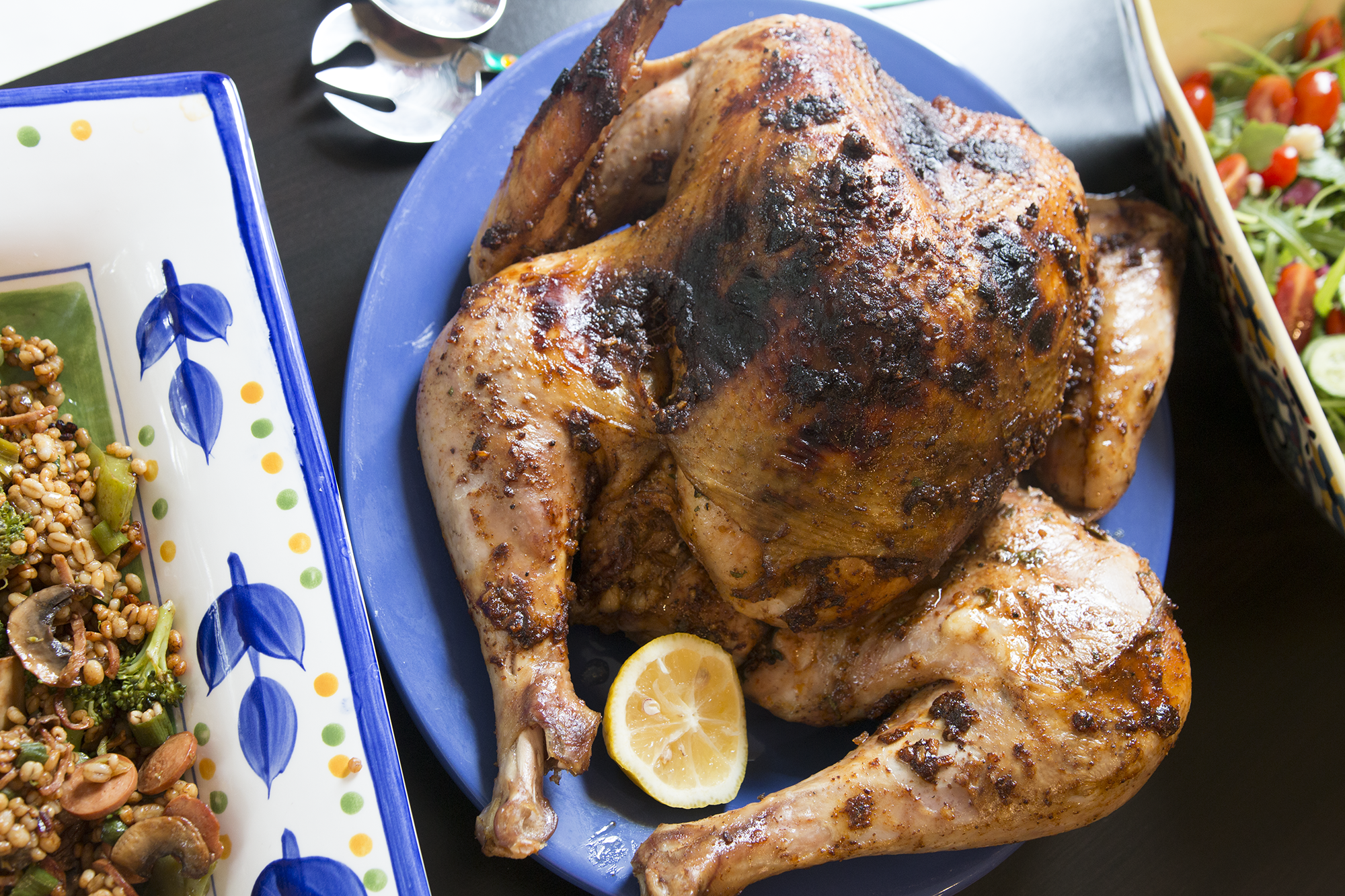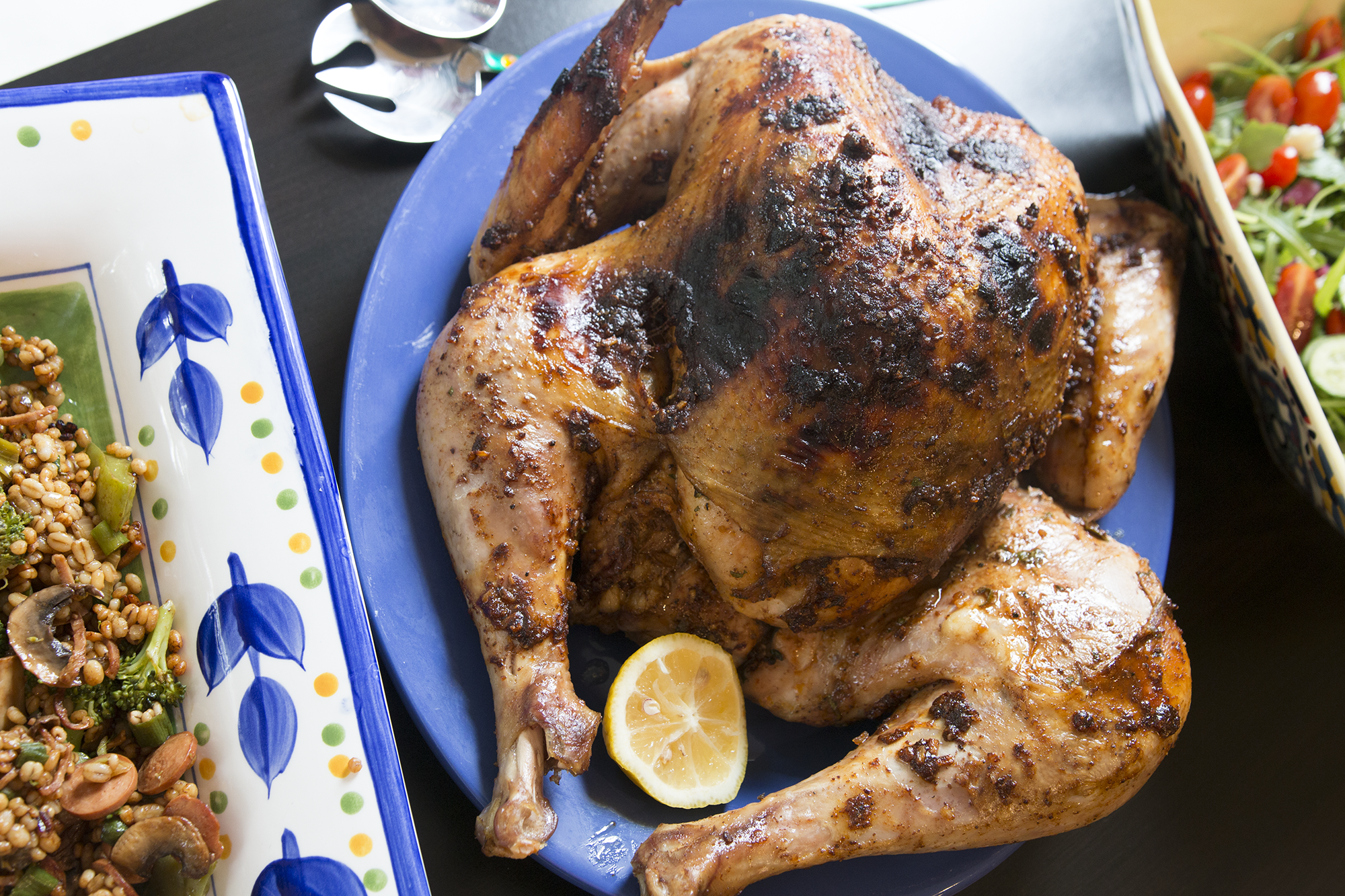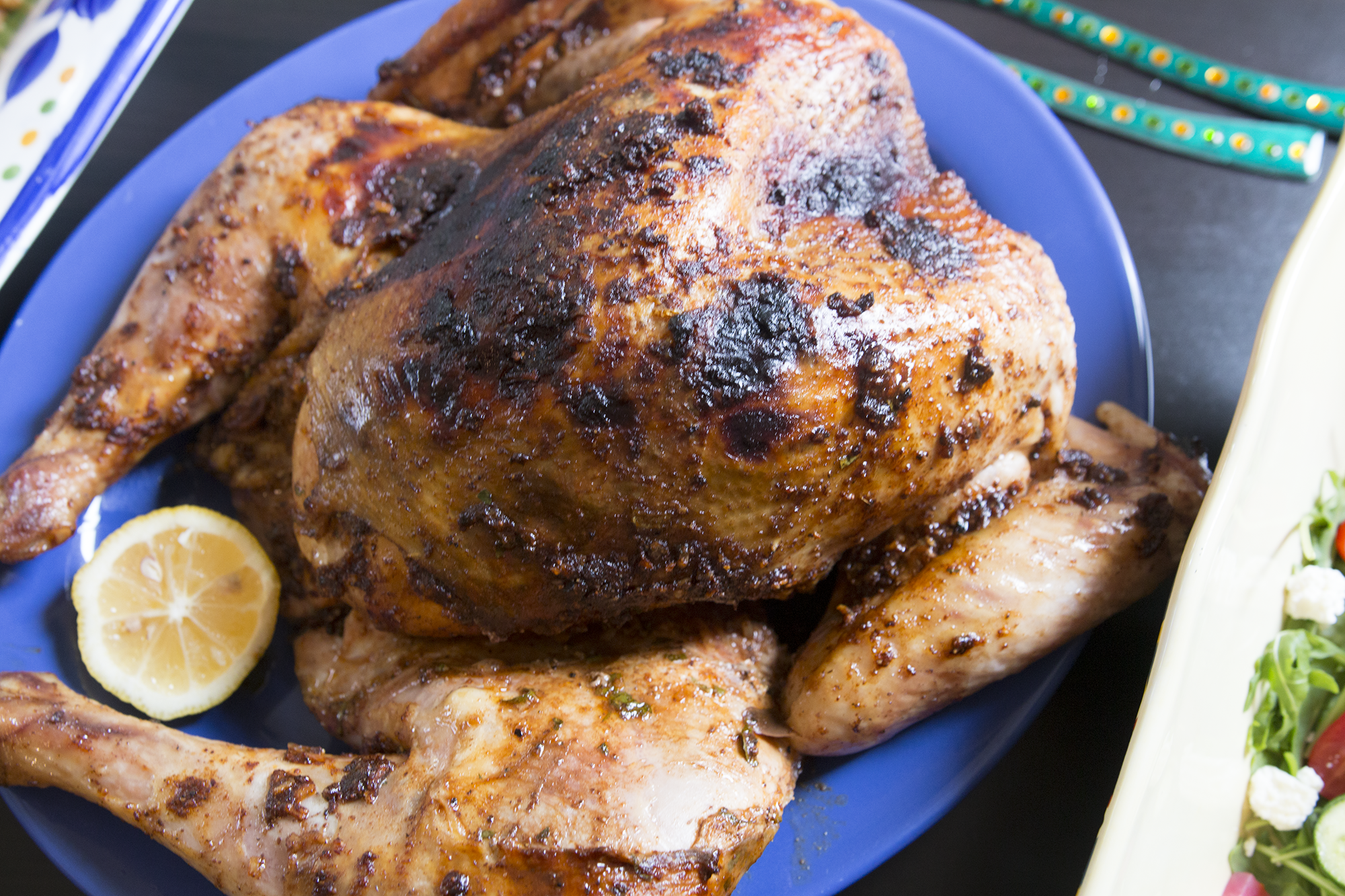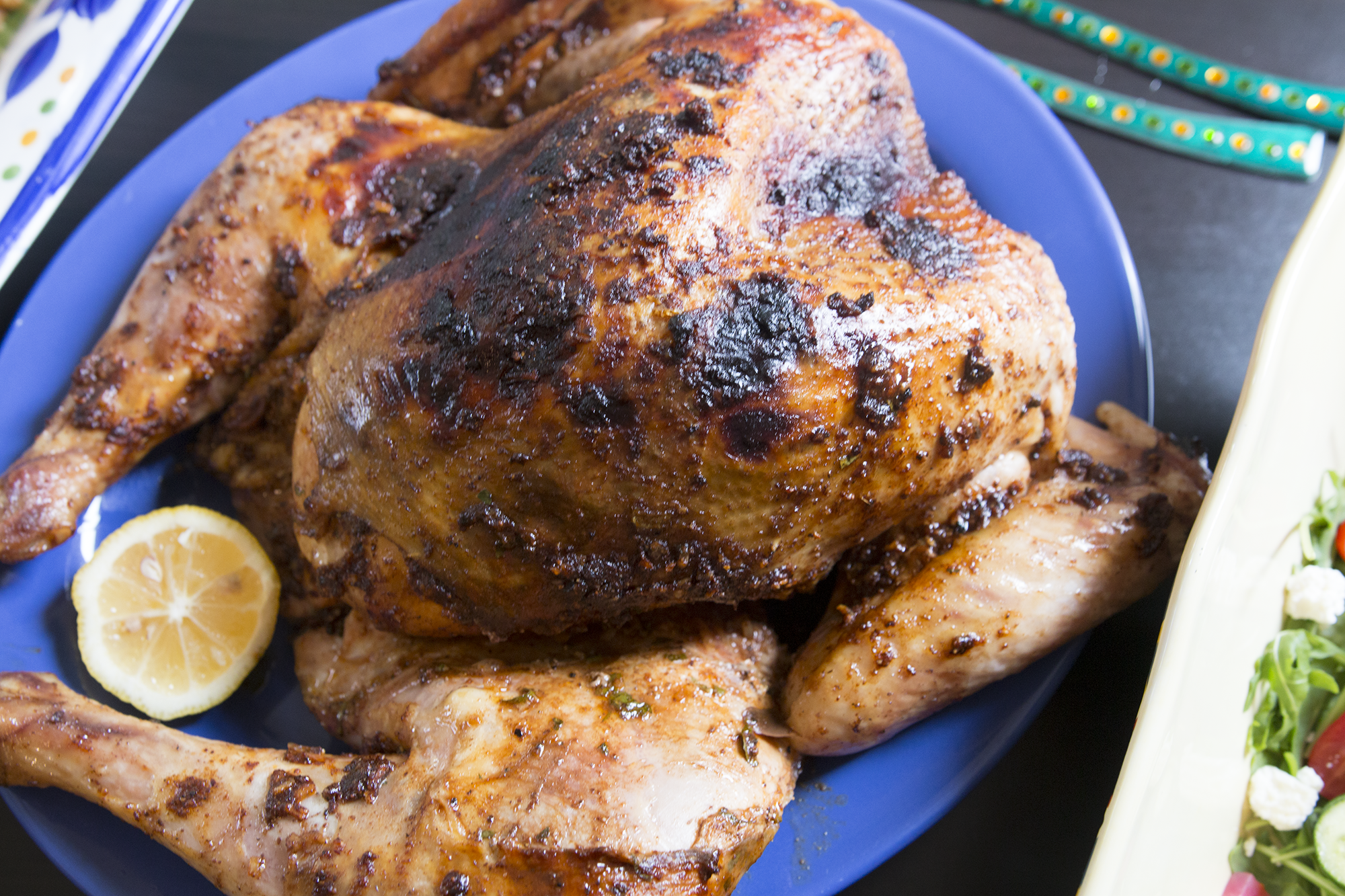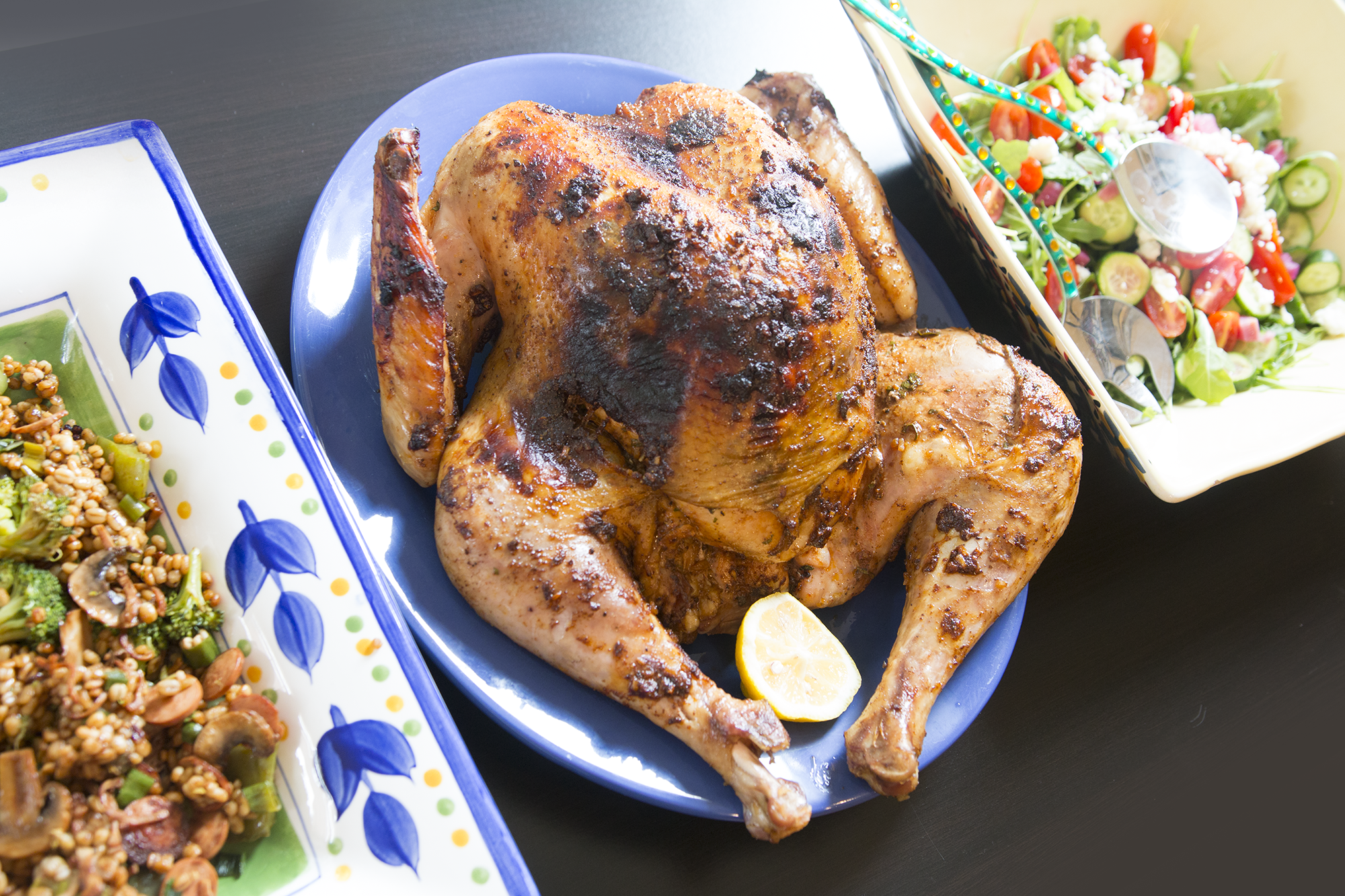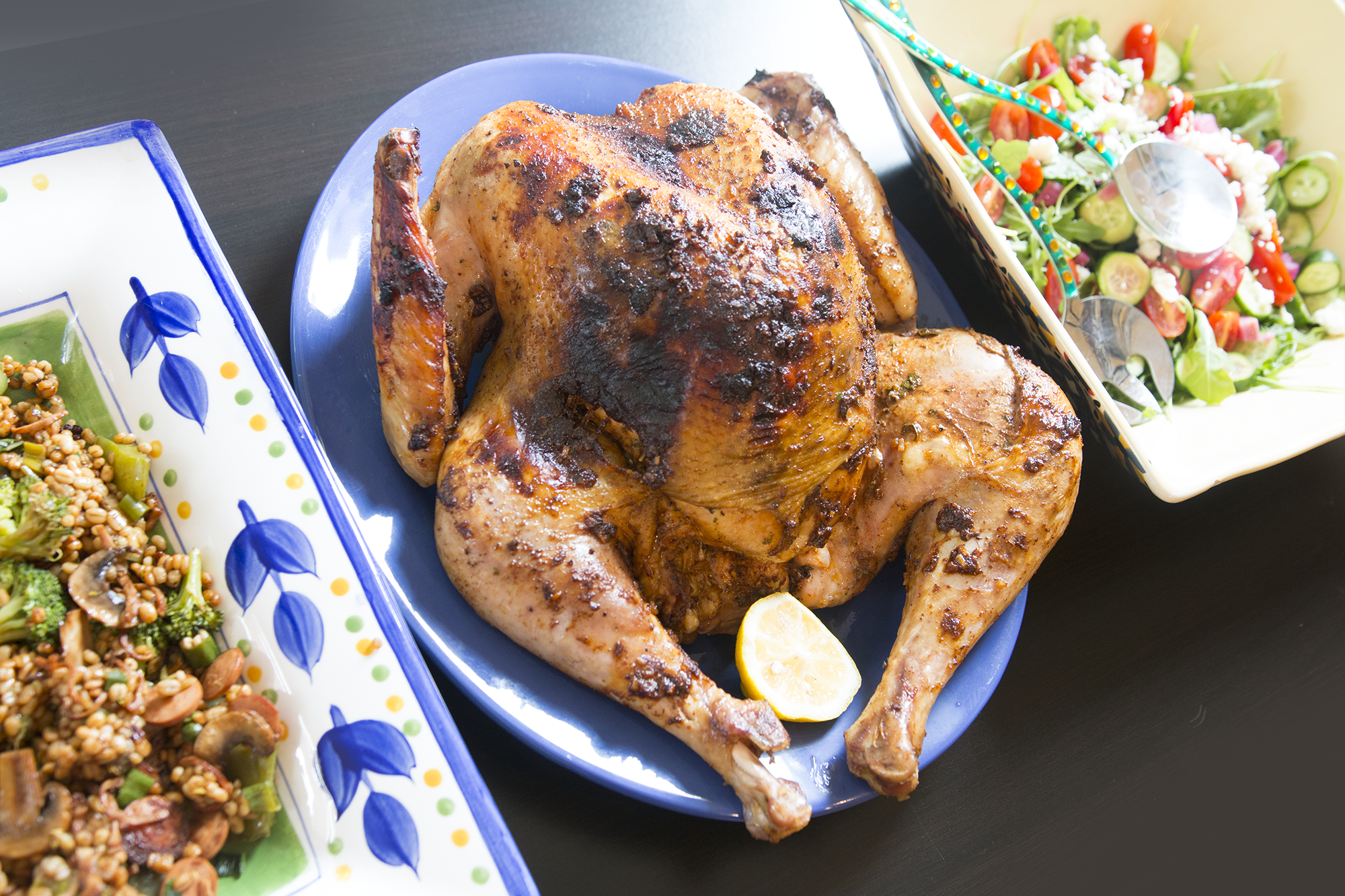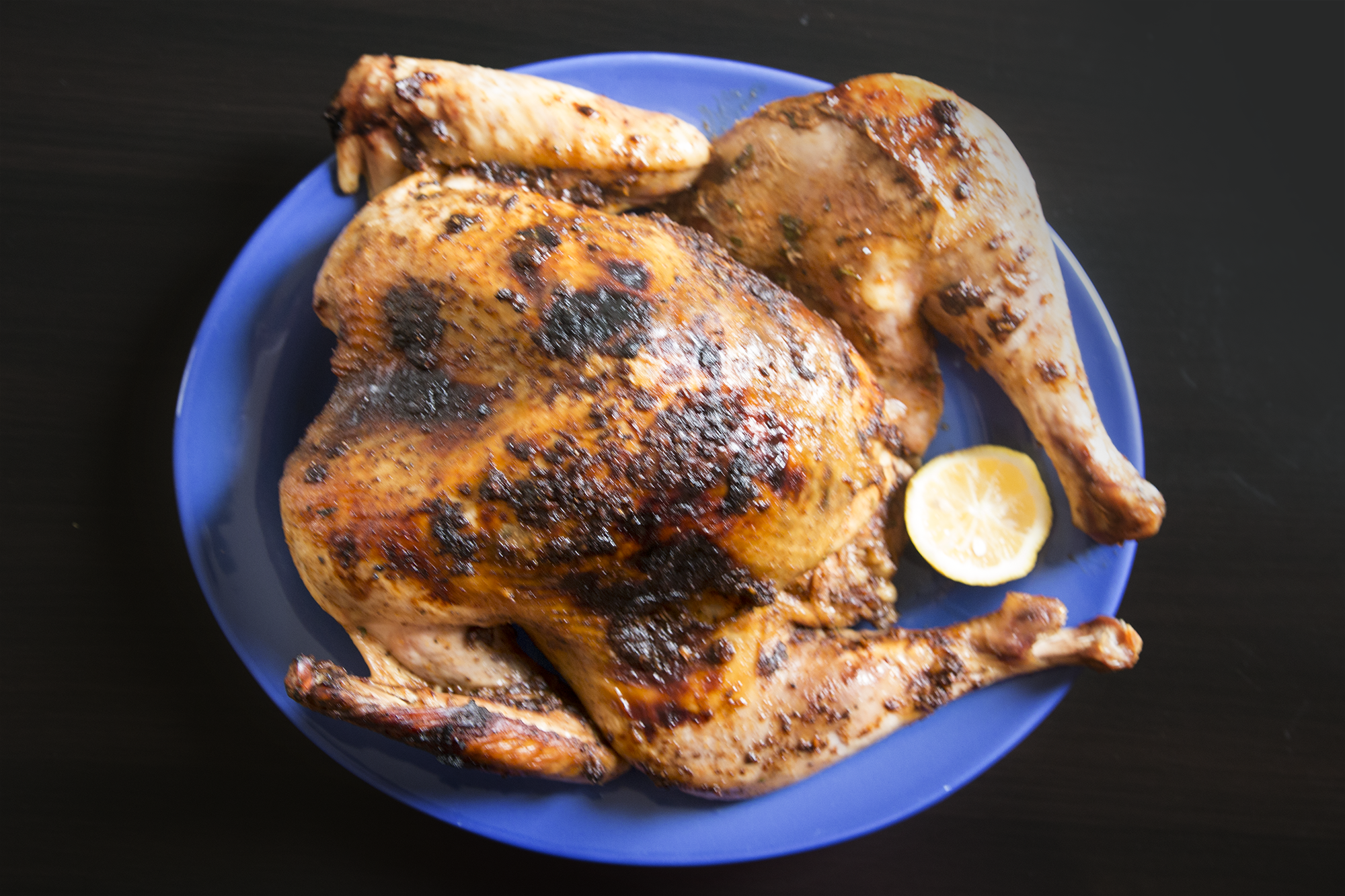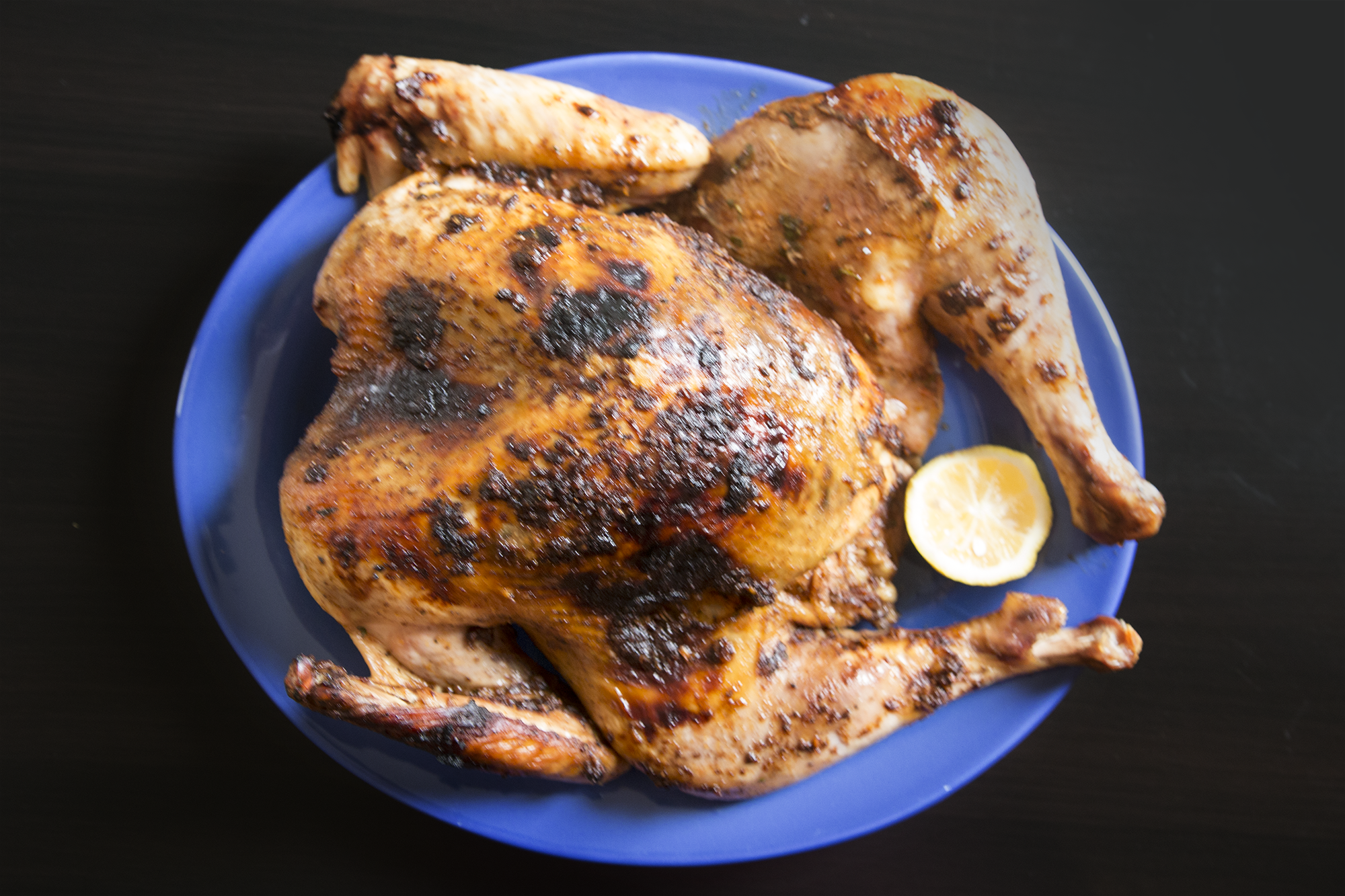 Gobble Gobble! Cooking a Turkey is synonymous with feeding people you love. I always like to try something different each Thanksgiving or Christmas holiday and this year I made a  Middle Eastern inspired Turkey. The bird is the star of the show and done right, it can be juicy and flavourful  I love Turkey but I'm not crazy about the long cooking time, so this year I decided to drastically cut down the cooking time by Spatchcocking the Turkey. This means I will remove the spine so the Turkey can lay flat and cook in less time than it usually does.
If you're never cooked a Turkey before, be sure to check the cavity of the bird. This is usually where they stash the neck and other parts of the Turkey. Store this in your fridge. I always like to use a fresh bird and I always brine my Turkey for 24 hrs. Brining ensures that the Turkey is flavourful and moist. This is a simple mixture of salt and sugar in 4 litres of water. I like to throw in some lemon slices before I immerse my bird in a bucket or container large enough to hold the bird. If you don't have enough room in your fridge to hold this large container, you can sit this on your kitchen counter in cold water for two hours, or just skip this step. After the brining process you need to dry the bird out really well, I like to leave it in a colander to drain and I will follow that with a tea towel and wipe all the excess moisture.  It's important that your bird is dry, otherwise it will steam in the oven.
Spatchcocking the Turkey was a bit harder than I imagined, I have spatchcocked many a Chicken, but the Turkey bones are much tougher. To watch this video make sure to click the link in this post.
Once the Turkey was ready I prepared a wonderful spice blend with the best of Middle Eastern flavours.  My bird is about 12 lbs so I should be cooking this for about 3 hrs and 45 mins, but because it's spatchcocked, it's only going to take 1.5 to 2 hrs. I'm going to start at 350 and increase the heat to 450 when I take the lid off. If you find it's browning too quickly in your oven, cut the heat back.
[youtube-subscriber nickname=kravingsblog]
Middle Eastern inspired TURKEY – SPATCHCOCKED
Ingredients
1/2 cup each Salt & Sugar
Lemon & Lime slices
4 litres Water
2 tbsp Paprika
2 tbsp Cayenne
2 tbsp Sumac
3 tbsps coarse Salt
1 tbsp Pepper
1 tbsp fresh Parsley
2 tbsp each Garlic & onion flakes
10 tbsps Olive Oil
4 tbsps Pomegranate Molasses
12 lbs Turkey
1 Onion
1 green Pepper
6 Mushrooms
Instructions
If your bird is frozen, defrost it according to the package instructions and remove the neck, giblets etc from the cavity
Prepare a brine by dissolving the salt and sugar into 4 litres of water with Lemon & Lime slices
Immerse the bird in the brine and leave in the fridge covered for 24 hrs
Drain all the brine, especially out of the cavity and dry the bird using paper towels
If Spathcocking the Turkey, use a sharp kitchen scissors to cut along one side of the spine
Turn the bird around and cut the other side, freeing the spine
Jab the inside of the breast bone, turn the bird over and press down on the breast with your hands to flatten
Prepare the spice blend by mixing together the Paprika, Cayenne, Sumac, Garlic powder, Onion flakes, Salt, Pepper, Olive Oil and Pomegranate Molasses
Divide the paste into 3 and add chopped Parsley to one of them
Try to lift the turkey skin very carefully and spread the Parsley mixture under the skin
Use one third of the marinade to smear all over the Turkey and place in roasting pan
Add the onion, green Pepper and the mushrooms to the bottom as well as the Turkey neck and gizzards
Roast covered at 375 degrees for 40 mins covered and another 1.5 hrs open to brown the skin
Baste with reserved marinade in between
https://kravingsfoodadventures.com/middle-eastern-inspired-turkey-spatchcocked/