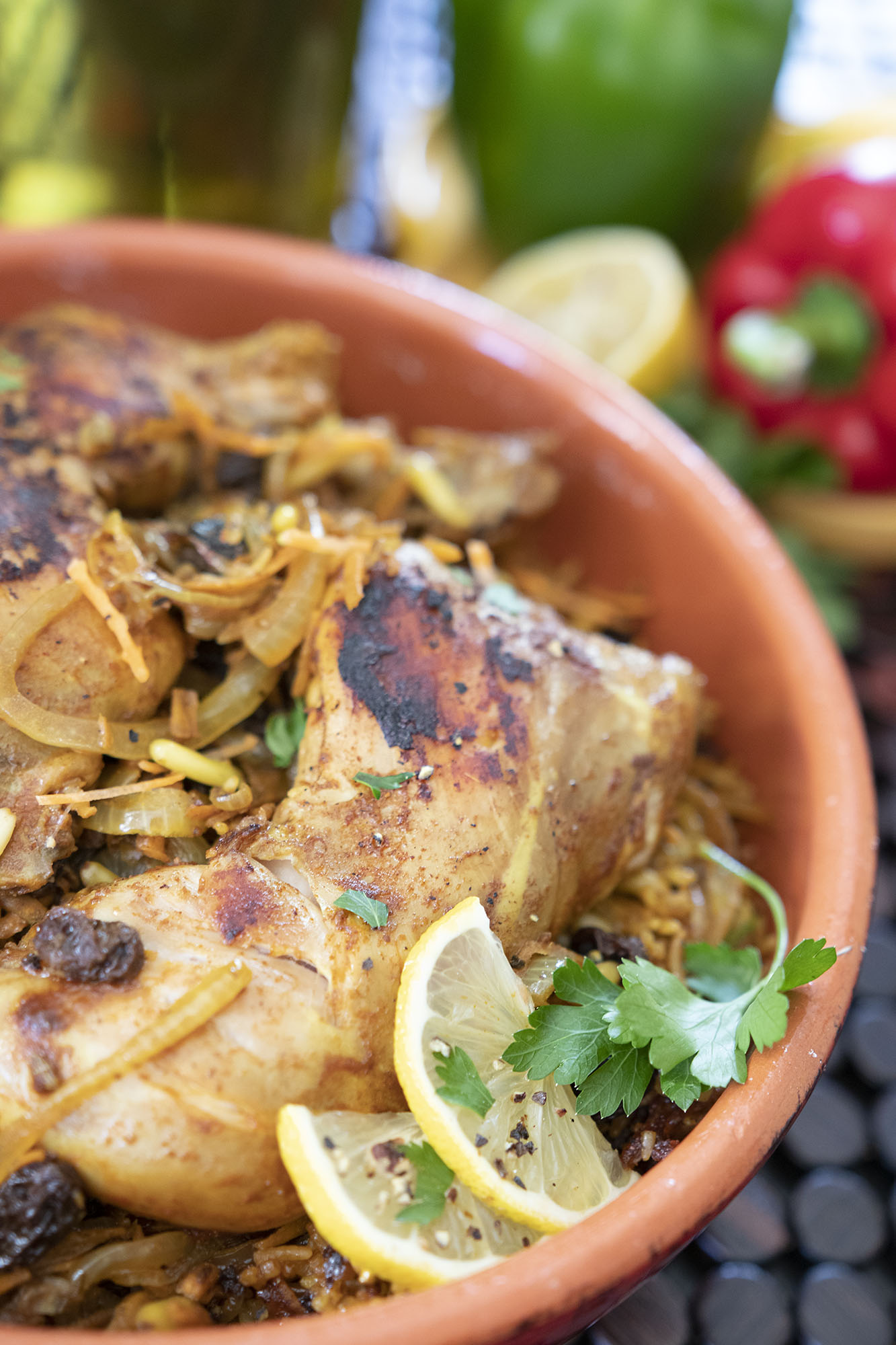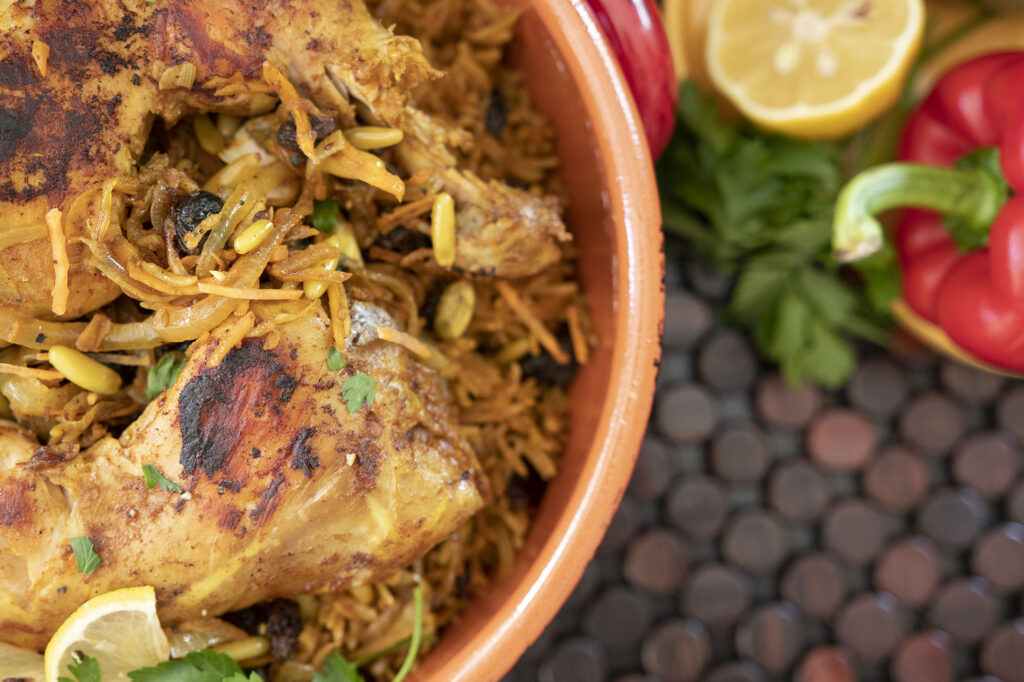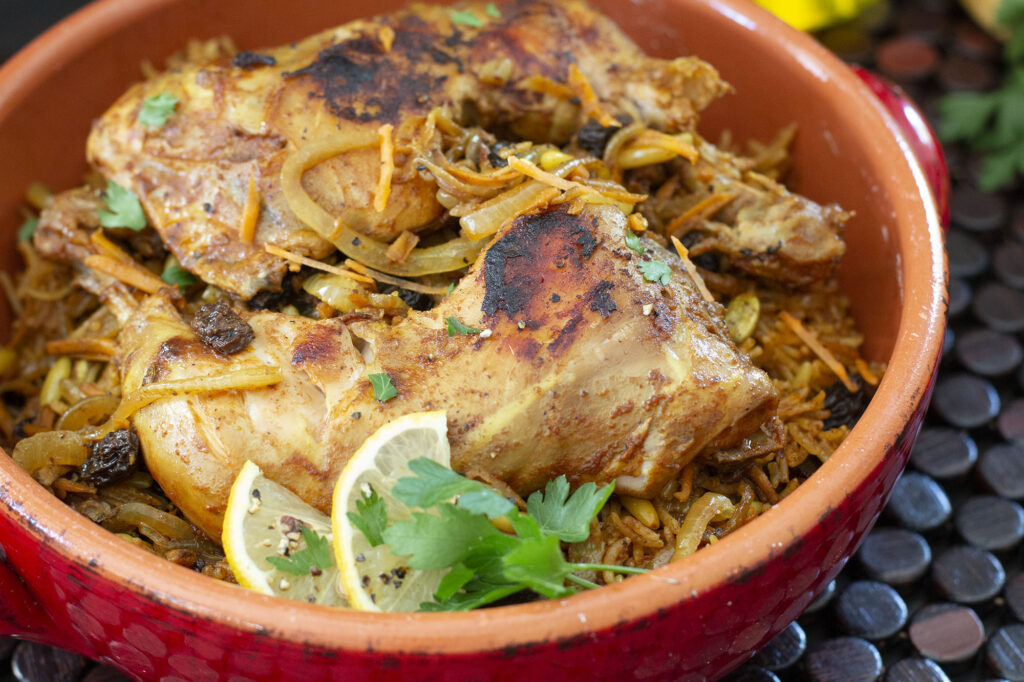 This is my version of Chicken Kabsa made all in one pot – starting with the topping of Onion, Carrots, Pine Nuts and Raisins.A delicious stock is made to simmer the Chicken in.
Once the Chicken is cooked the luscious sauce is strained and the Chicken is returned to the pan to get some color.
More Onion, whole spices and the strained stock make a fragrant bath for the soaked and drained Basmati Rice. Once the Rice is almost cooked, the topping is layered so the carrot can cook as well.
The Chicken is served on top of a generous helping of the fragrant Rice and topping.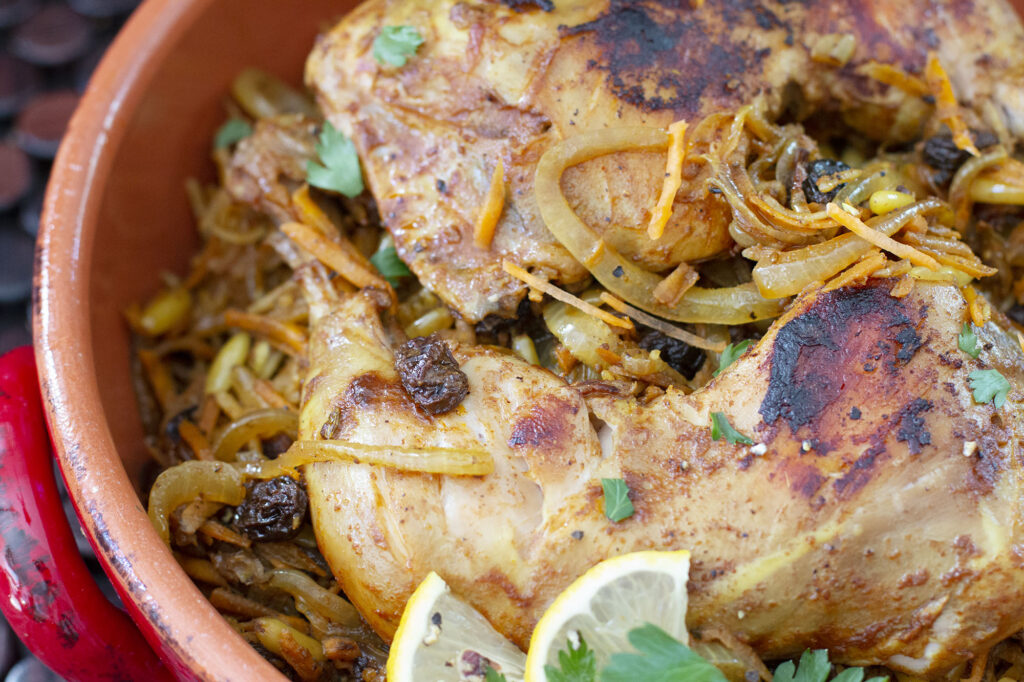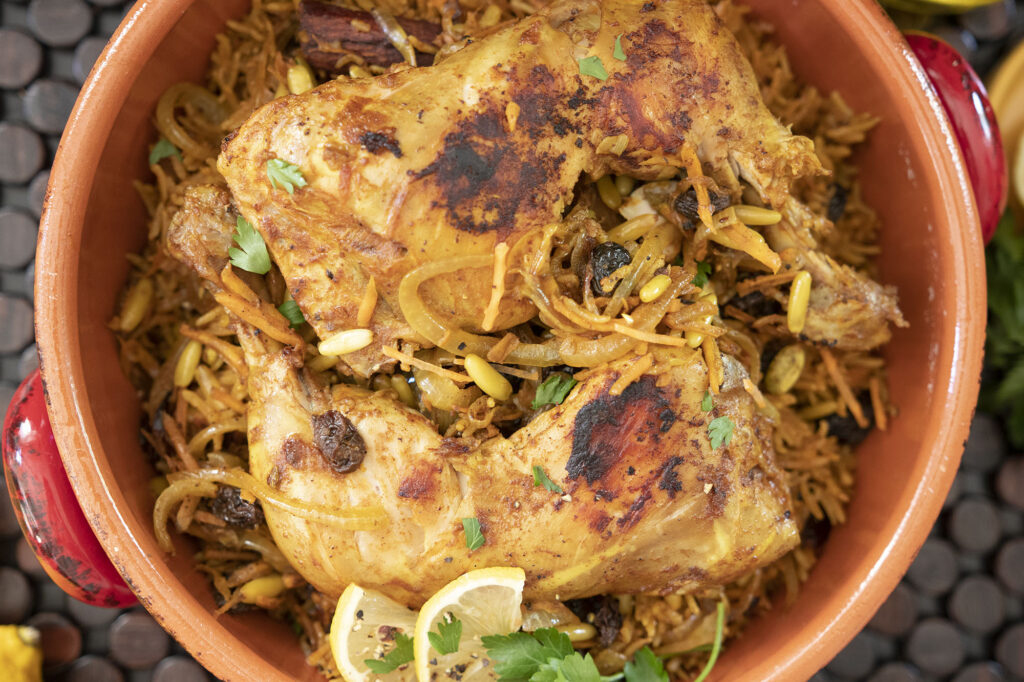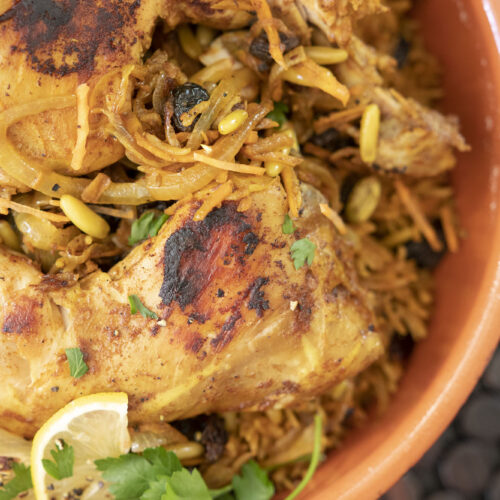 Chicken Kabsa
Ingredients
Topping
2

cups

sliced white Onions

1

tsp

Salt

1

cup

grated Carrots

1/2

cup

Pine nuts

1/2

cup

presoaked Raisins

1/2

tsp

Lime powder

1/2

tsp

Black Pepper

1/2

tsp

Turmeric

1/2

tsp

Ginger powder

1/2

tsp

Clove powder

1/2

tsp

Cinnamon powder

1/2

tsp

Cumin powder

1/2

tsp

Cardamom seeds or powder

1/2

tsp

Sumac
Stock
1/2

cup

Oil

2

cups

sliced White Onions

2

crushed Garlic cloves

2

tsps

Salt

1

tsp

Cumin powder

1

tsp

Turmeric

1

tsp

Paprika

1

tsp

Coriander powder

1

tsp

Black Pepper

1

tsp

Fennel seed

1

tsp

All spice powder

1/2

tsp

Ginger powder

1/2

tsp

Cardamon seeds or powder

1/2

tsp

Lime powder

1/4

tsp

Cinnamon powder

1/4

tsp

Clove powder

1

tsp

Tomato paste

400

ml

whole Canned Tomatoes

6 Tomatoes in 1 cup liquid

1

cup

Water

4

whole Chicken legs

2.5 lbs

2

large Green Chillies
Rice
2

cups

white sliced Onions

1 – 3

inch

stick of Cinnamon

5

Cardamon pods

1

tsp

Cumin seeds

1

tsp

Coriander seeds

1/2

tsp

Black whole Peppercorns

Stock

1-2

cups

Water

Salt to taste

2

cups

Basmati rice

soaked & drained

Parsley for garnish

optional
Instructions
Heat some oil is a wide but shallow saute pan and saute the onions for the topping

Add some salt and turn the heat out and mix in the carrots, pine nuts & raisins

Add the spices, mix well and remove and reserve

In the same pan, add the old for the stock followed by the onions and the garlic

Add the salt, and the rest of the spices and mix

Add the tomato paste, followed by the whole tomatoes and liquid

Mix well and squish the tomatoes with the back of a spoon

Add the water and then the chicken legs

Cook for about 25 mins covered, turning the chicken in between and add in the green chillies

Remove the chicken and strain the stock and reserve the strained liquid

Add a bit more oil to the saute pan and saute the chicken on both sides to get some color and remove

Add more oil to the saute pan and saute the onion for the rice

Add all the whole spices, followed by the stock and 1- 2 cups of water

Stir gently add salt and allow this to cook for 7 – 10 mins

Keep an eye on it and add more liquid if needed

When almost done, add a layer of the topping on top, cover and continue cooking for 5 mins

Scrape the topping off and fluff the rice

Serve the rice with the toppings and the chicken