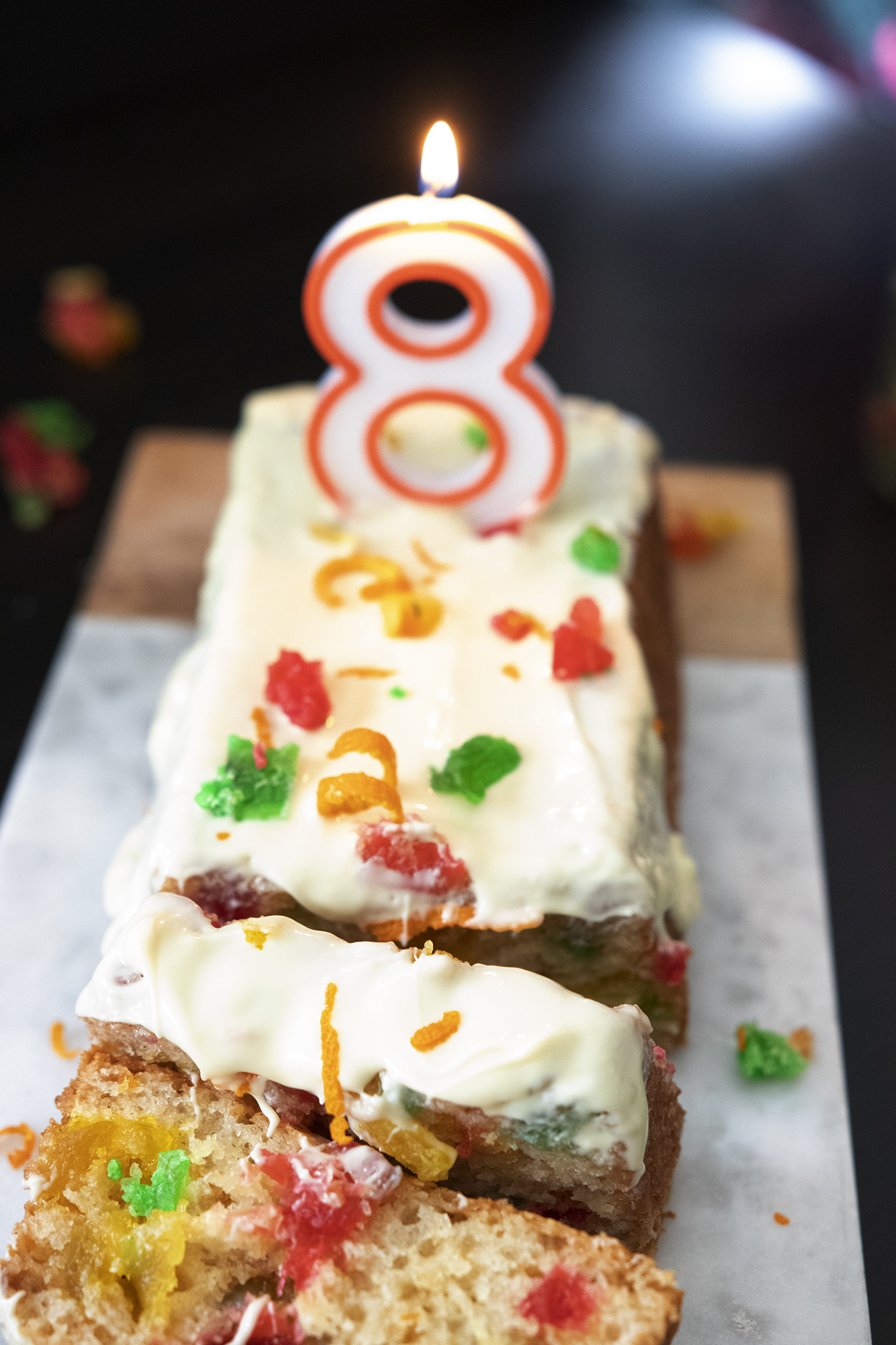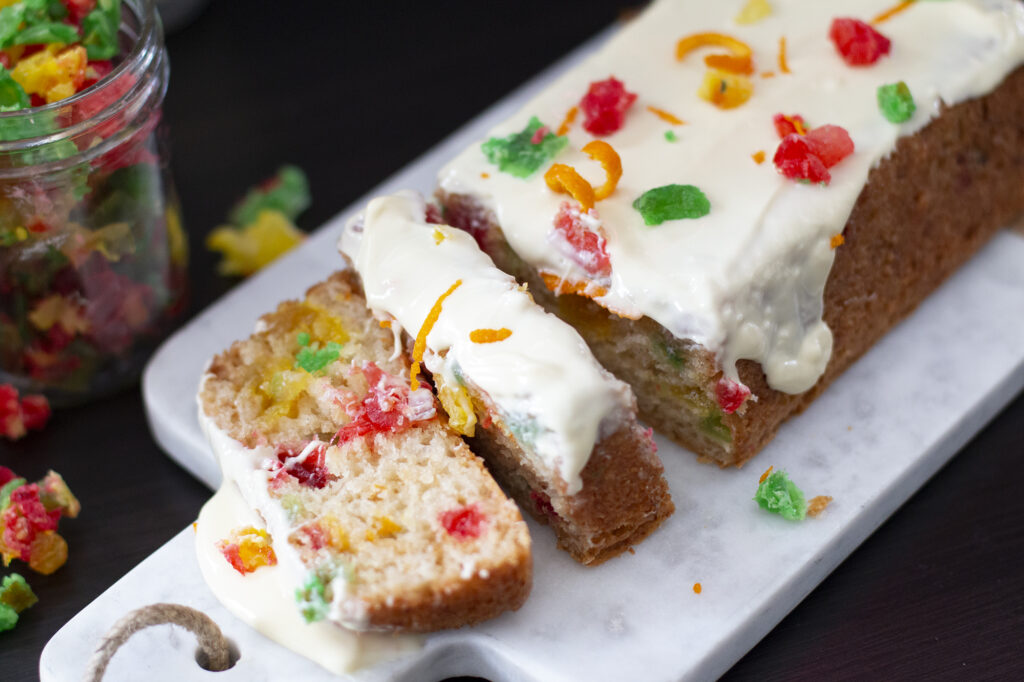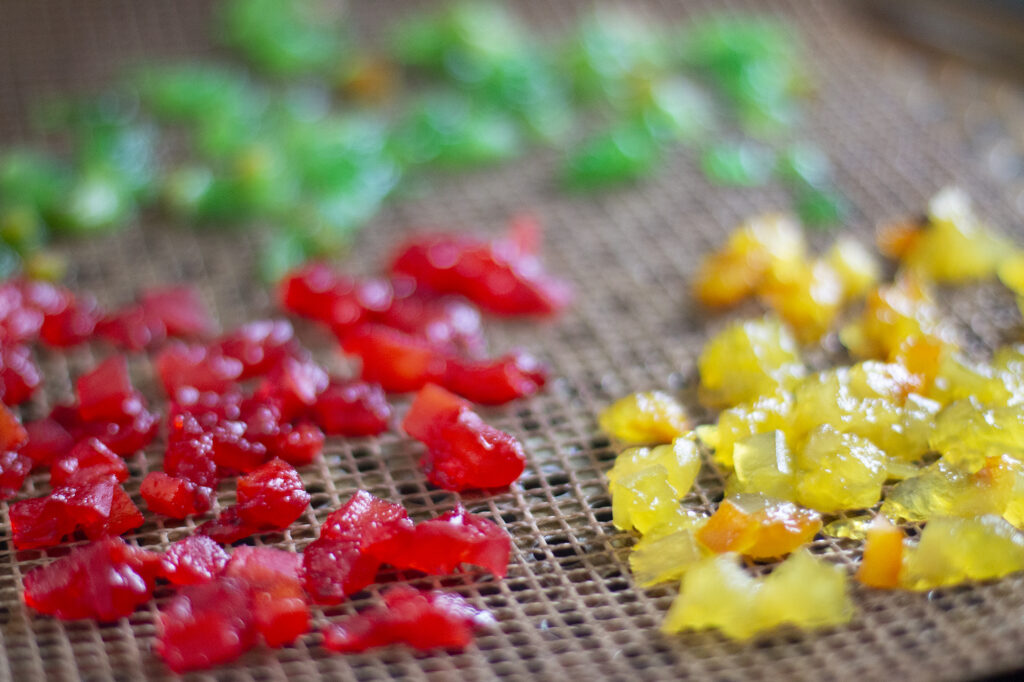 To celebrate our 8th year on YouTube, I decided to make a Tutti Frutti cake. The pandemic had other plans, no Tutti Frutti in stock. I wasn't about to give up, when you have to have Tutti Frutti cake, you HAVE to have Tutti Frutti cake! I looked up how to make it myself. I couldn't find raw papaya and watermelon is not in season so I decided to make this with a firm melon. The process to make it is super easy, but it does need days to air dry.
Tutti Frutti cake is a simple eggless cake, made super special with the addition of 'Tutti Frutti' or candied pieces of melon.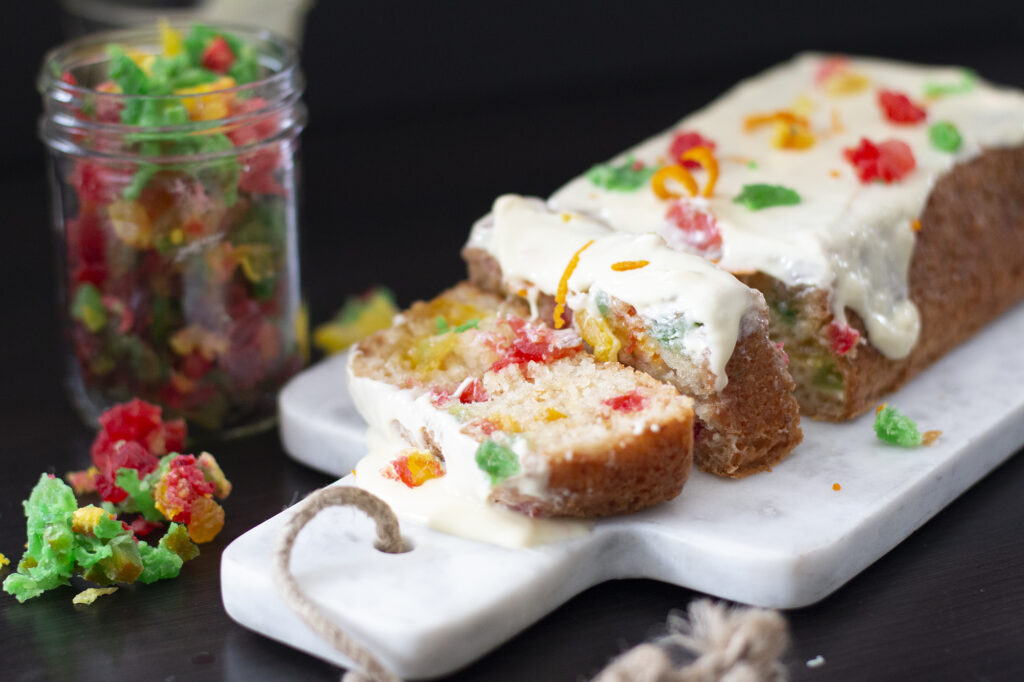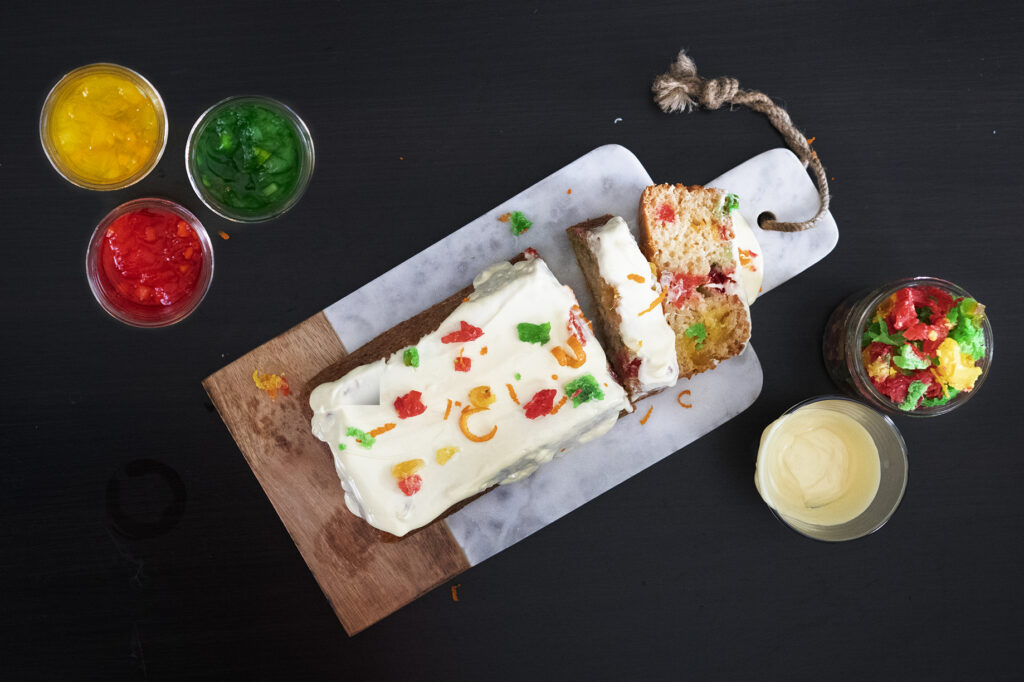 Kravings Food Adventures is a labour of love, I started this off as a simple blog and decided to make videos 8 years ago. You can now find my content and great recipes, here on this site, on youtube, facebook, instagram, pinterest and tiktok.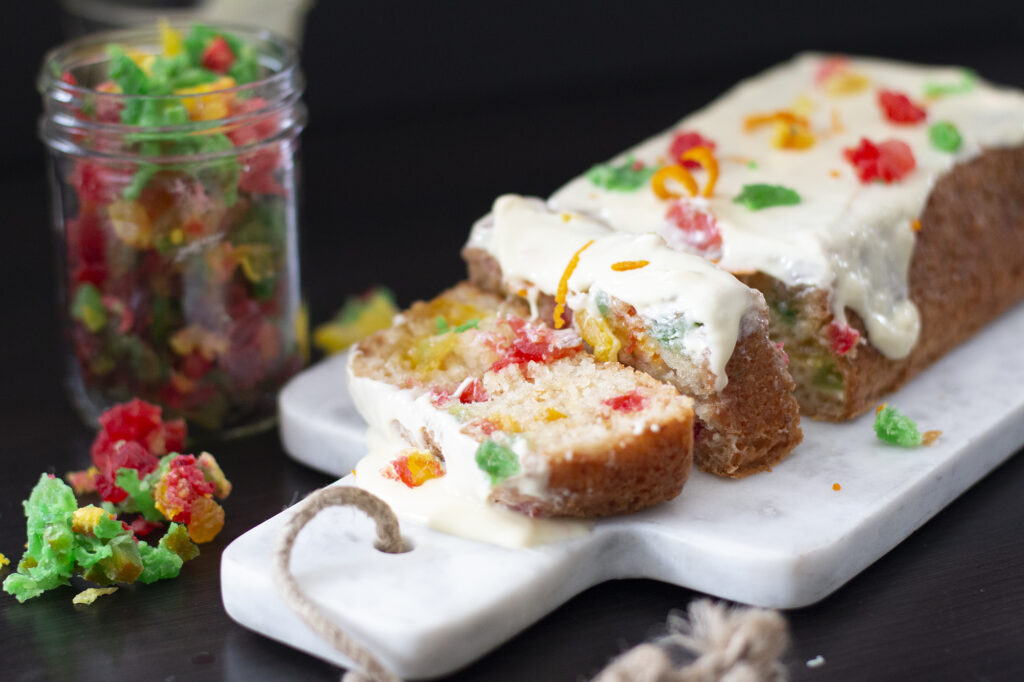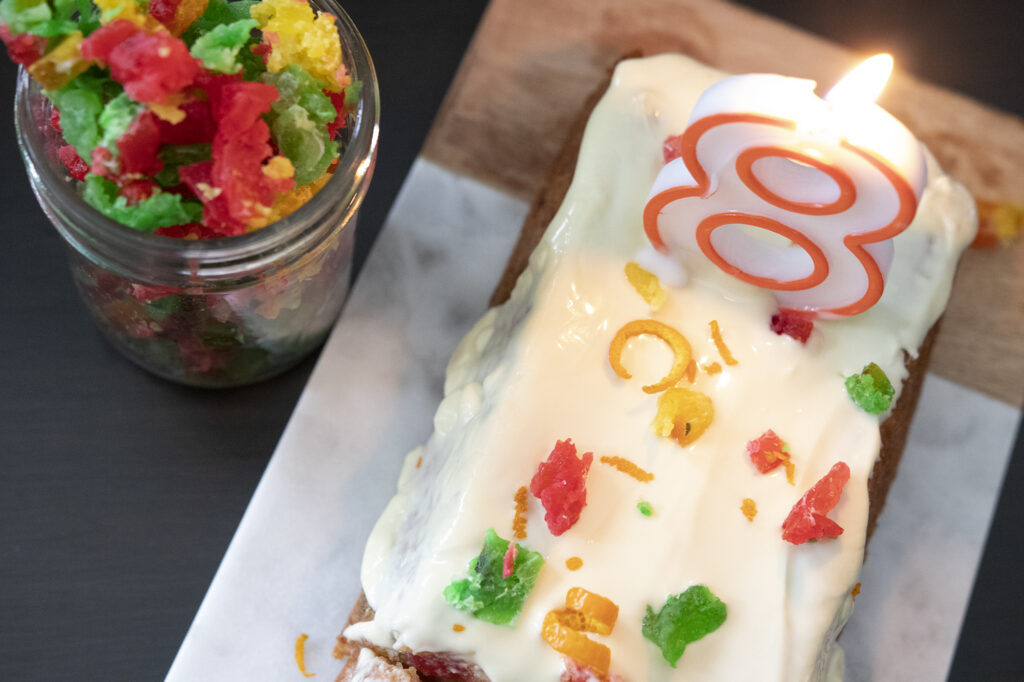 This is an eggless recipe, it is not dairy free, however you can make this dairy free by using coconut cream instead of yogurt and omitting the chocolate topping.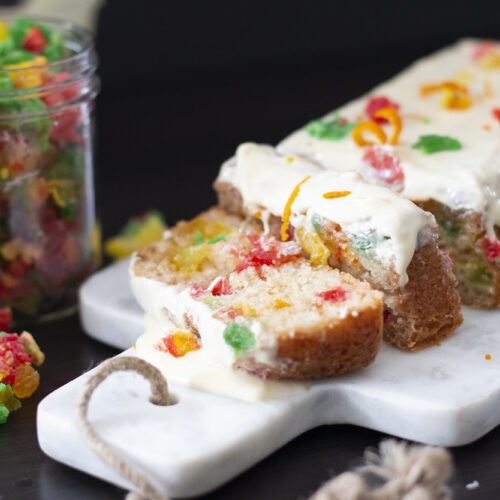 Tutti Frutti
Ingredients
Tutti Frutti
1

cup

diced firm Melon

Watermelon rind or raw Papaya

1

tbsp

chopped Ginger

1

tbsp

chopped Orange rind

1

cup

Sugar

1

cup

Water

1 – 2

drops or food colouring – red

green and yellow
Cake Batter
1.5

cups

all purpose Flour

1

tsp

Baking powder

1/4

tsp

Baking Soda

3/4

cup

Sugar

3/4

cup

Yogurt

1/2

cup

Oil

1

tsp

Vanilla bean paste or essence

1

tsp

Orange essence
Optional topping
Melted White Chocolate

More Tutti Frutti to decorate
Instructions
To make the Tutti Frutti first boil everything in water for about 5 mins

Once done, drain out the extra water

Add the Sugar and Water and allow this to boil for a few minutes

Add the fruit back in and cook this till the melon becomes translucent … this will take 10 – 15 mins

Please note that if using watermelon rind or raw papaya is used you can boil a bit longer

Strain this and divide into 3 jars

Using food colouring, add a drop or so in each jar and love for 30 mins

Strain any remaining sugar syrup out AND leave it on some mesh to dry for 24 – 36 hrs

Once dry, they can be stored in an air tight jar

To make the cake batter first beat the sugar and yogurt together

Sift the flour, baking powder and soda together and then fold it into the wet ingredients

Add the electric beater if necessary but don't over beat

Add the Orange rind and the Tutti Frutti

Fold and pour into a buttered pan which has a strip of parchment at the bottom

Fill the pan and add to a preheated oven and cook for about 40 mins

Once cooked, allow the cake to completely cool.

Run a knife around the sides and turn over

Remove the parchment paper

This is optional – dress it up with some melted white chocolate and some more Tutti Frutti