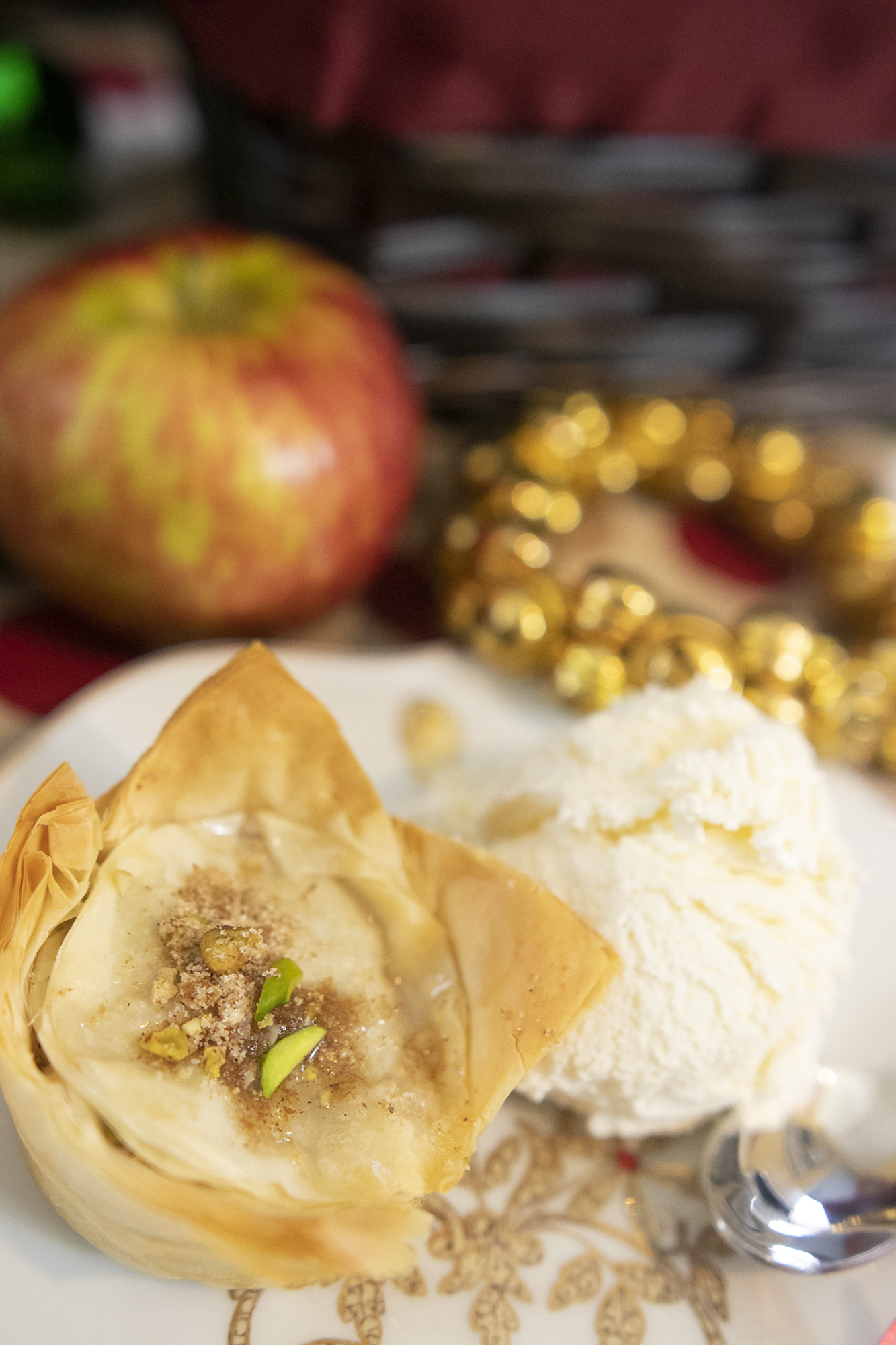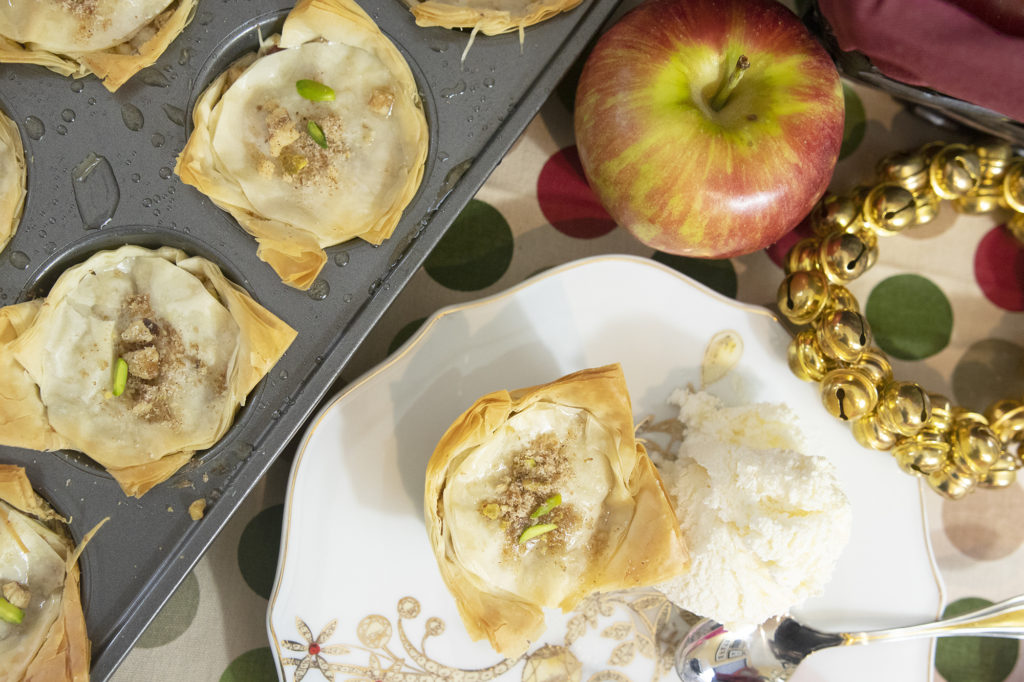 View my step by step video – coming soon
This post is sponsored by the Ontario Apple Growers – the opinions and recipe idea is entirely my own.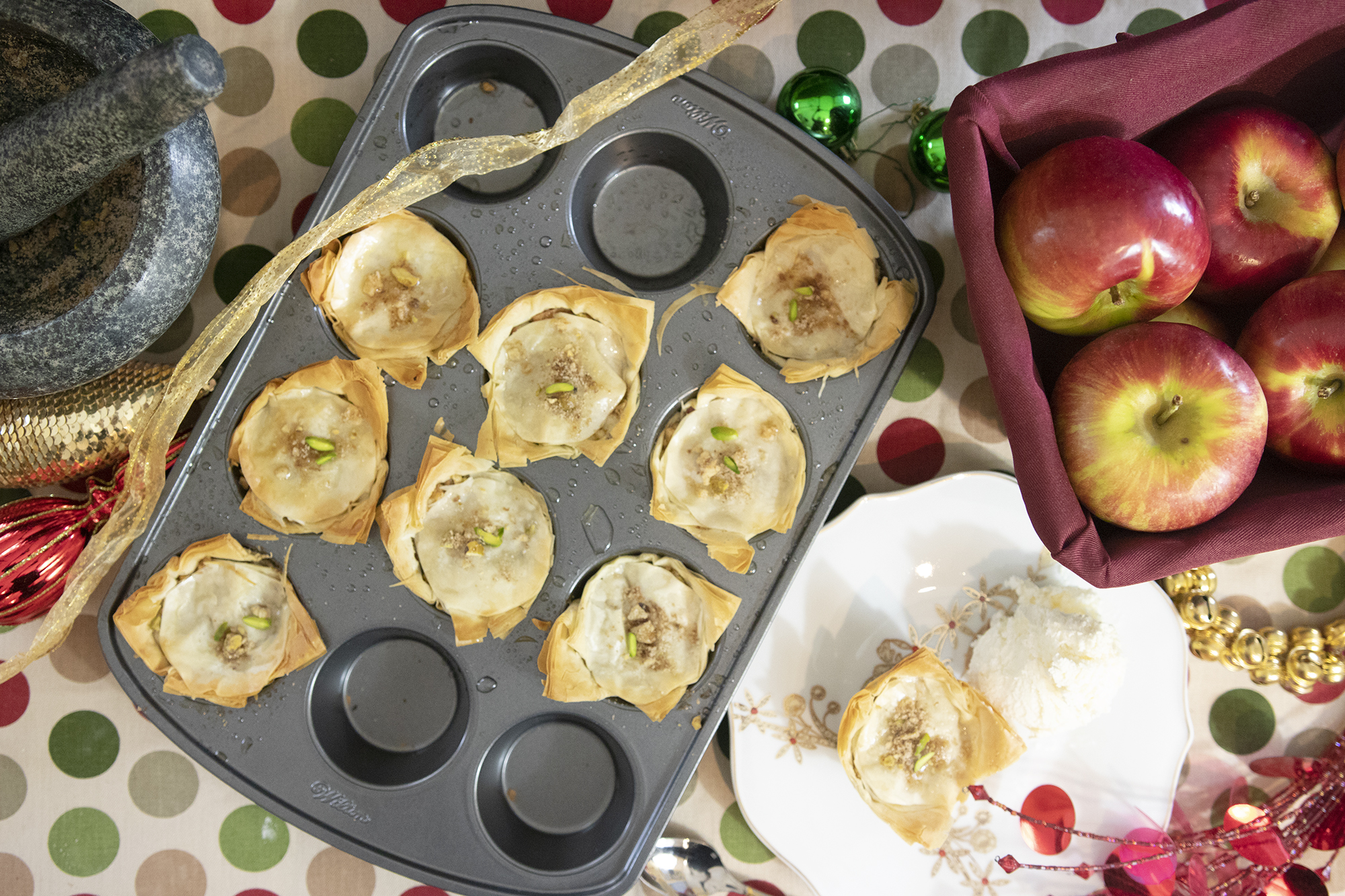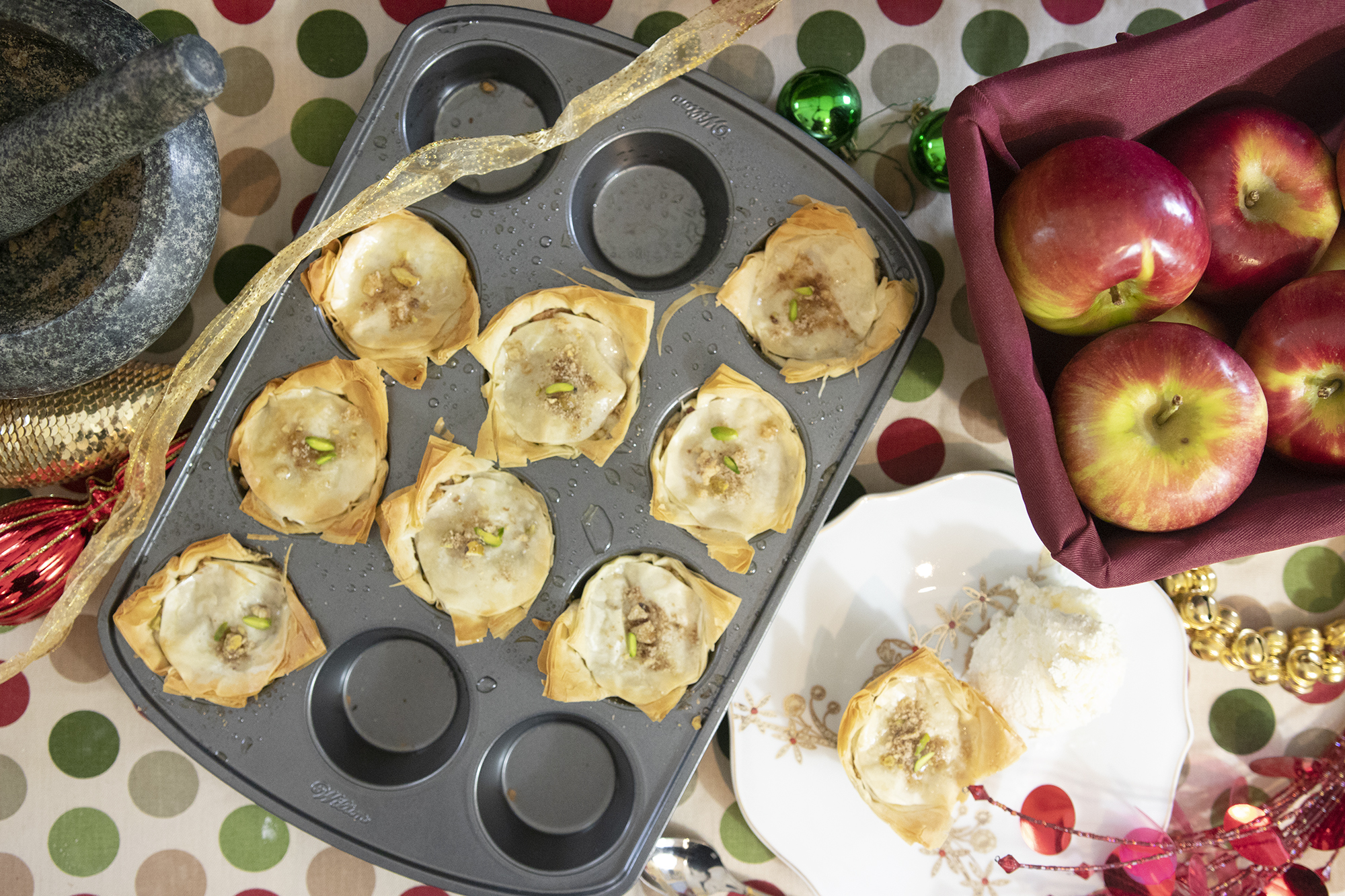 Do you know where your apples come from? Contrary to popular belief, they don't magically appear on grocery shelves.
This year I was invited to tour with the Ontario Apple Growers. We headed to Wilmot Fams to the Apple Orchards and onward Algoma Orchards to a packing plant. Last year we visited another farm in the west end. Although it was an amazing trip, we didn't get to see any of the apples on the trees as it was November and picking was done for the season. You can watch that video here – https://www.youtube.com/watch?v=e8J1BnQXSSI&t=239s
Ontario Apple farms are located in three different zones and they are all close to the lake regions – Lake Ontario, Lake Erie, Lake Huron and Georgian Bay.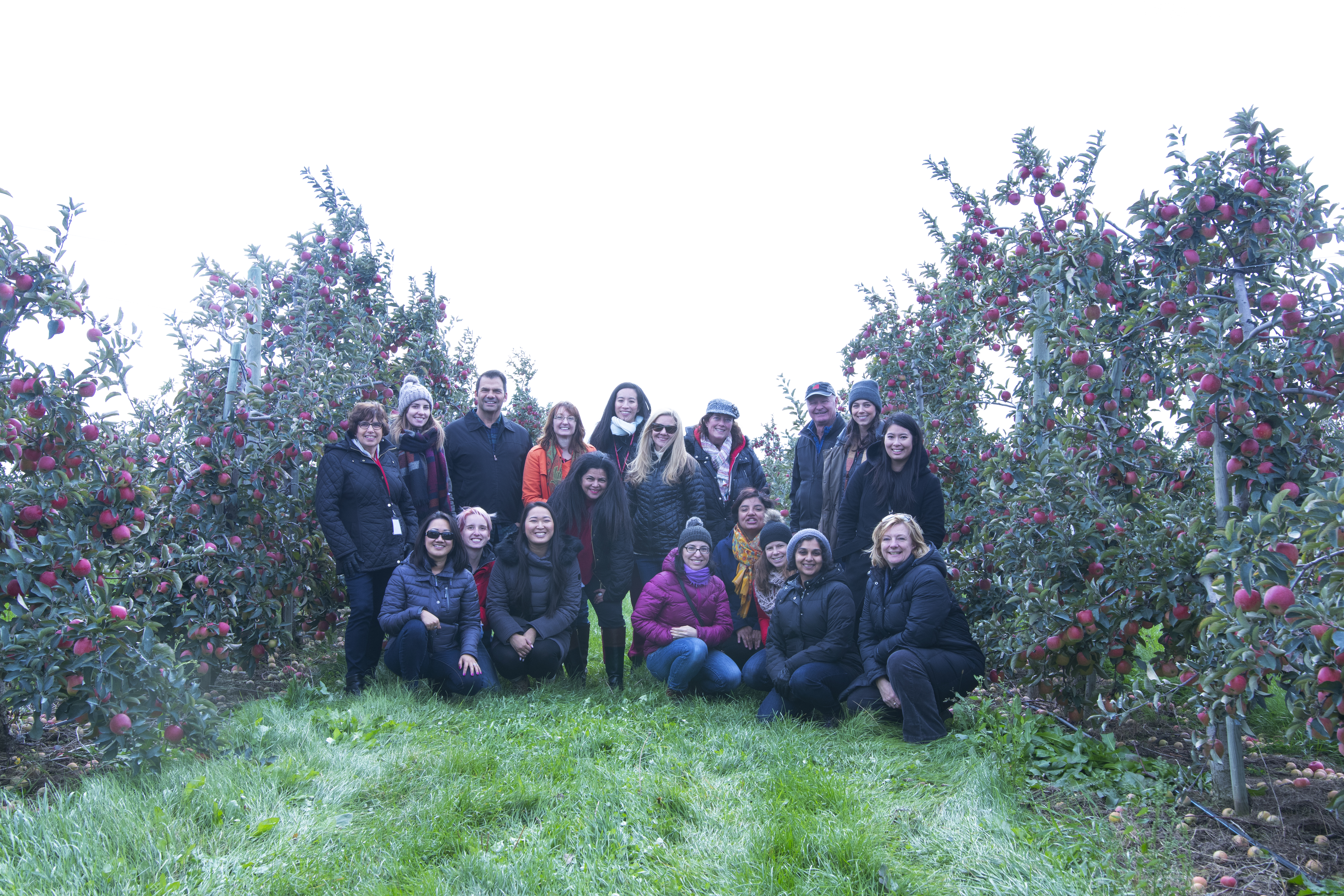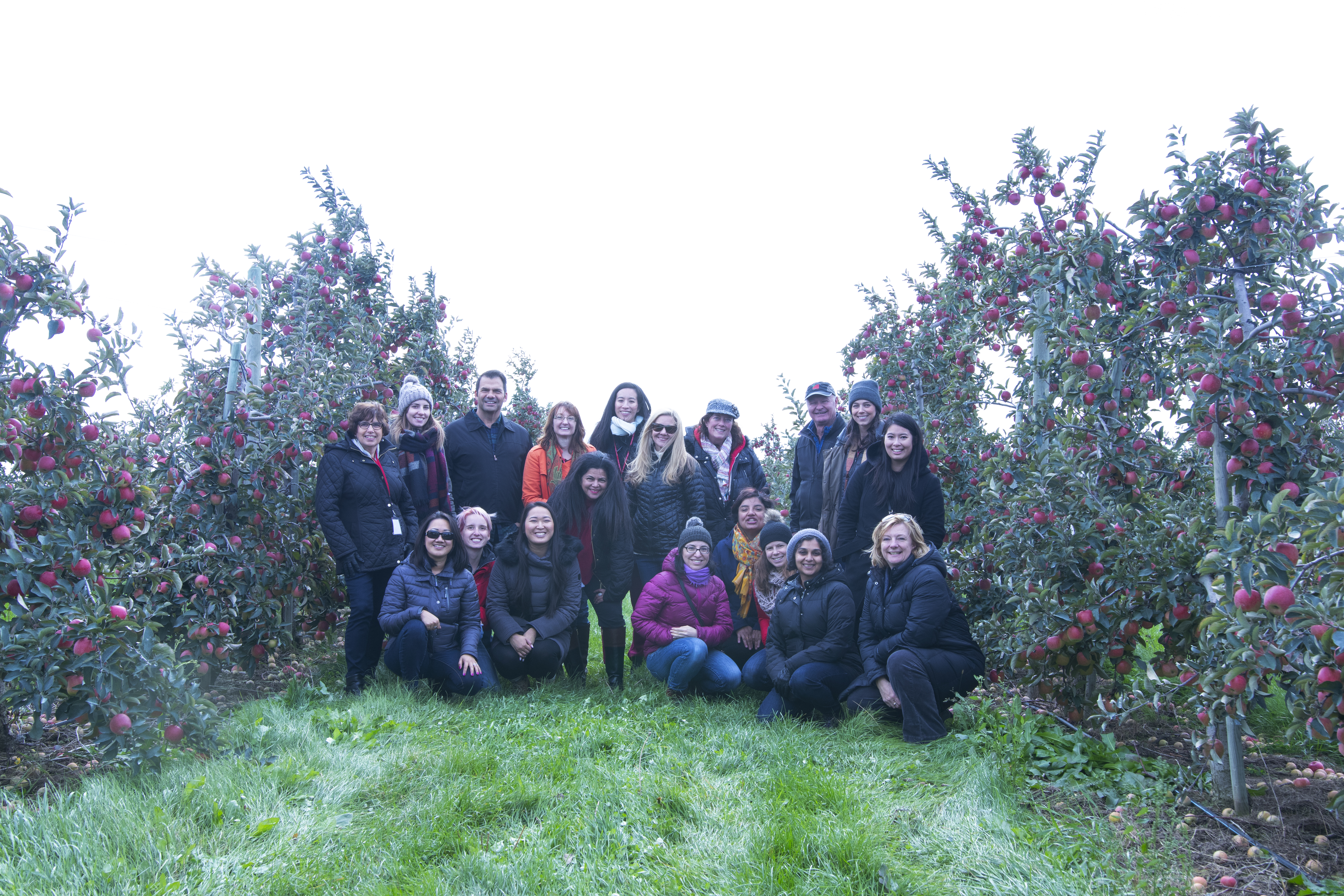 This trip was made mid October and although Apple picking is finished for the most part, the trees are still laden with Ambrosia that is picked in the mid to late fall.
We started off at Wilmot Farms in Bowmanville. This farm is owned by the Stevens Family Charles and Judi and their daughter Courtney. Courtney is the seventh generation farmer in the Stevens family!
Ian Parker, Orchard Manager is very knowledgeable and it blew my mind to learn how much strategy and science in involved in keeping the apples safe. Everything is calculated, the height that the tree is allowed to grow to, and the distance between each tree and the rows. The trees are also thinned so they produce the right amount of apples. If it tree is over producing there are many methods to trim back the apples to maintain quality; including thinning, pruning and applying certain products. Machines such as frost fans are used to suck in the cold air and push it upward, pushing the warm air back onto the orchard. The difference even if it's a few degrees can save the crop. They also protect the crop from hail using a hail cannon.
Apple Fact: There are 15 different main varieties of apples are grown on nearly 16,000 acres in Ontario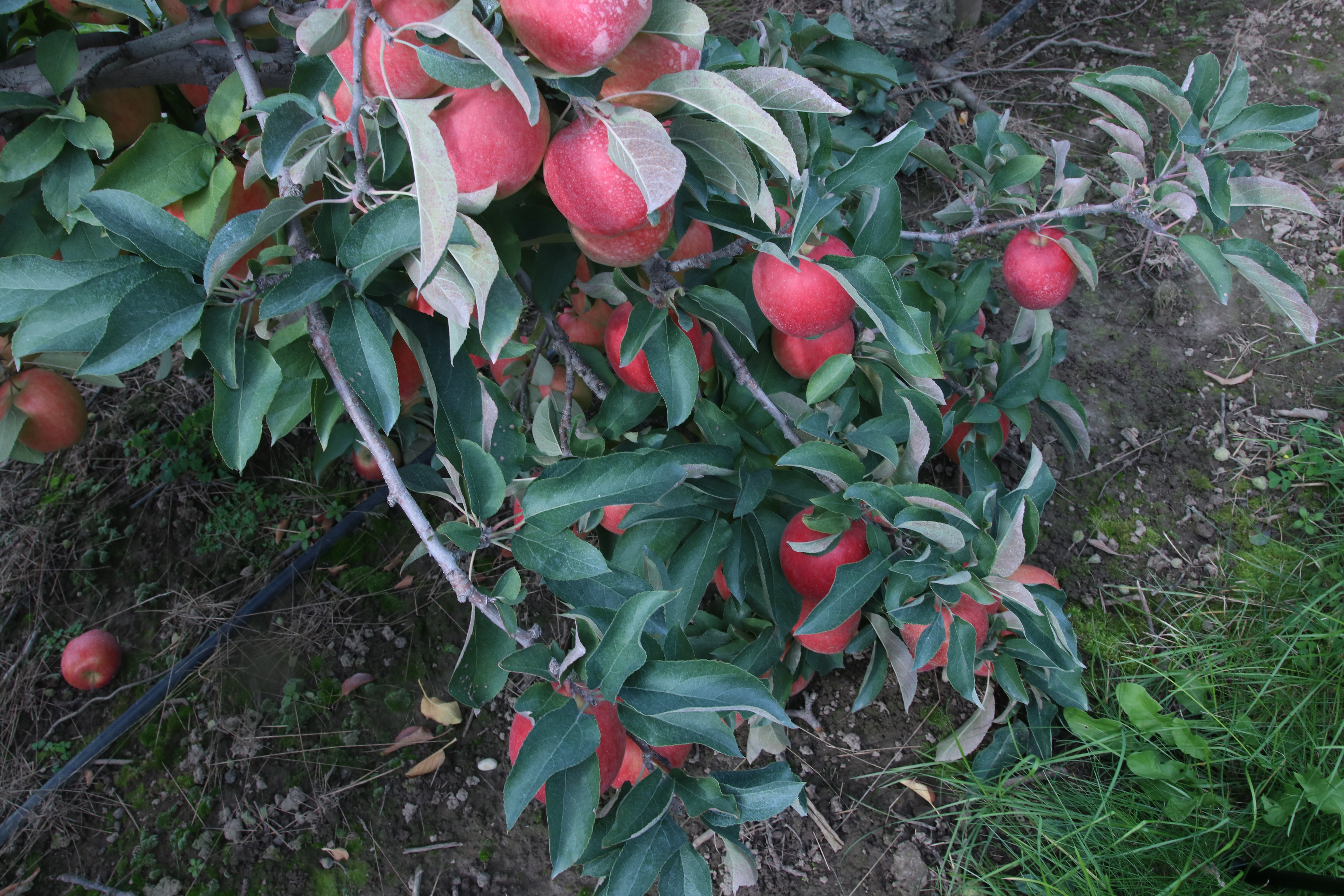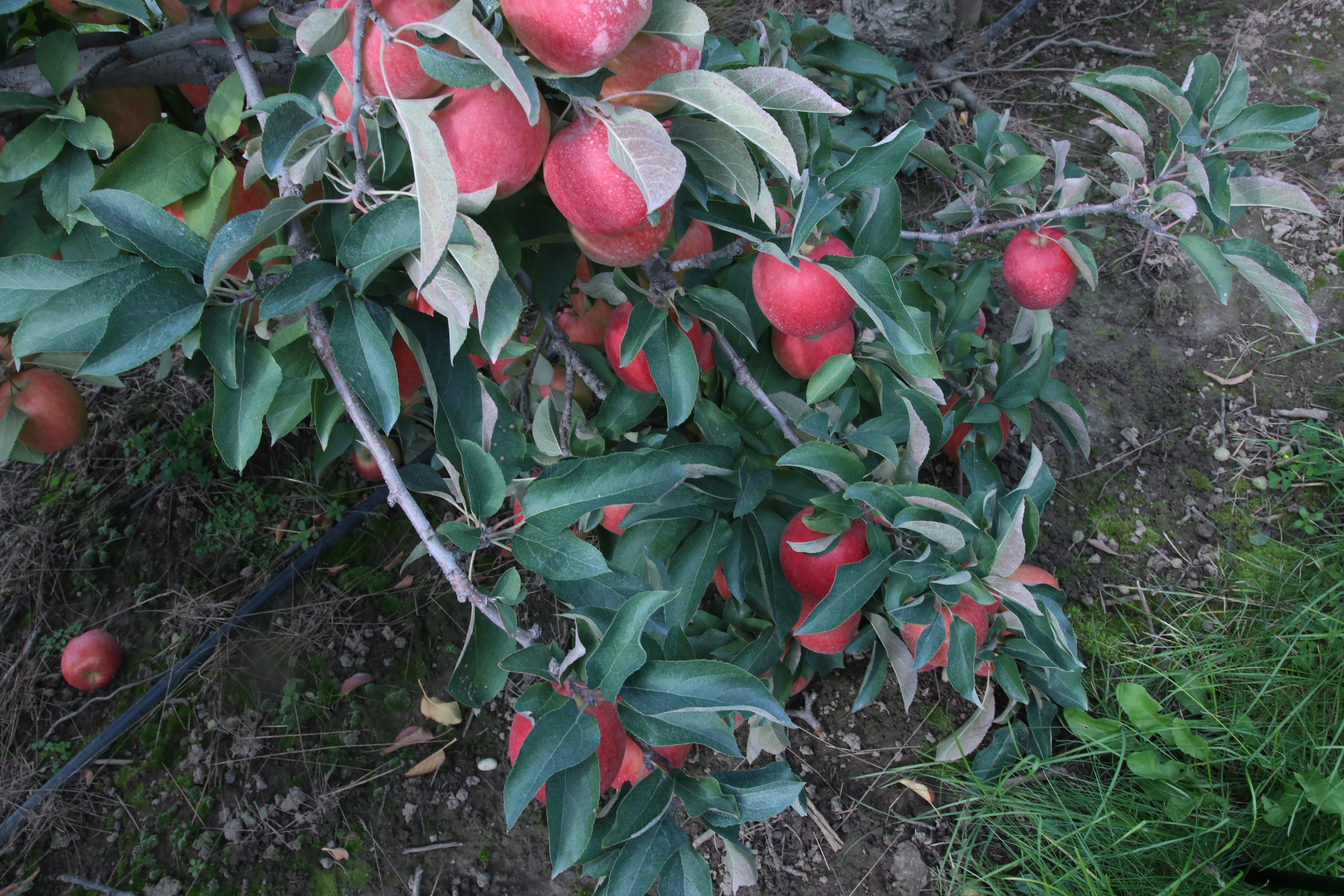 This farm grows about 10 varieties of apples at this time of year the Ambrosia is ripe for the picking. The Ambrosia is a fairly new apple discovered in British Columbia in the early 1990's. This was found growing in the orchard among another apple variety. This fruit is typically picked late fall.
Many of the trees in the Orchard that are done for the season have a lot of fruit on the ground. In commercial growing, if the apples touch the ground, they cannot be sold under Food Safety protocols. I asked the farmer why the fruit couldn't be saved by installing a net and the answer he gave me made perfect sense – when the apple falls, even if it is caught in a net, when it collides with another apple it will bruise, which makes it unsellable. Also the cost of picking the apple on the ground for organic waste or cattle feed is labour-intensive & too expensive, so the best is to leave it on the ground to fertilize the soil for next year's crop.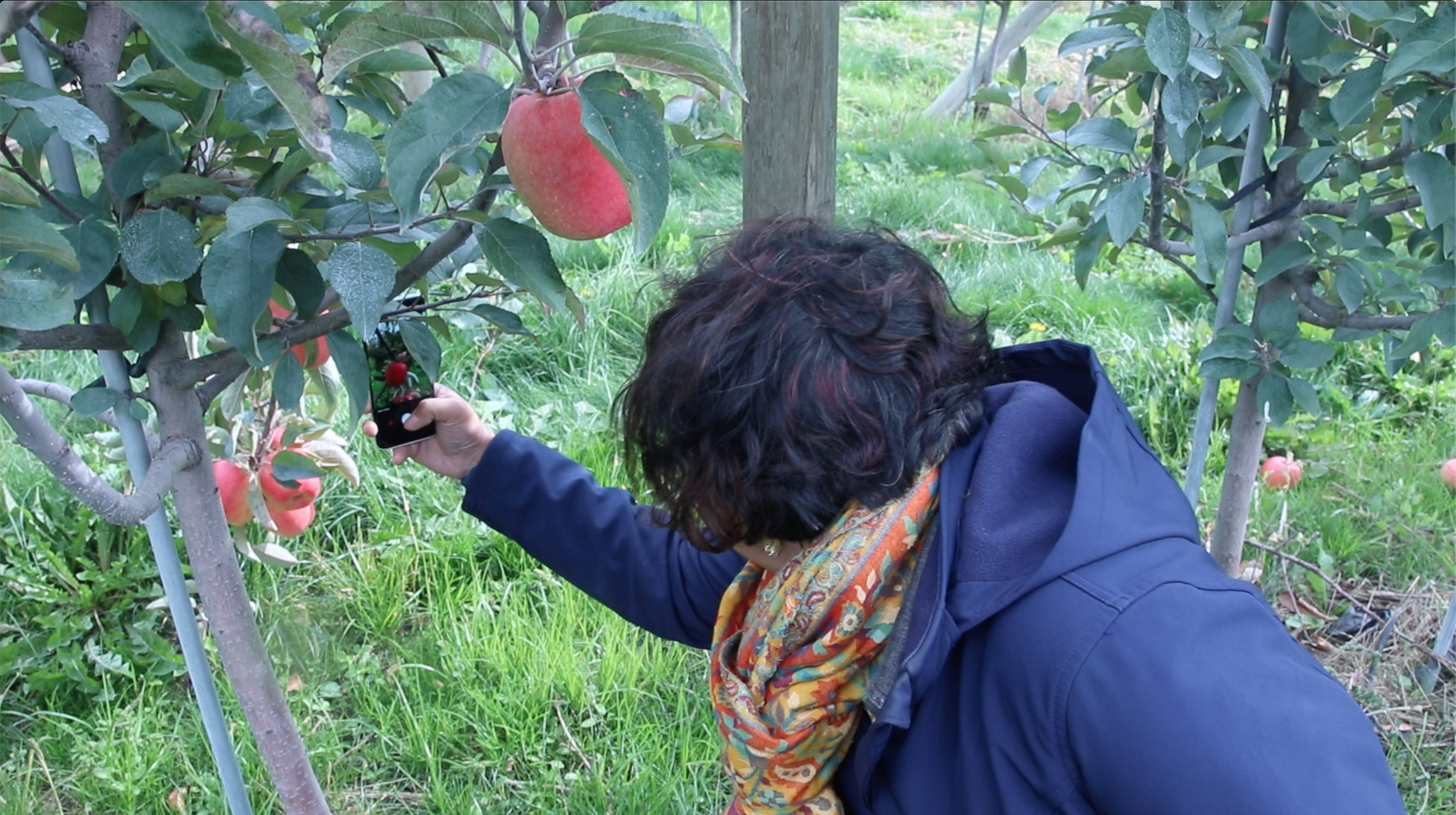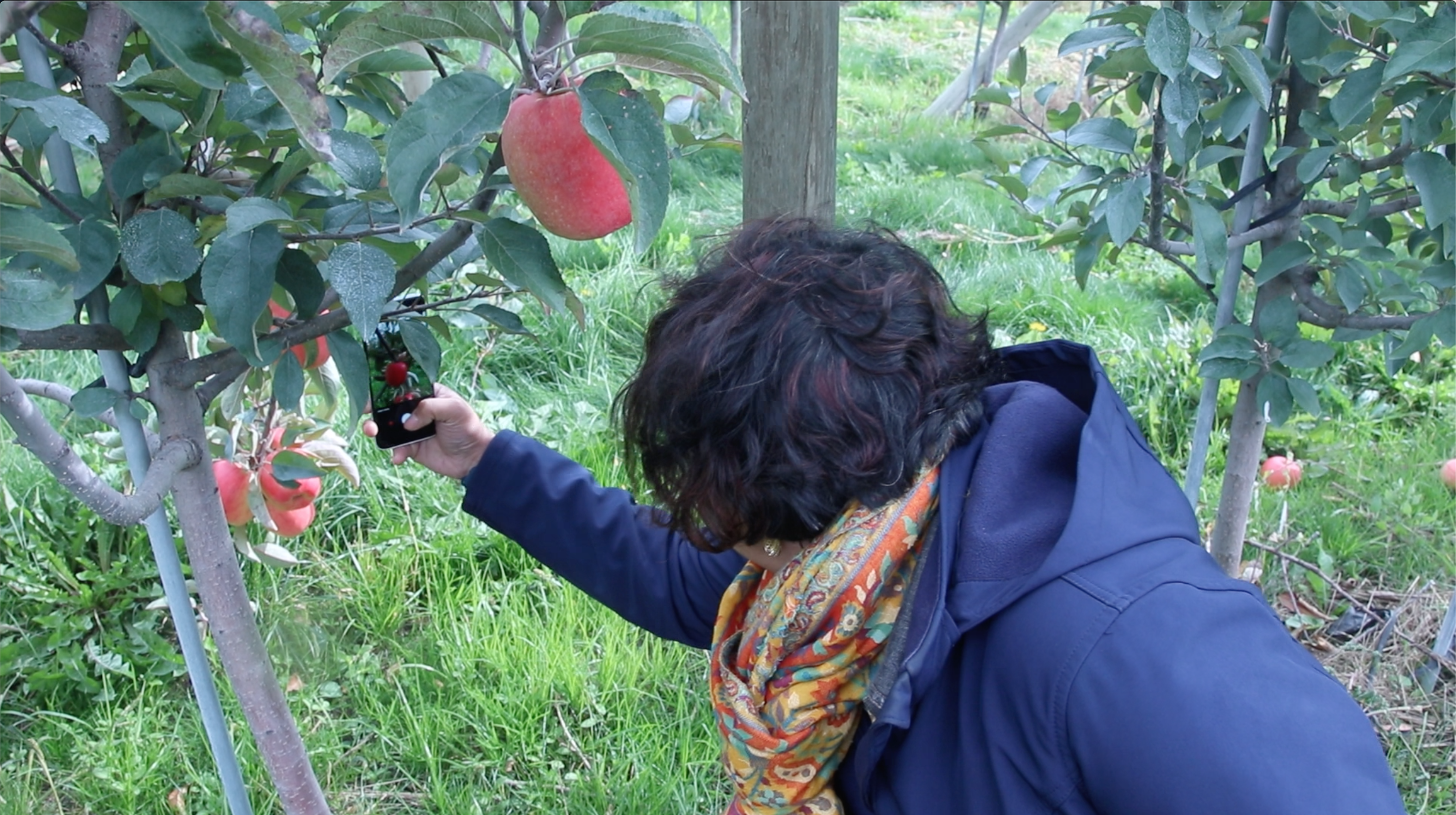 Our group of eager bloggers had plenty of photo ops to get up and personal with these beautiful fruit. Here you see my friend Puneeta from Maple and Marigold look for the perfect shot!
Other bloggers on this trip were The Kitchen Fairy, Eclectic Soapbox, Nutrition Artist, Little Sweet Baker, The Viet Vegan, The Messy Baker, The Cookie Writer, Imagelicious, Carmy – Run Eat Travel, The Unlikely Baker, How To Eat, Nomadic Nutritionist, Weekend at the cottage & Baking for Friends – check out their recipes too!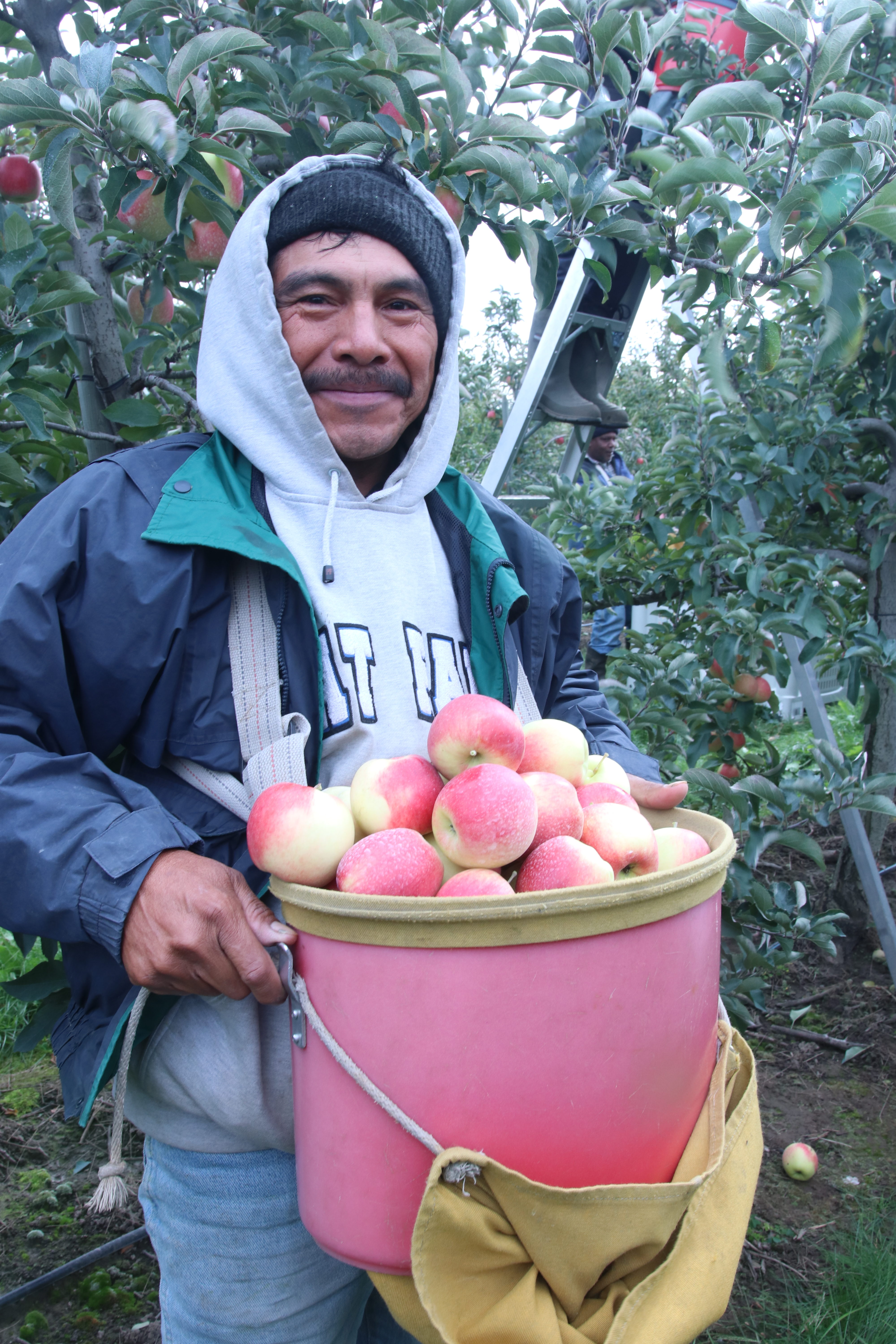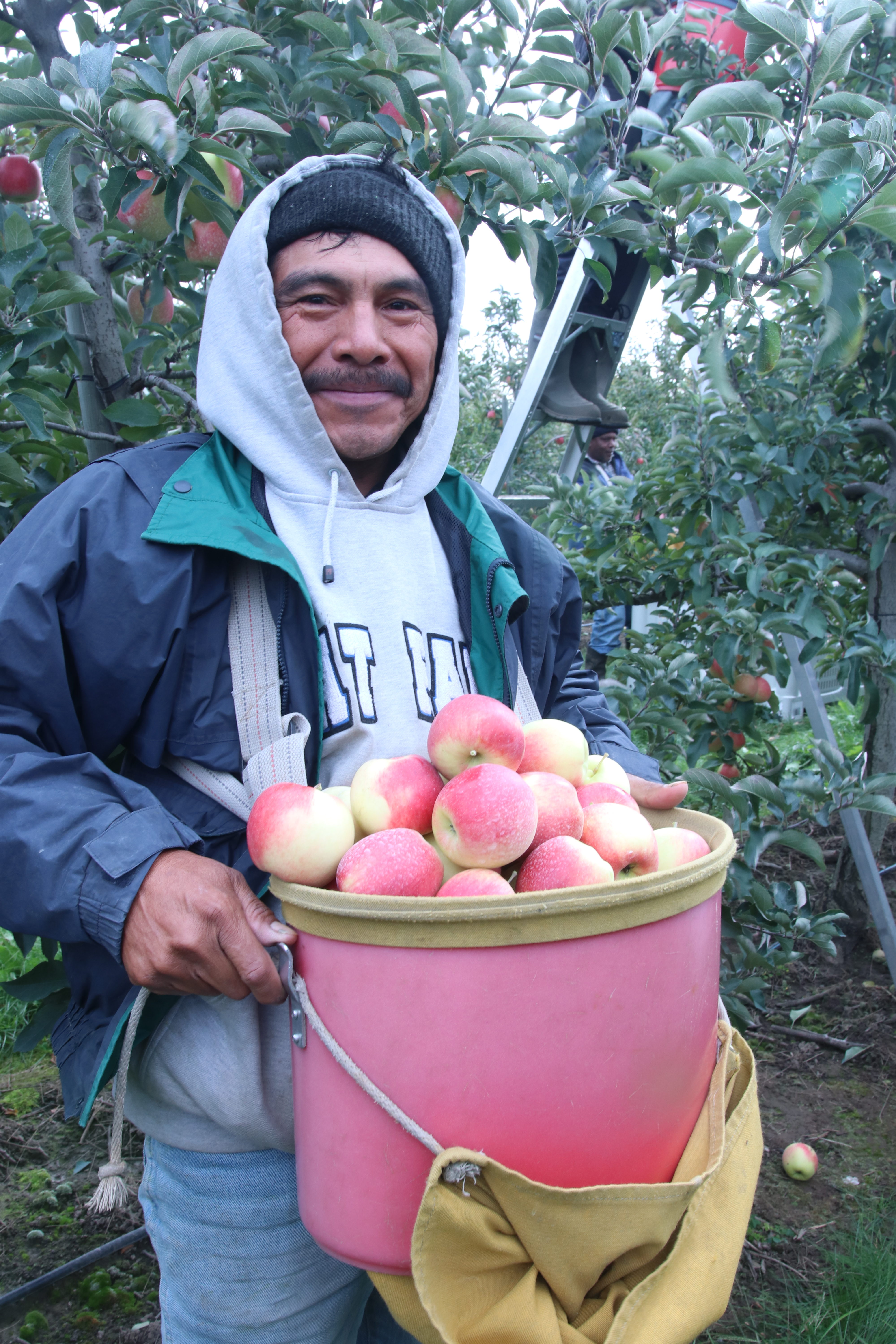 As I was busy admiring the flawless fruit that Eve lured Adam with, I spy a group of pickers! These pickers typically are seasonal agricultural workers that come from Mexico and Barbados to work in the orchard and pick fruit every year. They live on the farm for between 4-8 months and then either transfer to another farm, or go back home till the next season.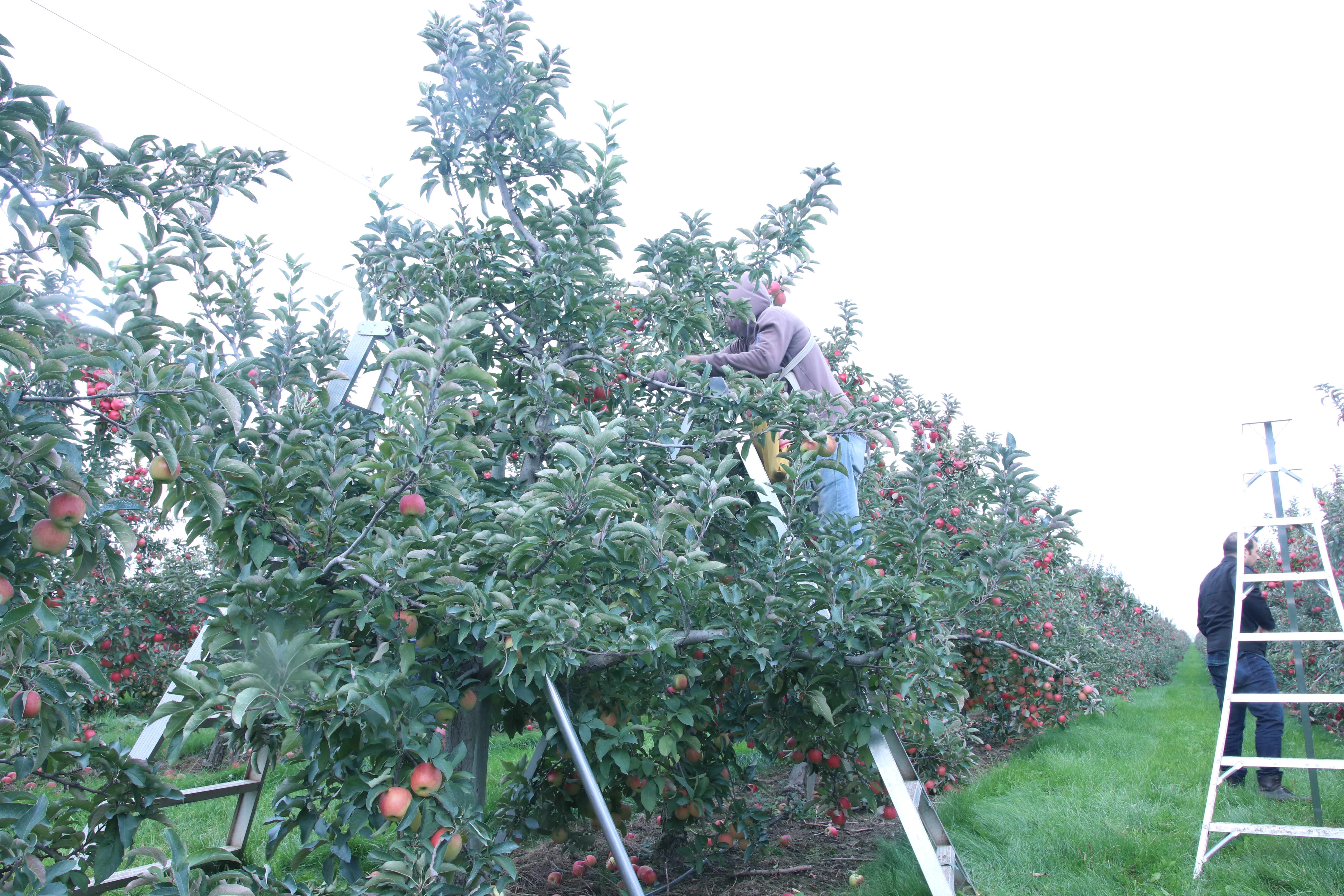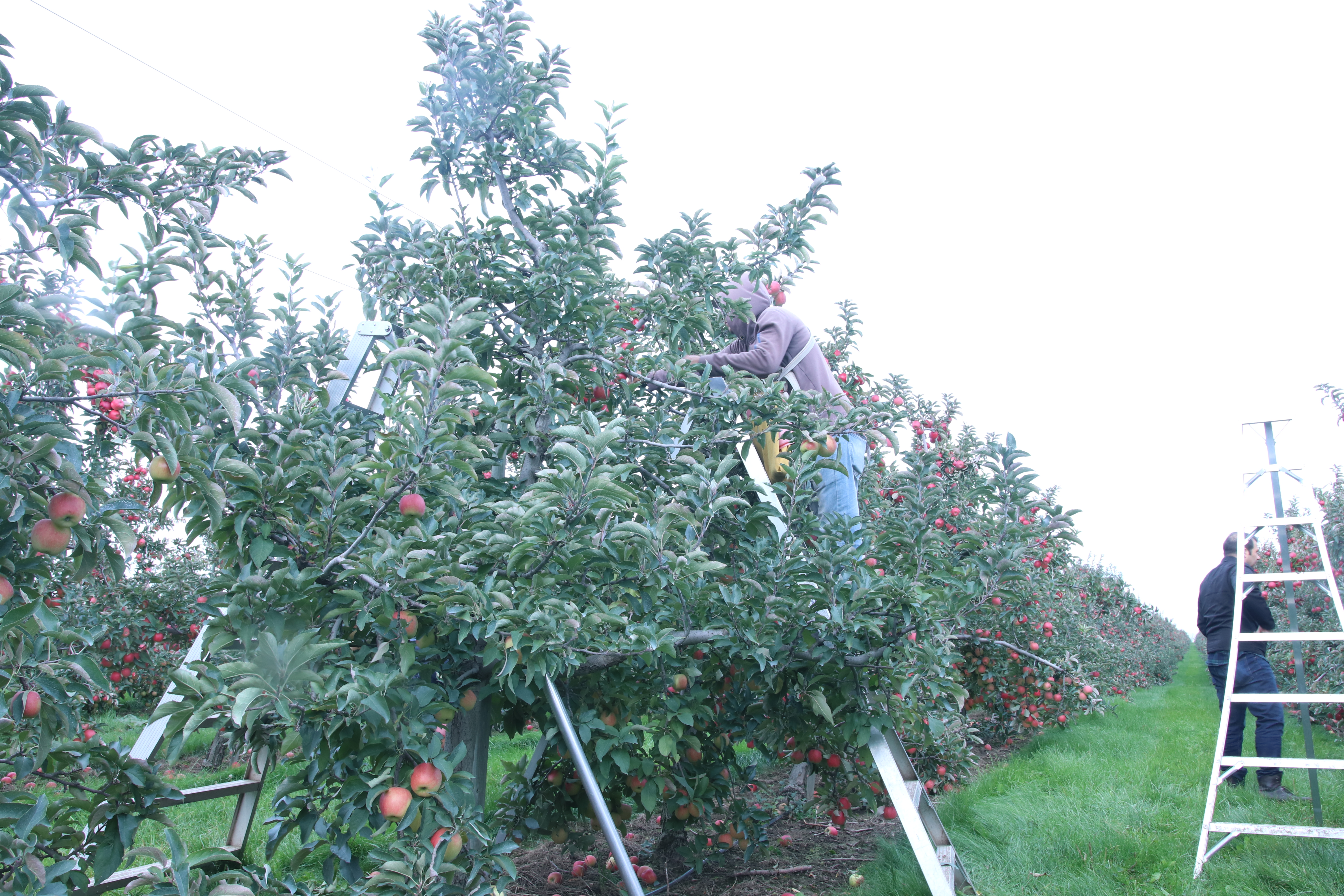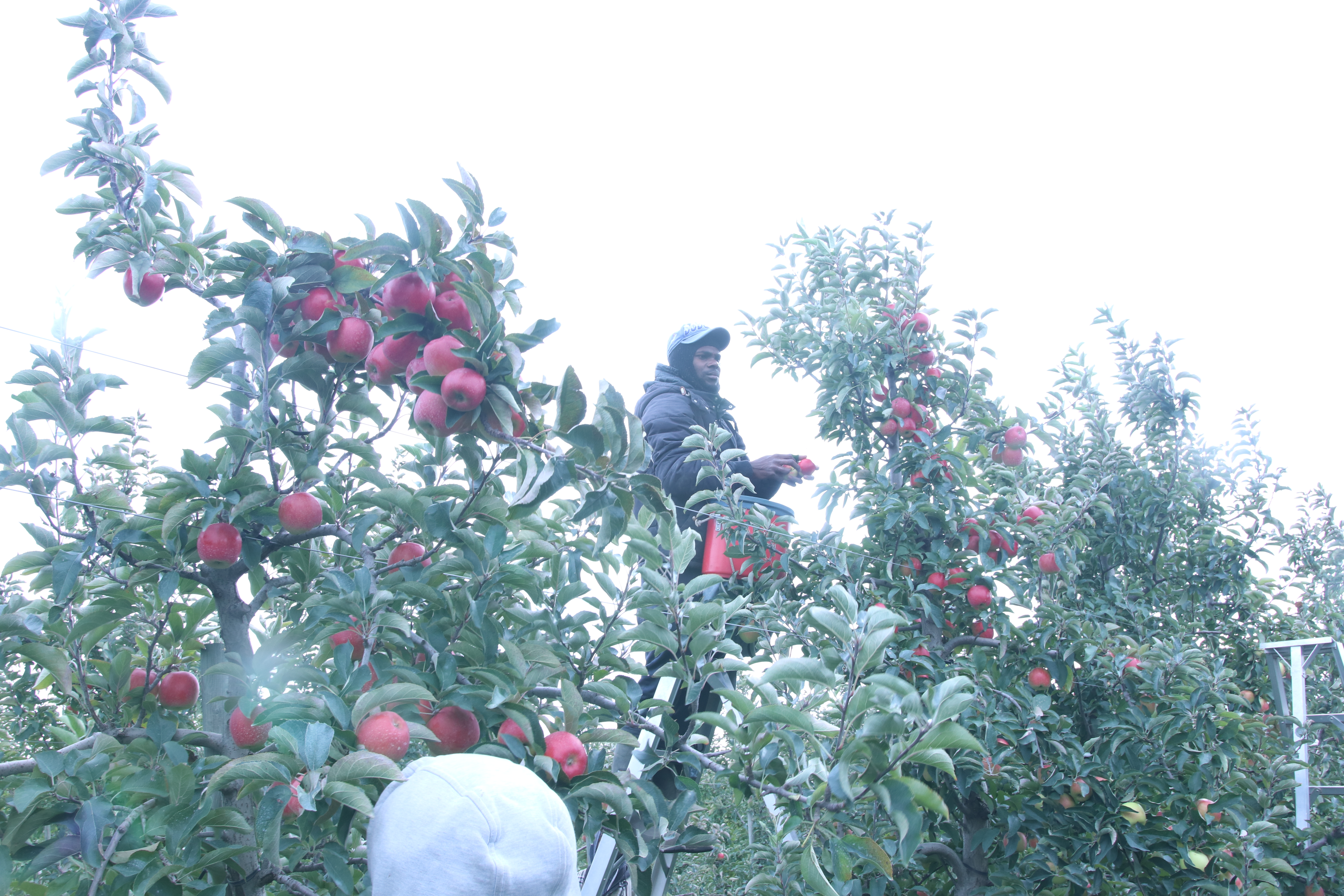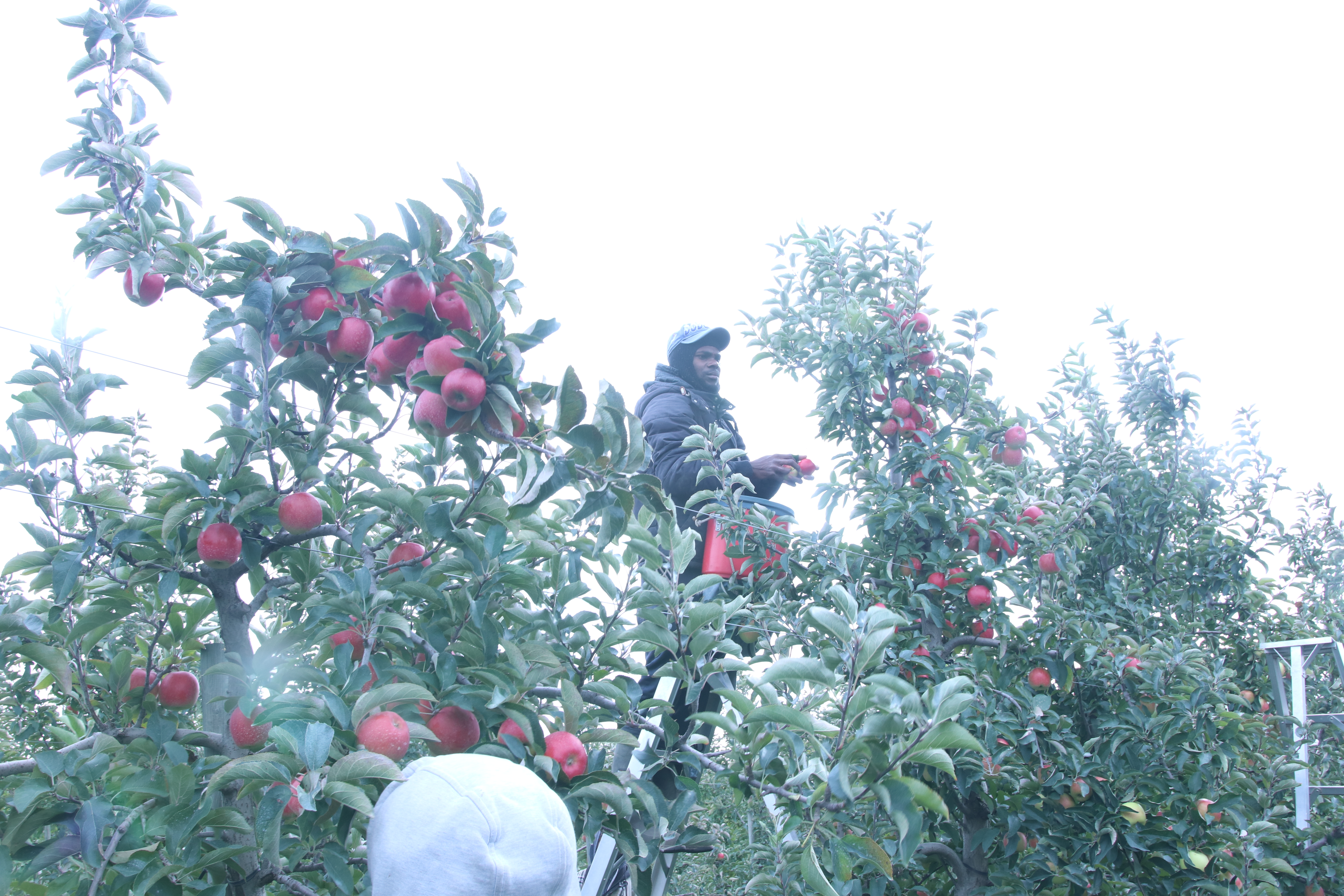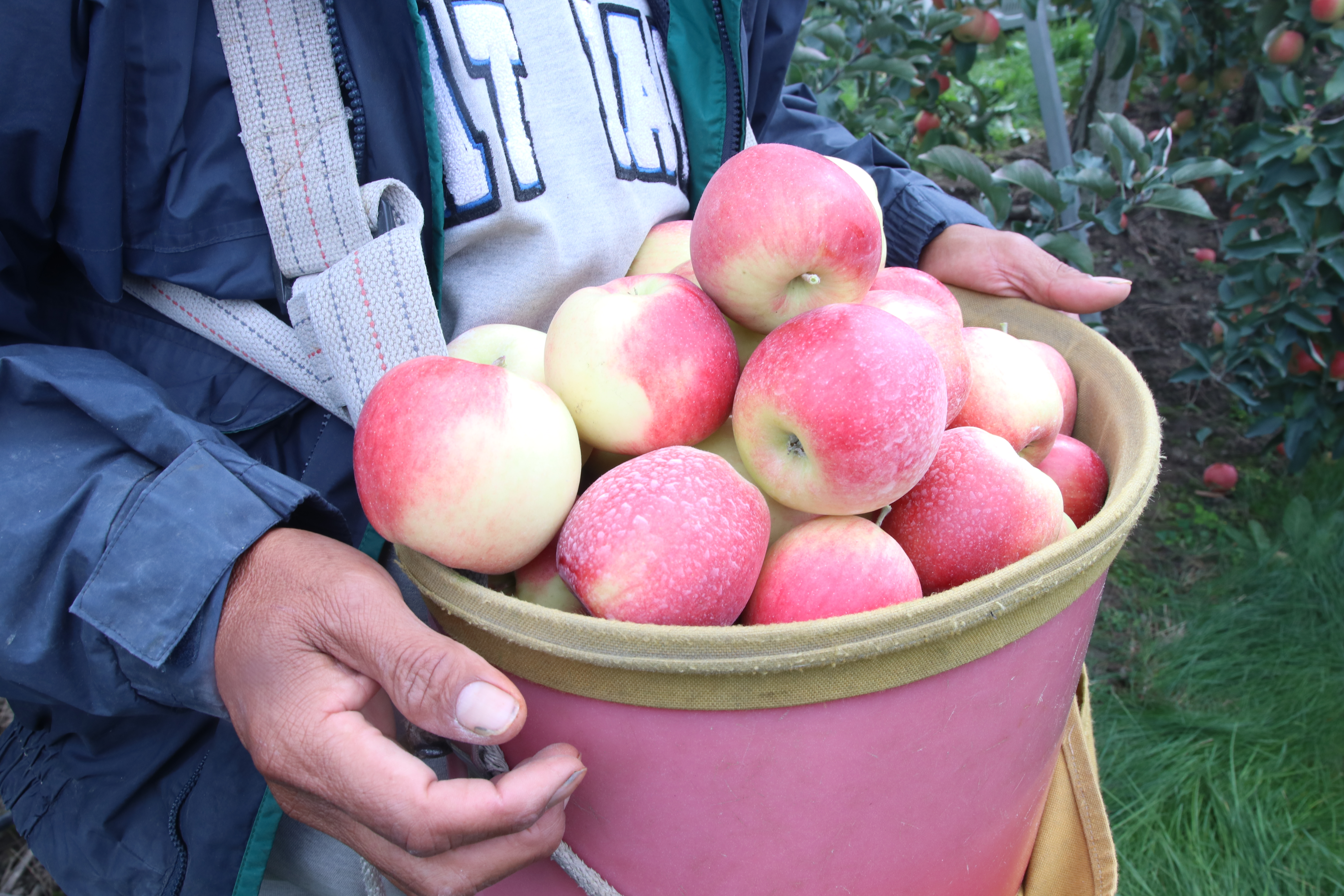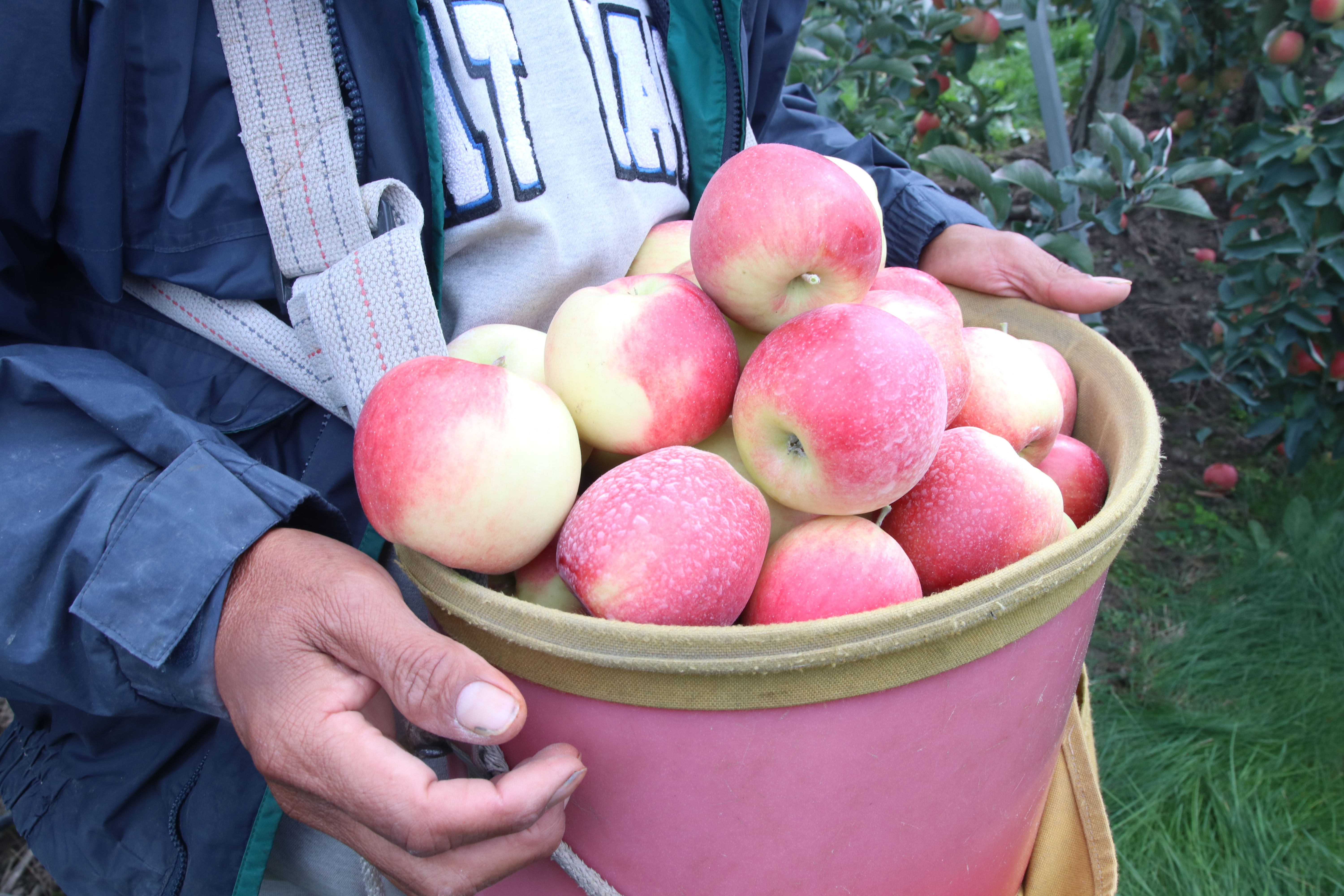 The farmers that run this farm are filled with passion and love for the apples. This farm also grows blueberries and you can pick your own in season.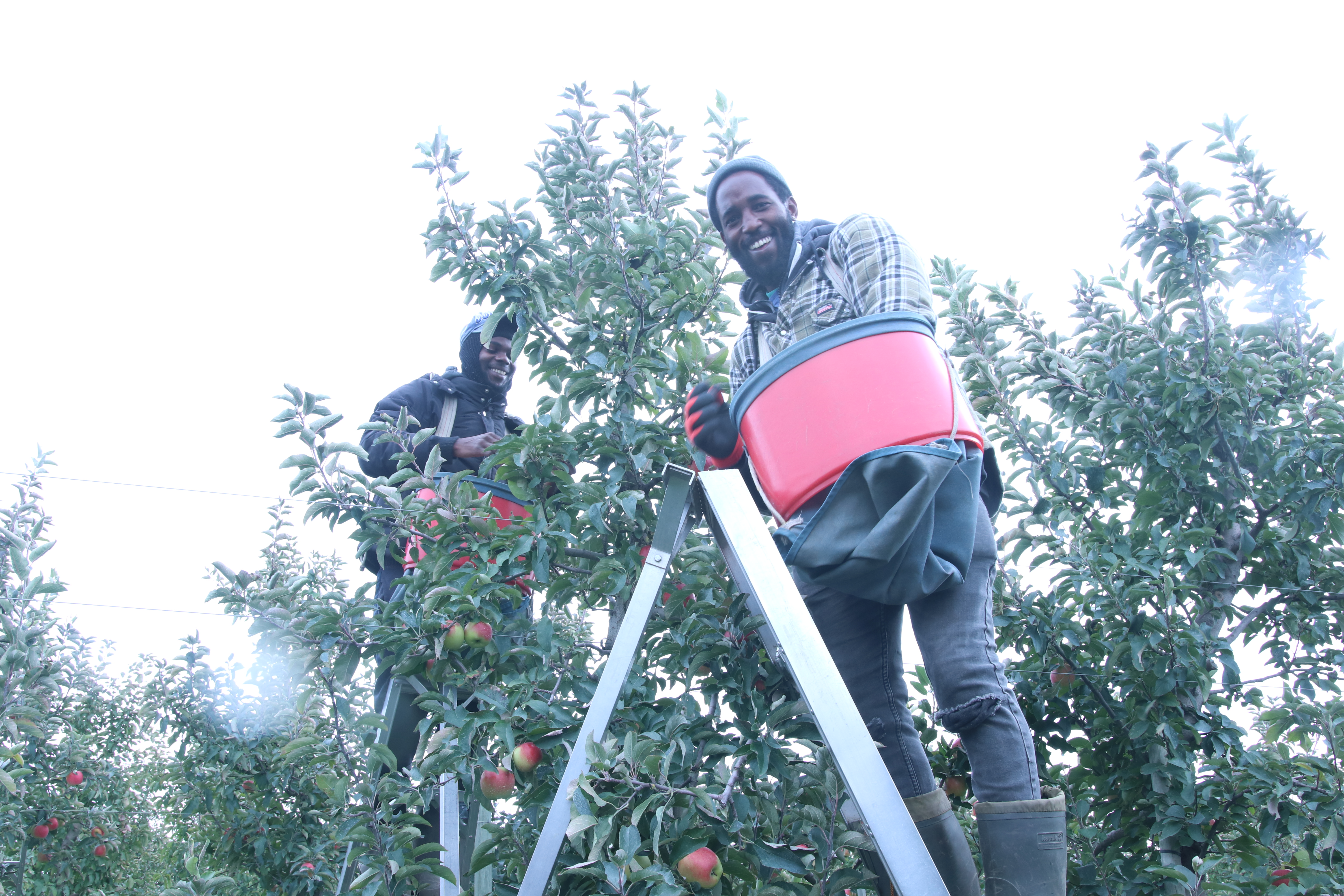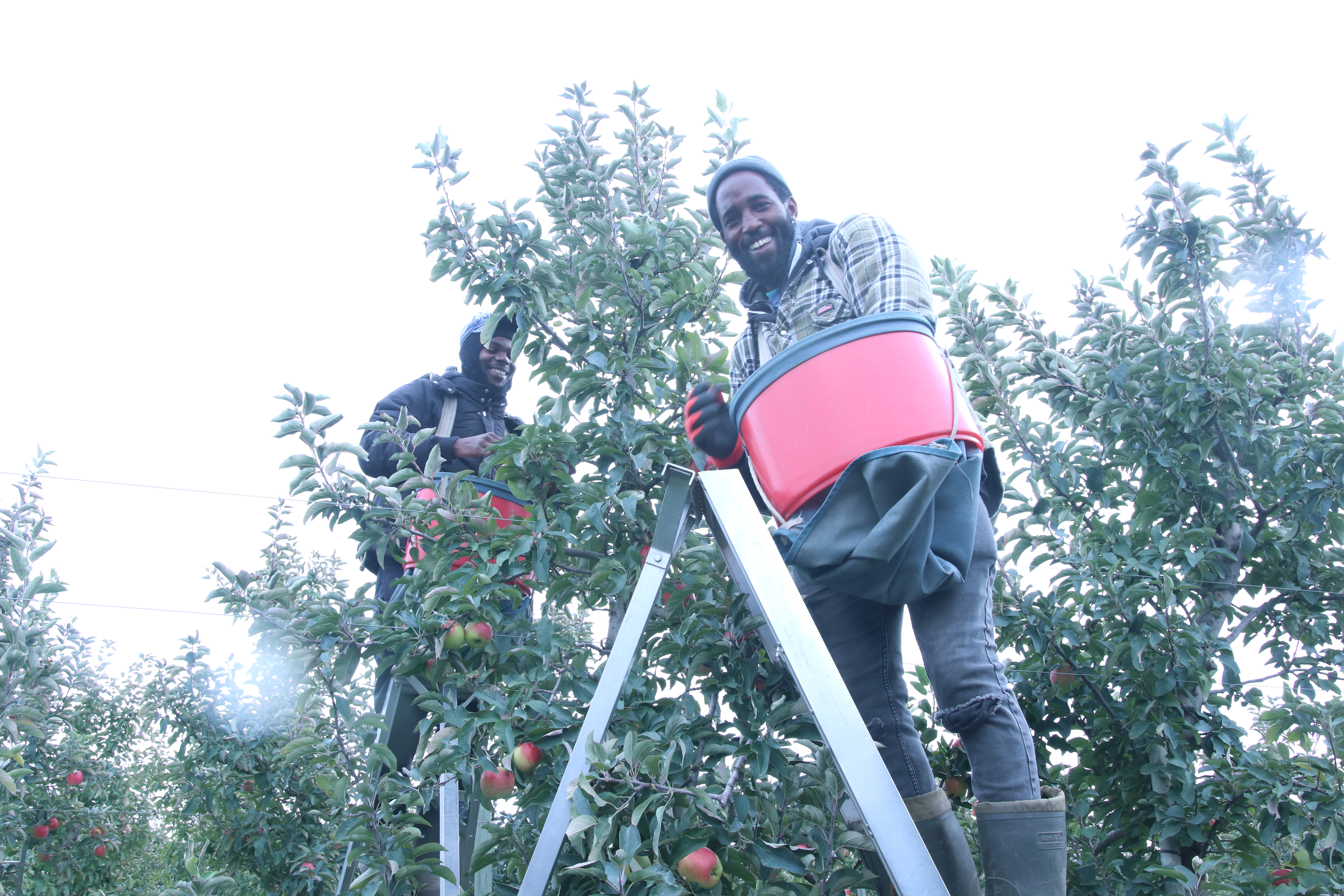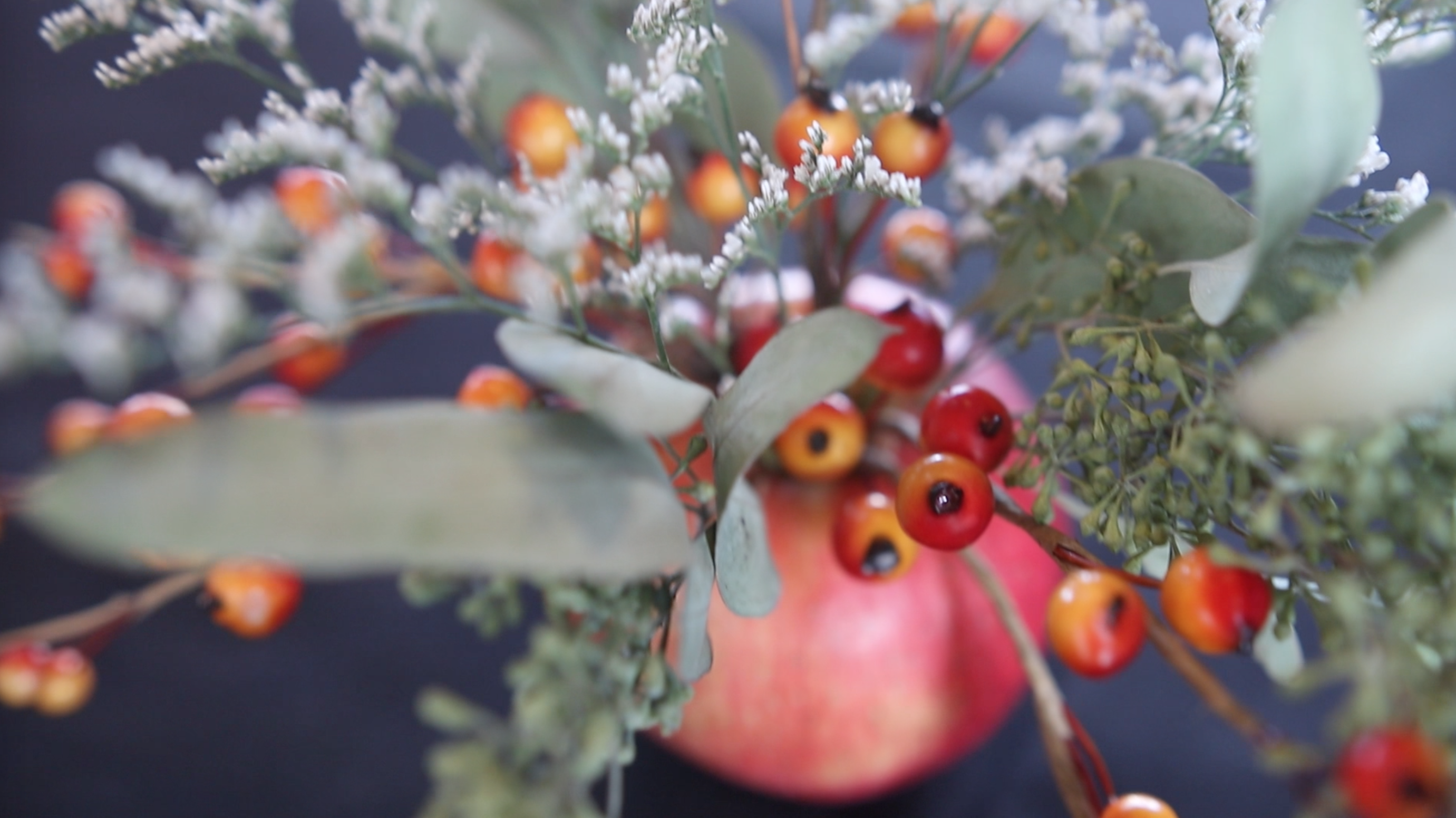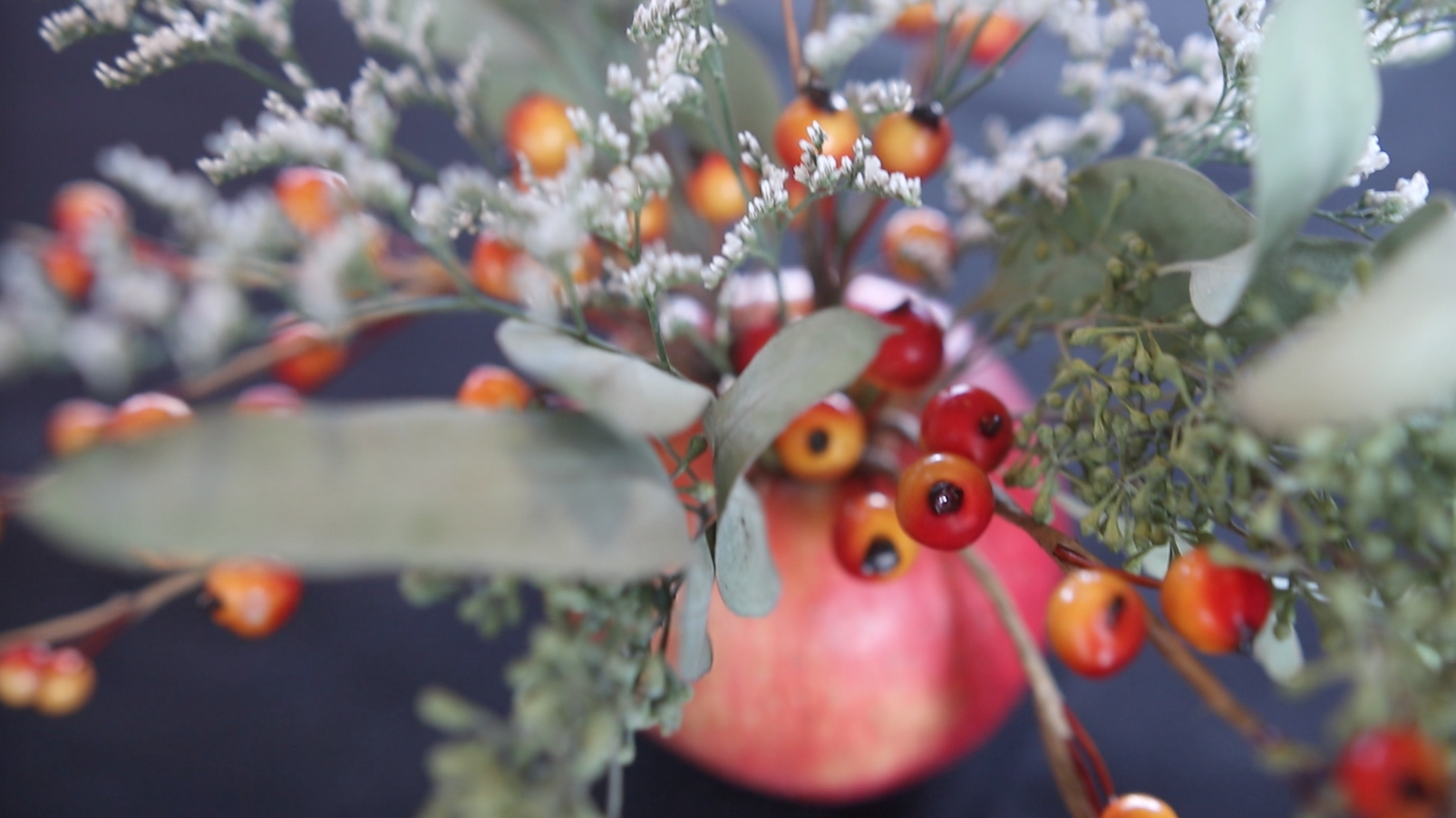 After a busy morning trudging through the apple orchards, we were served a delicious apple themed lunch and these gorgeous apple centrepieces made by the owner Judi Stevens caught my eye.
After lunch we made our way to Algoma Orchards to meet Kirk Kemp a partner with Mike Gibson. In addition to running apple farms they run a top notch apple packing & storage facility and juice processing plant.
Apples arrive by the bins and start to move in massive streams of water to wash the apples and removed any stems and leaves. It is also a gentle way to move the apples through the grading process. This minimizes bruising and damage to the fruit.
Anything that hasn't come off will be manually picked off.
The apples are then photographed 50 times and monitored by a machine. The fruit that are less than perfect are separated from the perfect fruit.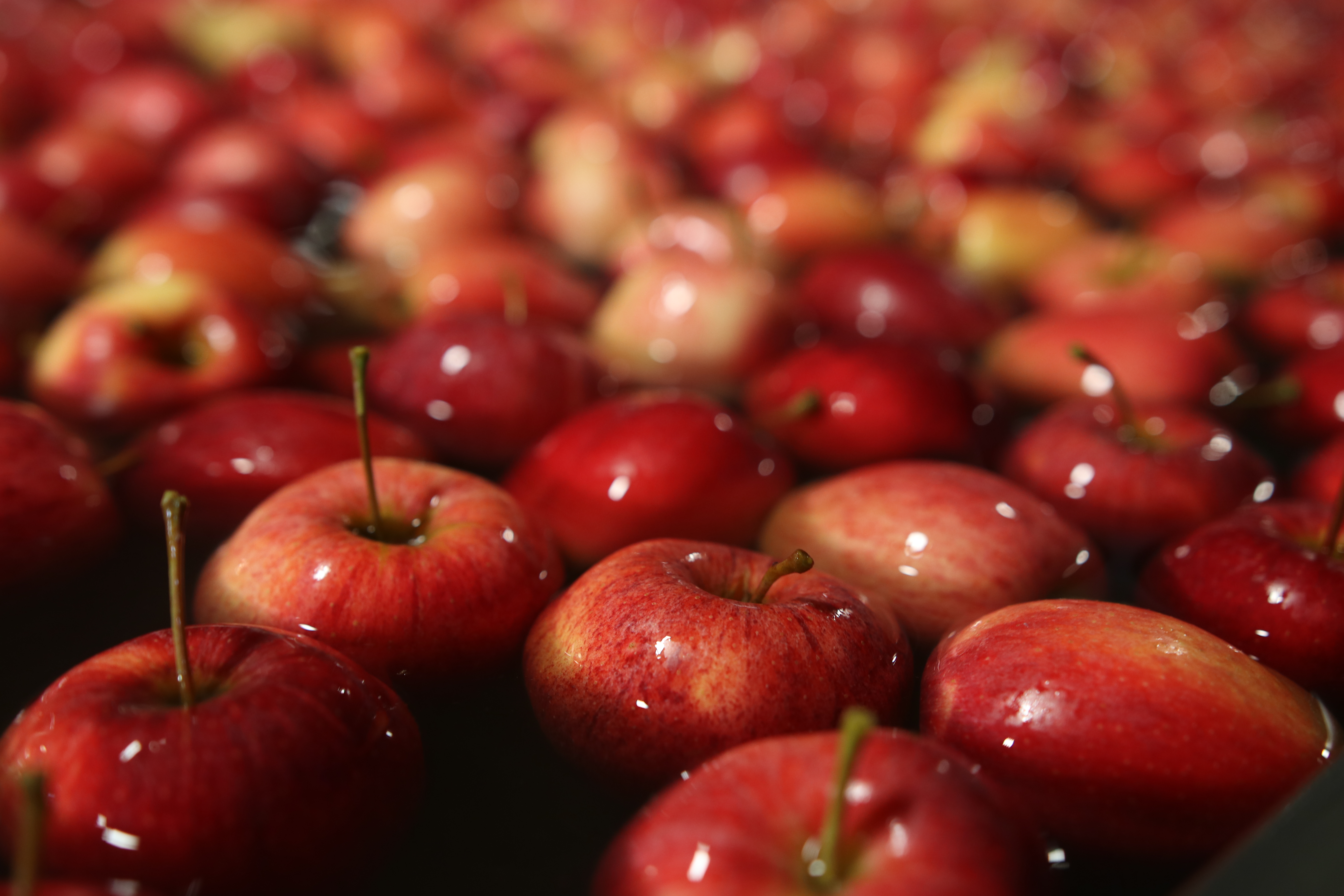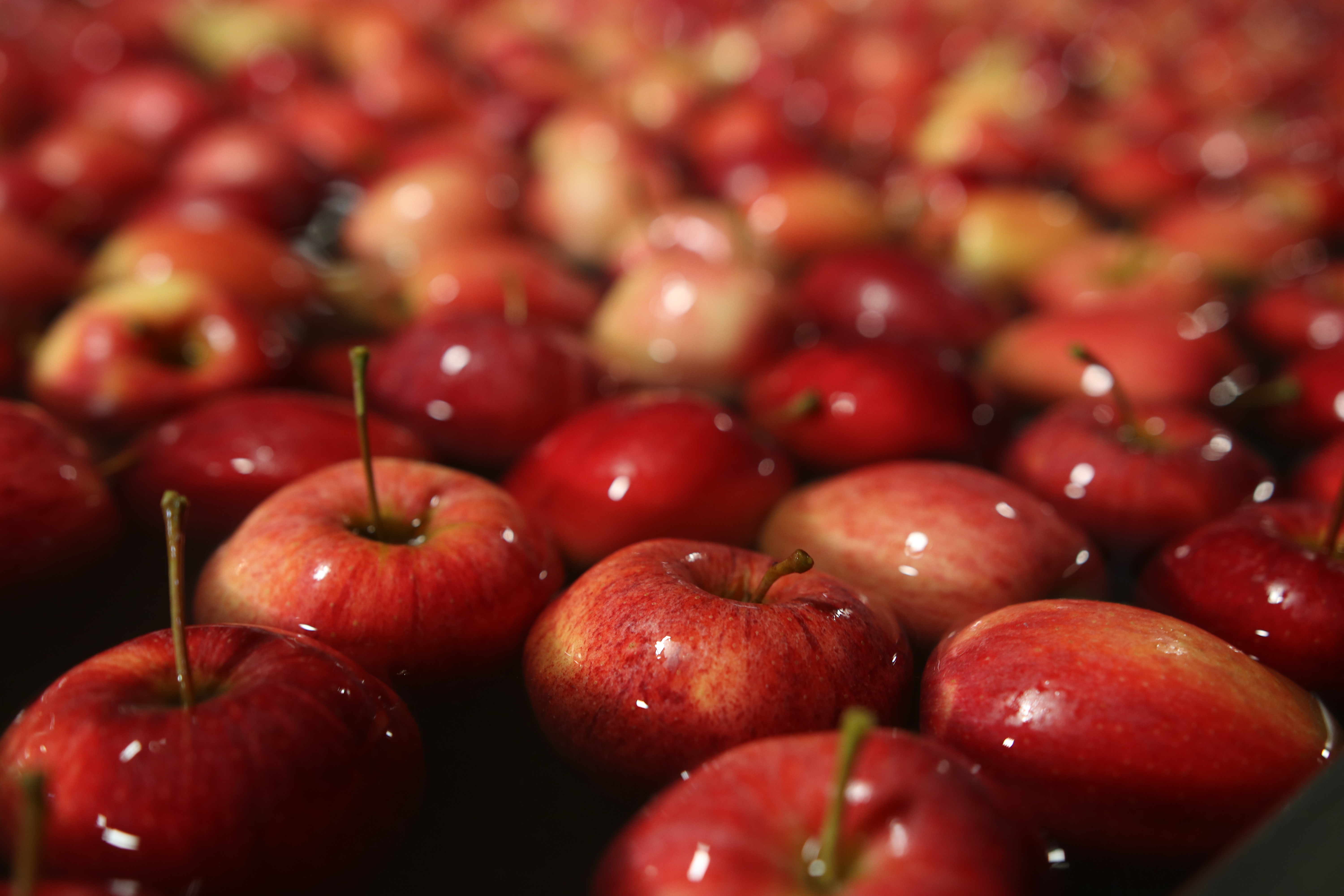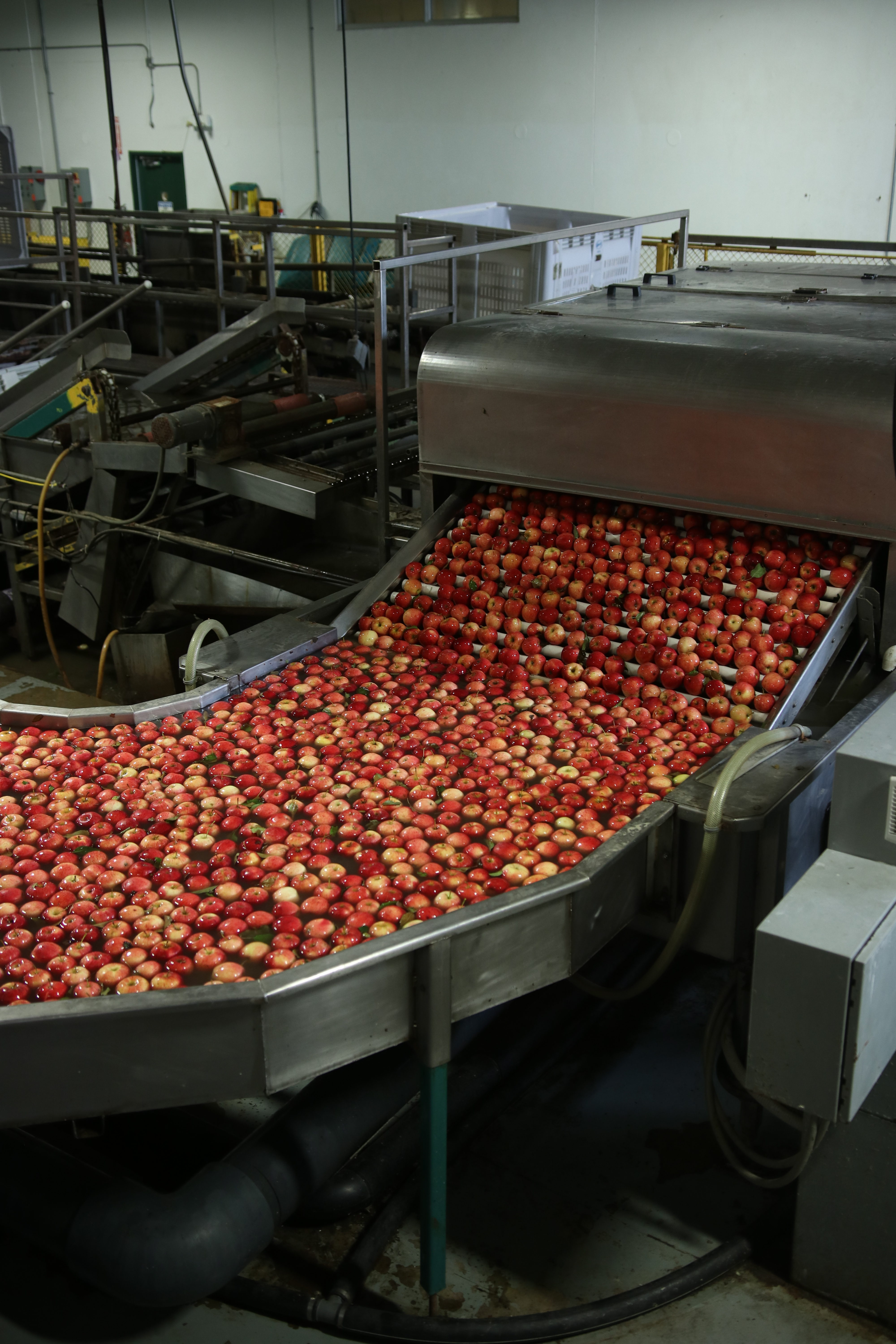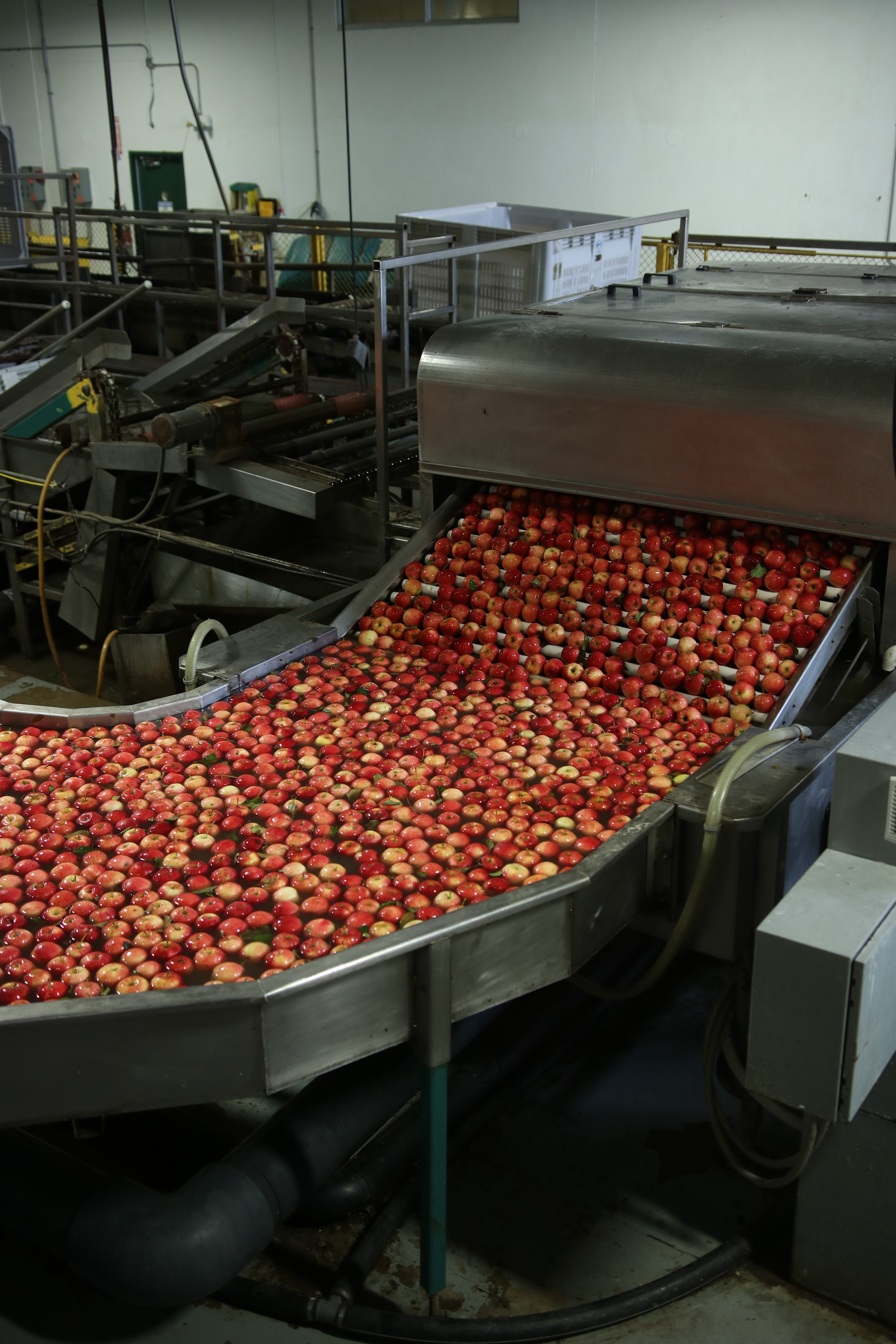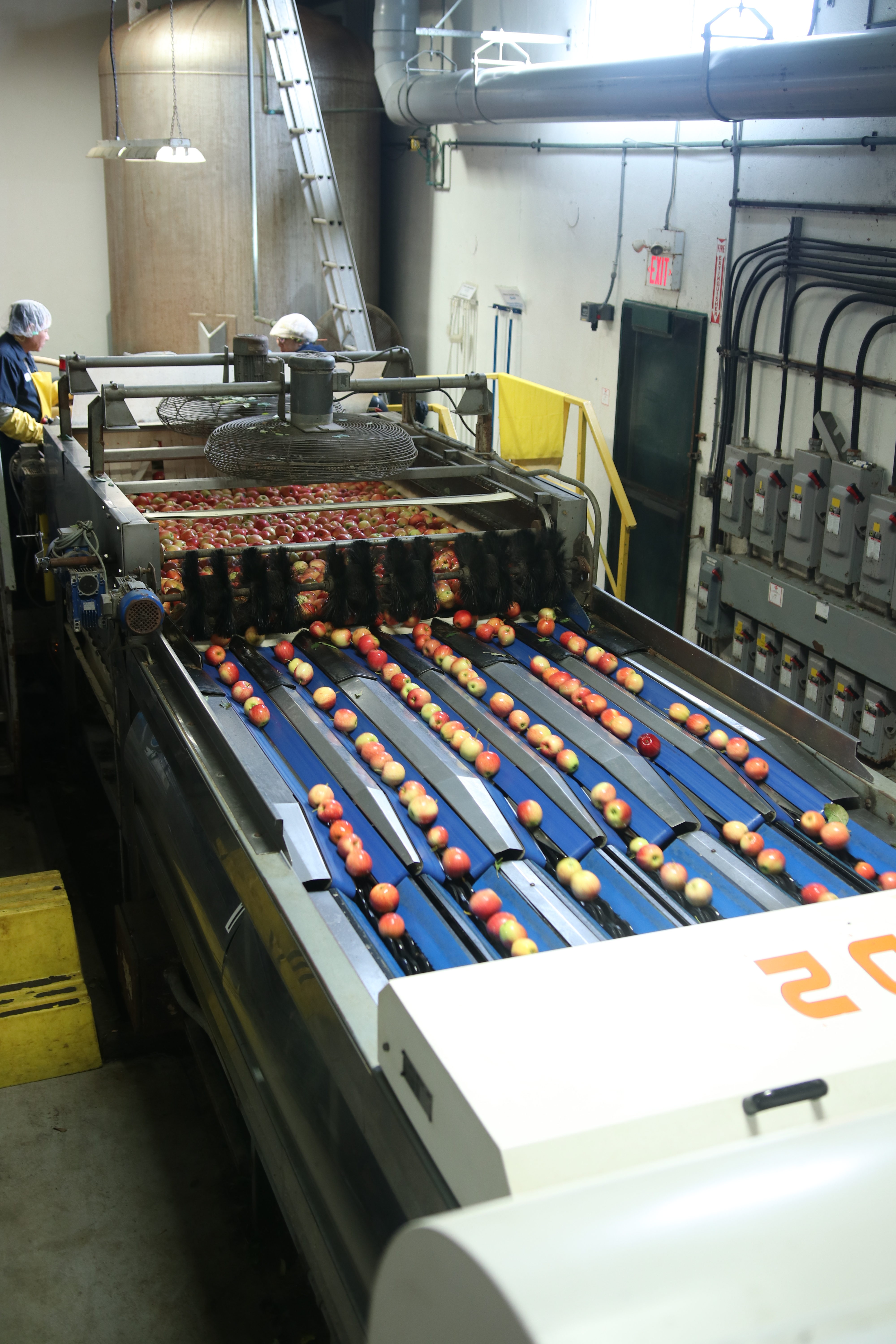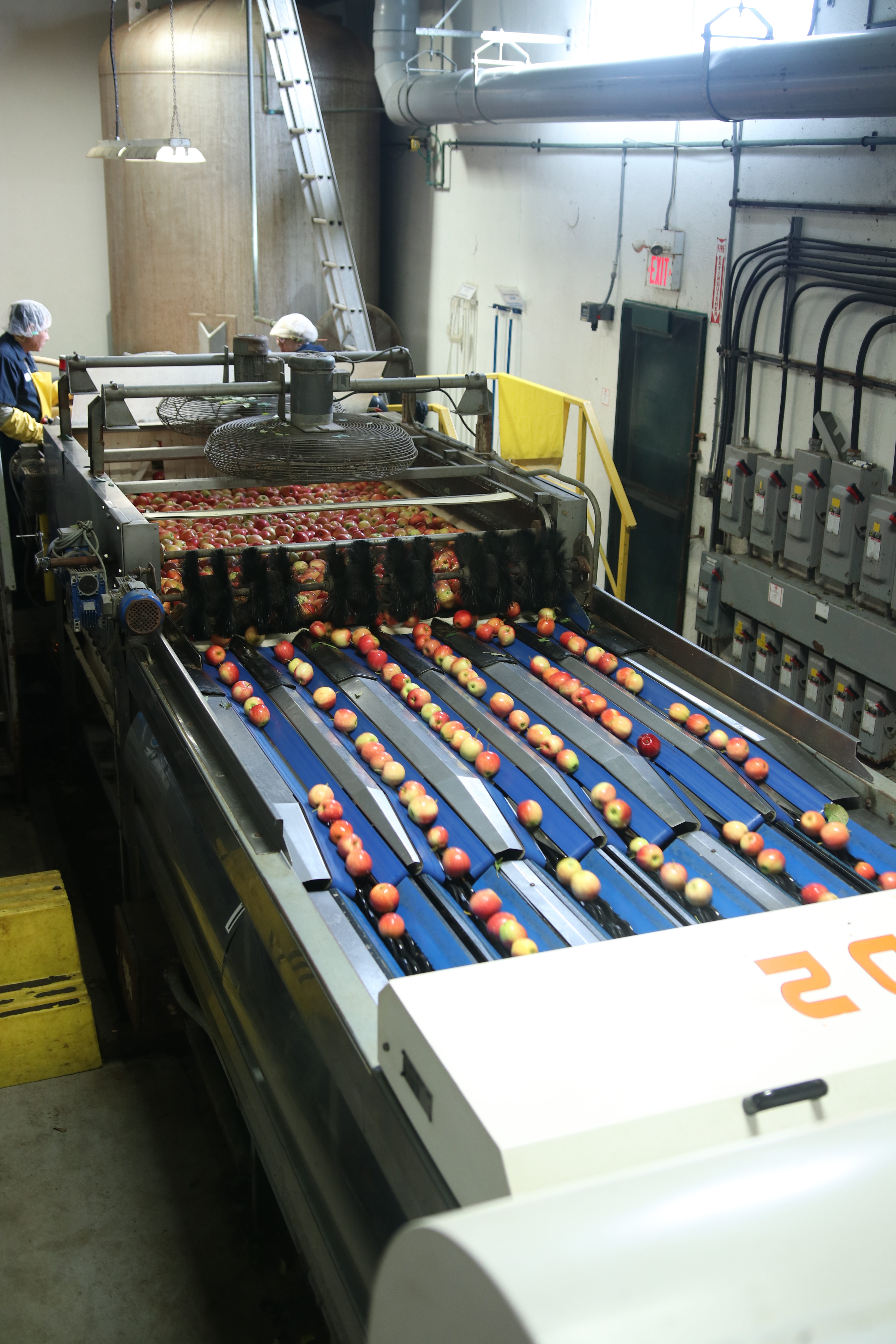 These move on belts like a highway of apples where they are cleaned. This plants can process 9000 cases of apples per day.
Kirk Kemp, guides us through the plant and we hang on every word.
The apples are kept in temp controlled storage rooms till they are ready to be packed.
Once the apples are ready to be sold to the grocery store, they move through the plant on the belts and are sorted and boxed by staff.
Apple Fact: The top five varieties in Ontario (based on acreage planted) are McIntosh, Gala, Empire, Red Delicious, and Northern Spy.
Many of the popular store brands you see are packed right here. Boxes of apples are rushed out of here onto trucks to make it into stores for you!
And what does one do when one has way too many apples? Make apple juice and cider of course. Algoma Orchards invested in a state of the art facility to make apple juice that supplies many big brands. Their tanks are insulated which gives them much longer shelf life.
There is a lab on site that monitors the quality of the apple juice.
Apple Fact: It takes four apples to make a glass of pure apple juice.
This chamber controls all (I can't remember what the specific task of this chamber is) the tanks and everything is temp controlled and computerized.
To keep the facility germ free, the ground is filled with soap suds.
And on our way out we were were sent home with a nice big bag of apples! Yummmm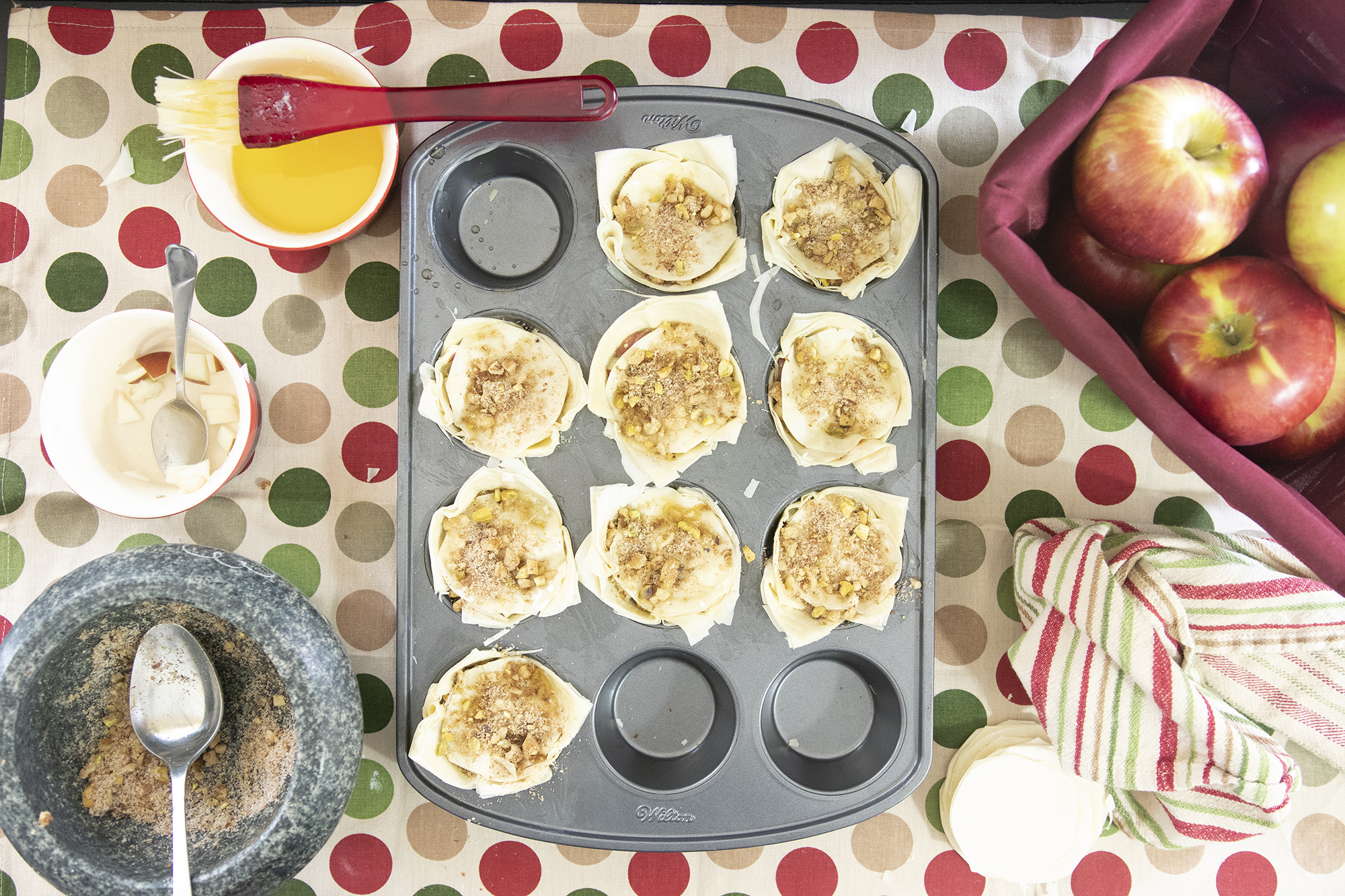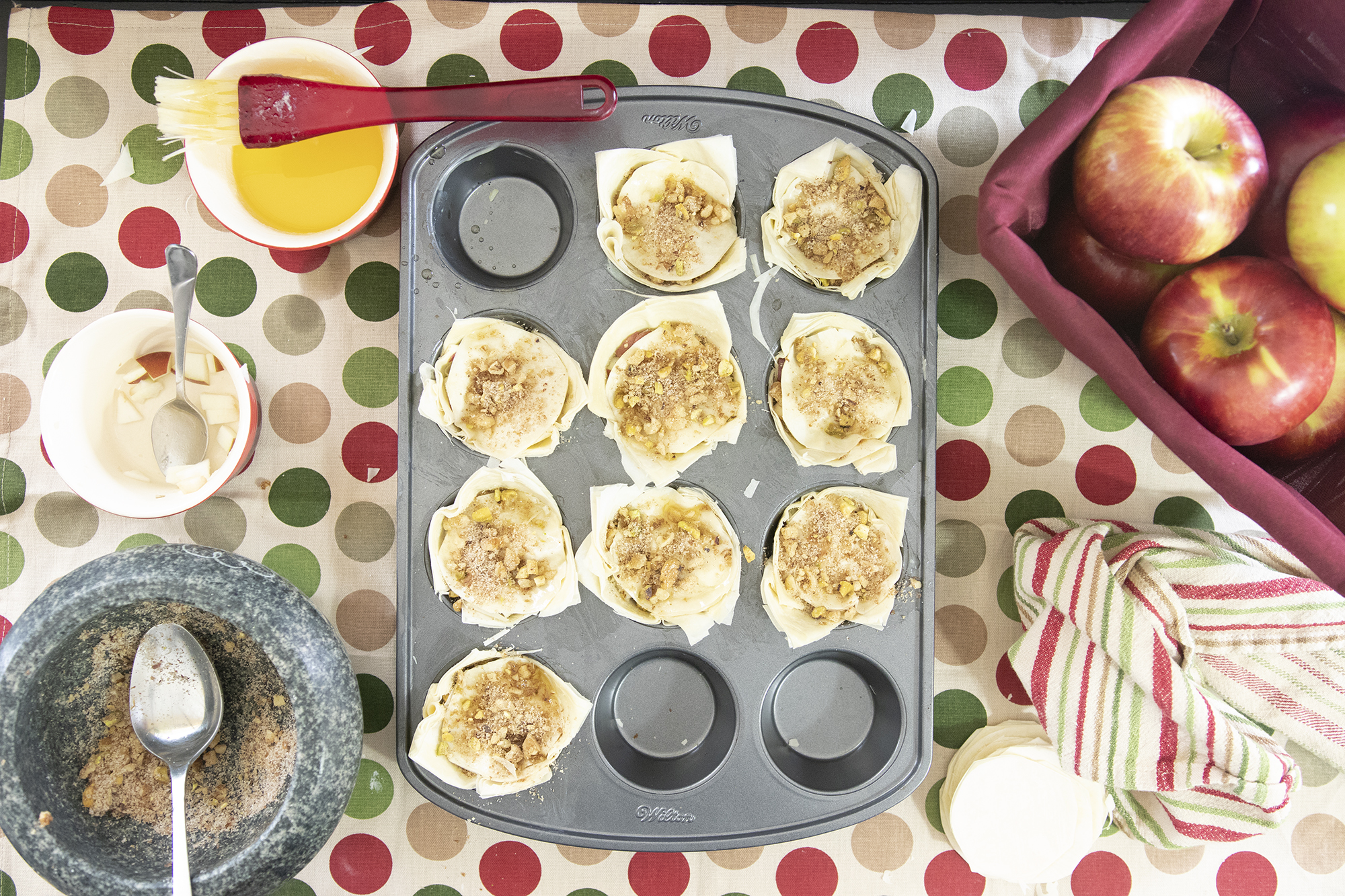 Just in time for the Holidays, this Apple Baklava is a wonderful recipe to serve at a lunch or dinner party. Baklava is an old traditional favourite from Greece and the Middle East. Layers of phyllo pastry are brushed in butter and sandwiched between layers of sugar and nuts. Once baked, the dough is moistened with a delicate sugar syrup. The result is a delicious crispy and sticky sweet treat. In this recipe I used Cortland, they are perfect for baking and don't discolor quickly. It's also a soft apple which makes it great in a filling.
These little bundles are made in muffin tins and have a layer of delicious Apple right in the center. They bake up crispy with walnut and pistachio layers and the baked treat is drizzled in a sugar syrup enhanced with orange blossom.
This very decadent dessert can be served at your Holiday table with a dollop of ice cream. My only regret is that I didn't make more as they were devoured quick!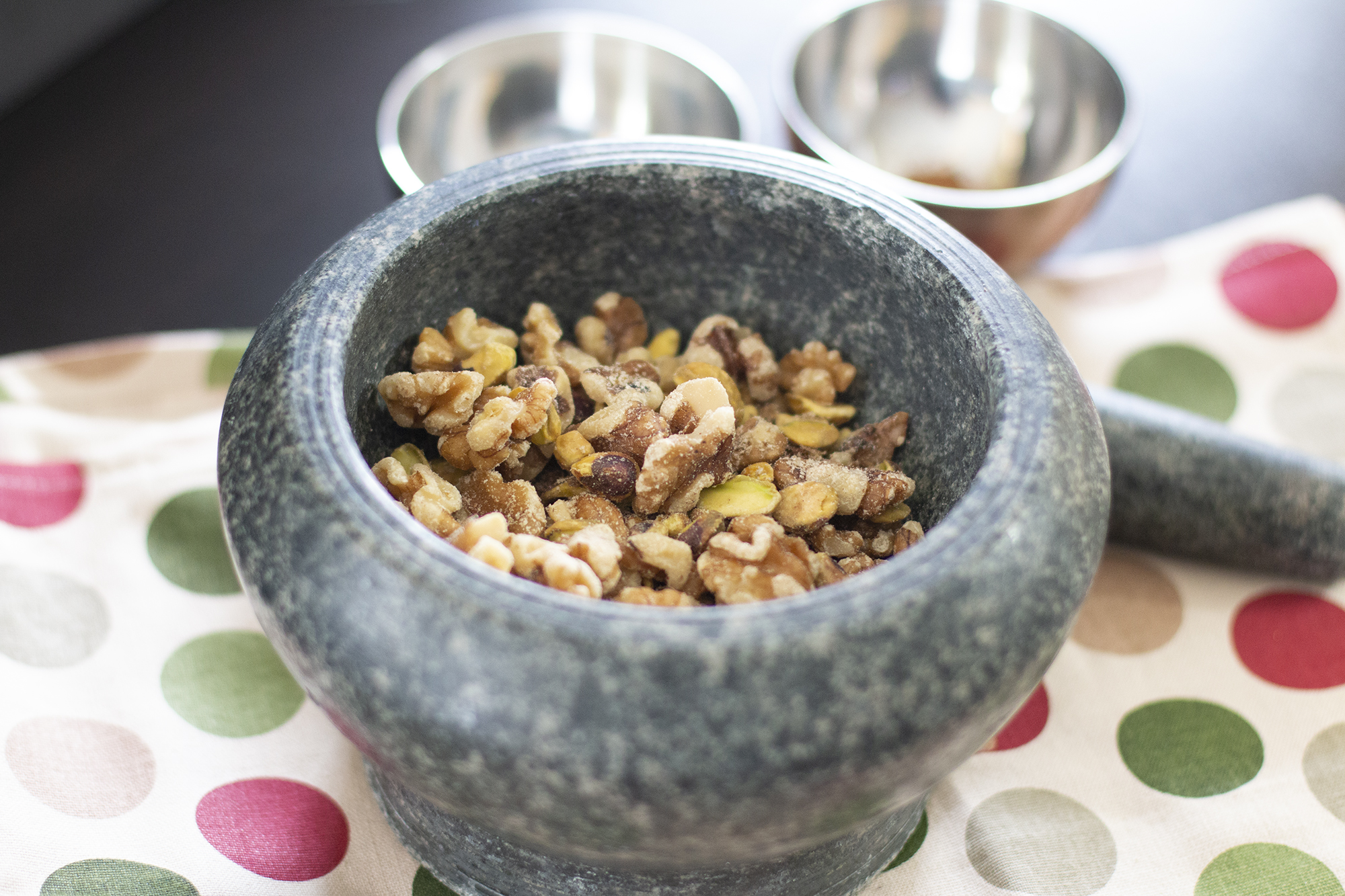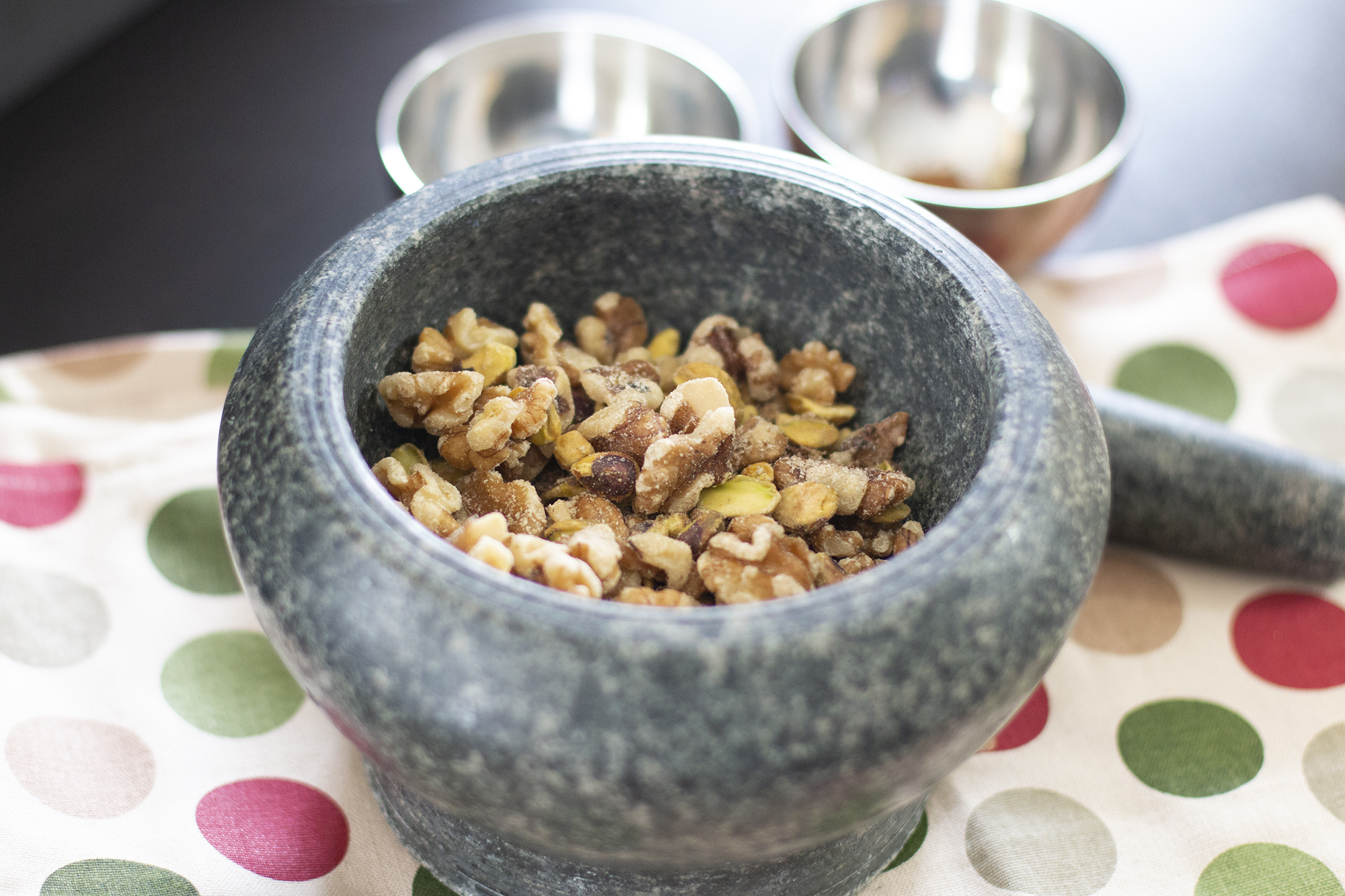 Here is the super simple recipe!
Recipe:
1 cup Walnuts and Pistachios, crushed
2 tbsps Sugar
1 tsp Cinnamon powder
225 gms Phyllo pastry dough
1 cup melted butter 1 cup Apple cut in small dice
Using 5 sheets of pastry, brush butter in between and stack them
Make an indentation with a cookie cutter and cut around with a scissors
With the rest of the pastry, stack 2 -3 sheets by brushing butter in between and cut in squares or rectangles
Add the rectangles to a buttered muffin pan Mix together the Apple, Cinnamon and sugar and spoon into the center, cover with a disc, add more filling and add another disc Bake for 10 – 15 in a 350 degrees oven
[youtube-subscriber nickname=kravingsblog]
Apple Facts courtesy of http://onapples.com/apple-facts
Check out my other Apple recipes:
Candy Apples: http://kravingsfoodadventures.com/candy-apples/
Cheddar crust Apple Pie: http://kravingsfoodadventures.com/candy-apples/
Curried Chicken Salad – http://kravingsfoodadventures.com/curried-chicken-salad/