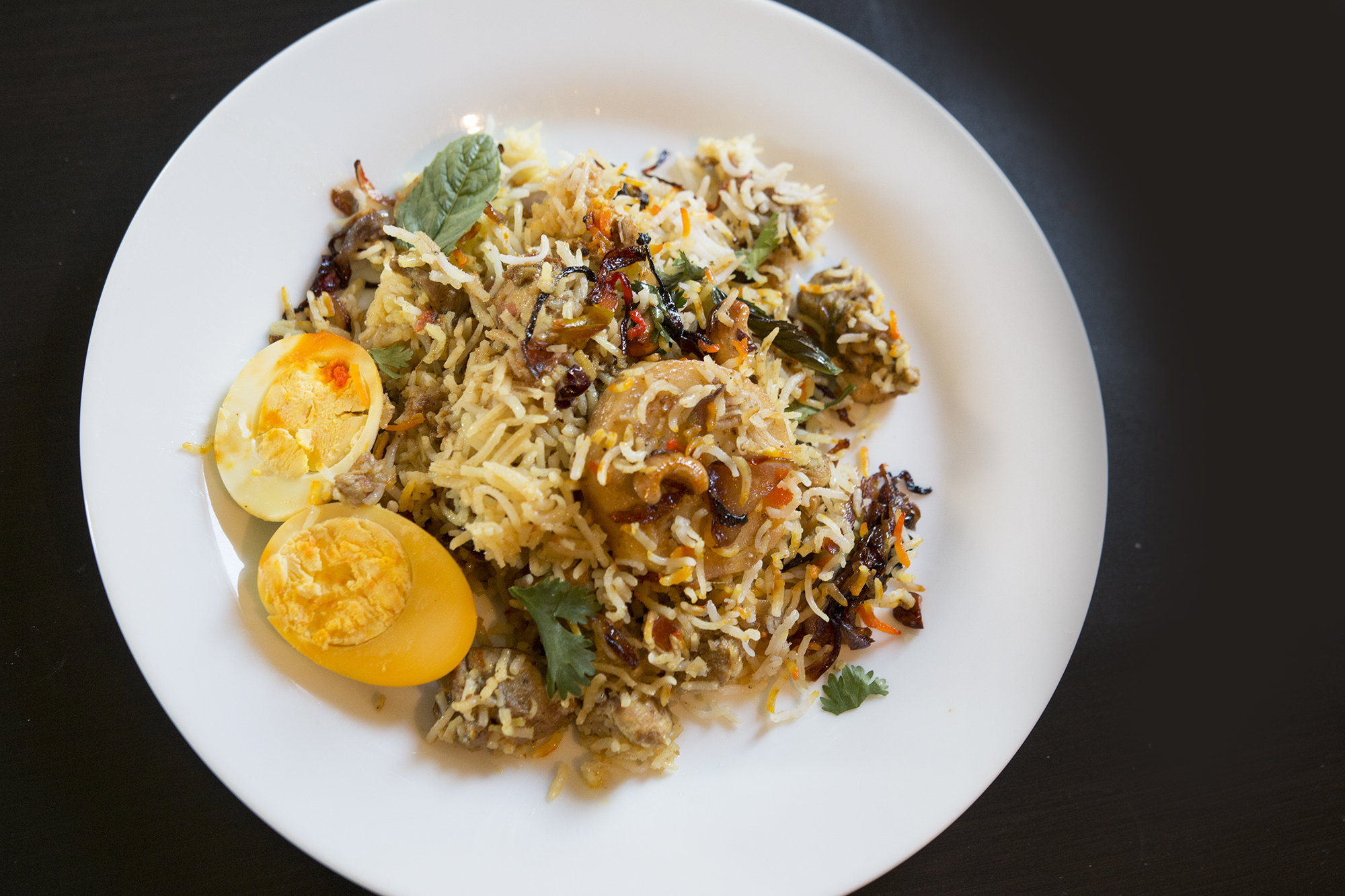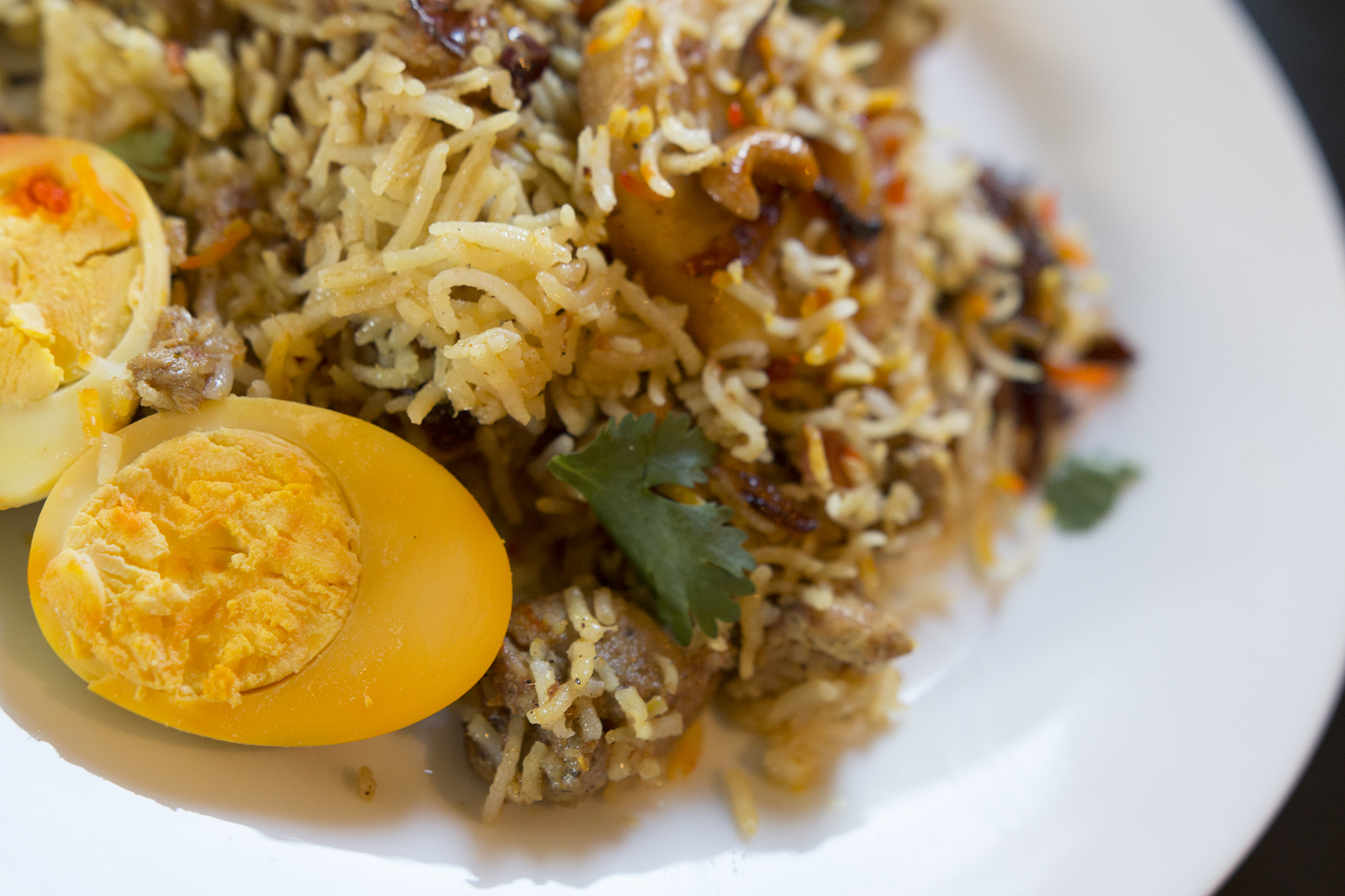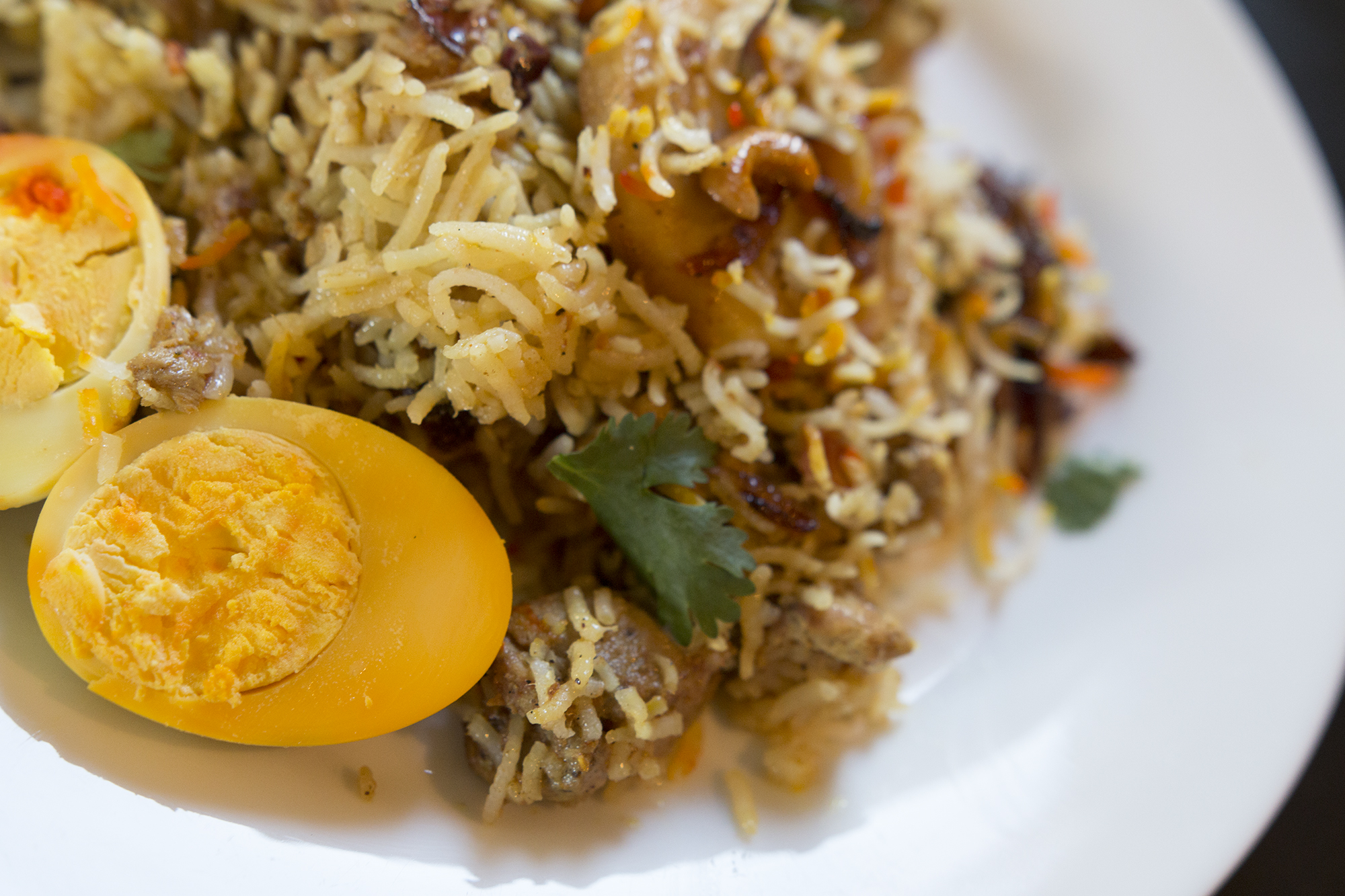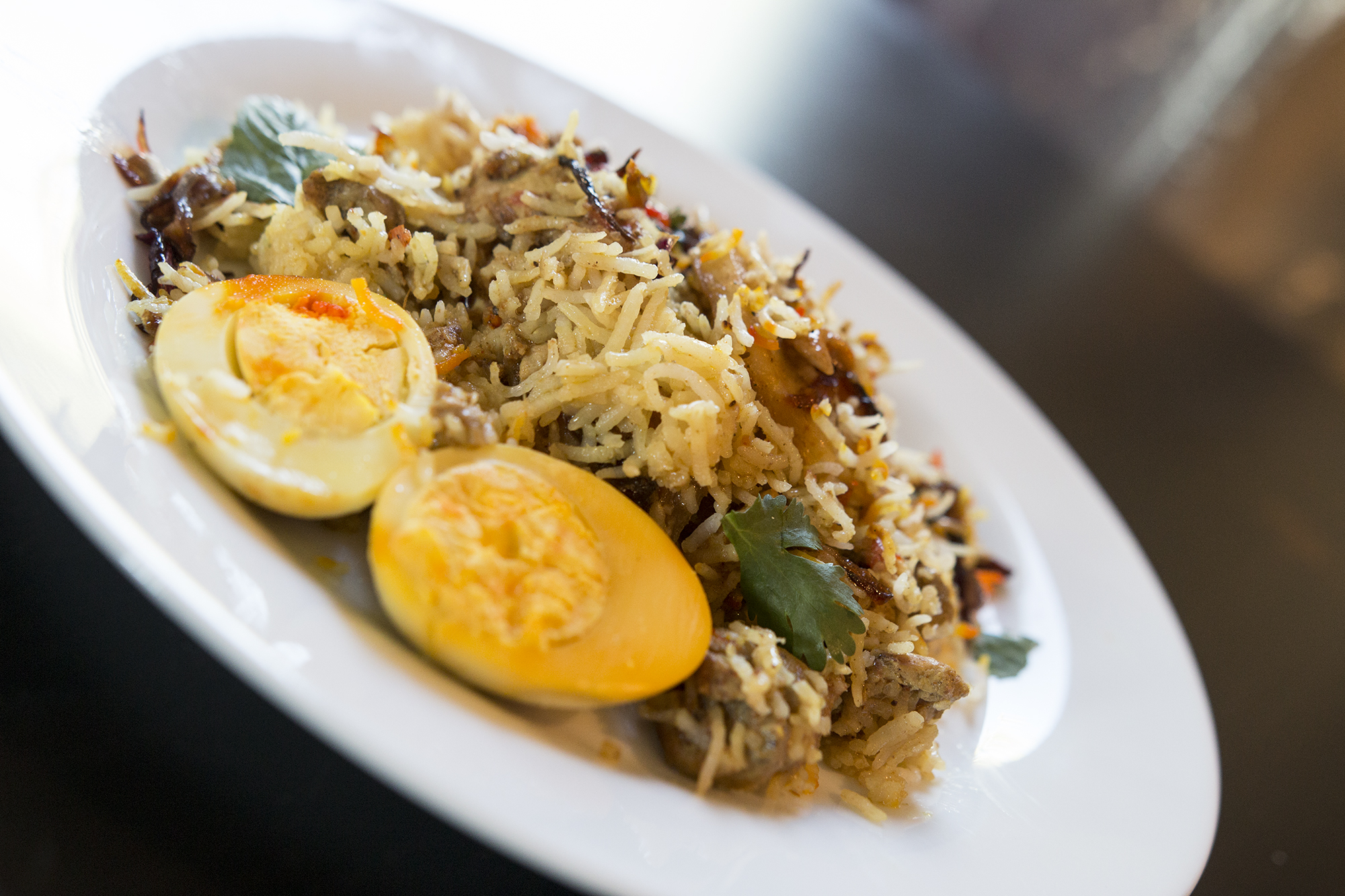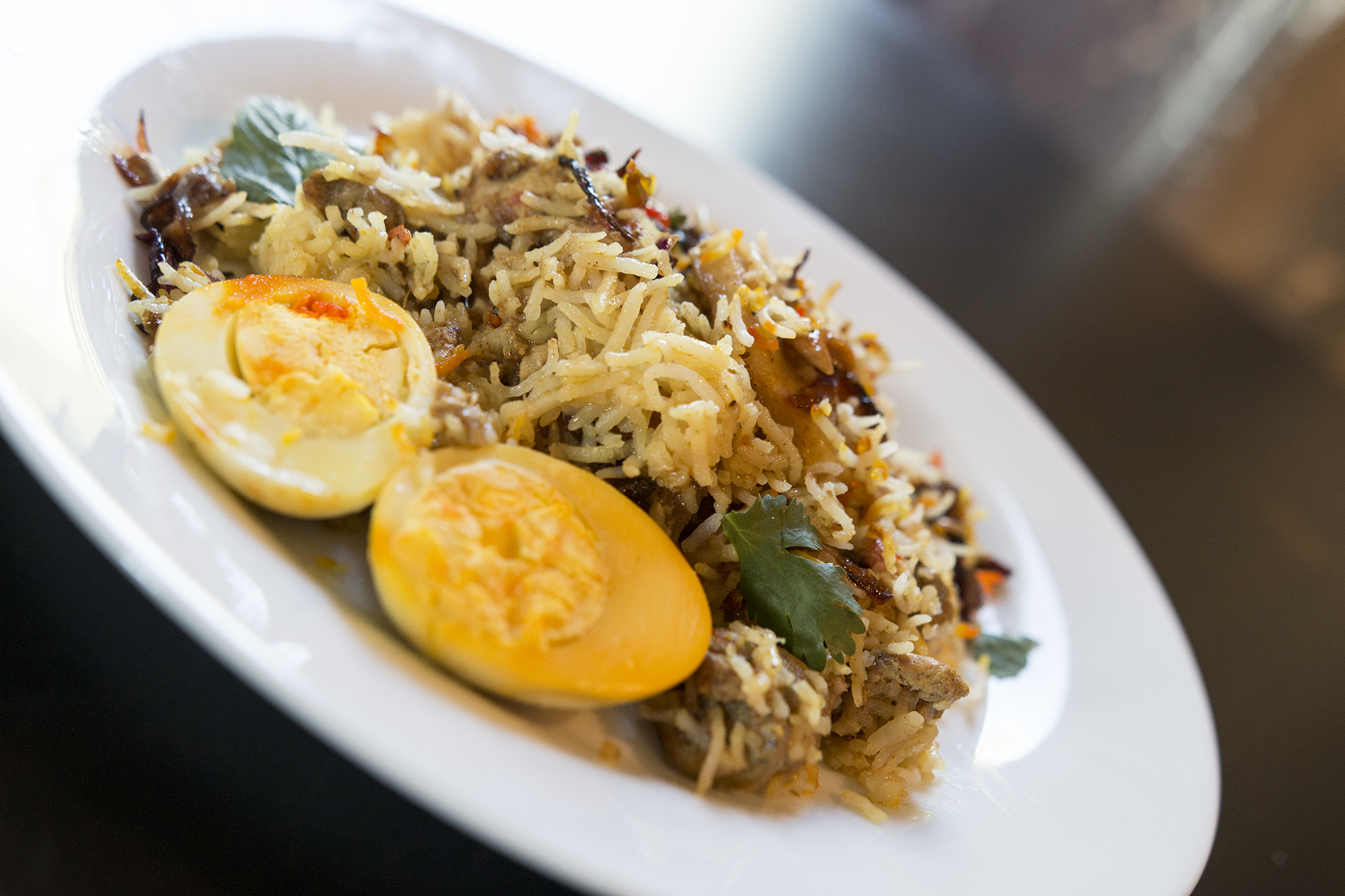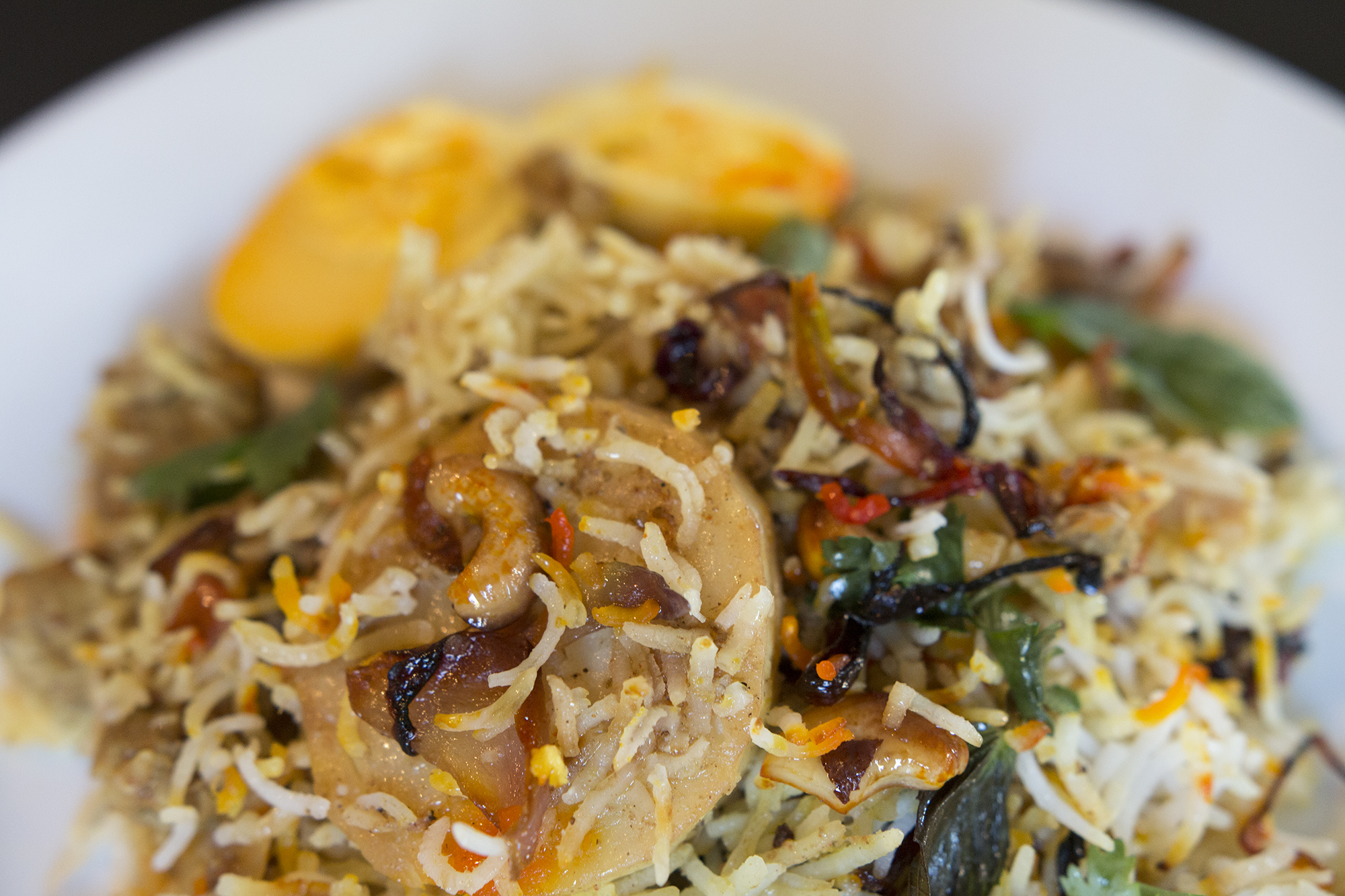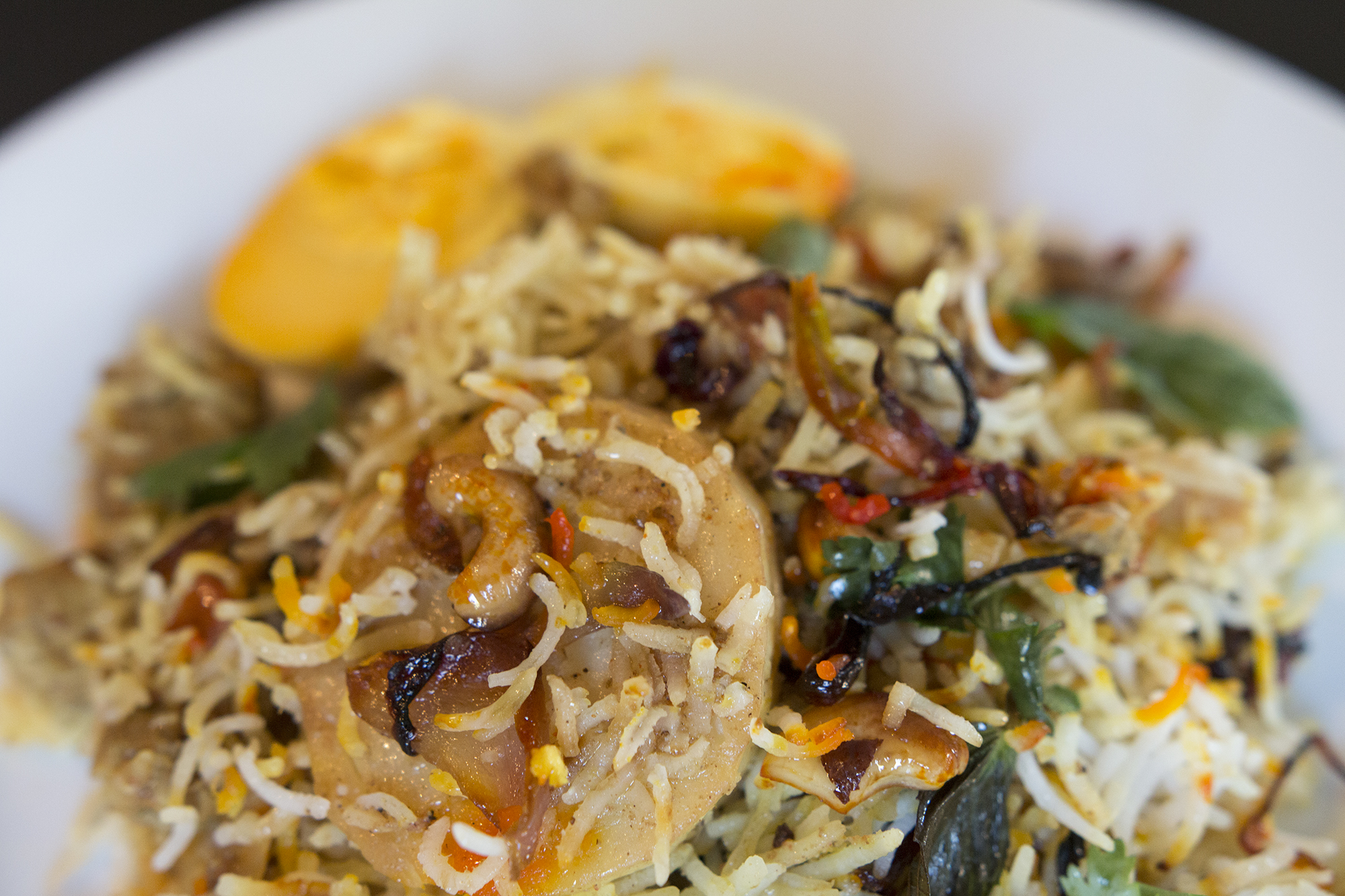 Biriyani is a legendary recipe from India, Pakistan and the neighboring countries. Half cooked Basmati rice is cooked with the steam from a Chicken or meat gravy and the results are delicious.
Although there are many ways and techniques to make a Biriyani today I'm going to show you my potluck version – Boneless Chicken Biriyani. Biriyani is typically made by cooking a Chicken or Meat base gravy and layering it with half cooked rice. It is then steamed and cooked.
There are so many different types of Biriyani Hyderabadi Kacchi Biriyani, Lucknowi & Bangalore Biriyani in the south and Sindhi, Pakistani, Lahori and Delhi Biriyani in the North. Each place has a unique recipe to call their own. I myself make several types of Biriyani but I invented this type of Biriyani that is perfect to take to a potluck, picnic or to serve a larger crowd. Most Biriyani starts with bone in Chicken or Meat. The bone really contributes to the gravy and makes a rich tasting Biriyani. I am using boneless chunks of chicken in this recipe for two reasons, 1. It cooks really fast and 2. The pieces of chicken are consistent in the biriyani and you don't have to fight for the best pieces.
The first thing I'm going to do is marinate my chicken and soak my rice. I'm going to use 2 lbs of Chicken Thigh. Chicken thigh is more succulent and will compensate for the fact that I'm not using bone in meat. I'm going to marinate this with 1 tsp each of ginger and garlic paste, Masala, Salt and 2 tbsps of yogurt2 tsps of Biriyani . You can find Biriyani Masala at most Indian stores. I like to make my own Biriyani Masala, I find that the taste is consistent and I know that the spice blend is fresh and gluten free. I will leave a link for my Biriyani Masala blend at the end of this video and in the description. I prefer to leave my Chicken overnight in the fridge, but if you don't have enough time, marinate it for at least one hour. I'm using 3 cups of the finest Basmati I could find. These grains are long and proud and I'm going to do my best to not break them by soaking, washing and rinsing the grain very carefully. Soak the rice at least for one hour.
I'm also going to slice and fry some potatoes, boil and slice some eggs in half and add a pinch of saffron to a cup of warm milk. Saffron is used in Indian cooking but actually comes from Spain. This is very expensive as stamens from the crocus flower have to be harvested by hand and they always have a small crop. I'm also going to slice my onions, chillies and dice some fresh and ripe tomatoes.
Please note that I will always use a cooking pot I cook the gravy in to assemble the biriyani so make sure that this is oven proof. Add about 1/2 cup oil to the pot and start to sauté the onions – I've got about 4 cups here and I'm going to take half out when they're golden brown and keep them aside. I'm going to brown the other half a bit more as these will top the Biriyani later. I like to throw in some nuts as well – Cashew nuts and almonds but be weary of nut alleges if you're taking this to a potluck or gathering where you're not sure about dietary restrictions. Once the onions are a dark brown, take them out and keep them aside. Return the lighter onions back into the pot, add 2 tbsps sliced green chillies and the marinated chicken. Let the chicken caramelize just a little bit by allowing it to sit it the heat without stirring too often. Once the chicken has some colour, mix and add two more tsps of biriyani masala, 1 tsp each ginger and garlic paste followed by 2 cups of finely diced tomatoes. Add salt to taste cover and cook. Cook this stirring at intervals till the tomatoes are mushy and squish them down with the back of your spoon. Add one tsp of Chilli powder, this is optional if you don't want this too spicy. You can also add 1 – 2 tbsps of Ghee. Add the cooked sliced potatoes. You want your chicken to have a nice thick and well balanced gravy.
It's now time to cook the rice, add 2 – 3 tbsps of Ghee or clarified butter into another cooking pot and throw in some whole spices, Bay leaves, Cinnamon, Star anise, Cardamoms, and some cloves. Once they are bubbling in the ghee add water. Usually the measure is 2 cups of water for every cup of rice. I like to add more water and drain it out later, this way the grains have enough liquid to move around in. Add salt to taste. Cook the rice for X minutes till the rice is half cooked it should be firm but you should not taste a raw grain if you bite it. Drain this rice well.
Tip: It's murphy's law that you pot of rice will boil over the minute to take your eyes off it, so watch this like a hawk.
Take half the chicken gravy in another bowl and keep aside. Spread out the gravy, add a bit more than half the rice, add the saffron infused milk, add the other half of the gravy followed by the remainder of the rice. I like to top with the reserved fried onions and nuts, halved boiled eggs and I will add some powdered colour to the top. I usually use a nice bight yellow but some people like to use Orange and red colour as well. These colours are natural powder based colors available in Indian grocery stores. Cover with foil this is important to keep the steam in and close with a heavy lid. Cook in a 350 degree oven for 45 mins. In the olden days and even today, some people prefer to used a flour dough as a seal and cook this over a low coal fire.
I like to toss my grains together with a fork to mix to avoid breaking the grains and fold in fresh coriander and mint leaves before serving. This Biriyani may not be 100% traditional but it's 100% delicious and will be the hit of any gathering.
This episode is dedicated to my Mom Mary Coutinho who passed away a few weeks ago after succumbing to her illness. She inspired and taught me to make this recipe and many others. I pray that she is humming away in God's kitchen doing what she loves to do. Miss you mommy.
[youtube-subscriber nickname=kravingsblog]
Boneless Chicken Biriyani
Ingredients
2 lbs boneless Chicken thigh cut into bite size pieces
1 tsp each Ginger & Garlic paste
2 tbsps Yogurt
2 tsps Biriyani Masala https://www.youtube.com/watch?v=D4ItBOu6Qq4
Salt
1/2 cup Oil
4 cups sliced red Onions
1/4 cup nuts
2 tbsps green chillies slices
1 tsp each Ginger and Garlic paste
2 cups diced tomatoes
2 tsps Biriyani Masala https://www.youtube.com/watch?v=D4ItBOu6Qq4
1 tsp red Chilli powder(Optional)
1 sliced potato fried
6 - 8 boiled eggs sliced in half
1/2 cup warm milk
Pinch saffron
3 cups Basmati rice soaked for 1/2 hr washed and drained
Whole spices - Bay leaves, Cinnamon, Cardamom, Star anise, cloves
Ghee - 4-76 tbsps
Powder food color(yellow)
Coriander and Mint leaves
Instructions
Marinate the Chicken in ginger and garlic paste, yogurt, Biriyani masala and salt for at least a 1/2 hr
In a large oven proof pot(this can be used to assemble the Biriyani later), heat 1/2 cup Oil and saute the Onions
When the Onions are golden brown, remove half and keep aside
Add the nuts to the other half and let it get a bit more brown, take this out and keep aside as well
Add the first half of the onions back into the pot and add the green chillies followed by the Chicken
Sear the Chicken all the way through and add 2 tsps of Biriyani Masala
Add the Tomatoes and some salt to taste, cover and cook till tomatoes are mushy
Add 1 tsp Chilly powder(optional) and 1 tbsp Ghee
Add the potatoes, cook a bit more and keep aside
Remove half the gravy and keep it aside
In a seperate pot, add 2 tbsps of Ghee and saute the whole spices
Add water, a bit more than 6 cups of water
Add salt to taste
Add the Basmati and cook till half done, about 10 mins, drain and keep aside
In warm milk, soak the saffron strands
In the pot with 1/2 the gravy at the bottom, add half the cooked rice, followed by half the Saffron milk
Add the other half of the gravy followed by the rest of the rice and the last half of the Saffron Milk
Add the reserved fried Onions with nuts
Arrange the boiled eggs on top and fill in the spaces with some food color
Tightly seal the pot with foil and a heavy lid and cook in a 350 degree oven for about 1/2 hr
To serve, remove the eggs, mix the rice with a fork to avoid breaking the grains and fold in some fresh Coriander and Mint leaves
https://kravingsfoodadventures.com/boneless-chicken-biriyani/