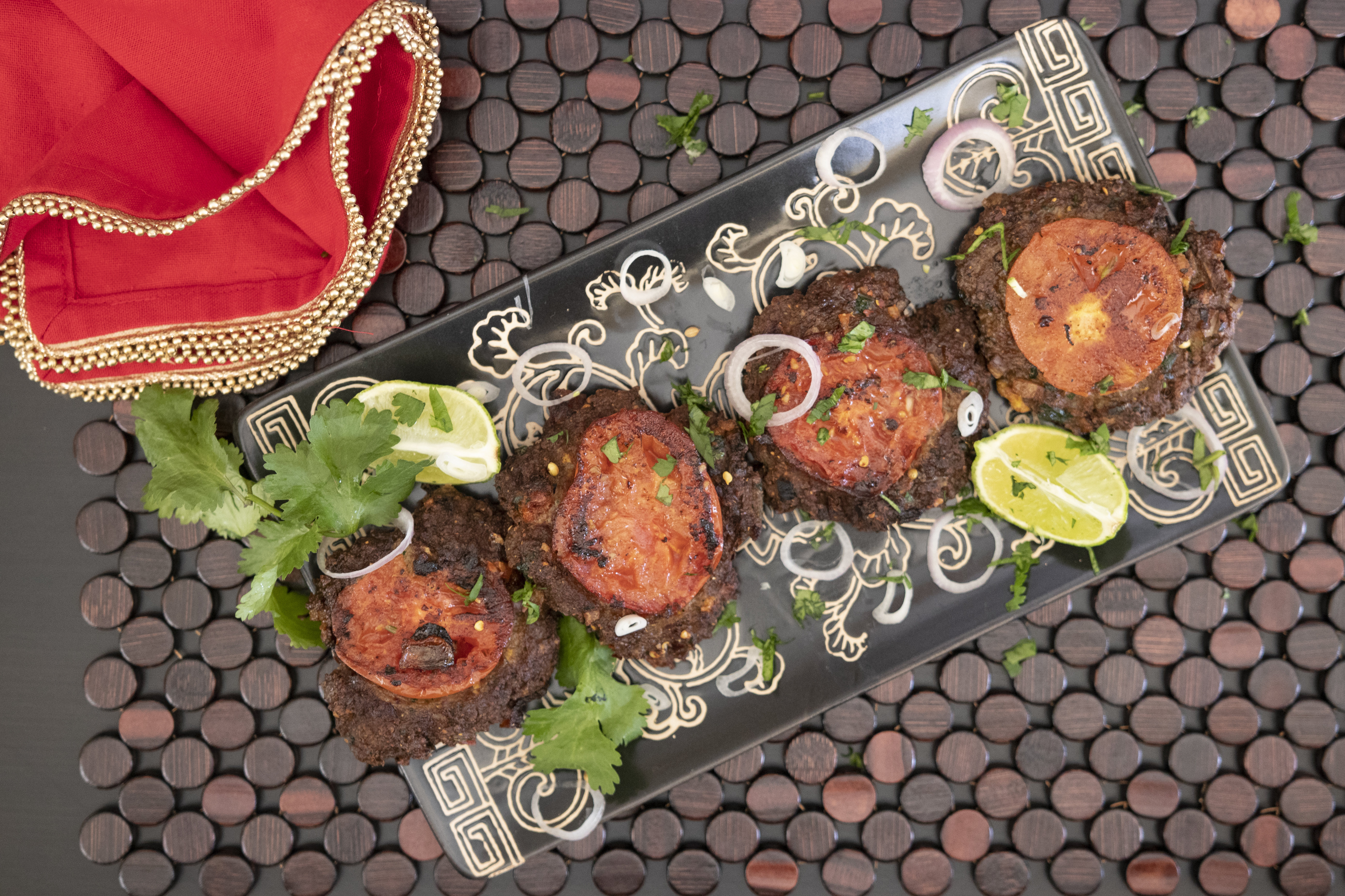 This recipe is LONNNNG in the making! A subscriber asked me years ago to make a video on this. After researching this delicious deep fried kebab I realized that there are different ways to make it – the way they make it on the streets of Peshawar in Pakistan and the adapted version made by many amazing Pakistani home cooks – my recipe is somewhere in between, tried, tested and delicious!
This deep fried Kebab is flavored with a fresh ground combination of whole spices, ginger and garlic, scrambled and whole egg. You also add onion, chopped tomato & coriander. This flattened deep fried kebab is served with or without a slice of tomato.
You can use ground Mutton, Lamb or Beef in this recipe. In many parts of India, Beef is now banned, so Mutton & Lamb are great options!
Recipe:
5 Cardamoms
2 Star Anise
1 inch stick of Cinnamon
2 tsps Cumin seeds
2 tsps Coriander seeds
1 tsp peppercorns
1/2 cup Chickpea or Gram flour
2 Eggs
1 lb ground meat – Mutton, Lamb or Beef
2 tsps Salt + extra to taste
1 tbsp Ginger Garlic paste
1 cup finely diced Onion
½ cup diced Tomato – remove seeds and pulp
½ cup Coriander
Thick slices of Tomato – optional
Lightly toast the whole spices – cardamoms, star anise, cinnamon, cumin, coriander seeds and peppercorns and when cool grind into a fine powder
Heat the Chick pea flour and keep aside
Heat some oil and scramble one of the two eggs
In a food processor, add the ground meat, salt, ginger and garlic paste. Egg and process it well
Remove and add the diced onion, tomato & coriander
Flatten the mixture, press in a slice of tomato(optional) and shallow fry in one side
Flip over and fry on the other side
Remove and drain the excess oil on some kitchen towel