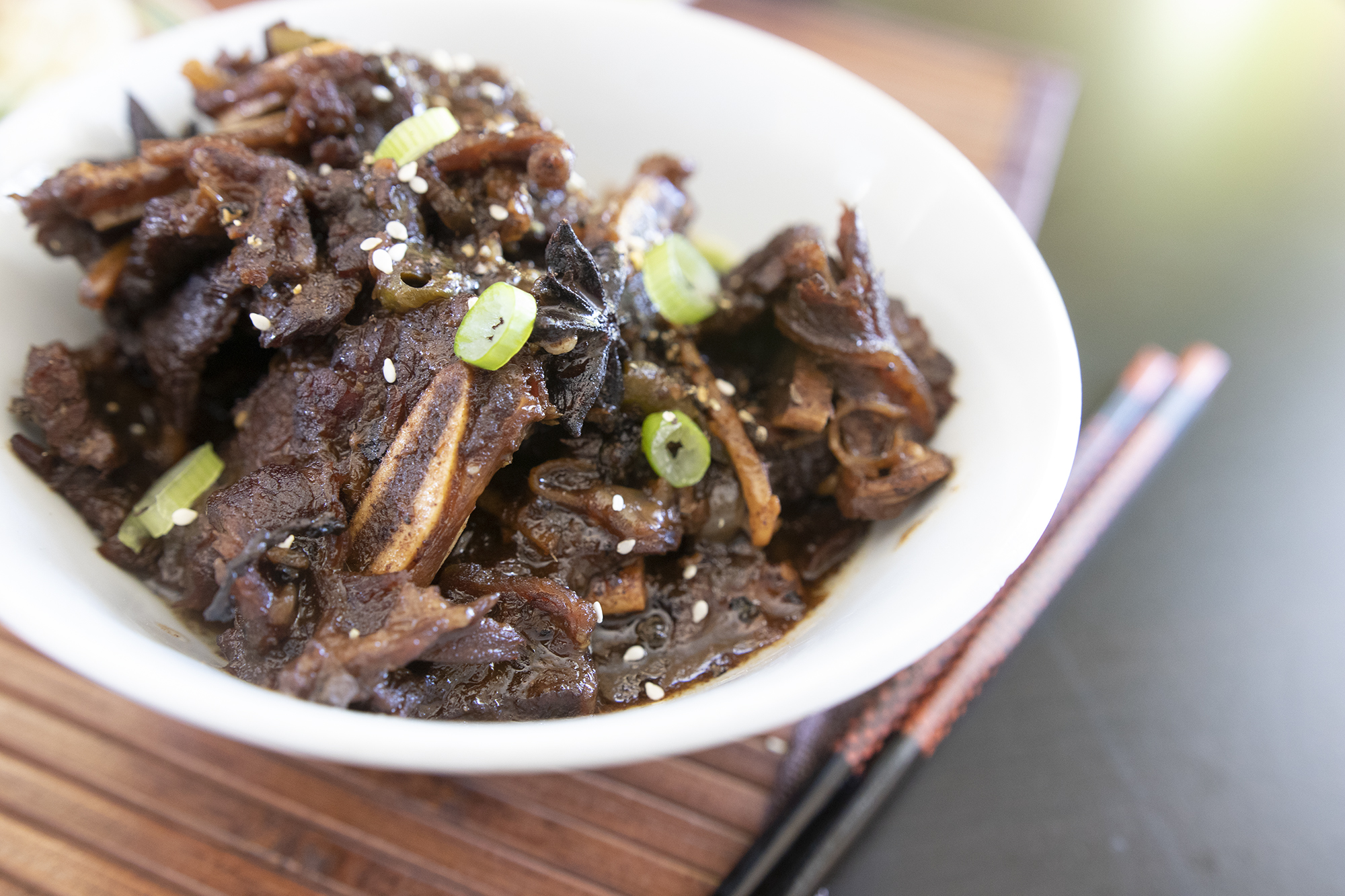 Inspired by a recent video by Marion's Kitchen, I created this recipe with my spin on it and cooked it in less time using an Instant Pot. I really love to slow cook, it cooks the meat giving it an incredible fall of the bone texture, however, sometimes you don't have the time to slow cook and a pressure cooker will cook this for you in half the time. Once this recipe is ready to be cooked you can choose either method that suits your need.
If you've never had short rib before, it's one of the most exciting cuts of Beef, INMHO anyway. Beef is cut horizontally across the ribs and you get a strip of meat with little almond like circular bones in between.
In this recipe, the short ribs are sauteed and kept aside with whole spices. Onions, Ginger Garlic & green Chillies are sauteed and then the pan is de glazed with Shaoxing wine and brown sugar and enhanced with Soya. The Star anise and Ginger in this dish shine and the combination between sweet, salt & spice is perfectly balanced. Stock is added and the Beef is cooked in this delicious marriage of flavors.
Marion takes the time to remove the bones, but I like to leave them in. We like to take this cut of meat with us when we go camping aka glamping or to the cottage. Smother it in some spices and cook over a coal BBQ. Once cooked, you can literally use the pieces of bone as a handle to hold the meat.
I like to serve this with rice and Bok Choy. To cook the Bok Choy I like to just quarter it and then cook it in a very hot flat pan with a little bit of the Beef gravy. It gets a little charred and delicious!
1 lb of Beef short ribs
1 tsp of salt
2 Star Anise and
1 inch stick of cinnamon
1 cup finely diced white Onion
2 tbsps julienne fresh Ginger
2 tbsps minced fresh Garlic
2 tbsps sliced green Chillies
1/4 cup Shaoxing or Chinese cooking wine
1/4 cup light brown Sugar
1 tsp Chinese 5 spice powder
3 tbsps light soya sauce
2 tbsps dark Soya sauce
1 cup Beef stock
1/2 tsp Pepper
2 – 4 tsps Cornstarch slurry
Garnish – Spring Onion leaves & white Sesame seeds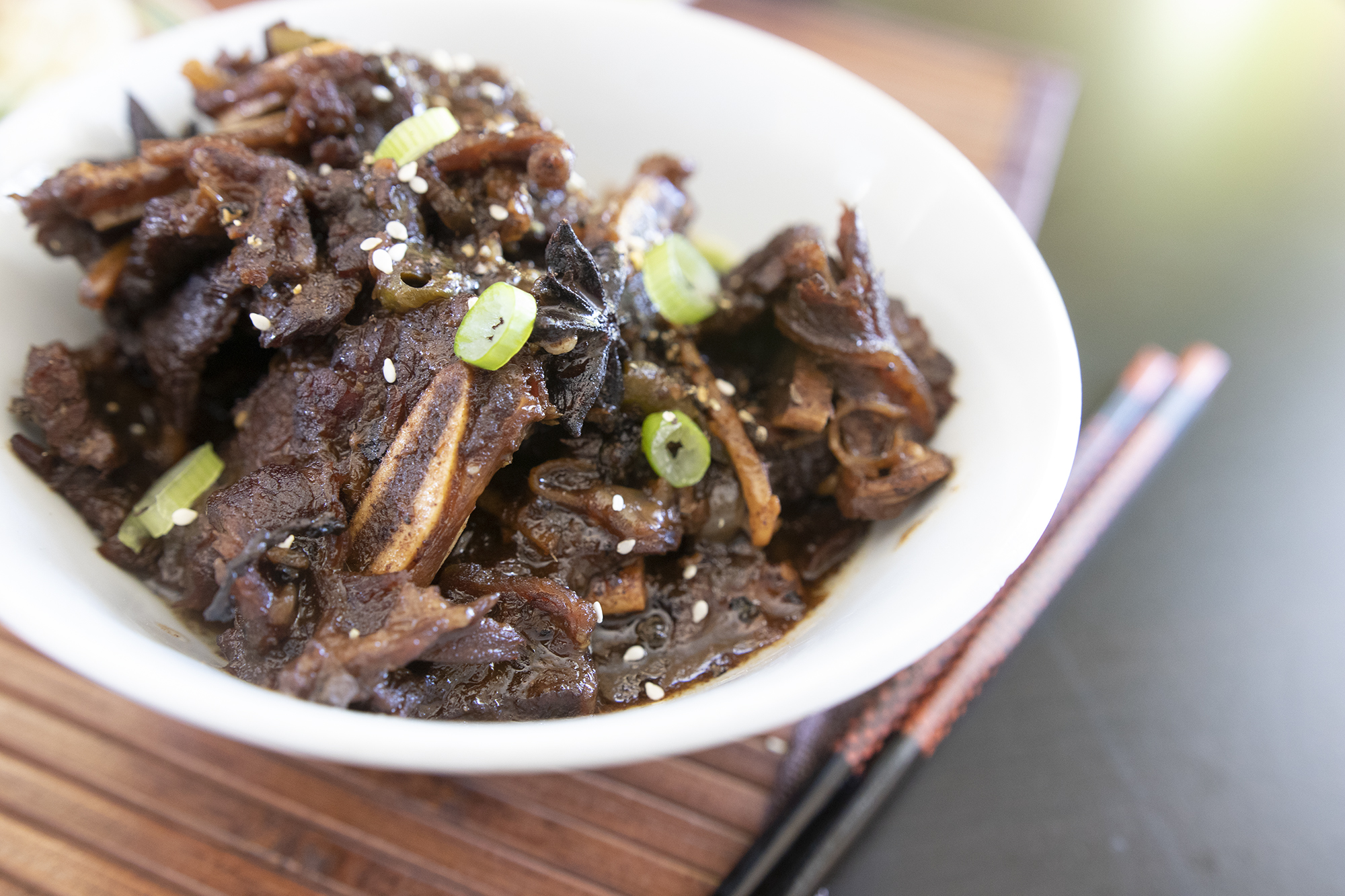 Cut the ribs into 2 – 3 inch pieces and marinate with salt
Heat some oil and sear the beef on both sides and keep aside
In the same pot, add more oil and saute the onion, ginger garlic and chilli
To de glaze the pot add the cooking wine, followed by the sugar
Add the spice powder and the light and dark soya
Add the stock and return the ribs to the pot
Add Pepper
Ensure that they are mixed with the liquid before you close the lid of the instant pot or pressure cooker
Cook for 20 mins
Release the steam
Put the IP on saute mode and allow the liquid to stay on a rolling boil
Add the cornstarch slurry to thicken