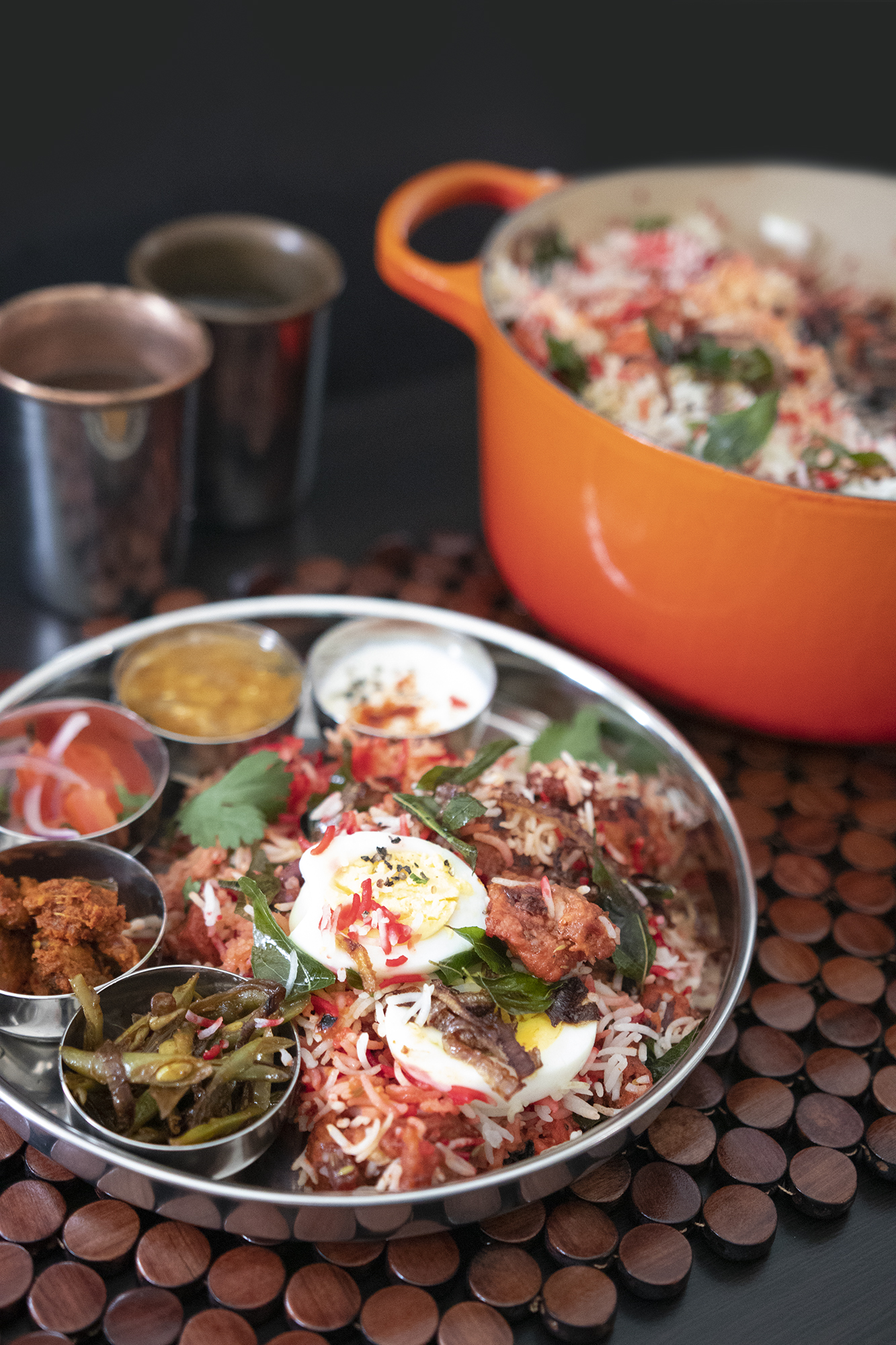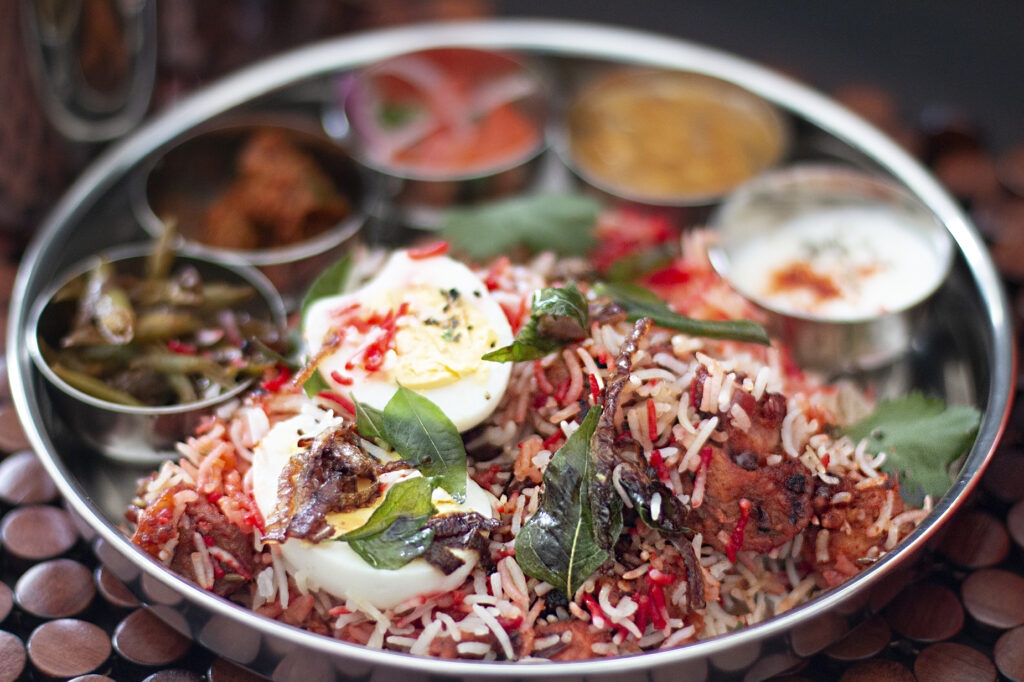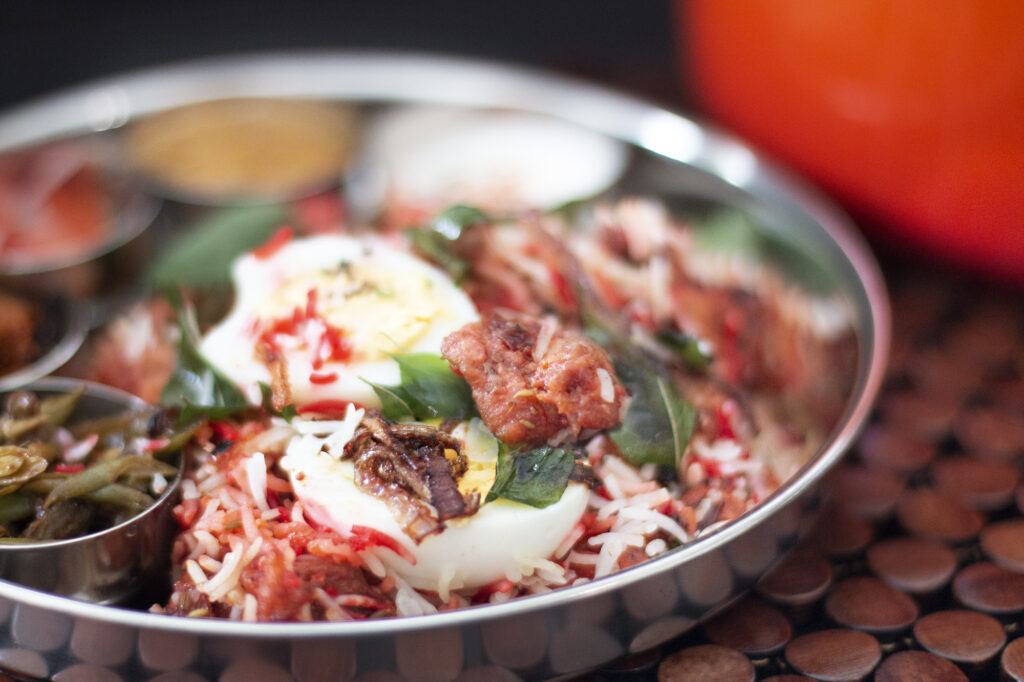 The Chicken 65 you know and love is cooked and then layered with rice Biriyani style. If you love Chicken 65 and Biriyani, you will love these two together! My kids love Chicken 65, so I thought why not turn this into a biriyani format. The recipe had to be tweaked as Chicken 65 is generally a dry dish and you need gravy to steam the rice when you make a biriyani.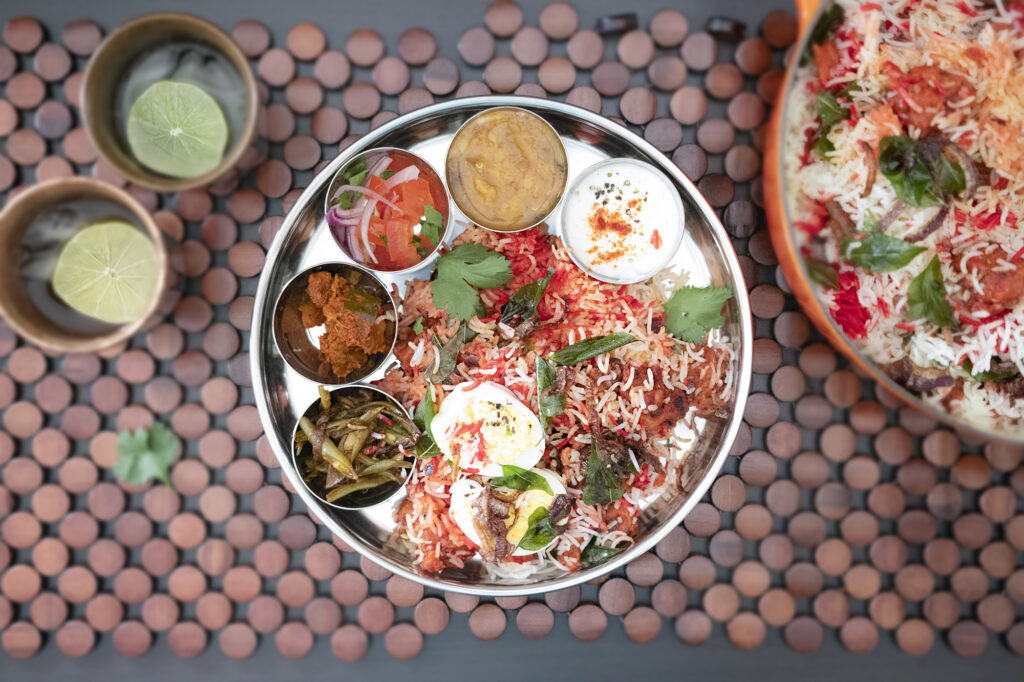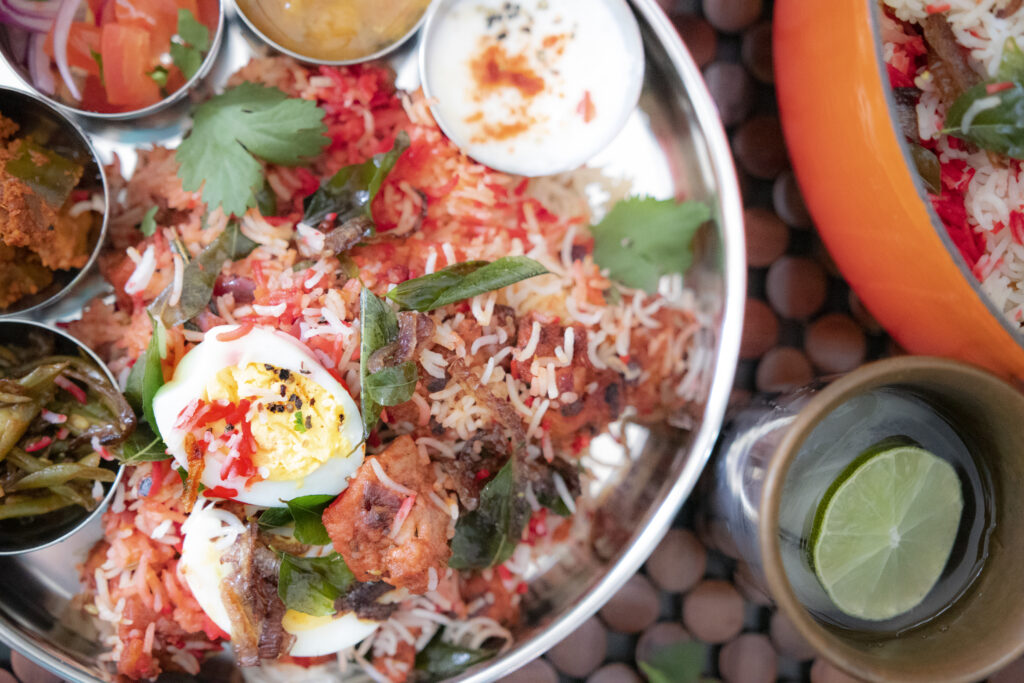 If you're wondering where the strange name came from – back in the days when typesetting was done with little metal alphabets and numbers, a little canteen in south India had a chicken dish that was item no 65. At the typesetting house, some of the pieces got displaced and when it printed, it got printed as Chicken 65 and the name stuck ever since. This is really popular in South and Central India and is commonly ordered as a snack.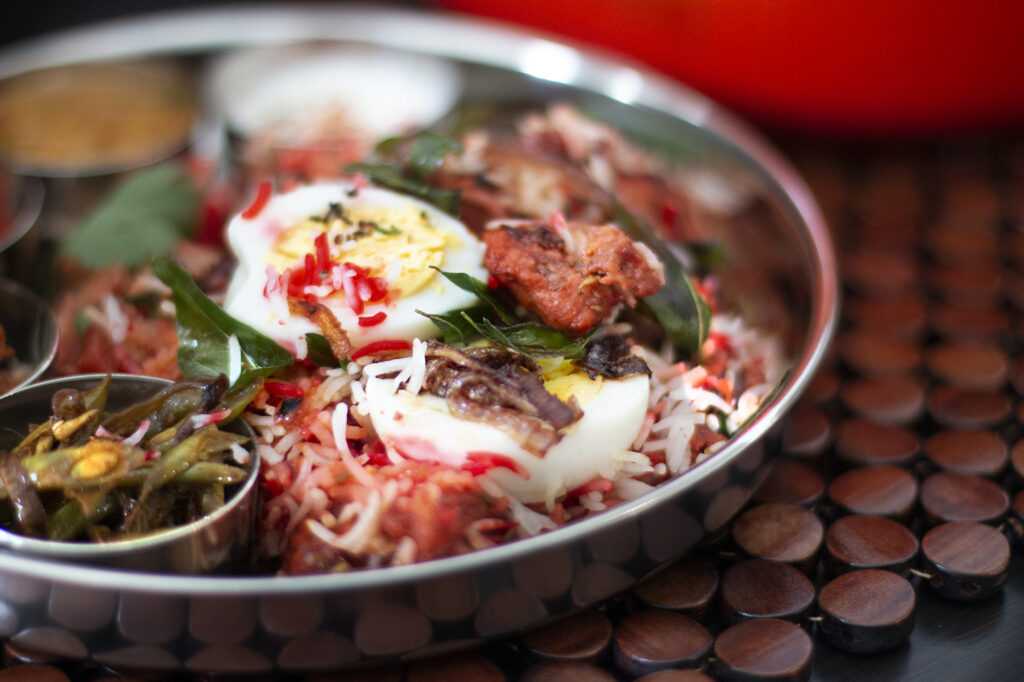 This recipe does have a few steps but follow the recipe from my video and you will have a great pot of biriyani in no time!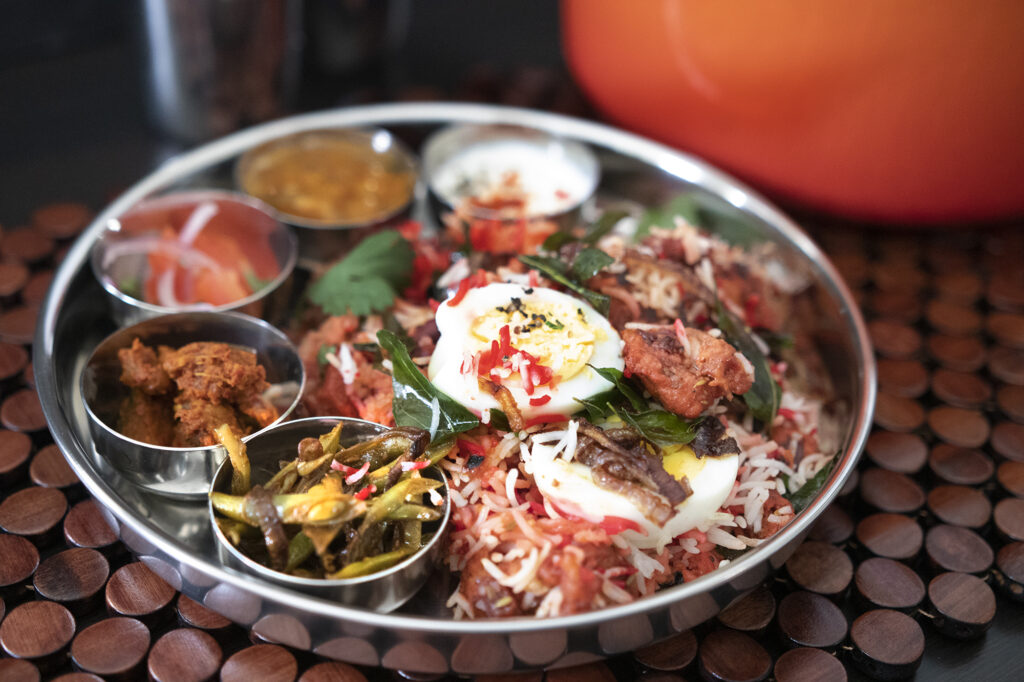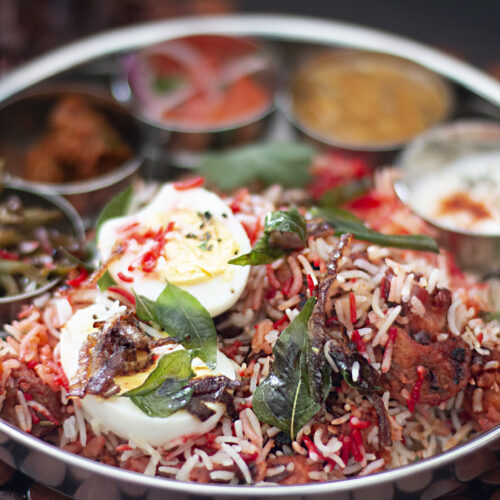 Chicken 65 Biriyani
Ingredients
Rice
2

cups

Basmati rice

4

cups

Water

1

tsp

Cumin seeds

Salt to taste
Chicken
2

lbs

boneless Chicken cubes

1

tsp

Chilli powder

2

tbsps

Ginger & Garlic paste

Salt to taste

2

tbsps

Corn starch and I'm going to

1

Egg
Masala
1

cup

Curry leaves

2

cups

finely diced Onions

2

tbsps

green Chillies

2

tsps

Chilli powder

2

tsps

Cumin powder

1

tsp

fresh cracked Pepper

4

tbsps

Ginger & Garlic paste

4

tbsps

Chilli paste or Sambal Oelek

Salt to taste

1/8

tsp

of food colouring dissolved in a tbsp or so of water

1

cup

blanched and pureed tomatoes

1/2

cup

Water

2

tbsps

Ghee
Garnish
4- 5

boiled Egg halves

1/2

cup

Curry leaves

1/2

cup

sliced Onions
Instructions
Soak the rice for at least 30 mins and drain the water a few times

Marinate the chicken with the chilli powder, ginger and garlic paste, salt to taste, cornstarch and the egg

Heat oil and before you deep fry the chicken deep fry the curry leaves and onion reserved for garnish

Reserve a cup of that oil

Deep fry the pieces of chicken in batches till golden brown and drain

In a wok or kadai and heat up the reserved oil

Sauce the diced onions, green chillies and curry leaves

Add the chilli, cumin powder & pepper

Add the ginger and garlic paste followed by the chilli garlic paste or the sambar oelek

Add salt to taste and the food colouring, mix well and reserve half of it for the topping

Add the chicken to the other half and toss to coat

Cook till the chicken is dry and keep aside

Return the other half of the masala to the kadai, add the tomato puree, water and salt to taste

In a separate pot heat up the water add cumin seeds and salt and cook the rice till 3/4 cooked, drained and keep aside

In the same pot, heat the ghee and when melted, reserve half

Add the gravy and then 3/4 of there semi cooked rice

Then add all the cooked dry chicken

Add the final layer of rice on top

Add some of the reserved food colouring

Add the boiled egg halves, onion and curry leaves

Cover the pot with foil, put on the lid and cook in a preheated oven at 350 degrees for 20 – 30 mins