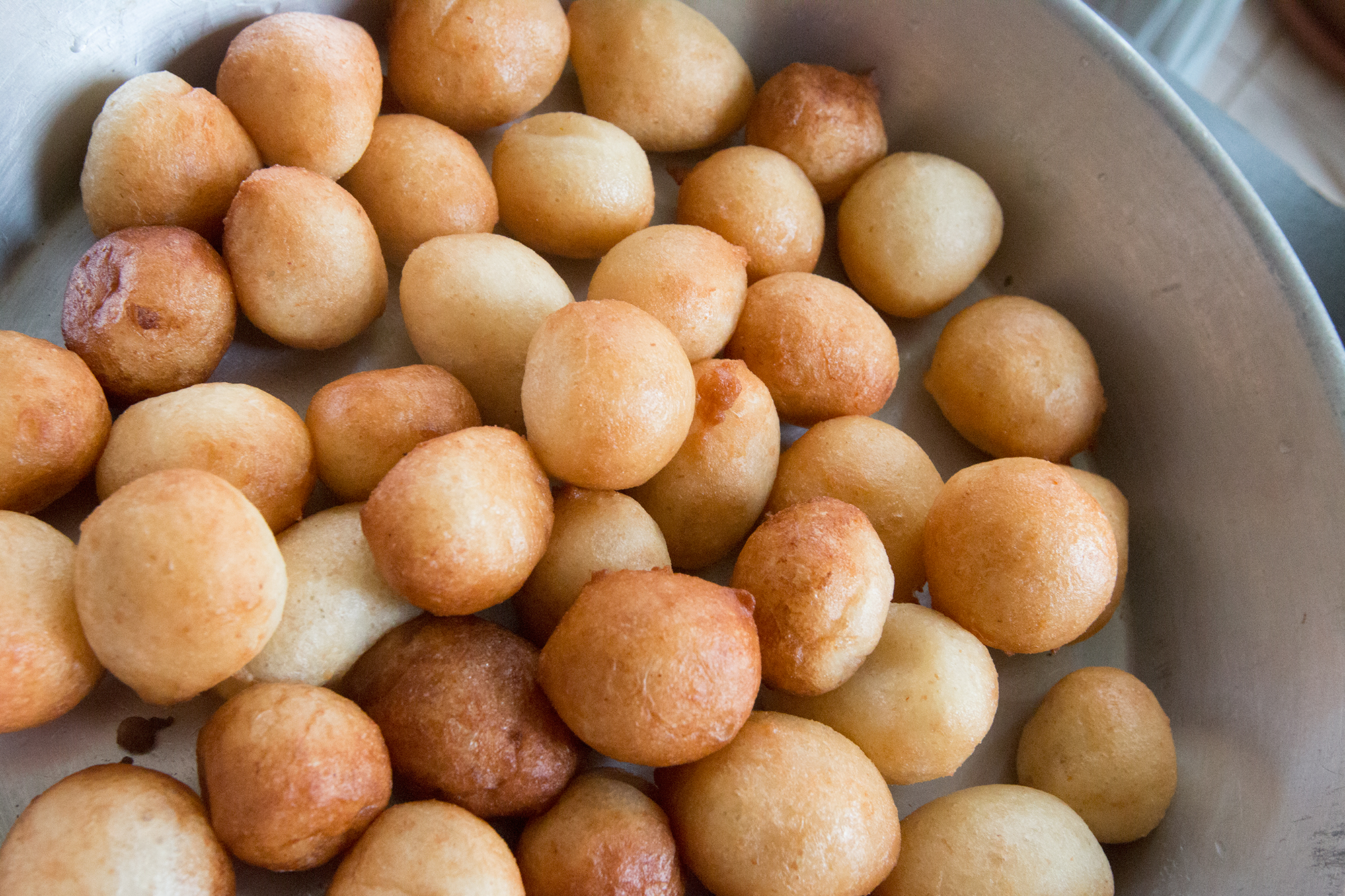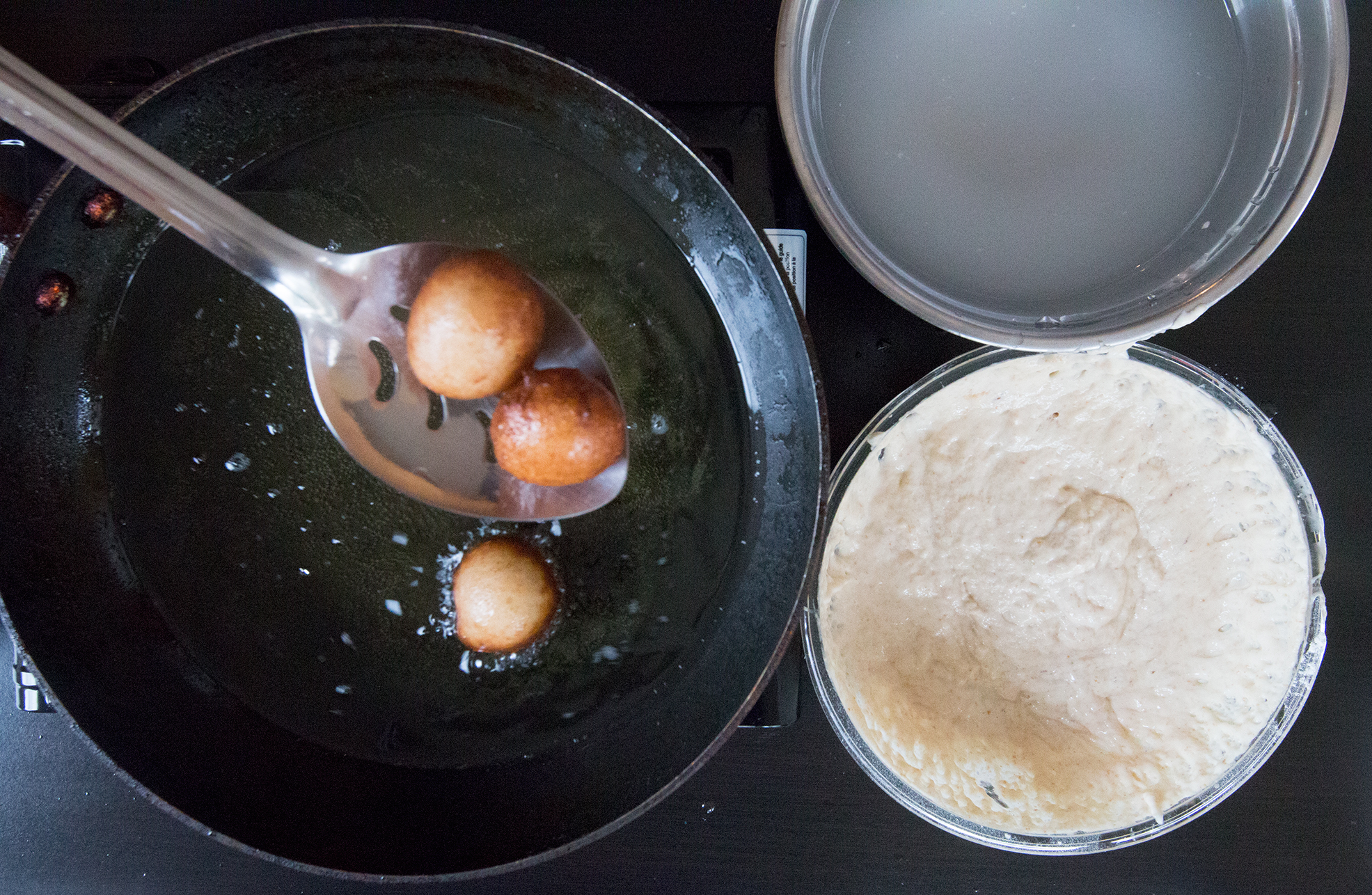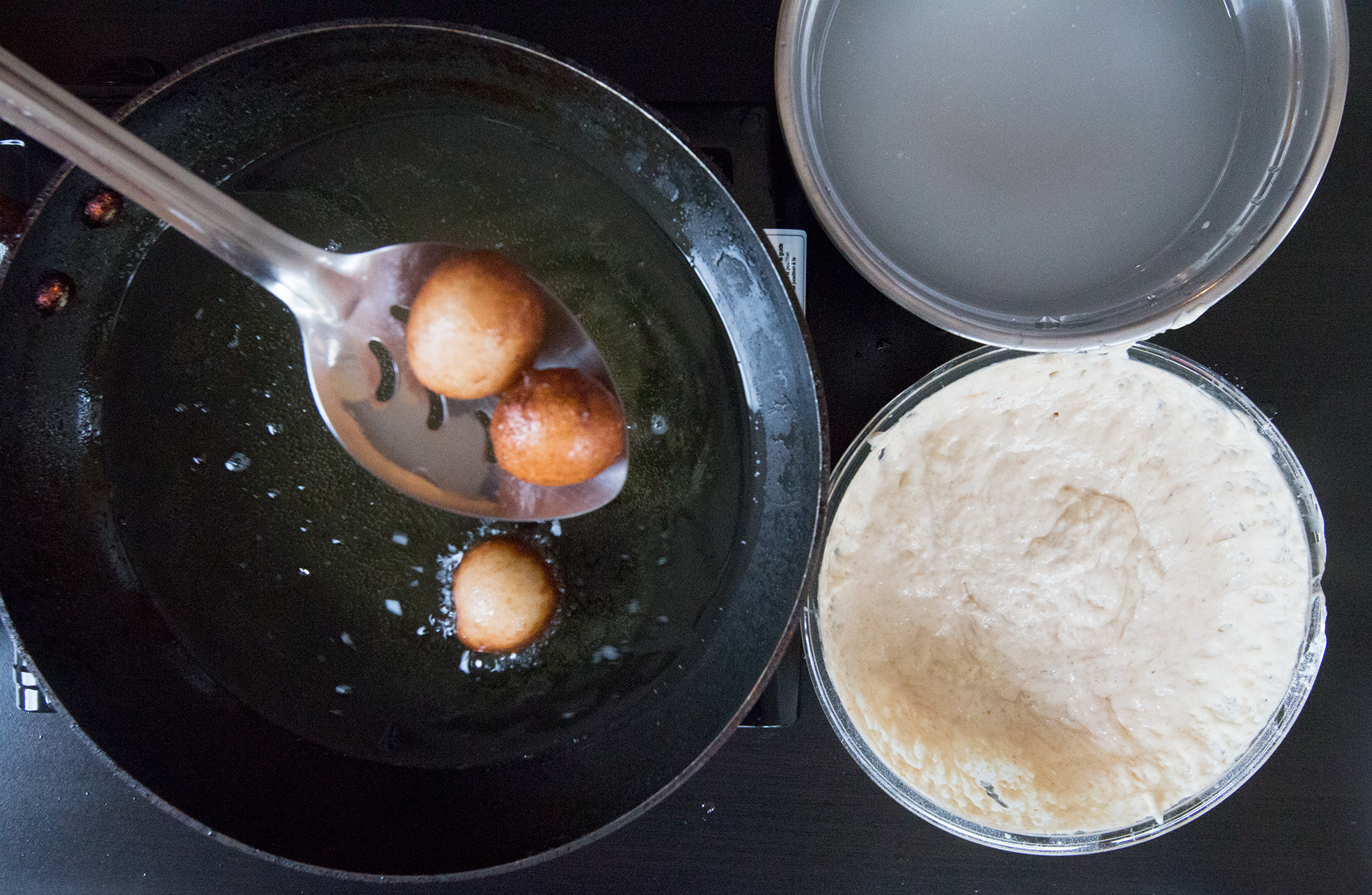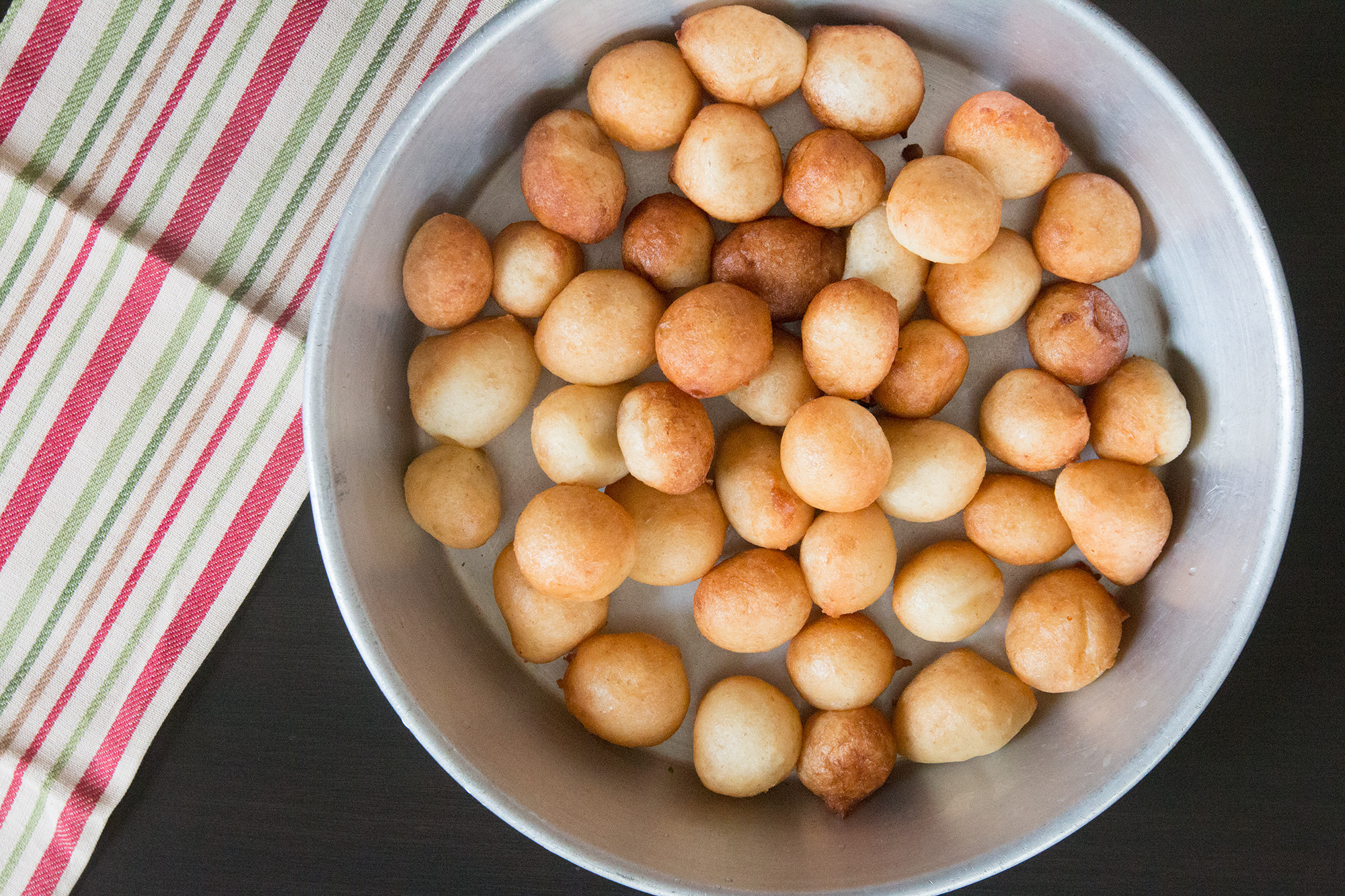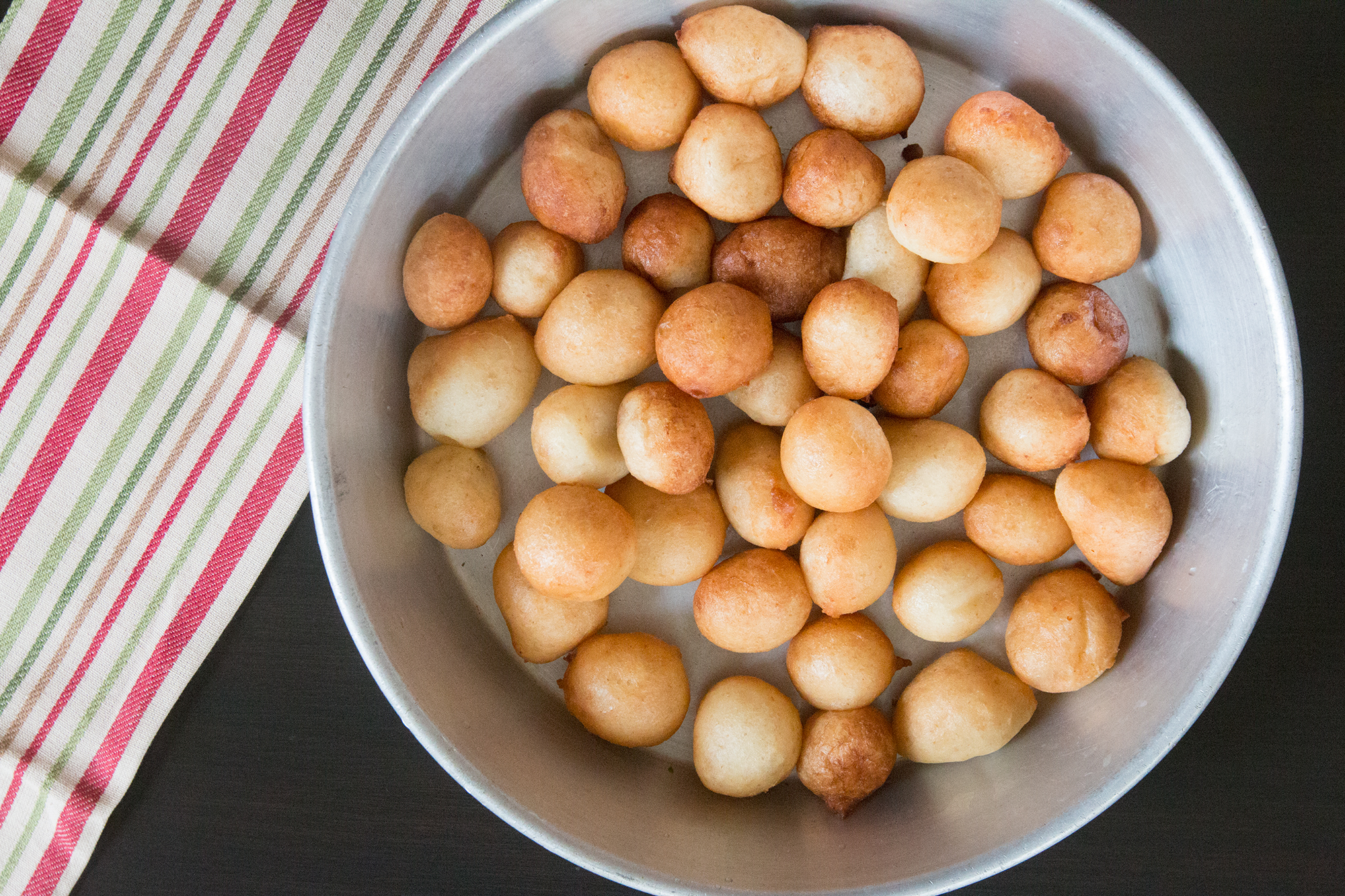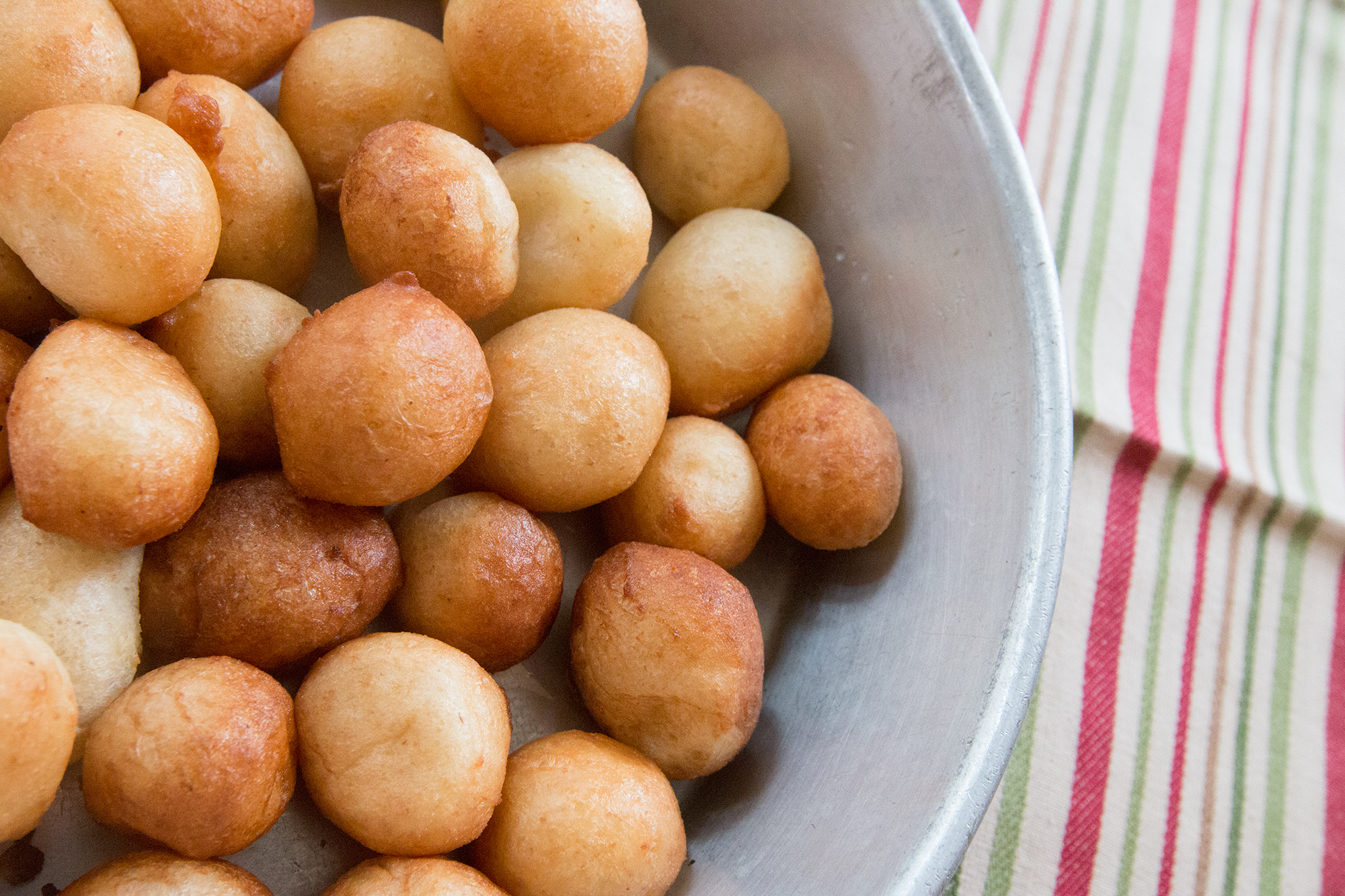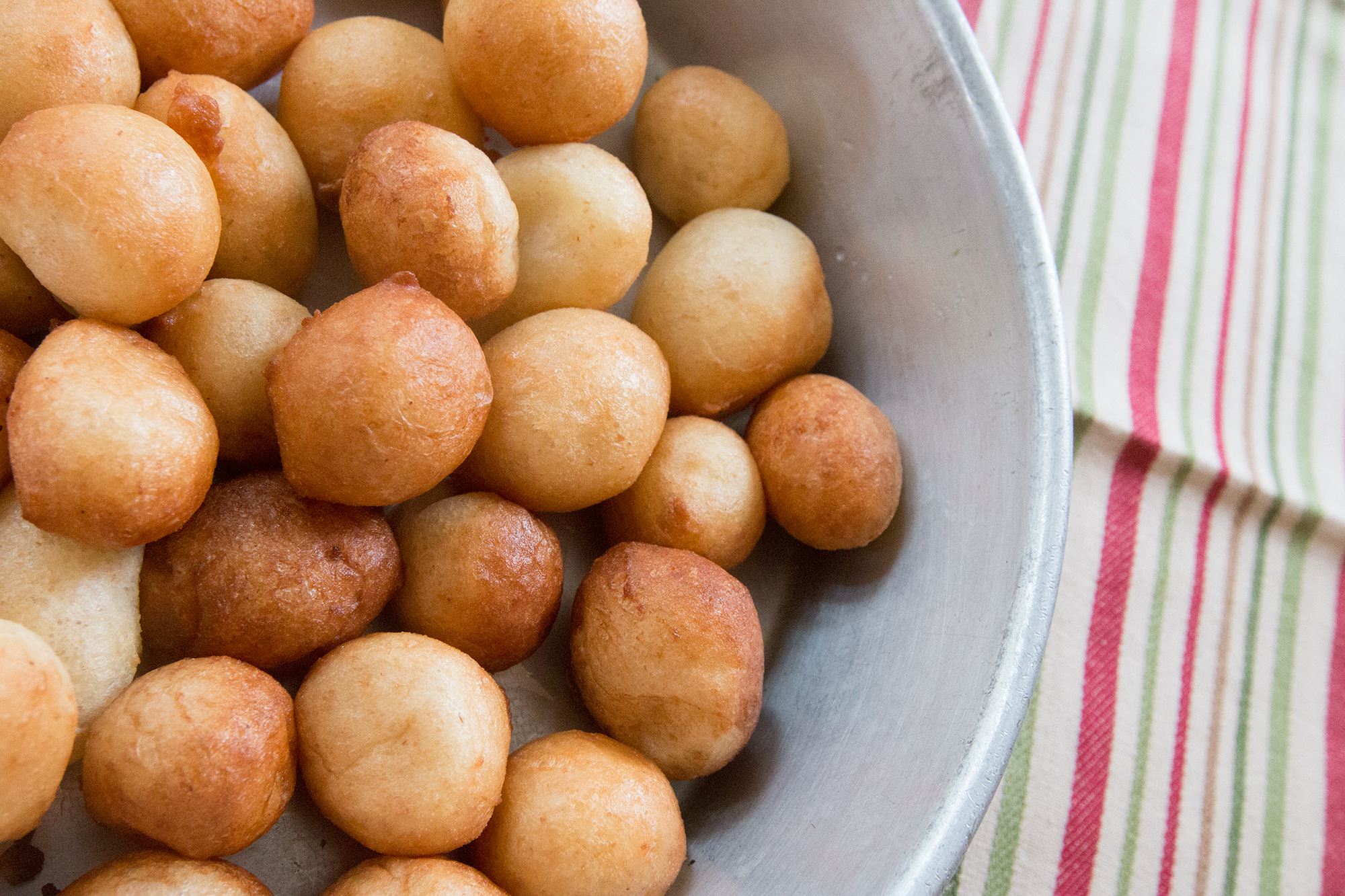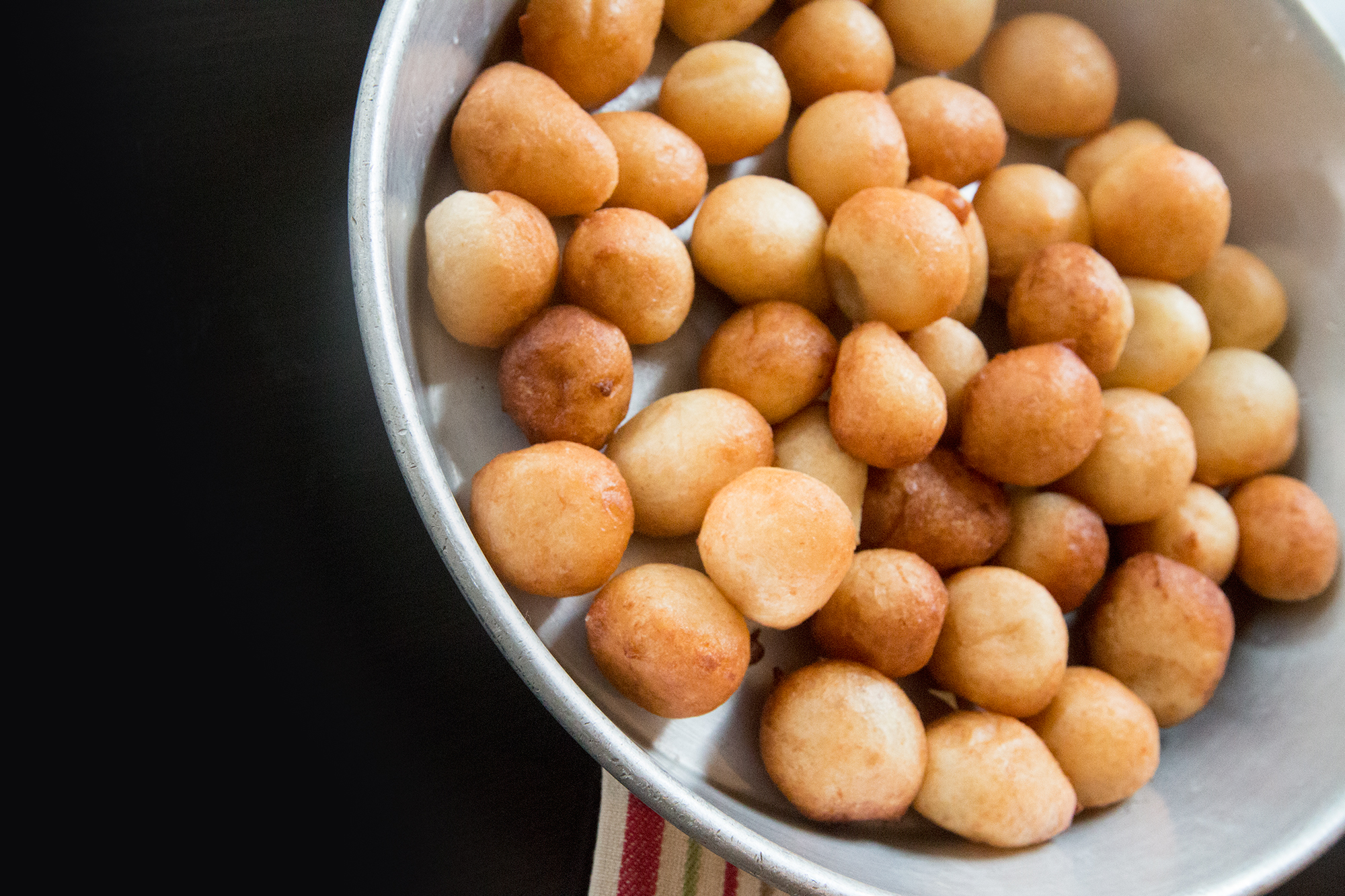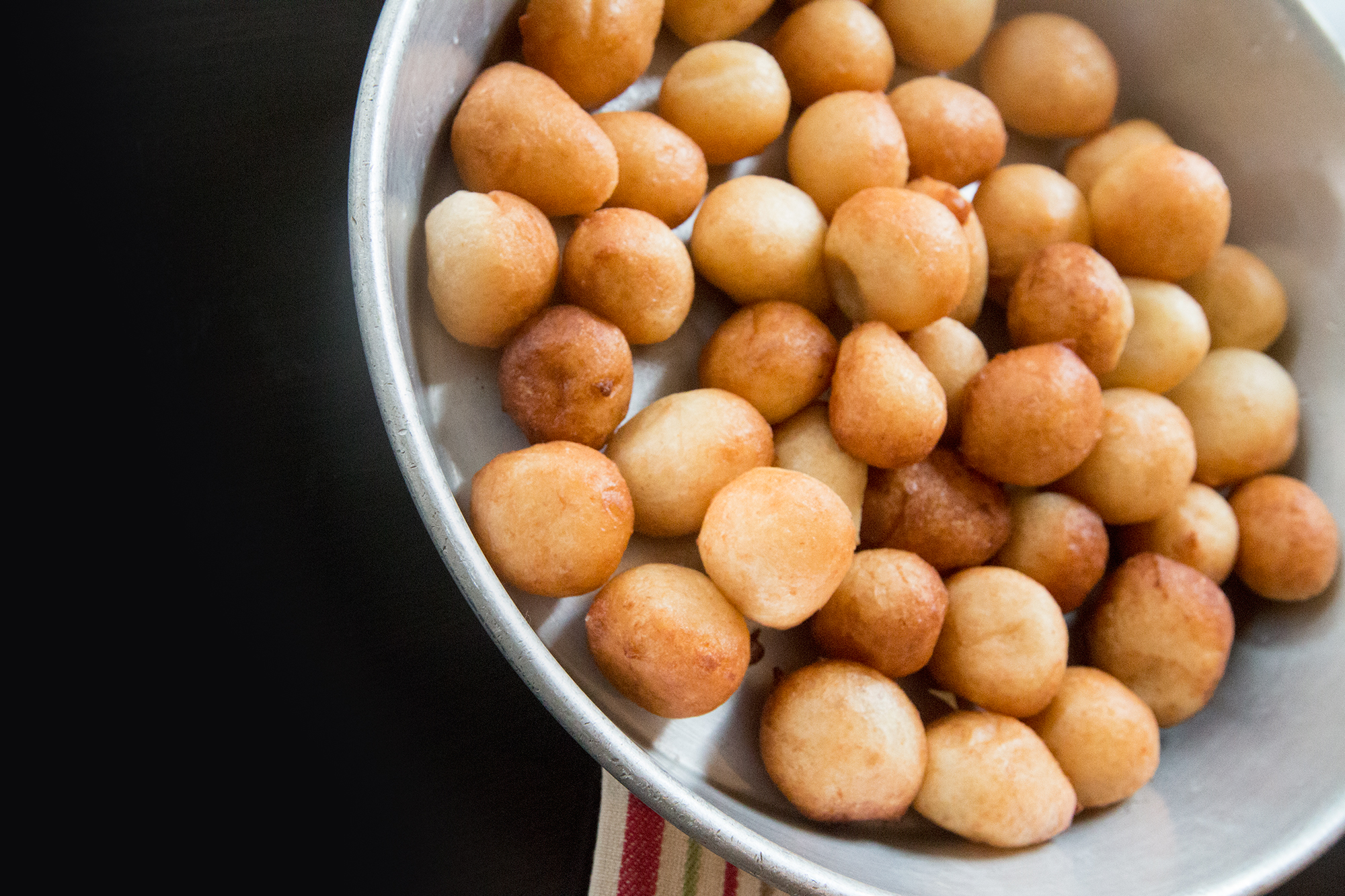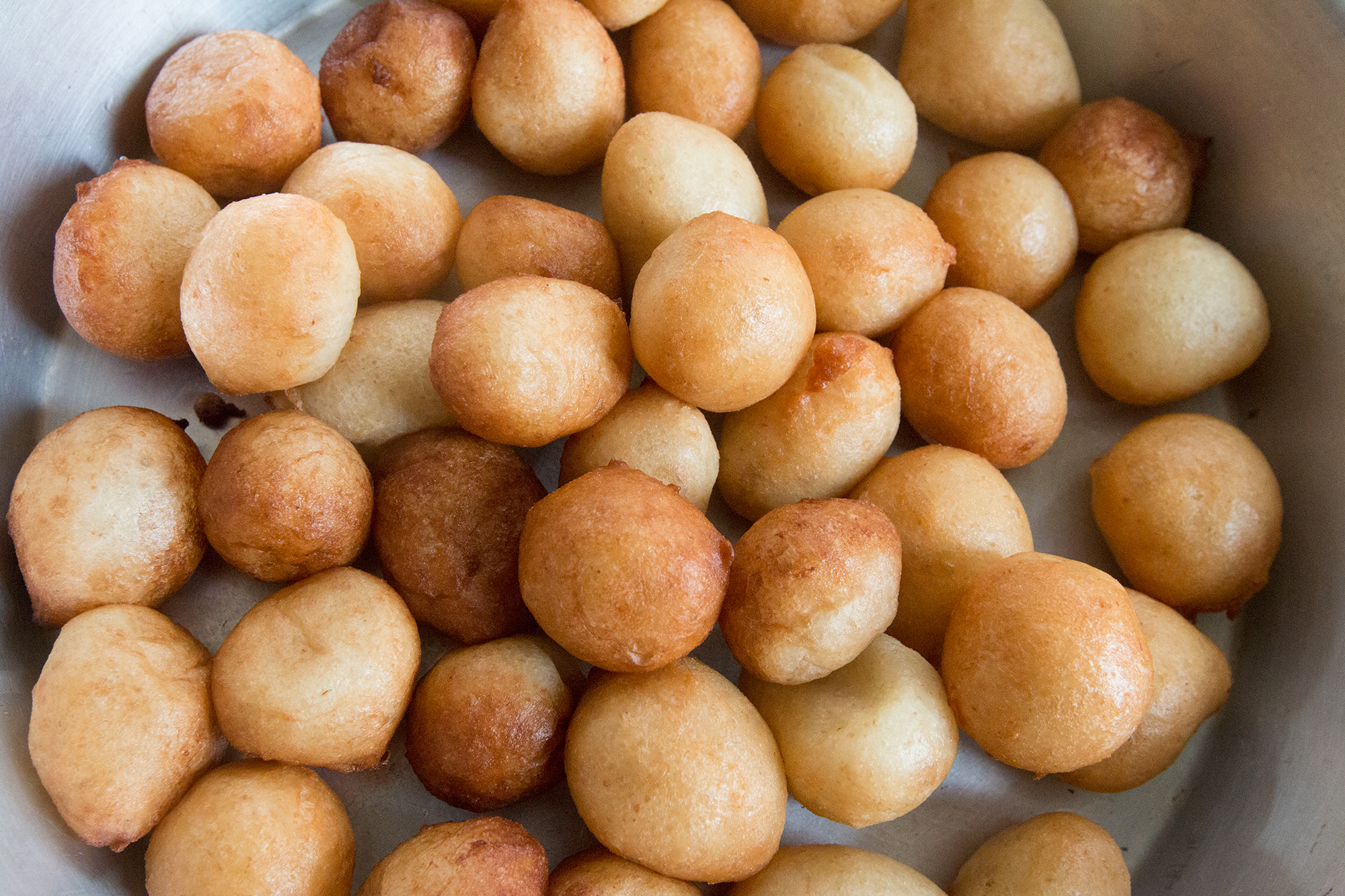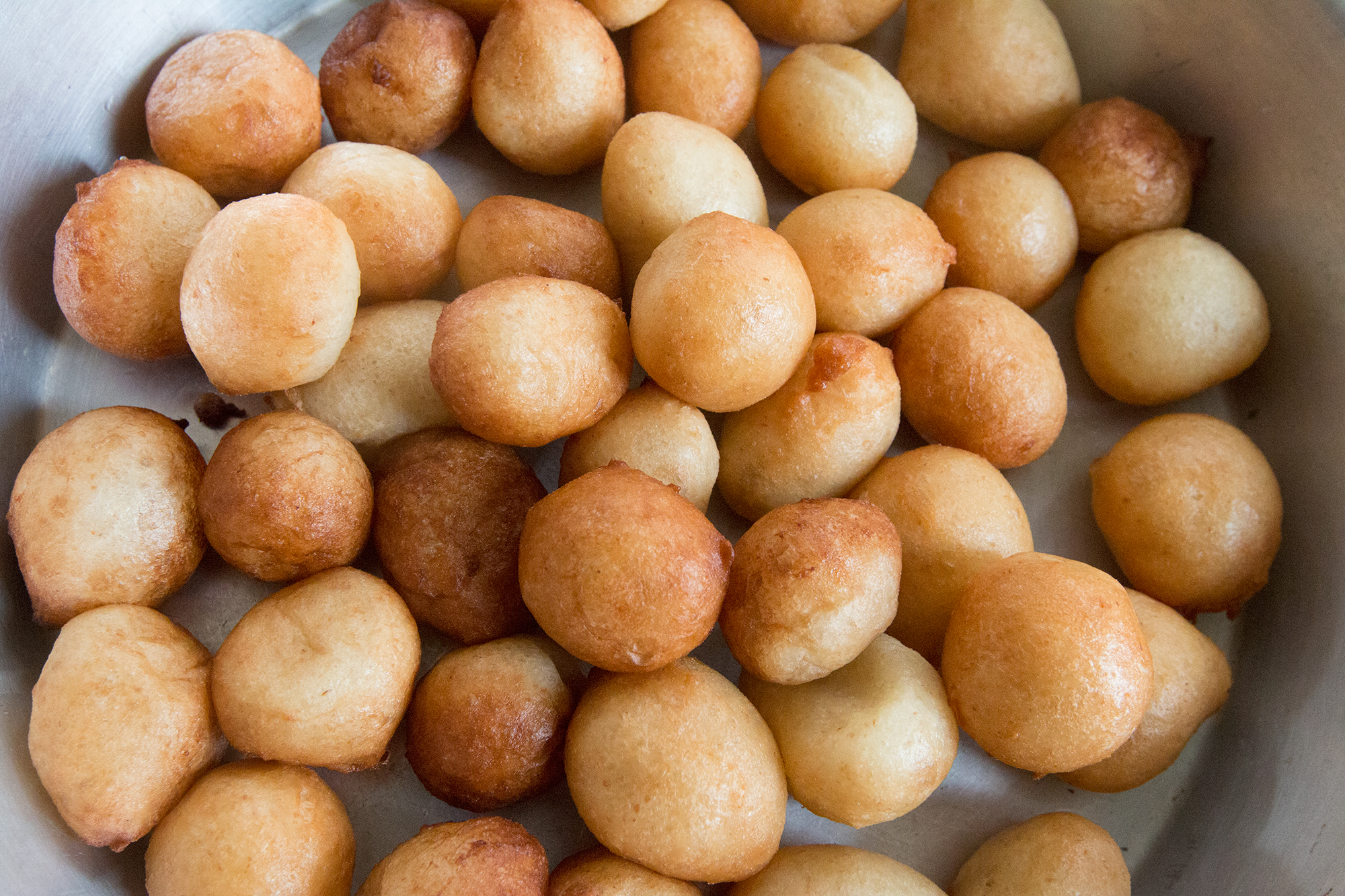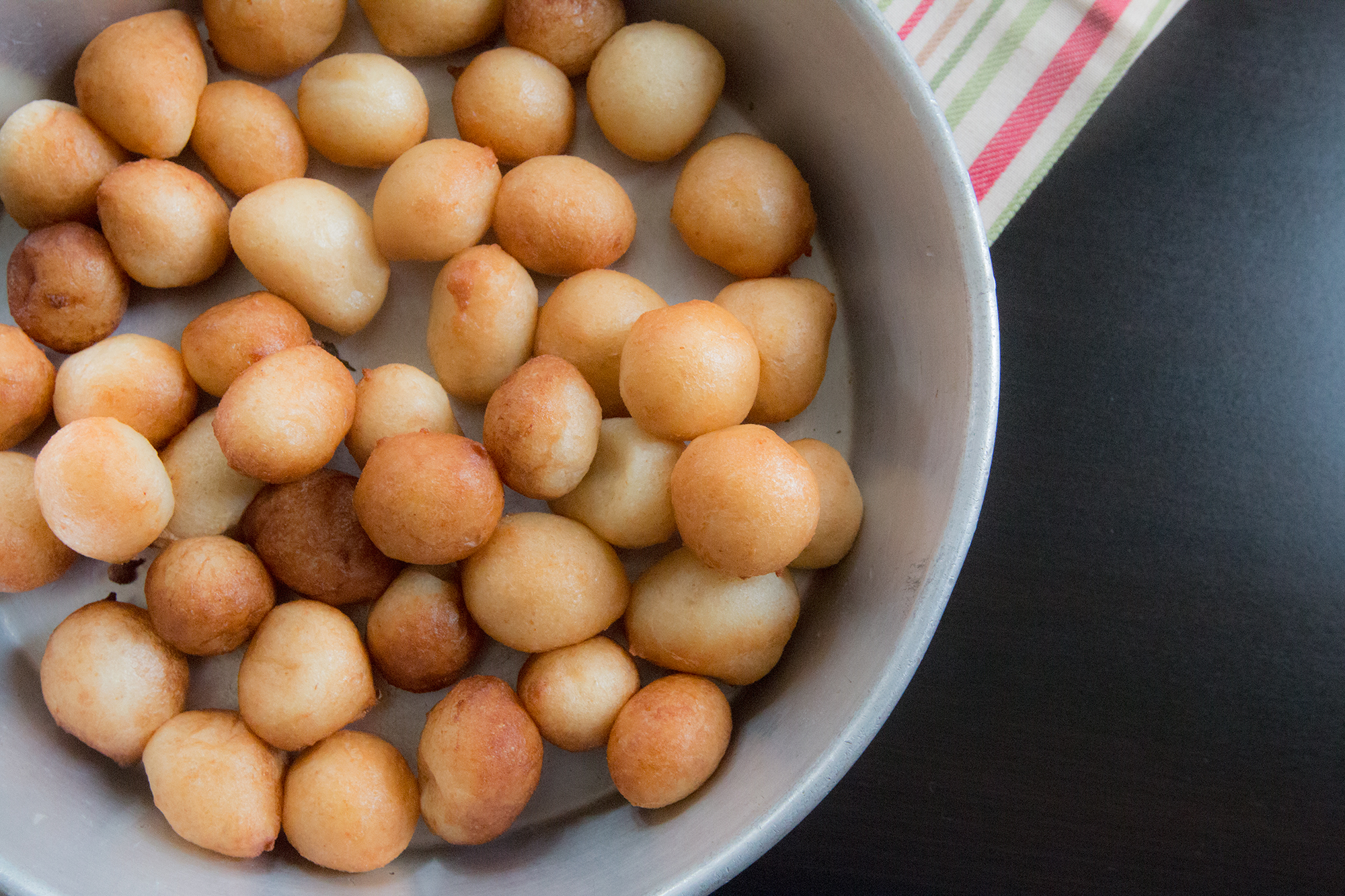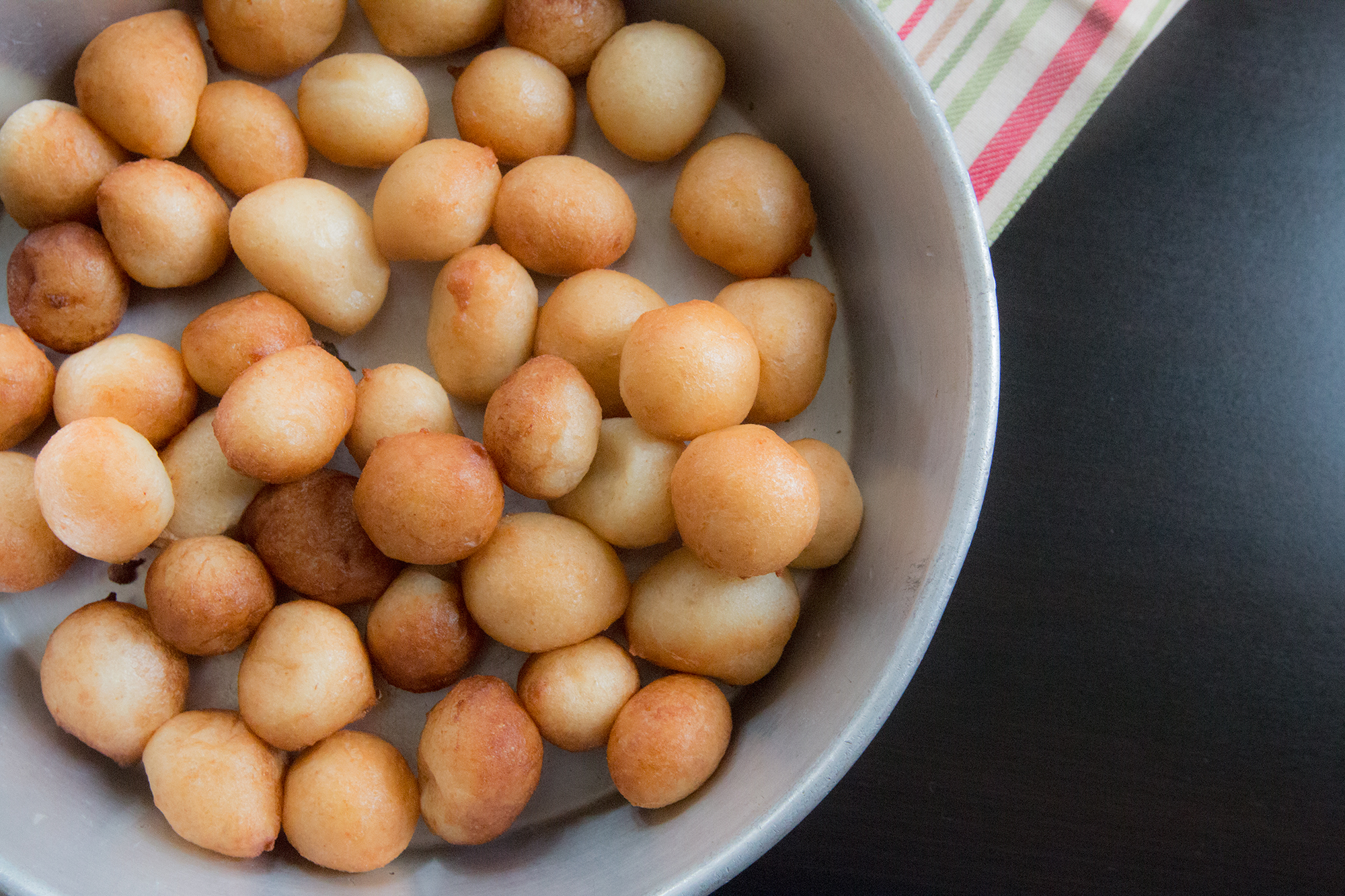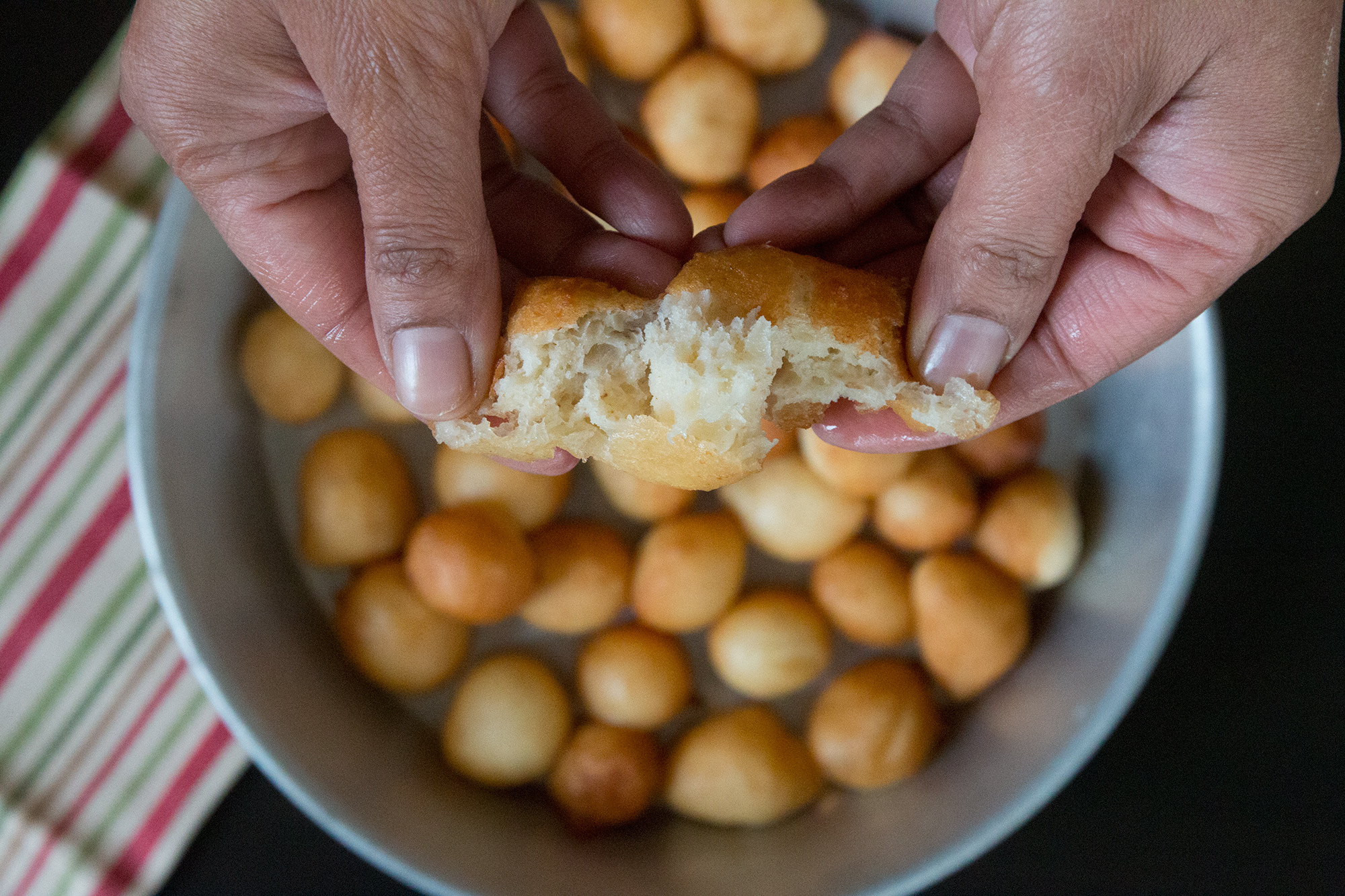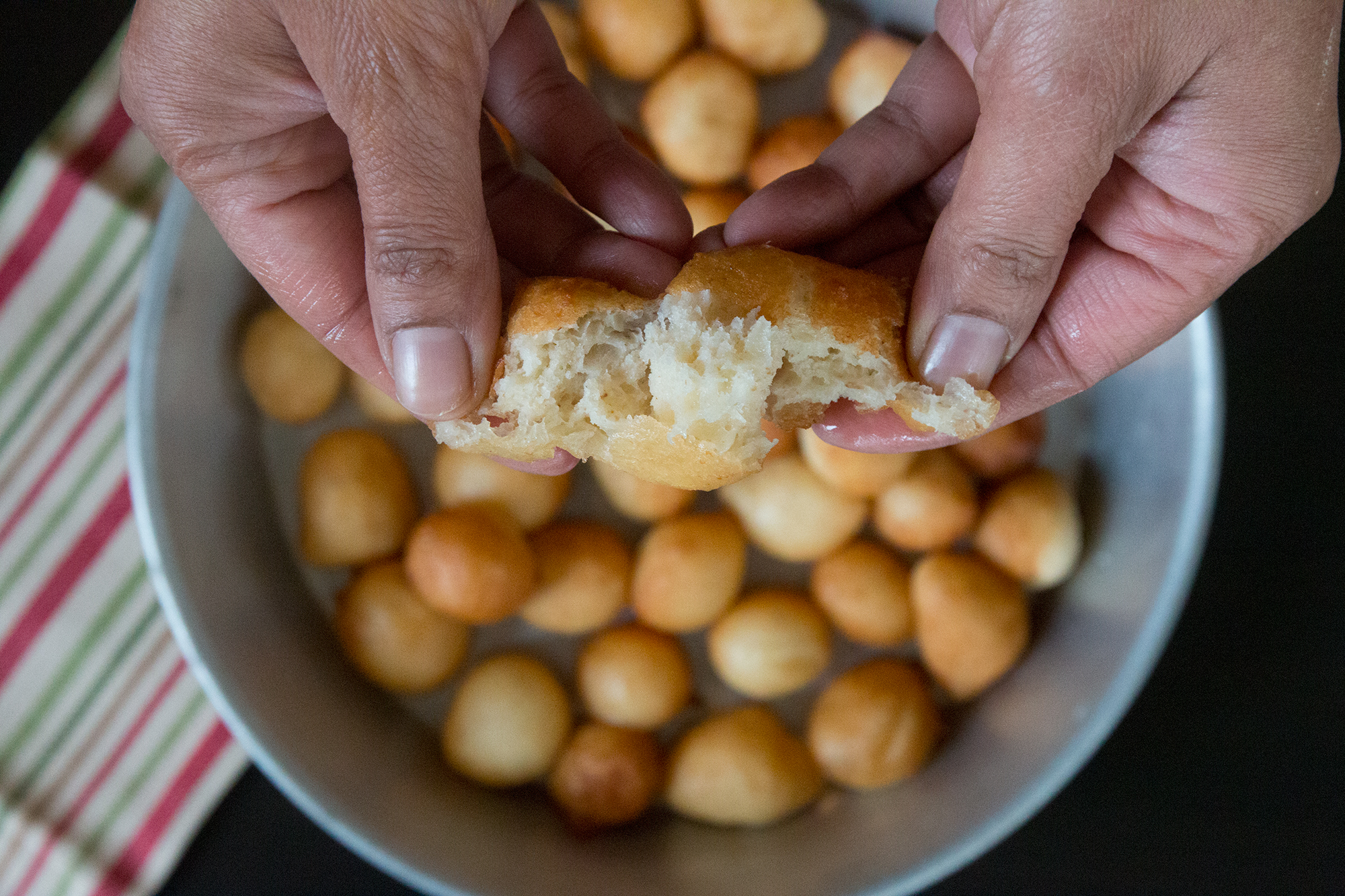 Have you ever had a Fugiya? This little ball of deep fried dough has a slight sweetness. It can be eaten as a snack or to sop up a spicy curry. The East Indian community that live primarily in the Mumbai region celebrates every occasion with a batch of hot hot fugiyas. When made fresh these heavenly balls of dough, literally melt in your mouth. Most East Indians will not share their family recipe, or not exactly how they make it anyway. My Mom's best friend, Aunty Mabel is an East Indian culinary whizz and I convinced her to teach me how to make these. Click on my video link to watch a clip of her in action at 8 am on a Sunday morning, watch how deftly she grabs the dough and drops them into the oil. Making perfect Fugiyas comes from practice. I made at least 8 batches tweaking the recipe till it was good enough to share with you.
Fugiyas are made by mixing flour, eggs and coconut milk together with yeast. Some recipes use regular milk but I prefer the rich taste of coconut milk in my Fugiyas. Once the dough rises, the dough is grabbed with one hand and released with the other hand that is wet and the ball of dough is just dropped into the oil when it puffs up. It's difficult to explain but if you click on the video link you will understand what I mean!
I know many many people that would never entertain the idea of making Fugiyas at home so I hope that this video encourages to get into your kitchen and try it for yourself. Aunty Mabel didn't start making these till she was 65 and is now an expert, so it's never to late! These can be eaten on their own as a snack, dipped in hot tea or used to sop up a nice spicy curry. Kids and adults alike love them!
[youtube-subscriber nickname=kravingsblog]
FUGIYAS – East INDIAN BALOON bread
Ingredients
2 cups All purpose flour(unsifted)
1/2 cup whole wheat flour sifted
1 beaten egg
7.5 tbsps Sugar(3 tbsps per cup)
1.5 tsps Yeast in 1 cup warm water
200 ml canned Coconut Milk
Pinch of salt
Add extra Milk or Coconut Milk if required
Instructions
Add 1 cup of warm water to 1.5 tsps of yeast, feed it with a pinch of sugar and leave it aside for about 15 – 30 mins to froth.
Add add 2 cups of regular all purpose flour and 1/2 cup of sifted whole wheat flour.
Mix all the liquid ingredients together - one beaten egg, all of the yeast mixture and 200 ml of canned coconut milk.
Add the flour a tbsp at a time and 3 tbsps of sugar per cup ie 7.5 tbsps of sugar.
Be sure to scrape the bowl in between and once all your batter is mixed. Also add a pinch of Salt.
If your dough mixture looks a bit dry, add a little bit of milk.
Leave it in a warm place to rise for 1 hour
Prepare your equipment before you start – risen batter, a large bowl of water, big enough to dip your fingers in, a tray with layers of kitchen towel, a hand towel and a slotted spoon
If you're right handed, make sure to wet your fingers on your right hand and vice versa if you're left handed. Grab the dough, release with your wet fingers and drop into the dough. Make sure that you keep wetting your fingers, if they get dry, the dough ball with stretch when you try to release it.
Keep those fugiyas moving in the oil so they cool uniformly
Drain the Fugiyas on some kitchen towel to remove the excess oil
https://kravingsfoodadventures.com/fugiyas-east-indian-baloon-bread/
<
iframe width="560″ height="315″ src="https://www.youtube.com/embed/scG1WA5m4cY" frameborder="0″ allowfullscreen>