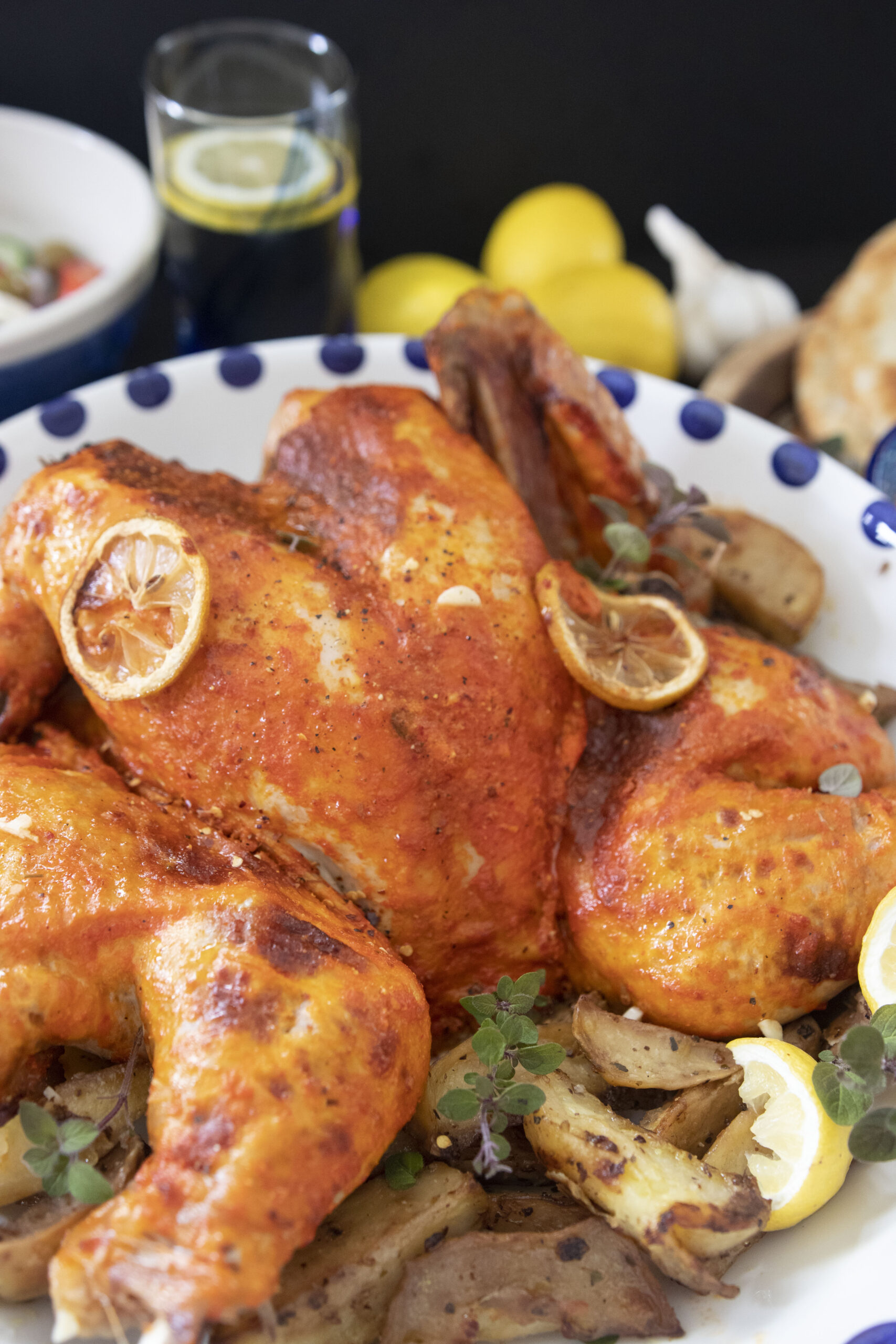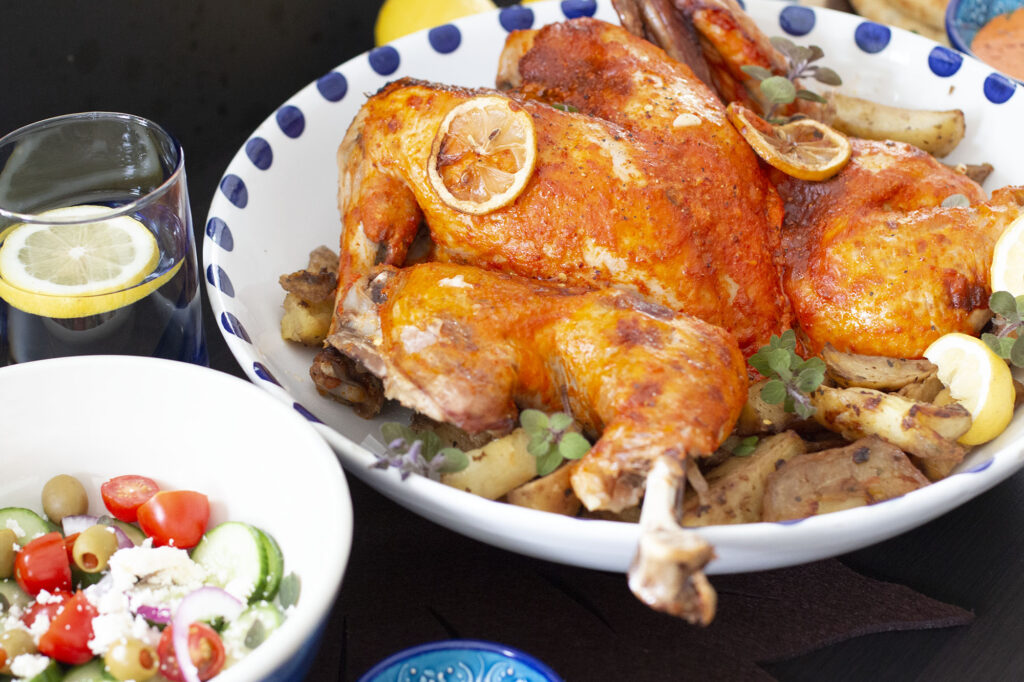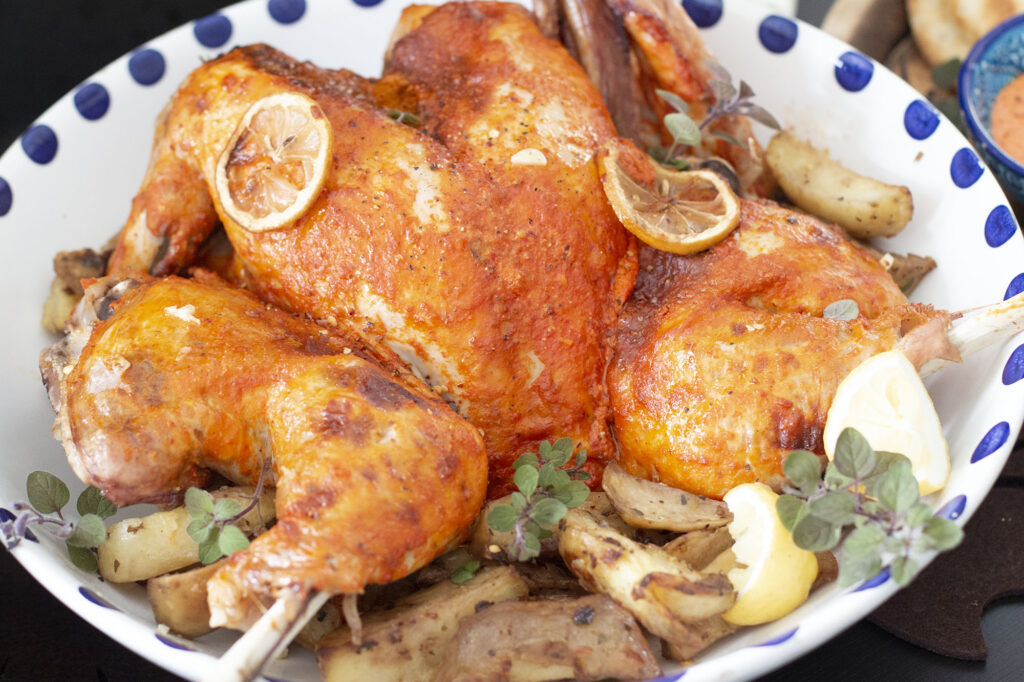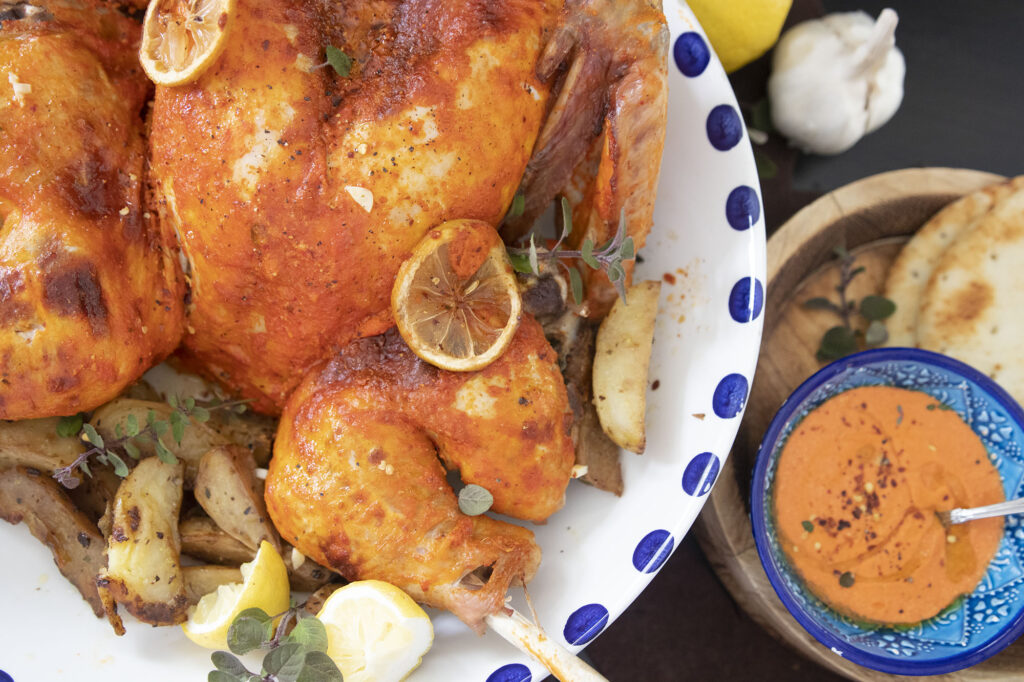 This Thanksgiving we have a lot to be thankful for in spite of the hardships that have hit most of us in 2020. Since social distancing must be practiced, we have to think small. I found the perfect small turkey and since it's a utility Turkey, it has some defects, just like the year we're living in.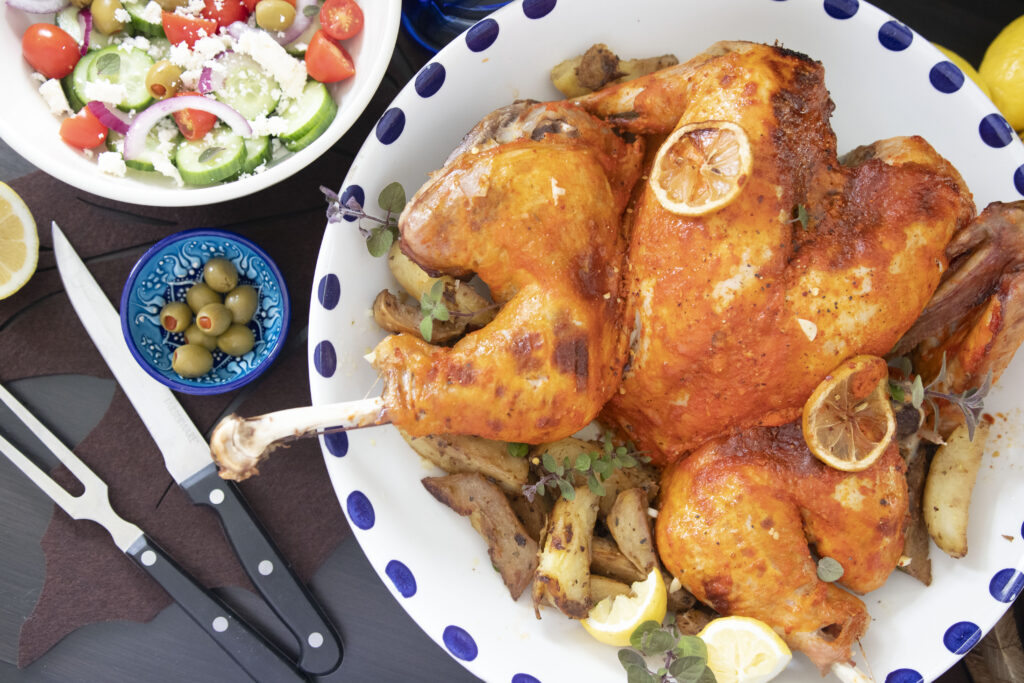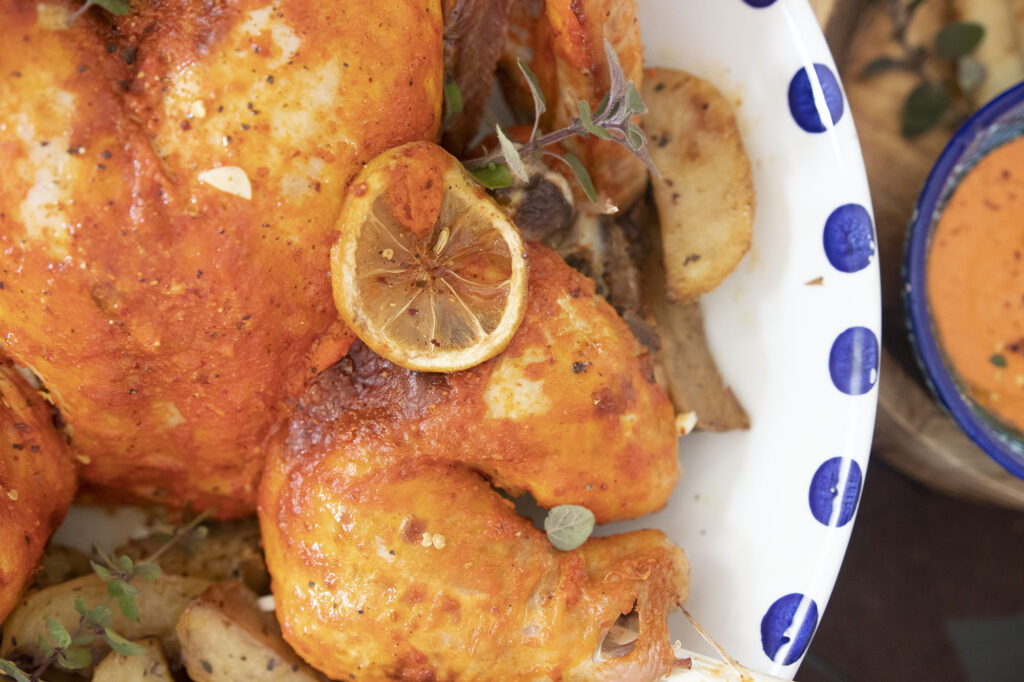 Every year I try to make a different type of Turkey and last week it just dawned on me to try a delicious Greek style bird with all the trimmings. Greek style roast chicken is famous and I applied this to the Turkey and served it with lemon roast potatoes. Opaaaaaaaa
To cook the bird faster, I spatchcocked it aka removed the spine and layed it flat. This is a great technique to cook both Chickens & Turkeys.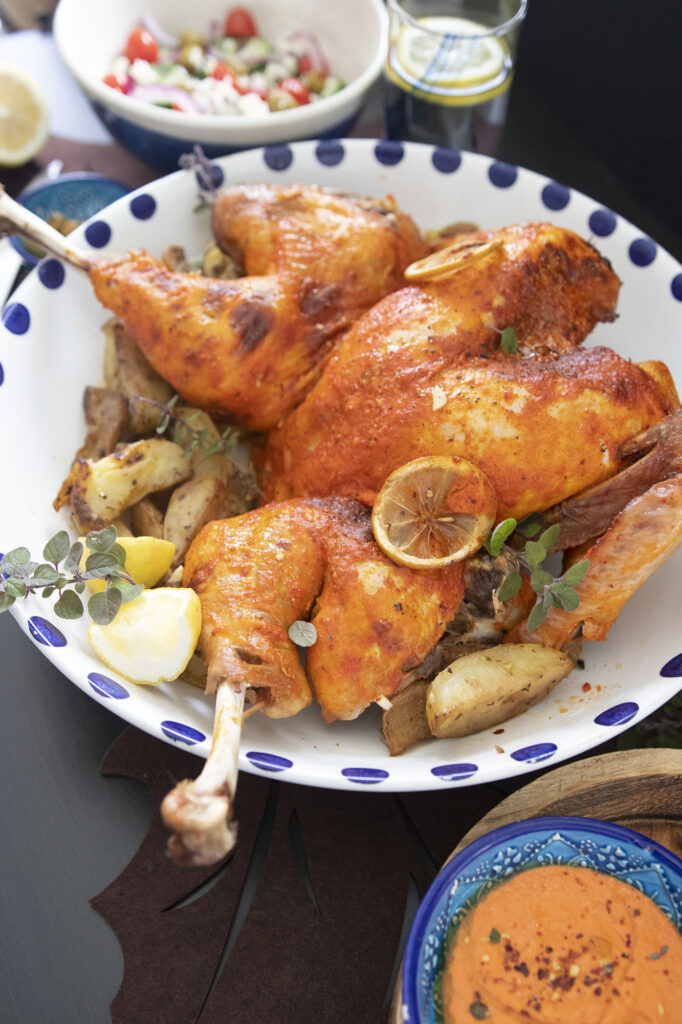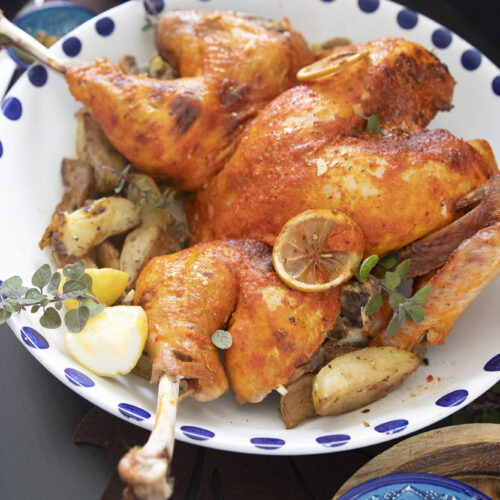 Greek style Turkey
Ingredients
8

lbs

Turkey

fresh or defrosted
Brine
Lemon slices

1/2

cup

Sugar

1/2

cup

Salt

4

litres Water
Butter blend
1

tbsp

room temp soft butter

1

tbsp

Olive Oil

Salt

1

tsp

fresh Oregano and

1

tsp

Chilli flakes
Red Pepper & Feta sauce/marinade
340

ml

– bottled Red Peppers

2

Salt to taste

5

cloves

Garlic

1/4

cup

extra virgin Olive Oil

1

cup

Feta cheese

1/2

cup

Yogurt

1

tbsp

Chilli flakes

1

tbsp

fresh Oregano leaves
Greek Lemon Potatoes
1

lb

Yukon Gold Potatoes

1/4

cup

Olive Oil

50

ml

Lemon juice

1/2 Lemon

3

tsps

crushed Garlic

1

tbsp

Oregano

Salt & Pepper to taste

3/4

cup

Chicken or Veggie stock
Extras
Lemon slices

Fresh Oregano sprigs
Instructions
Brine the Turkey by adding a defrosted Turkey to a bag with lemon slices, salt & sugar and the water and allow the turkey to brine for 24 hrs

Once done, drain all the brine and pat the turkey dry

Using a meat scissors remove the spine if spatchcocking the bird (see video)

In a roasting pan, create a layer of lemon and fresh oregano and place the bird on top of it

Prepare the butter blend by mixing all the butter bland ingredients together

Pull the skin away from the flesh of the turkey and insert blobs of this butter

Prepare the red pepper & feta sauce by blending the ingredients together

Cut the potatoes into wedges

Mix the olive oil, lemon juice, stock, garlic, oregano, salt & pepper and toss the potatoes in it

Cook in a preheated oven for 20 mins, then remove, turn and cook for another 25 mins

Remove the excess liquid, and continue cooking, turning the potatoes at intervals till the outer skin gets crispy

Spoon a few tbsps of this marinade over the bird and brush all over the skin

Place uncovered in a 350 degree oven for 1 hr

Remove, add some more marinade and cook covered for another hr

Remove, add more marinade and baste and cook for another 15 mins or so

Let rest before carving