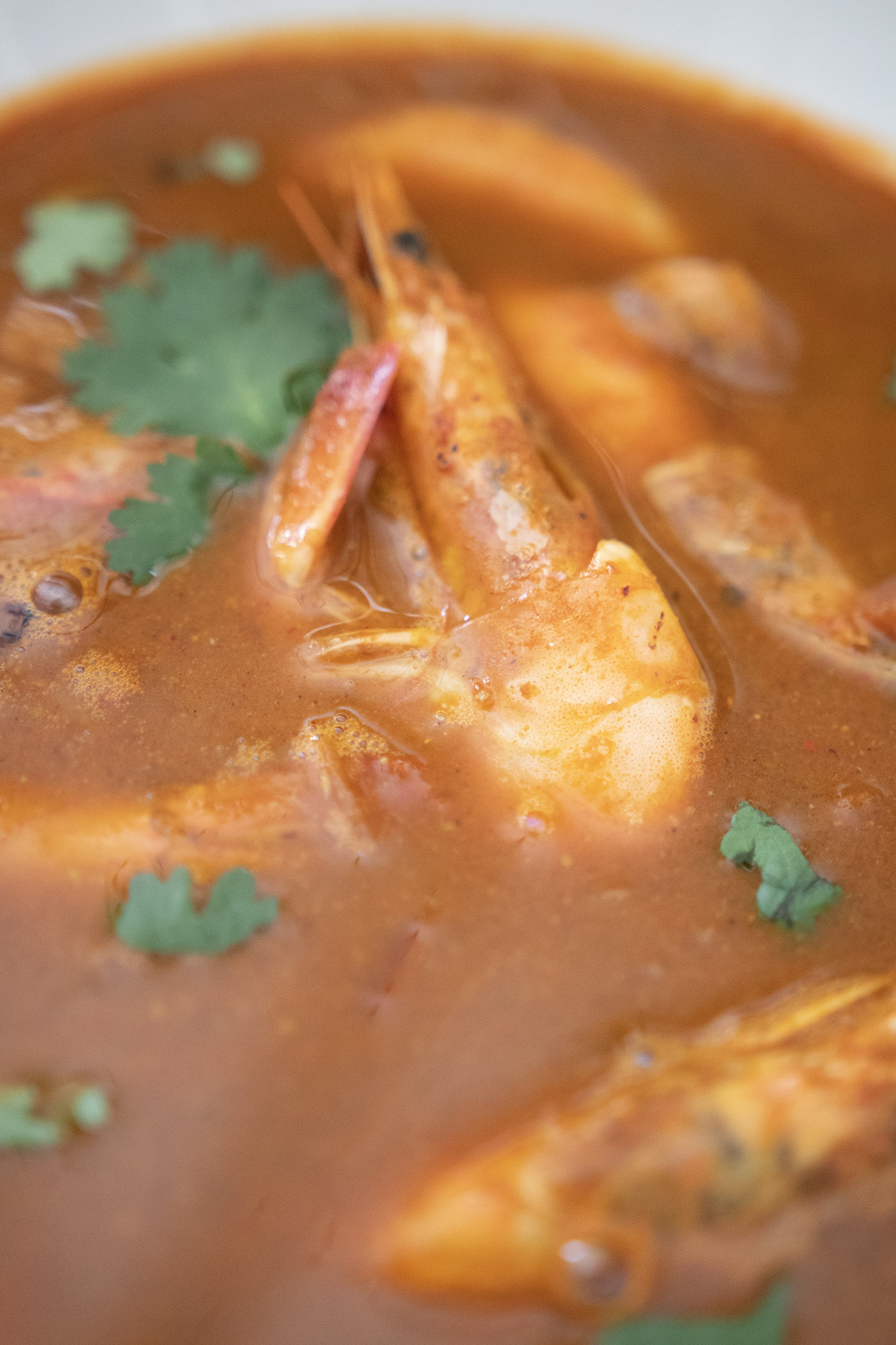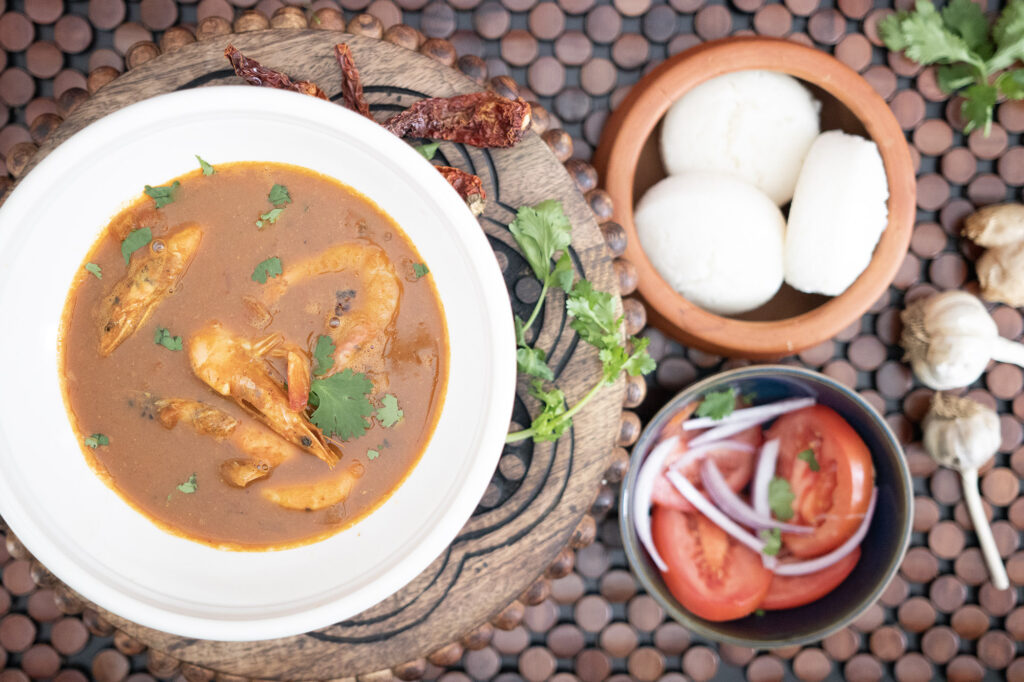 It may surprise you, if you've never seen this before, that the heads of Prawn or Shrimp actually contain a lot of flavour. My mom used to always toss in the heads to cook a curry and then remove them before serving. I'd catch her later with a bowl of these heads sucking all the goodness out of them.
To use whole Prawn or Shrimp, you do have to clean them properly. Trim off the antennae. There's nothing worse than choking on this if you haven't removed it properly. One of the most important things to trim off is this part called the rostrum – it's sharp so just cut it off with your scissors.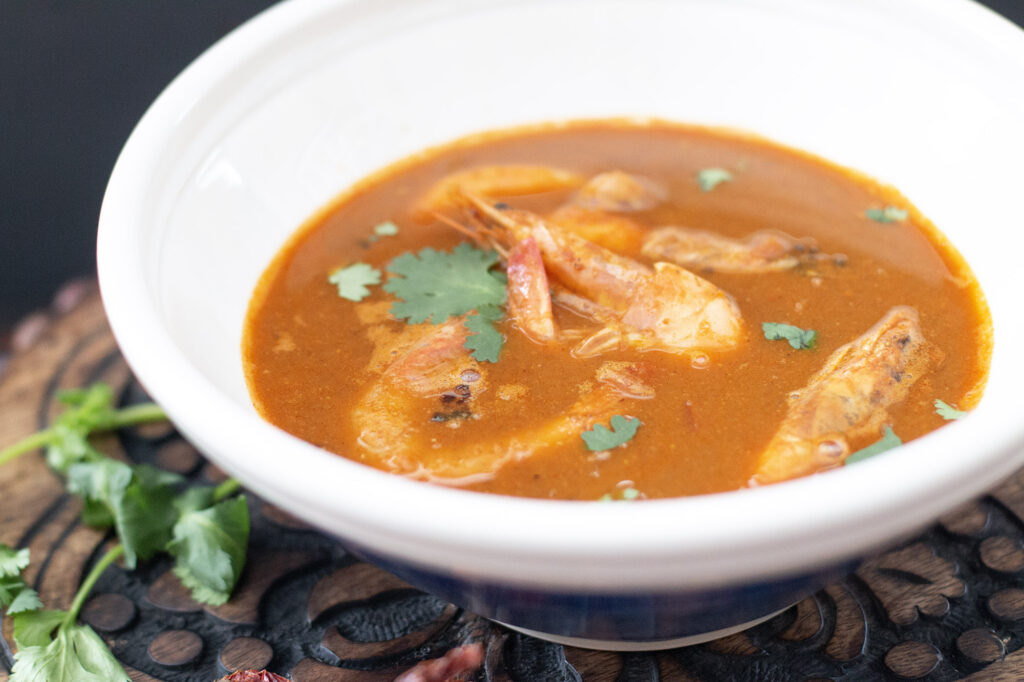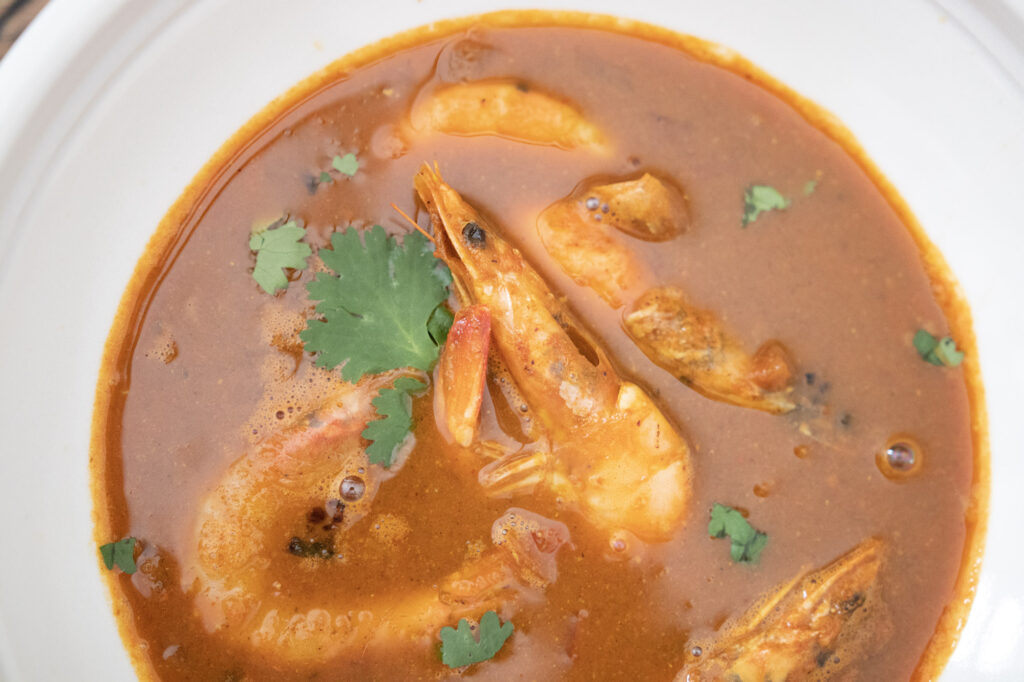 The rostrum is a specialized structure used for defense and foraging, and it can vary in shape and size depending on the species of shrimp. In some species, the rostrum is used to pierce and hold prey, while in others it is used for protection from predators. The rostrum is also used in taxonomic classification of shrimp, as its shape and size can be used to distinguish between different species.
To remove the black line or digestive tract, place your scissor blades just under the head and cut all the way on the curve of the shrimp. Using the edge of the scissor blades, your fingers or a sharp object, just pull out the black vein.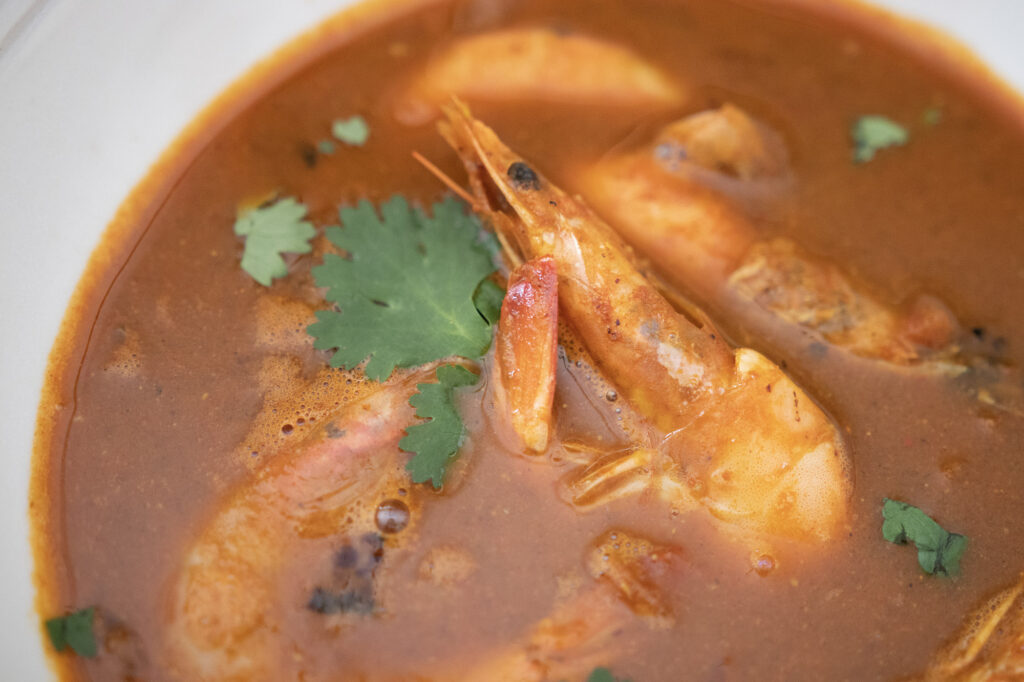 Here are some other recipes using head on Prawn or Shrimp
Here are the steps to prepare head-on shrimp:
Rinse the shrimp: Start by rinsing the shrimp under cold running water to remove any dirt or debris.

Devein the shrimp: Make a shallow cut along the back of the shrimp and remove the dark, intestinal vein using the tip of a knife or the tine of a fork.

Clean the shrimp: If desired, remove the legs, antennae, and tail shell, leaving the head and body intact.

Marinate the shrimp: If desired, marinate the shrimp in your preferred marinade for a few minutes or up to an hour.

Cook the shrimp: There are several ways to cook head-on shrimp, including grilling, sautéing, roasting, and boiling. When grilling or sautéing, cook the shrimp for 2-3 minutes on each side or until they are pink and opaque. When roasting, place the shrimp on a baking sheet and roast in a preheated 400°F oven for 10-12 minutes. When boiling, place the shrimp in a pot of boiling salted water for 2-3 minutes or until they are cooked through.
Enjoy your head-on shrimp! They can be served as a main dish or as a flavorful ingredient in other dishes.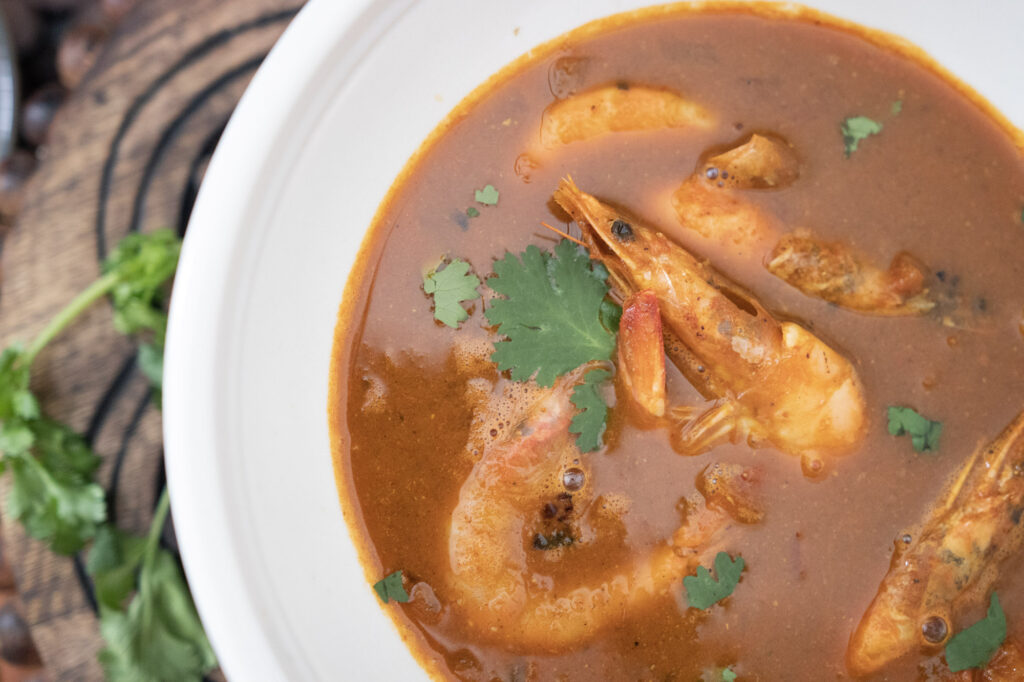 Another interesting ingredient is Kokum. It's is a type of fruit that is widely used in Indian cuisine, particularly in the western coastal region. The flavor of kokum is sour and slightly sweet, and it is commonly used as a souring agent in dishes, much like tamarind or lemon juice.
You can also try this recipe with headless, peeled raw Prawn or Shrimp. It will still be delicious.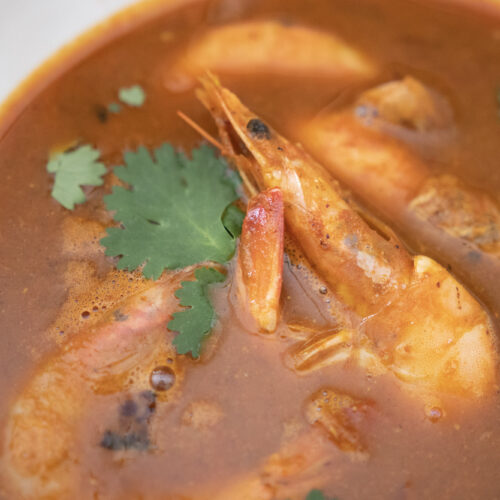 Head on Prawn Curry
Ingredients
2

lbs

head on Prawn or Shrimp

cleaned
Masala
10

Kashmiri Chillies

soaked

2

Cardamoms

4

Cloves

10

Peppercorns

2

inch

pieces Cinnamon

1

tsp

Mustard seeds

1/2

tsp

Cumin seeds

1

tsp

Turmeric

1

inch

piece Ginger

6

cloves

Garlic

2

tbsps

Vinegar

Water as required
Gravy
2

cups

finely chopped Onion

2

cups

finely chopped Tomatoes

1

tsp

Salt or to taste

Ball of Tamarind soaked in one cup of Water

Water & Salt as required

1

tsp

red Chilli powder

optional

3-4

Kokum petals
Instructions
Clean & prepare the Shrimp

Soak the red Chillies either overnight or in hot water for at least an hour

Process all the whole spices, add the chillies, turmeric, ginger, garlic, vinegar and water as needed to form a smooth paste

Strain this masala (optional)

Heat some oil and saute the onions till golden brown

Add the masala paste, the tomatoes, salt and cook till the tomatoes soften

Add water as required

Add the tamarind and chilli powder and continue cooking till the tomatoes get soft

Add water and salt as the mixture thickens

When you have a smooth gravy after about 30 mins, add the kokum

Finally add the prawn and shrimp, submerge in the gravy and allow to cook for a few minutes