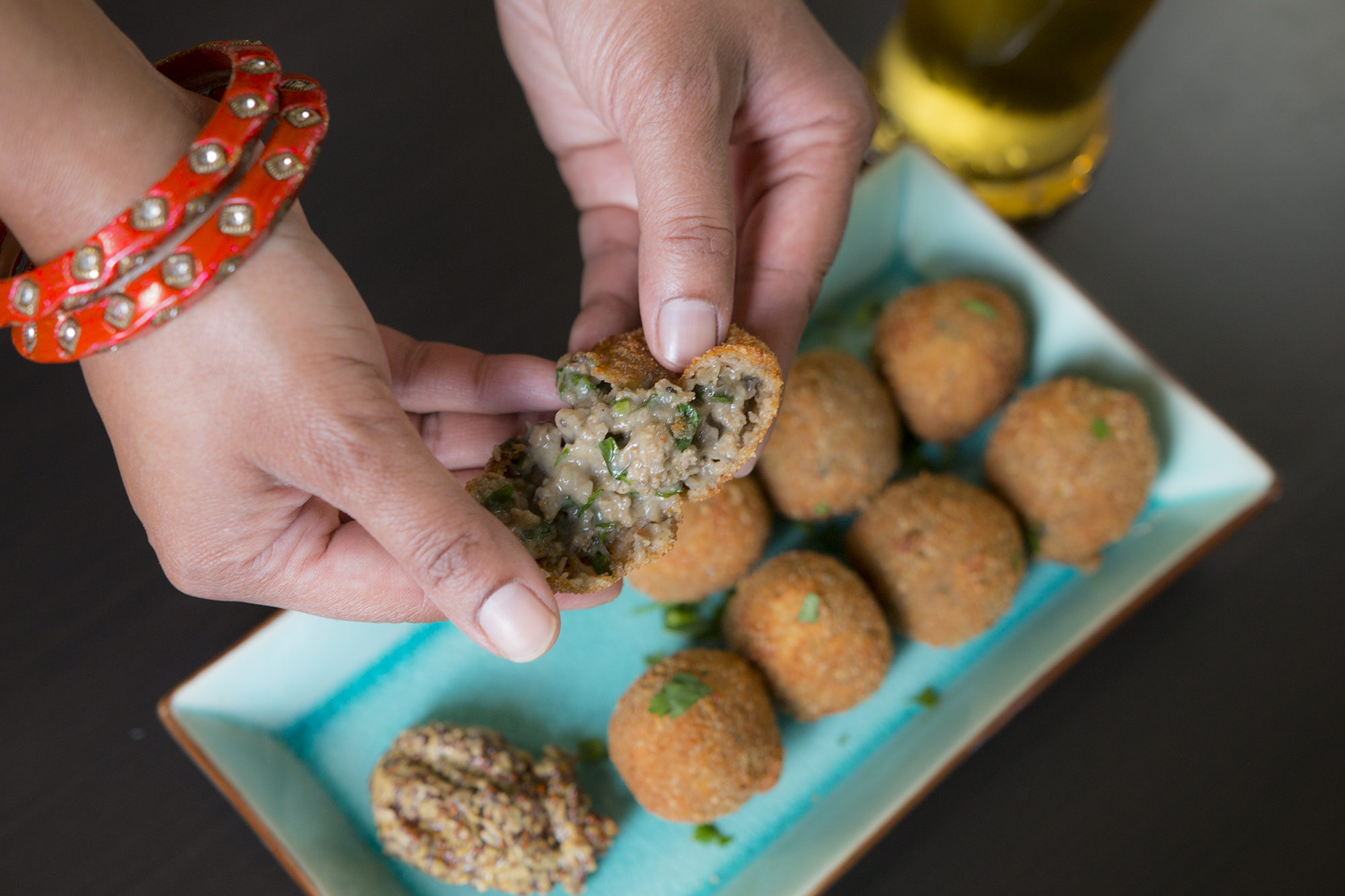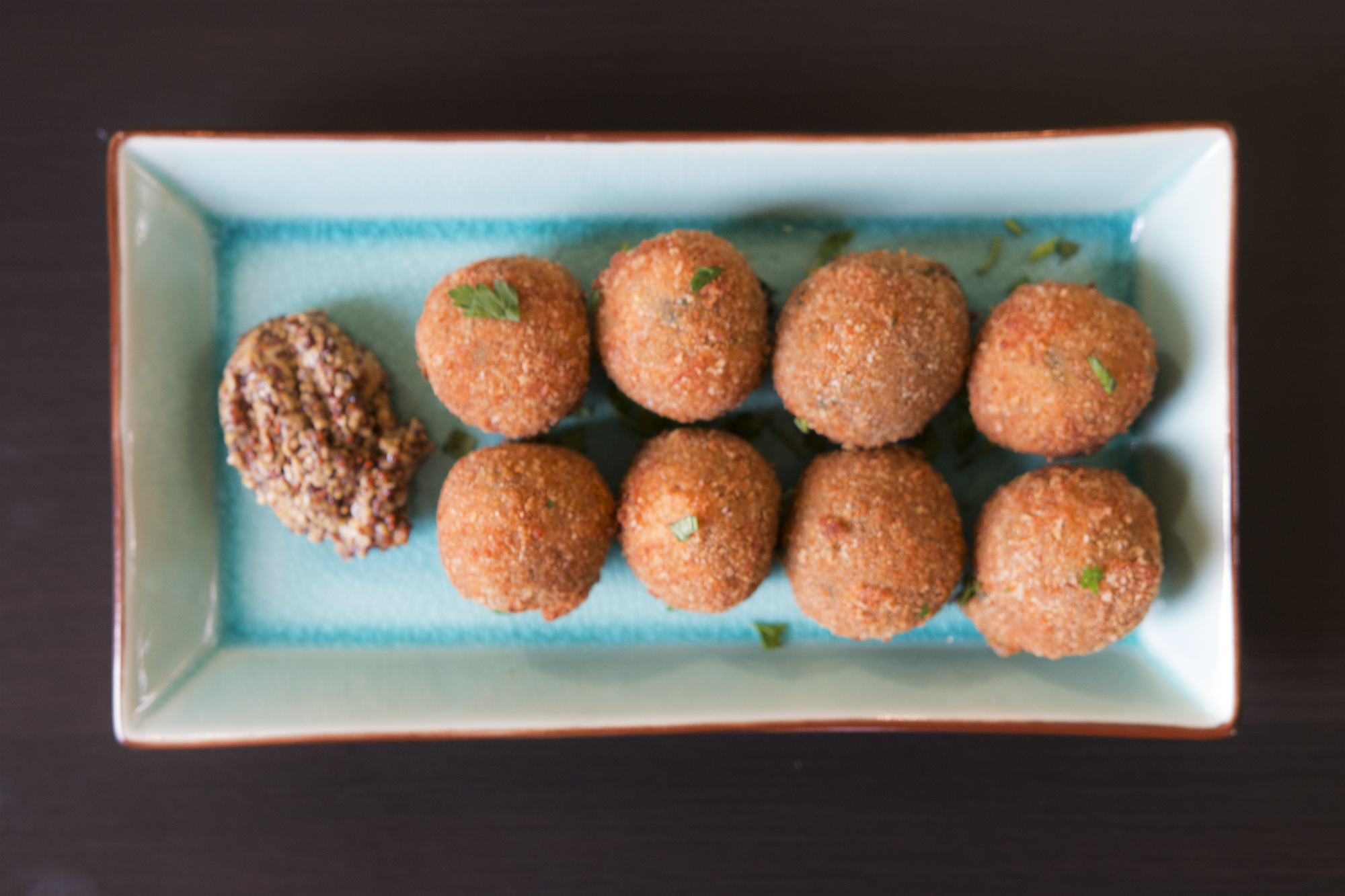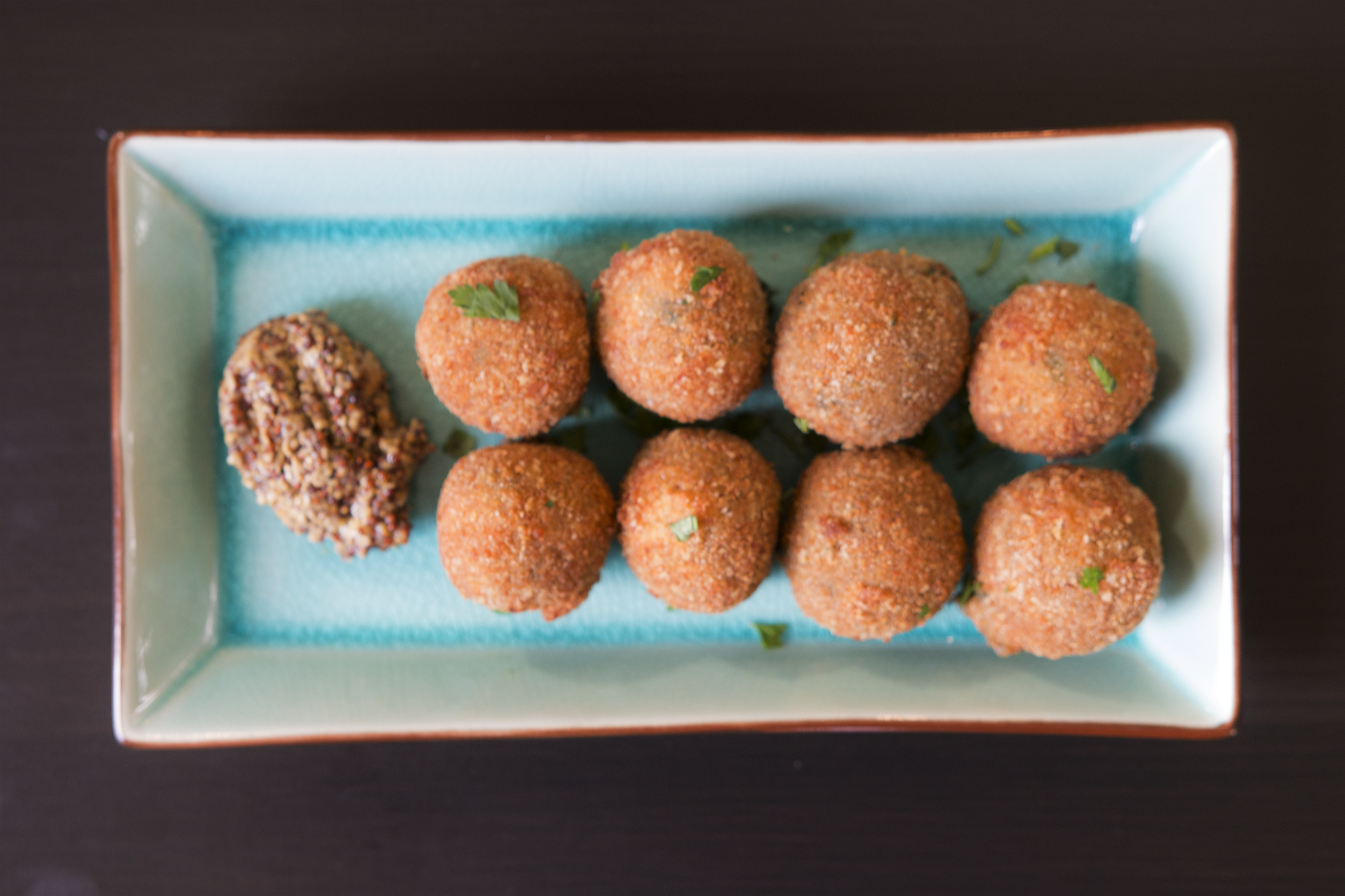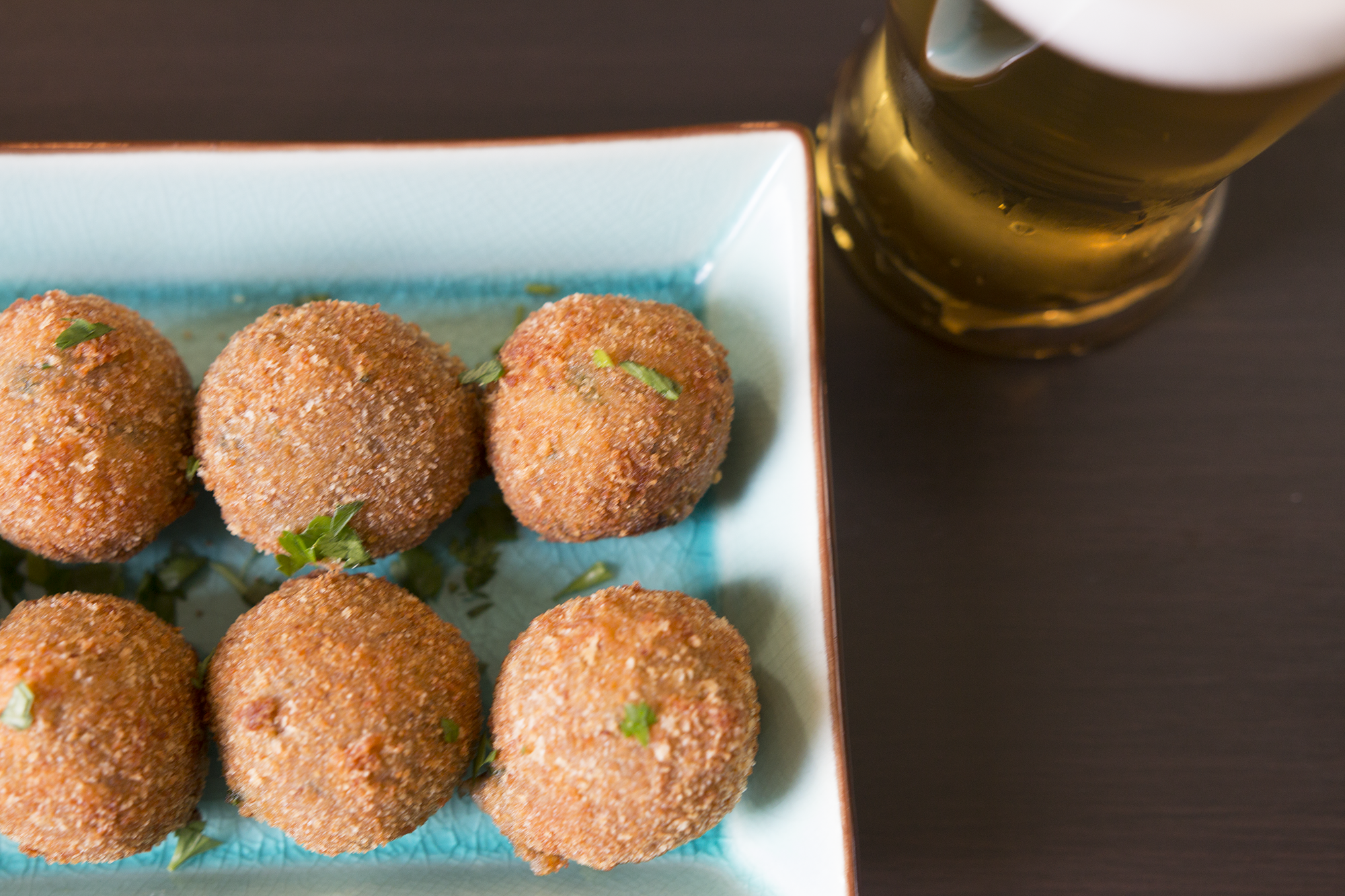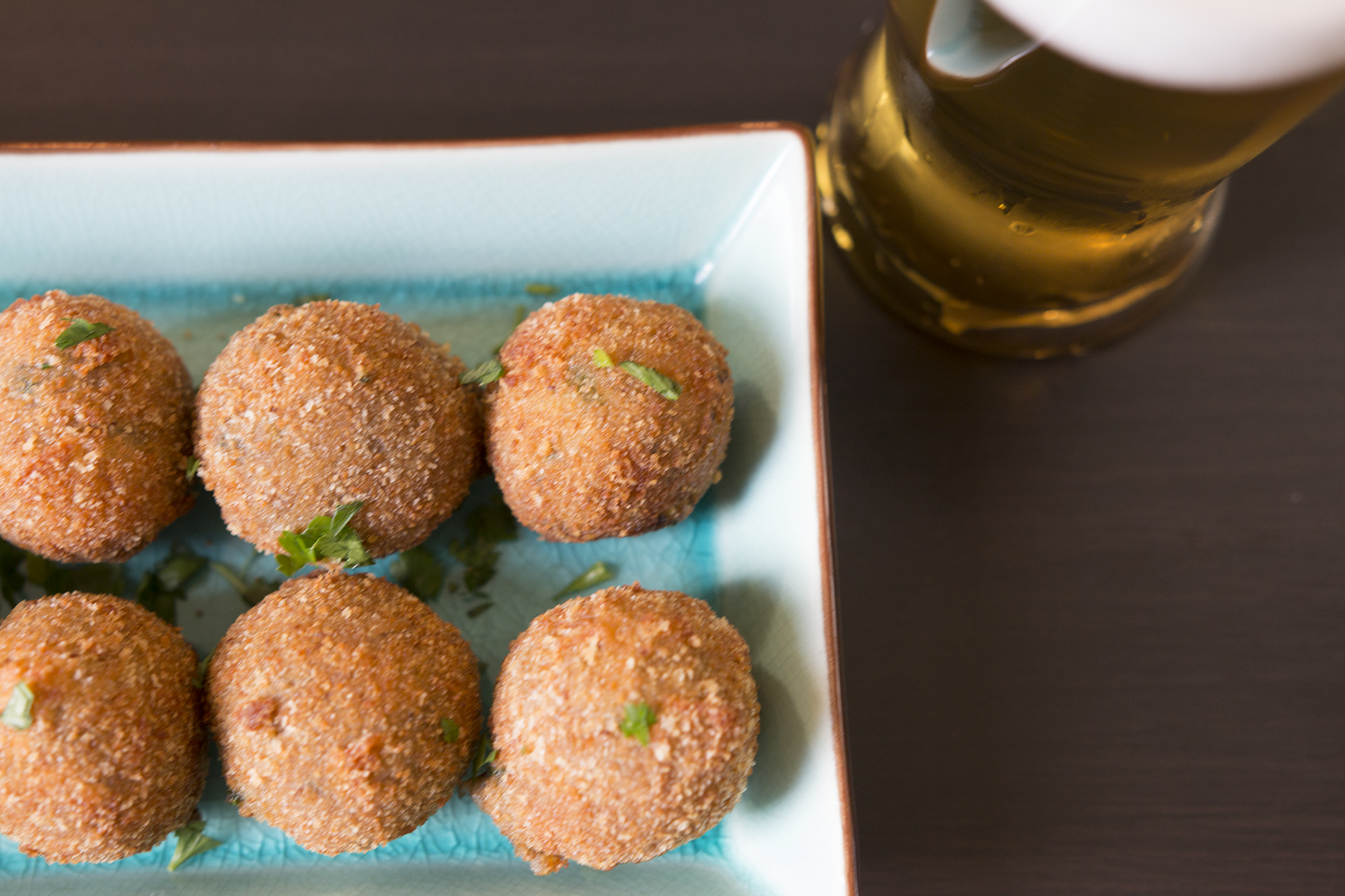 Meat and Mushrooms are a marriage made in heaven. For decades they've enhanced each other in many many recipes. Not only do they compliment each other in flavour but they also really are really economical to use together in the technique called Blend and Extend. Blend and Extend is the technique of  mixing ground meat together with finely chopped Mushrooms. This is used in many recipes to extend the flavour  but also make your end product more economical. You are also ensured getting your protein and veggies all in one bite!
You can use any ground meat in this recipe, lamb, Chicken or Pork but I chose to use some delicious Ontario Beef. The Meat & Mushroom melts are crispy on the outside and ooey and gooey on the inside, studded with a ground beef, mushroom and fresh parsley filling. This recipe is modelled after the famous Dutch snack Bitterballen which uses just beef in its recipe. This recipe is easy to make, and although it does have a few steps you will be rewarded with a large back of these crispy gooey balls to serve at a party or game night.  They are also the perfect appetizer to prep ahead and just flash fry at the last minute.
In this recipe, I'm using beautiful brown Cremini mushrooms. If you have the time, you can dice these by hand, but I prefer to throw them into the food processor. This is cooked in a sauté pan with the beef and flavoured with some spices. It will then be folded into a luscious Bechamel and set overnight in the fridge.
Once it's nice and firm, it will be scooped out and rolled in breadcrumbs, cooled, dipped in egg and rolled in breadcrumbs again before flash frying it in hot oil. Anything done twice is better and these melts are crispy on the outside and oozy and gooey on the inside. The texture and taste make for a wonderful surprise! See recipe below and follow the video for more detailed instructions.
[youtube-subscriber nickname=kravingsblog]
Ingredients
8 oz ground Beef
8 oz finely chopped Mushrooms
1/4 cup finely diced red Onion
3 Garlic cloves crushed
1 tsp Cumin powder
1/2 tsp red Chilli flakes
1/2 stick (1/4) cup Butter
1/2 cup all purpose Flour
2 cups warm Beef stock
1/4 cup chopped fresh Parsley
2-3 beaten Eggs
1 – 2 cups Breadcrumbs
Instructions
Heat a little bit of Oil and sauté the Onions and Garlic
Add the ground Beef followed by the Mushrooms and cook
Add the Cumin powder and Chilli flakes and remove to cool
Clear out the sauté pan, and add the butter
Once melted add the flour a little bit at a time working to mix it with a whisk
Add the stock a little bit at a time and mix it in, removing all lumps till it is nice and creamy
Fold in the meat and mushroom mixture and add salt to taste
Add Parsley, pour into tupperware containers and store overnight in the fridge
Remove, and scoop out using an ice-cream scoop and roll in breadcrumbs
Put the rolled balls back in the fridge
Remove when chilled and roll in beaten egg followed by more breadcrumbs
Fry in hot oil stirring constantly so the melts get uniformly brown
https://kravingsfoodadventures.com/meat-mushroom-melts/
Save
Save
Save