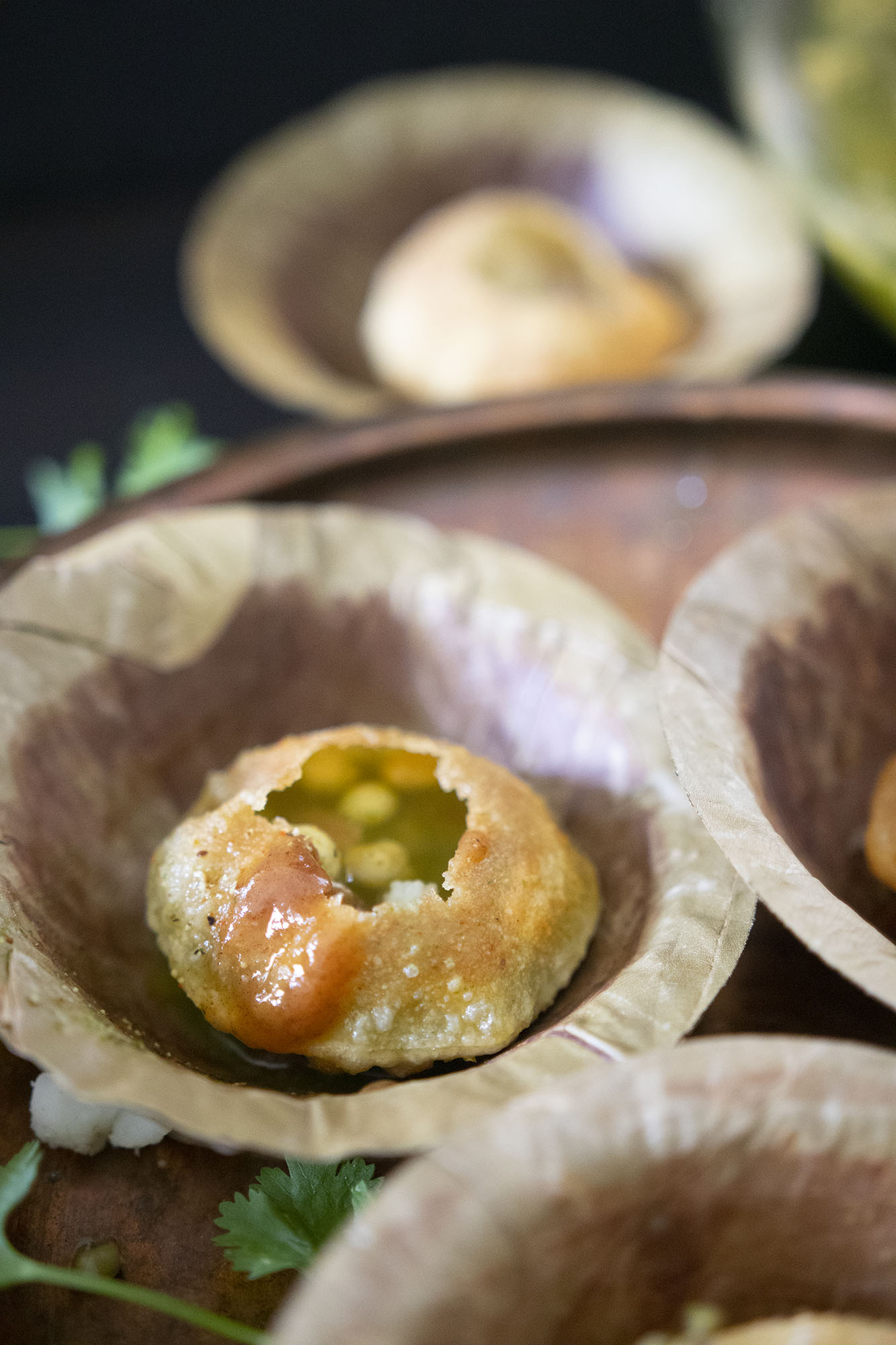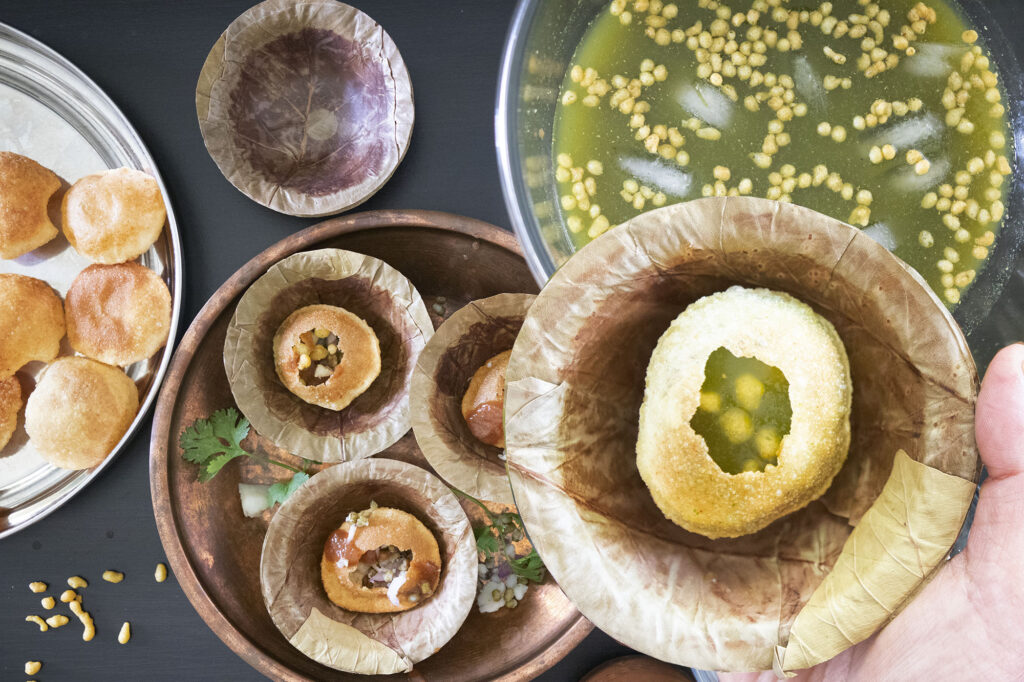 Pani Puri, also known as Gol Gappa or Puchka is a popular street food snack where crispy little puris are stuffed with a filling and then filled with a sweet chutney and finished off with a spicy water made with coriander and other spices. The result is a burst of flavors in your mouth in one bite.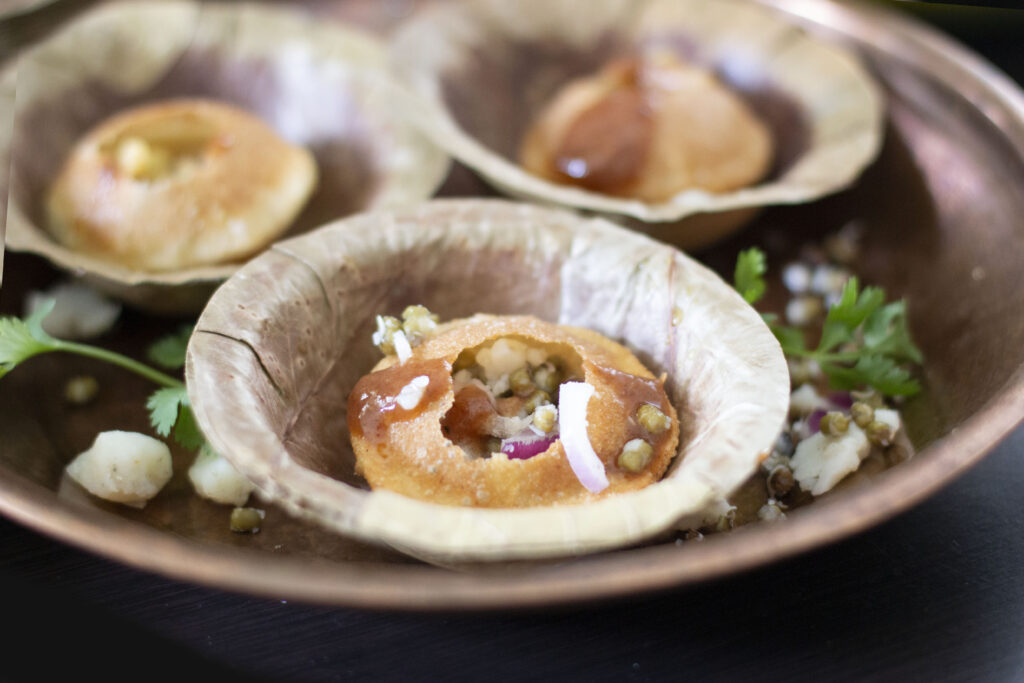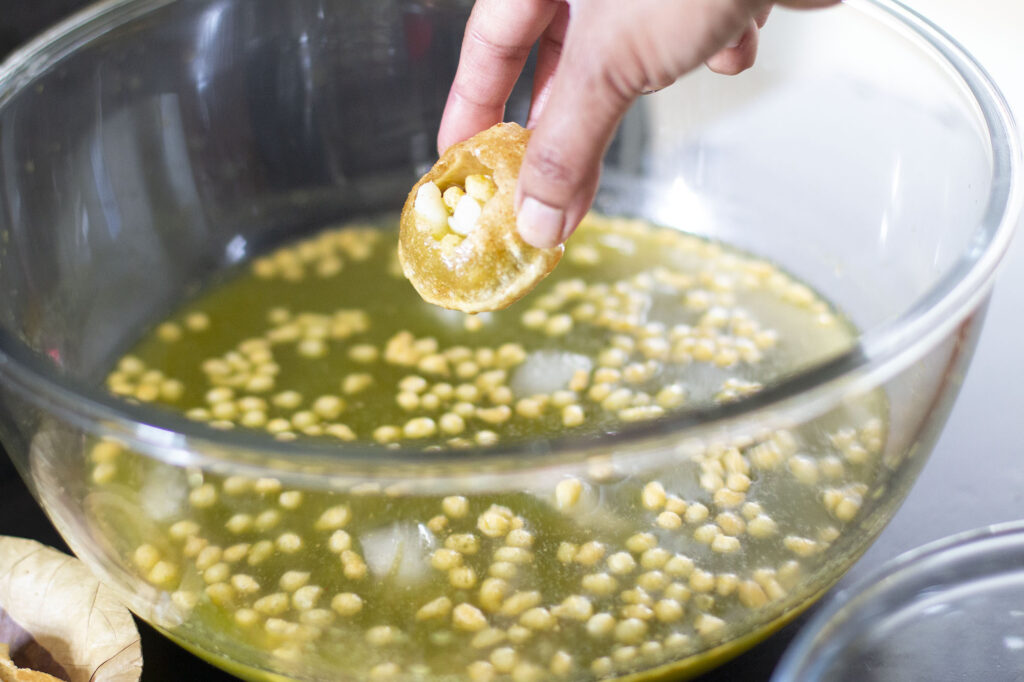 There are 4 components to the perfect Pani Puri and not all of the, need to be made from scratch, although you can customize it to your taste if you do so.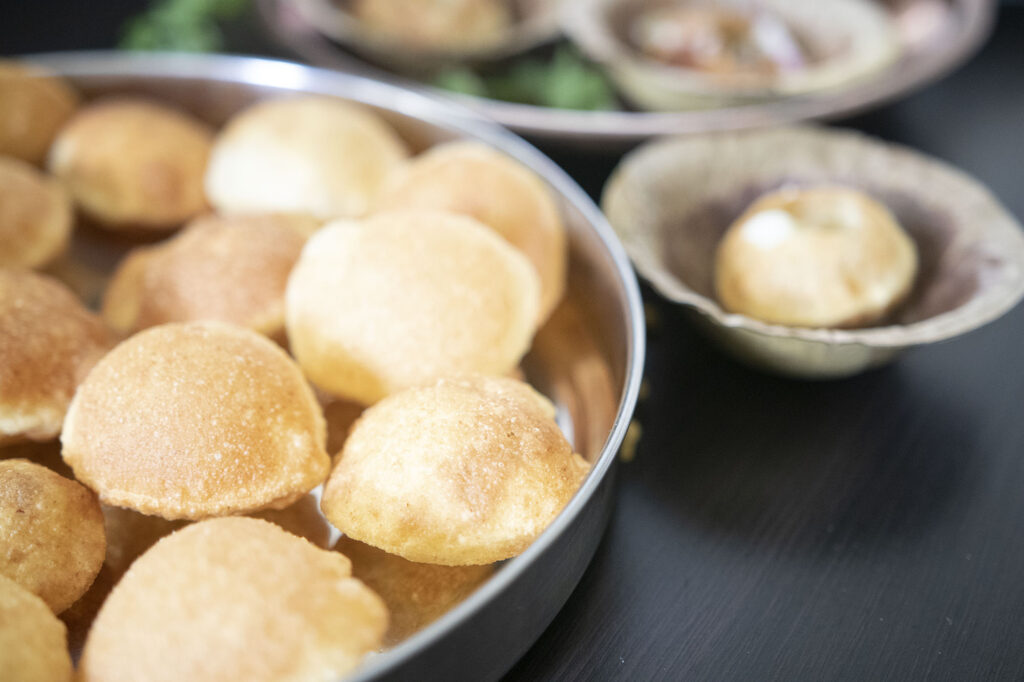 Typically I buy the puris from the store, they are of excellent quality and quite inexpensive, but I decided to learn how to make and perfect the puri just in case you aren't able to find it. It was interesting that something that looks so simple can be so finicky. Once you master it, the advantage of making it at home besides eating a preservative free product is that you will have many more useable puris as the store bought ones often break in the box.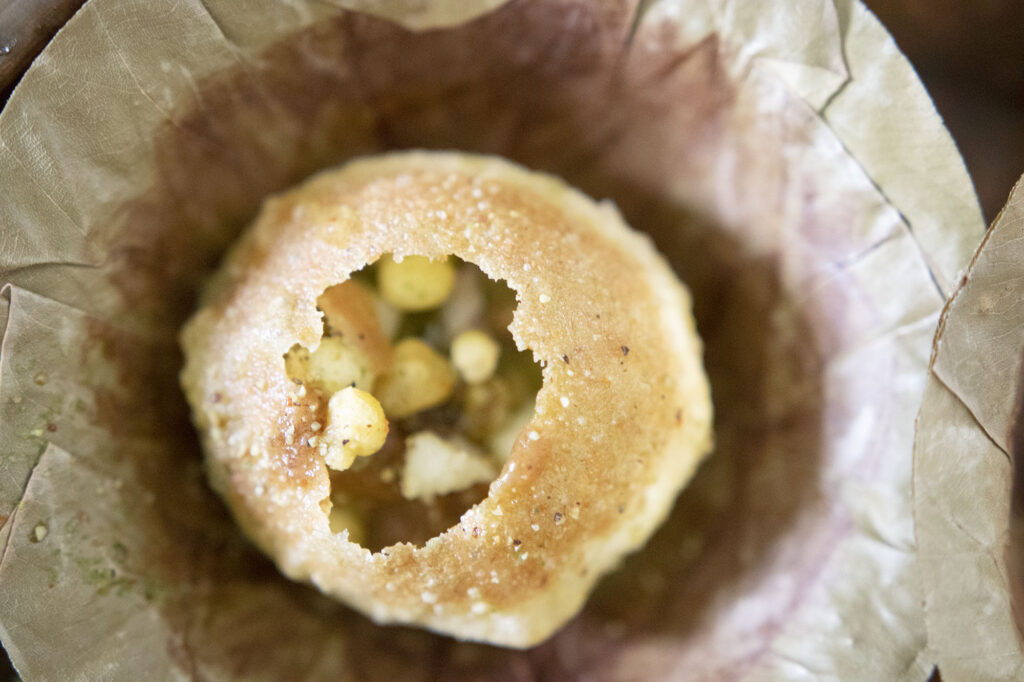 The filling in a Pani Puri of Gol Gappa can vary depending on where it's made. In Mumbai we tend to use a mixture of Potato and sprouted Moong Dhal and in other parts of India they use just Potato or Chana.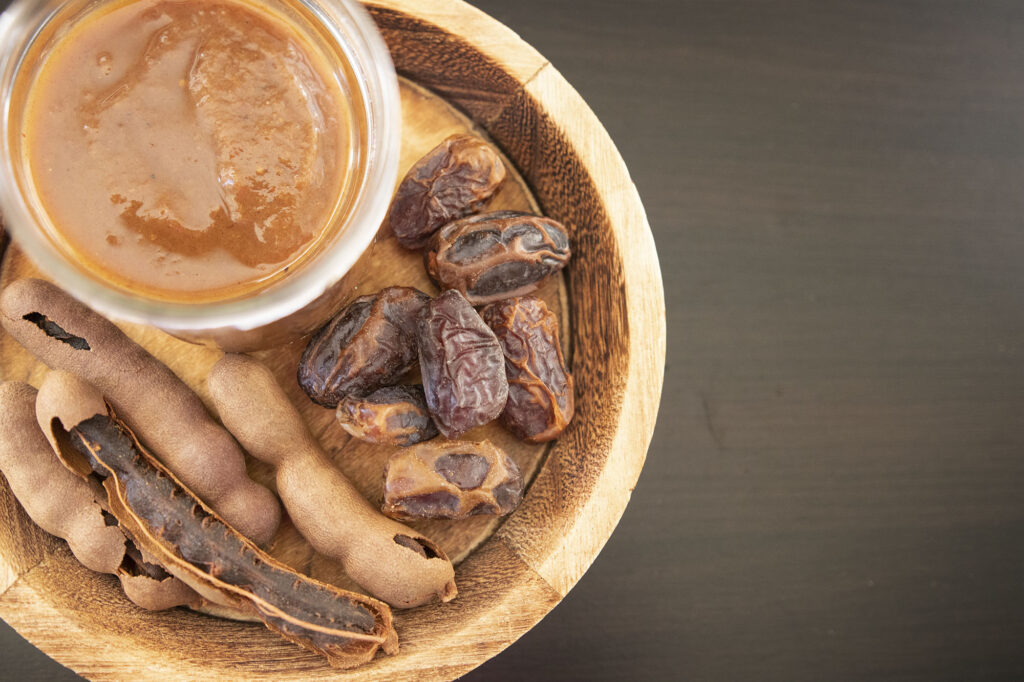 And let's talk about that luscious sweet Chutney! Many people make the chutney out of Tamarind and spices, but I like the addition of Dates to make the texture more wholesome.
If making each component is for you, please use my tips and tricks to make this super delicious snack. And if you love Pani Puri let me know in the comments.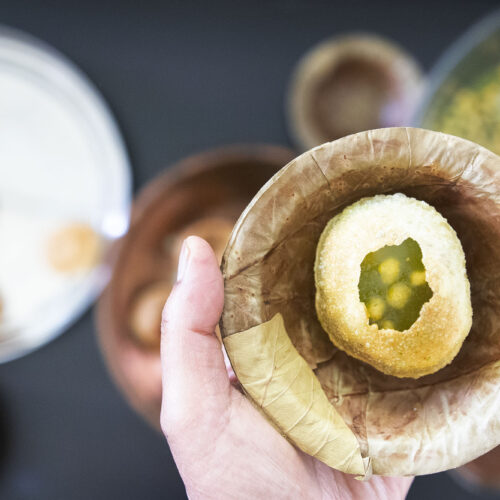 Pani Puri
Ingredients
Tamarind & Date Chutney
9

oz

approx 250 gms

pitted Dates

9

oz

approx 250 gms

seedless Tamarind pulp

1

tsp

Cumin seeds

1

tsp

Fennel seeds

2

cups

Water

2

tbsps

Jaggery

1

tsp

Ginger powder

1

tsp

red Chilli powder

1

tsp

Black Salt

1/2 – 2

cups

Water as required
Pani – Spicy Water
Juice of a Lime

2

tbsps

chopped green Chillies

2

tbsps

fresh Ginger slices

4

cups

fresh Coriander

stems and leaves

1

tsp

Black Salt

1

tsp

Chilli powder

1

tsp

Cumin powder

1

tsp

crushed Peppercorns

1

tsp

Chaat Masala

1 – 3

cups

Water

Ice

1/4

cup

Boondi

1

sprig Mint optional
Potato and Moong Filling
5 – 6

medium Potatoes

1

cup

sprouted & steamed green Moong beans

Salt to taste

1

tsp

Chaat Masala

1/2

cup

finely diced Onion
Puri
1

cup

Atta or Roti flour

do not use whole wheat

1/2

cup

Semolina

Salt to taste

1/4 – 1/2

cup

warm Water
Instructions
Cut the dates into small pieces

Toast the cumin and fennel seeds together, then cool and then grind to a powder

Heat the water and add the dates and the tamarind

Add the jaggery, followed by the cumin and fennel powder and the ginger, chilli and black salt and stir well

Cook covered for 20 – 30 mins stirring frequently

Cool and pour into a food processor with some water and grind till smooth

Strain this using a sieve – collect the solids, return to the processor with more water and repeat the process

In a food processor, add the lime juice, chillies, ginger, coriander and all the powdered spices with some of the water and process

Strain this using a sieve – collect the solids, return to the processor with more water and repeat the process

Store this in the fridge so it's nice and cold and add a sprig of mint for flavour

The ice and boondi should be added just before serving

Cook the Potatoes in boiling water for 20 mins till cooked

Add sprouted & steamed green Moong beans

Check for doneness by inserting a knife in the centre of the potato and remove and cool once its ready

Once cool coarsely mash the potato and add the Moong beans and some salt to taste1 cup sprouted green Moong beans and

Add the chaat masala and onion, mix well

Mix the flour and semolina together with salt

Add the water a little at a time and knead the dough well for 10 -15 mins

Cover with a wet cloth for 30 mins

Divide the dough in half and oil your rolling surface and roll the dough till just a few mm in thickness

Using a cookie cutter cut out circles and reserve the scraps in cling film

Cover the cut circles with the wet cloth and repeat the process with the second half

Roll out the scraps and cut circles out of them too

Heat some oil and when it's hot add the puris in, they will sink to the bottom and then float to the top

Gently push down in a tapping motion on each puri and they will balloon

Cook on both sides till golden brown and remove making sure you are not stacking hot puris one on top of another

Allow the cooked puris to cool completely and then fry them again for the second time

The spicy water should have ice and some bond added to it just before serving

To assemble the Pani puri, make a hole in the top of the puri, add some of the filling, add a dollop of the tamarind chutney and then dunk in the spicy water and serve