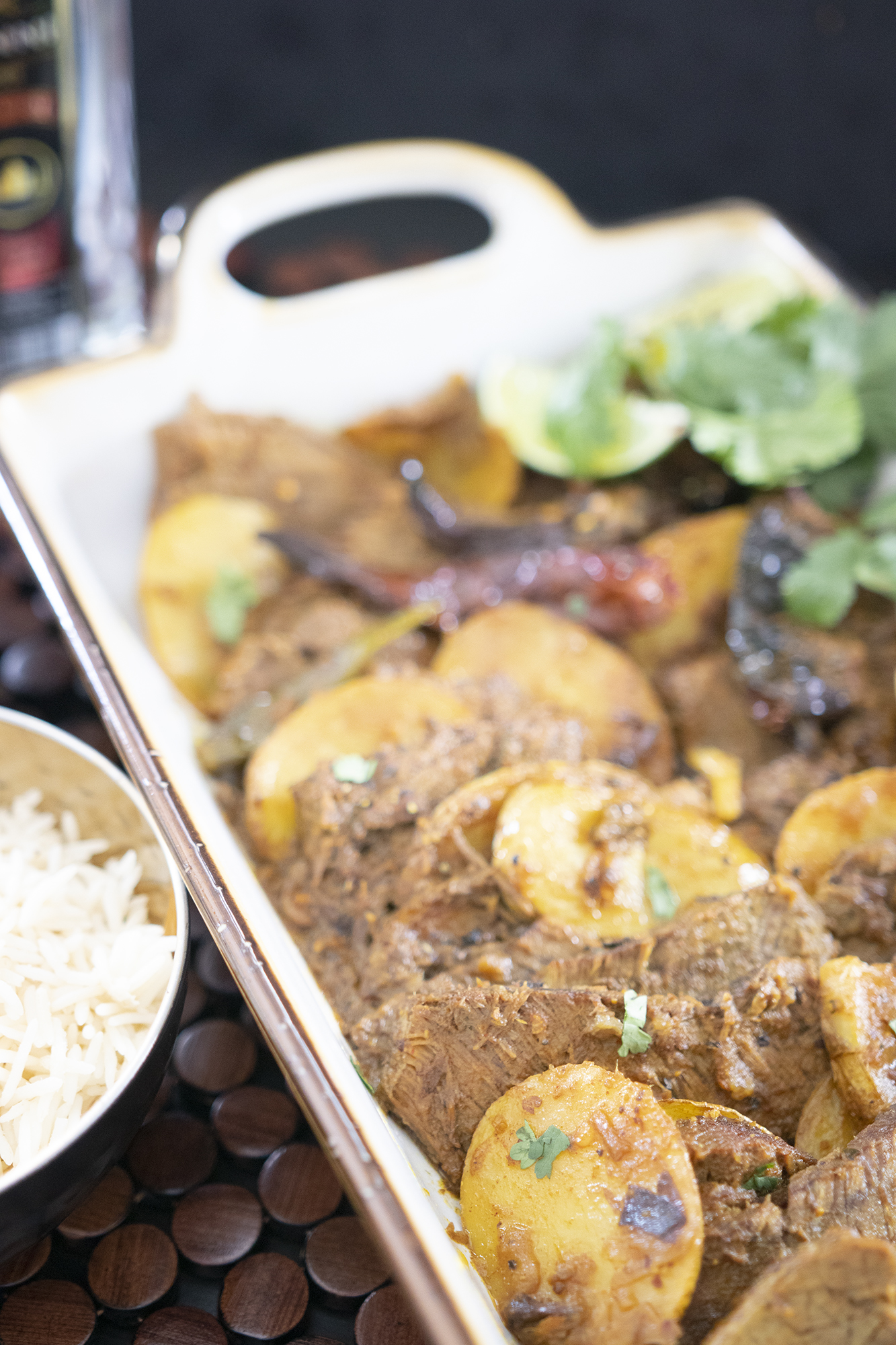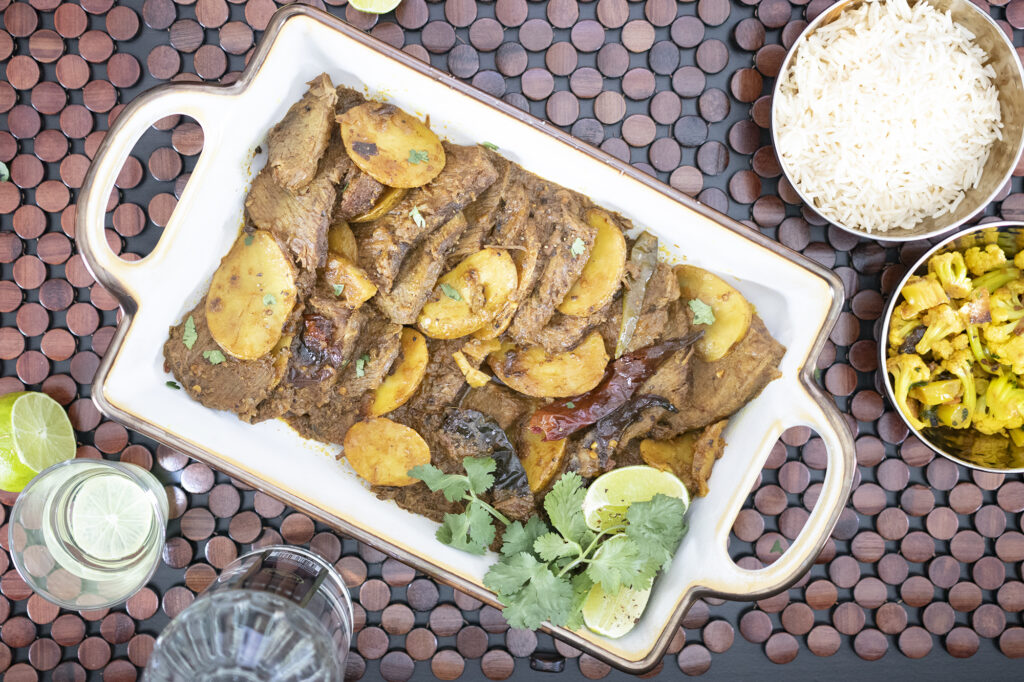 Beef is marinated, onions and chillies are sautéed, the beef is then seared and cooked in the instant pot, and while it's sliced, potatoes are added to the gravy.
My loving aunt Celie Coutinho made the best Pot Roast. Although this is called Roast Beef in India, it's prepared in a pressure cooker and it cooked till tender with a lot of spices.This recipe was handwritten by my aunt and given to me only months before she passed away suddenly. This recipe of hers is so incredibly popular after I made the original video & post, that I decided to make an Instant Pot version that I know everyone has been asking for.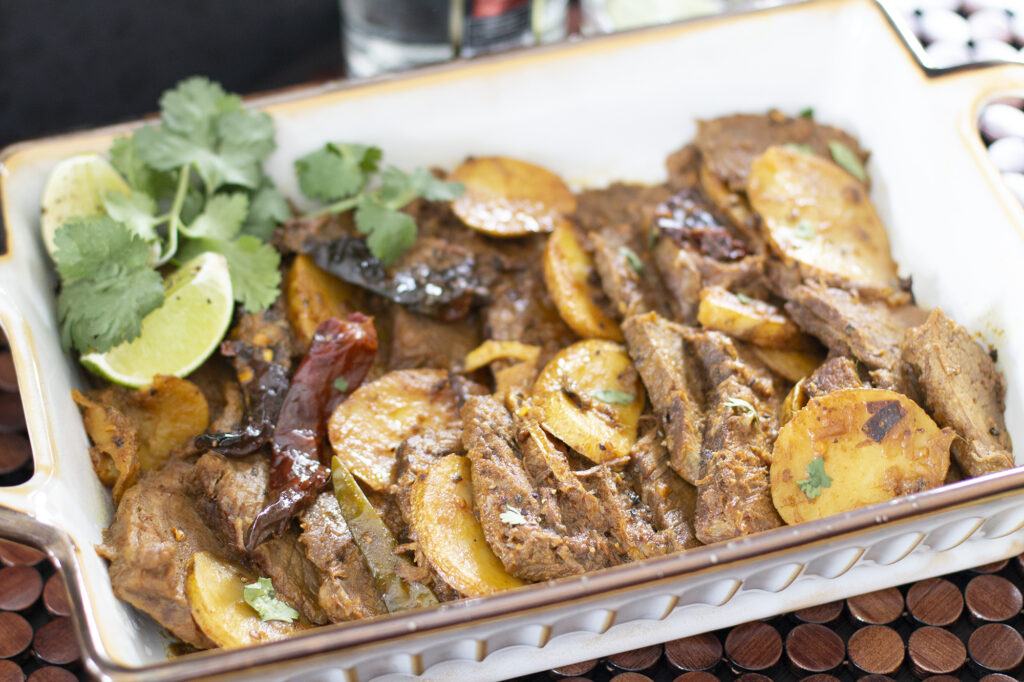 There are many different cuts of meat you should use. I'm using a Sirloin tip for this recipe.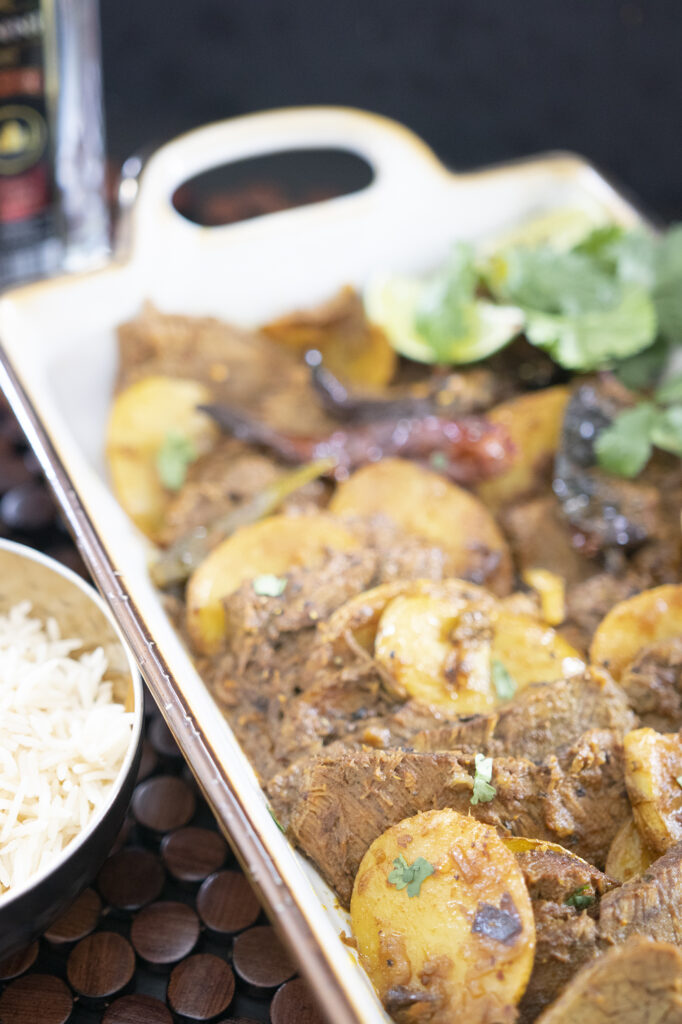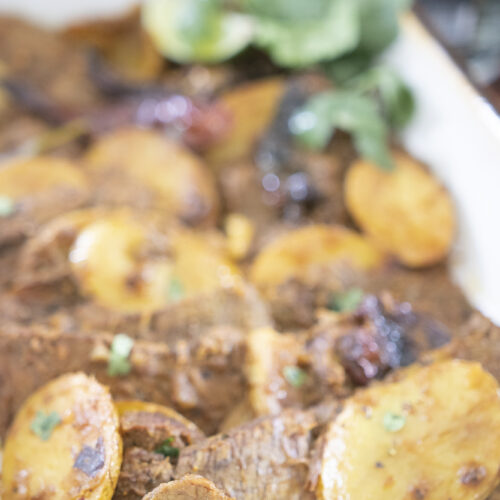 Pot Roast in the Instant Pot
Ingredients
Meat & Marinade
Sirloin tip – 3.8 lbs – 1.742 kgs

Juice of 2 Limes all over the meat

Salt to taste

6

tbsps

Ginger & Garlic paste

1

tbsp

fresh cracked Pepper

1.5

tsps

red Chilli powder

1.5

tsps

Turmeric powder

1.5

tsps

Cumin powder

4

tbsps

Vinegar

Goa, Malt, Red Wine or regular

Whole Cloves as per taste
Other
I cup sliced Onions

3

green Chillies

6

dried red Chillies

Salt to taste

1/2

cup

Water

1

cup

cooked Potato slices
Instructions
Slice the beef into smaller chunks so it's easy to marinate and cook

Add the juice of the lines, salt, ginger & garlic, pepper, all the spices and the vinegar and rub all over to coat the meat

Pierce the meat with some cloves and leave aside to marinate preferably overnight

Turn the Instant Pot on saute mode

Heat some oil and add the onions, chillies and a pinch of salt and allow to get golden brown

Remove the onions and add the chunks of meat to the pot and allow the meat to sear

Add the onions and chillies back in and all the remaining marinade

Add salt to taste and the water

Close the Instant Pot and set it to pressure cook for 20 mins

Allow the steam to naturally escape

Remove the meat and allow to cool

Add cooked potato slices into the gravy for a few minutes and remove

Slice the meat and add back into the gravy and serve with the potatoes