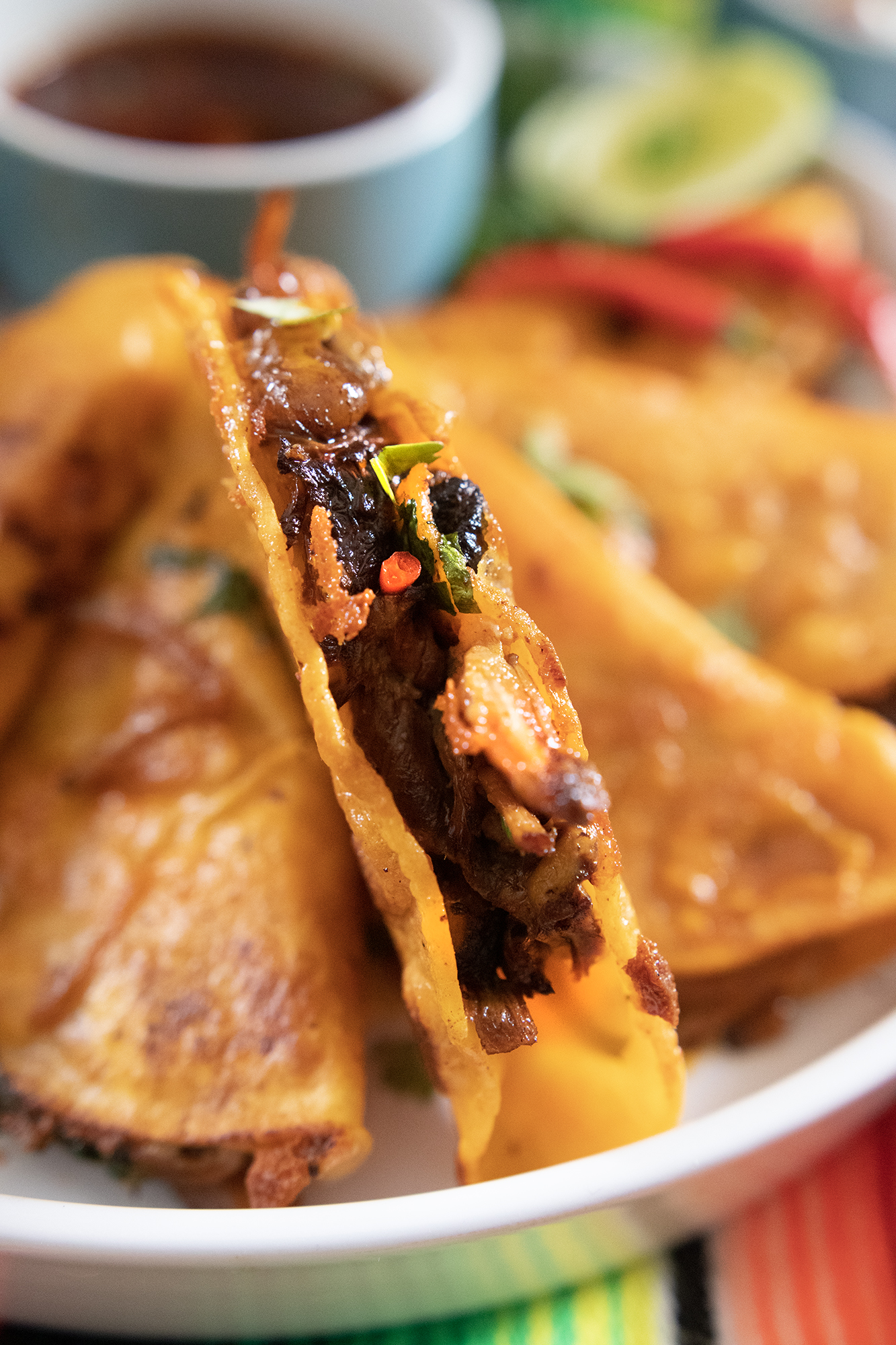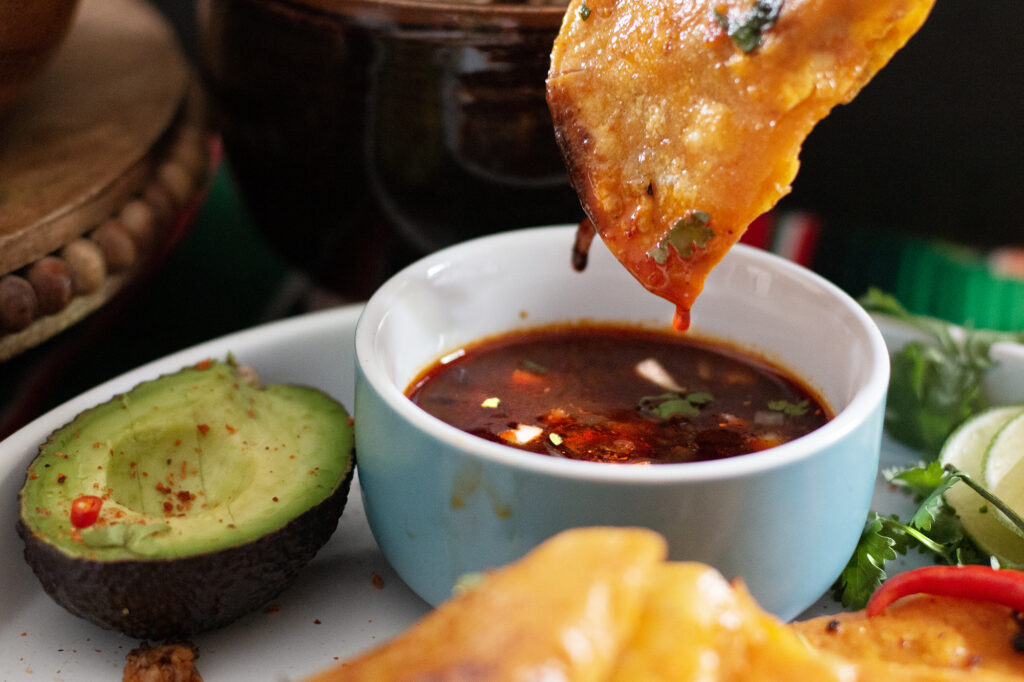 Birria is a traditional Mexican stew, often made with beef, goat, or lamb, cooked slowly with various spices and seasonings. It's typically served with corn tortillas and enjoyed as a flavorful, comforting meal. Queso Birria Tacos are a delicious Mexican dish that combines two popular favorites: birria and tacos.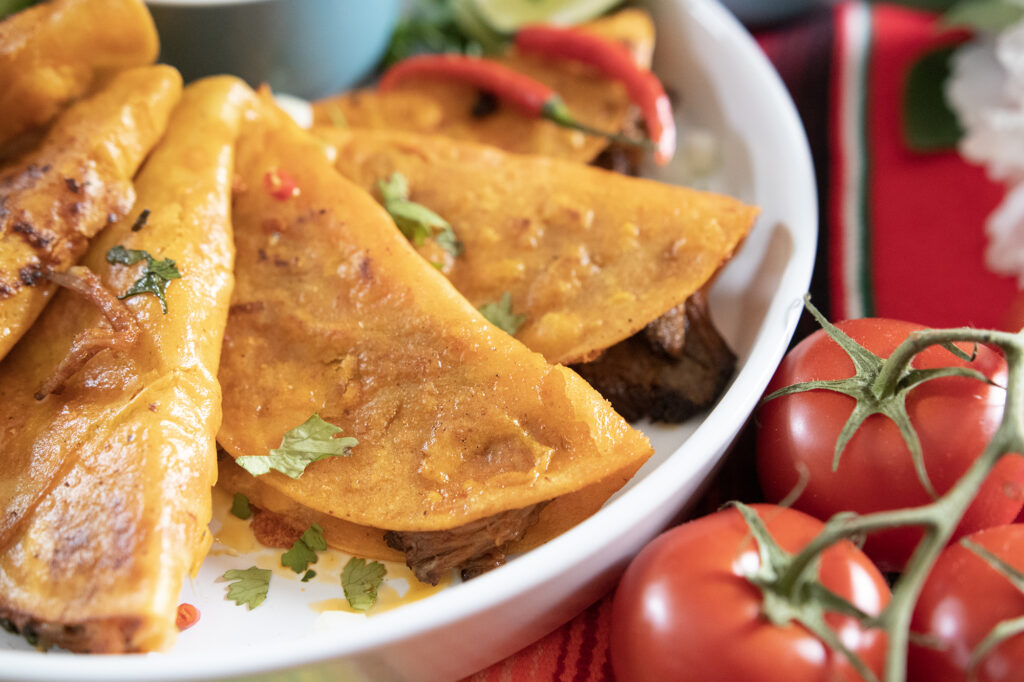 Queso Birria Tacos take this classic dish to another level by incorporating cheese. The tacos are typically made by dipping corn tortillas in the flavorful broth from the birria and then grilling them until they become slightly crispy. The tortillas are then filled with tender, shredded meat from the birria, along with melted cheese, such as Oaxaca cheese or Monterey Jack.
The final step involves dipping the entire taco into the remaining birria broth, allowing it to soak up even more flavor. The result is a delicious, savory, and cheesy taco that is often served with a side of the rich birria broth for dipping or drizzling.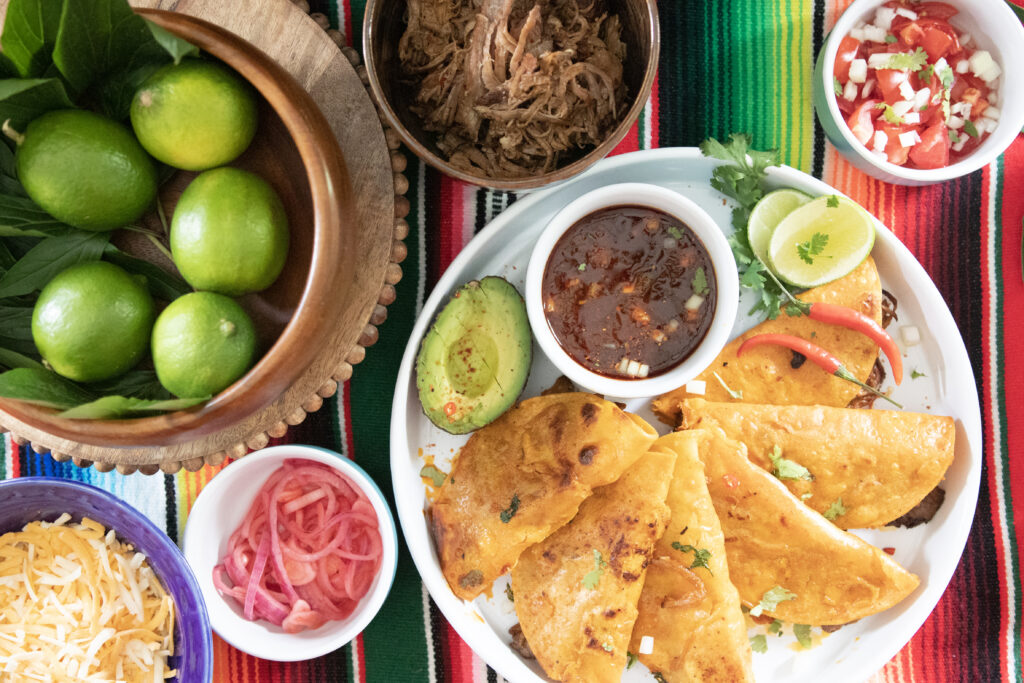 Now, I've made a LOT of Mexican and Mexican inspired recipes, however hearing about Birria, gave me some serious FOMO. Not anymore, I came, I saw, I conquered and I will be making this over and over again.
Traditionally Birria was made with goat, or lamb that is slow-cooked with various spices, such as dried chilies, garlic, cumin, oregano, and other seasonings, but in the US where it grew in popularity, Beef is preferred. The meat is cooked until it becomes tender and flavorful, resulting in a rich and savory dish.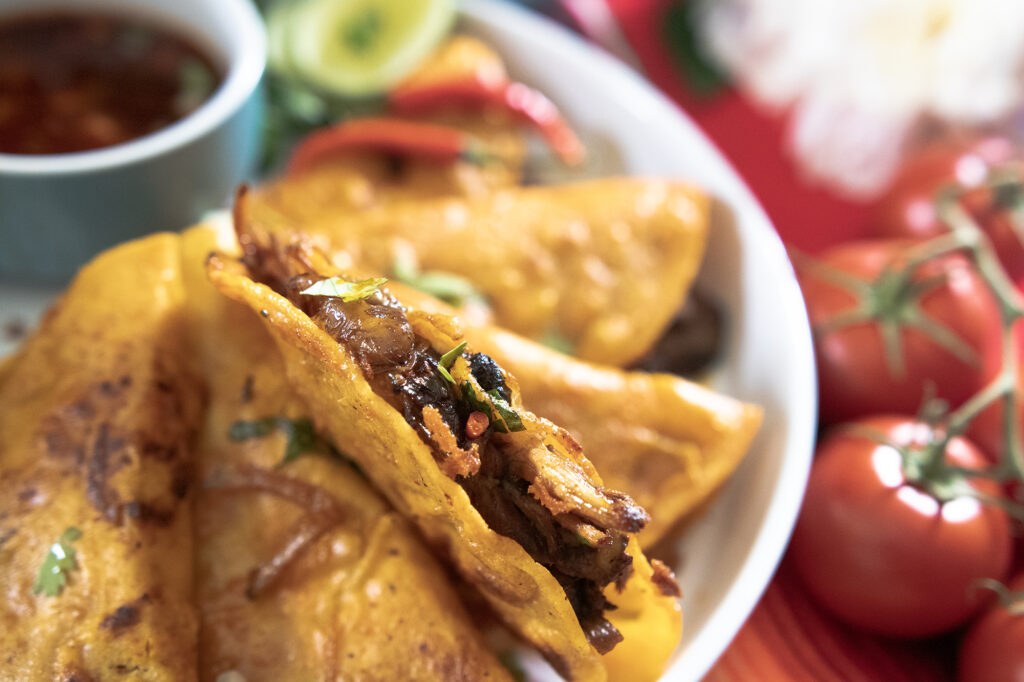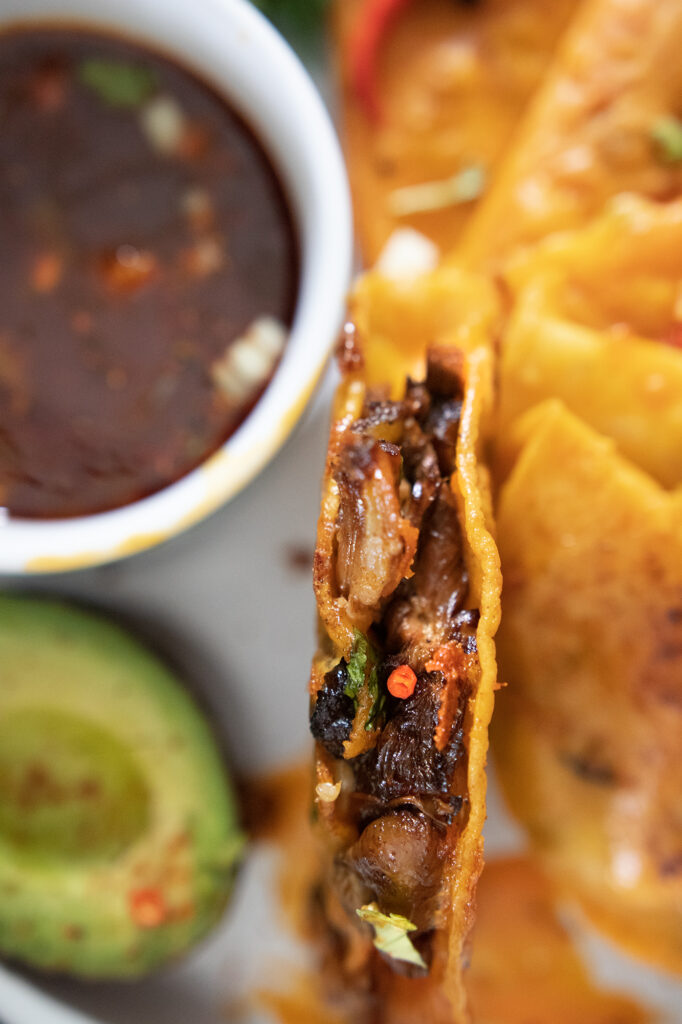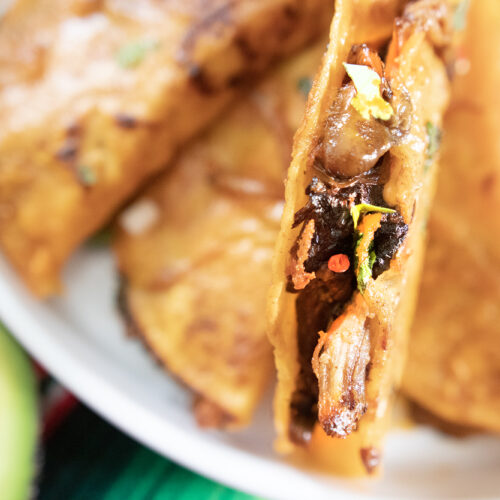 Queso Birria Tacos
Ingredients
Meat
800

gms Beef Short Rib

1200

gms TriTip

Salt
Birria Chilli paste
2

teaspoons

Cumin seeds

1

teaspoon

black Peppercorns

1

teaspoon

whole Cloves

1

Bay leaf

2

inches

Cinnamon

10

Guajillo Chilles – 60 gms

4

Ancho Chillies – 60 gms

8

Chile de Arbol – 8 – 10 gms

1/2

Onion

5

Cloves

Garlic

3

Tomatoes

200 gms

4

cups

or 1 litre of Water

2

tsps

of Mexican Oregano

2

tbsps

coarse Salt

5

tbsps

Apple Cider Vinegar

1/2

cup

Oil

1

cup

Water

2

more tbsps coarse Salt
Tacos
Corn Tortillas

1/4

cup

Monterey Jack & Cheddar blend cheese to each taco

Chopped Cilantro

Chilli and Onion

Consomme

Reserved gravy

Chopped Cilantro

Chilli and Onion
Instructions
Add Salt to the meat and allow it to chill In the fridge

Remove the stems and seeds from the chillies

Toast the whole spices, remove cool and process

Add the chillies and reserve

Add the onion and garlic and leave it aside

In the Instant pot add the tomatoes, toasted chillies and the water, cover and cool for 3 mins

Once done, allow to cool and add to a food processor with half of the liquid roughly 2 cups

Make sure this is cooled before processing

Add the onion, garlic, salt, oregano, vinegar and grind to a smooth paste

Add another cup of the cooking liquid and blend till smooth

Heat some oil and sear the meat till it's golden on all sides.

Set the Instant pot to saute mode and heat the oil

Add the chilli paste and cook for a few minutes

Add the seared meat

Add water to the processor and add it in

Add more salt

Set this to pressure cook for 1 hr

Remove the meat chunks, cool and shred

To make the tacos, take a corn tortilla and dip in in the consumme aka the gravy left behind after you pressure cooked the meat

There should be oil at the top of this, dip the taco in the oil

Lay this down on a hot greased pan

Flip the taco over, add cheese all over, add the meat on one side, add some onion, coriander and chilli and flip over

Cook the taco on both sides till blistered and crispy

Add onion, coriander and chilli to the consumme and serve for dipping the taco into!