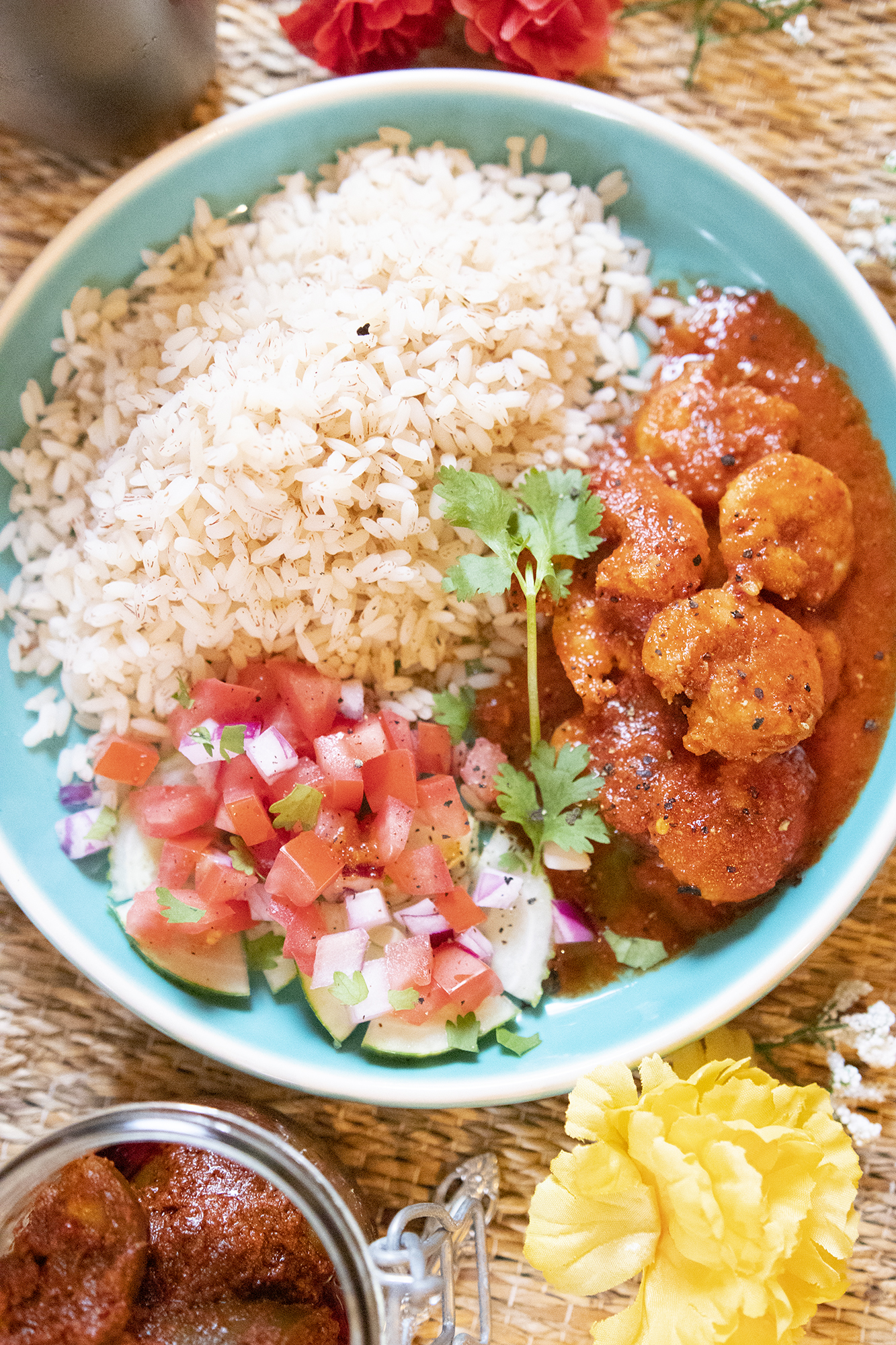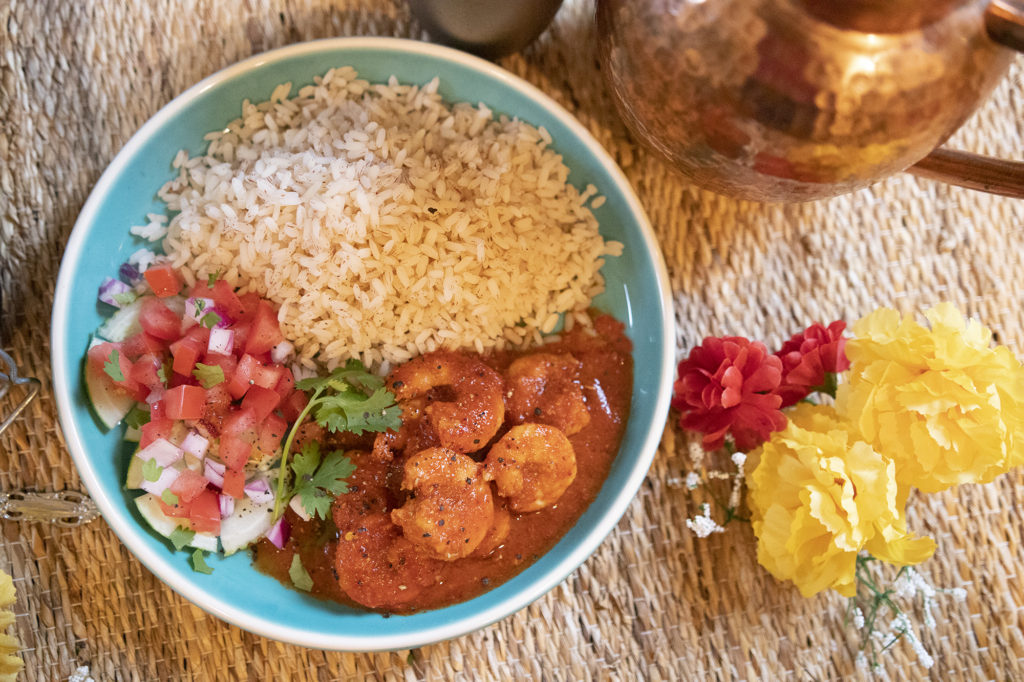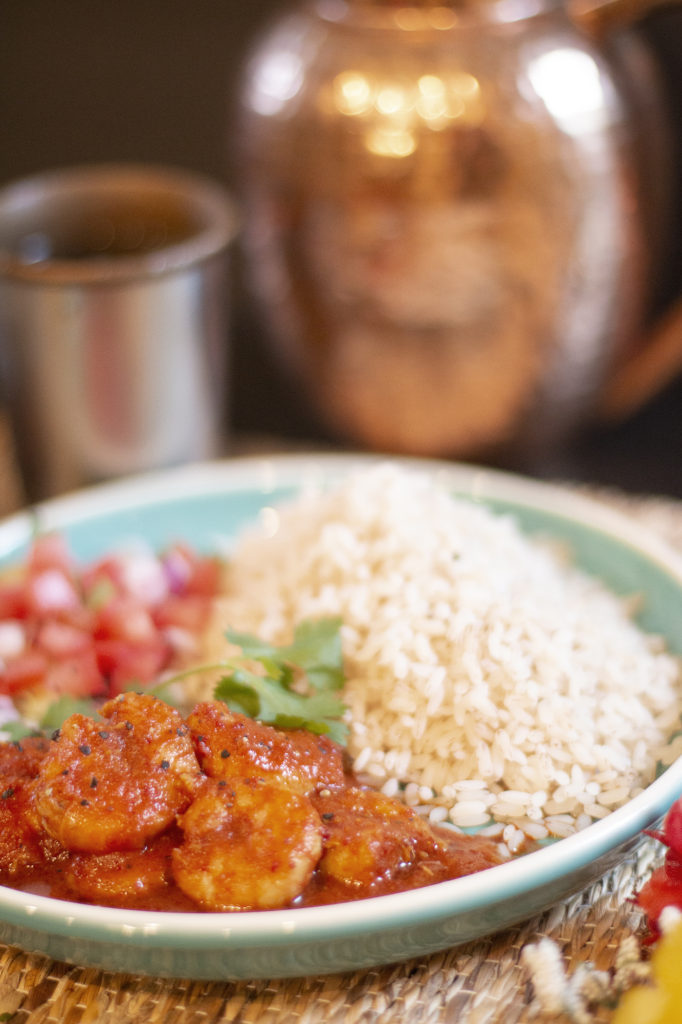 Vindaloo or Vindhalho is a popular Goan curry. Goa is a state that is on the western coast of India and boasts of an amazing seafood rich cuisine. This recipe came down from the Portuguese settlers – Vin meaning wine and Alho meaning garlic. There are many many recipes out there that use potatoes as aloo means potato in Hindi – please refrain! The original Vindaloo is made with Pork however in the modern times you can find Chicken and Seafood versions of this iconic dish.
Today Wine is not used – I can only go by my own theory that the settlers had wine that turned to vinegar on their long sea voyages and the locals in Goa added red Kashmiri Chillies which gives this dish it's iconic rich red colour!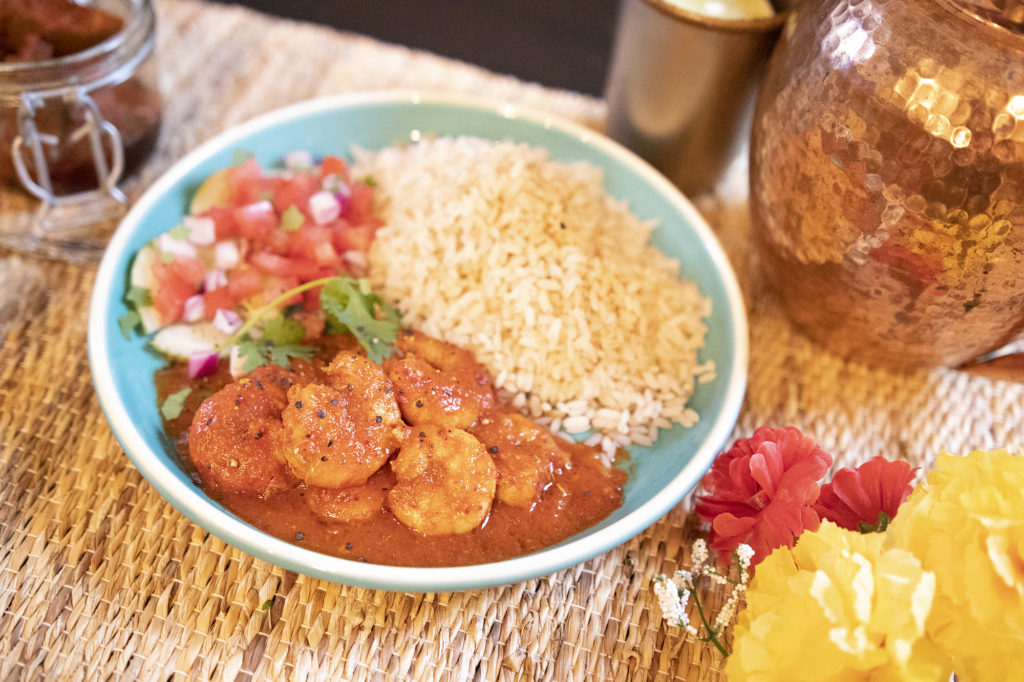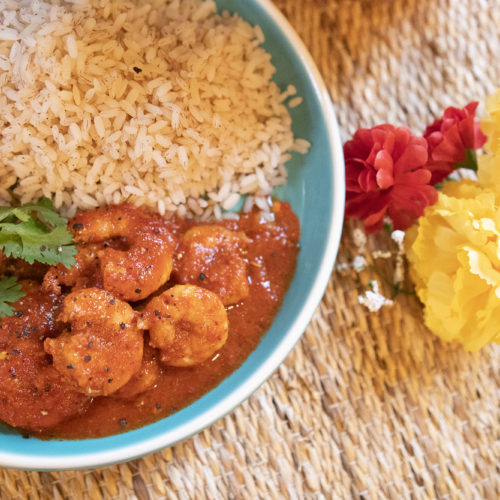 Shrimp Vindaloo
Ingredients
Vindaloo Paste

20

Kashmiri Chillies

1

inch

stick Cinnamon

6

Cloves

1

tsp

Cumin seeds

10

Peppercorns

1/4

tsp

Black Mustard seeds

1/2

tsp

Turmeric powder

1/4

cup

Ginger

1/4

cup

Garlic

1/4

cup

Goa

sub Red Wine Vinegar or Malt Vinegar

Water as required

1

lb

of Shrimp

approx. 500 gms

1/2

cup

ground Onion

4

oz

Vindaloo paste

approx. 8 tbsps

Salt to taste

1/2

a cup fresh pureed Tomato here

1/2 – 1

cup

stock

1/2

cup

of water or stock
Instructions
Clean and deseed the Chillies

Soak the Kashmiri Chillies in hot water fir 1 hr to overnight for 2 reasons A) I feel much better knowing that the chillies have been cleaned by immersing in hot water and B) Soaking the skins makes for a much better texture in the Vindaloo paste

First process all the dry ingredients like the Cinnamon, Cloves, Cumin seeds, Peppercorns & Mustard seeds

Add the Turmeric powder

Add the fresh Ginger & Garlic

Add the soaked chillies in batches and process

Add the Vinegar and the rest of the chillies and keep processing.

To thin out this masala and get it nice and smooth add the water that the chillies were soaked in or regular water

In a sauce pan, heat up some oil and add the ground Onion and allow it to saute

Add the shrimp in and allow to saute for a few minutes

Add the Vindaloo paste

Saute the shrimp and the vindaloo paste together so the shrimp is coated in this

Add salt to taste

Add the fresh pureed Tomato

To thin this out add the stock and more water or stock as required

Cover this and allow this to cook for just a few minutes
My original recipe has always come from my Mom's handwritten recipe books but I've made a slight change by soaking the chilies in hot water for this recipe.