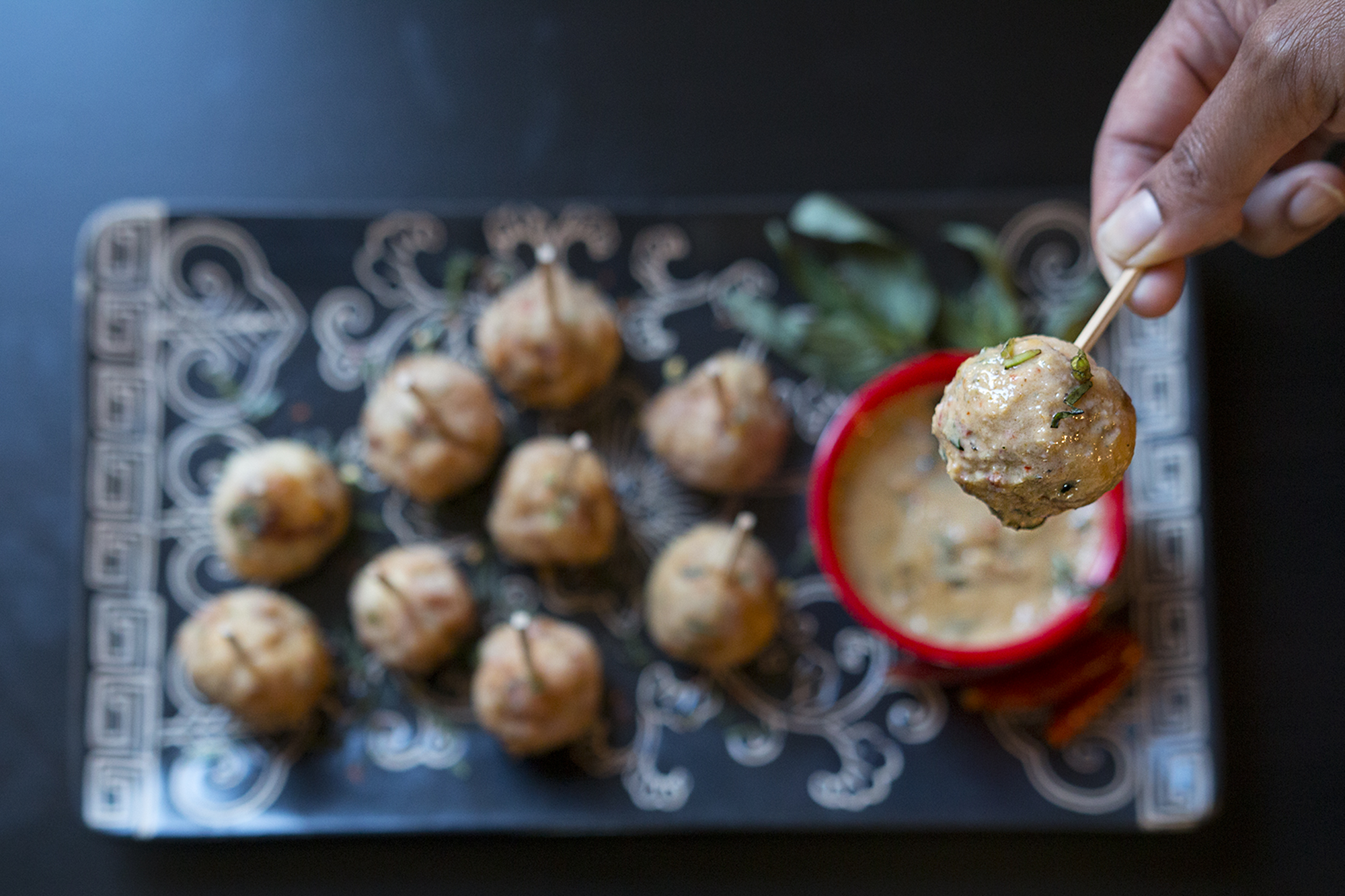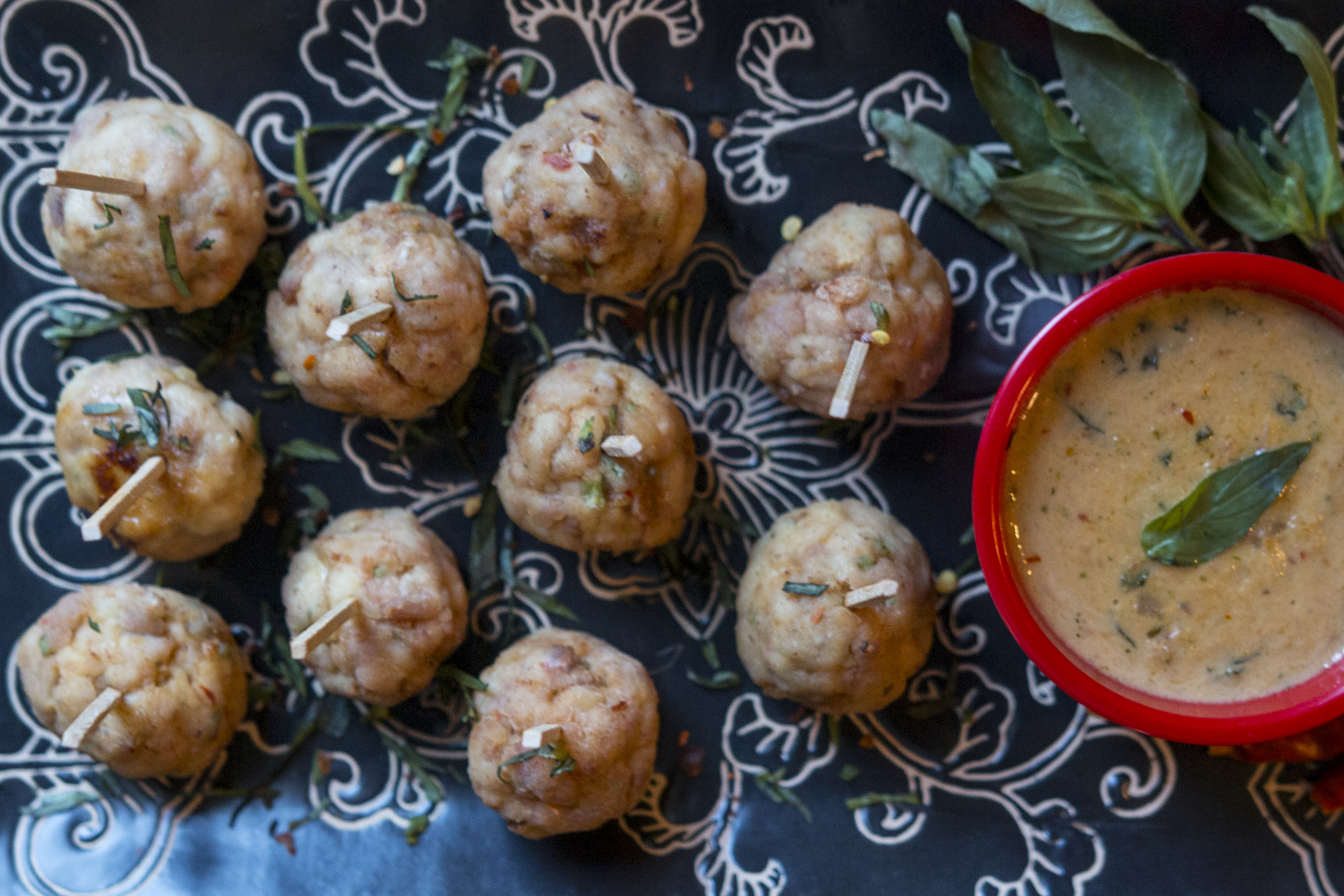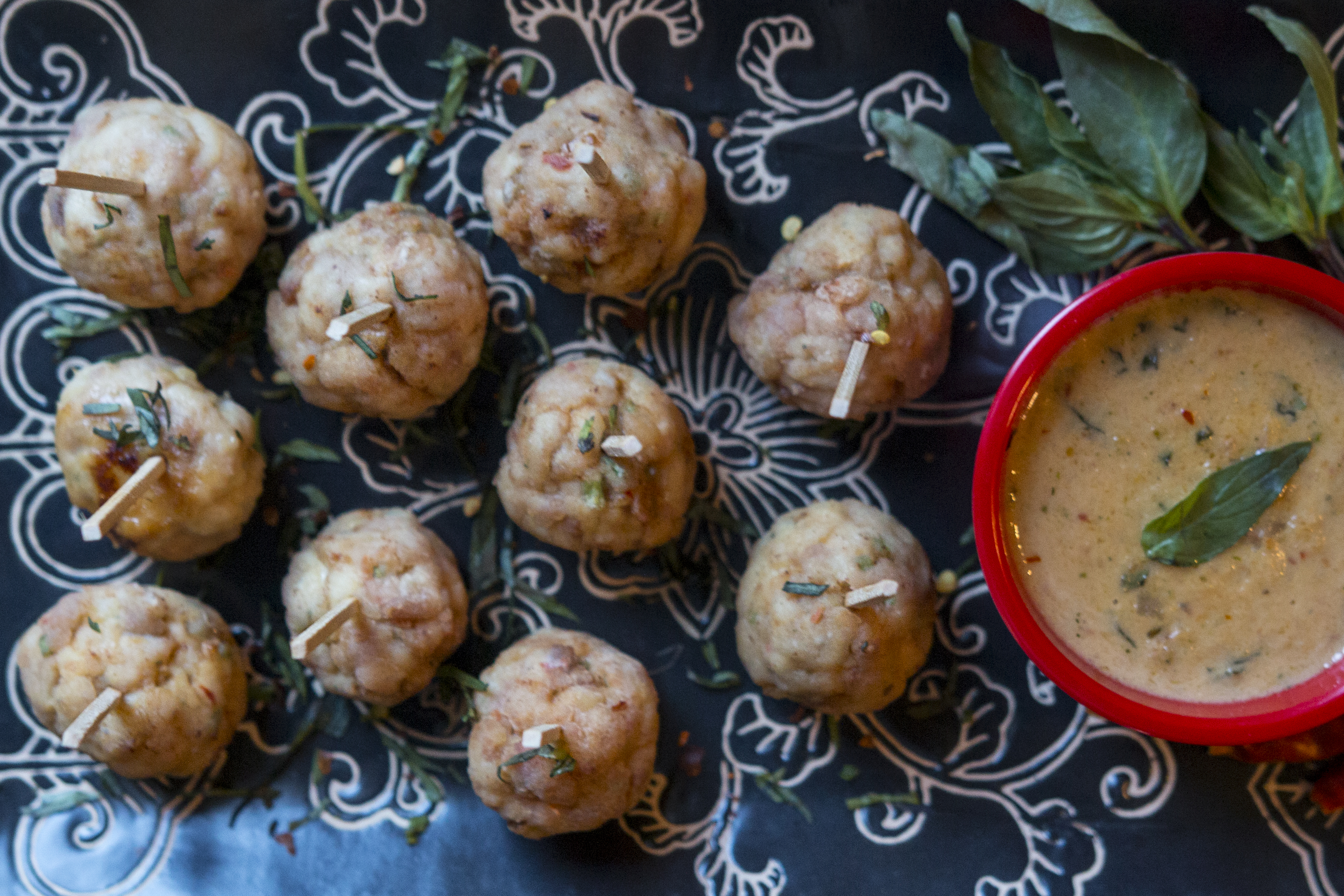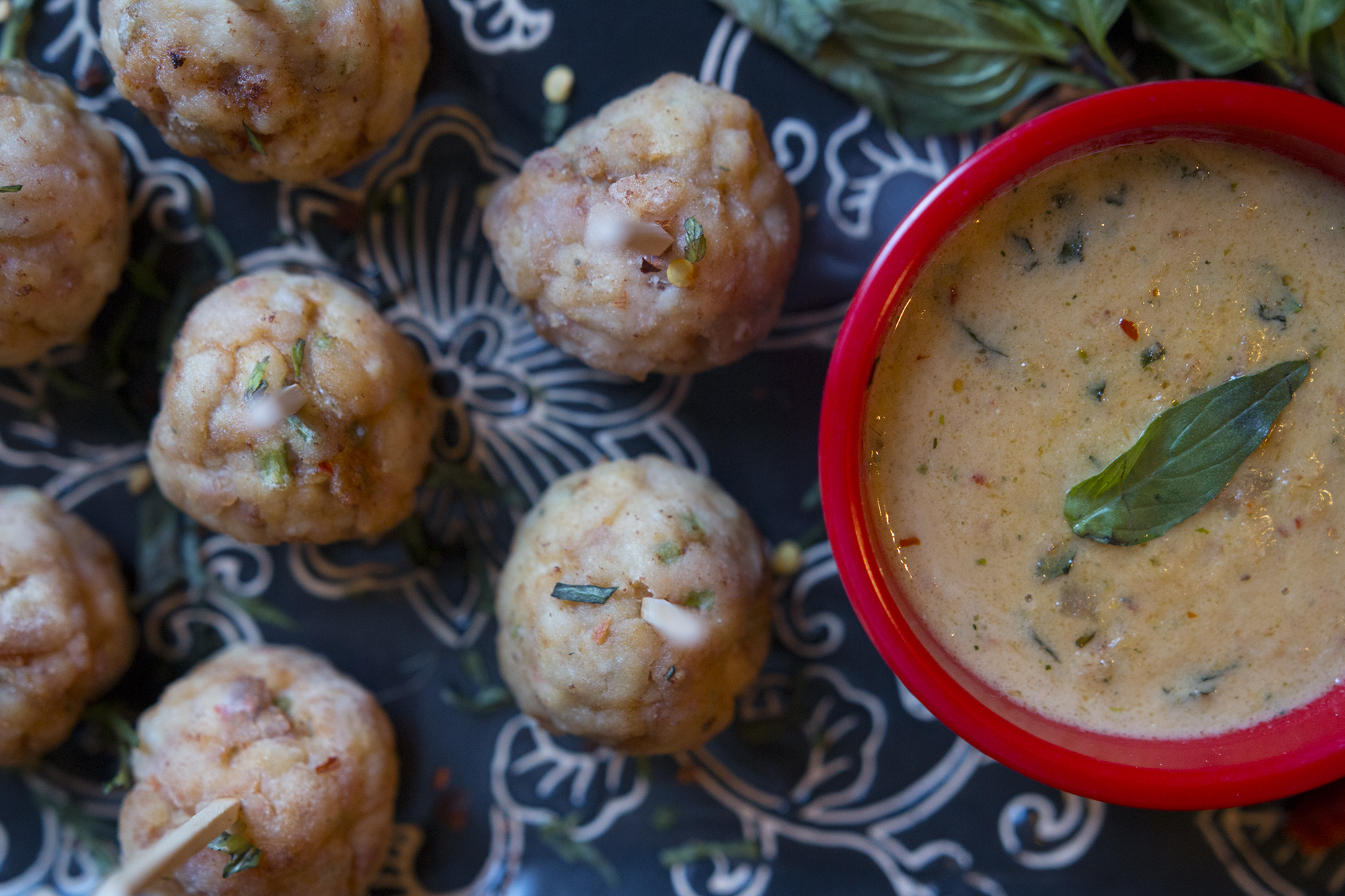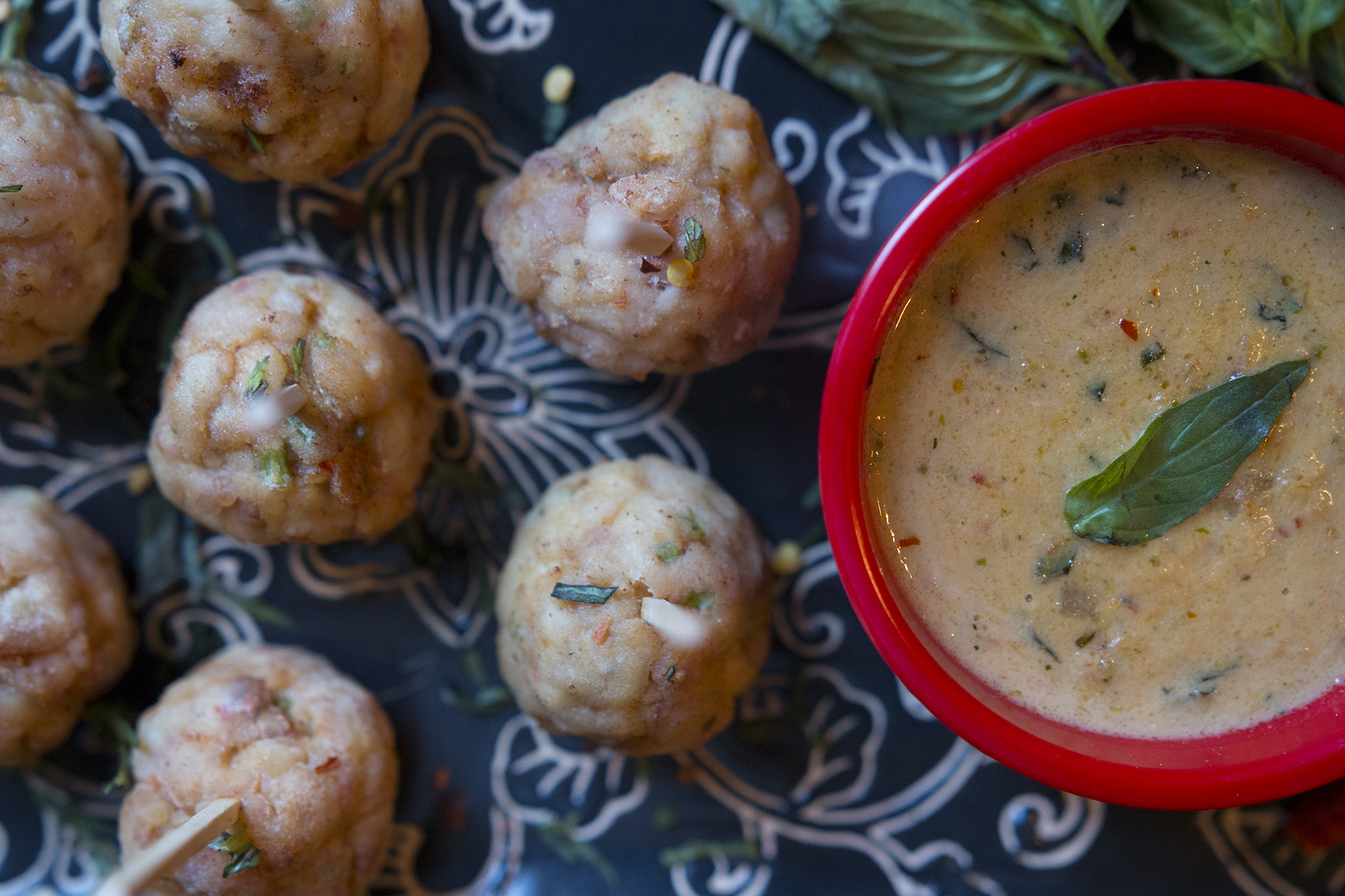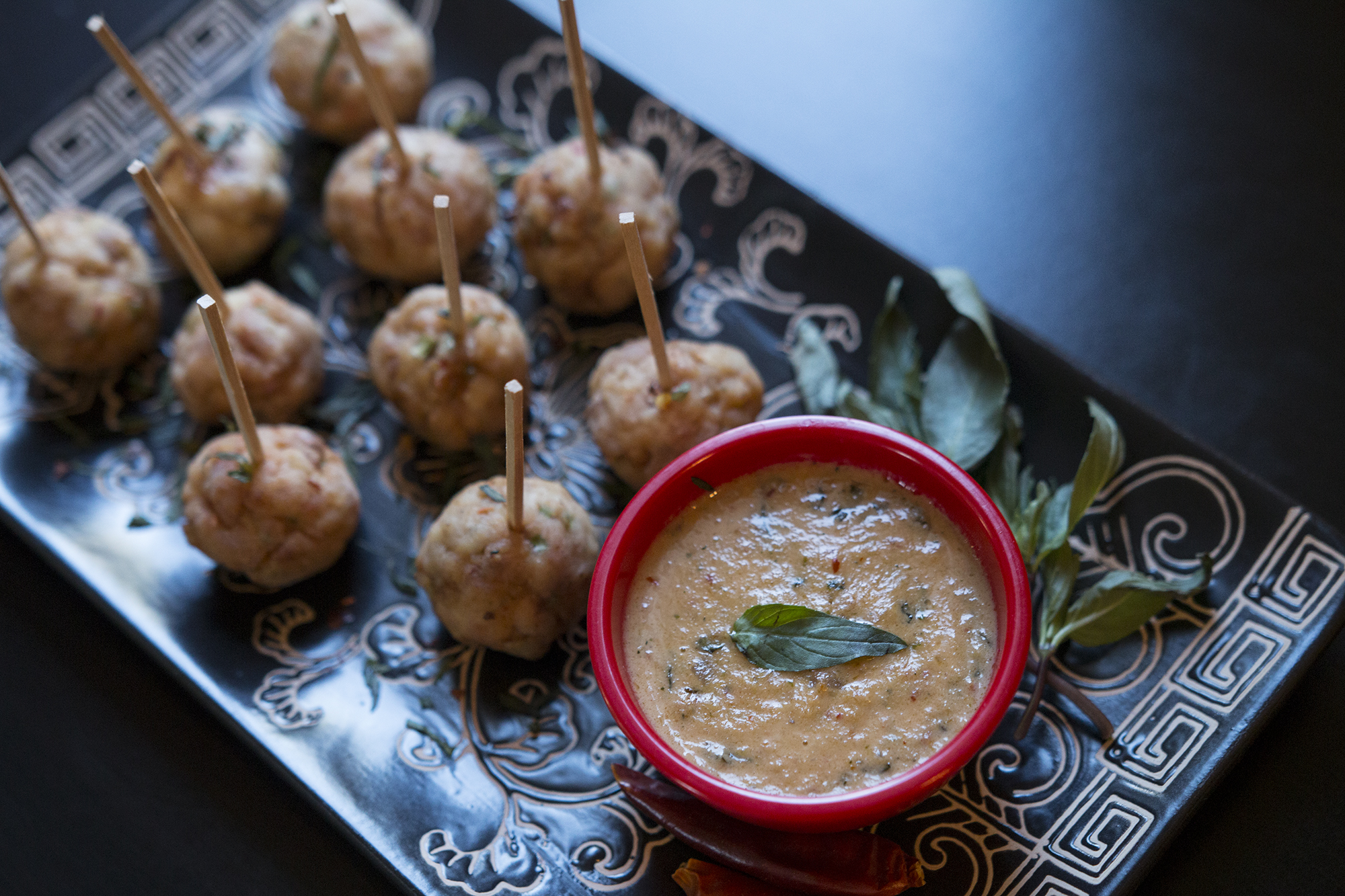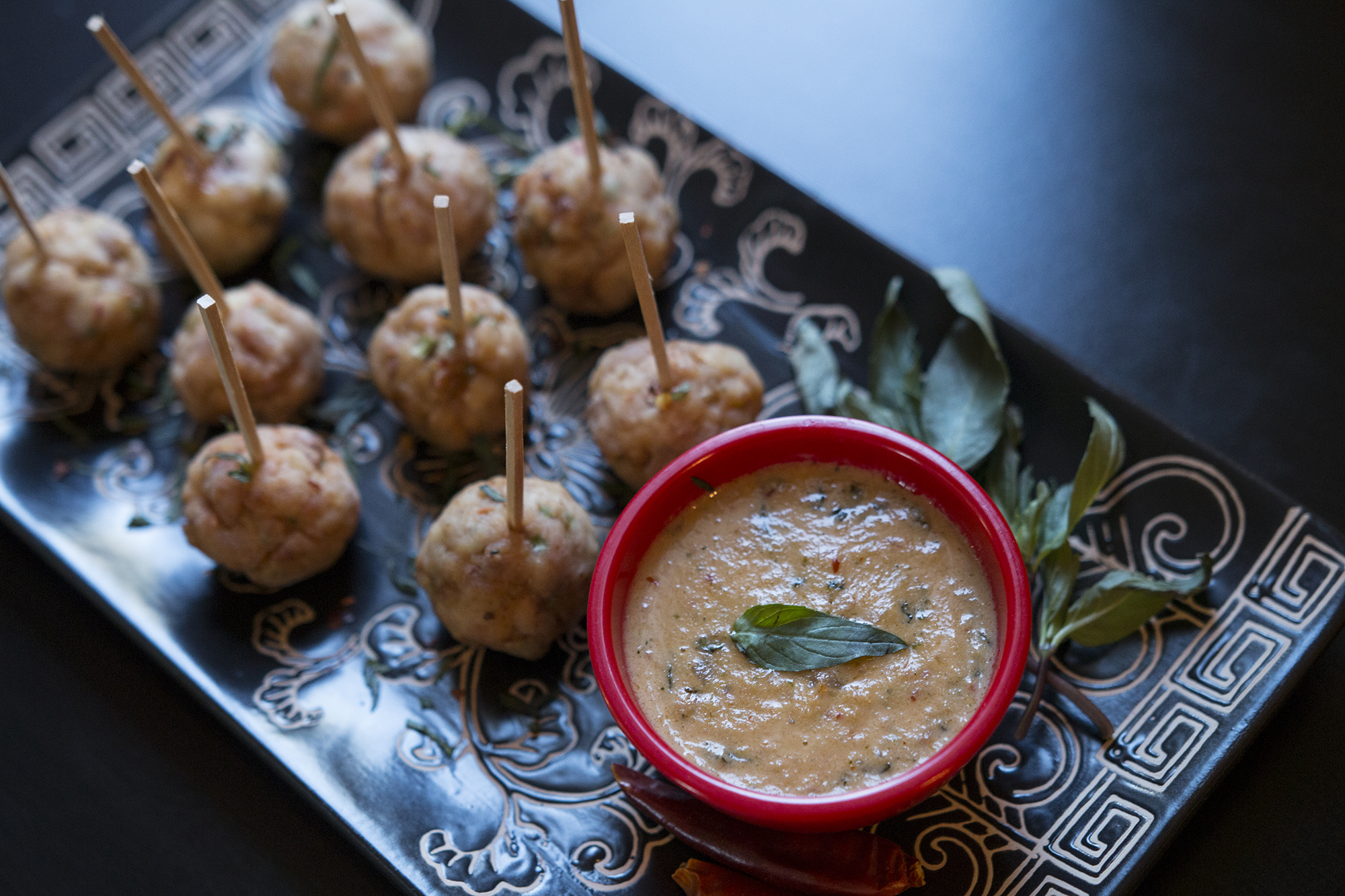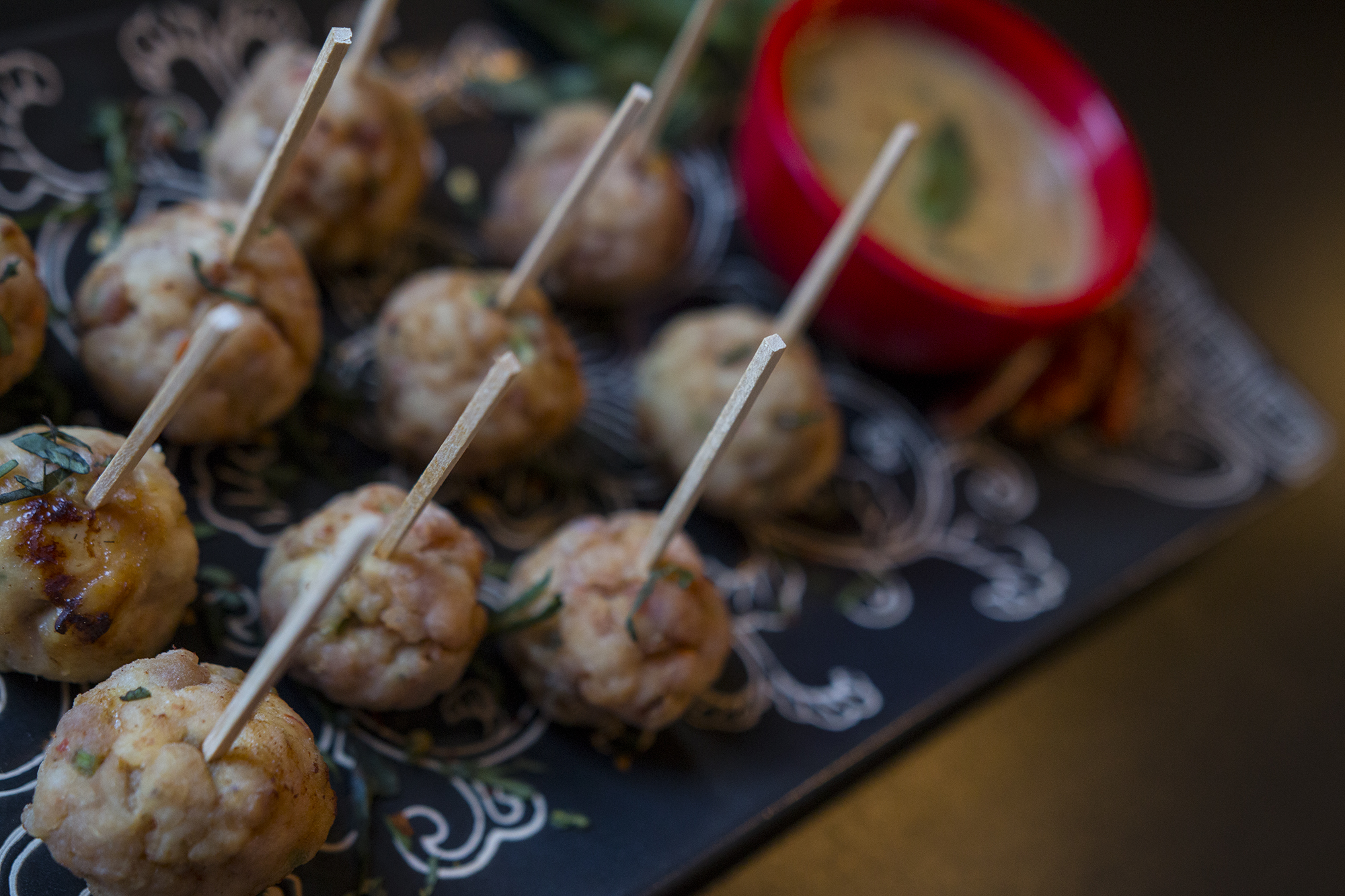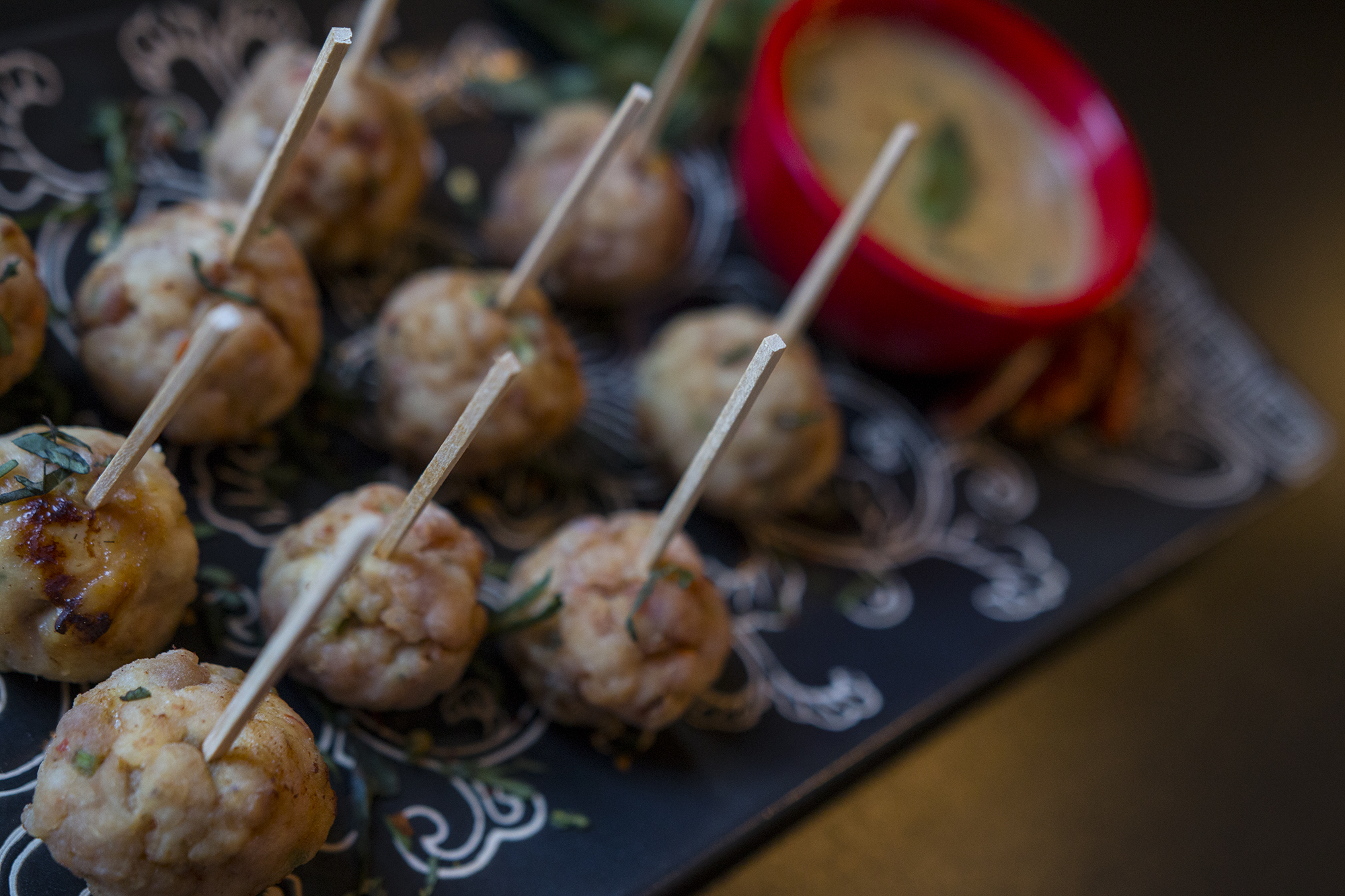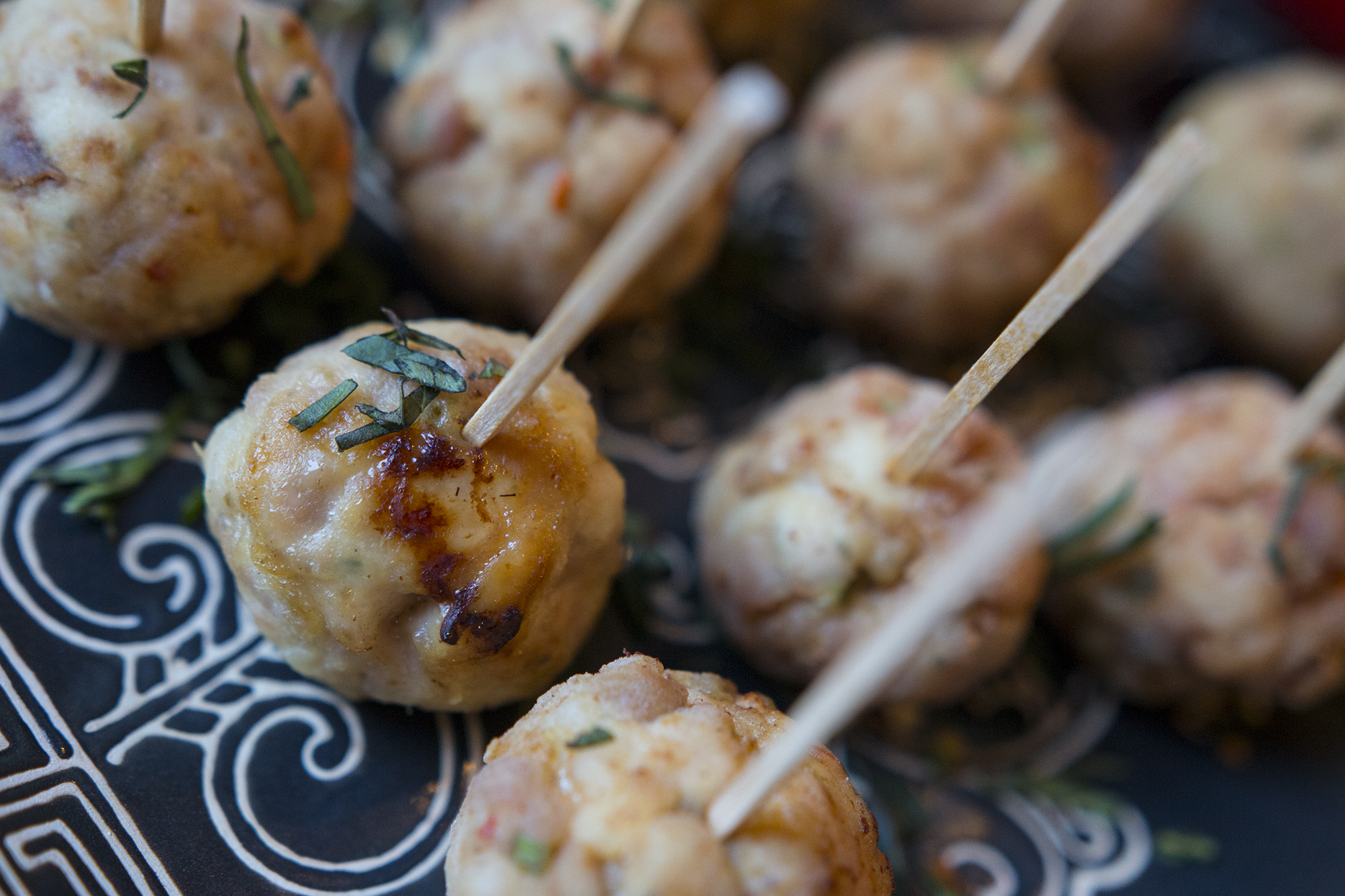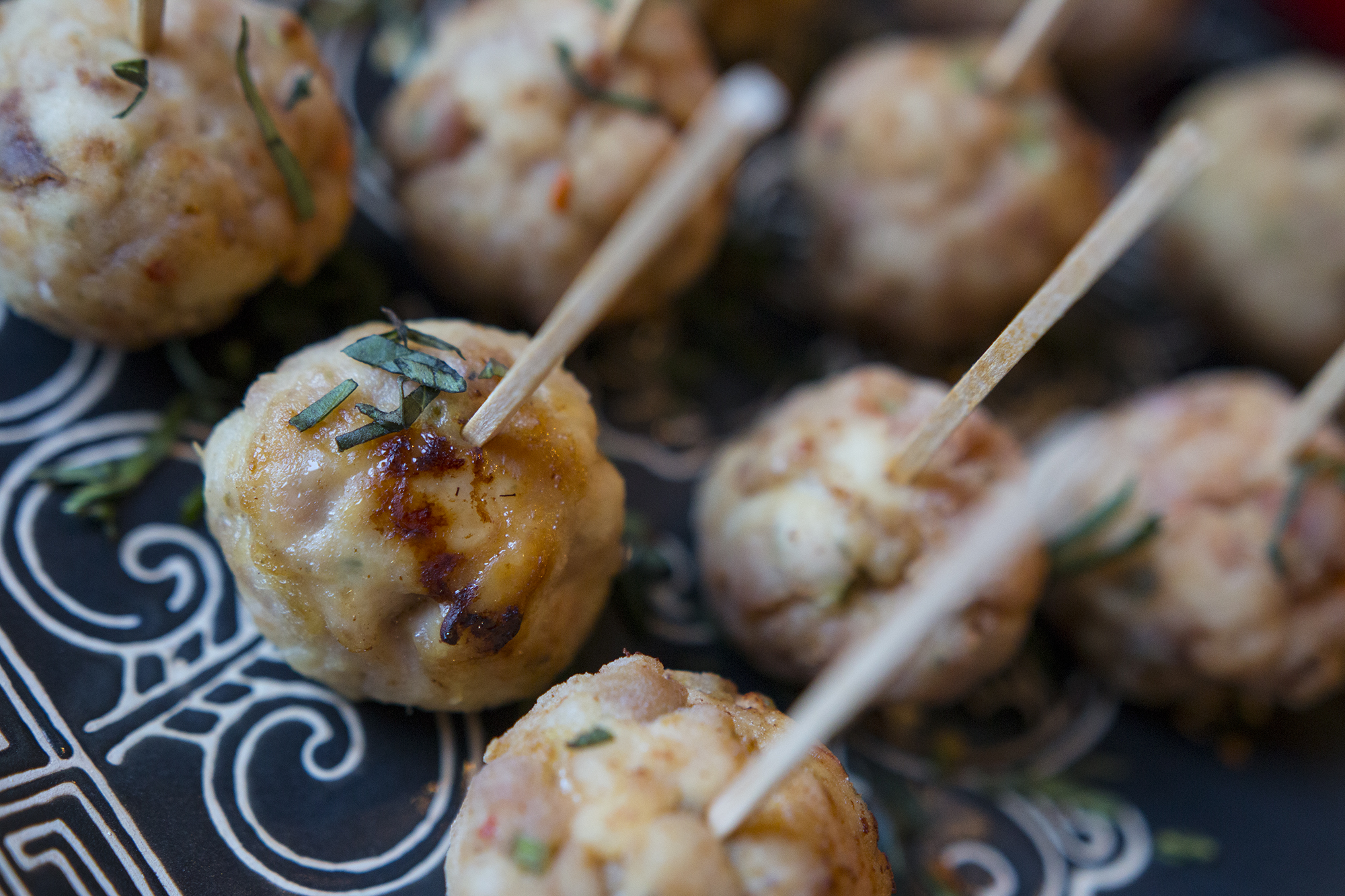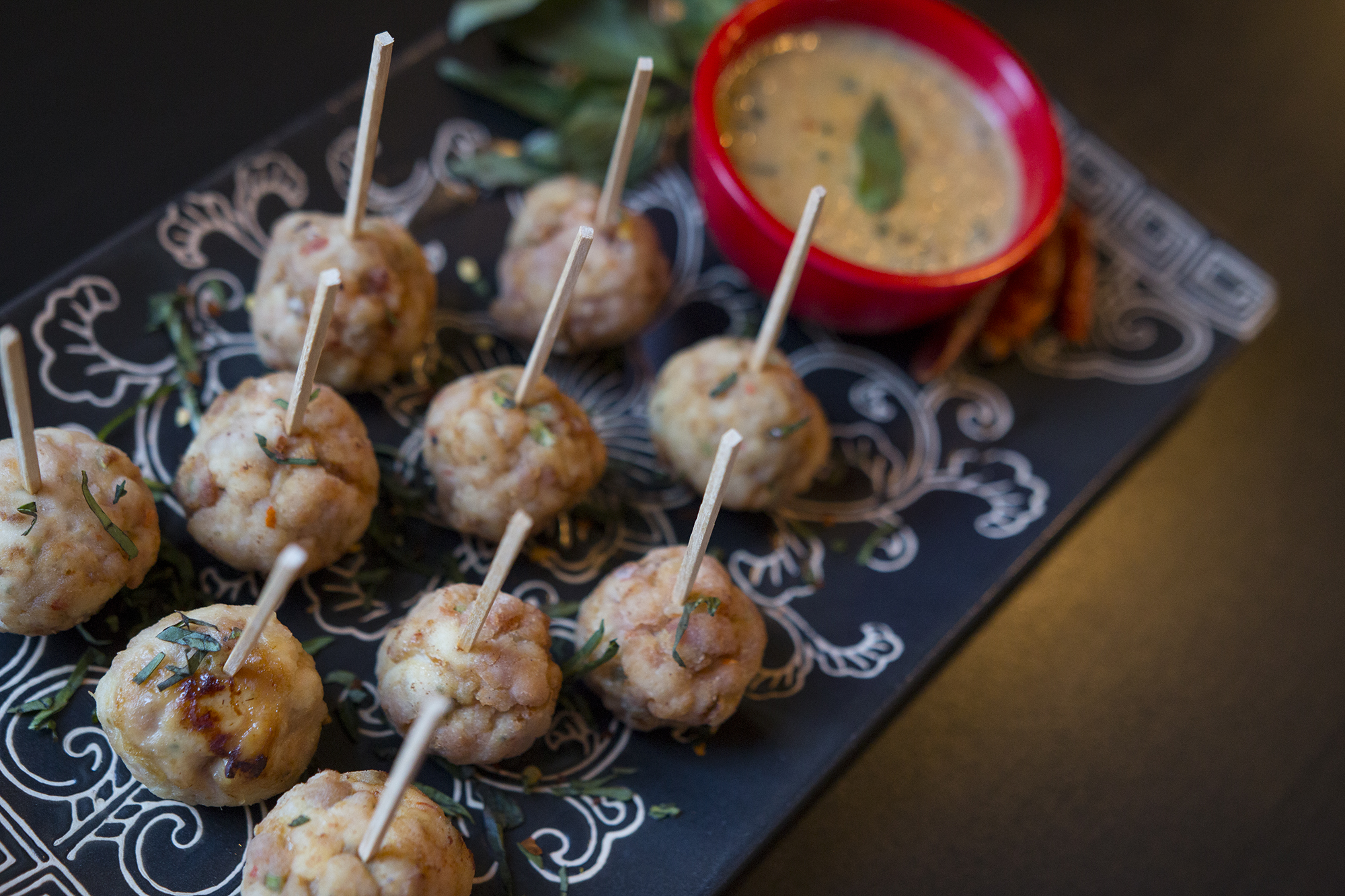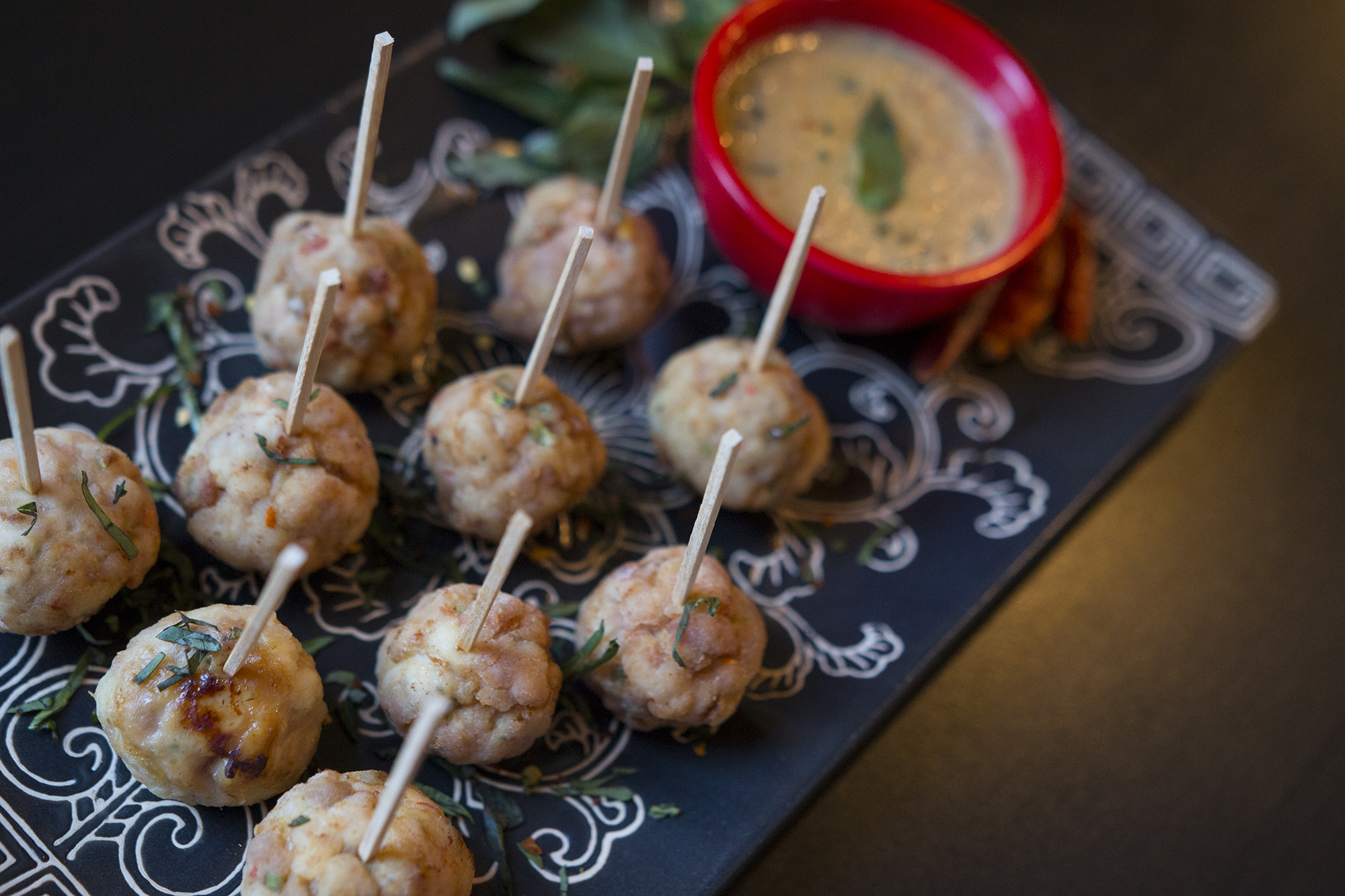 I love love love a good Thai Red Curry. If you're going to a Thai restaurant, the chances are pretty high that you're going to order a Red Curry of some sort. I'm always thinking of ways to transform the flavors of popular dishes and turn them into appetizer possibilities. These Thai Red Curry Chicken Meatballs are the perfect appetizer to serve your guests, they scream Red Curry but in a portable form that your guests can just pick up, pop into their mouths and transport themselves to Thailand!
We need to inject  some serious flavor into the meatballs. I've got 1 lb of ground chicken and to this I'm going to add 1/2 cup of fresh breadcrumbs. Fresh breadcrumbs are simply day old bread that's been crumbled by hand or thrown into the food processor. I'm using ground chicken that has been made from Chicken thigh so there's a lot of fat mixed in that makes it juicy but also difficult to form in meatballs. The breadcrumbs makes it nice and sturdy. I'm going to add 2 tsps of finely diced Coriander stems, and 3 tbsps of finely diced Shallots. Coriander stems are often thrown away. The stems have a great flavor and also a great texture. I never throw these away. Chopped up fine, they are great in anything. If you're grinding Coriander to make a paste, the stems are great there too!
Red Curry paste is packed with exotic ingredients like Lemon grass, Galangal, red chillies, white pepper, Kaffir Lime peel & leaves. A typical Thai paste will also contain fish sauce and a shrimp or seafood paste. If you have a seafood allergy, you need to look for a Vegetarian Red Curry paste. You can use store bought Red Curry paste or make your own that's way more flavorful. I will throw the link to a red curry paste you can make by yourself at the end of this video and in the description. Fold everything in and let it sit together for at least 1/2 an hour.
Using a ice cream scoop drop morsels onto a plate lined with all purpose flour. The flour helps to roll the meatballs. Drop these into hot oil and cook them for about 5-7 mins. If you prefer, these can be baked for about 12 minutes. Once cooked, remove from the heat and leave to drain on some kitchen towel. These meatballs are delicious just the way they are but a dipping sauce would make them spectacular! Now I know someone is going to ask this question, yes you can bake these in a 350 degree oven for about 12 mins, don't forget to turn them over, I also like to lightly spray them with cooking oil so they get nice and brown all over.
In a sauté pan heat about 1 tbsp of coconut oil and add 1 tbsp of finely diced shallots. Add 1Ž2 cup of Coconut milk and just let that cook down. Add 2 tsps of  Red Curry paste, and 1-2 tsps of Fish sauce and mix everything together well. Toss in some chiffonade of Thai Basil and serve it with your meatballs to dunk in. A chiffonade is simply leaves that have been stacked, rolled together and sliced. Taste for salt, you can just add more fish sauce or even regular salt if needed. Although this is a great app, it's also a great main just increase the dipping sauce quantities and simmer the meatballs in it before serving. These meatballs also freeze really well, infact this batch is going straight into the freezer for my son to enjoy later at University.
[youtube-subscriber nickname=kravingsblog]
Thai Red Curry Chicken Meatballs
Ingredients
1 lb ground chicken
1/2 cup bread crumbs
Flour
3 tbsps Red Curry paste
2 tbsps Coriander stems
3 tbsps finely diced Shallots
1 tsp Coconut Oil
1 tsp finely chopped shallots
2 tbsps red curry paste
3 tbsps Coconut milk
Thai Basil leaves
Instructions
Add the ground Chicken to a bowl and add the fresh breadcrumbs, Coriander stems, Shallots and 3 tbsps Red Curry paste with some salt to taste
Mix well and drop into all purpose flour, using this to help form these into meatball shapes
Either drop in hot oil(5-7 mins) or bake(12 mins)
Make the dipping sauce by heating the Coconut oil and sautéing 1 tsp of finely diced Shallots and adding the Coconut milk
Allow the milk to thicken before adding 2 tbsps of Red Curry paste
Add fish sauce and some chiffonade of Basil leaves
https://kravingsfoodadventures.com/thai-red-curry-chicken-meatballs/
Save
Save