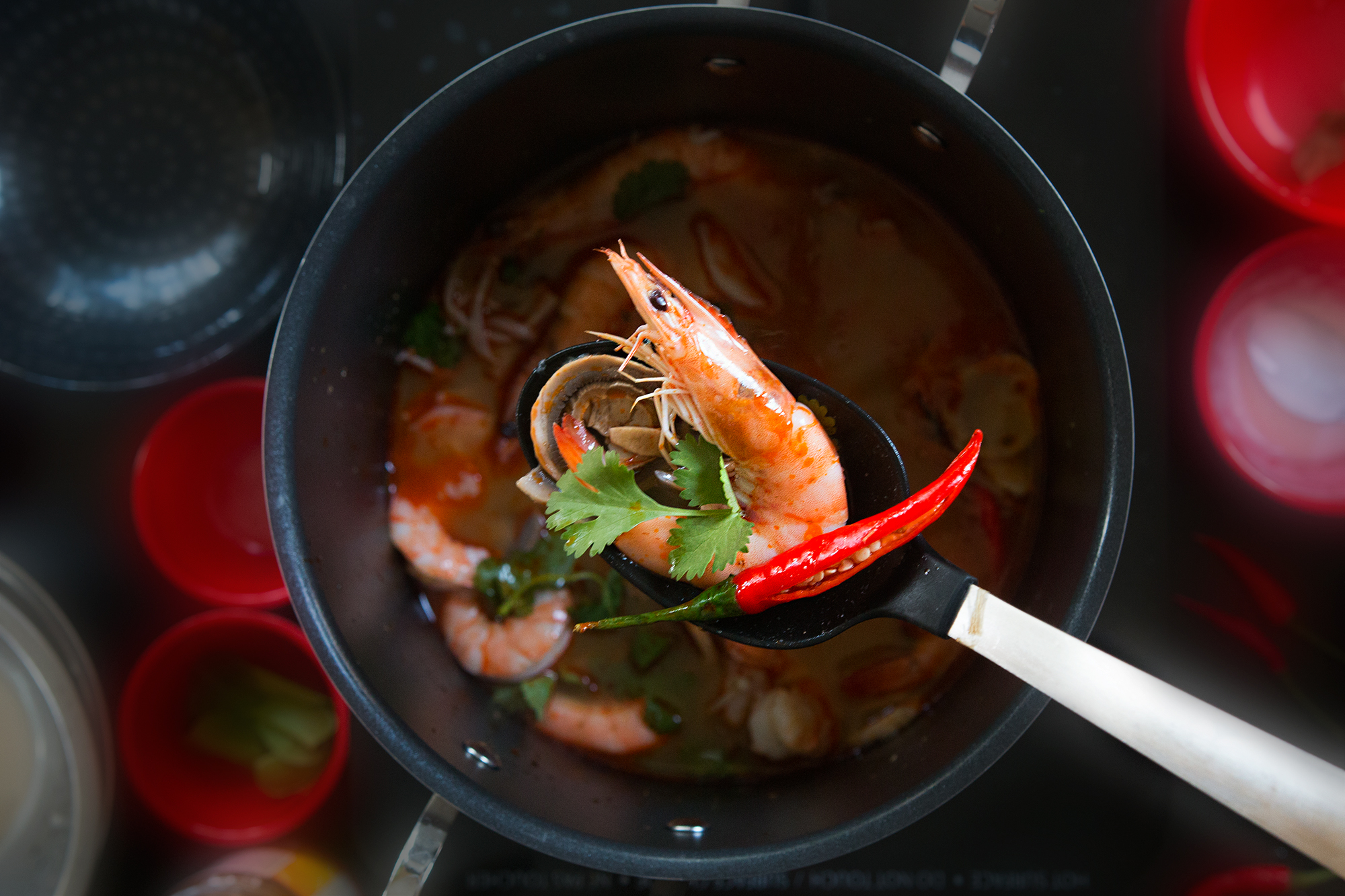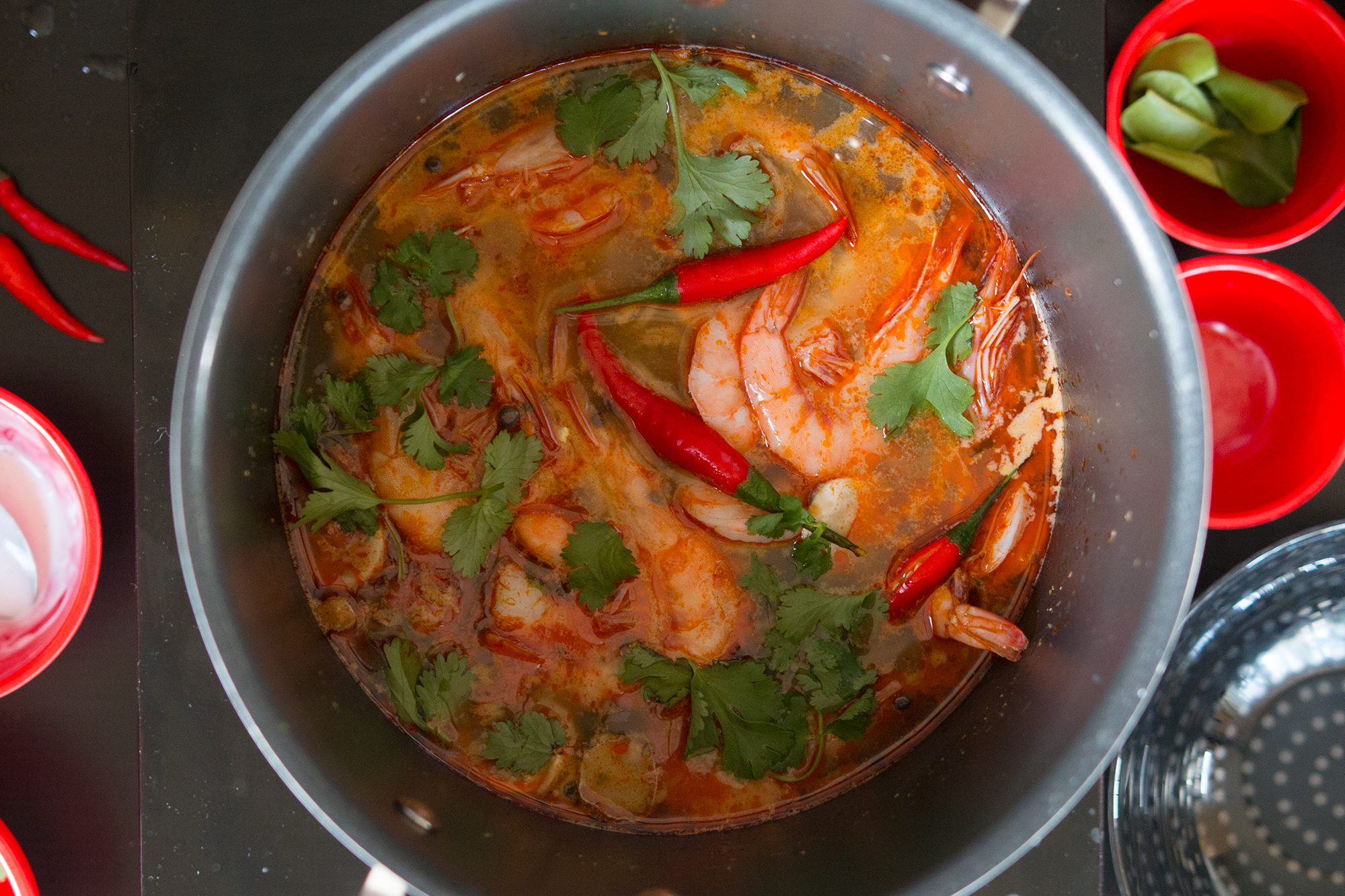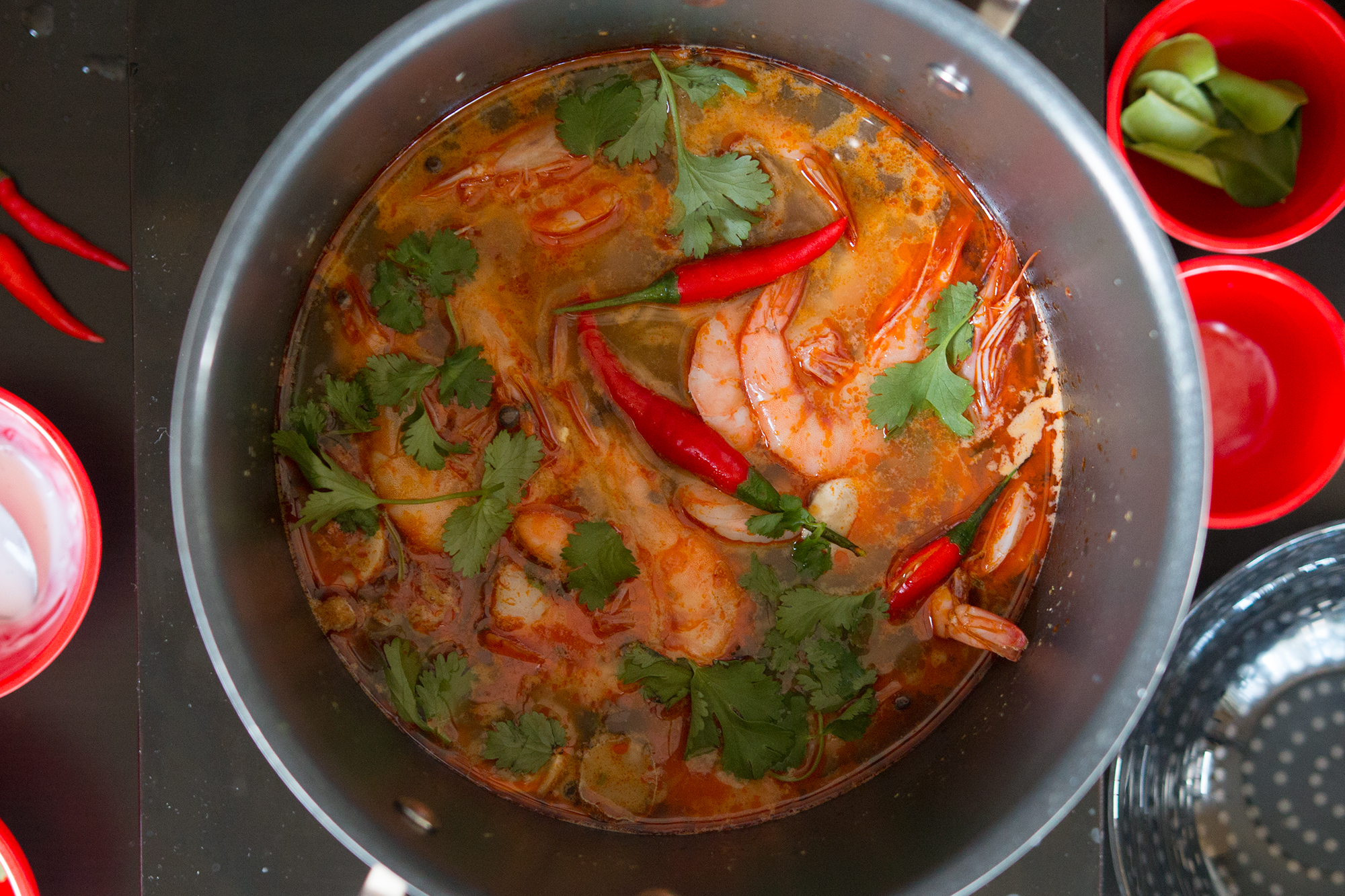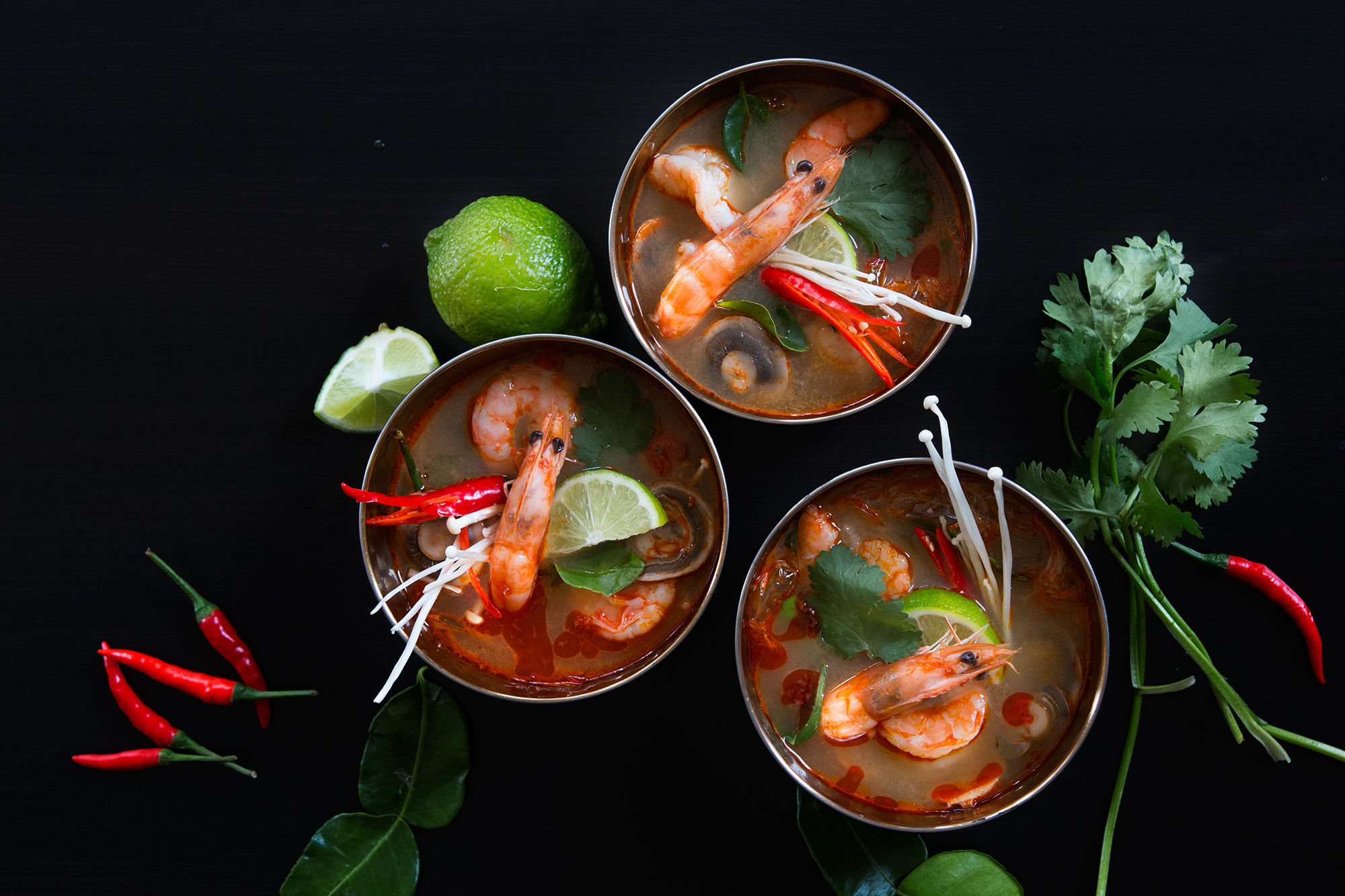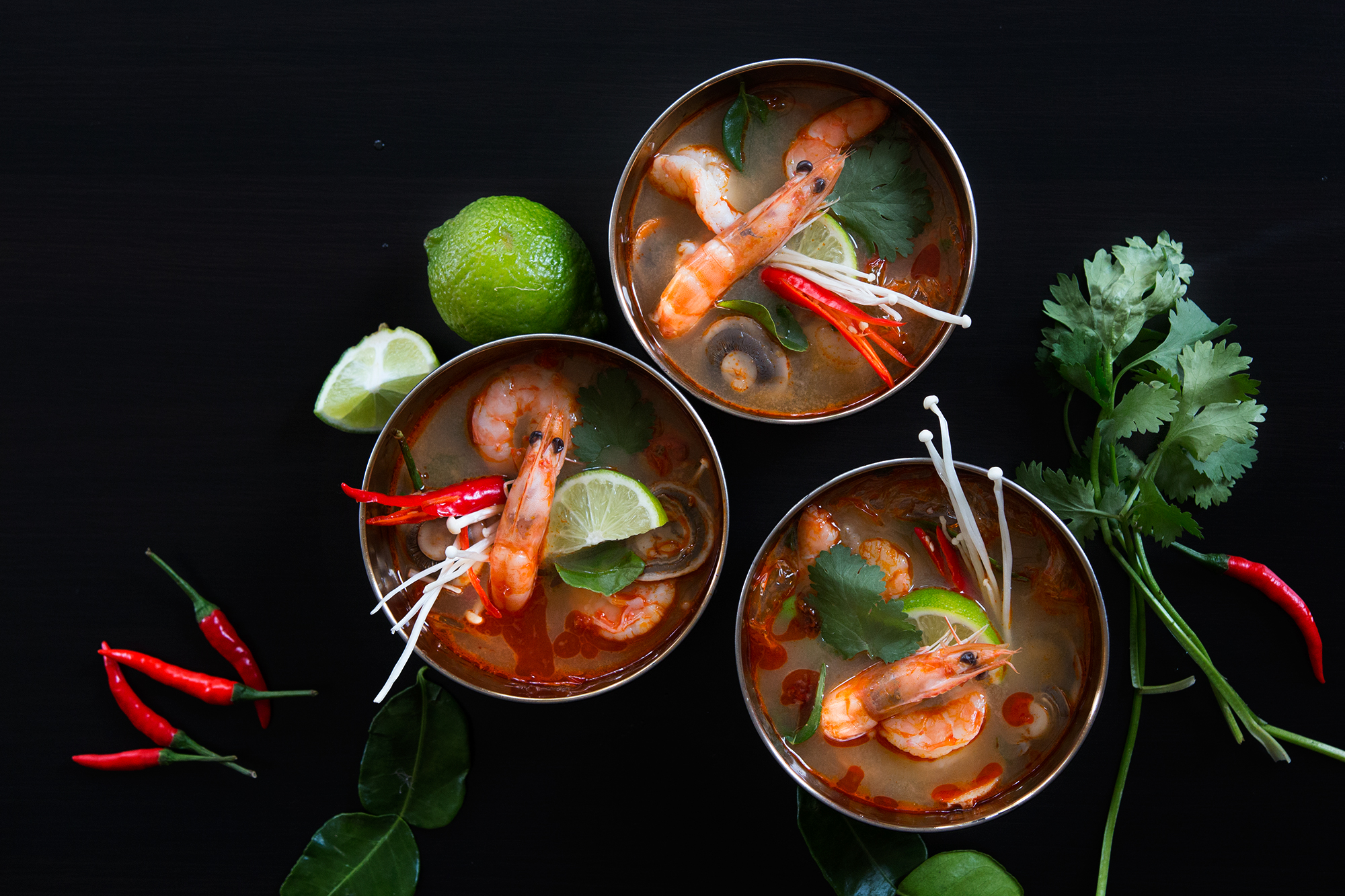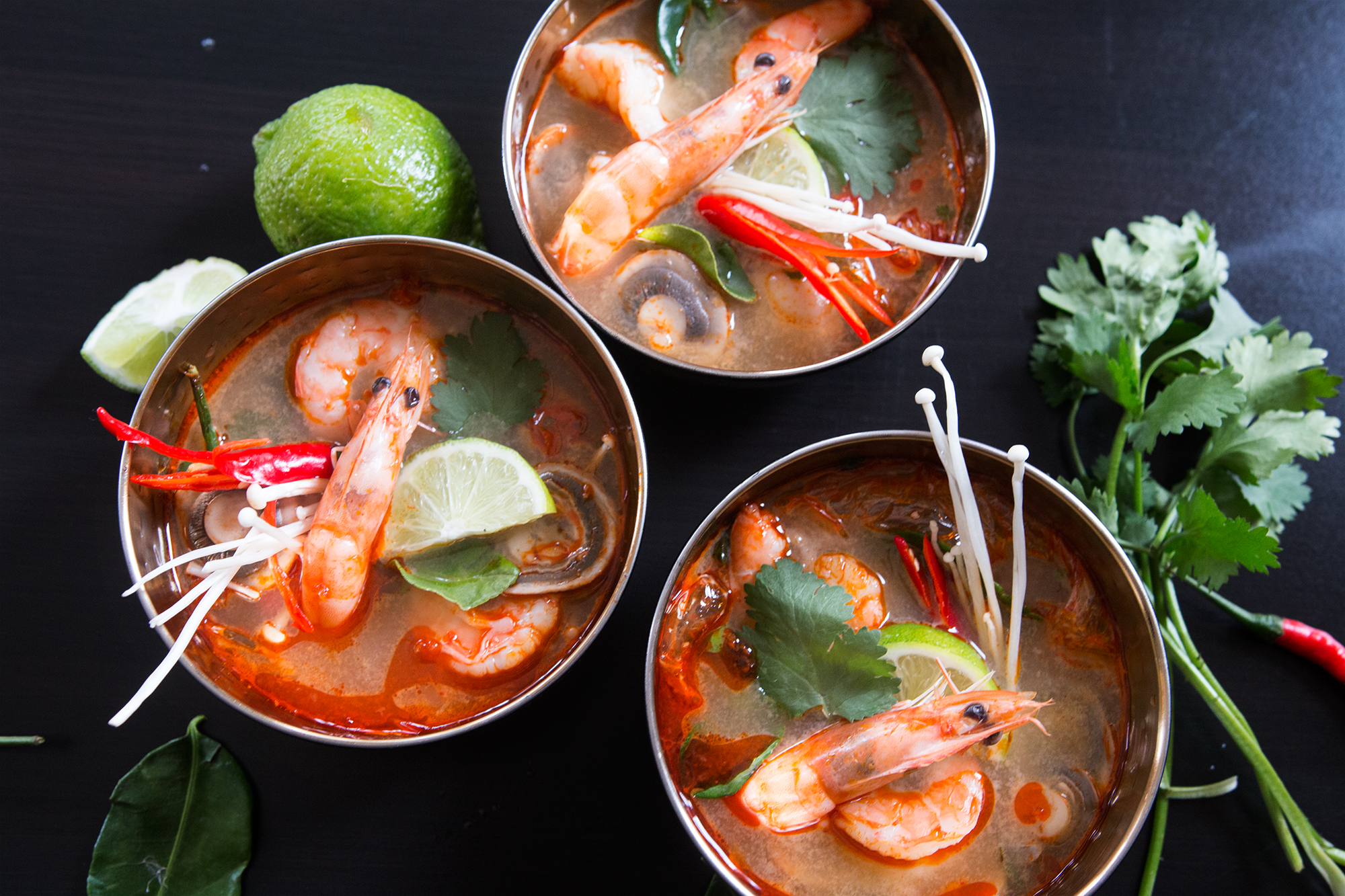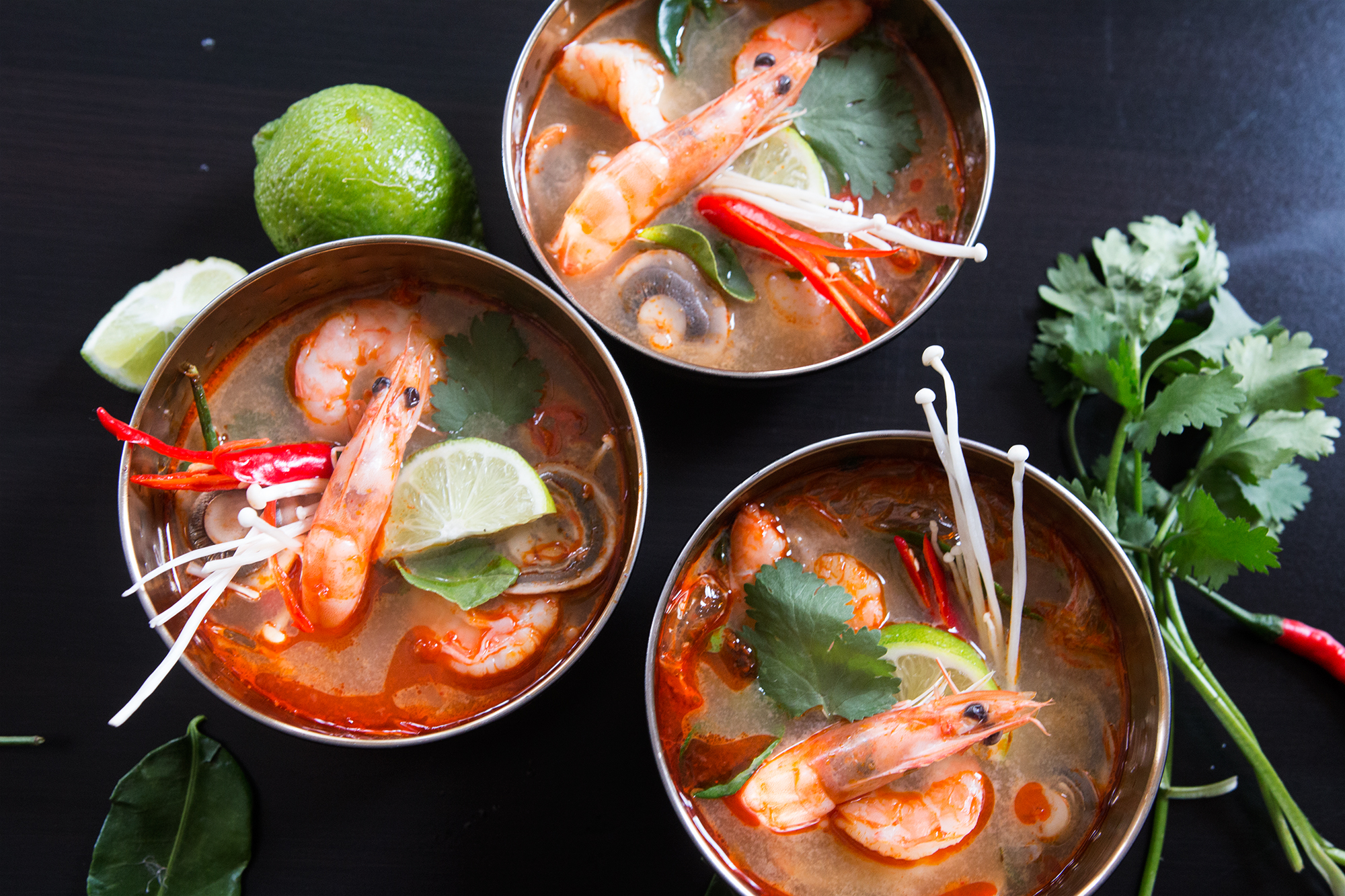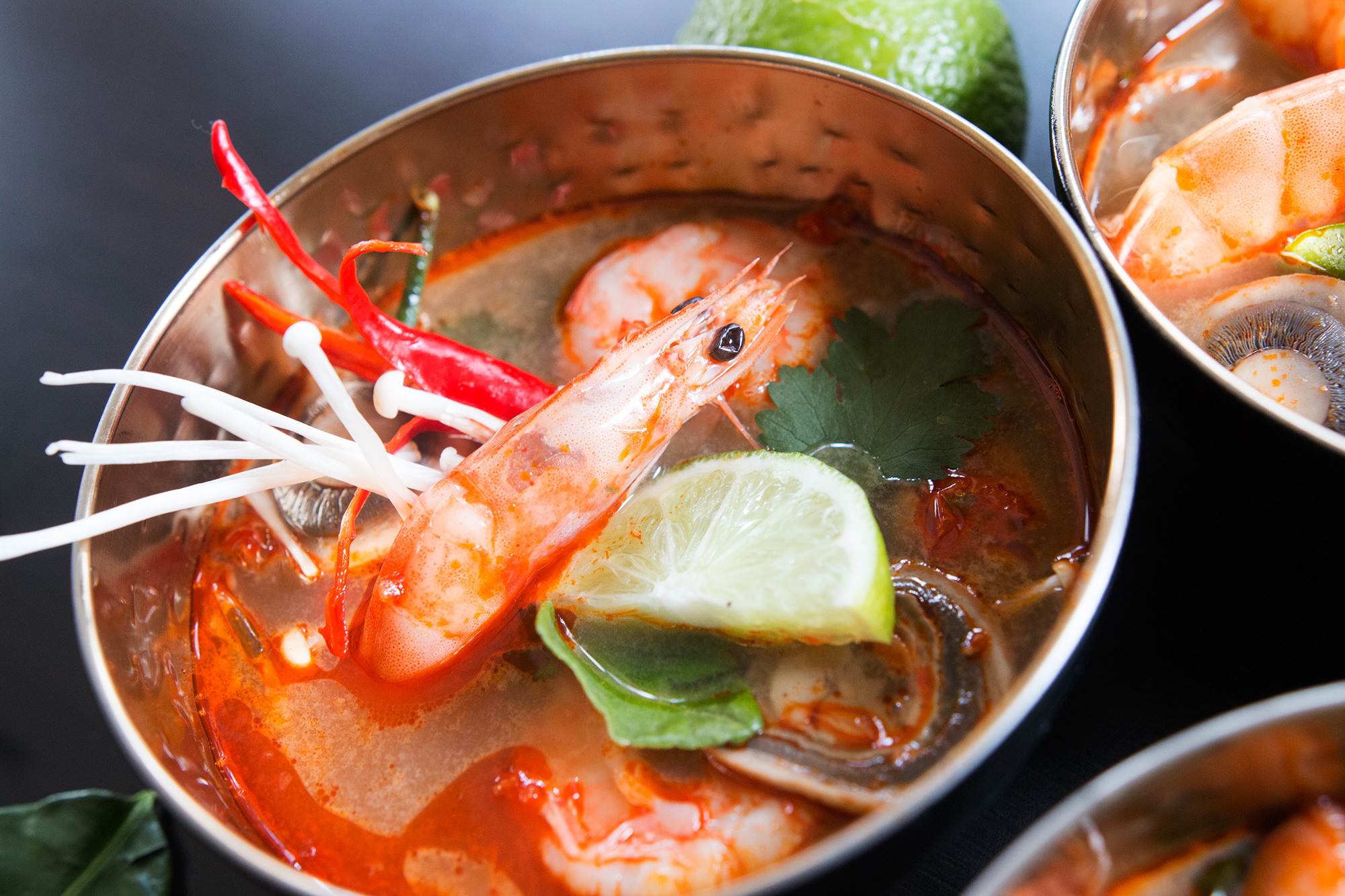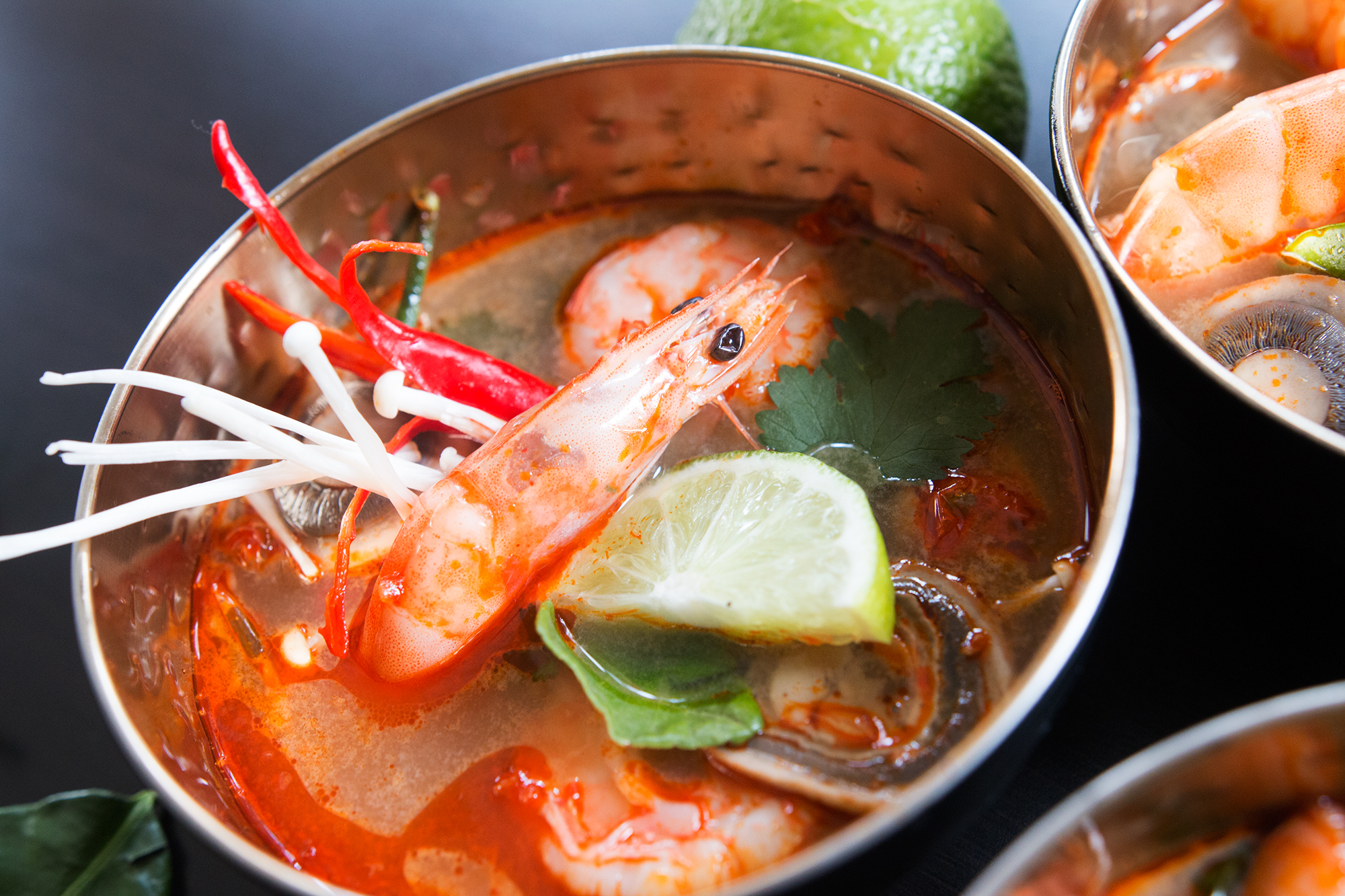 It's been almost 20 years since I've been living in Canada and it wasn't until a subscriber reminded me, that I remembered how much I love Tom Yum soup. Now although I have been to Thailand, my memories of Tom Yum actually come from Dubai in the Middle East. This may seem strange, but Dubai is very similar to Toronto in it's culinary diversity. While developing this recipe I ate bowl after bowl of Tom Yum from different restaurants to make sure I captured all of flavors that make this perfect in one bowl. While this soup may seem like it has a lot of ingredients, it's really simple to put together and its combination of sweet, salty, spicy and salty is second to none. Like with many other recipes, there are different versions of this soup Shrimp, Chicken & Vegetarian and the ingredients for the different proteins differ slightly. I LOVE Shrimp, so my first preference would be to make Tom Yum Goong – Tom means to boil, Yum refers to ingredients used in a Thai Salad and Goon means Shrimp or Prawn.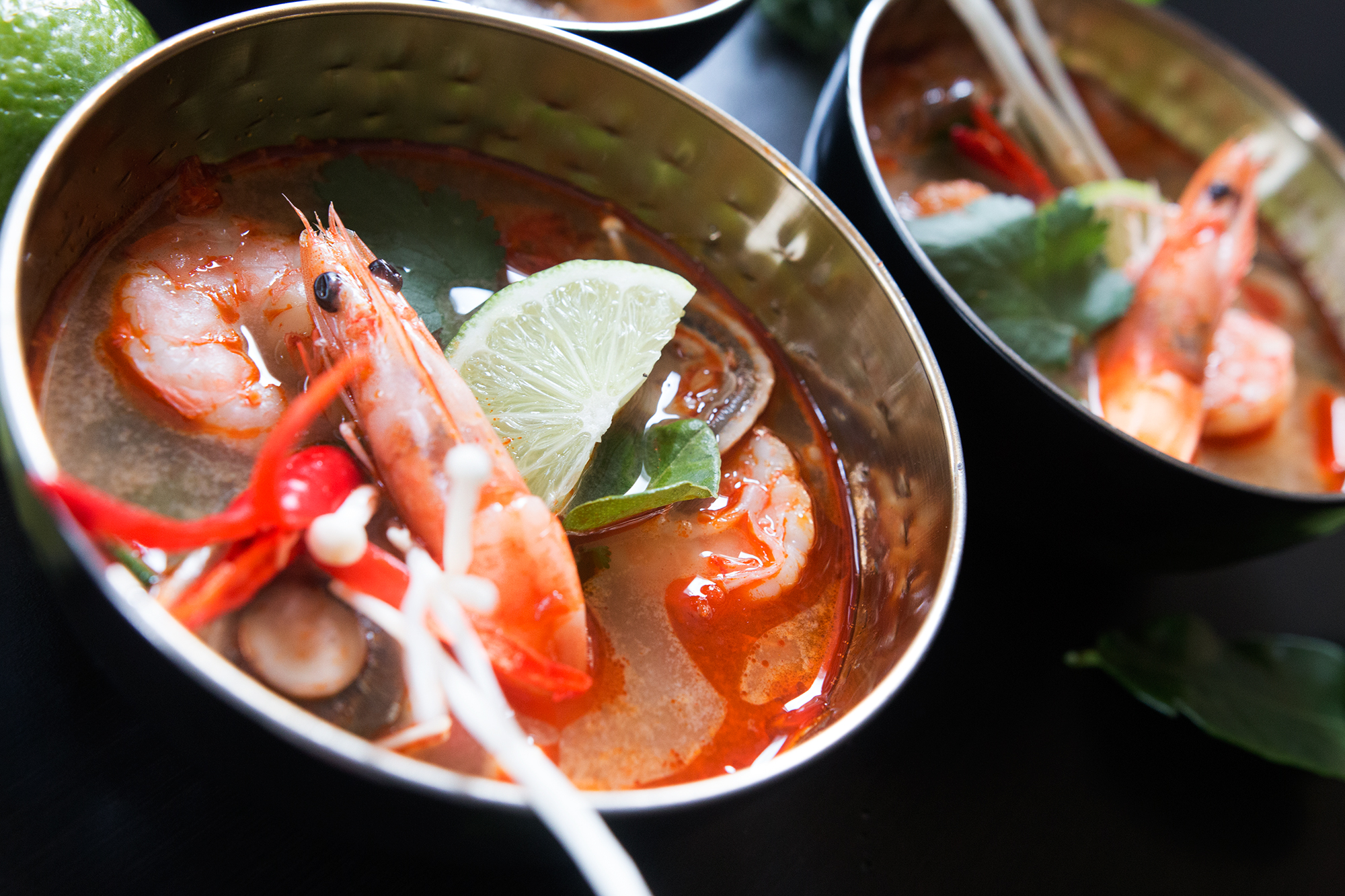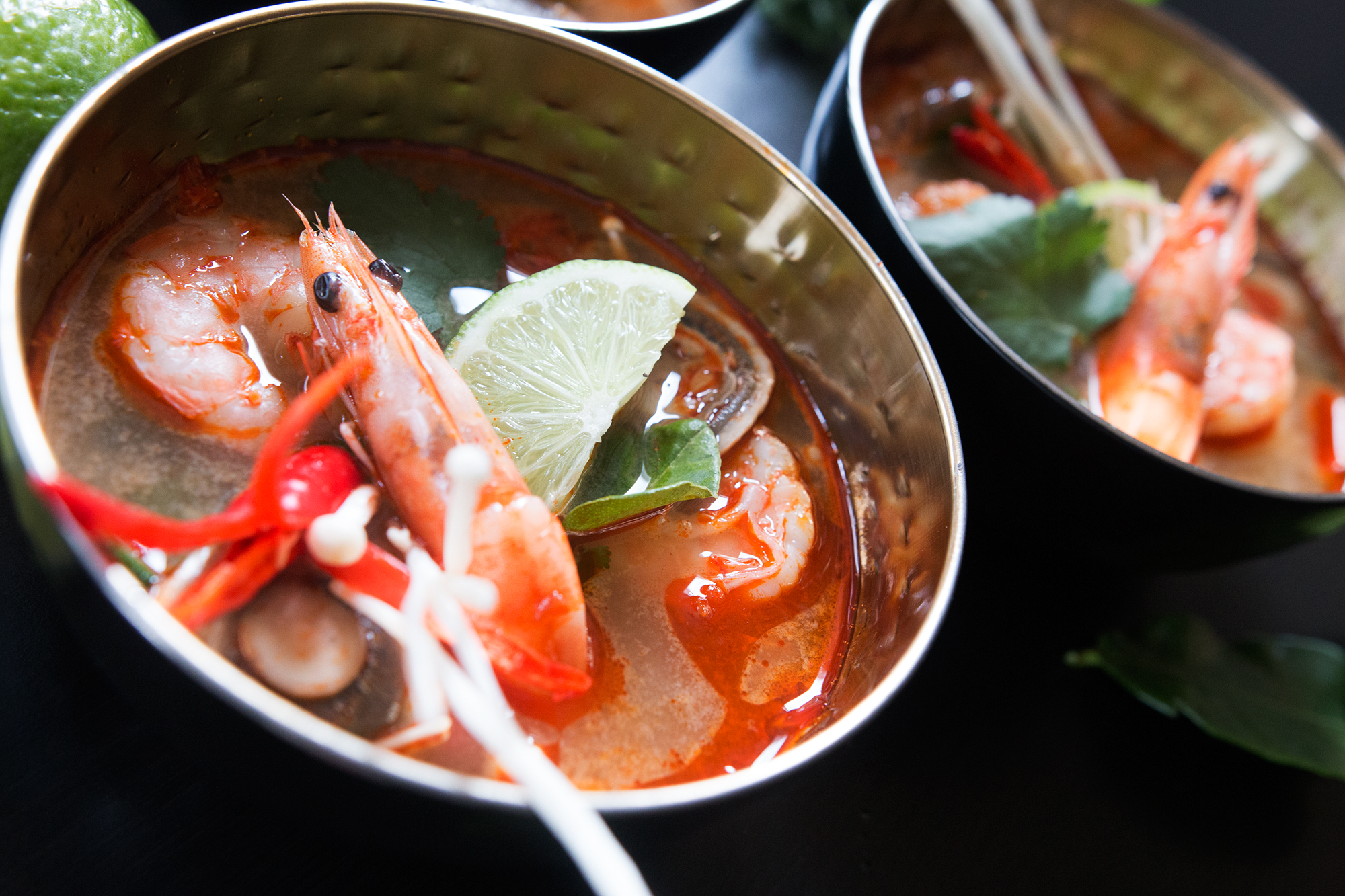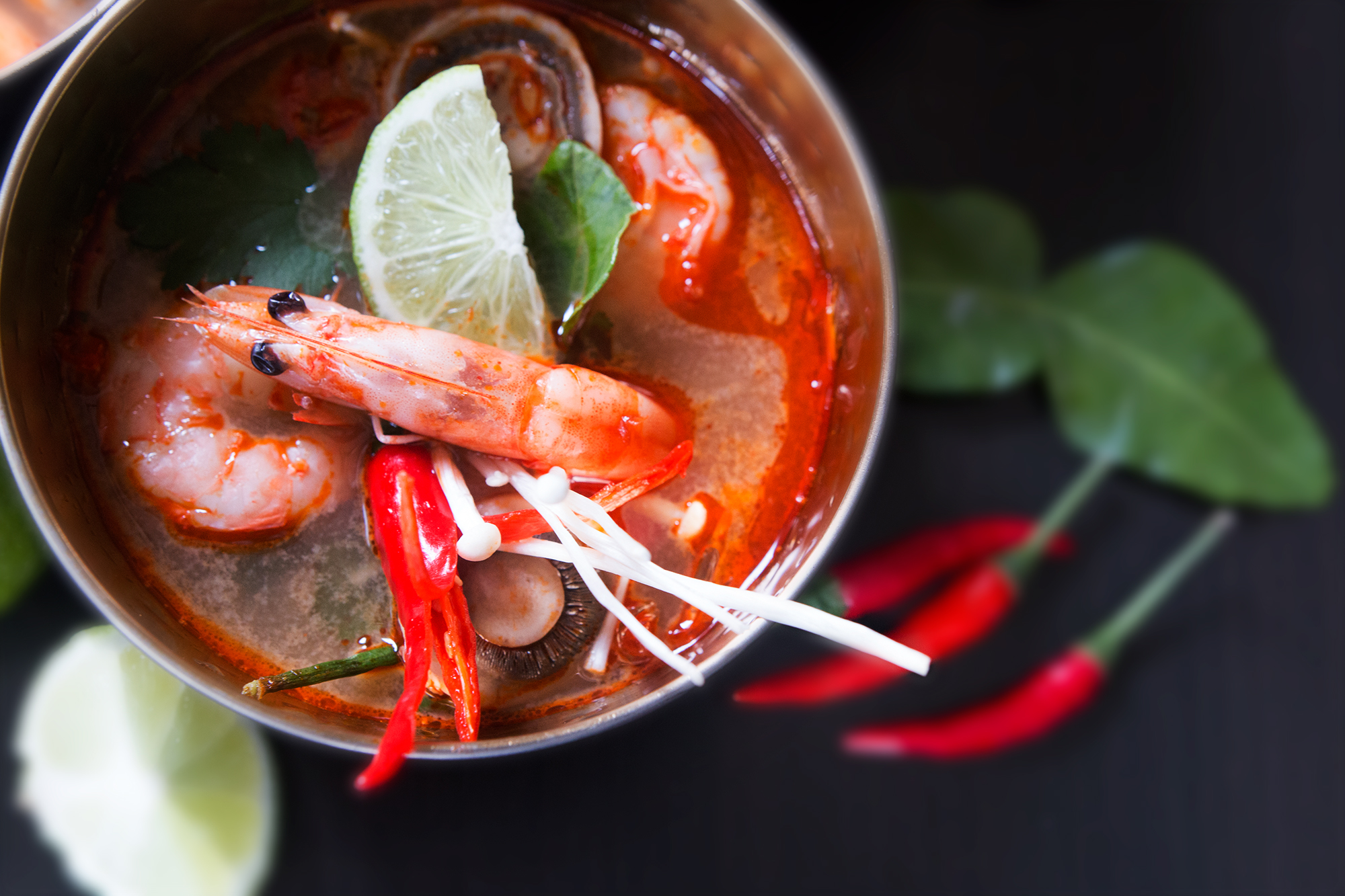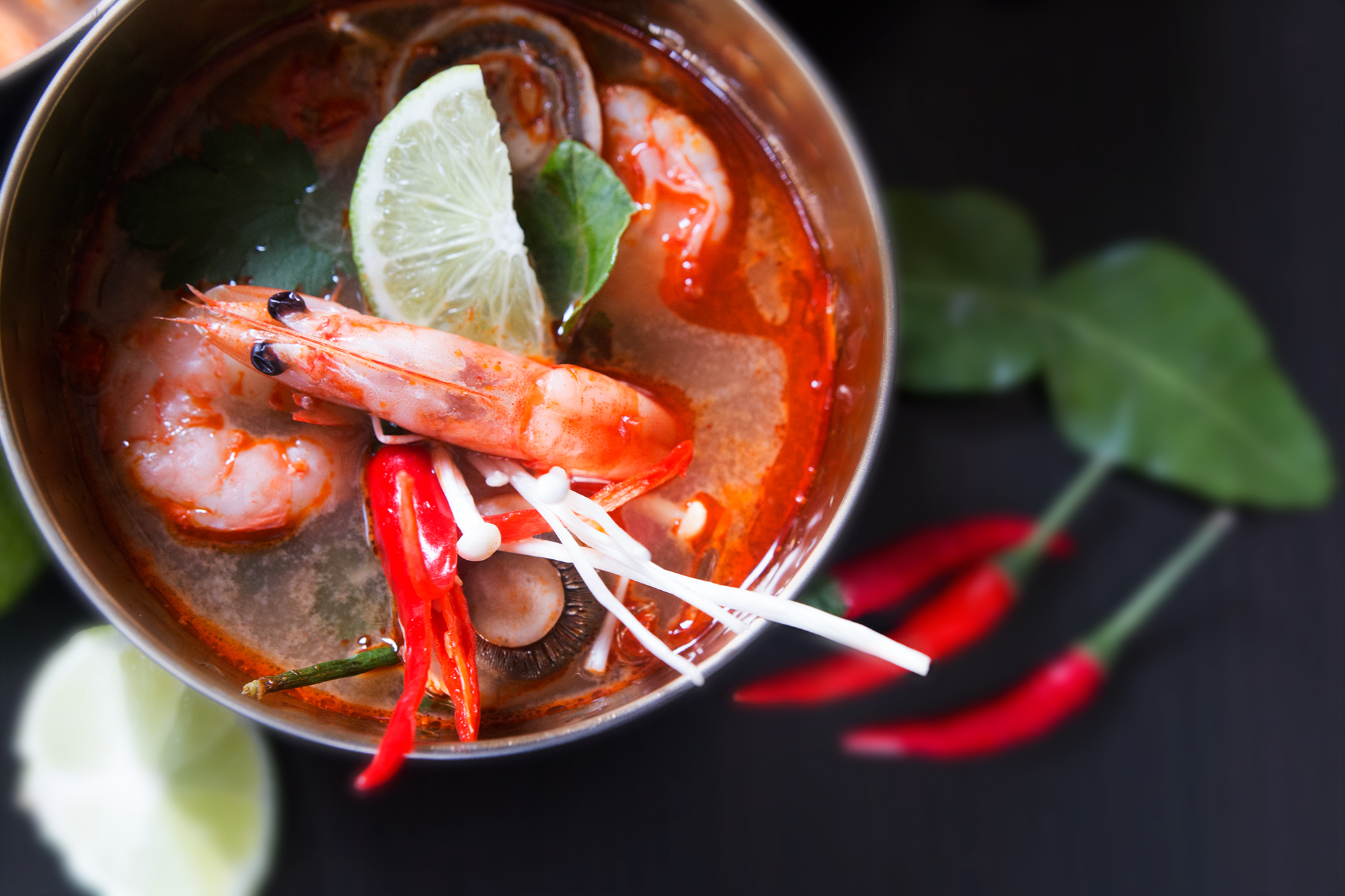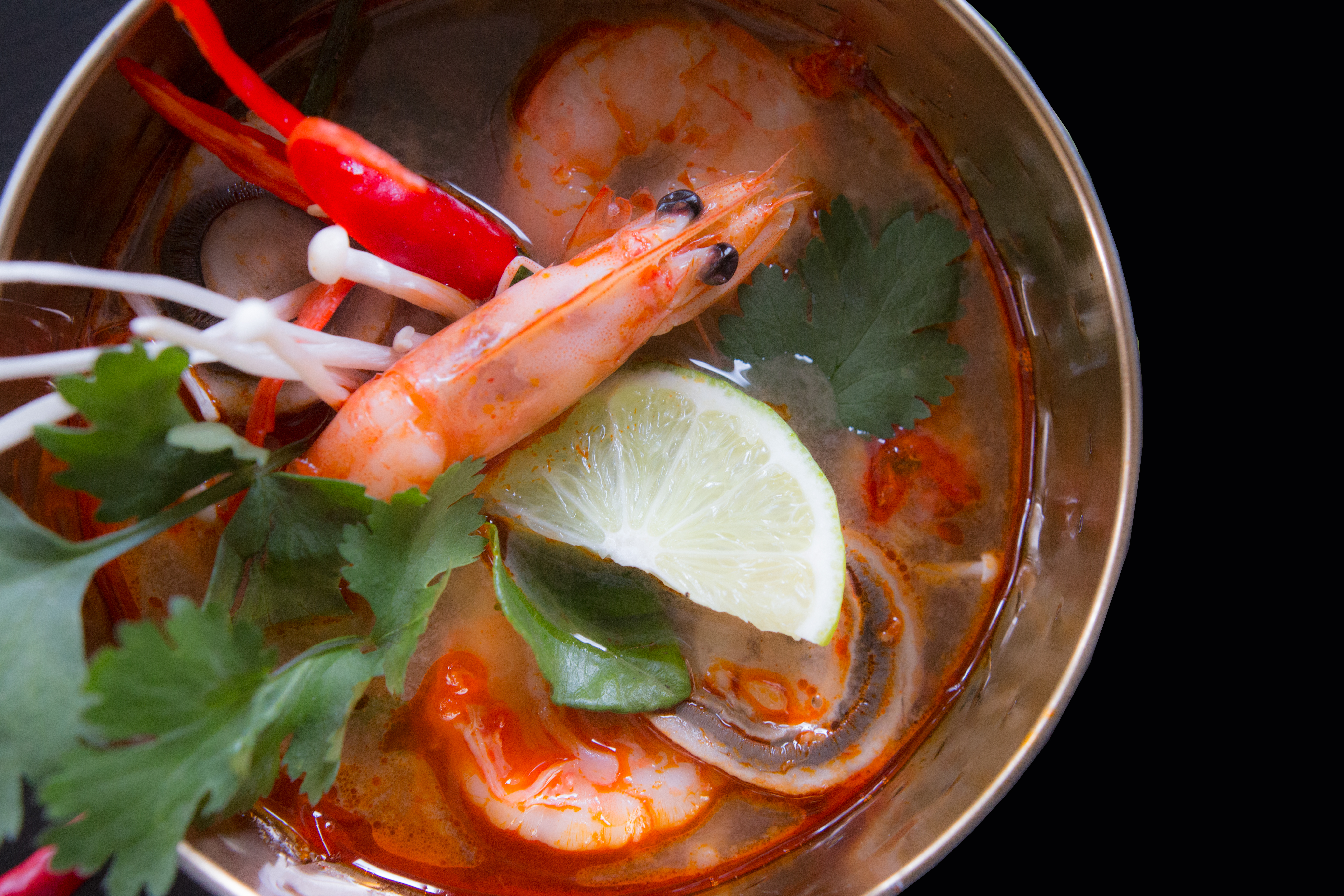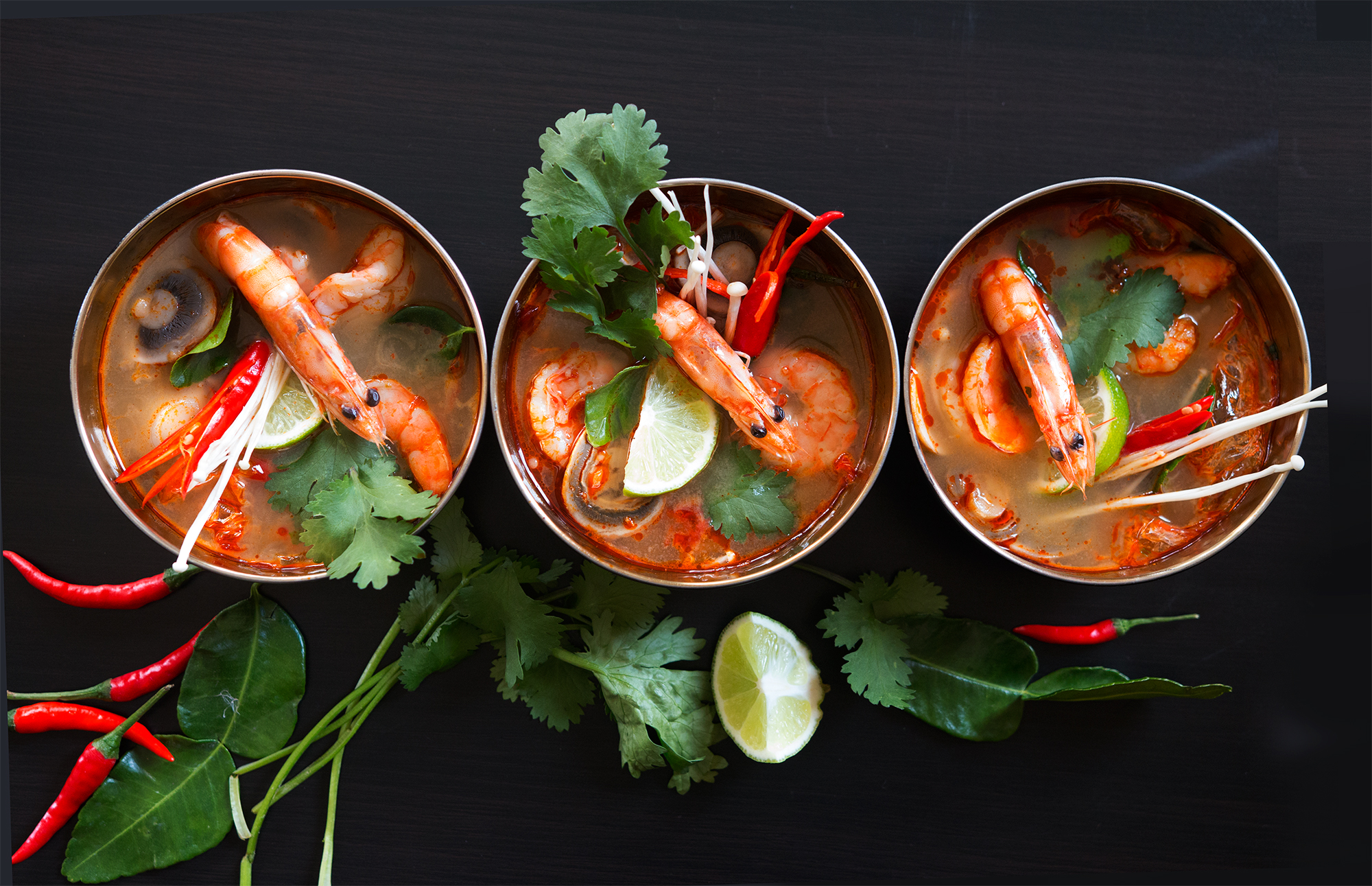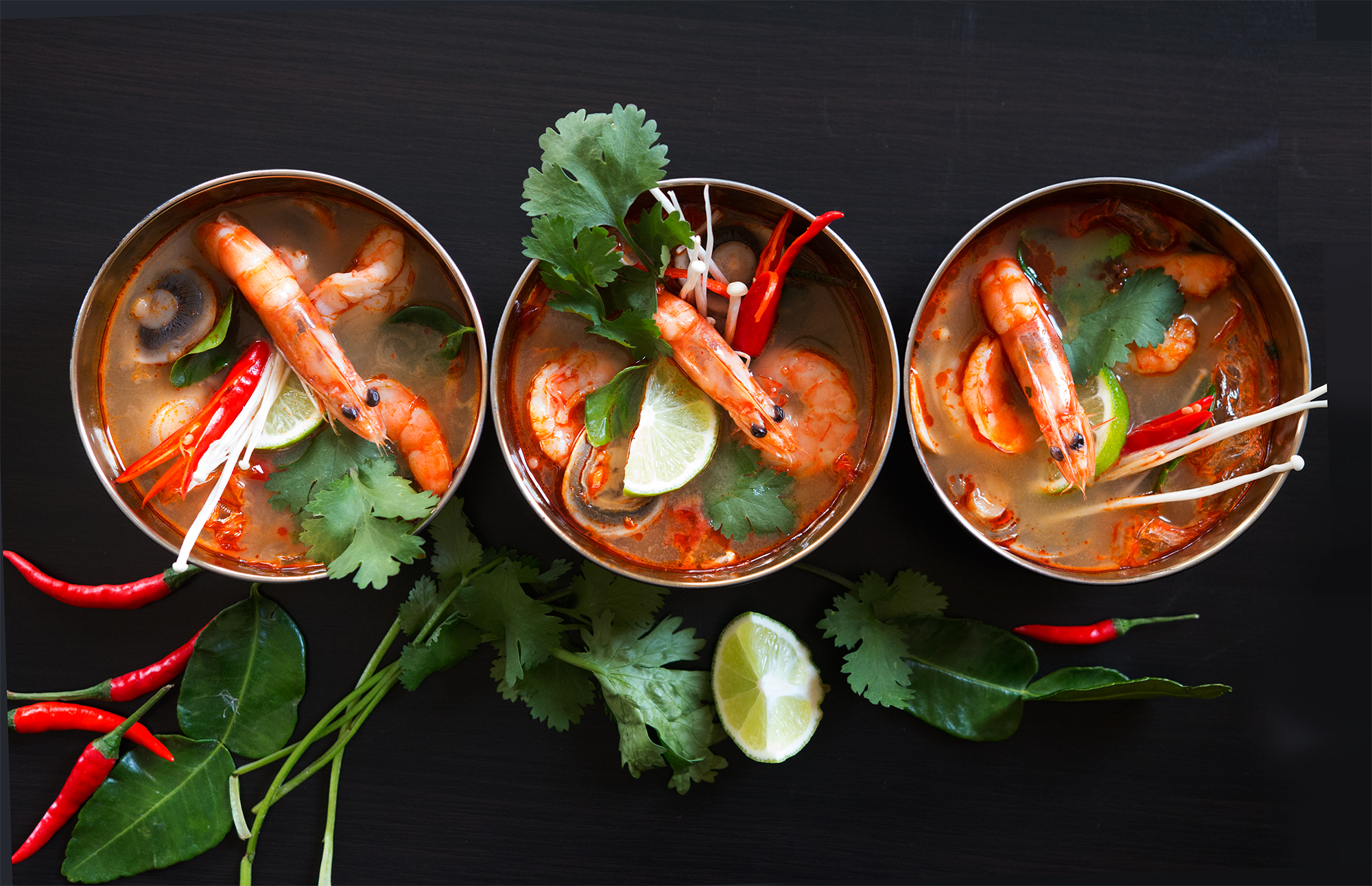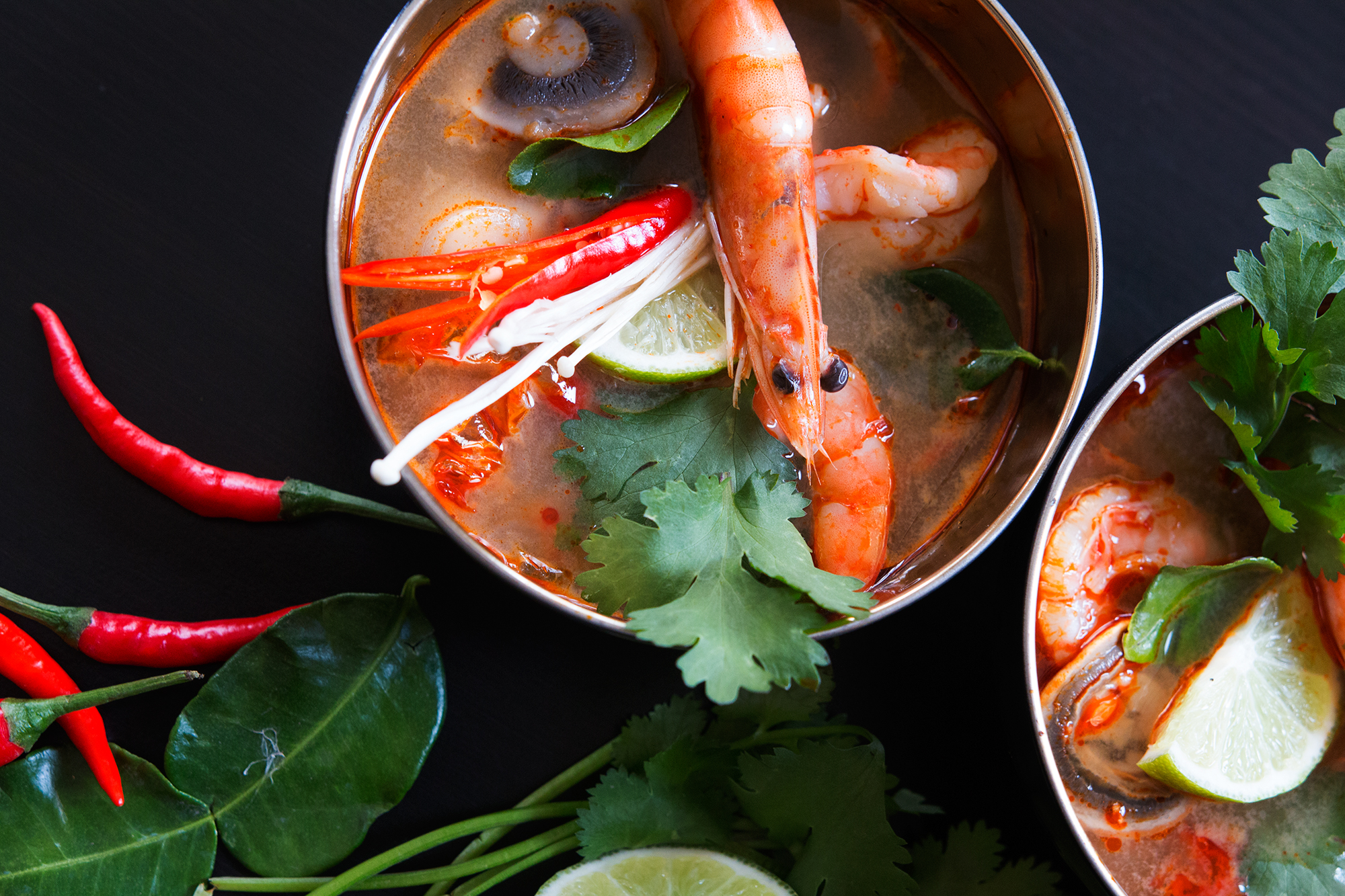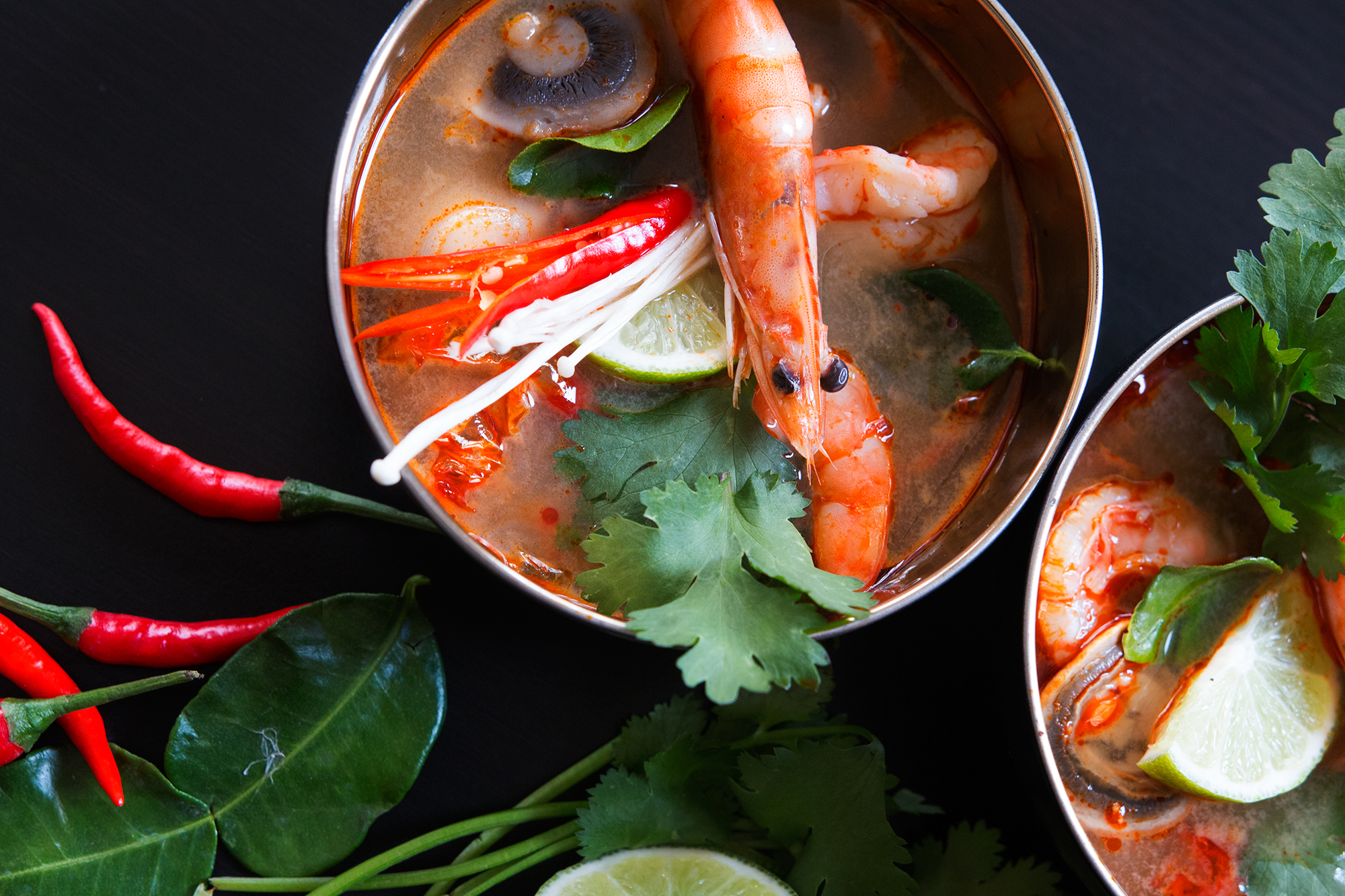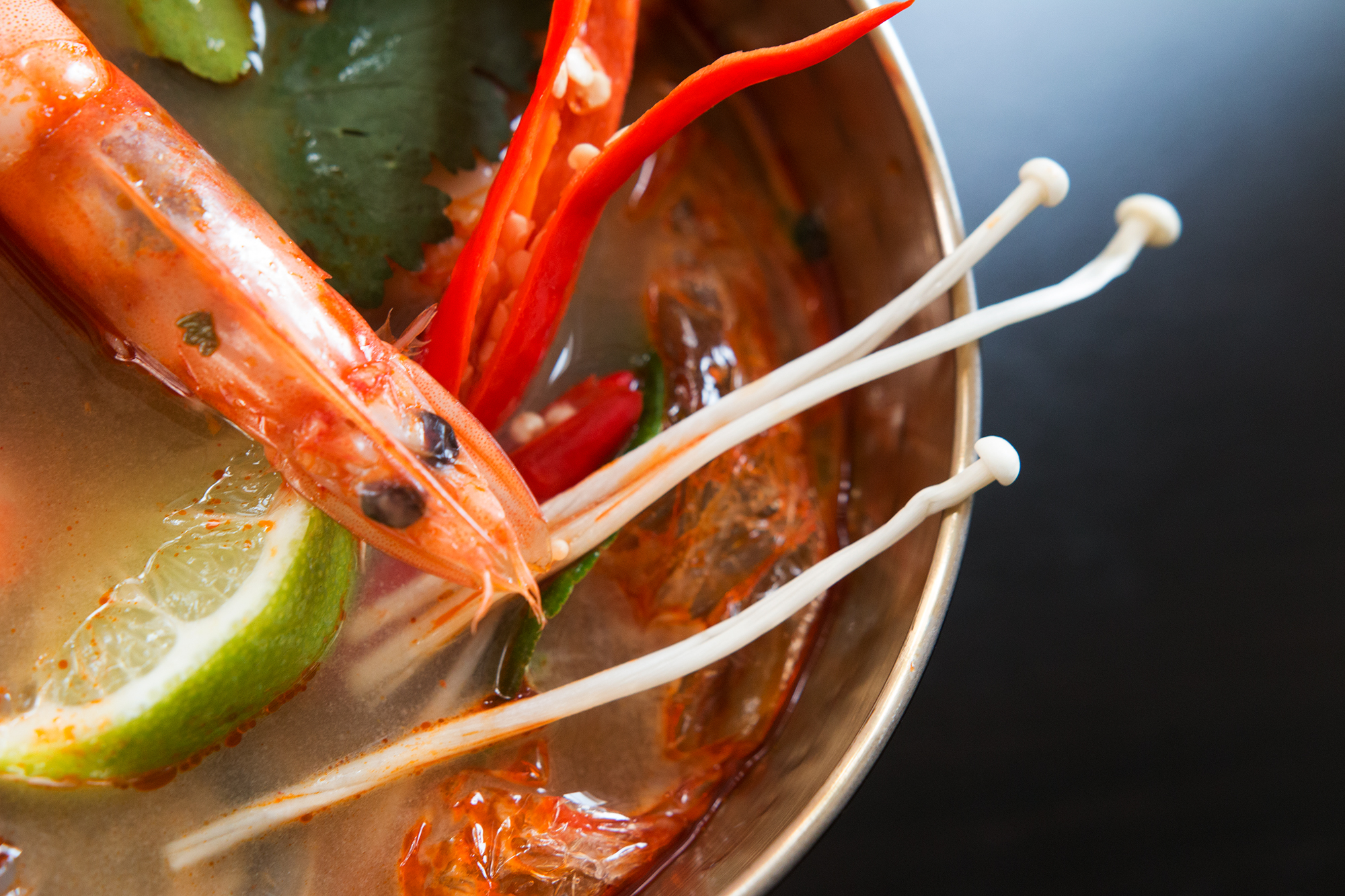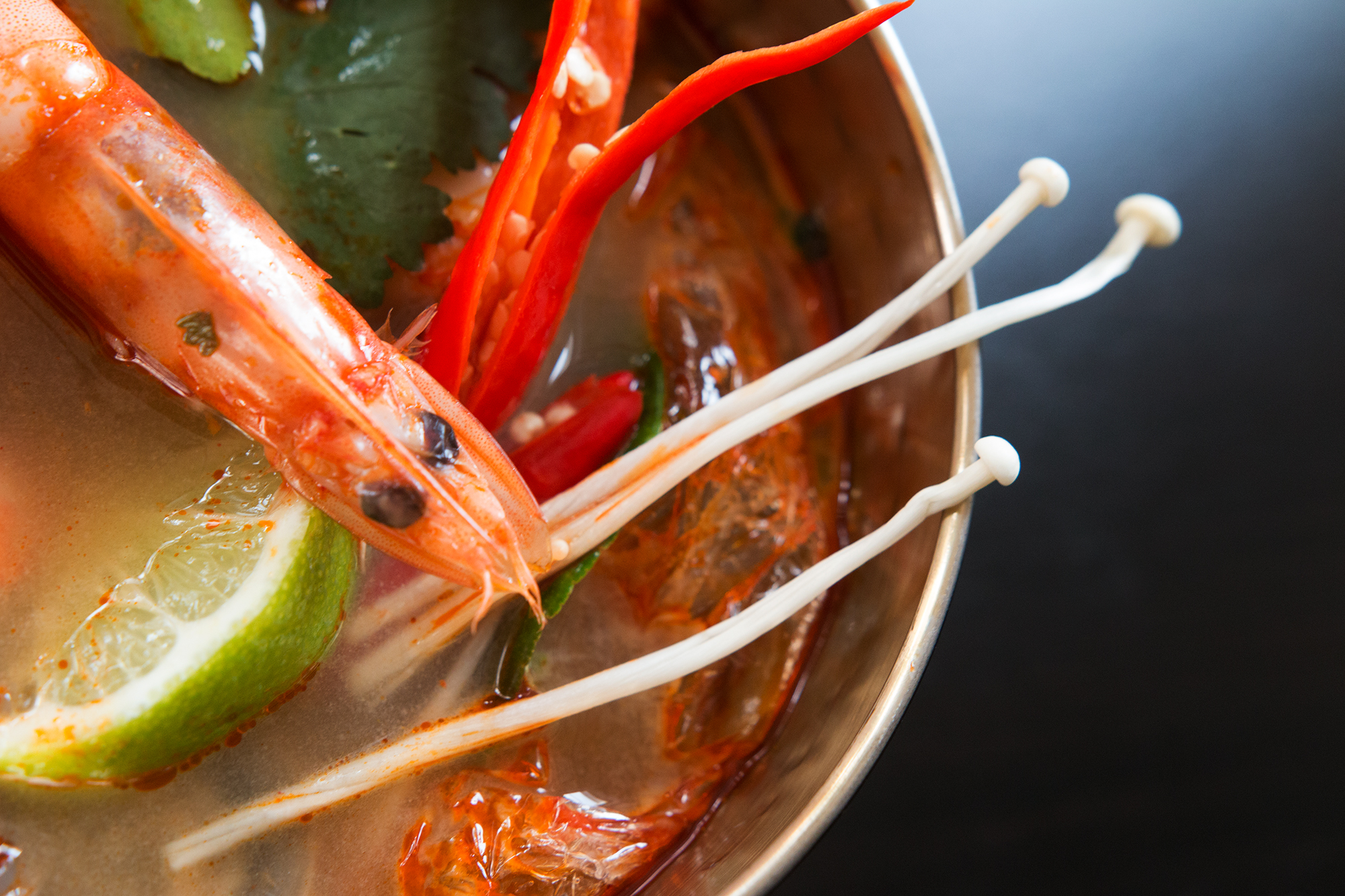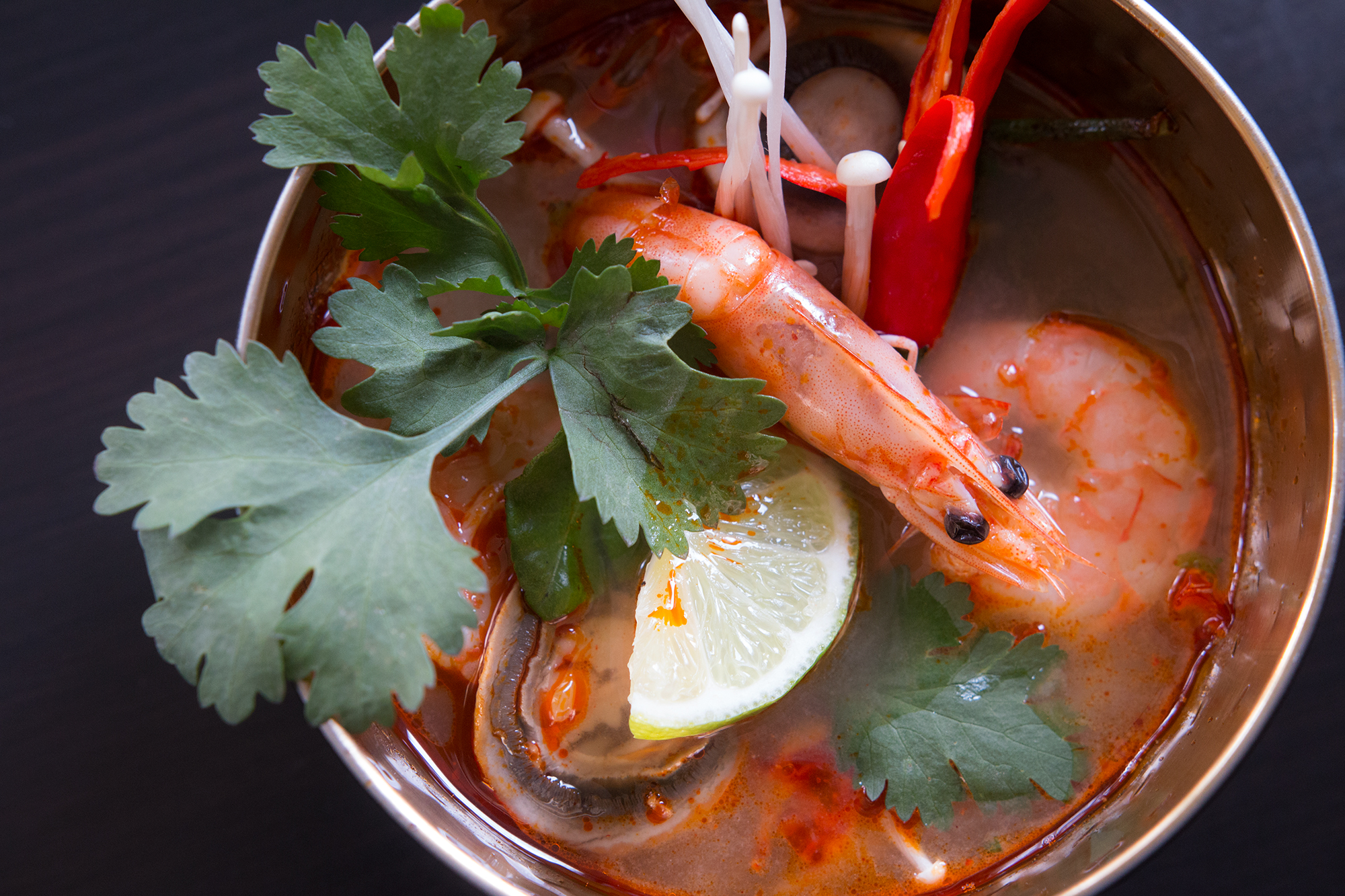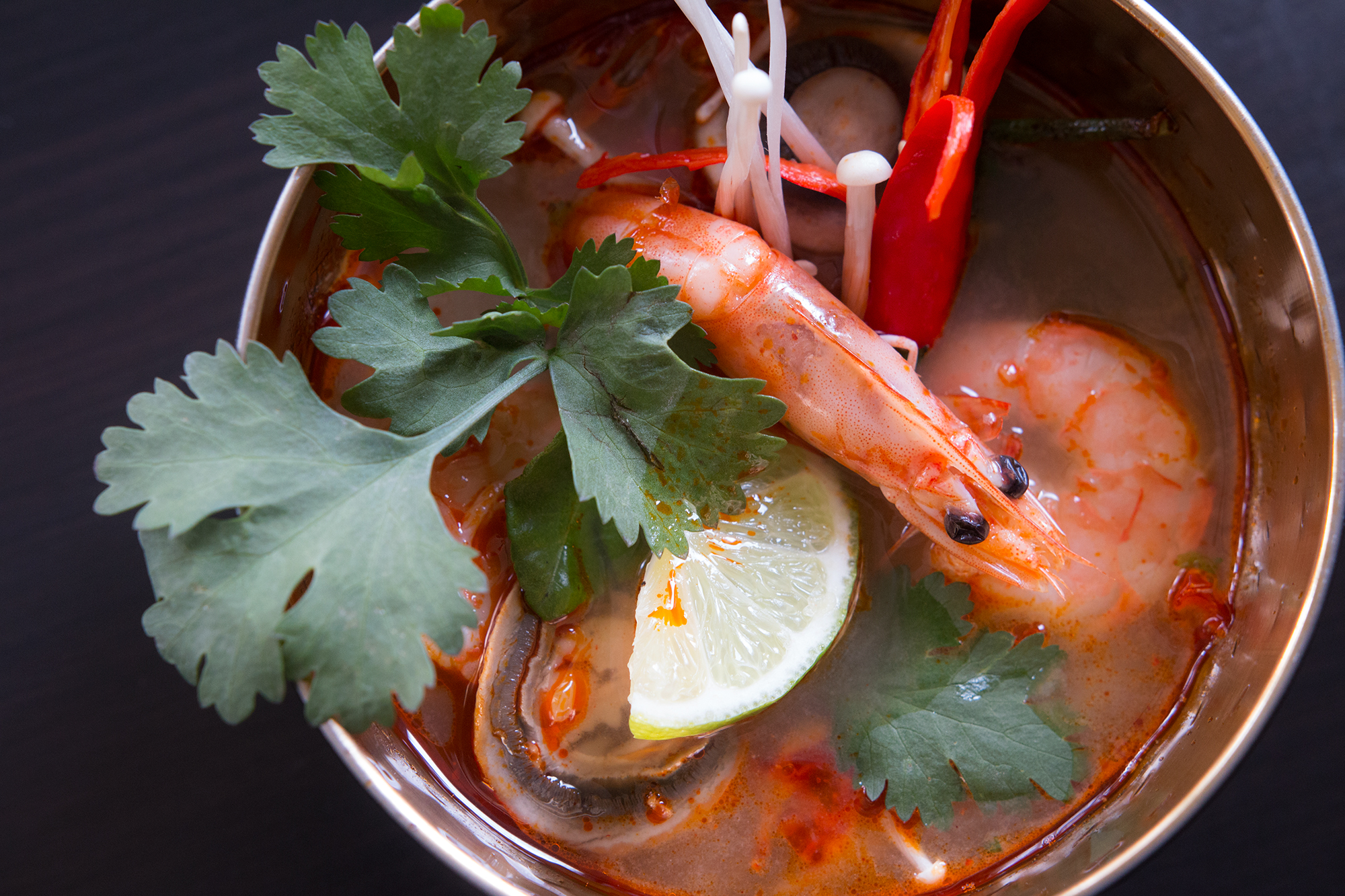 Toronto is a melting pot of cultures and it's easy to find ingredients like Lemongrass, Galangal, Thai Chillies, Lime leaves and many others. I always freeze leftover ingredients so I have those on hand if fresh is not available. Since I'm making a Shrimp Tom Yum, I use with 4 .5 cups of my homemade Shrimp stock. This is made my sautéing Shrimp shells and then letting them boil in water to extract the flavor. You can also use store-bought stock. The Shrimp stock INMHO is one of the most important ingredients to get this soup rocking. This is then infused with Lemongrass, Galangal, Lime leaves and Thai Chilies. I also add Shrimp paste, Coriander stem, Mushrooms, Button and Enoki, fish sauce, Palm sugar and Coconut milk and once the broth is perfect, Shrimp is poached in this liquid and cooked till perfect. The sour comes from a squeeze of fresh Lime and I also use whole head on Shrimp together with Coriander & Lime leaves and Thai Chilies as garnish.
Watch how I clean the Shrimp while leaving the head and shell on below.
[youtube-subscriber nickname=kravingsblog]
TOM YUM Goong – Thai Soup with SHRIMP
Ingredients
4.5 cups Shrimp stock
1 stick Lemongrass
1 thumb size piece Galangal
4- 5 Kaffir Lime leaves, extra for garnish
2 -3 Thai Red Chillies, extra for garnish
3 tbsps Fish sauce
1 tsp Palm Sugar
2 tsps Shrimp paste
1 tsp Coriander stems chopped
4- 5 Button Mushrooms
½ cup Enoki Mushrooms
1-2 tbsps Coconut milk
300 – 500 gms cleaned and deveined Tiger Shrimp
6 – 8 whole Tiger Shrimp, deveined, head and shell on as garnish, optional
Juice of ½ Lime
Instructions
Bring the Shrimp or Veggie stock to the boil and add in the Lemongrass, Galangal, Kaffir Lime leaves and Thai Red Chillies
Cover and let the flavors infuse for 5 minutes. Discard all of the Lemongrass, Galangal, Kaffir Lime leaves and Thai Red Chillies
Add the fish sauce, palm sugar and shrimp paste
Add the Coriander stems and mushrooms and bring everything to the boil
Turn the heat off and add the Shrimp, cover and let the Shrimp poach in the residual heat for 10 minutes
Squeeze some Lime juice for s sour freshness and garnish with coriander & lime leaves, thai chillies and the whole head on Shrimp
https://kravingsfoodadventures.com/tom-yum-goong-thai-soup-shrimp/