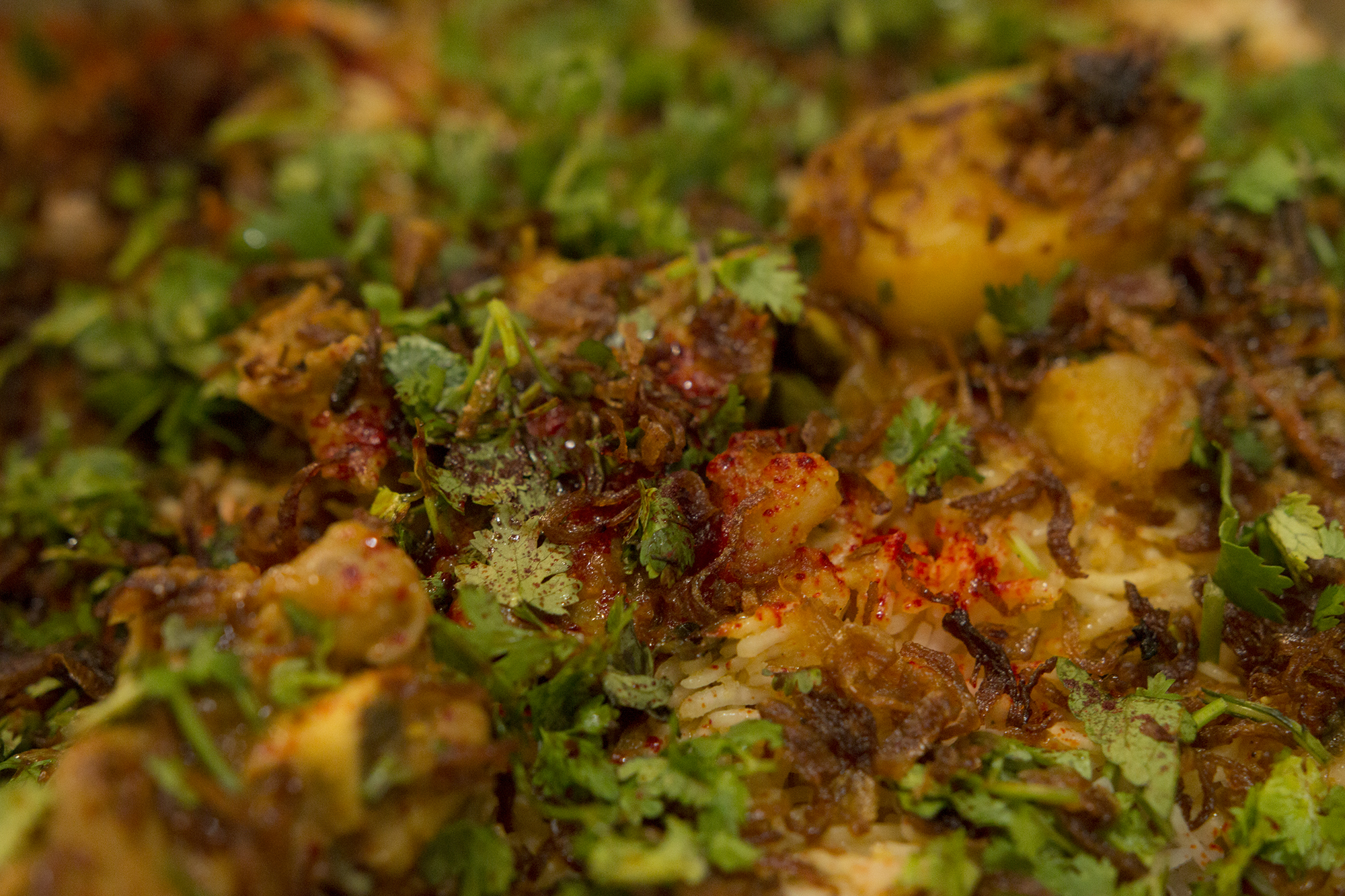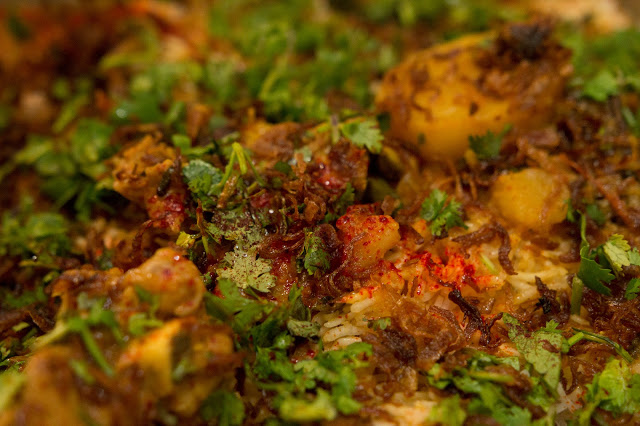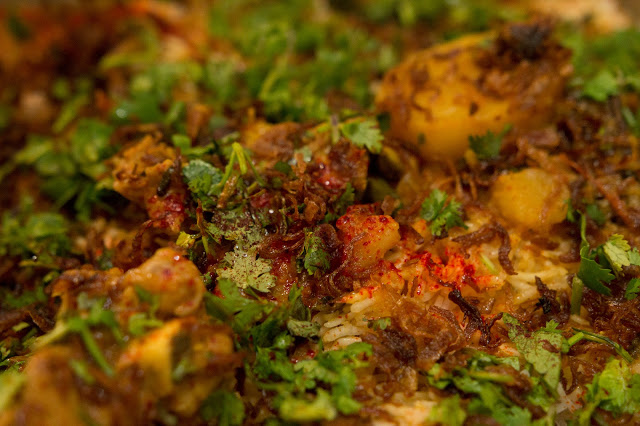 Throughout my 18 years of married life, I've heard people rave about Bangalore Biriyani. During this period, I've learned how to cook, mastered the art and even competed in culinary competitions. I can make a pretty mean Biriyani myself, it took years of perfecting and tastes pretty good but is different from a Bangalore style Biriyani.
This recipe is almost always made with the most tender mutton that is cooked together with ginger, garlic, chillies, fried onions, spices and yogurt, layered with long grain Basmati and is prepared in large pots for special occasions and weddings. I think if you didn't serve Bangalore Biriyani at a typical Muslim wedding, your guests would be pretty darned upset.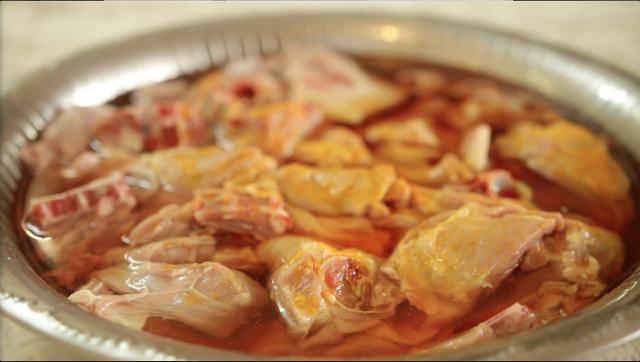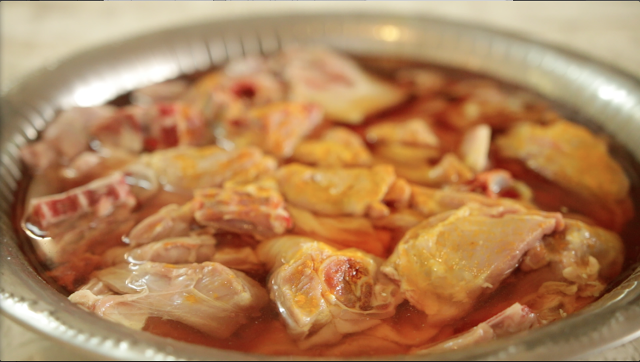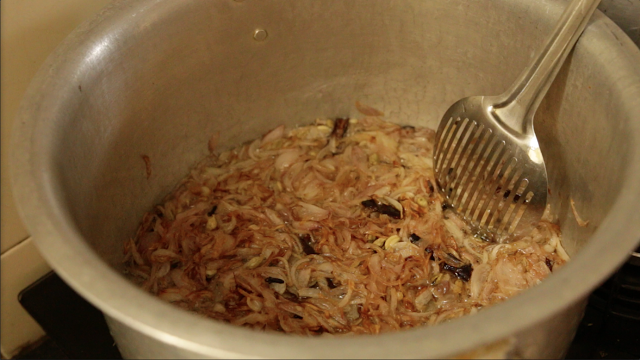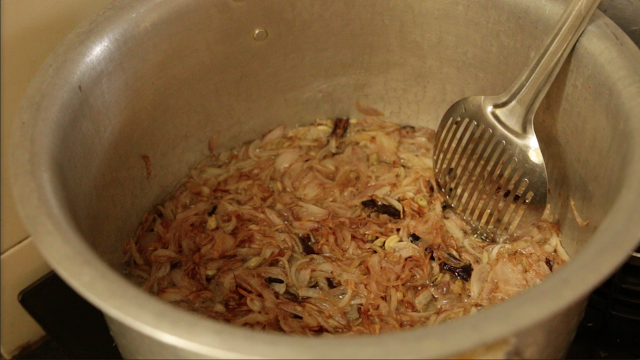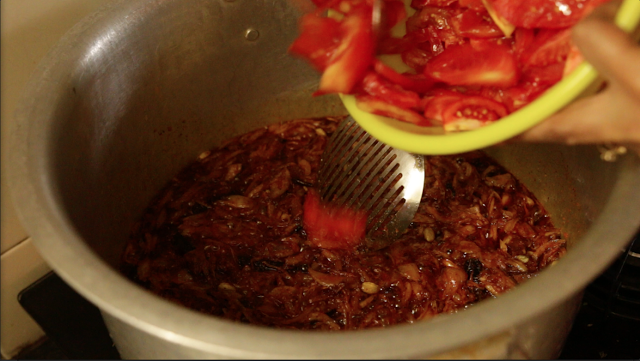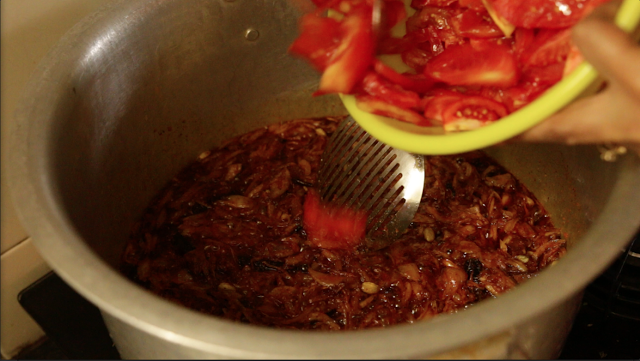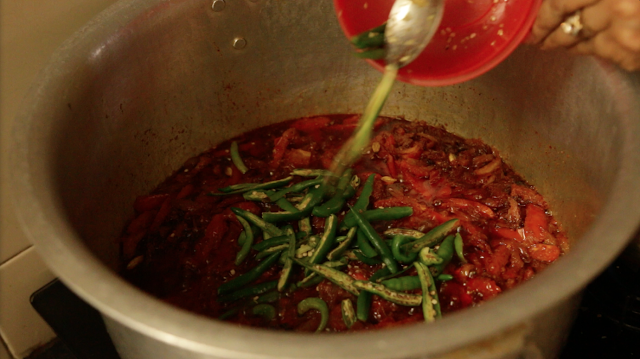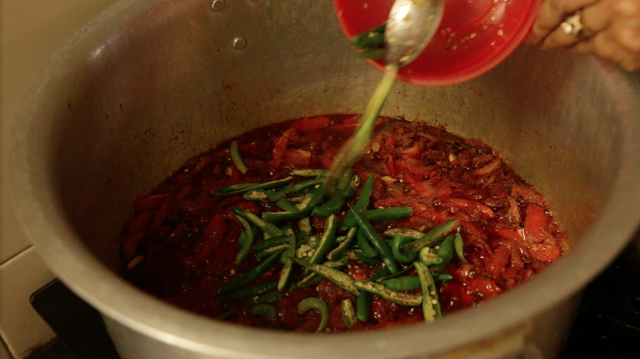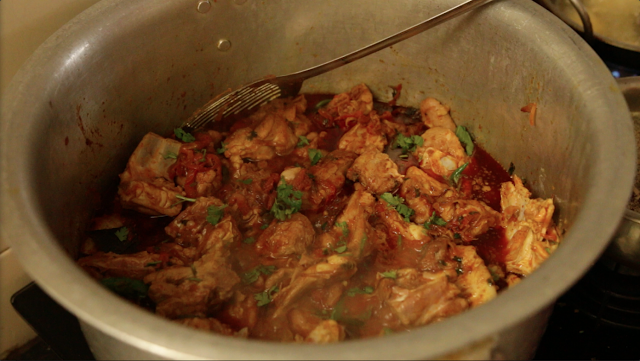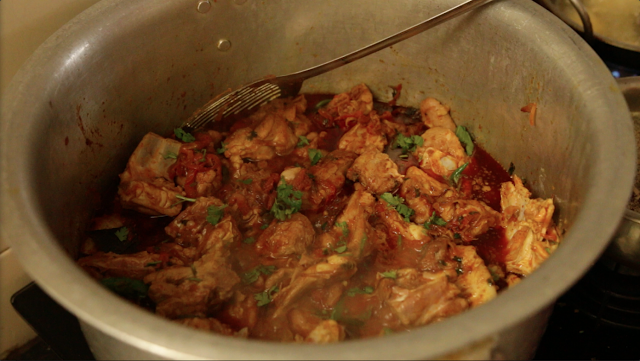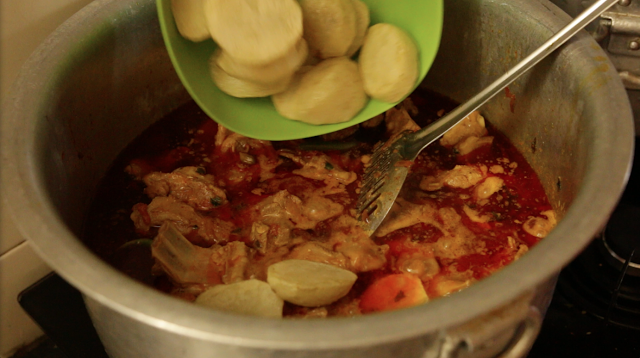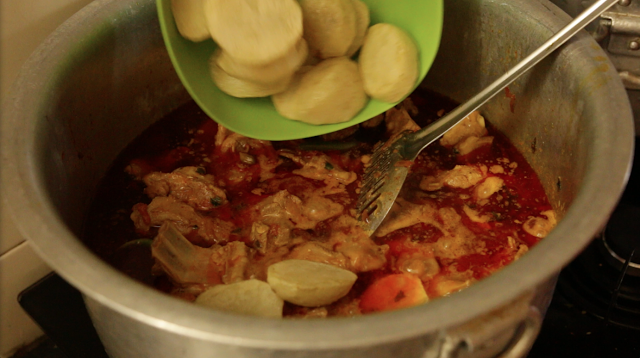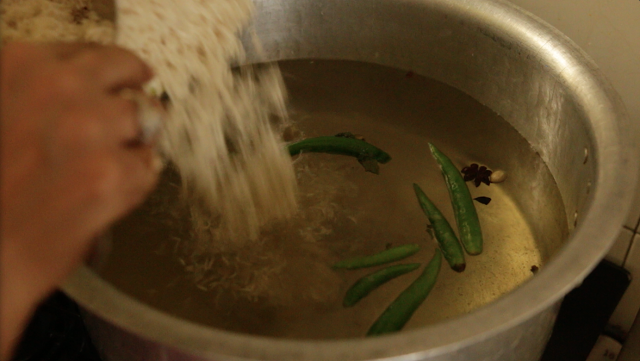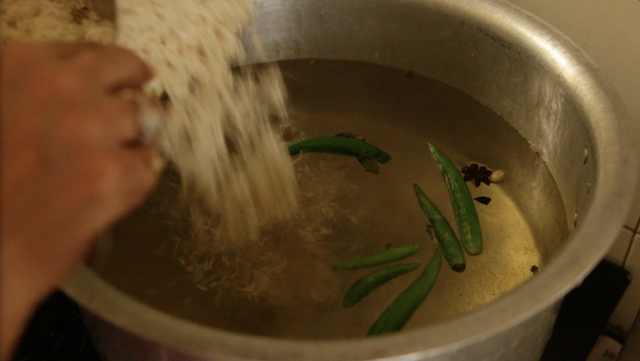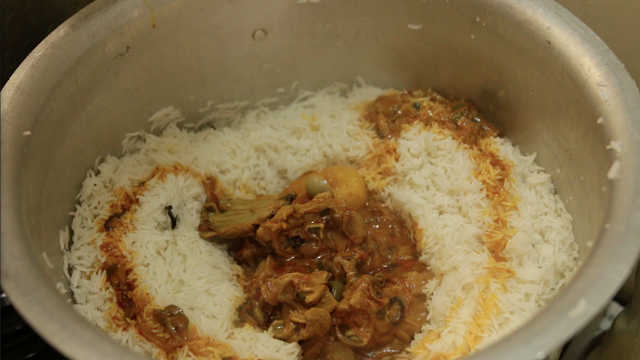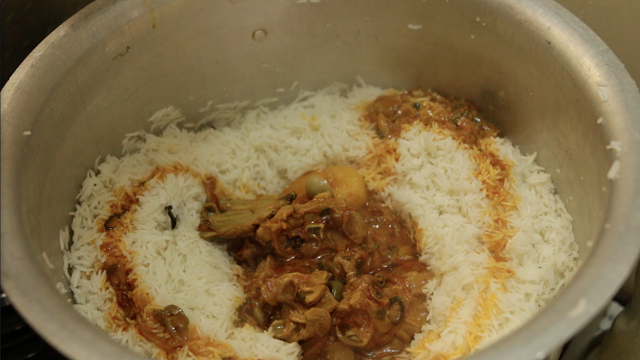 Every time we visit Bangalore, I've had the chance to eat this Biriyani, but it was only till my trip in 2015 did I decide to corner my sister-in-law in her kitchen and document the entire process armed with a video camera. The ingredients are almost identical to the ones I use in my Biriyani, but the process varies. I noticed that my sister-in-law used a heavier hand with most of the ingredients oil, ghee & spices and the end result is fairly different from my usual Biriyani but oh so delicious! Follow the ingredient list below, but also play the video to watch the entire process.
This Biriyani was prepared in a large batch to feed a huge group of family and friends but feel free to try this out in a smaller batch. There are two ways to cook the Biriyani in it's final stage – on the stove top or in the oven. Personally, I will always choose the oven for it's even heat but if you are going to attempt cooking it on the stove top, be sure to protect the base of your dish with another pan or tava, to reduce the impact of the direct heat as the rice at the bottom of the vessel could burn.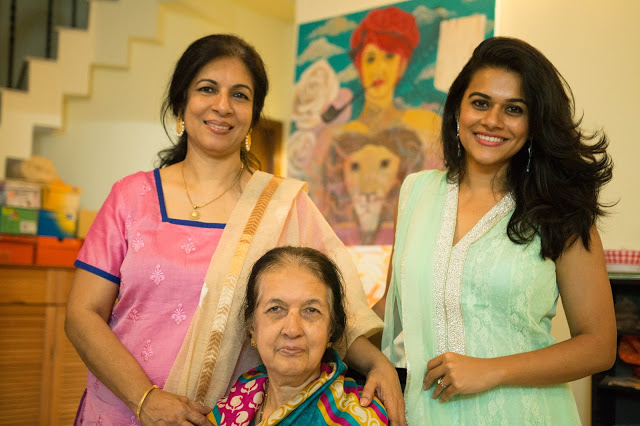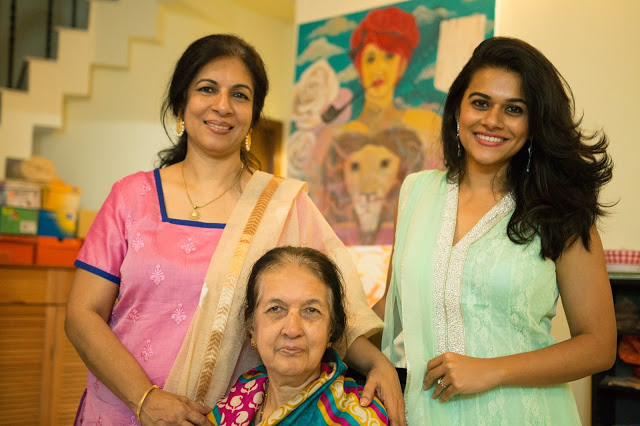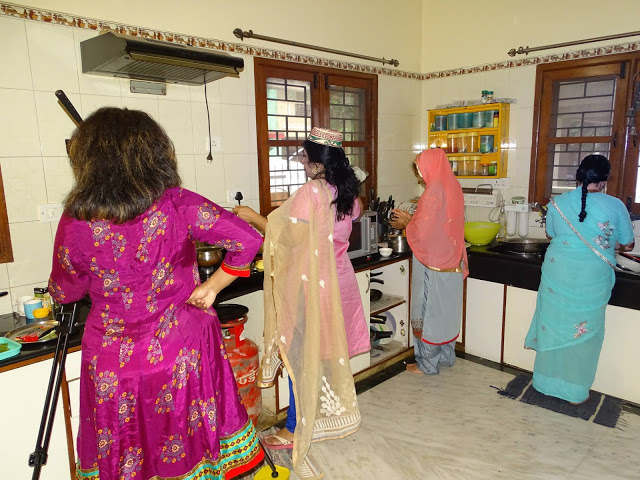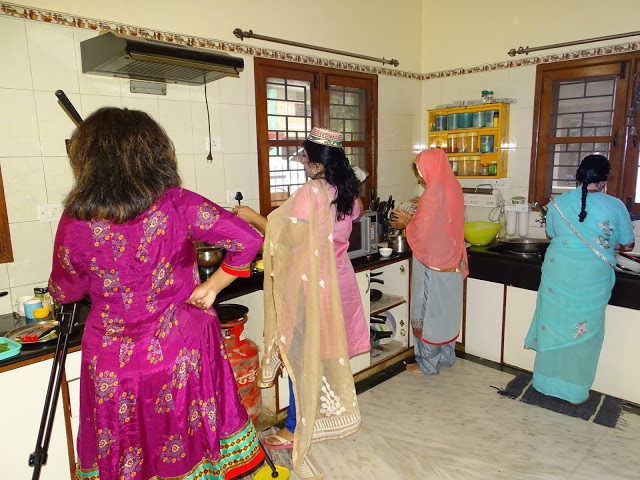 Bangalore style Biriyani - This recipe is almost always made with the most tender mutton that is cooked together with ginger, garlic, chillies, fried onions, spices and yogurt, layered with long grain Basmati and is prepared in large pots for special occasions and weddings. Read more at http://ifood.tv/indian/1011262-bangalore-biriyani#J4XoGeEbCPTmMx6O.99
Ingredients
Marinate the meat
3 kgs or 6.5 lbs Mutton or Lamb shoulder cut in pieces
Turmeric
Red Chilli powder
Gravy
3 cups Oil
3 Cinnamon sticks
10-12 Cardamoms and cloves
8 cups sliced red Onions
8 tsps Ginger & Garlic paste
6-9 tsps red Chilli powder
3-4 tsps Turmeric
5 tsps Garam Masala
6 cups sliced Tomatoes
18 green Chillies slit horizontally
1/2 + 1/4 cup chopped Coriander leaves
1/4 cup Lemon juice
3 - 4 tbsp salt or to taste
3 cups stirred Yogurt
1 1/2 cup Ghee
3 - 4 sliced fried Potatoes (half cooked)
1/2 + 1/4 cup chopped Mint
Fried onions
Yellow food colouring
Rice
19 cups Basmati rice soaked for 1 hr in water
Whole spices
3 green Chillies
Marinate the meat for a few hours or overnight
Instructions
In a large cooking pot add the oil and when heated add all the whole spices followed by the onions and cook till golden brown
Add the ginger and garlic paste, the chilli powder, turmeric and garam masala and mix
Add the tomatoes, cover and cook till the tomatoes are mushy for about 10 mins
Add the green slit chillies and 1/2 cup coriander and follow that with the meat
Add the lemon juice and salt and combine
Follow this with the stirred yogurt and ghee
Cover and cook for 15 mins before adding the half cooked potatoes
Add mint, cover and cook for about 30 mins till the meat is tender
In another pot add double the amount of water as the rice and bring to the boil together with salt, some whole spices and 3 green chillies
Add the rice and cook till half done
Drain and keep aside to drain
In another large vessel, add a layer of rice, make a well in the center and add some meat in the well as well as a layer on top of the rice
Add another layer of rice with another layer of the meat and gravy
Also add more chopped coriander, mint and fried onions in between and on top of the final layer
Also add some yellow food coloring at the top
Seal the vessel with some foil, you can also use a wet cloth or dough to make the vessel airtight
Use a pan or kadai under your vessel so the heat is not directly touching your vessel and cook for about 40 mins. You can also use the oven
Mix the grains and meat together with a large fork and serve
https://kravingsfoodadventures.com/bangalore-biriyani/