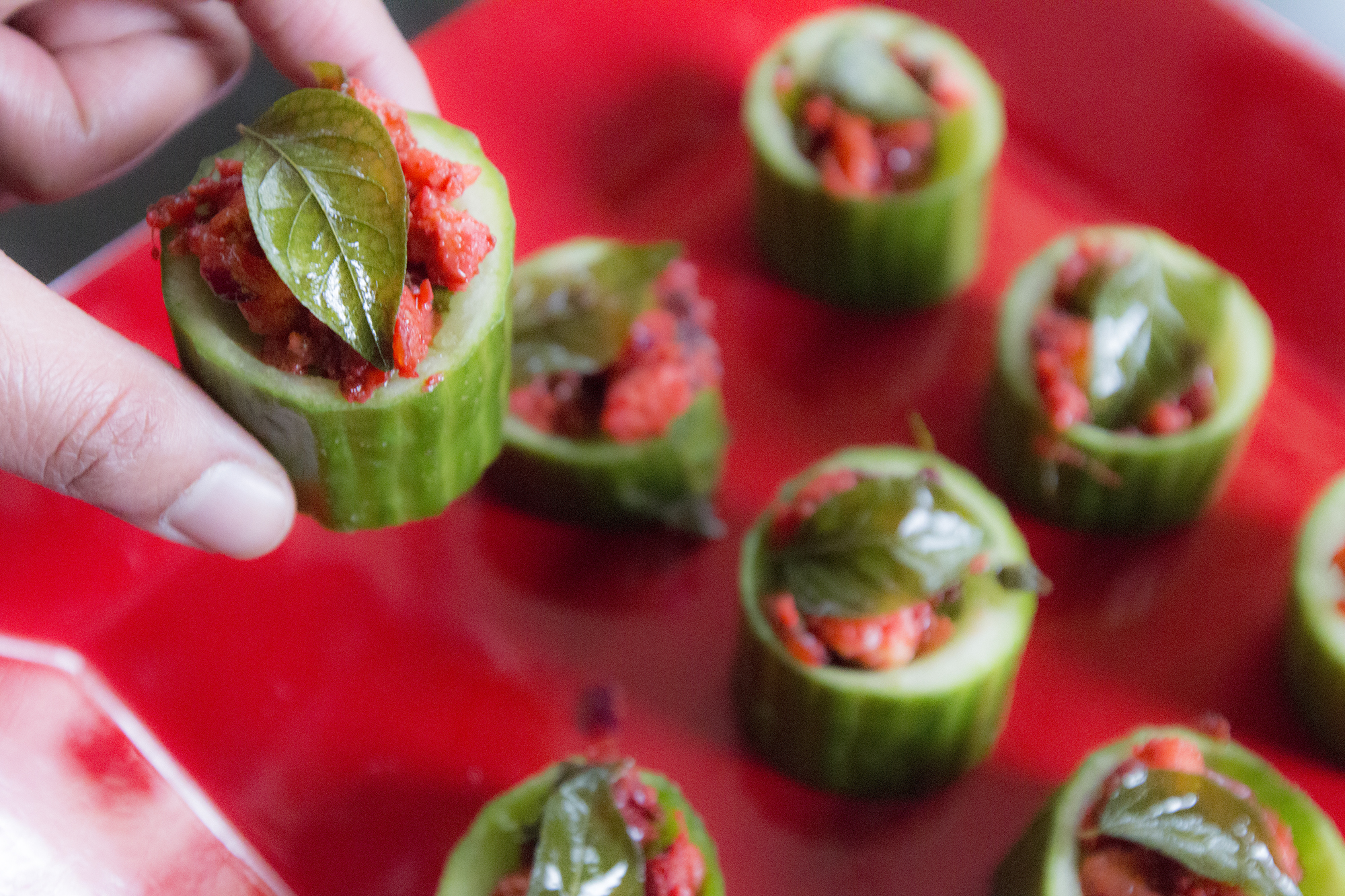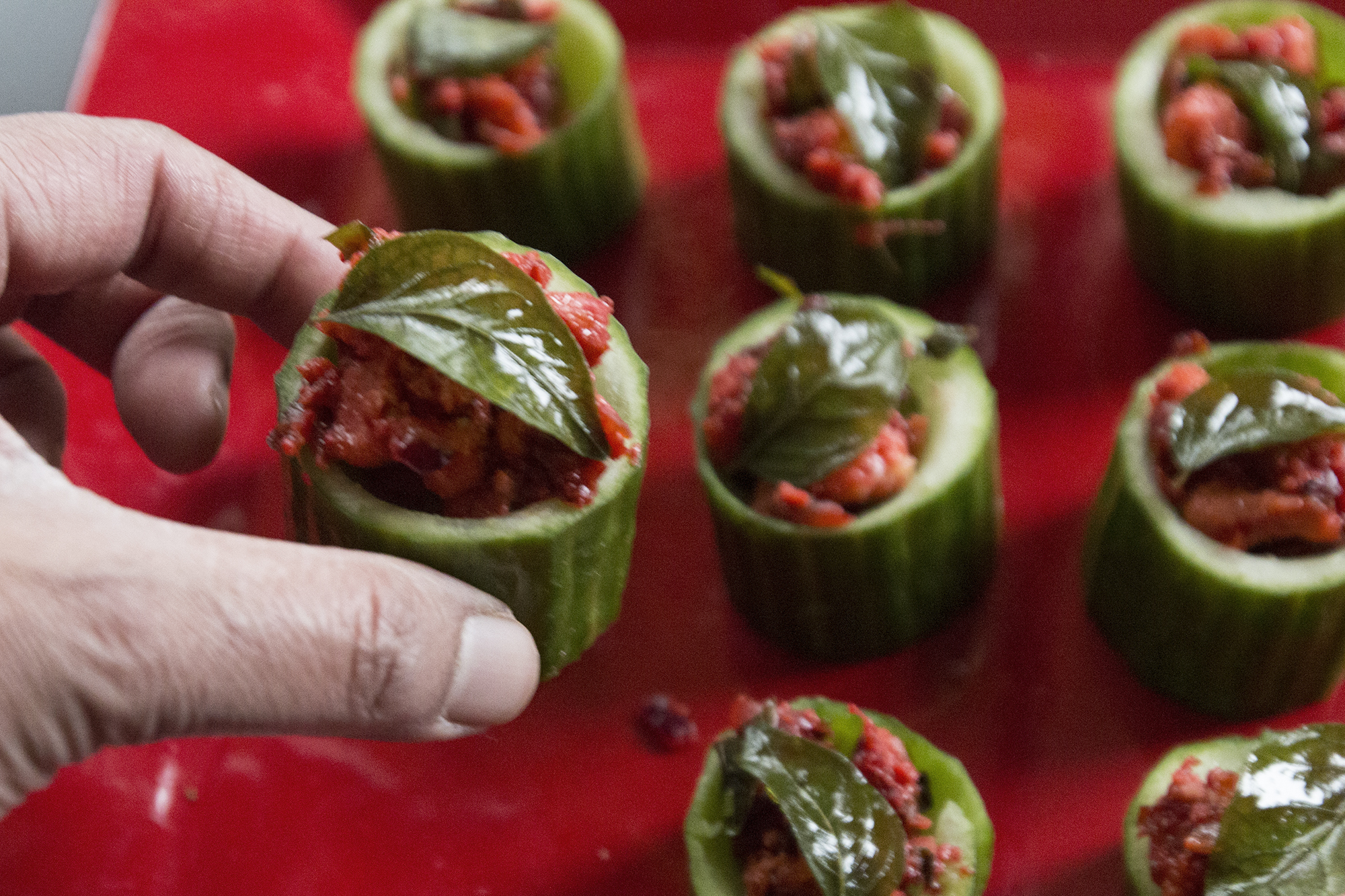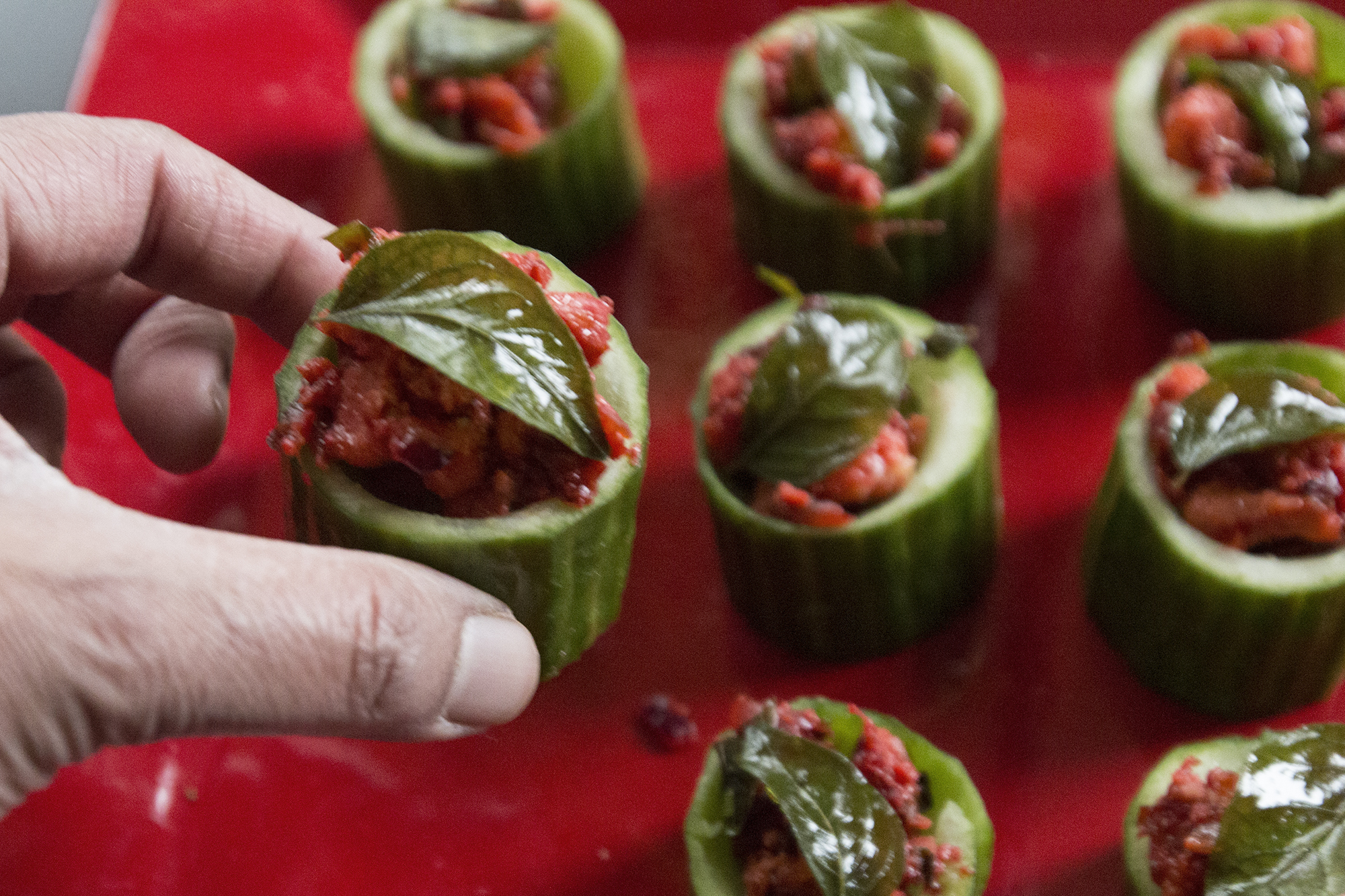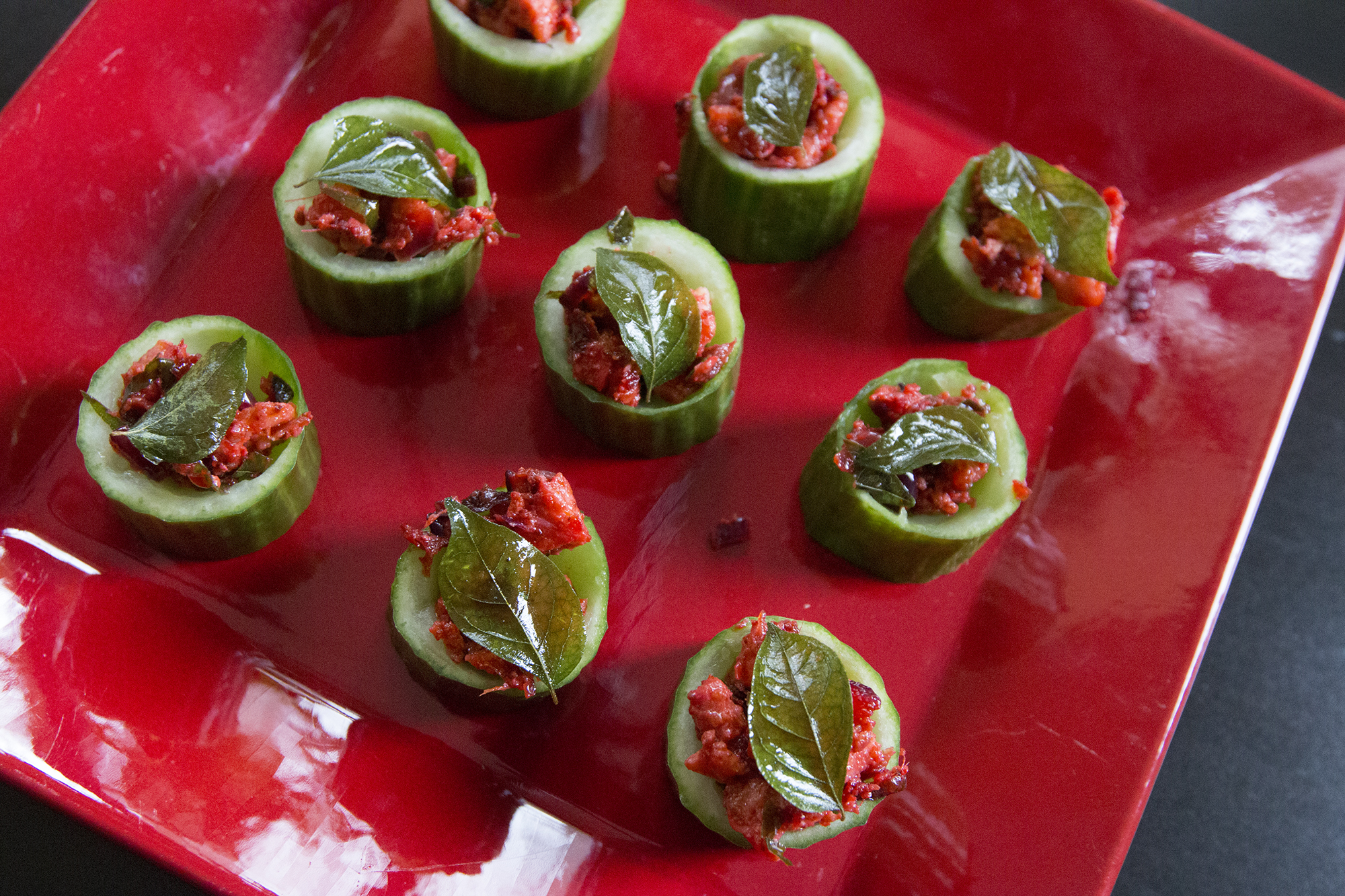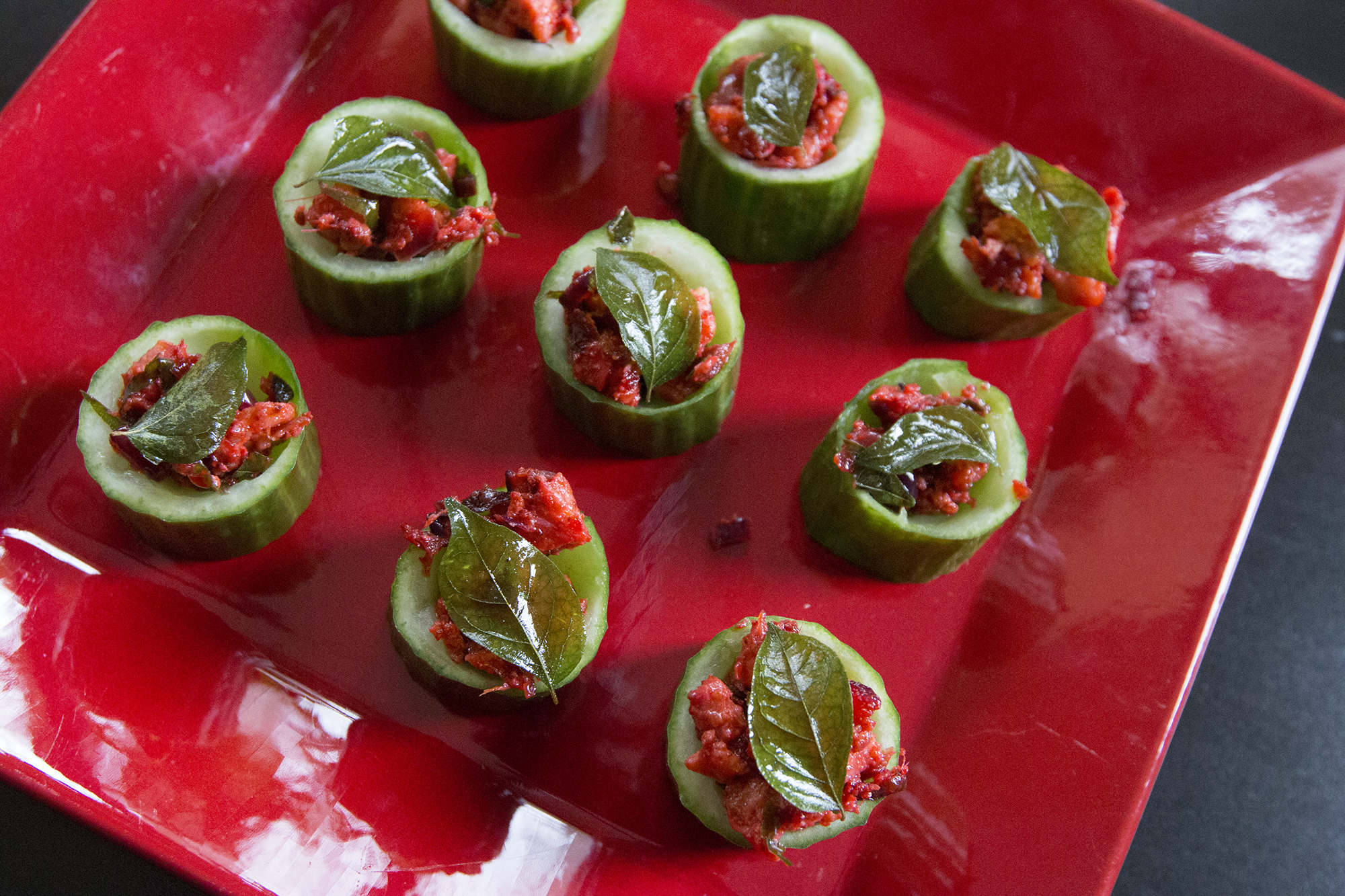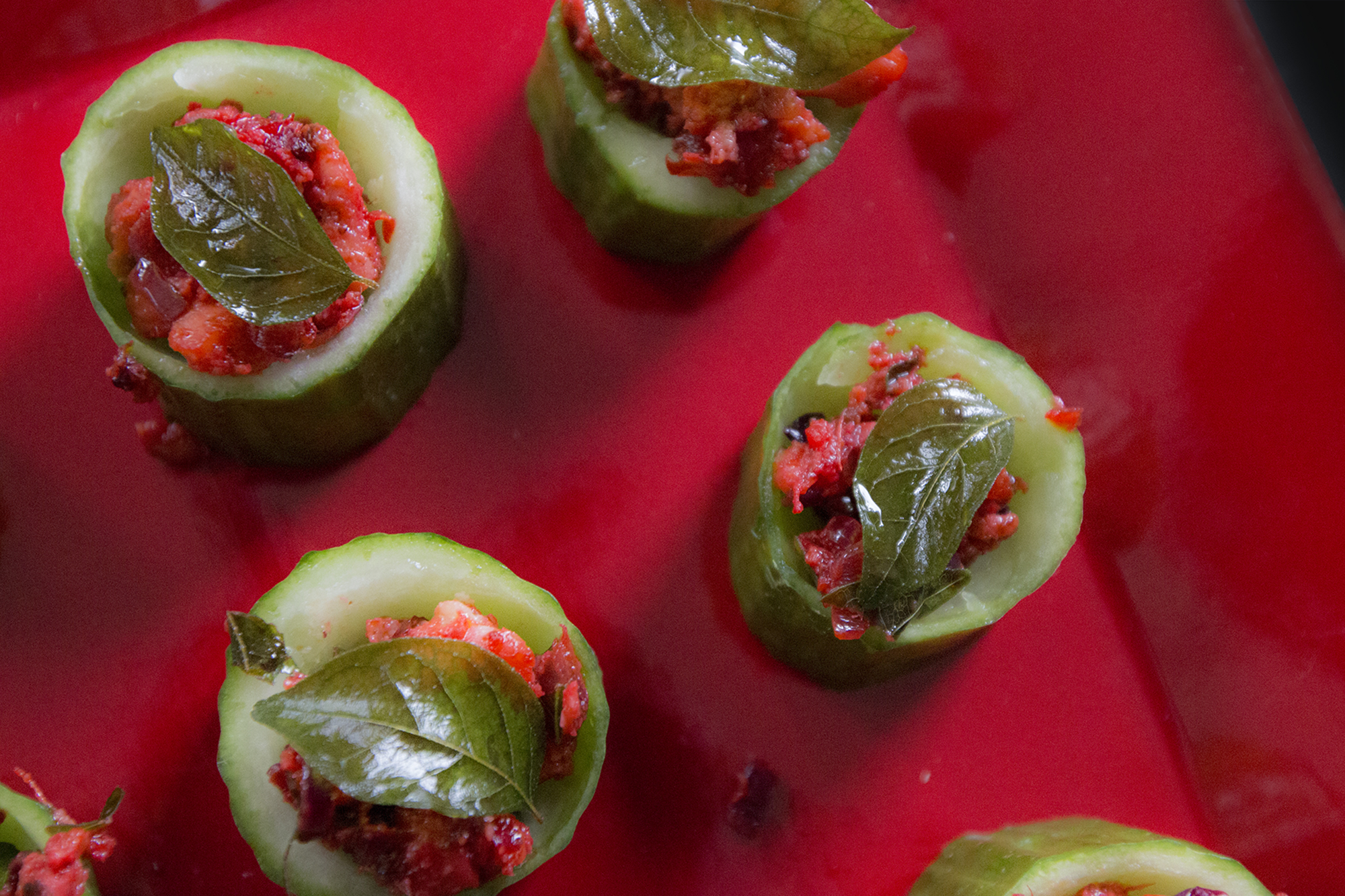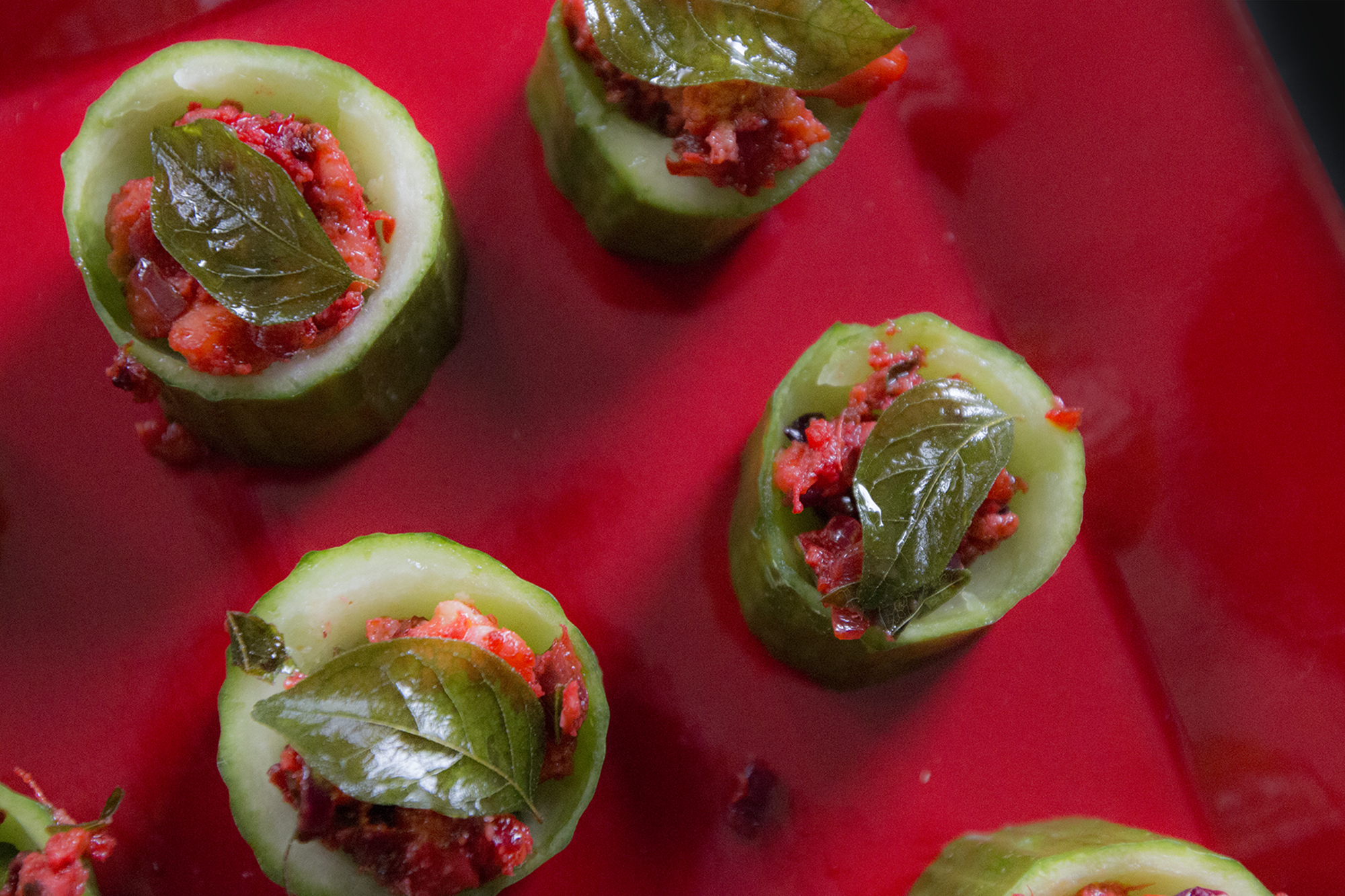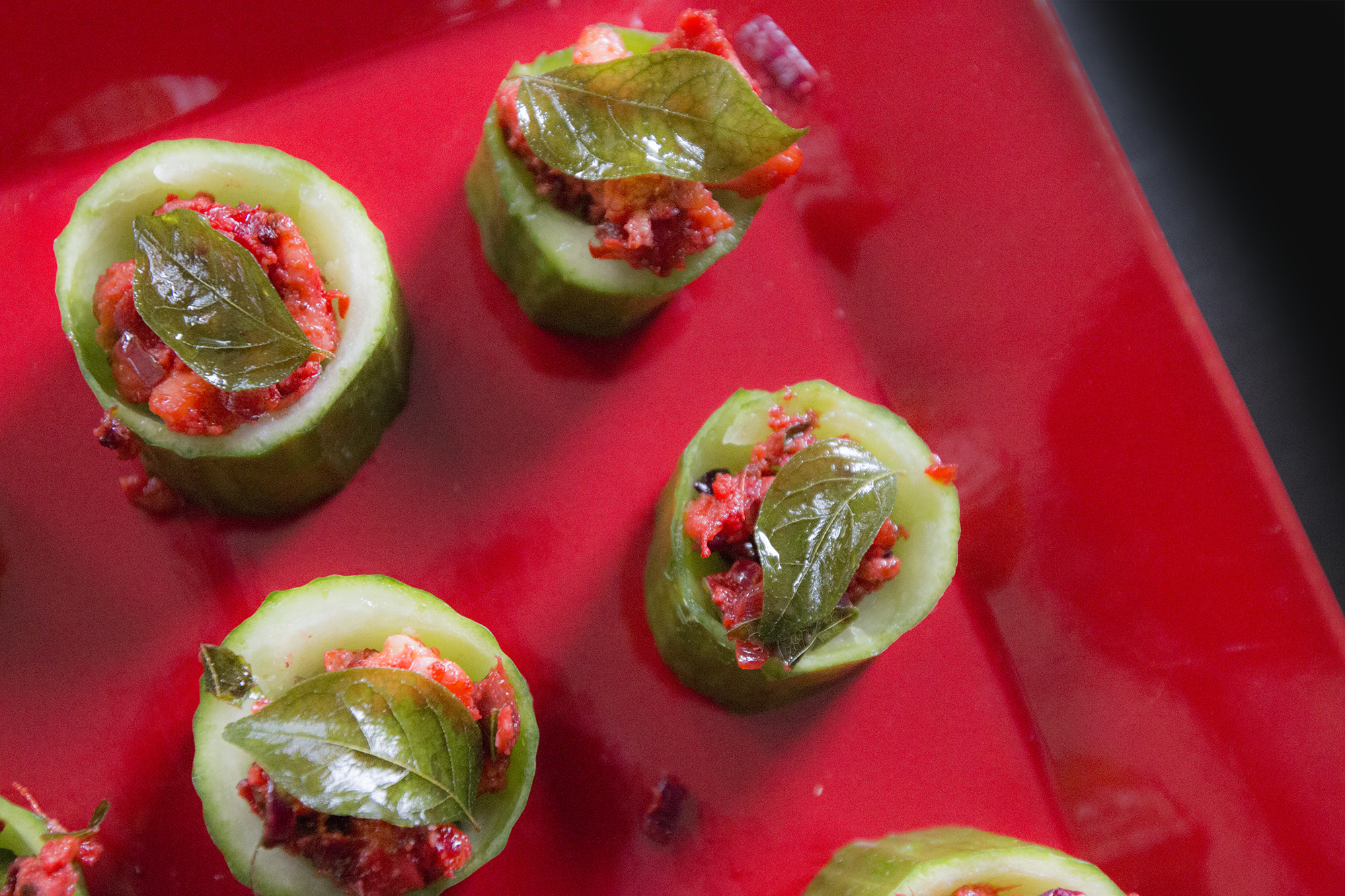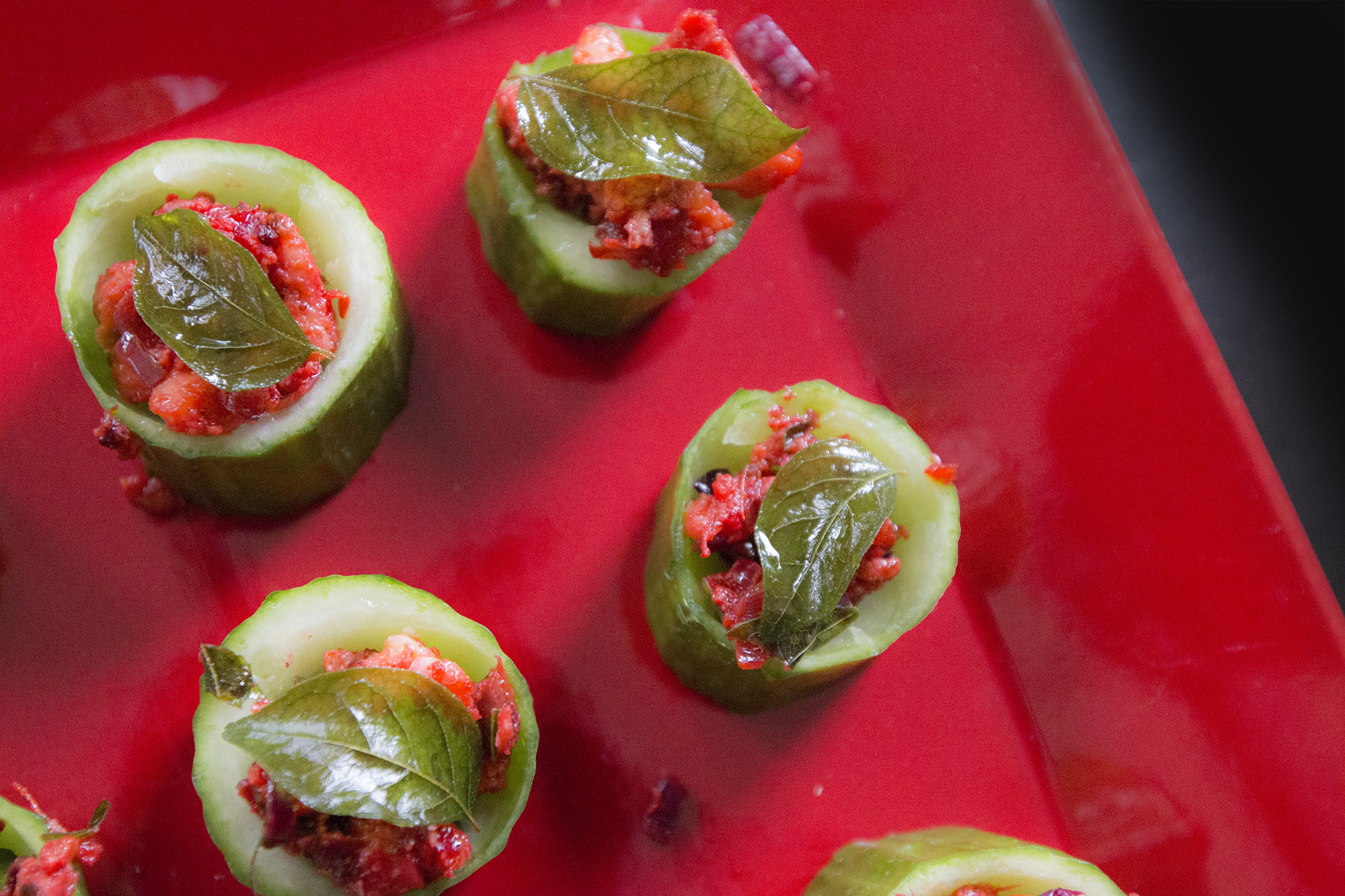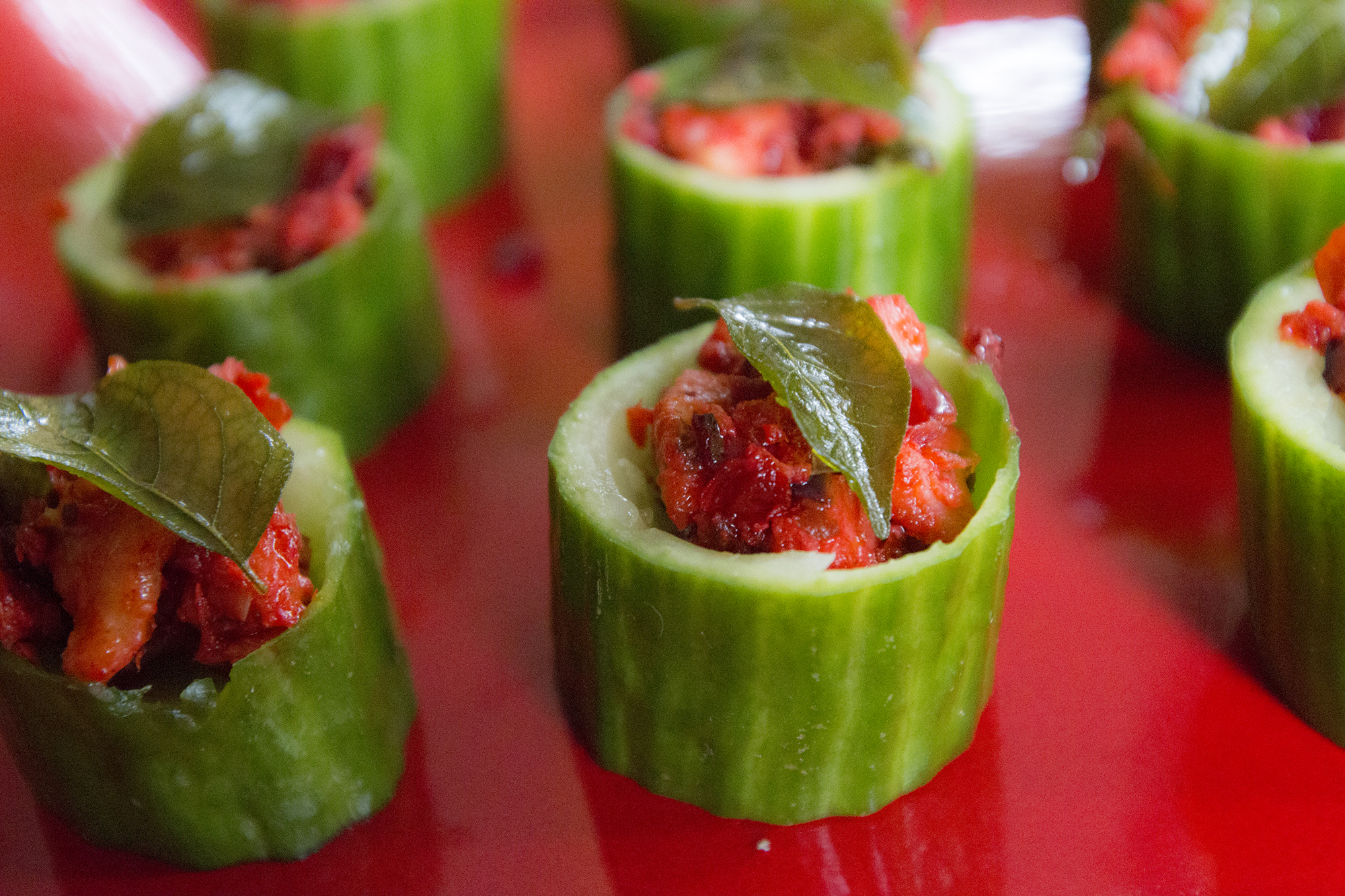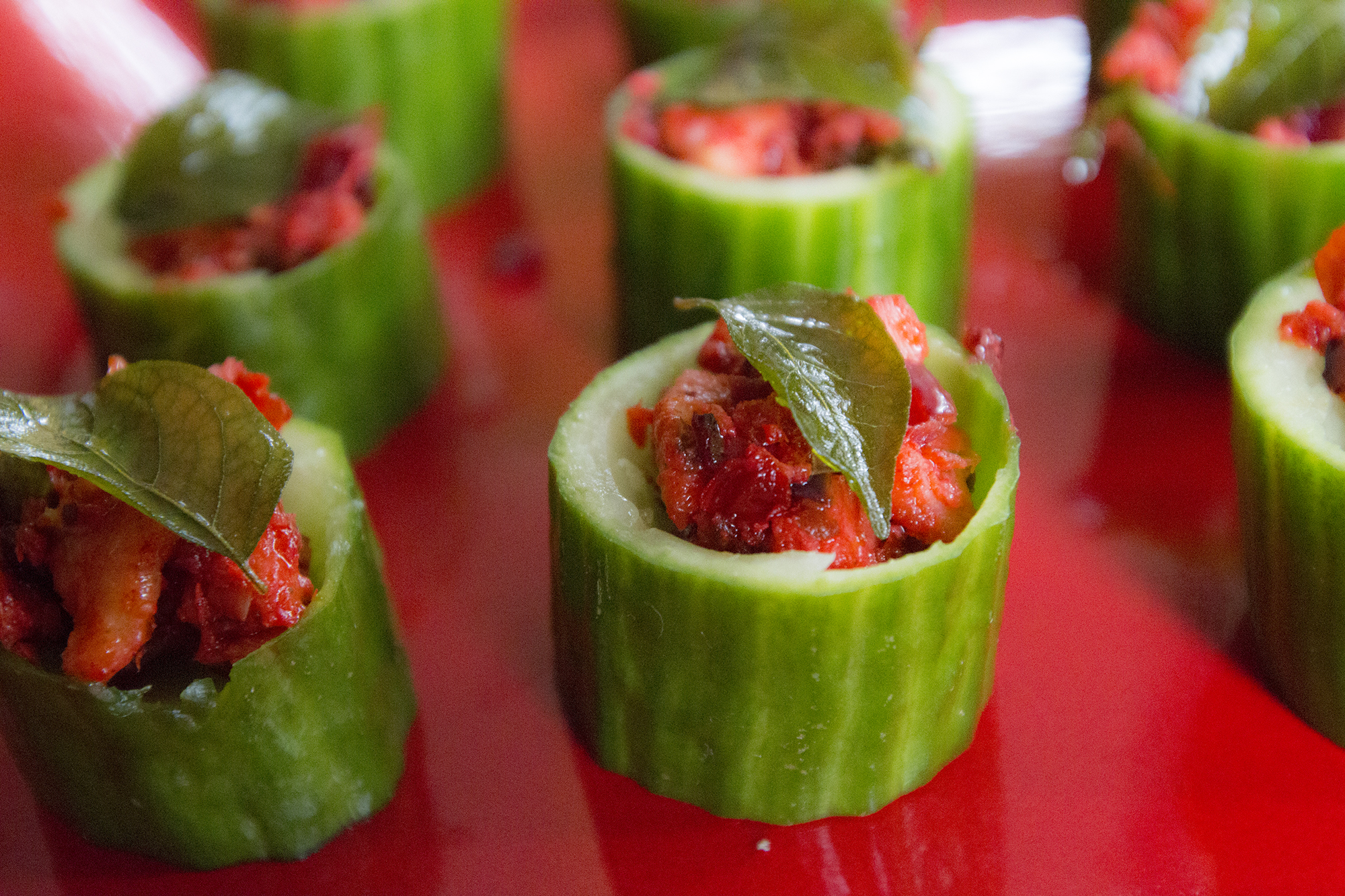 Chicken 65 is likely of my most popular recipes to date, and I've dedicated quite a few posts and videos to this recipe. For those who have never heard the name before, Chicken 65 is a wonderful spicy dry Chicken preparation with a really strange name. Rumour has it that it's made with 65 ingredients, or that it was made with a 65 day old chicken. The more believable story that I like to believe is that it was printed incorrectly on a menu card in a canteen. The item number 65 was misplaced and printed after the word Chicken and Chicken 65 was born.
To usher in the holidays, I decided to throw a Red & Green themed party. I've asked my guests to wear Red & Green and decided to make appetizers to match. I'm going to make a much smaller version of my popular Chicken 65 recipe, as I want to stuff cucumber cups with it. This is a lot healthier to offer your guests as well, the Chicken is shallow fried and served is a raw cucumber cup.
Also be sure to check out my other recipes that I prepared just for this occasion Green Spinach Mini Idlis with a Chilli Garlic dipping sauce and a Green Chilli Shrimp Lollipop.
[youtube-subscriber nickname=kravingsblog]
Ingredients
1/2 a pound Chicken breast
1 tbsp of cornstarch
1/2 a beaten egg
1 tsp each of ginger & garlic paste
Salt
1/2 cup of finely diced onions
1 green chilli
1/4 cup curry leaves cut fine with a scissor
1 tsp each of ginger & garlic paste
1 tsp Cumin powder
2 tbsps Chilli Garlic paste or Sambal Oelek
Powder red food colouring
2 cm Cucumber discs
Whole fried Curry leaves
Instructions
Dice 1/2 a pound of chicken breast into very small cubes
Add 1 tbsp of cornstarch, 1/2 a beaten egg, 1 tsp each of ginger and garlic paste and salt before mixing everything together
Instead of deepfrying this like I do with the original recipe, I'm just going to shallow fry these. once done remove and drain on a paper towel.
In a saute pan, add a 1/2 cup of finely diced onions, one green chilli and when the onion is golden brown, add 1/4 cup curry leaves that I've cut fine with a scissor
Add 1 tsp each of ginger and garlic paste, 1 tsp Cumin
Add 2 tbsps Chilli Garlic paste or Sambal Oelek and salt to taste
Finally I'm just going to add a bit of red food colouring. This is powder color and I've just added a bit of water to it
Mix everything together and add the chicken. Stir well to coat and cook so the chicken gets a bit more caramelization from the heat
Leave this aside to cool
The next part is fun cut your cucumbers into 2 cm high disks and using a small ice cream scoop, just remove the insides. If you're going to prepare these a day ahead. store them upside down as cucumbers contain a lot of water that need to be drained out.
Fill with the chicken 65 filling just before serving. I like to also fry whole curry leaves and use them as a garnish
https://kravingsfoodadventures.com/chicken-65-cucumber-cups/
Save