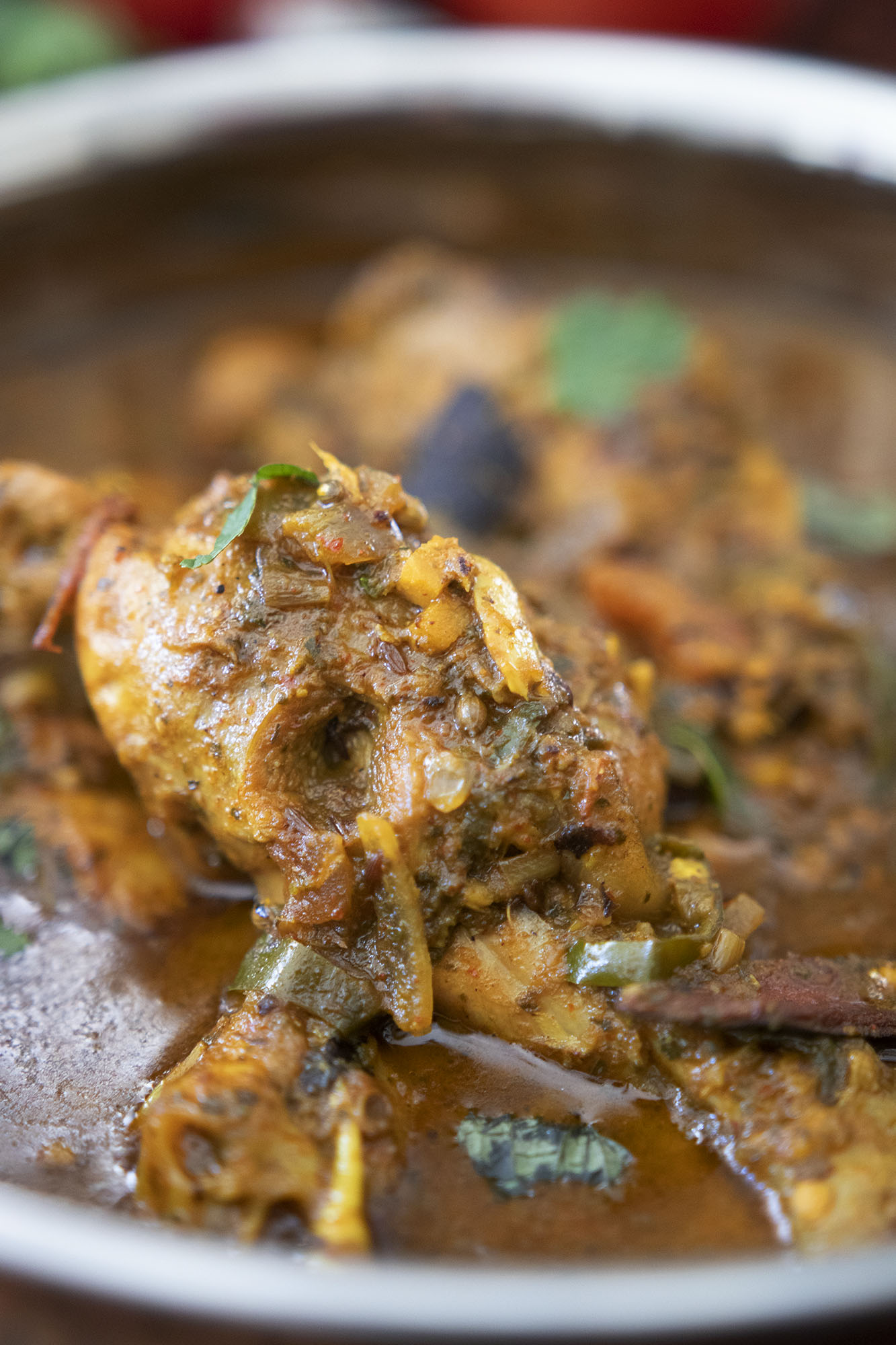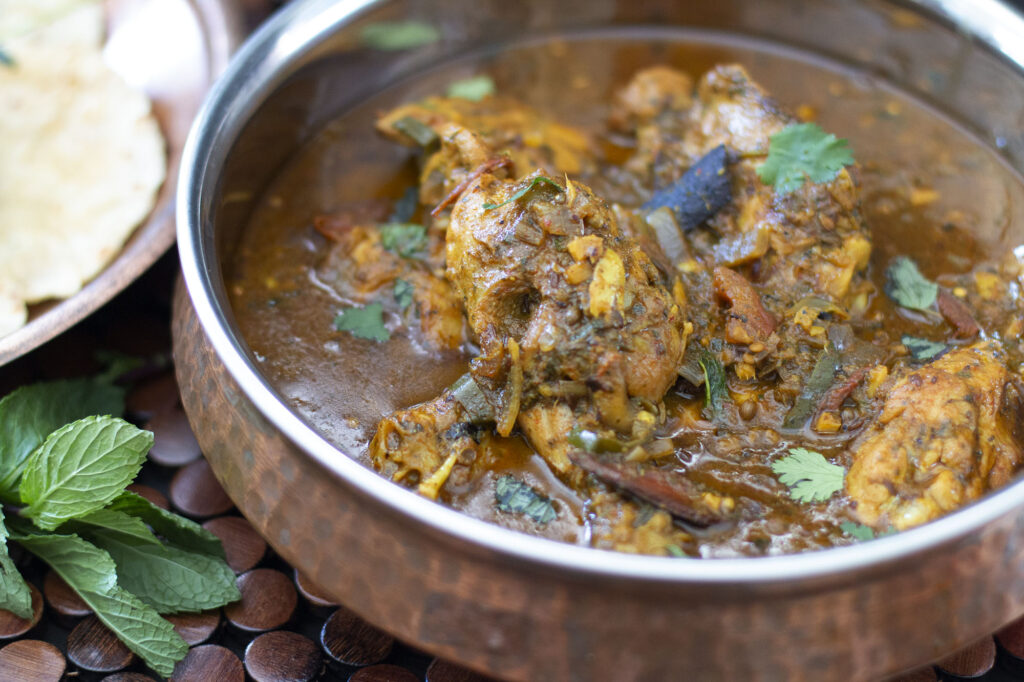 Typically when we think of Chilli Chicken, we think of the Chinese or Indo Chinese version, and while that is absolutely delicious, this recipe is very different.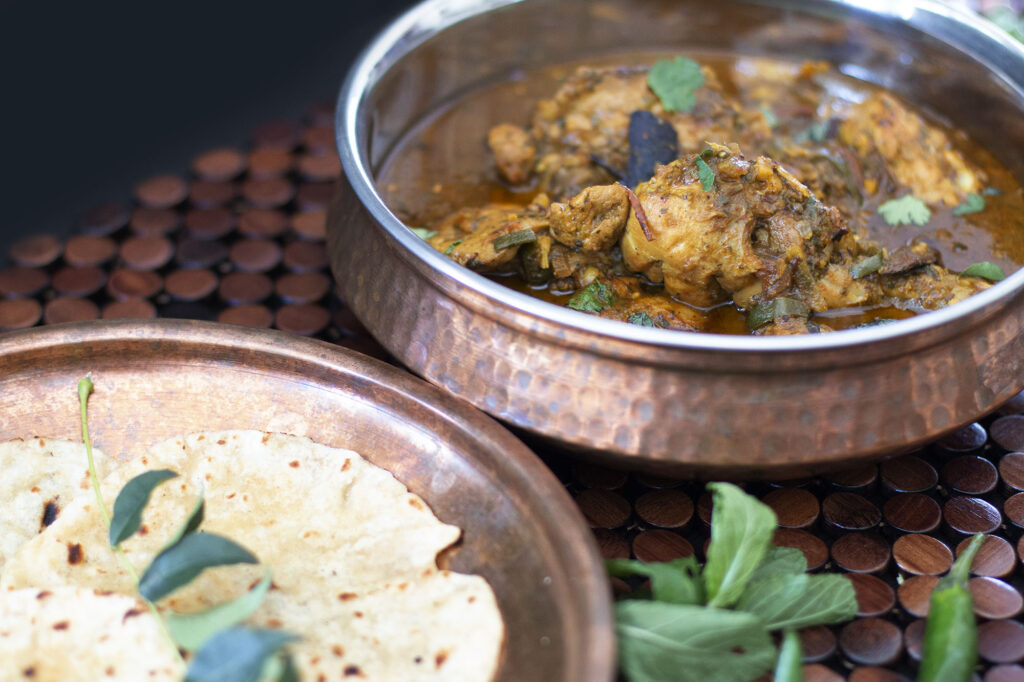 With it's roots in Andhra Pradesh, this recipe uses the green chilli as it's base. Andhra Pradesh is a state in the south-eastern coastal region of India. It is the seventh-largest state by area covering an area of 162,975 km2 (62,925 sq mi)[4] and tenth-most populous state with 49,386,799 inhabitants,[13][14] with the state capital being Amaravati.[15] It is bordered by Telangana to the north-west, Chhattisgarh to the north, Odisha to the north-east, Tamil Nadu to the south, Karnataka to the west and the Bay of Bengal to the east.[16] It has the second longest coastline in India after Gujarat, of about 974 km (605 mi).[17]Andhra State was the first state to be formed on a linguistic basis in India on 1 October 1953.[18] On 1 November 1956, Andhra State was merged with the Telugu-speaking areas of the Hyderabad State to form Andhra Pradesh. The state was then reorganised in June 2014 to form a separate Telangana state. (Wikipedia)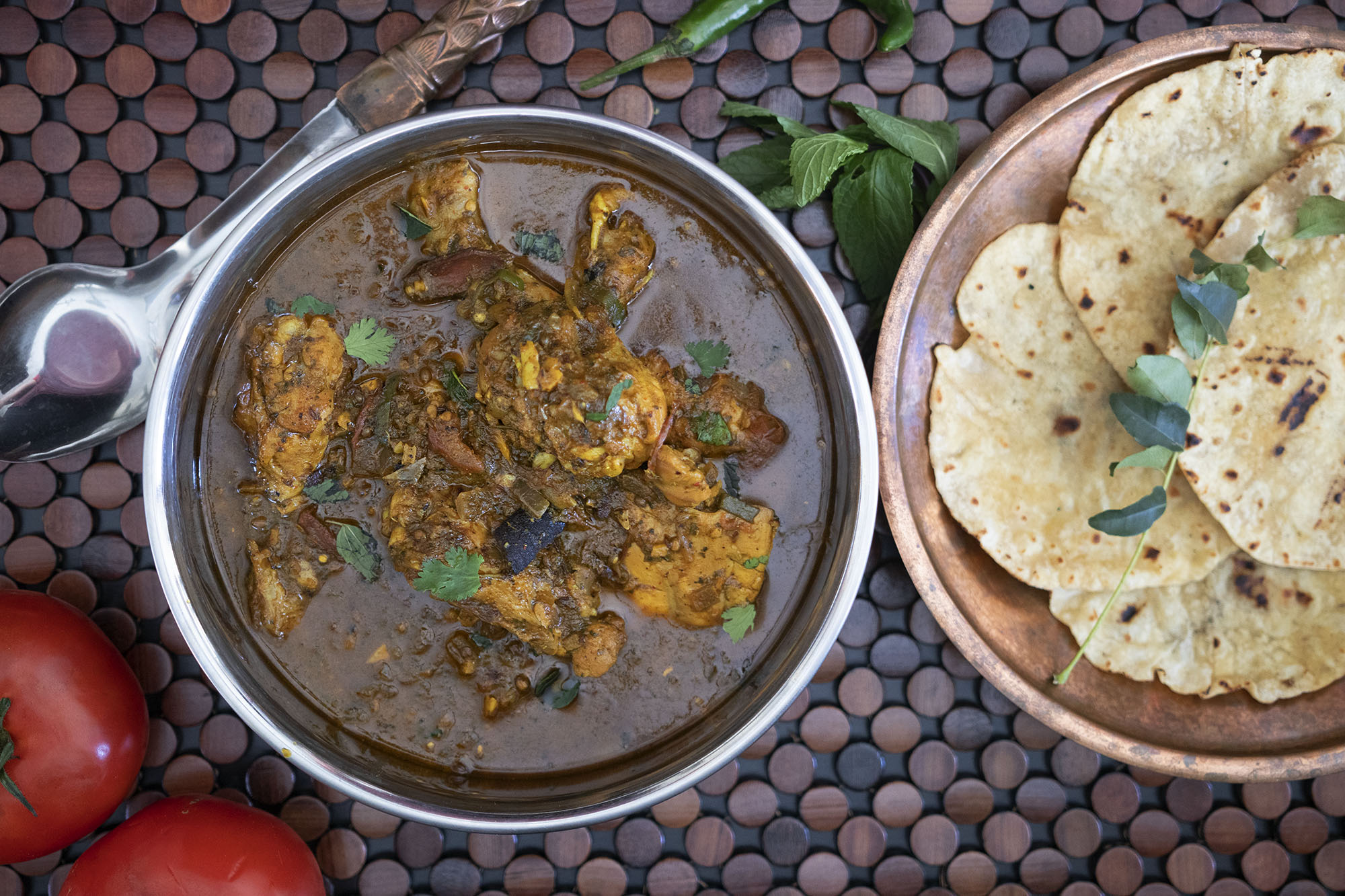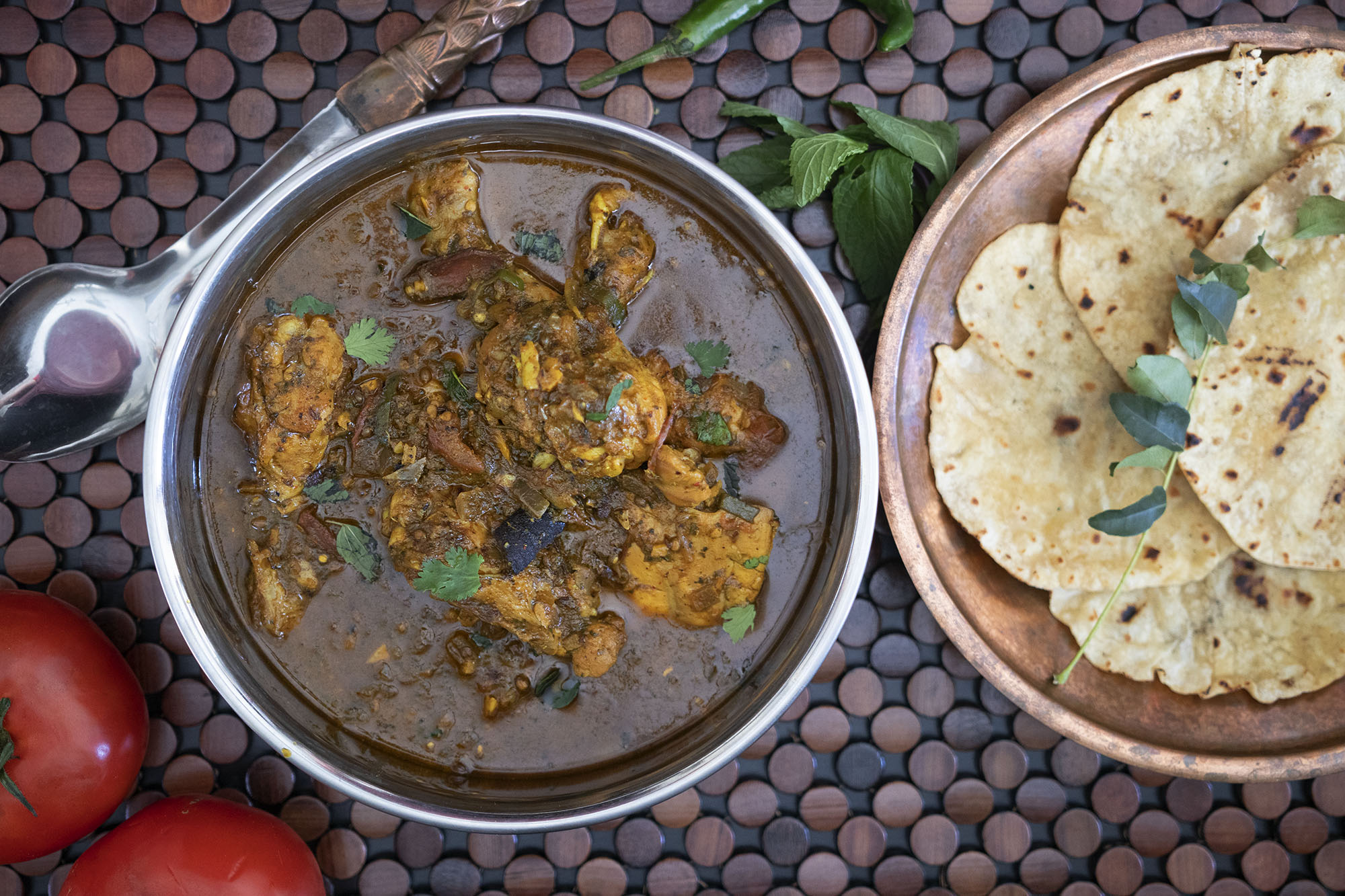 Although you can't generalize Andhra cusine as it is further divided into regional cuisines – Coastal Andhra, Rayalaseema and Telangana. Typically the cuisine is spicy and sour.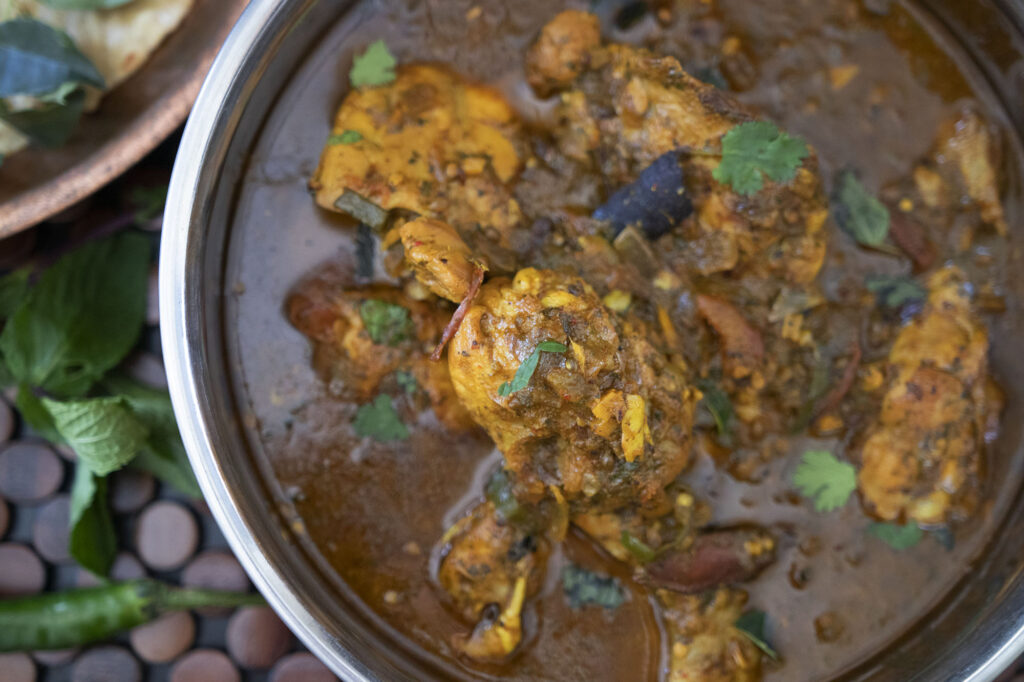 While this is a gravy recipe, there is also a dry Andhra Chilli Chicken recipe that is very popular in Bangalore, India.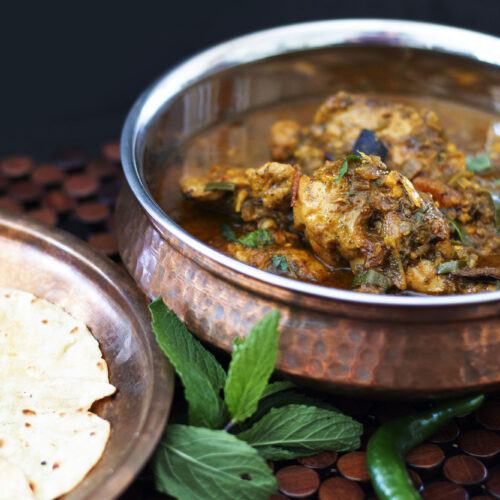 Andhra Green Chilli Chicken
Ingredients
Green Chilli paste
1/2

cup

Onion

1/2

cup

green Chillies

1

cup

Coriander Leaves

1/2

cup

Mint leaves

1/4

cup

Curry Leaves

1/4

cup

or less Water
Gravy
Oil

1

tsp

Cumin Seeds

3

inches

Cinnamon

3

tsps

Coriander seeds

1

cup

finely chopped Onion

2

tbsps

chopped Garlic

2

tbsps

chopped Ginger

1

tbsp

sliced green Chillies

1

cup

Tomatoes

2

lbs

bone in Chicken

1/2

tsp

Turmeric powder

1

tsp

red Chilli powder

2

tsps

Coriander powder

1

cup

Water

Salt to taste

200

ml

Coconut Milk

1/4

cup

fresh chopped Coriander

1

tsp

Garam Masala
Instructions
To make the green paste, saute the onion and green chilli, add the coriander, mint and curry leaves, a little water and grind

In a kadai or pot, heat some oil and saute the cumin, cinnamon and coriander seeds

Add the onion and saute till translucent

Add the chopped garlic and ginger and the chilli and saute

Add the tomatoes and cook for 10 – 15 mins

Add the chicken followed by the powdered spices and mix

Add all the green paste

Add the water to the processor and add that in

Mix, cover and cook for 15 – 20 mins

Add salt to taste and keep stirring at intervals

Once the chicken is tender, add the coconut milk

Cook for another 5 mins

Finally add some chopped coriander and the Garam Masala

Mix and serve